I'll be honest, I really don't do the go out and shop on Black Friday thing.  I have many reasons, I'm not a fan of crowds.  I don't feel like I make the best choices in the stressful lots of people limited quantity scenario (something I'm sure retailers like).  I have a toddler.  I have ADHD and distract really easily.  And I have Amazon Prime.  The end.  🙂   I'm a big online shopper, I feel I can organize and plan my purchases better, I don't have to fight traffic or drag kids around and I'm usually pretty happy with the deals I find.   And I love window shopping like this…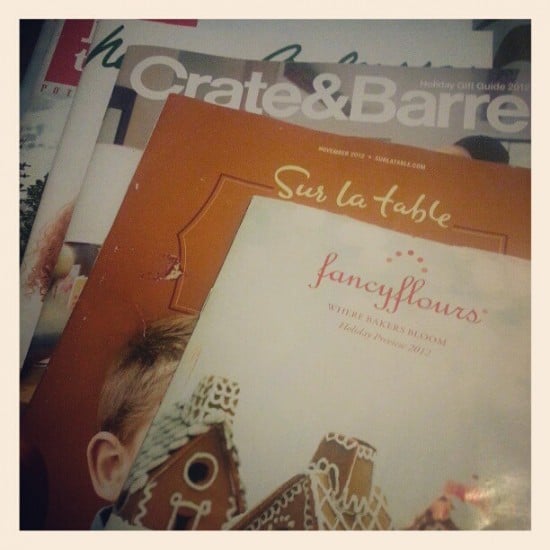 I thought I would share some of my favorite finds for those of us who love to bake.  Or love sweets.  Or just love cute stuff.  I'll start with some fun finds from Sur La Table.   Their catalogs always get me.  I basically always want everything.   And this year I think I want two of everything.  Okay, ready for some great gift ideas?  Here we go!   Click on any of the photos to check out the products.   Sur La Table has free shipping on orders over $75 with code 754942.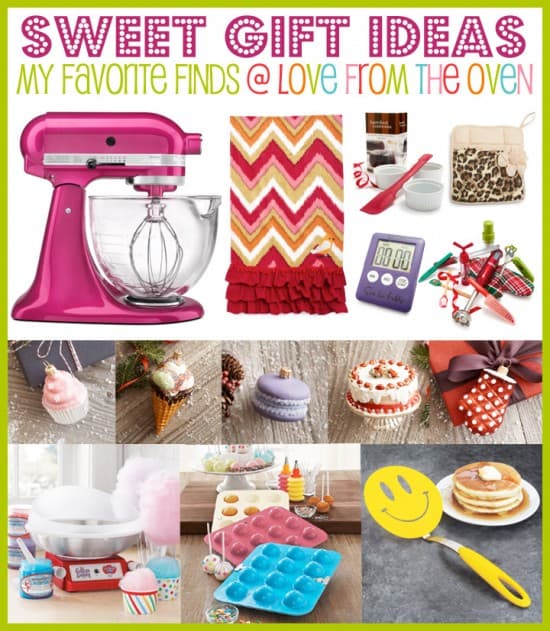 Dessert Ornaments.   Oh my word.  I want to decorate a tree in just these ornaments!  Talk about a sweet tree – cupcakes, macarons, ice cream cones, cakes and ice cream sandwiches!  Love!
A a few fun baking ornaments…
Sur La Table has some beautiful aprons for some great prices right now.
One of my favorite parts of every Sur La Table catalog is all of the great pops of color.   So many pretty colors!
And the ultimate in color in the kitchen in my book.  The one and online, Raspberry Ice Kitchen Aid Stand Mixer.  Such a beauty.   One day, she will be mine!
They have some lovely vintage inspired linens.  I mean hello, leopard print pot holder done right and gorgeous chevron towels, want!
Want some more smiles in the kitchen?
I was going to say this one would be fun for the kids, but heck, I want it!  A cotton candy maker and spinning sugars!  This may have to end up under our tree, I think this would be so fun, the girls (I'm including myself in there) would love it.
They have some great gifts sets, these are those gifts that I feel like save you when you need to get something for someone you don't know very well, has everything or you are just at a loss.
And cake stands.  I'm convinced one can not have too many cake stands.  One can however lack the space to house all of those cake stands, but I try not to let that over come my love for them.
So many fabulous gifts.  Truly one of my favorite catalogs to curl up with!   Enjoy and happy holiday shopping!
Disclaimer – I am a Sur La Table Affiliate, and therefore do make a small commission off of any purchases made.
That said, all recommendations and opinions are mine and mine alone.