Looking for Valentine's Day Recipes? I thought I would round up all of my favorite Valentine's Day Recipes and ideas here on Love From The Oven in one place to make them easy for you to find. So here we go! Click on the links below the photos to be taken directly to the Valentine's Day Recipe of your choice.
This first set of Valentine's Day Recipes contains one of my all time favorite go to treats, chocolate covered pretzels. Salty and sweet, no bake and easy to make, these are an option that you just can't go wrong with. Cake pops and red velvet cupcakes are Valentine classics, and who wouldn't love to start their Valentine's Day with Valentine's Day Donuts? A sweet way to wake up for sure!
Valentine's Day Recipes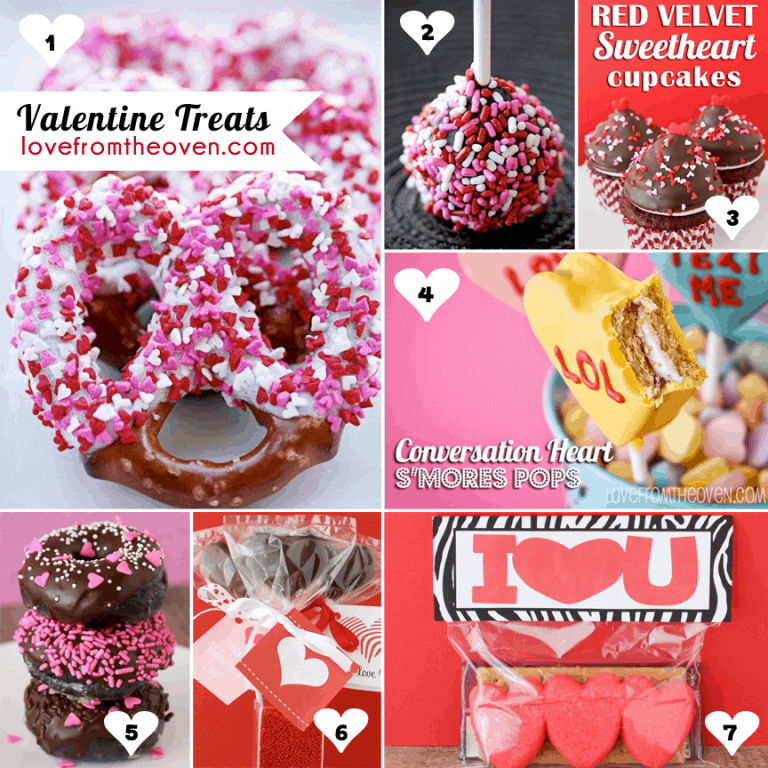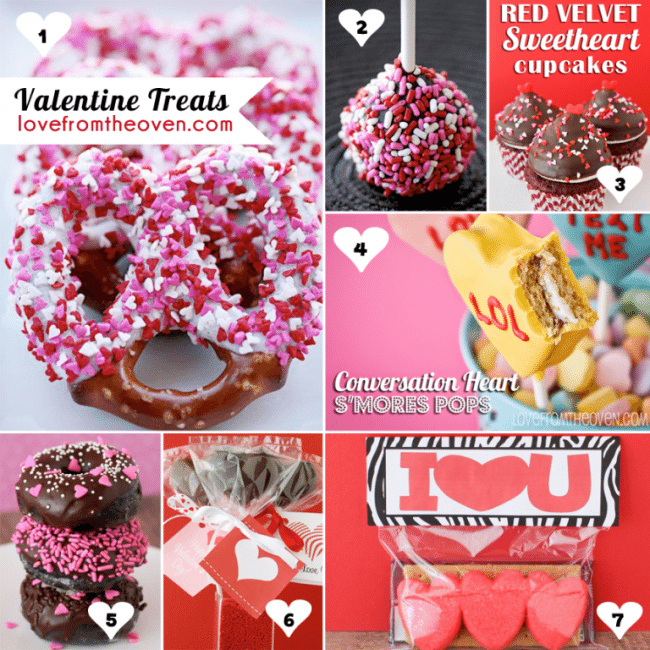 1. Valentine's Day Pretzels    2. Chocolate Cake Pops 
3. Red Velvet Sweetheart Cupcakes 4. Conversation Heart S'mores Pops  
5. Valentine's Day Donuts    6. Quick & Easy PEEPS Pops 
7. Valentine's Day S'mores Treats Bags & Free Treat Bag Topper Printables
This next set of fun recipes includes another one of my favorite no bake treats, the cookie pop. I even share a video tutorial where I show you how incredibly easy they are to make. The Sweetheart Shake is super fun, I used whiteboard markers to write directly onto my glass mason jars, and it wipes right off!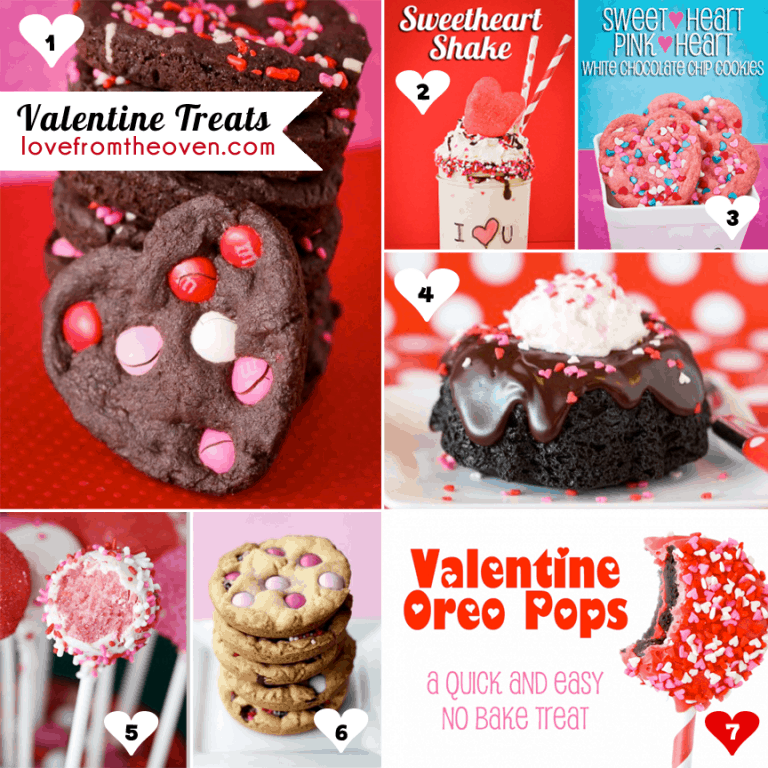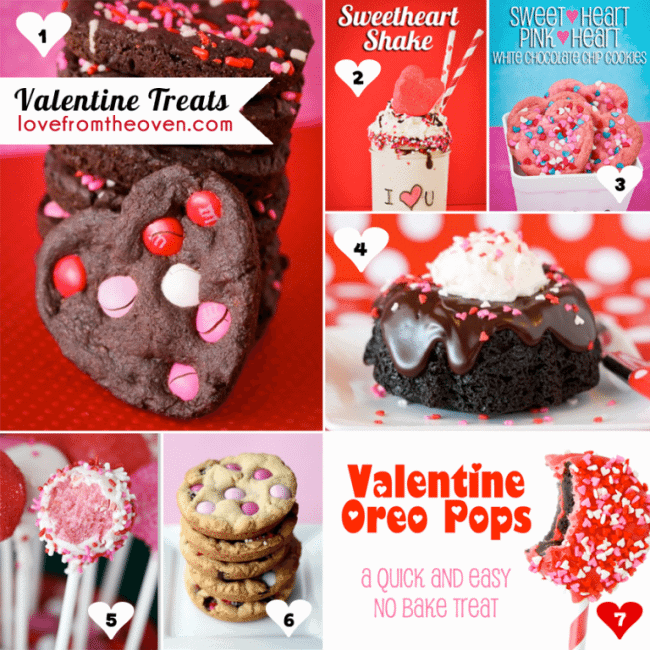 1. Valentine Heart Chocolate Cookies     2. Sweetheart Love Note Shake
3. Sweetheart Pink Heart Cookies     4. Chocolate Baby Bundt Cakes
5. Pink Velvet Cake Pops     6. Valentine's Day Cookies
7. Valentine Oreo Pops
This last collection of Valentine Day Recipes includes a few different ways to combine Rice Krispies Treats, chocolate and sprinkles to make fun Valentine's Day treats. Marshmallows are another fun option, and I love all of the heart shaped marshmallows you can find on the store shelves. If you are in a hurry or struggle with cake pops, marshmallow pops are an awesome alternative.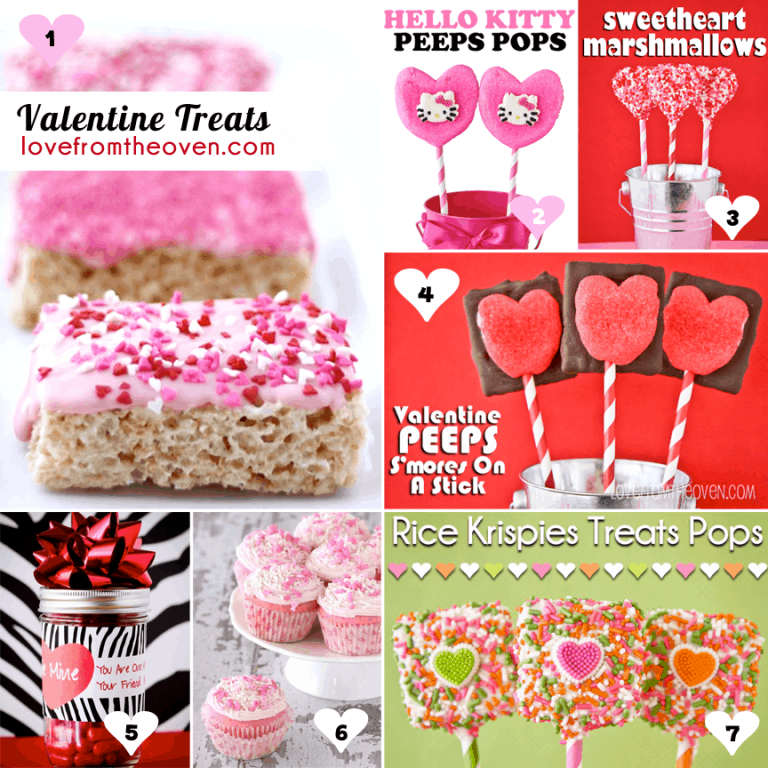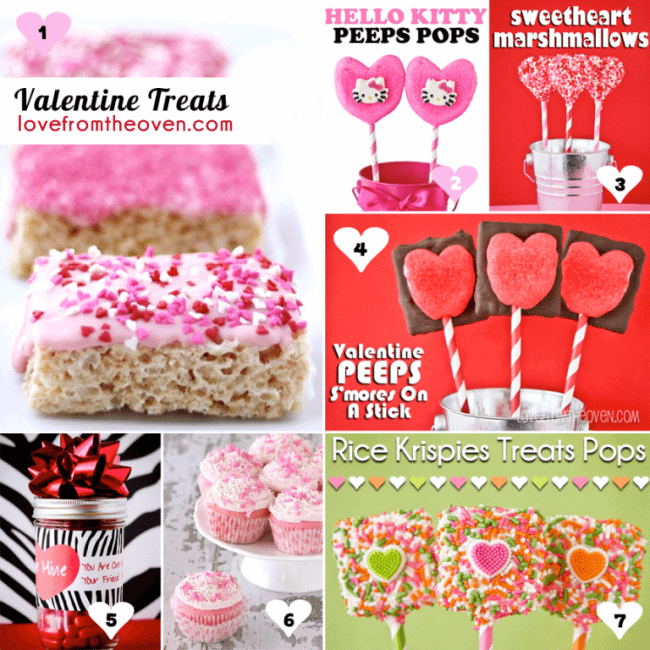 1. Valentine Crispy Treats       2. Hello Kitty PEEPS Pops
3. Sweetheart Marshmallow Pops    4. Valentine PEEPS S'mores Pops
5. Free Valentine's Day Printables For Treats
6. Pink Velvet Cupcakes    7. Valentine Rice Krispies Treats Pops
Enjoy!!!