Yep, it's that time of year again.  All the cakes and cookies and cinnamon rolls have been enjoyed, the new year is staring us in the face, and so is the scale.  Being a food blogger that focuses on desserts and baked goods is not exactly easy on the waist line!   From diets to weight loss plans to just wanting to incorporate healthier habits into our lives, I'm sure there are many others out there looking to make some healthy starts in 2015.  The past few months I've been trying out some weight loss apps and fitness apps on my Verizon phones, as well as using the Fitbit and Samsung Gear Fit, so I figured I would share my thoughts on them, in case they can help anyone else.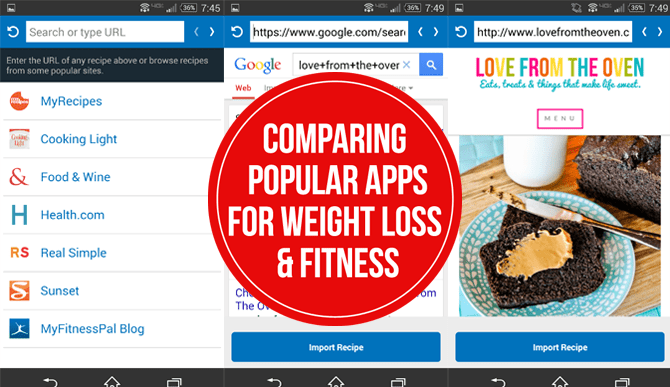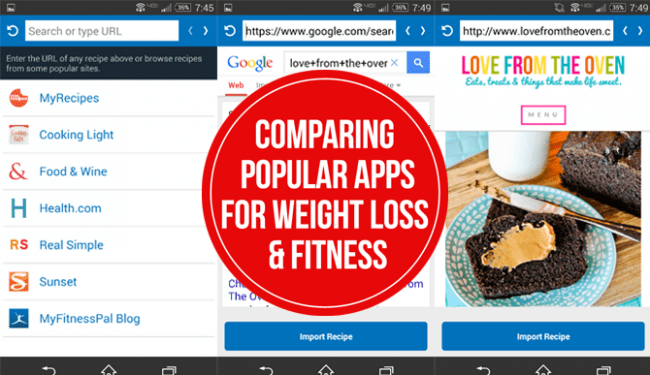 Weight Loss Apps
I won't lie, I hate tracking food.  Ugh.  I'm a food blogger, there are a lot of "tastes" made while working, and it's hard to track all of those, especially when I'm focusing in writing down notes or making recipe adjustments.  But that's probably also why my jeans are fitting a bit tighter than I'd like.   I've tried a few different apps that do make tracking your food intake as easy as possible and happy to share my thoughts on them.    As a disclaimer, the phone I use was provided to me by Verizon as a member of VZWBuzz, but all of the apps I discuss here are ones I've downloaded or purchased myself, so all opinions are strictly my own. 
My Fitness Pal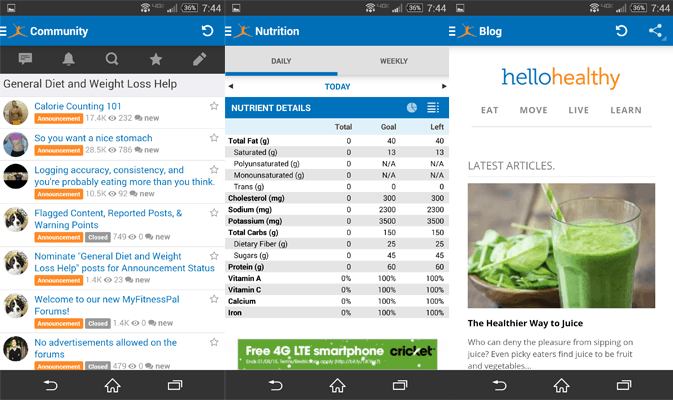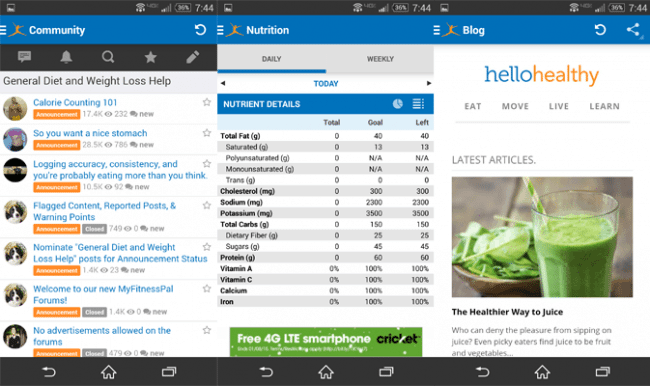 I think when it comes to free weight loss apps, MyFitnessPal is my favorite.  Not only is it free, available for both Android and iPhone, but it's so robust and it does almost everything.  One feature that I think is amazing is that from within the app, you can search any recipe (so I searched one of mine for example) and it will pull in the data from the recipe to give you a nutrition break down, which I think is pretty darn fabulous.  You can even adjust the recipe (for example I took out the added chocolate chips that are optional in my Chocolate Bread recipe).  Now, I'm sure that is dependent on the recipe being formatted in a way that the app can work with, so I'm sure not every recipe works, but for most food bloggers we use some standard recipe plugins and it most likely works with most of those.   This is pretty darn slick if you ask me.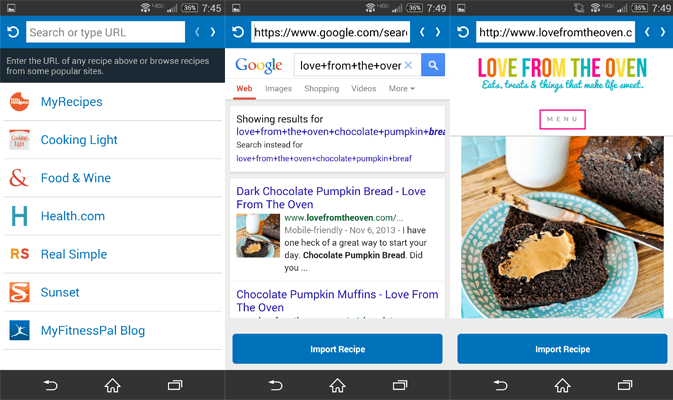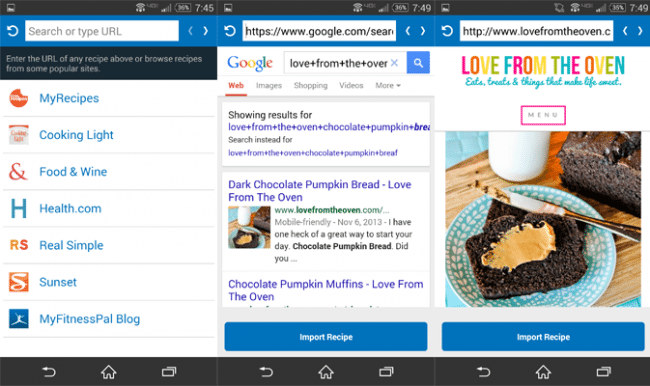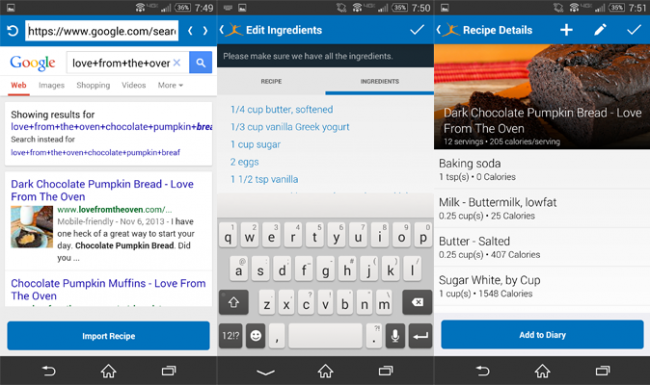 The database of foods is huge, and I love that I could actually sync it with my Fitbit.  It can track both food and exercise.  It's available or both iPhone and Android.  I've used it on and off over the years and have many friends that have had great success with it.  I love that it's totally free, and not one of those 'here's the base model free, if you want to do anything, you'll have to purchase…" type of thing.  I've used it on my desktop and laptop (both Mac), my iPad, and my phone (Android) and I've never had issues on any platform.    I like that it's straight forward with calories (a bit less math than points).  I also love the barcode scanner.  Now if only I could just scan a pot of food!   I also like how it gives you a daily nutrition breakdown.  There's more to this game than just calories, and I like the nutrition info you can get.  I also believe you can change the nutrition goals to better suit your own.
Weight Watchers
You can't really talk weight loss or diets and not talk Weight Watchers.  I have done Weight Watchers on and off since I had my oldest daughter 11 years ago.  I've had great success on it, and it's also driven me crazy.  I think WW has gone through three, four or maybe more major changes since I did it the first time.  While it always worked for me, the downside, at least in previous versions, was that I quickly figured out that I could have one of those three packs of mini light Hostess cupcakes (remember those) for the same points as an apple, and let's be real, I didn't pick the apple.  Yes, it worked for weight loss, but I always felt like I didn't make the best food choices.  Now, I guess on the other side of that coin, I was able to make some choices that didn't leave me feeling crazy deprived, so I stuck with it.  Their current version, Points Plus, seems to have corrected that, and mini cupcakes and apples are now not the same.  🙂   They've also added personal coaching, though I'm not sure I'd ever use it personally.
I signed back up a few weeks ago, but unfortunately did so at a bad time, as the site and it's apps have been having massive problems due to a security upgrade, so for ten days I couldn't log in or reset my password, or get a CSR to help achieve the same either.  I think I finally have it working right, after over a week of attempting to just get logged in.  Their FB page and message boards were going crazy with people who really depend on the system, and having it go down at the holidays was not good.  I still can't reset my password from the gibberish one the site generated that I could never remember.  I'm a bit shocked they rolled out such massive technical changes right before the biggest "diet" season of the year, but it is what it is.   That all said, so far I'm liking what I'm seeing.  I love the barcode scanner, though those are pretty standard with most apps these days.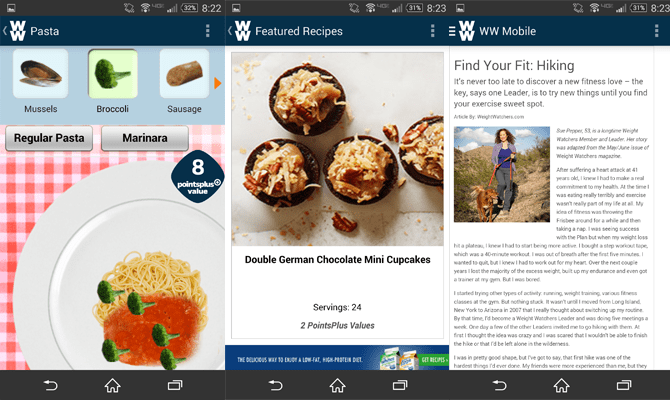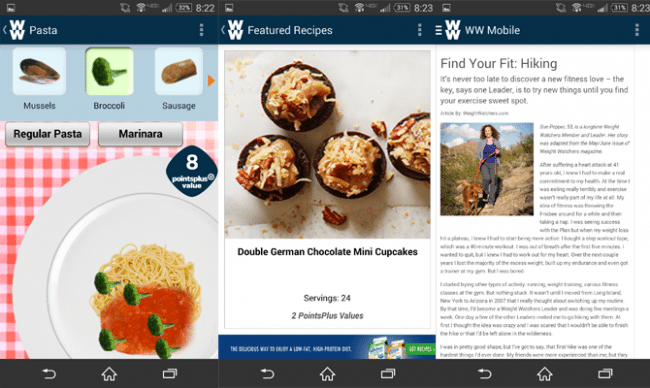 WW is certainly not free, but I know a few friends using it right now who are having tremendous success, like the best success they have ever had with a lifetime of diets, and that is pretty impressive.  It does offer a lot of tools.  It can be synced with the Fitbit as well as Jawbone.  The message boards are pretty robust, and I love seeing what other people are eating to help with ideas.  I love that sites like SkinnyTaste and LaLoosh give you the WW Points for their recipes.   The recipe builder on the app is pretty easy to use.
All considered, I'm torn if the Weight Watchers app is that much better than the other free or inexpensive options, but I always feel like the WW thing is almost this way of thinking and belonging, and obviously even more so if you do the meetings  But when compared to other programs, it's certainly one of the highest priced out of similar options, at least if you are using it all online.   I always feel like I need to go to their website to get the most out of it, that the app can feel a bit limited.   Things like the cheat sheets and their fancy graphics always feel a bit cheesy and limited to me.  It's a great program for sure, but the app leaves a little to be desired I guess, at least for me.
A great option I haven't used but am very excited to try:
Fooducate
Fooducate is a free app for both iPhone and Android,  that focuses on helping you lose weight with real food, and a focus on healthy foods.   It helps tell you not just the calories of what you are eating, but what is actually in your food.   Not only does it have a scanner but when you scan a food, it tells you a lot about that food, not just your calories or points, it assigns it a letter grade, tells you why it has that grade and even offers you alternative options.   I was a bit surprised to see this told me WW Points.  WW always seems to lock down their point system algorithms pretty tightly, so I'm not sure how this came about, but I love the idea of seeing both points and calories.     It's said to integrate with Apple Health.     This app really looks very slick and I'm planning to try it out, as I said, I love the idea of seeing points and calories, and really breaking down what's in food.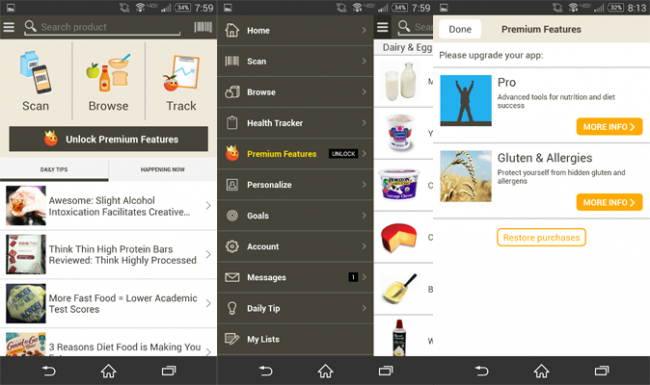 While it is free, it has some paid options, including Gluten and Allergies version and a "Pro" option.  The Pro option costs $1.99 a month or $14.99 a year, so even the paid version for a year is cheaper than WW for a month.   The Pro appears to offer low car options, counting net carbs, it can also help with hearth health, women's health and you can set filters such as GMO foods, vegetarian foods, vegan foods, to easily flag things you might want to see (or not see).   It also has no advertisements, can alert you to GMOs when you scan a product and provides you with priority support.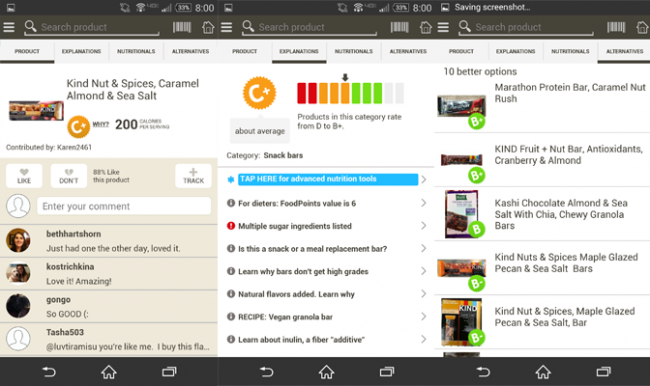 Overall Fooducate looks like a really awesome option.  The only downside is that it does not appear to sync or interact with trackers like Fitbit.  MyFitnessPal scores major points for being able to pull in any recipe off the web and break it down for you, SO much quicker than using a recipe building tool for sure.  And Weight Watchers has it's hardcore fans and people certainly show success.   I think it's a matter of finding the right fit and features for you.
Speaking of Fitbit, next time I'll share my thoughts after using both the Fitbit and Samsung Gear Fit for a few months.  I like them both, for different reasons.  🙂   So there you have it, my take on three different popular weight loss apps!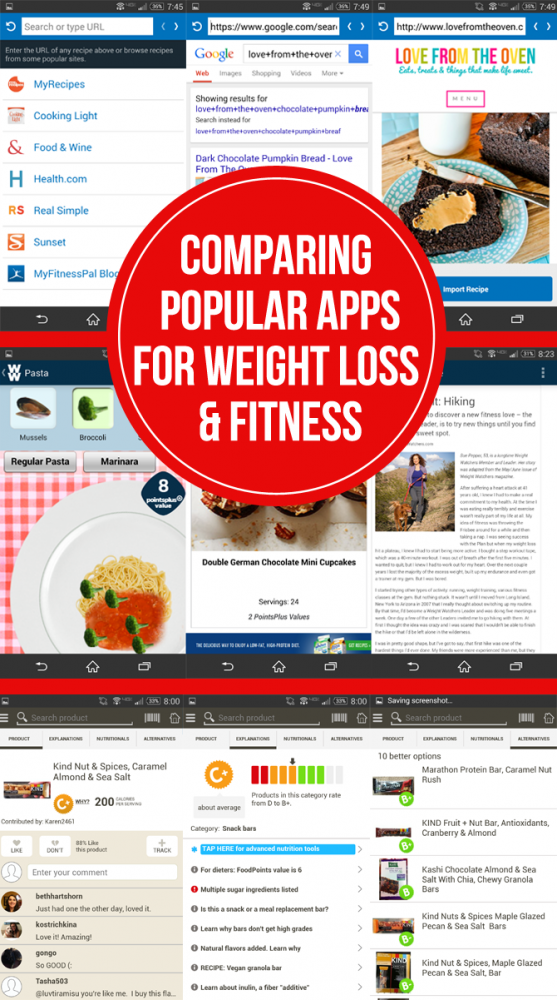 Disclosure: As a member of VZWBuzz, I am provided with free technology to try out.  That said, all opinions and experiences are mine and mine alone.