I recently visited Seattle to attend the International Food Bloggers Conference. I had a lot packed into the short trip, and the one thing I really wanted to do while I was there was check out Pike Place Market, especially since it was walking distance from my hotel.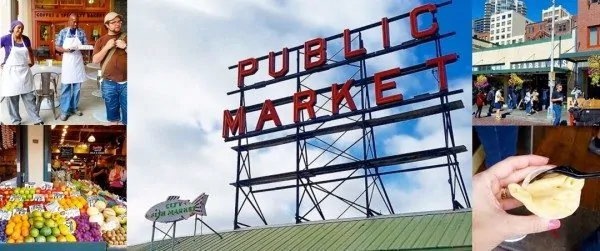 Pike Place Market seems to always come to mind when I think of Seattle, and having never been there before, if I was going to get one thing in, this was it.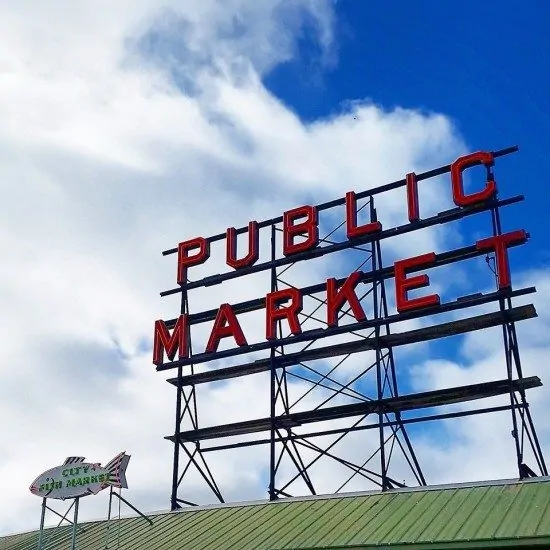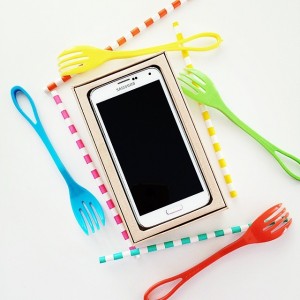 Wanting to travel as light as possible, I struggled to decide if I should bring my full size camera or not. As a photographer, I get a little frustrated sometimes using point and shoot cameras or my phone, as I'm usually not very happy with the results. But in the days of checked bags not being cheap, and my camera not being the lightest thing around, I decided to leave it at home, and rely completely on the camera in my Verizon Samsung Galaxy S5.
As a member of Verizon's #VZWBuzz program, I'm reviewing the Samsung Galaxy S5, so this was a perfect challenge to see just how happy I would be with the camera at a time that I would normally use my "real" camera. I've been pretty darn happy with the camera for day to day pics, so I left my main camera behind and hoped for the best.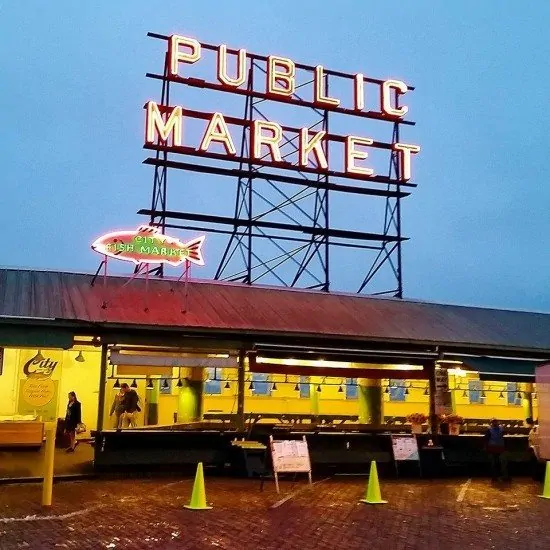 My friend Mary, from Barefeet In The Kitchen, recommended that I book a tour of Pike Place through Savor Seattle. I've never been on a food tour before, and wasn't sure what to expect. I like to explore on my own, but I knew I had limited time (one morning) and I really wanted to make the most of it, so I booked the Early Access VIP Tour of Pike Place Market. This is the earliest tour they have available, starting at 9am and lasting two hours. I believe it cost about $50. Let me just say, BEST MONEY EVER SPENT. You not only get to see the market, meet the merchants, learn the history of the market, but you also get 17 bites and sips, including coffee, chocolate and crumpets. By the way, crumpets are pretty much the best thing EVER.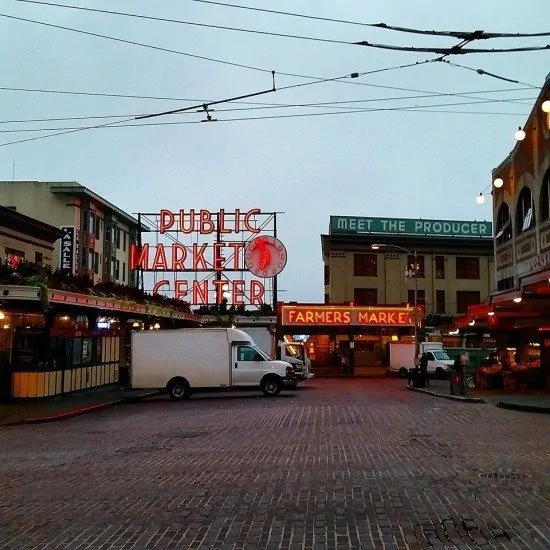 I actually met up with some Washington based friends before my tour started. I was down at Pike Place Market before 7am, and it's pretty darn dark and quiet that time of day. I will say though, it was pretty cool to be down there that early, seeing some of the vendors loading in, without the crowds of people around. There's not much to do in the area that early, but it's worth checking out if you are an early riser.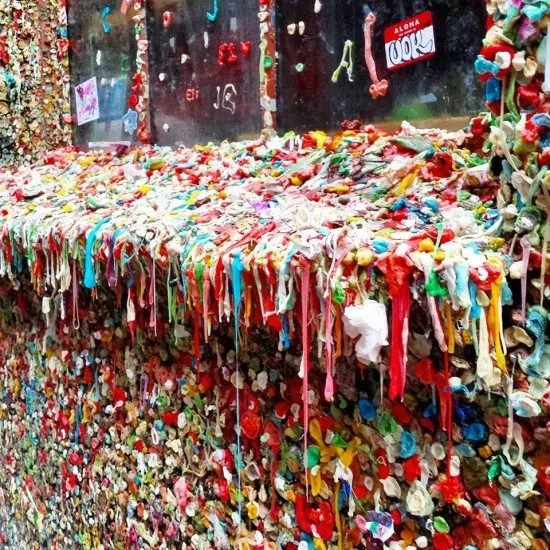 The Savor Seattle Tour starts with everyone meeting just before 9am at the infamous Gum Wall. Yep, that's all gum. My Samsung Galaxy S5 and I were ready to see what this tour was all about.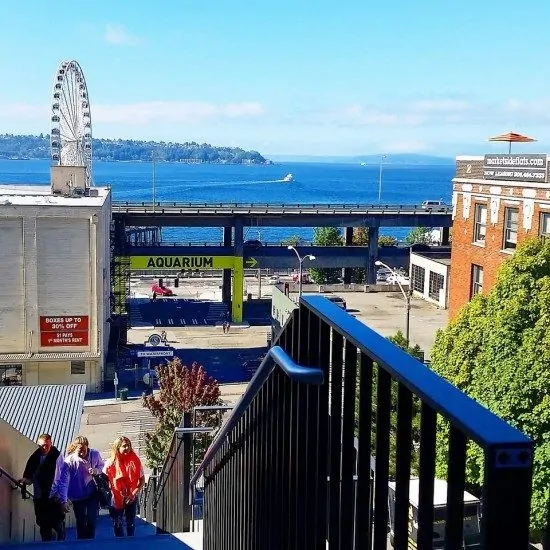 We met up with Nick, our tour guide, who could not have been better. Wit, dry humor, endless amounts of amazing information, an obvious passion for his job and a love of food. He briefed us on how the tour works, everyone introduced themselves (it's a small group tour, limited to 12 people) and then it was time to learn, eat and take pictures.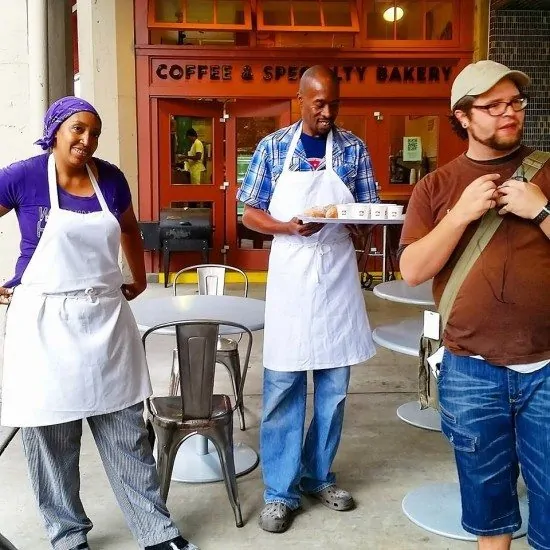 Our first stop was at Coffee & A Specialty Bakery, which specializes in gluten free baking. Here's what makes this tour so great, aside from the awesome atmosphere and our amusing tour guide. At each stop on the tour, not only do you have food ready and waiting for you, but you get to talk to and learn from the staff at each of the businesses. Tonyia Smith, the owner and pastry chef at Coffee & A Specialty Bakery, was ready to talk to us, tell us her story, and the story of the bakery. While listening and learning, we were able to sip warm coffee or steamed milk and enjoy some of her AMAZING (and not just by gluten free standards) baked goods. For someone like me who loves food and learning "the story", this was pretty much perfection.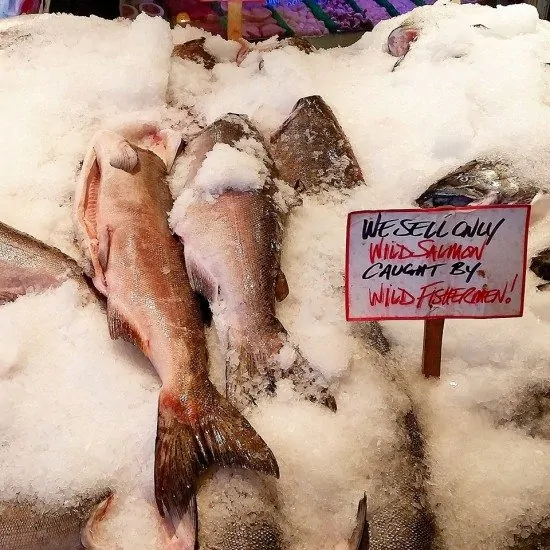 You can't visit Pike Place Market without visiting the Fish Market. We were able to see lots of fish, and fish throwing, as well as try three kinds of smoked salmon, as well as black cod, which is kind of like the love child of cod and butter I think. I spent most of my flight home thinking about that cod. Yes, fish. It was that good.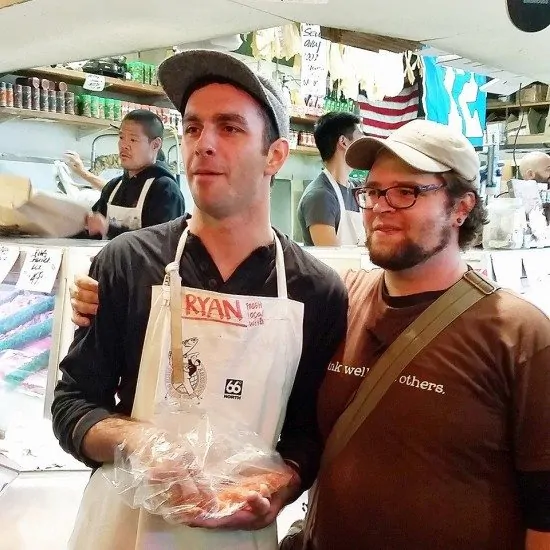 I can't begin to recommend this tour highly enough. There is no possible way I would have seen, tried or learned 1/10th of what I did in those two hours. There was fresh fruit, fresh hot donuts (oh. my. heck. yes.), chocolates, tea, the list goes on.
And there was Greek yogurt.
Now whatever it is that is sitting in my fridge with the words "Greek Yogurt" on it, I'm pretty sure now that it's lying. Ellenos Greek Yogurt. I can't even wrap my head around how good this stuff is. It's like nothing I've ever had before. Made simply, and freshly, with milk, live active cultures, honey and fruit. That's it. I'm a baker, I'm all about the sweets, but this yogurt, seriously. We are talking "best thing I ever ate" material. I think I might have had a life changing experience standing on that street corner eating Ellenos. It's still in the triple digits here in Phoenix, but let me tell you, as soon as it really cools off, I'm ordering myself a big shipment of this stuff.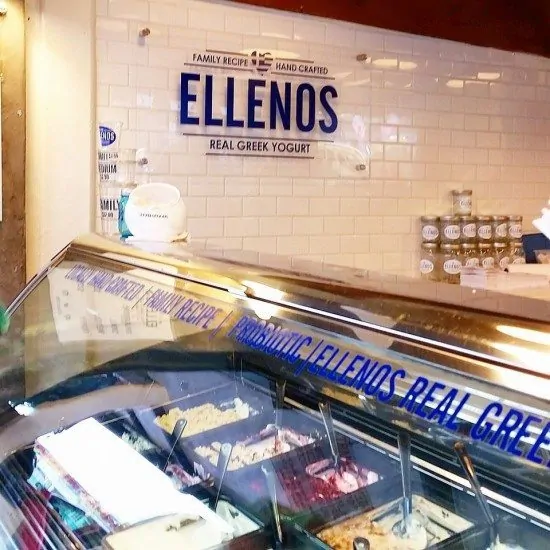 And there was cheese. Beecher's Famous Cheese to be exact. And macaroni and cheese! This tiny cup could be a full size serving, it's that rich. Seriously, when I say I loved this tour, I LOVED THIS TOUR. There was mac and cheese waiting for us. Why can't every day be like that???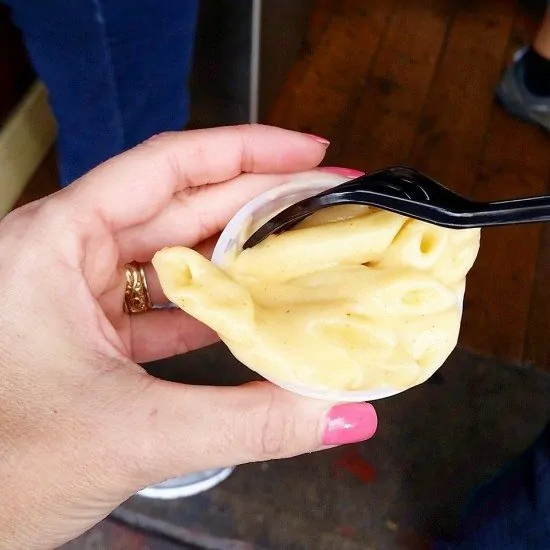 So many things to see, taste and learn about.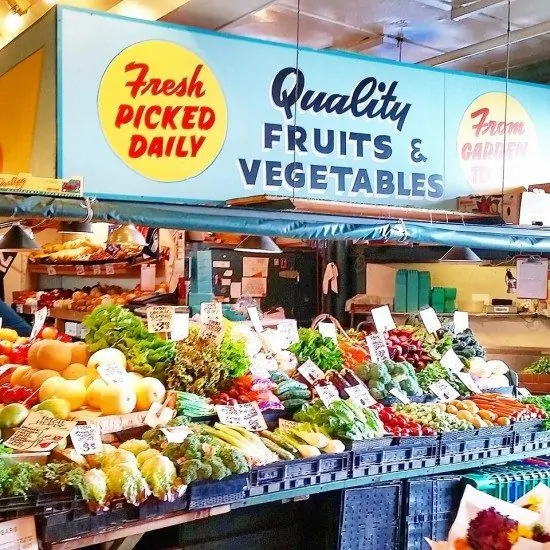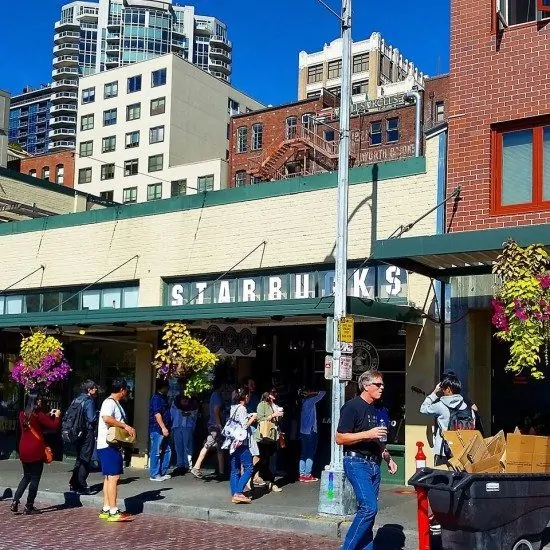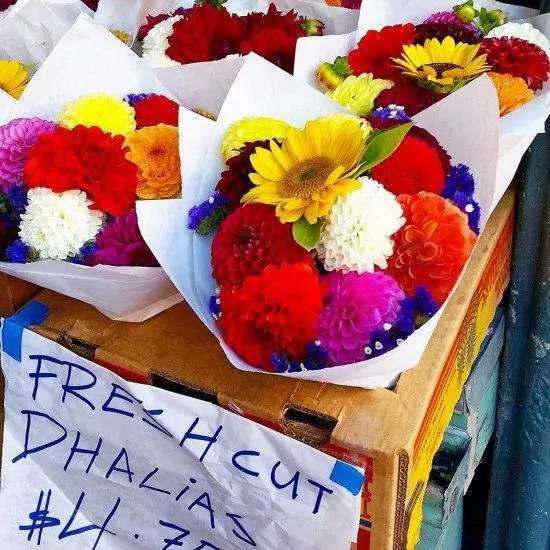 I have to say, I was very happy with the photos from my Verizona Samsung Galaxy S5. Given that we were always moving, almost always in crowds, and always eating, being able to take out my phone and with one hand snap photos was perfect. Being Seattle, there were clouds rolling in and out of bright sun, which can always be a challenge for photos, but the Galaxy S5 did great.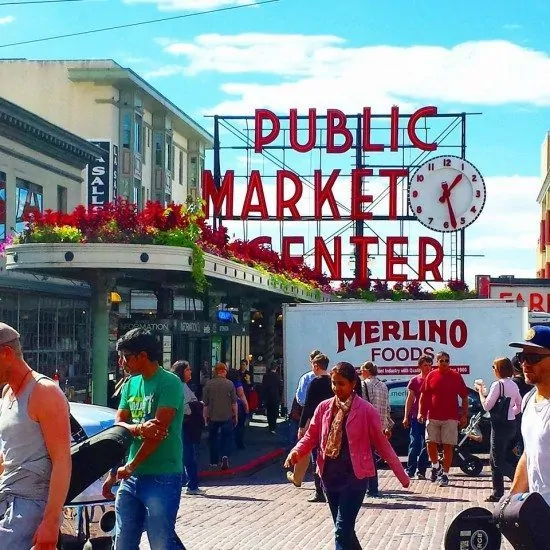 Let's talk about crumpets. I am not sure what I was expecting, something like an English Muffin. Nothing too exciting, right.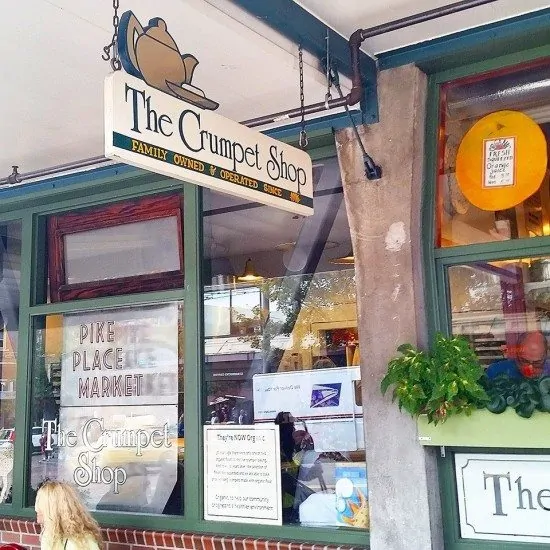 Oh my heck, CRUMPETS ROCK! Like really rock. Especially Pesto, tomato, and parmesan organic crumpets. I have tried to explain them to my family. Like an English Muffin met a pancake? I don't know how to explain them, but they were divine. I've already ordered crumpet rings and asked my dad, who is much better at yeasted breads than I am, to work on a crumpet recipe. I didn't get a photo of my crumpet, because I was too busy shoving it into my face and trying to figure out how to move to Seattle. Here's a picture from Savor Seattle's page. Gloriousness people. I meant to go back and try their scones, with maple butter, as Nick suggested. I didn't have a chance to, which obviously means I need to go back to Seattle soon.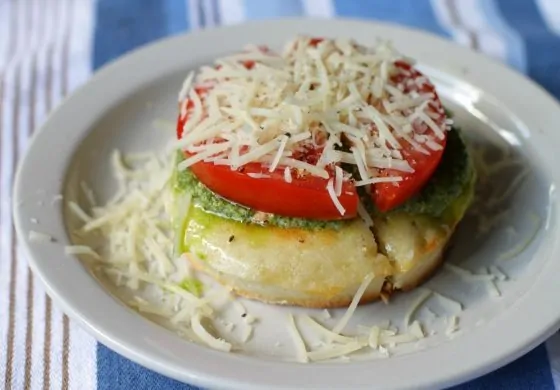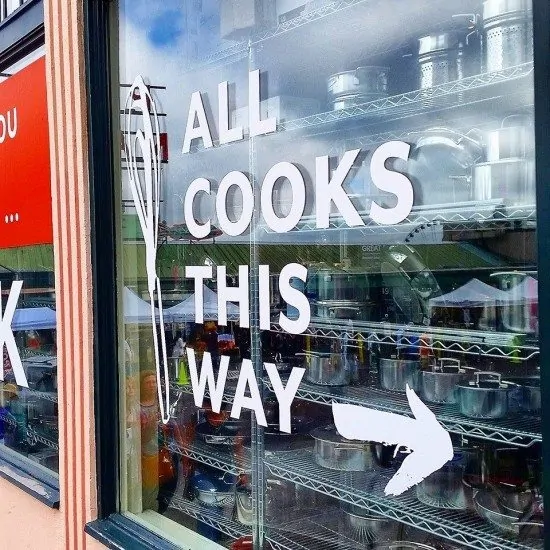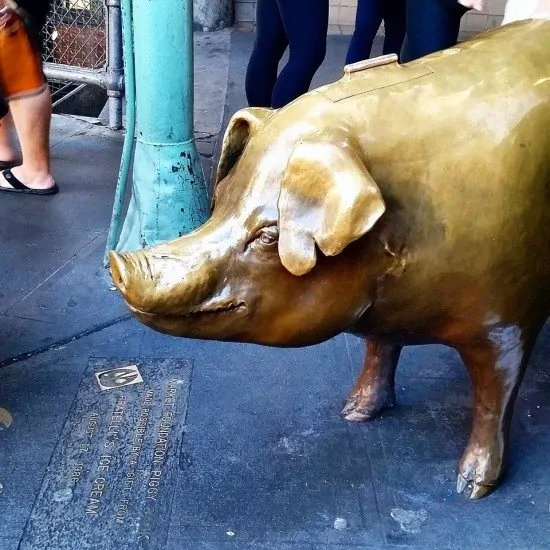 I am quite pleased with the photos from my Verizon Samsung Galaxy S5. It does amazing in full sunlight. It is not as great in low light, but it still beats any other camera phone I've used. This tour was a challenge for pics, because as mentioned we were always moving, dodging people and the clouds were coming and going rapidly. Yet all that said, I have no regrets about not bringing my Canon DSLR, and instead relying solely on the Galaxy S5. I edited most of my photos in Instagram (I love the manual editing feature!), as I was sharing them to my Instagram account. Another plus of using the Galaxy S5 as my camera was that I could instantly share photos with my family, friends and social media, something that would not have been possible using my Canon DLSR. For travel, I think the Samsung Galaxy S5 is a great way to go.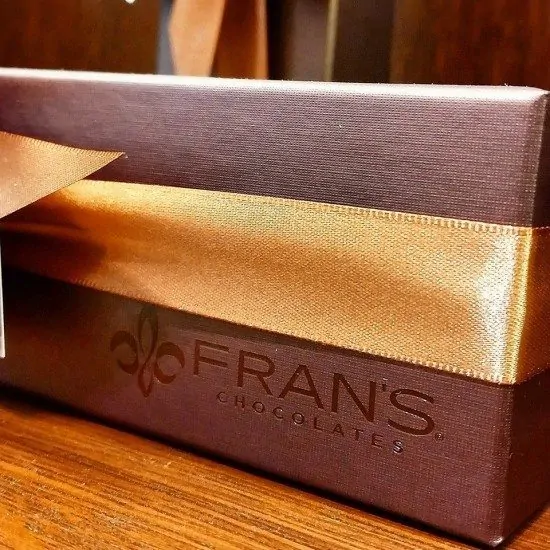 So if you are heading to Seattle and considering a tour, DO IT! Get a hold of Savor Seattle and book one! I saw so much, I learned so much and I ate SO much! I'm not affiliated with them in anyway, just one extremely satisfied customer. I hope to get back to Seattle someday soon, with my family in tow, and can't wait to do another tour. I know that my 11 year old daughter would have absolutely loved the tour (and Nick!).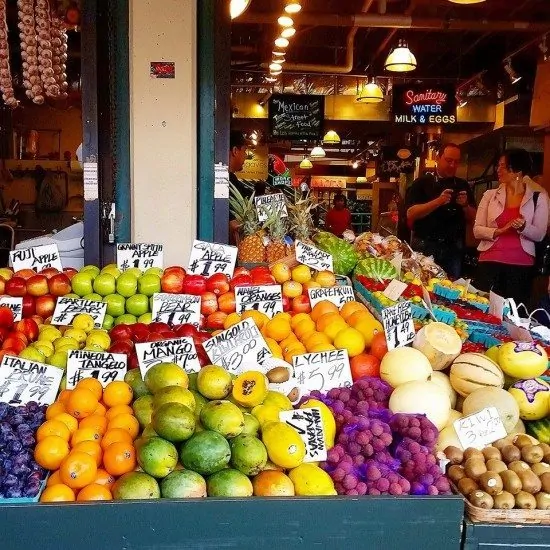 Disclosure: As a member of #VZWBuzz, I received my Verizon Samsung Galaxy S5 for free, in return for my honest review. Having already purchased and used the Samsung Galaxy S3 and S4, it's no surprise that I love the S5!