Today is National Spoil Your Dog Day and I have a pooch approved dog cake recipe for you to spoil them with!  My friends at Bounty asked me how I planned to spoil my dogs for #spoilyourdogday, and of course the answer included baking.  Like any special day, I think we should celebrate with cake!  A dog cake that is! And fun dog gifts!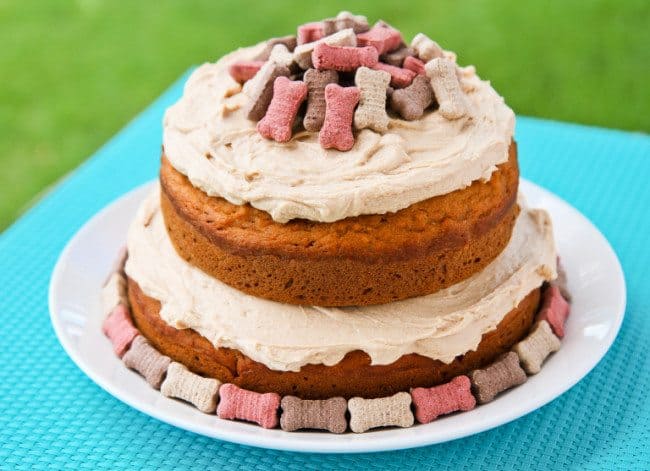 I think it's safe to say my furry friend is thrilled.  Then again I have a cocker spaniel, so he basically lives, eats, breathes and sleeps for food. I feel his pain though, when it comes to the love of food, the struggle is real, even if you are a dog.  🙂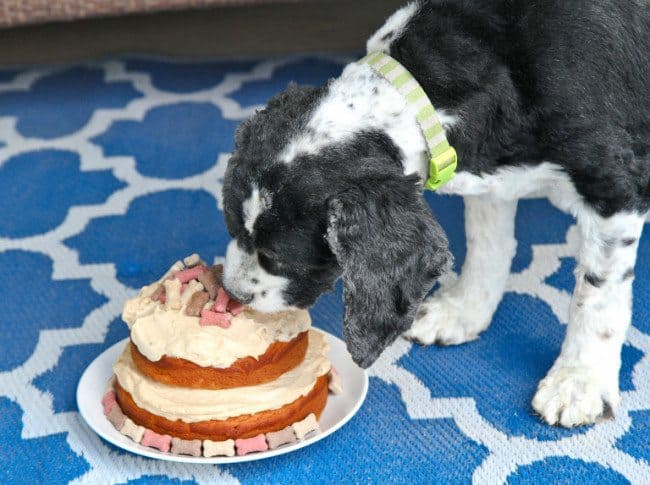 Dog Cake Recipe
This dog cake is packed full of good stuff, including peanut butter, applesauce and pumpkin.  It comes together and bakes up just like any other cake, but is perfect for your pets. The consumption of this cake can get a little messy (um, hello, dogs, and mine are slobbery messes!) but Bounty has you covered for cleaning up any messes your pups might make.  Thanks to Bounty for sponsoring this post.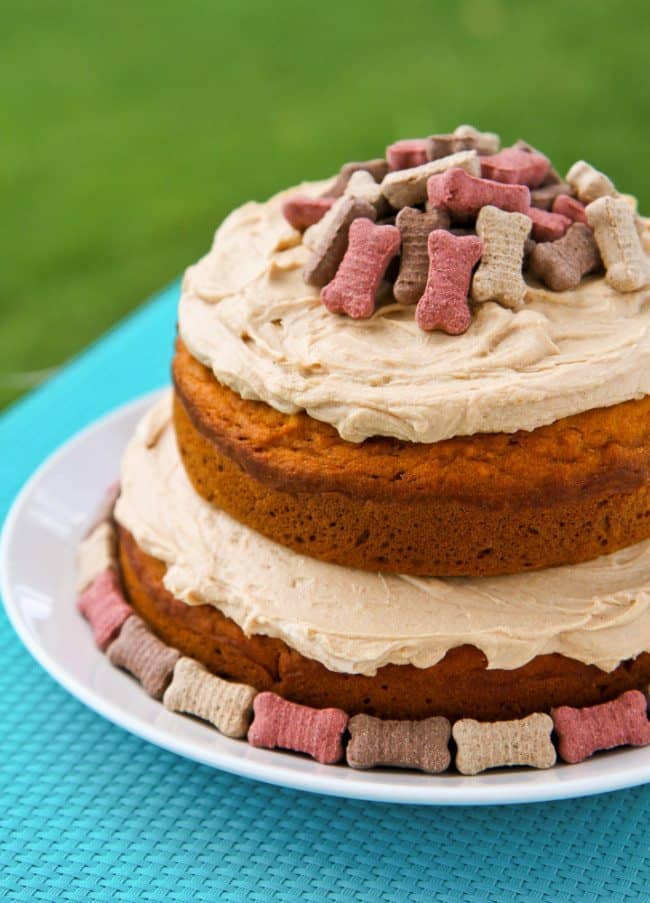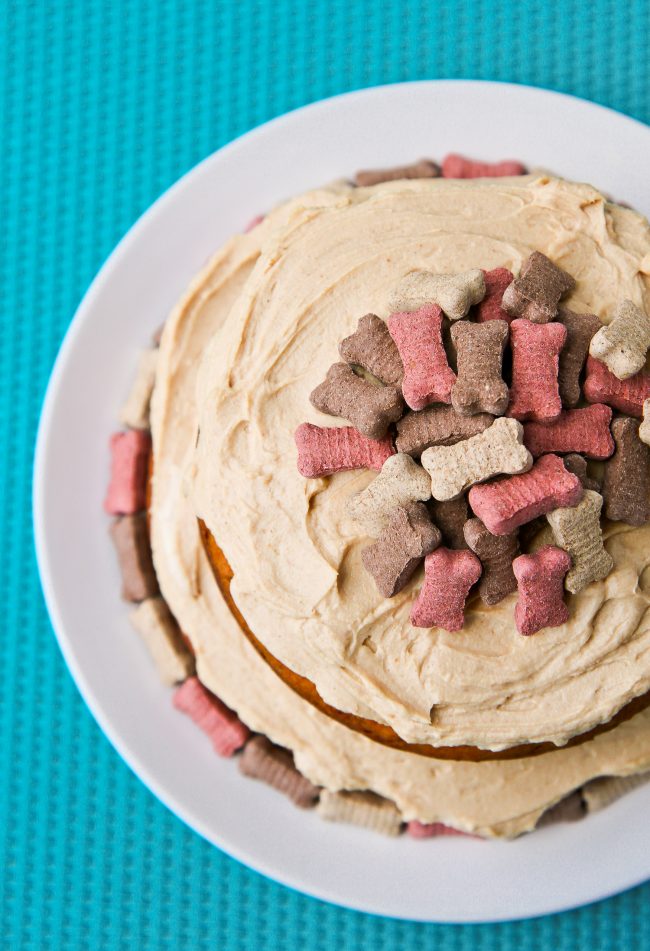 I topped my cake with some store bought dog bones (because they are minis, which makes them almost like dog cake sprinkles in my book!), but you could also bake up some homemade dog bones (here's my recipe!) to garnish this cake with.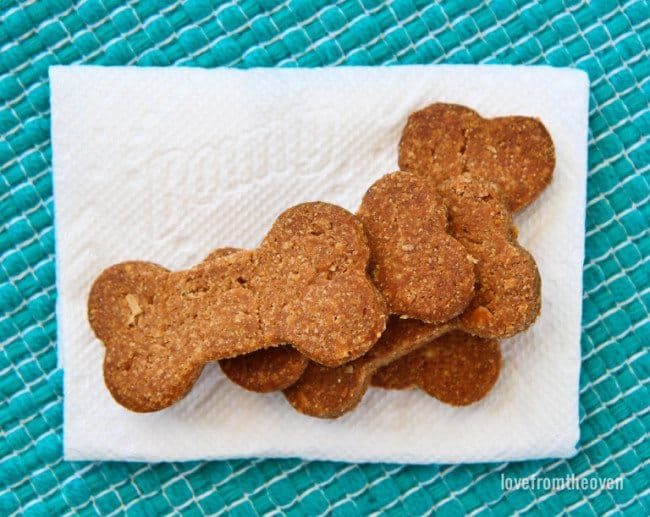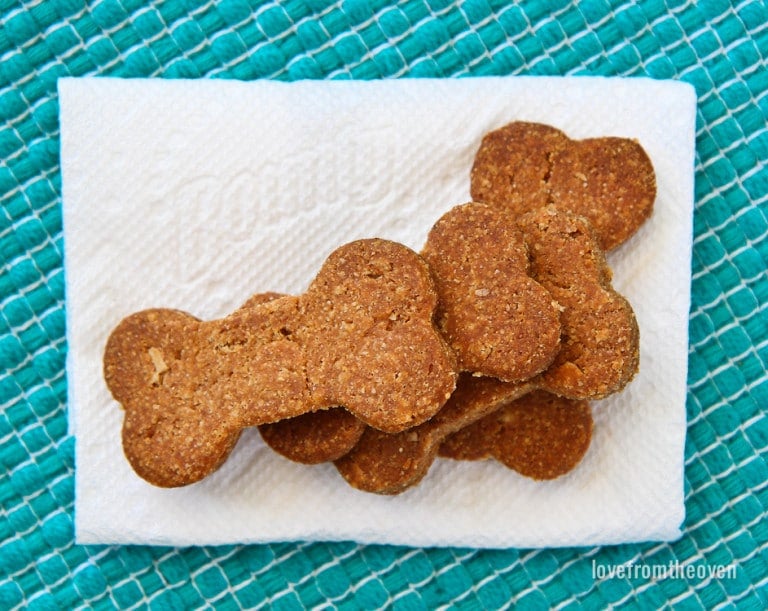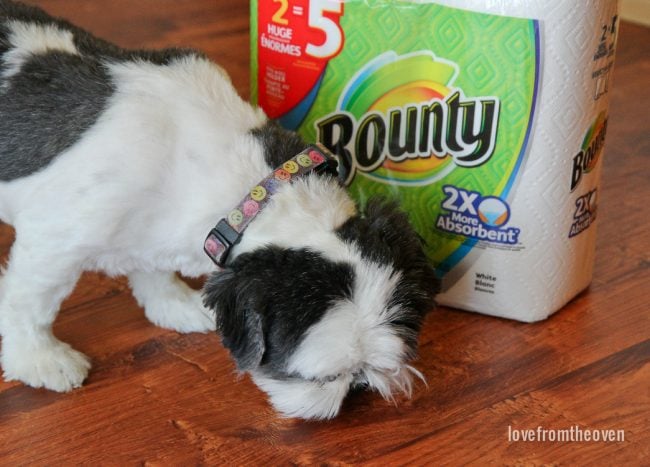 No matter what you top it with, I'm sure your dog will love this homemade dog cake recipe.  This recipe makes a single layer, but as you can see I doubled the recipe to make a layer cake. The frosting is optional, but I really never think of frosting as optional (it's my favorite part of the cake!) so I recommend it.  While you can absolutely share this cake with your dogs, it's lacking sugar so it won't be sweet – just so you know.
Cake Recipe For Dogs
Ingredients
Cake

1 cup flour
1/2 tsp baking soda
1/8 cup vegetable oil
1/4 cup peanut butter
1/2 cup applesauce
1/2 cup pumpkin puree
1 egg

Frosting

1/2 cup plain Greek yogurt
1/4 cup peanut butter
Instructions
Cake
1. Preheat oven to 350 degrees F.
2. In a large bowl, combine flour and baking soda.
3. In a separate bowl mix together vegetable oil, peanut butter, applesauce and pumpkin puree. Once combined, mix in egg and mix until combined.
4. Combine wet and dry ingredients and stir until combined.
5. Pour mixture into an 8" round pan (a square pan can also be used) that has been greased with oil.
6. Bake for approximately 25-30 minutes or until a toothpick inserted into the center comes out clean and the cake springs back when pressed lightly.
7. Allow to cool on a wire rack prior to removing from pan.
8. After cooling, add frosting if desired.
Frosting
Mix Greek yogurt and peanut butter until well combined. Spread over cake. If not serving immediately, store in refrigerator.
*Recipe can easily be doubled to make a layer cake
https://www.lovefromtheoven.com/spoiled-dog-cake-recipe/
While this dog cake recipe is SUPER easy, I know that sometimes a cake mix is what we all reach for. Well guess what, I found some awesome cake mixes for dogs. Check these dog cake mixes out! They even have grain free options.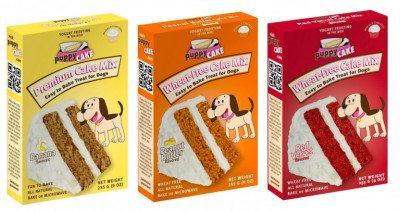 Now that you've got the dog cake made, what about some gifts? Here are some adorable gifts for dogs!
Doggie Donut No Stuffing Squeaky Toy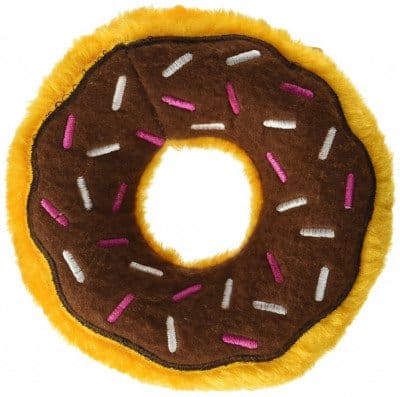 Cake Squeaky Toy in Pink or Blue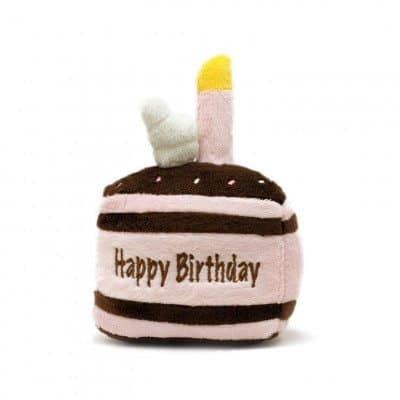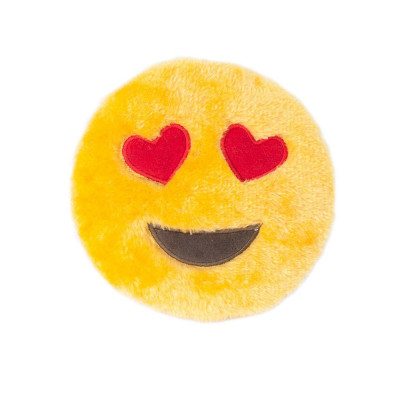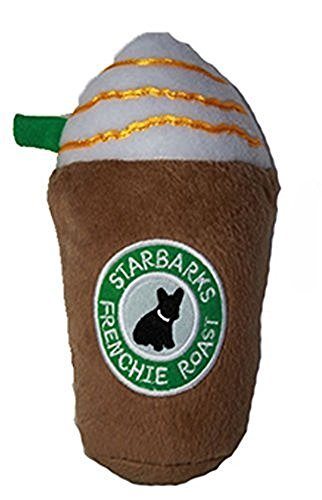 If your dog has allergies, as so many of them do, and you need a grain-free dog birthday cake, head over to Table For Two for her Grain-Free Dog Birthday Cake.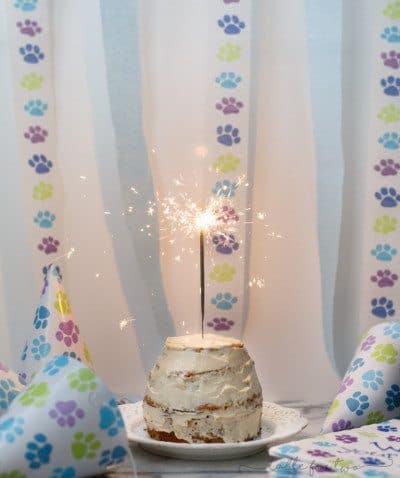 Big Bear's Wife has some Cheesy Tomato Basil Dog Treats. Those sound good enough for me to try!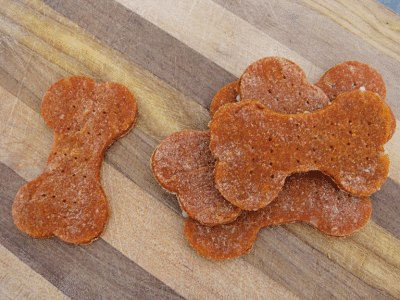 Brown Eyed Baker has some Frozen Peanut Butter-Yogurt Dog Treats that are sure to be a summer hit.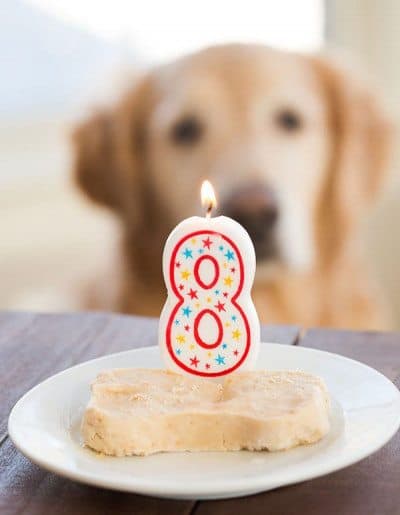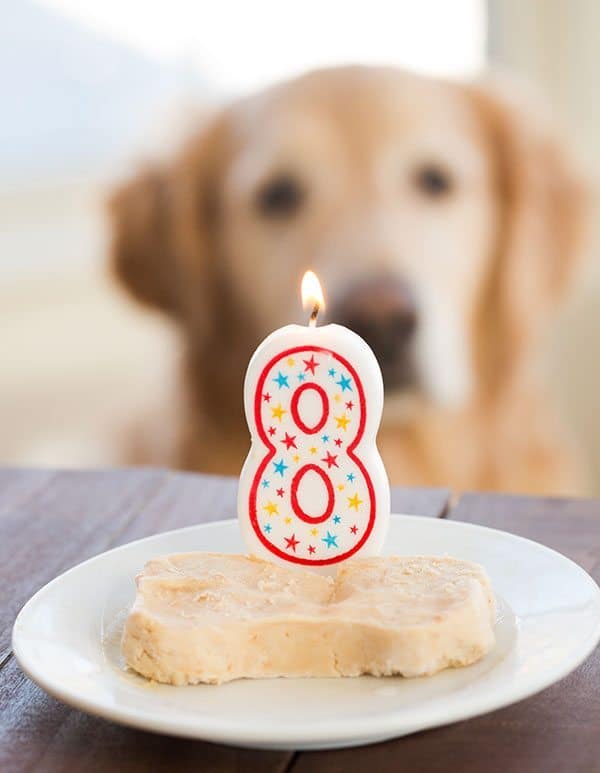 Tidy Mom has some Homemade Peanut Butter Dog Biscuits that you can cut into any shape you like.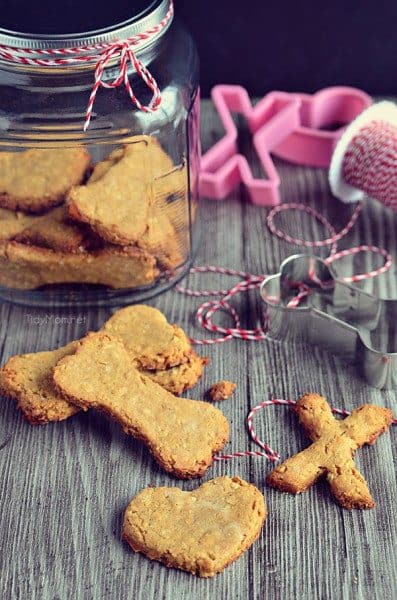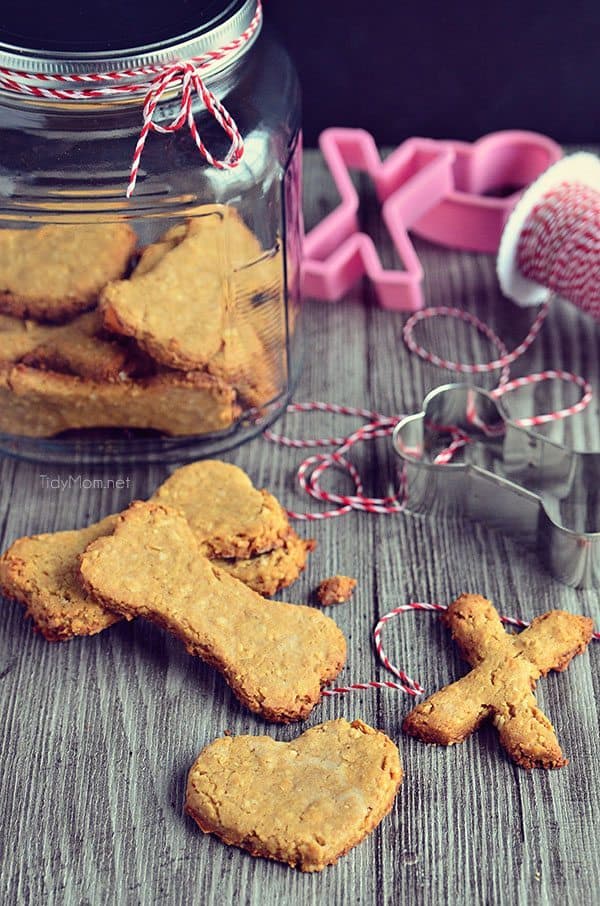 We don't want to leave our other four legged friends out of the fun! All Roads Lead To The Kitchen has some Homemade Chicken & Cranberry Cat Treats for your feline friends.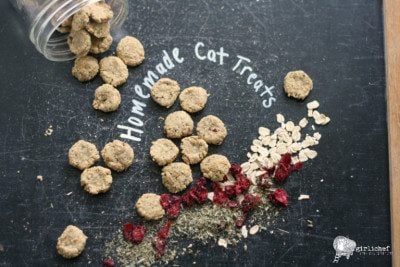 If you have a new puppy on the way, I've got a great list of new puppy items to help you out!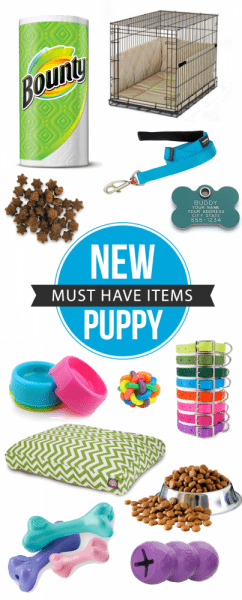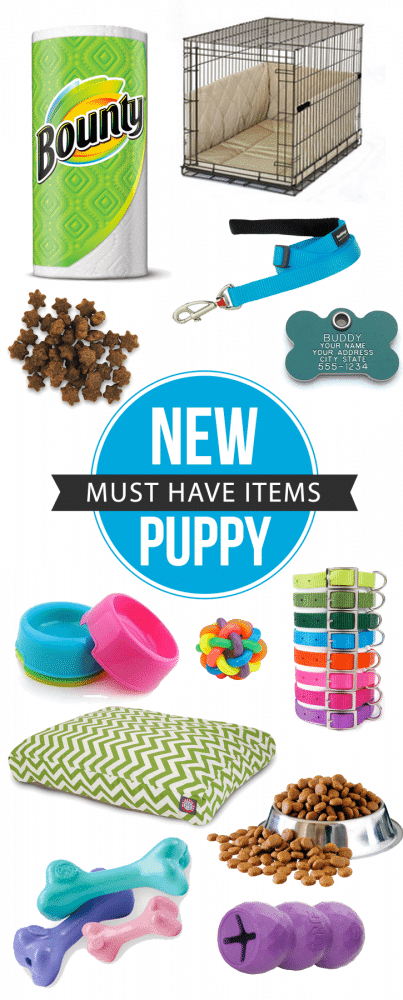 I hope you find a way to spoil your dogs for #SpoilYourDogDay and maybe have a chance to whip up this delicious cake or try my dog bone recipe. Your furry friends will thank you, I promise!  And remember, Bounty has you covered for cleaning up all those messes that our beloved pets always seem to make.  With Bounty, the #QuickerPickerUpper, spills, accidents and other pet messes are no problem.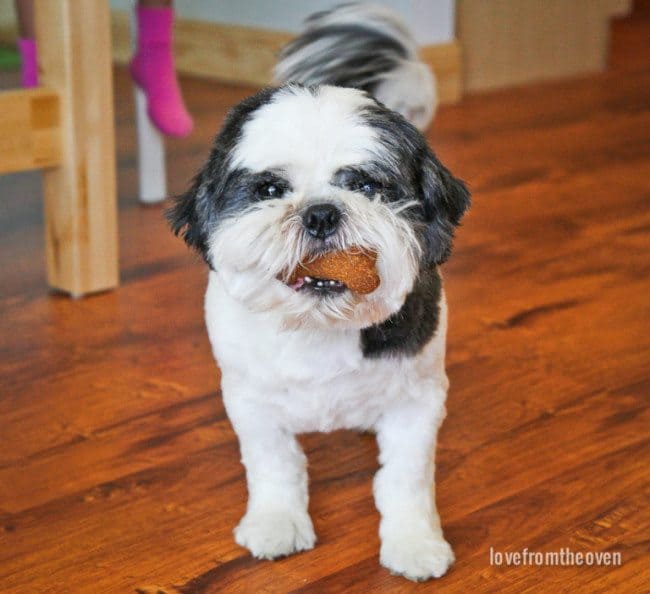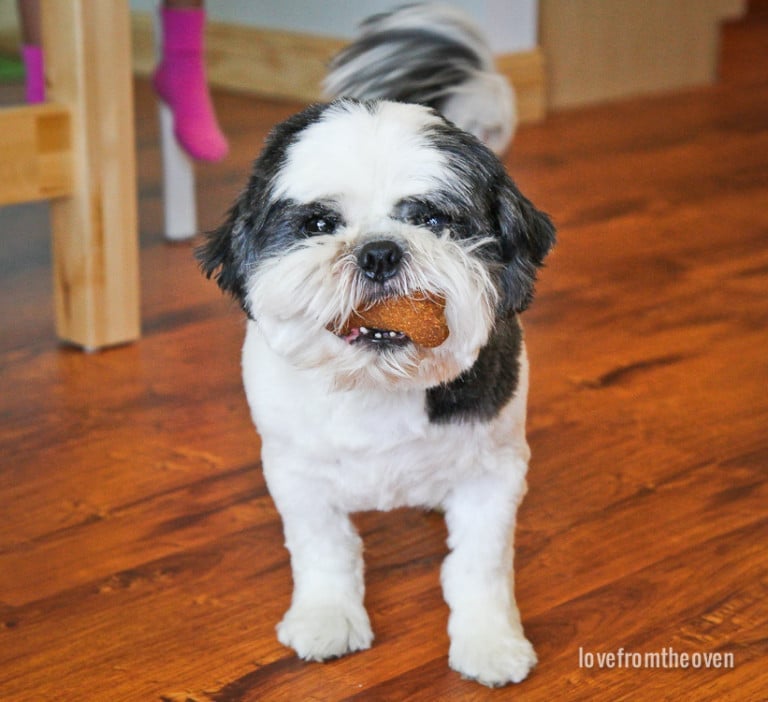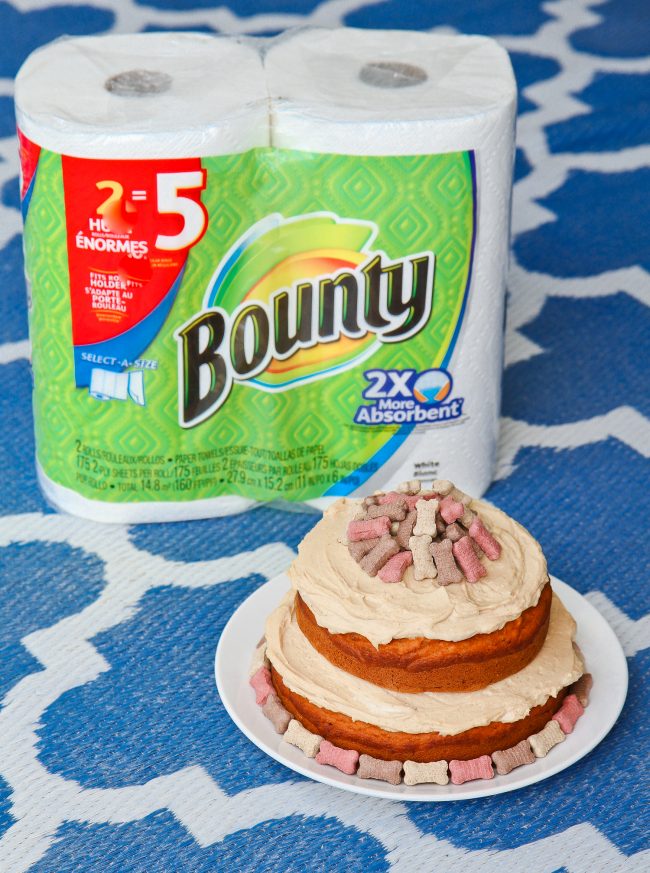 Disclosure: This post was sponsored by Bounty. All opinions however are mine and mine alone. This post contains affiliate links.