If you are looking for an quick and simple appetizer, that could easily double as a meal, these Easy Nachos are for you!  These nachos are perfect for entertaining and watching the big game with friends and family.  An incredibly flexible dish, you can throw these together with a variety of different ingredients, and you really don't even need to measure, making these perfect to whip up while chatting with friends and watching the big game.
Not only are these easy nachos quick to make, and a perfect game day food, but clean up is quick an easy thanks to Bounty.   This is one of those dishes that you don't have to worry about getting the measurements just right, it's a throw it all together and enjoy type of thing.  Thanks to Bounty for sponsoring this post.
When entertaining friends and family, especially when watching the big game, if you are like me you want to keep it simple.  I get easily distracted and side tracked, so complicated recipes are a no-go if I'm trying to make something while interacting.  Sometimes we get so focused on creating the perfect meal when entertaining, that we get more wrapped up in that than spending quality time with our guests.  This is such a great option to throw together quickly and easily while hanging out with your guests, and they can even help.
All you have to do to make these nachos is pile everything onto a cookie sheet and place it into the oven.  And when it comes to ingredients, you can use whatever you have or like.  Ground beef, shredded beef, pork, chicken, even no meat – that's the beauty of this, there is no right or wrong way to make these, and they are DELICIOUS.  You simply fill a baking sheet with tortilla chips, and top with ingredients of your choice.  The only real must haves are the chips and the cheese, and everything else is up to your creativity or what's in your pantry.  And you'll want to have some Bounty Paper Towels on hand to make clean up a breeze.
You start with your tortilla chips.  Any brand you like will do.  A standard size bag fits on a standard sized cookie sheet nicely.  Once you have your chips on your baking sheet, it's time for the cheese.  Cheddar, Colby jack, Monterrey Jack, whatever you want to use.  For the standard size bag of chips, a one pound block of cheese works nicely.  Buying your cheese pre-grated works, but I find it never melts as well as when I grade it myself.
I spread about half of it over the chips.  I like to layer my ingredients, so I don't put all the cheese on at once.
Then it's time to start adding on your toppings.  You truly can do whatever you want. I went with tomatoes, black olives, black beans, seasoned, cooked ground beef, avocados, corn and chives.  You could use any of those or none!  Have some leftovers i the fridge?  Use those up!  And you really don't have to measure your amounts, for the most part a "handful" sized amount of anything works well.  You just sprinkle your toppings on, then give another sprinkle of cheese.
Maybe it's just me, but I can never manage to open up a can of olives without spilling the juice.  Ever. Thankfully I had Bounty, The Quicker Picker Upper, on hand to help with spills and messes.
I am a very messy cook.  It is what it is, I've accepted it.  I try and not dirty any more dishes than I have to, especially when entertaining.  When I was done making these nachos, I just wiped everything with Bounty and was good to go and enjoy my guests.
Greasy messes, no problem.
Once your ingredients are all piled on, into an oven it goes.  I bake mine at 350 degrees for about 10-15 minutes, or as long as it takes the cheese to get good and melty.  Then it's out of the oven and I serve it right on the baking sheet.  I like to pair it with some sour cream, salsa, guacamole and/or refried beans on the side.  If you have a large crowd you could easily make a few trays of these, and even customize the topping for each batch.  A really fantastic party food option.
And let's face it, nachos, and football fans eating them, can get a bit messy. No worries, wipe it up on up with Bounty.
Easy Nachos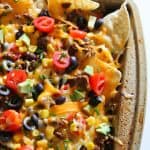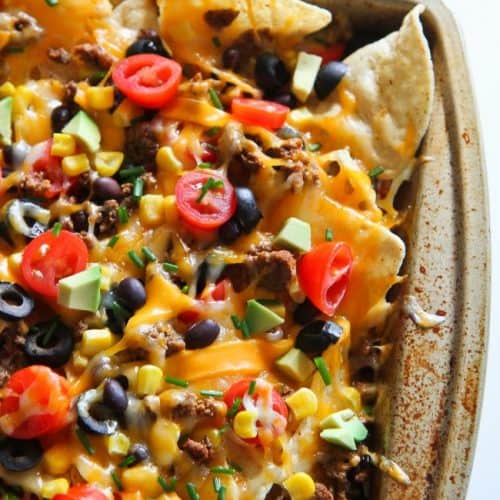 Easy Nachos
Ingredients
1

Standard Size Bag Of Tortilla Chips

1

pound

block of cheese such as cheddar

Monterrey Jack or Colby Jack, shredded

Optional Topping Such as:

Seasoned Ground Beef

Shredded Beef

Pork or Chicken

Black beans or pinto beans

Tomatoes

jalapenos or chilies

Corn

black olives, avocados

Use as little or as much as you like of toppings

this is a personal choice type of thing!
Instructions
Preheat oven to 350 degrees F.

Line a baking sheet with a silicone baking mat or foil.

Spread chips over cookie sheet.

Sprinkle half of the grated cheese over the chips.

Sprinkle toppings over the chips and cheese.

Sprinkle on remaining cheese.

Bake for approximately 10 minutes, or until cheese is good and melty.

Serve warm with sides such as guacamole, sour cream or salsa.
Did you know you can have nachos for dessert as well? Heck yeah you can! Check out my caramel pretzel dessert nachos!
And since we are branching out and getting creative with nachos, try these Breakfast Nachos from Barefeet In The Kitchen.
And I can't wait to make these Cheesesteak Nachos from Foodie With Family.
I hope your friends and family enjoy these easy nachos as much as we do!  And make sure to have plenty of 2x More Absorbent Bounty on hand to help you clean up all of your meal, and big game messes.  With Longer Lasting Bounty at your side, you can focus on the game and friends, not the messy dinner fumbles.
#QuickerPickerUpper
Disclosure: This post was sponsored by Bounty.  All opinions however are mine and mine alone.