Make quick, delicious and easy nachos at home in just minutes! This mouth-watering recipe is incredibly simple to make, and your friends and family will absolutely rave about the incredible results!
While nachos have always made a great appetizer, don't hesitate to turn them into a full meal! This recipe works perfectly for dinner, be it for a party of one or for the entire family. One of the best things about nachos, aside from their dig-right-in appeal, is that they are very flexible when it comes to ingredients, and they are a great way to use up leftovers.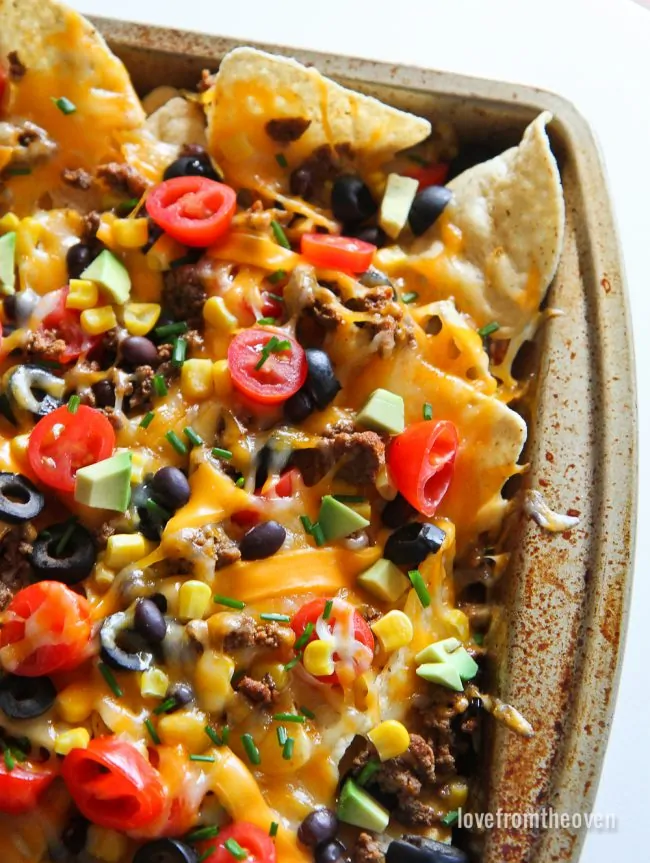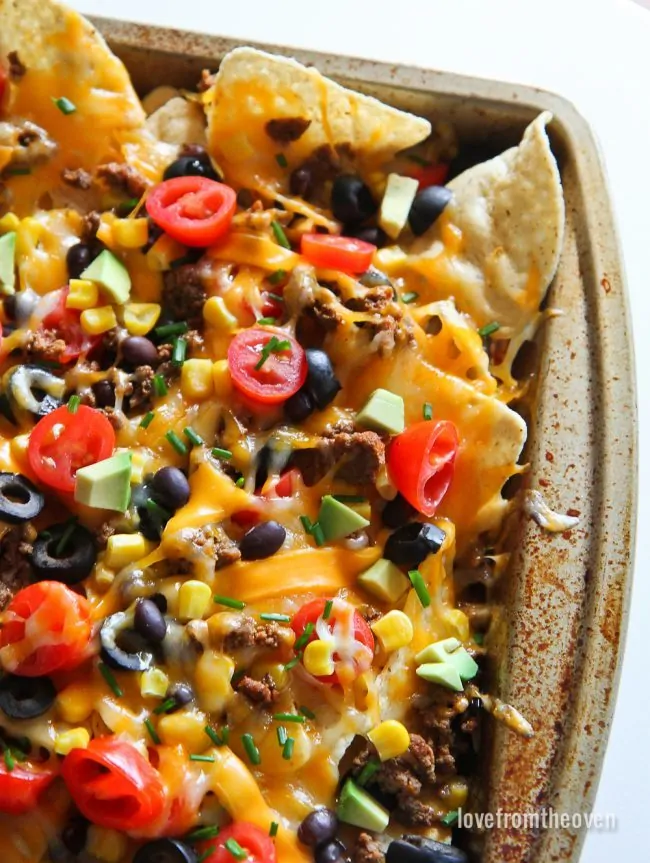 You can throw these baked nachos together with a variety of different ingredients, and you really don't even need to measure. This is one of those dishes that you don't have to worry about getting the measurements just right.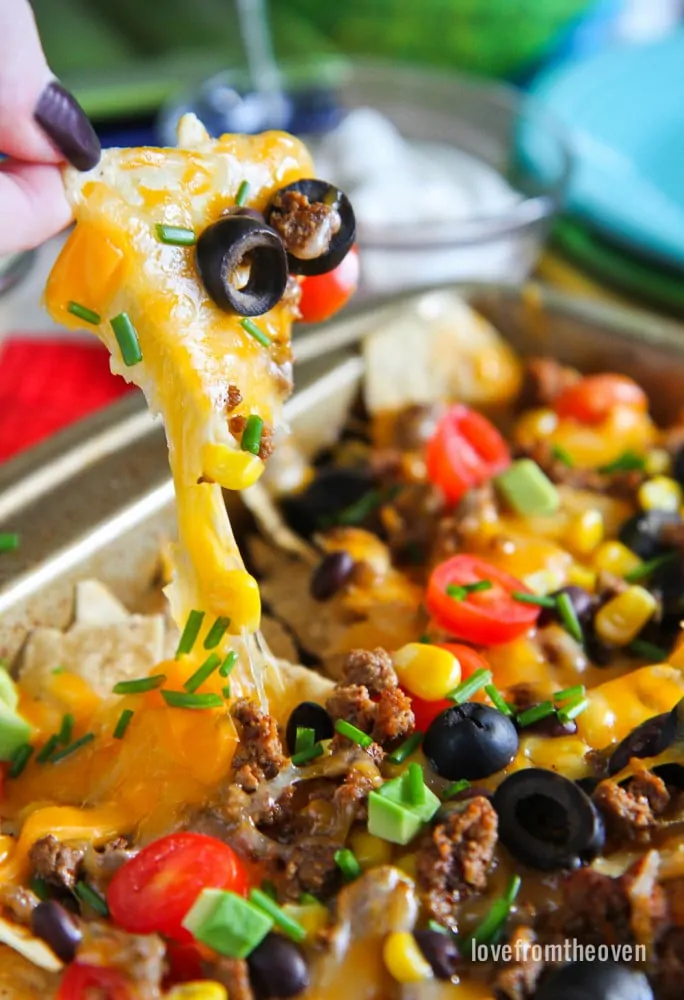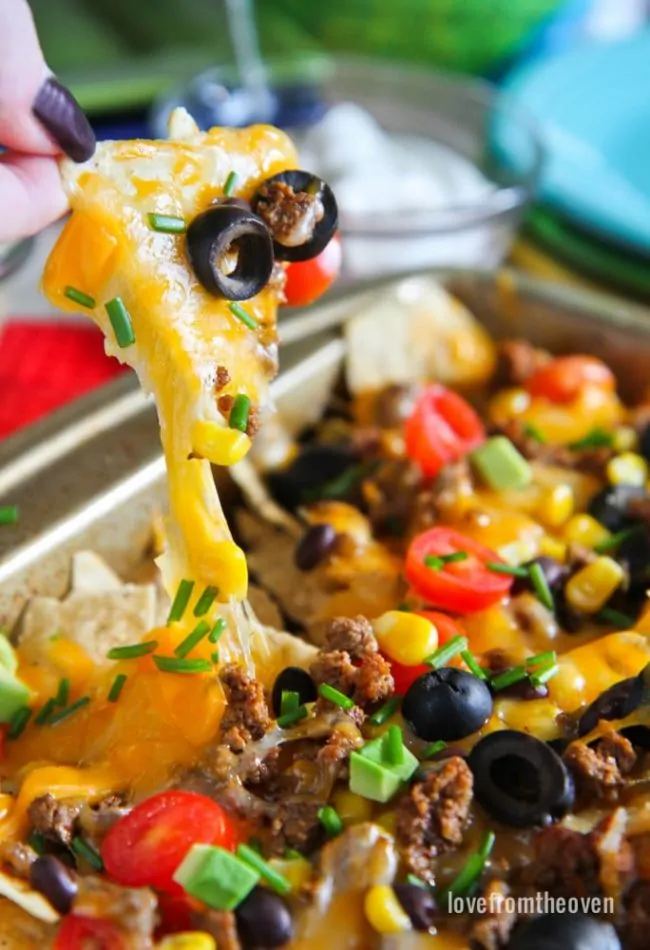 They are perfect to whip up while chatting with friends, entertaining or watching a game. Nachos can really be a throw it all together and enjoy type of thing. When I'm entertaining, I love those type of recipes.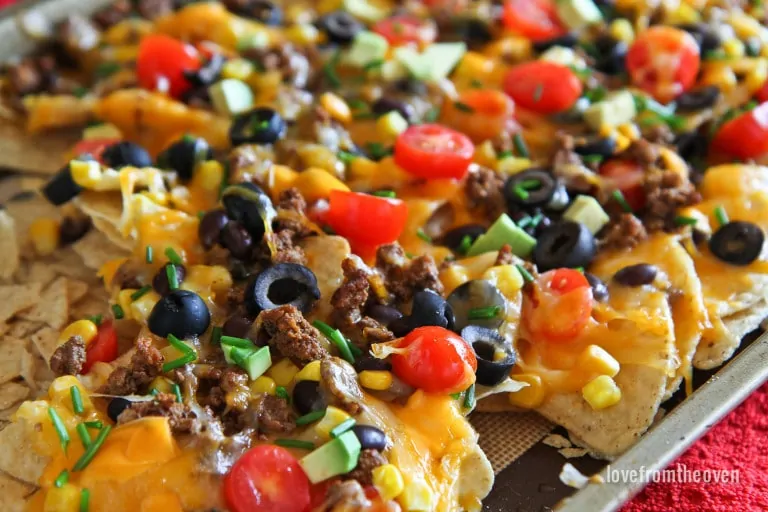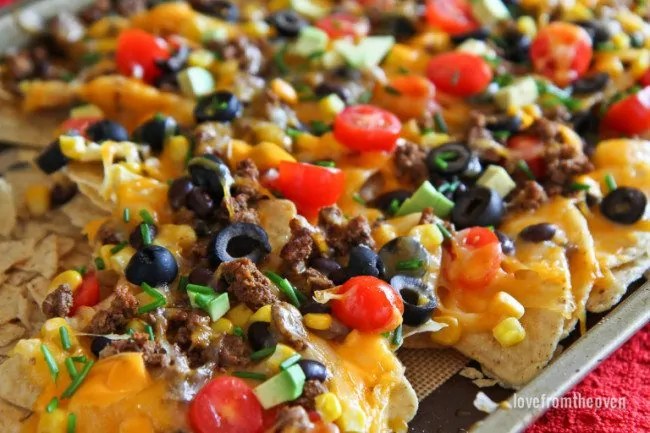 When it comes to game day eats, nachos always make the perfect game day food.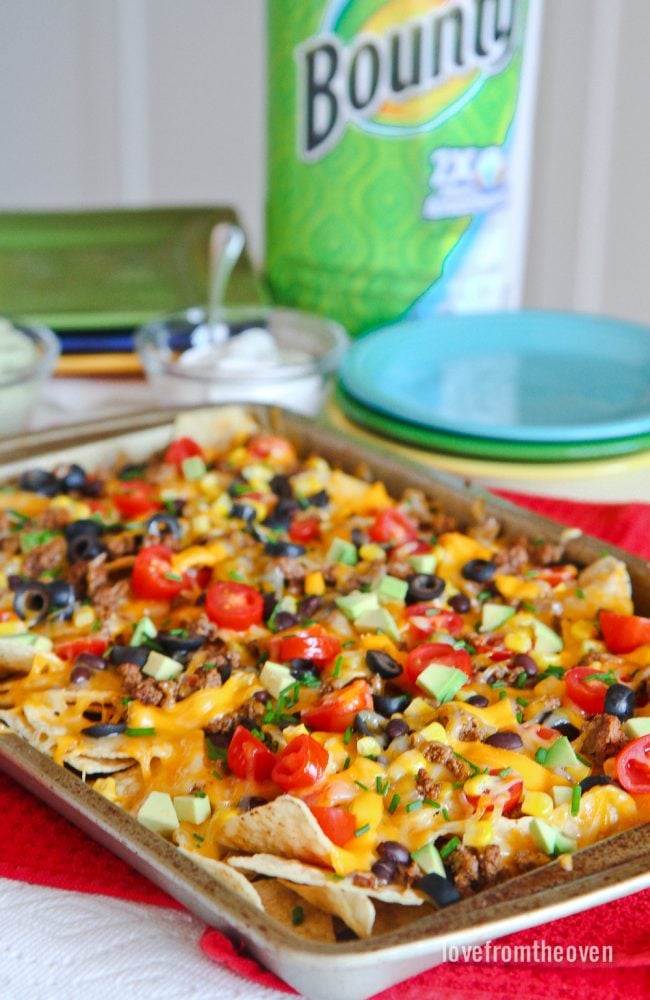 Nachos Are Easy To Make
When entertaining friends and family, especially when entertaining or watching a big game, if you are like me you want to keep it simple. Nachos can really be a "throw it all together and enjoy" type of thing. When I'm entertaining, I love those type of recipes.
I get easily distracted and side tracked, so complicated recipes are a no-go if I'm trying to make something while interacting. This is such a great option to throw together quickly and easily while hanging out with your guests. They can even help out.
Sometimes we get so focused on creating the perfect meal when entertaining, that we get more wrapped up in that than spending quality time with our guests.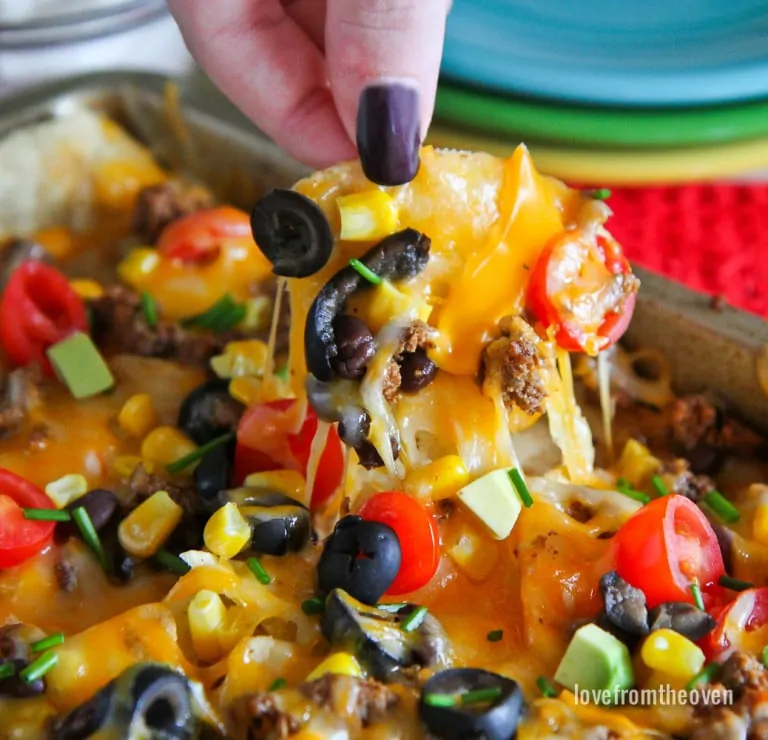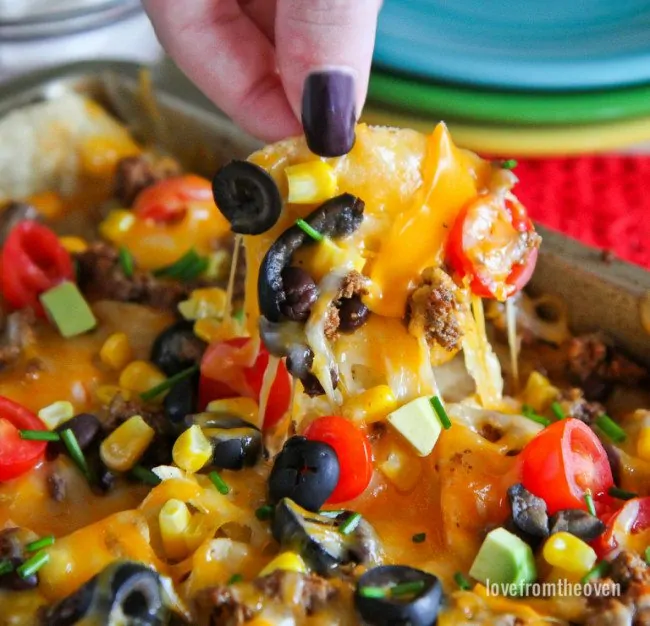 What Are The Main Ingredients Are In Nachos?
Tortilla Chips

Cheese

Toppings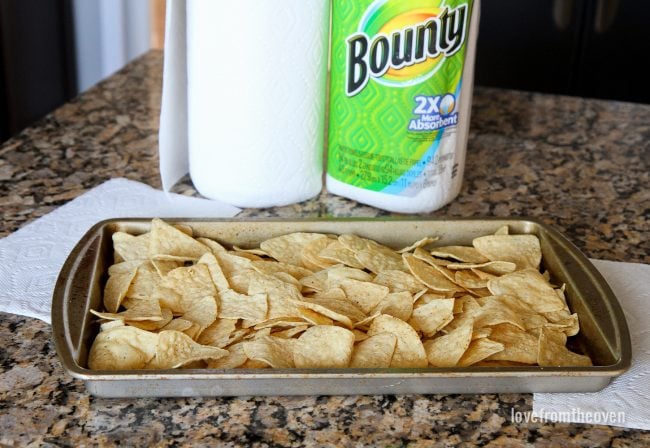 Tortilla Chips
Start with your tortilla chips. Any brand you like will do.
That said, I do recommend that you avoid using the thinner style tortilla chips. While I love the thin chips for eating with salsa, something with a bit more heft to it works well for nachos. A standard size bag fits on a standard sized cookie sheet nicely.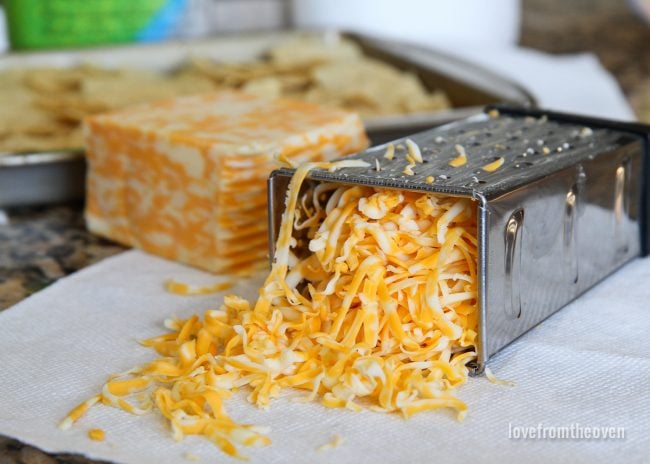 Cheese
Once you have your chips on your baking sheet, it's time for the cheese.For the standard size bag of chips, a one pound block of cheese works nicely.
In my opinion, the best cheese for nachos includes:
Cheddar

Monterey Jack (my personal favorite)

Colby

Pepper Jack

American (not my top pick, but very melty!)

Mozzarella (not the best on it's own, but great as a combo)

A combination of any of the above
Grate Your Own Cheese
Buying your cheese pre-grated works, but I find it never melts as well as when I grate it myself. If you look on the ingredient list for pre-shredded cheeses, you'll notice that anti-clumping agents like cellulose added. Cellulose isn't high on my list of toppings.
Grating your own cheese really is key to getting that great, cheesy, melty thing we all love with nachos. As an added bonus, it's almost always more cost effective to grate your own cheese. That said, sometimes convenience just wins. So if pre-grated cheese is what works for you, then go with it. It will be delicious, I promise!
Liquid Cheese Sauce
As you can tell, these are not made with the liquid style nacho cheese sauce. We prefer both the taste, and ease, of making our nachos with shredded cheese, and baking them in the oven.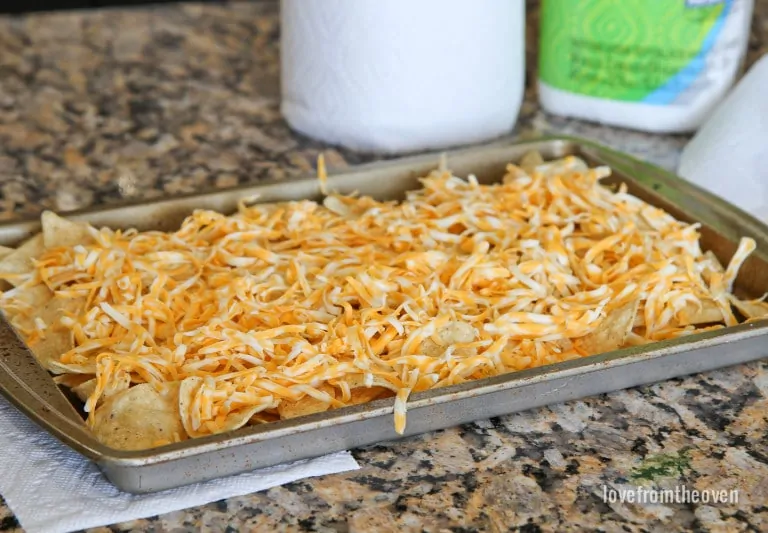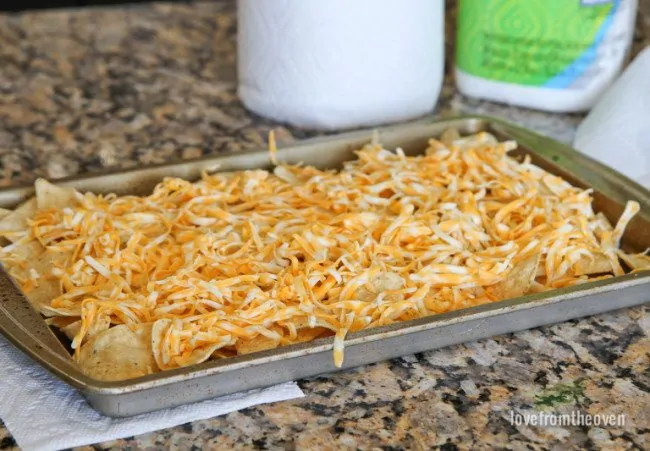 Toppings
After you have your tortilla chips and cheese, it's time to start adding on your toppings. You truly can do whatever you want. I prefer to start with room temperature or warm ingredients when possible. This helps with even cooking.
When it comes to nachos, you really can use whatever ingredients you like or have on hand. Feel free to use ground beef, shredded beef, pork, chicken, even no meat – that's the beauty of nachos.
Nacho Toppings:
Ground Beef

Shredded Beef

Ground Turkey

Shredded Chicken

Shredded Pork Carnitas 

Tomatoes

Black Olives

Black Beans

Corn

Onions

Jalapeños  
Toppings To Add After Baking:
Sour Cream

Salsa 

Avocados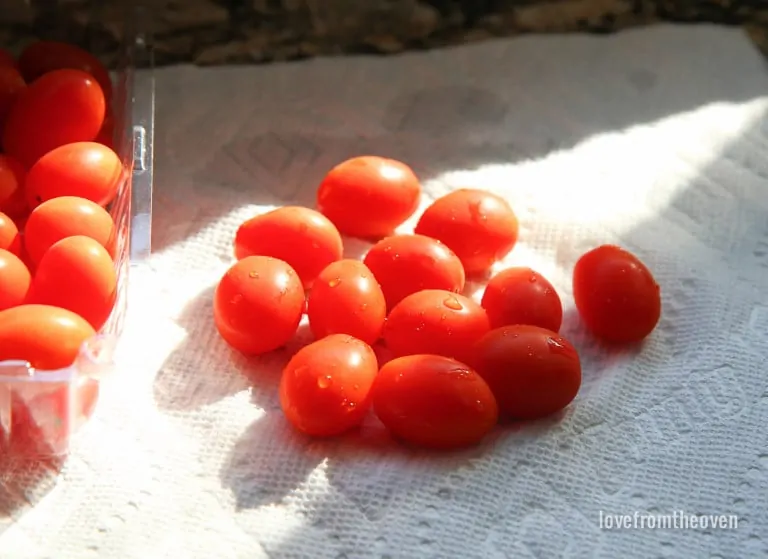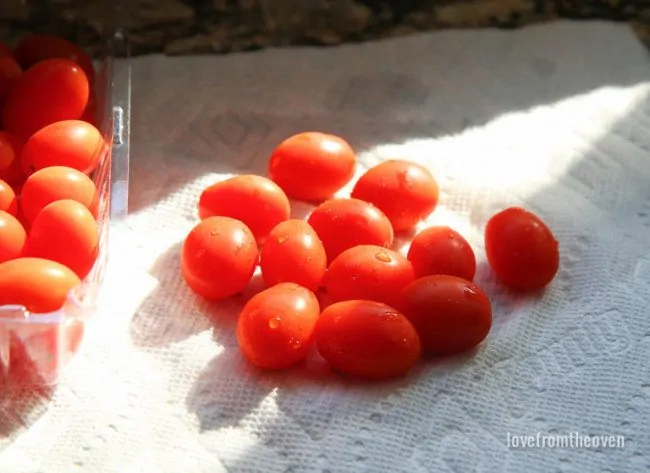 There is no right or wrong way to make these, and they are DELICIOUS.
Simply fill a baking sheet with tortilla chips, and top with ingredients of your choice. The only real must haves are the chips and the cheese, and everything else is up to your creativity or what's in your pantry.All you have to do to make these nachos is pile everything onto a cookie sheet and place it into the oven.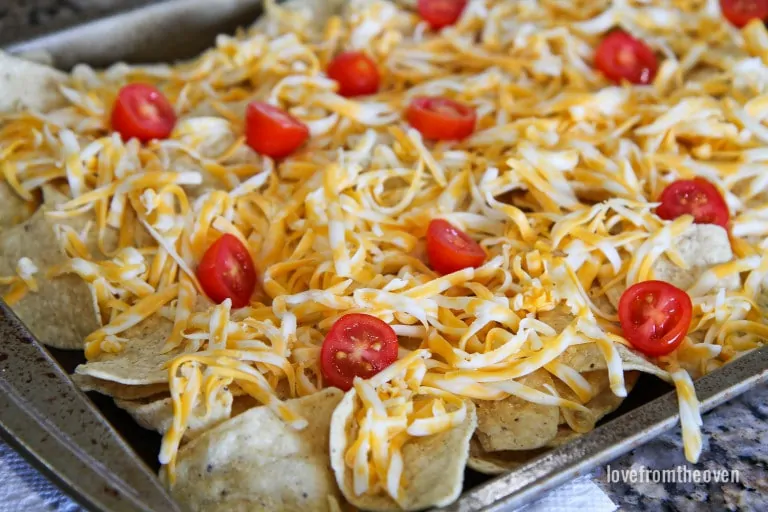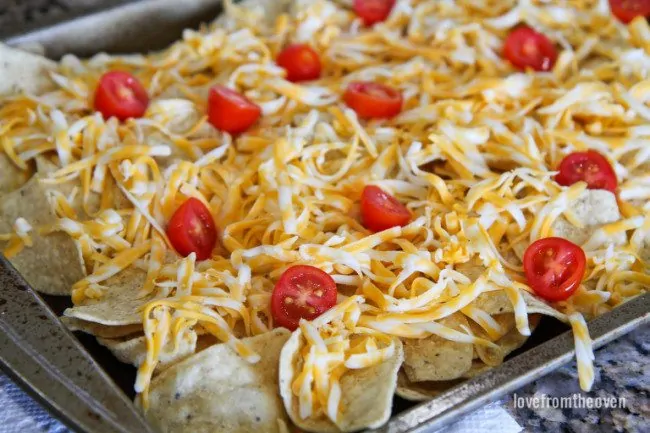 On my nachos you see here, I used tomatoes, black olives, black beans, seasoned, cooked ground beef, avocados, corn and chives. You could use any of those or none! Have some leftovers i the fridge? Use those up!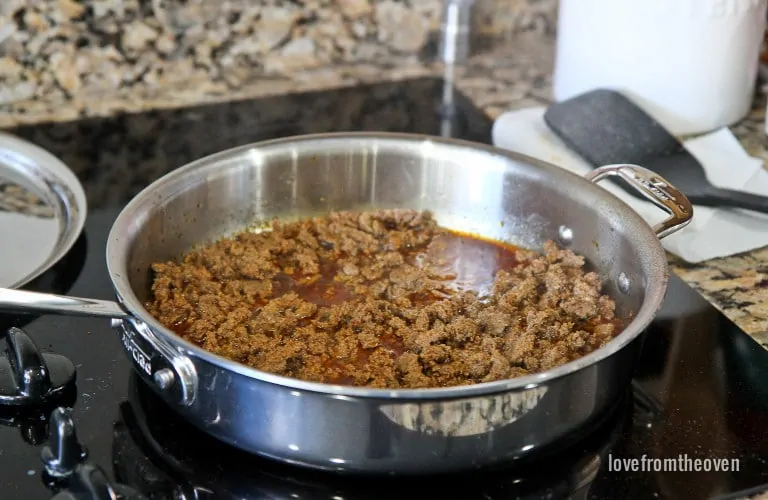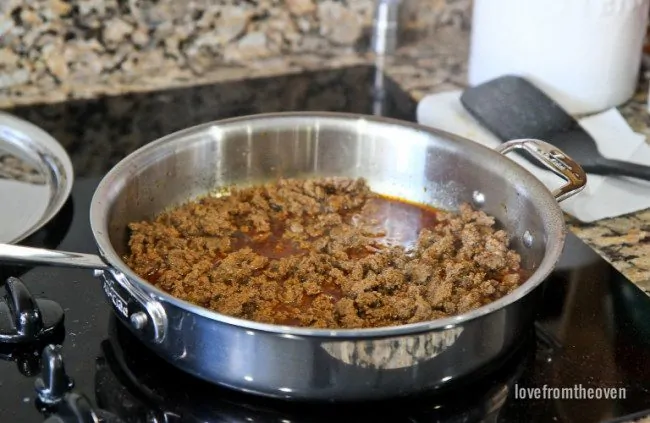 And you really don't have to measure your amounts, for the most part a "handful" sized amount of anything works well. Just sprinkle your toppings on, then give another sprinkle of cheese.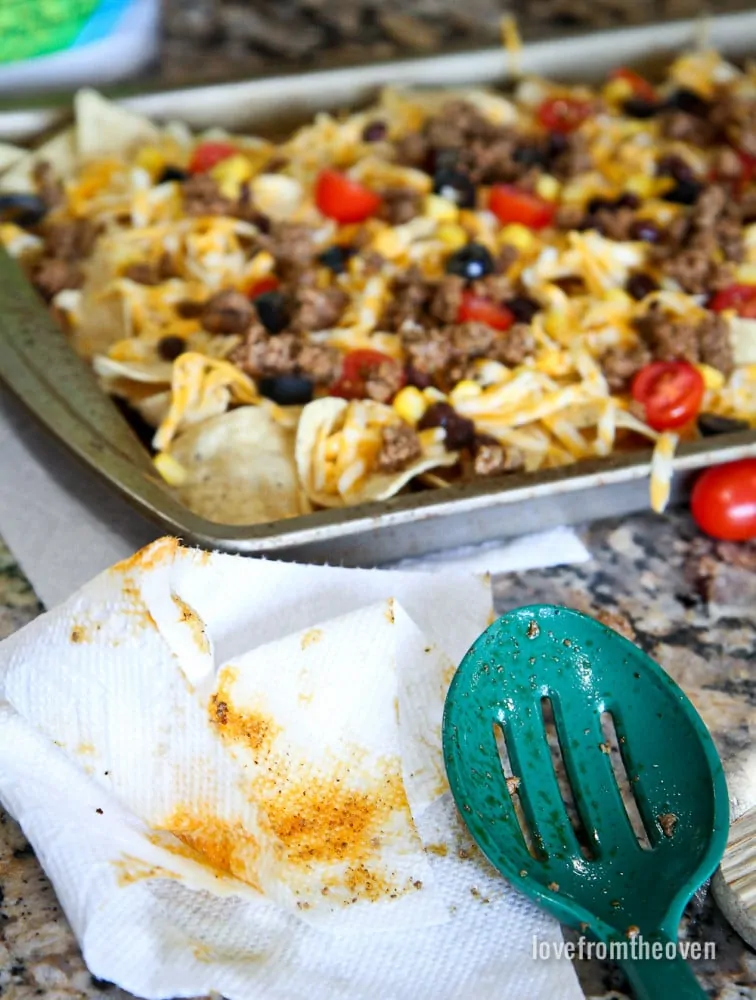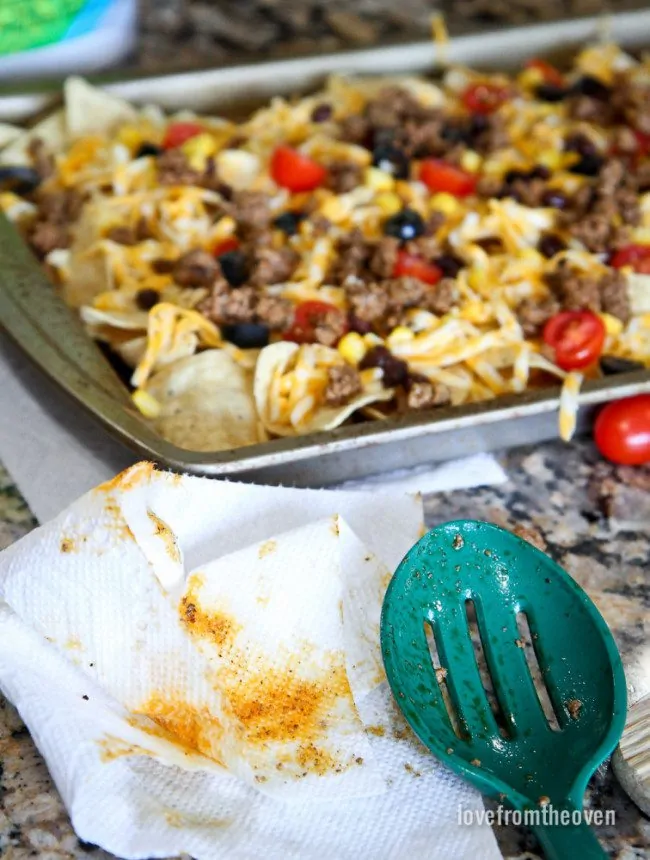 Once your ingredients are all piled on, into an oven it goes.
How Do You Bake Nachos In The Oven?
I bake my nachos in the oven at 350 degrees for anywhere between 3-15 minutes. A quarter sheet or half sheet baking pan works perfectly for this recipe.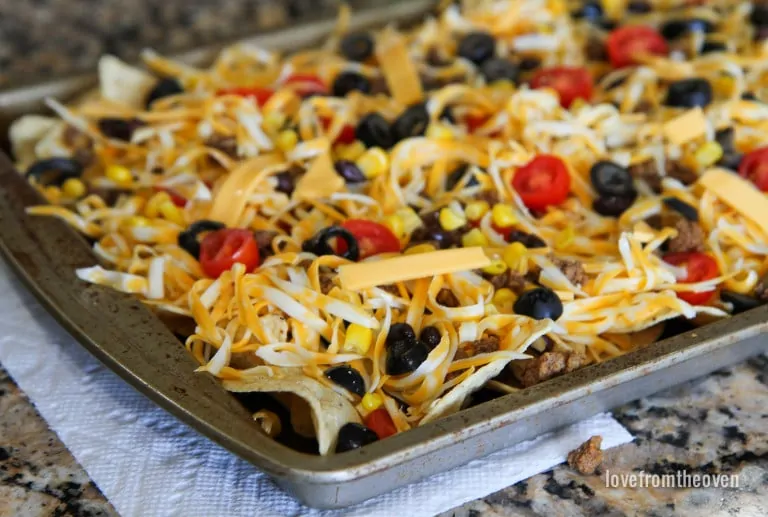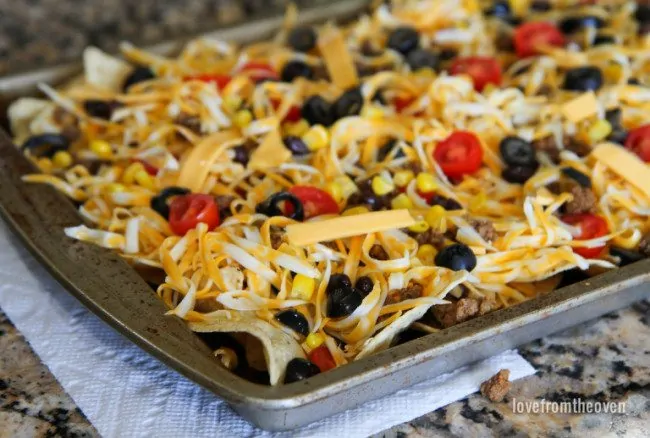 The amount and kind of toppings you have can greatly impact the cooking time. Start checking it at three minutes. Take them out when the cheese is getting nice and melty. Then it's out of the oven and I serve it right on the baking sheet.
I like to pair it with some sour cream, salsa, guacamole and/or refried beans on the side. If you have a large crowd you could easily make a few trays of these, and even customize the topping for each batch. A really fantastic party food option.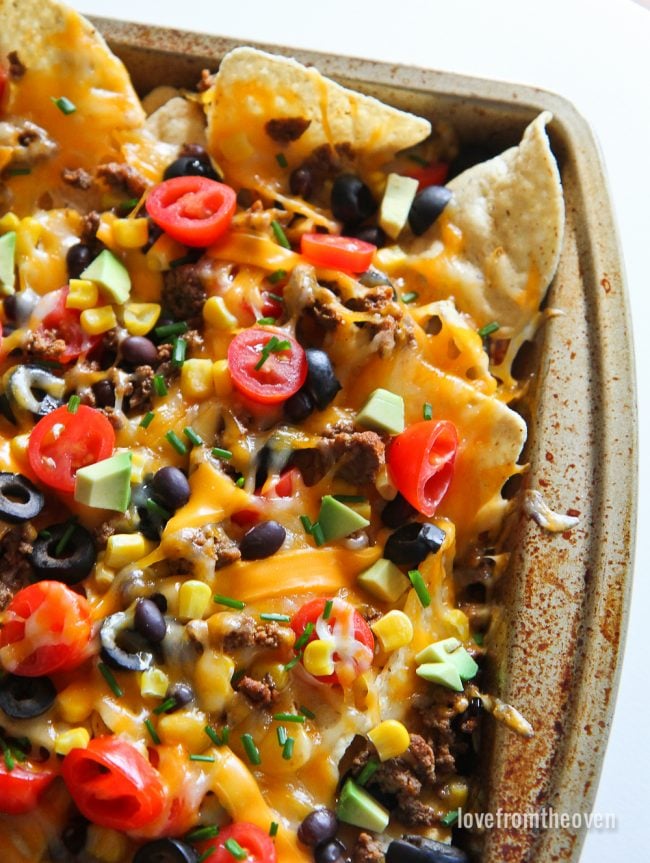 Picky Eaters
If you have picky eaters, or just a crowd that can't agree on what toppings they like, you can bake your nachos with just the cheese. Then, set out the remaining ingredients and let your family or guests top their nachos individually after baking. This can be a fun way to serve nachos at a party, allowing you to create a nacho bar, so to speak.
Leftovers
While leftovers are a very good thing in most cases, the same cannot be said for nachos. The unfortunate reality is that nachos are a best served immediately type of food. Reheating leftover nachos almost always leads to soggy nachos.
Because these are so quick and easy to make, I would err on the side of not making enough, and adding more if needed, then making a giant batch that won't get eaten in one sitting.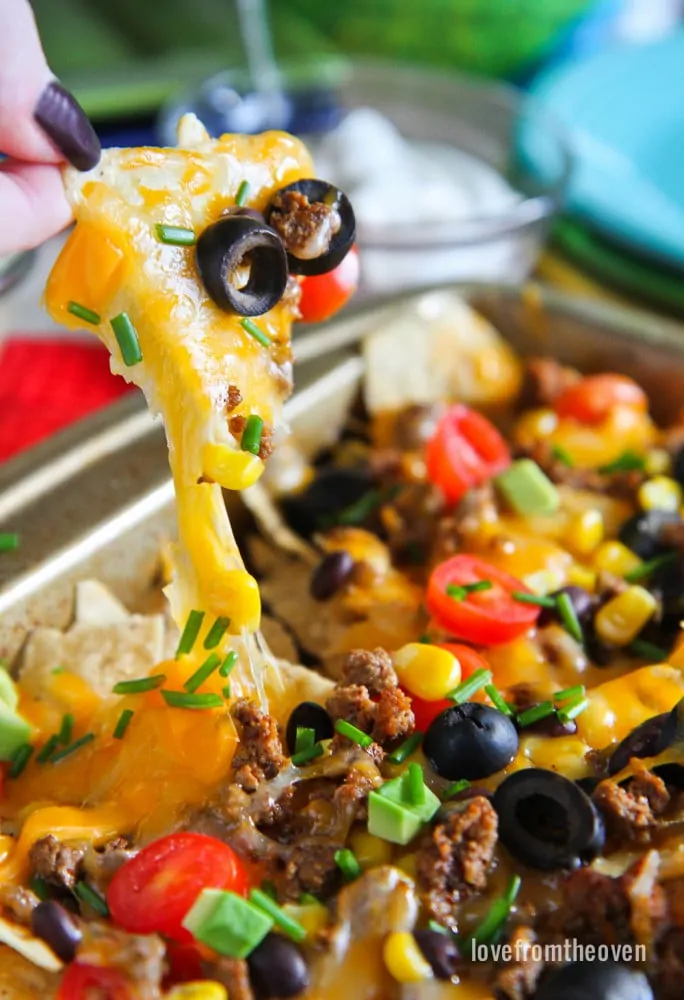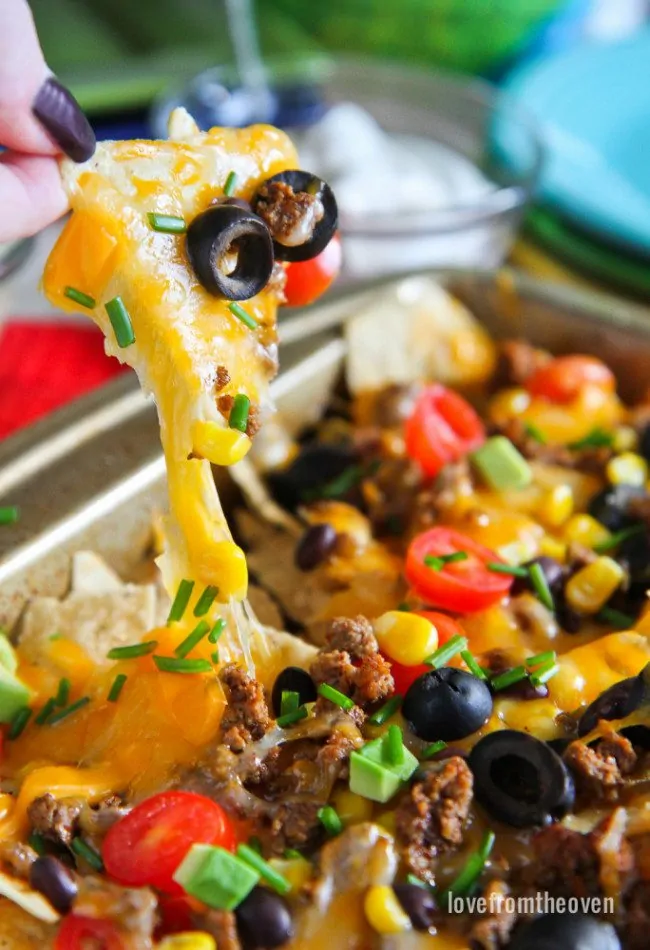 What is my absolute favorite thing to serve with nachos? MARGARITAS, my friends! Of course! Here is my favorite Margarita On The Rocks recipe. More of a frozen fan? Then try my favorite Frozen Margaritas recipe.
Other Recipes To Try:
Don't Forget Dessert: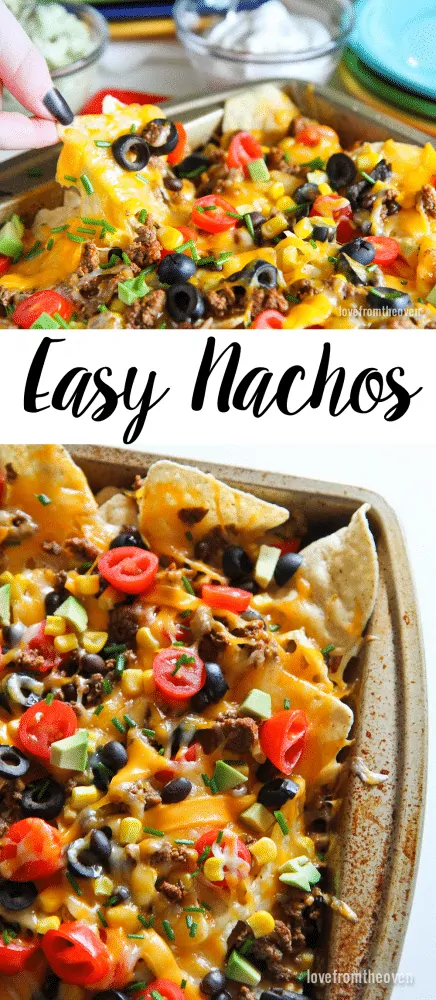 CLICK TO PIN AND SAVE
EASY NACHOS RECIPE
The Best Easy Nachos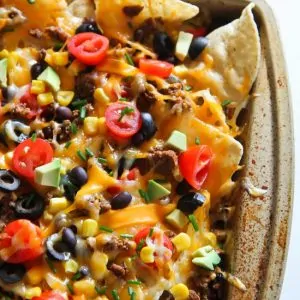 Easy Nachos
These easy nachos are quick and delicious. This flexible meal can use a variety of ingredients and comes together in no time.
Ingredients
1

Standard Size Bag Of Tortilla Chips

1

pound

block of cheese such as cheddar

Monterrey Jack or Colby Jack, shredded

Optional Topping Such as:

Seasoned Ground Beef

Shredded Beef

Pork or Chicken

Black beans or pinto beans

Tomatoes

jalapenos or chilies

Corn

black olives, avocados

Use as little or as much as you like of toppings

this is a personal choice type of thing!
Instructions
Preheat oven to 350 degrees F.

Line a baking sheet with a silicone baking mat or foil.

Spread chips over cookie sheet.

Sprinkle half of the grated cheese over the chips.

Sprinkle toppings over the chips and cheese.

Sprinkle on remaining cheese.

Bake for approximately 10 minutes, or until cheese is good and melty.

Serve warm with sides such as guacamole, sour cream or salsa.
Notes
These nachos are very flexible and forgiving. Feel free to get creative with this recipe and try different ingredients that your family loves. If you are vegetarian, leave out beef. If you prefer chicken, use that instead. Get creative with different types of cheeses and toppings. 
A silicone mat on your baking sheet will help make clean up easier. 
Nutrition
Serving:
0
g
|
Calories:
447
kcal
|
Carbohydrates:
38
g
|
Protein:
17
g
|
Fat:
26
g
|
Saturated Fat:
10
g
|
Cholesterol:
47
mg
|
Sodium:
476
mg
|
Potassium:
273
mg
|
Fiber:
4
g
|
Sugar:
1
g
|
Vitamin A:
620
IU
|
Vitamin C:
2.9
mg
|
Calcium:
413
mg
|
Iron:
1.9
mg
Disclaimer
Nutrition information is estimated as a courtesy. If using for medical purposes, please verify information using your own nutritional calculator. Percent Daily Values are based on a 2000 calorie diet.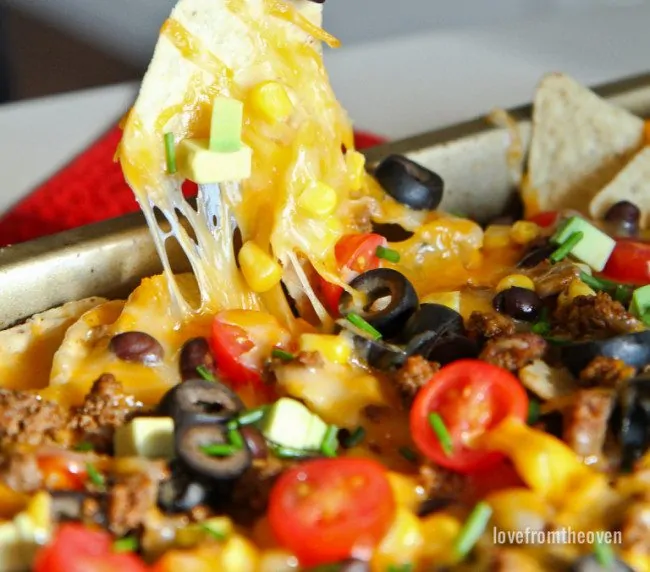 Did you know you can have nachos for dessert as well? Heck yeah you can! Check out my caramel pretzel dessert nachos!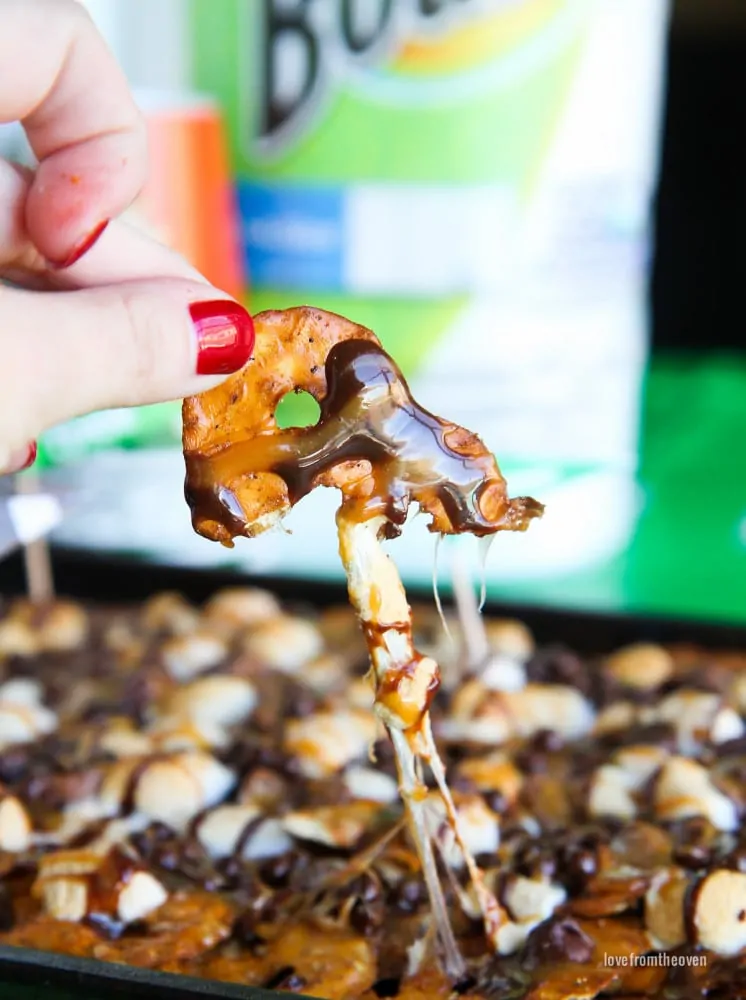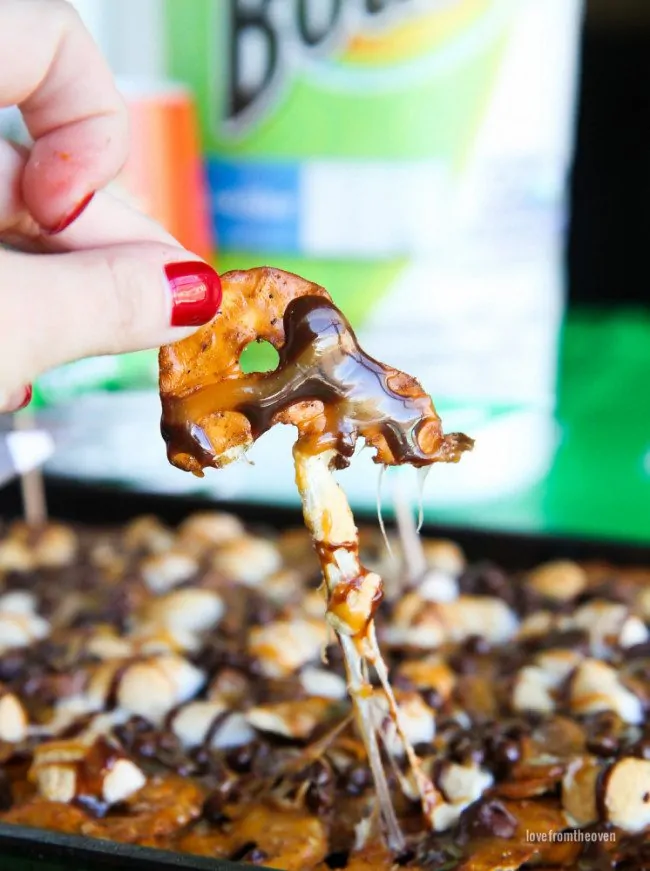 And since we are branching out and getting creative with nachos, try these Breakfast Nachos from Barefeet In The Kitchen. And I can't wait to make these Cheesesteak Nachos from Foodie With Family.
ORIGINALLY PUBLISHED JANUARY 2016.
Disclosure: This post was sponsored by Bounty. All opinions however are mine and mine alone.