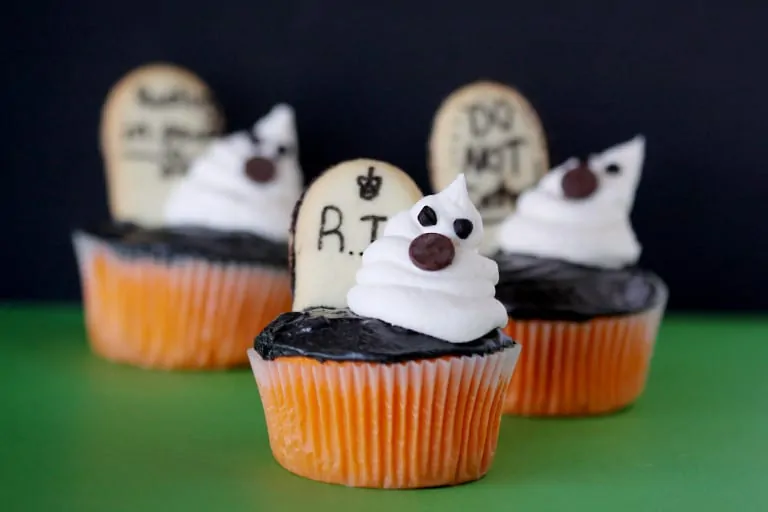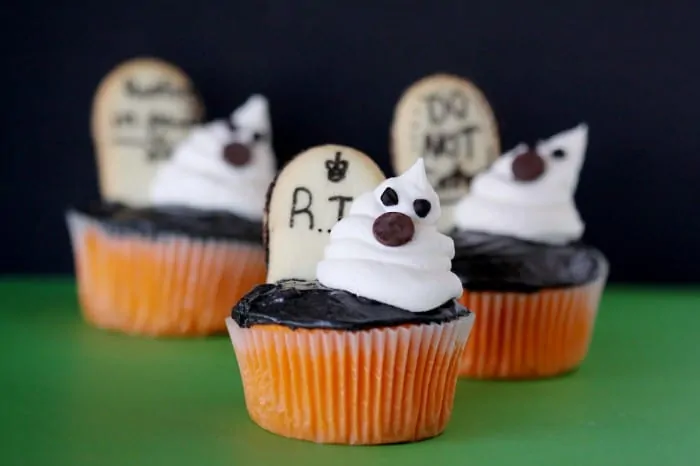 Delicious Orange Velvet Cupcakes that are perfect for Halloween! This easy Halloween cupcake recipe is great for friends, family or Halloween parties. You can whip up these from-scratch Orange Velvet Cupcakes in no time and decorate them for Halloween with the kids.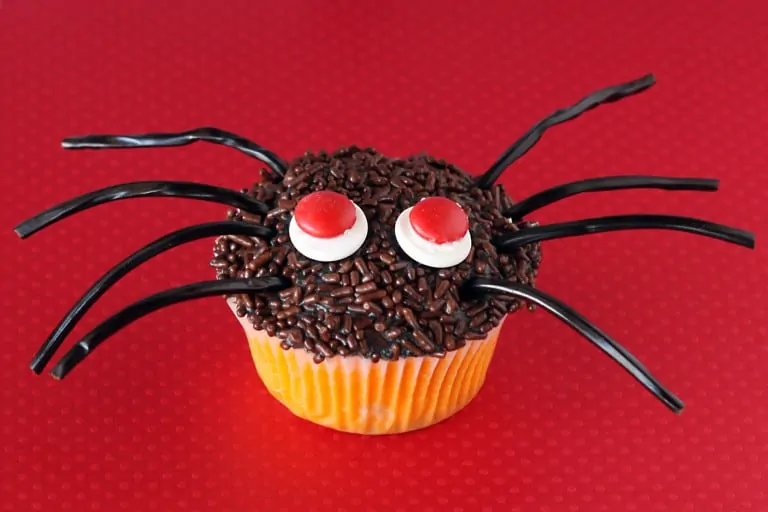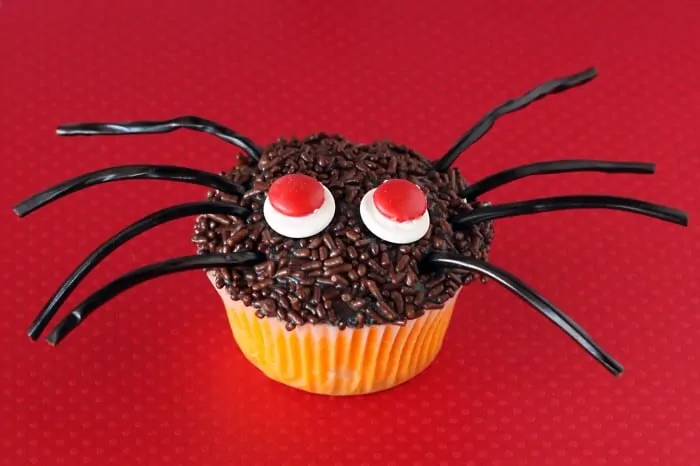 The folks at McCormick recently contacted me to ask if I would be interested in creating a Halloween dessert with a package of their products, and if I would like to include my daughter in the project. My first thought was "okay, that sounds like fun, I already use and love their products – so why not?". My second thought was "I usually do my baking while she's at school, she has tests to study for this week and a dance performance this weekend, how will I have time to fit it in?". My third thought was something along the lines of "whoa, wait a minute, am I debating if I have the time to bake with my daughter???". Stop. Do Not Pass Go. We Have A Problem.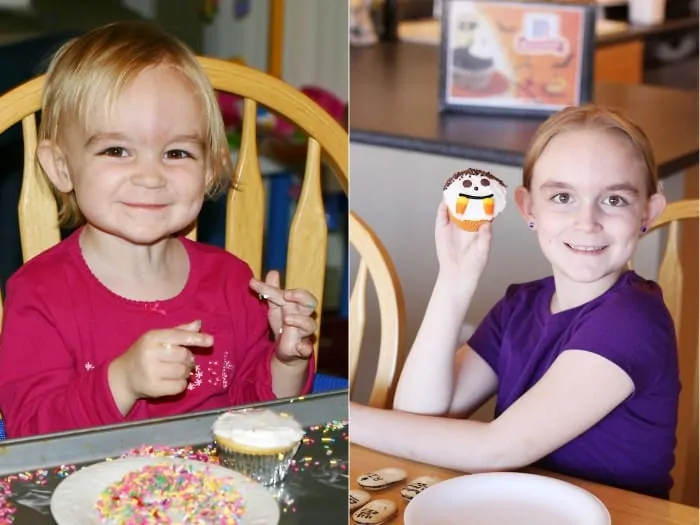 This project was a much needed reminder of how important it is to find the time to make the memories. It isn't just about making some Halloween cupcakes, but more importantly it's about spending quality time together having fun and doing something creative that we both enjoy. Many of my memories growing up involve being in the kitchen helping my Mother and Grandmothers. One thing I vividly remember about helping in the kitchen was counting the drops of food coloring when I was given the task of coloring the frosting (and sneaking a taste of that frosting!). There was something magical about turning things a different color, what child doesn't love that??? And I remember doing it with these little bottles…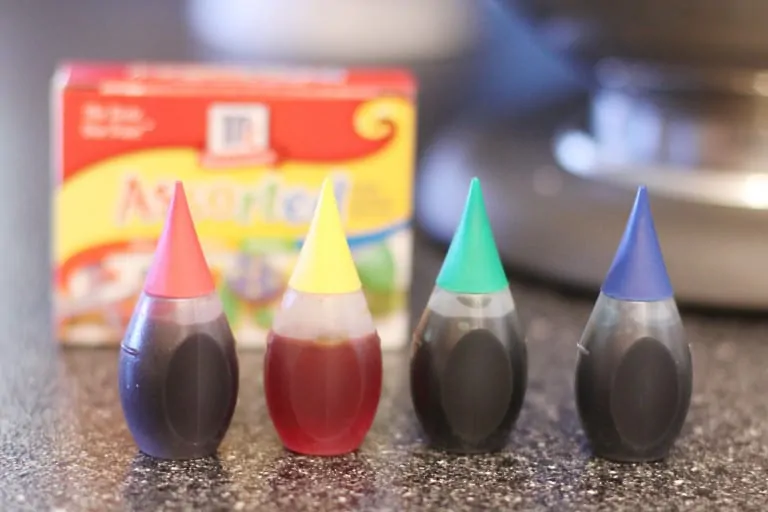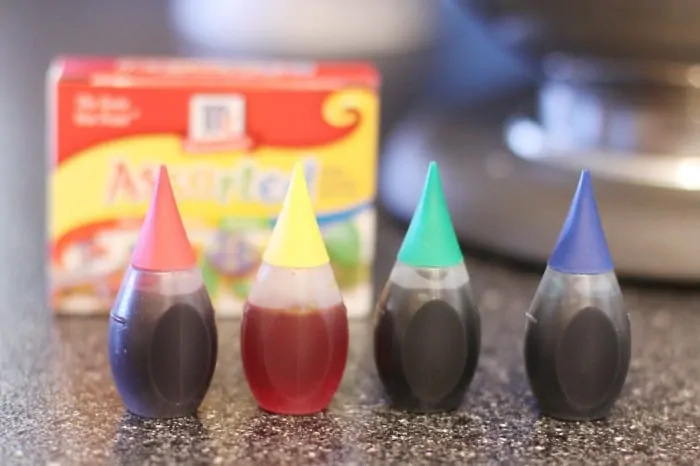 Those iconic little food coloring bottles. I remember them SO clearly. I love that McCormick still uses the same bottles, and wonder if years from now my girls will look back and recall those bottles with the distinct little tops on them. It's not always the big trips to Disneyland that are the things we remember, sometimes it's something as simple as coloring the frosting.
So back to our baking project… I asked my daughter if she would like to help me create some Halloween treats, and she was enthusiastically on board. McCormick sent us out a box of Halloween baking goodies to inspire us…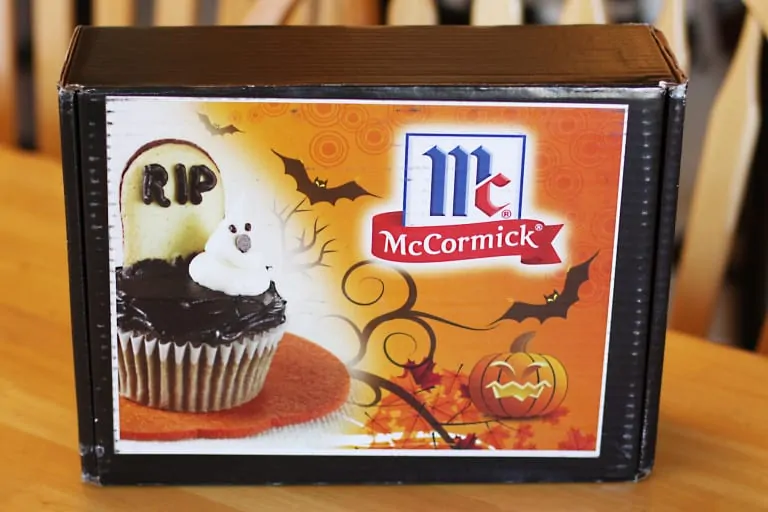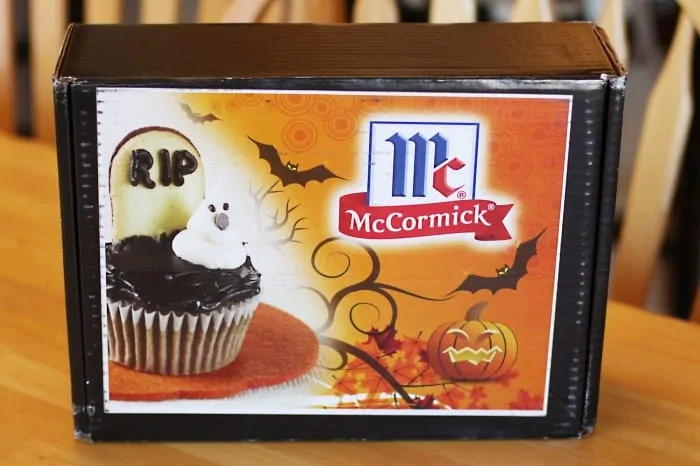 My daughter was quite anxious to see what was inside. Okay, I was too.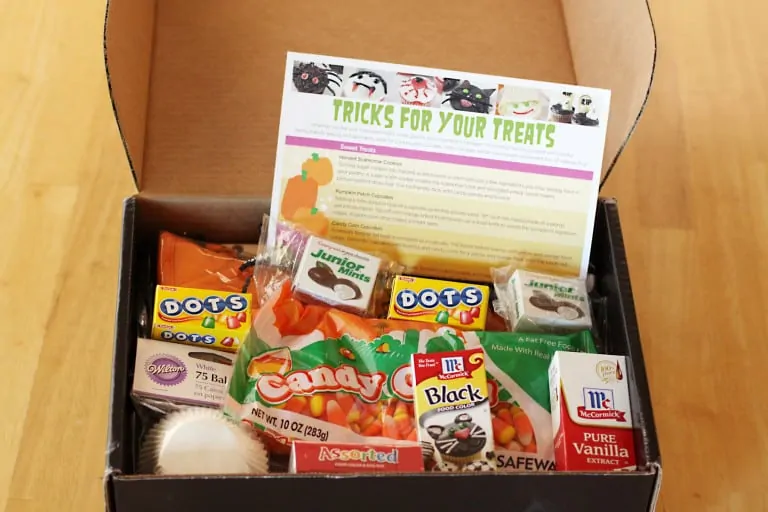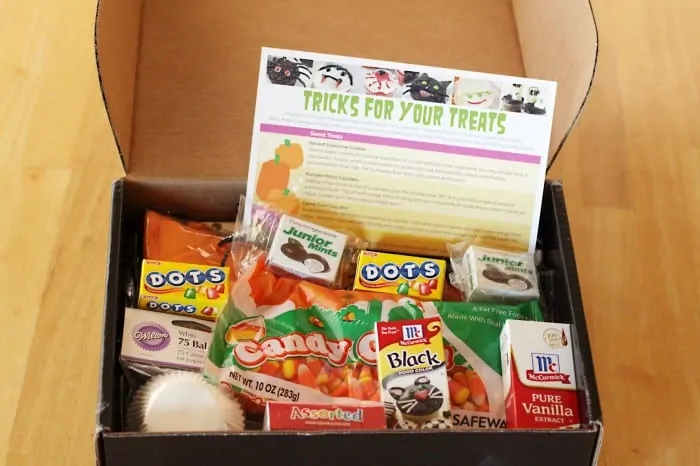 There were all kinds of great baking goodies inside – McCormick's Pure Vanilla, Food Coloring, Black Food Coloring, Dots, Junior Mints, Cupcake Liners, Candy Corn and more.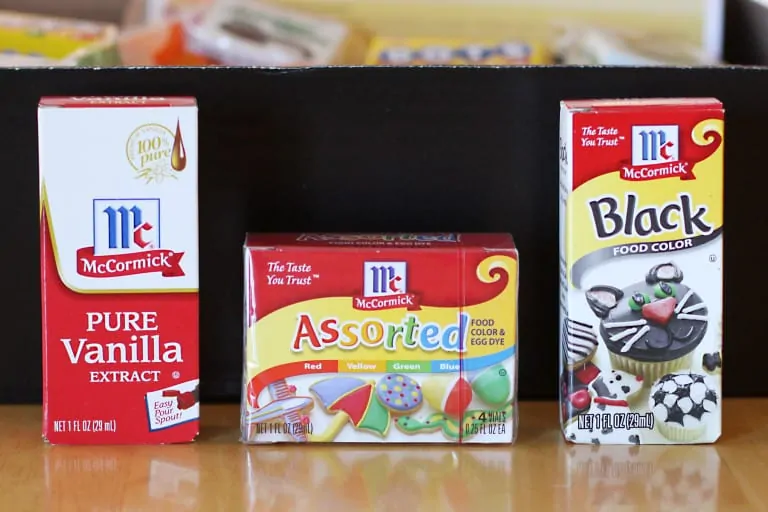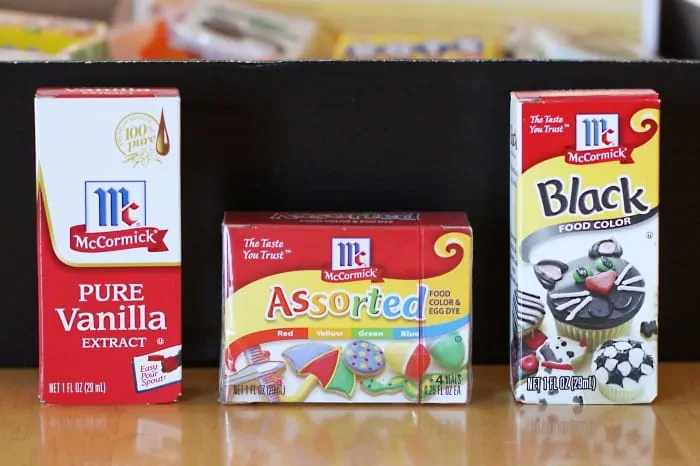 My daughter's baked good of choice for our project was Orange Velvet Cupcakes.Using McCormick's Food Coloring, we colored our cupcake batter Orange Sunset…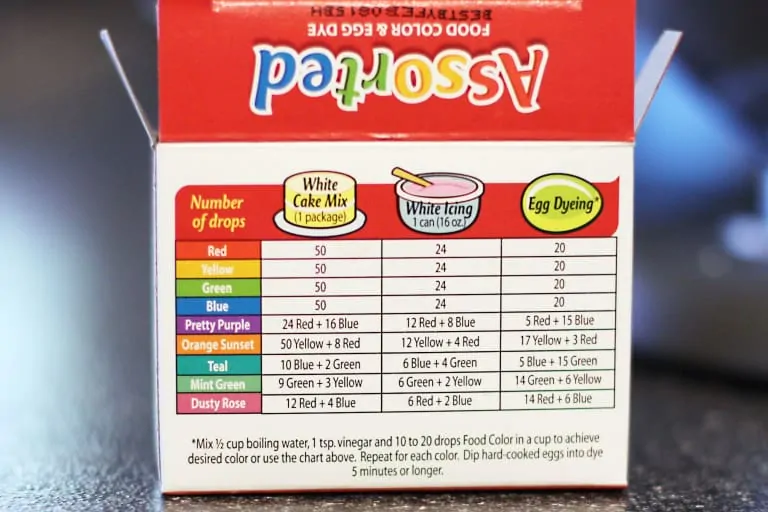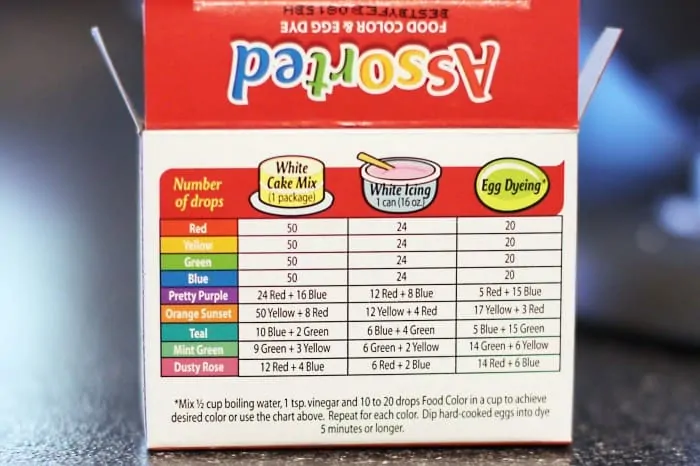 And created a colorful orange batter…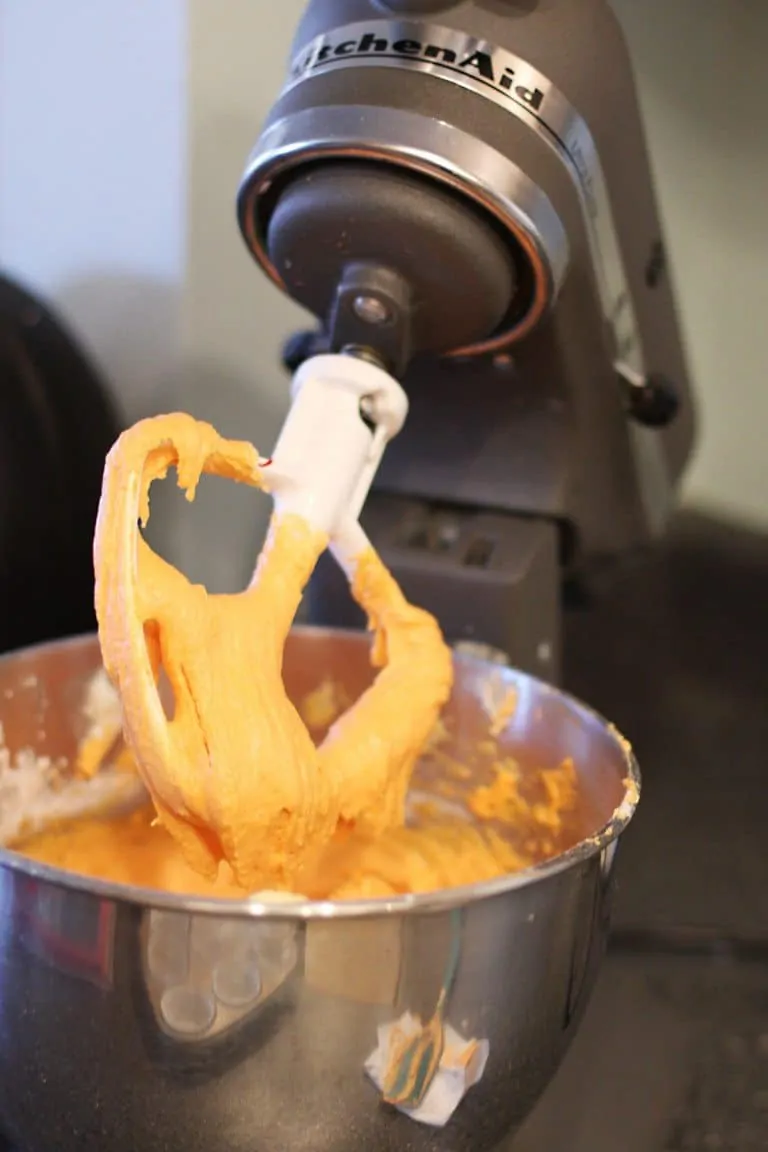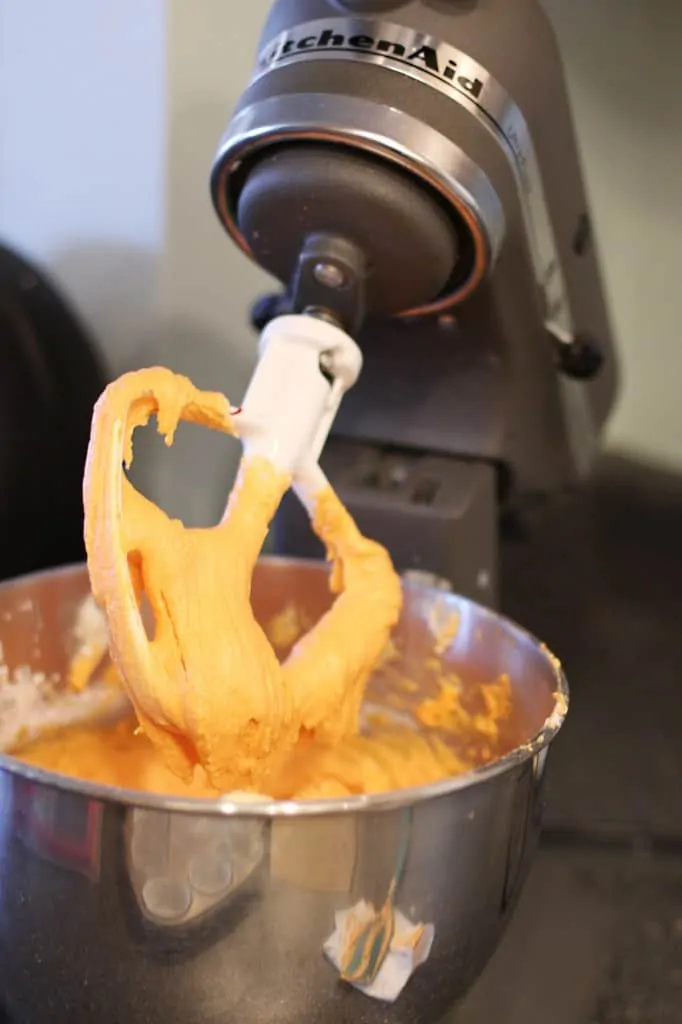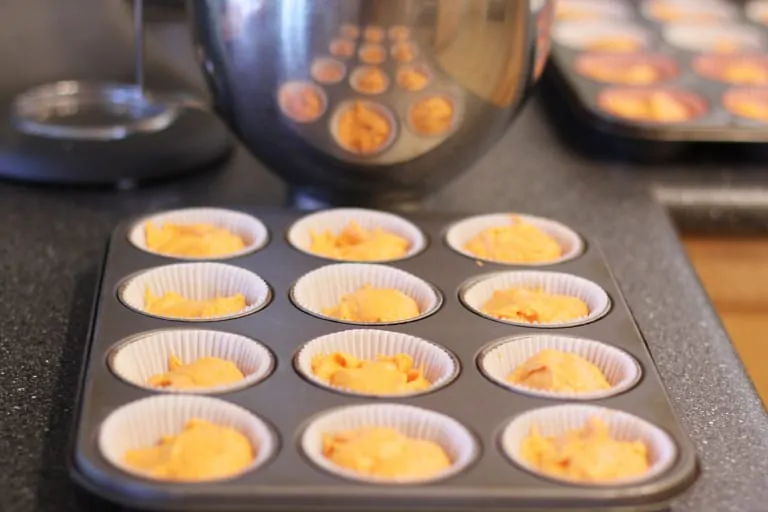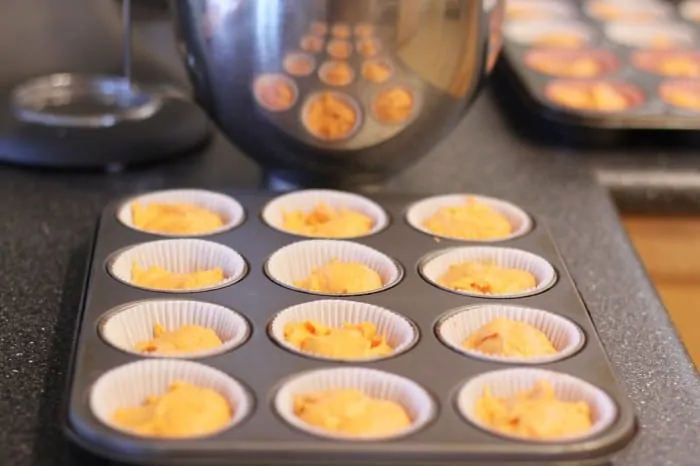 After the orange velvet cupcakes were done it was time to color half of the frosting black, and start our decorating.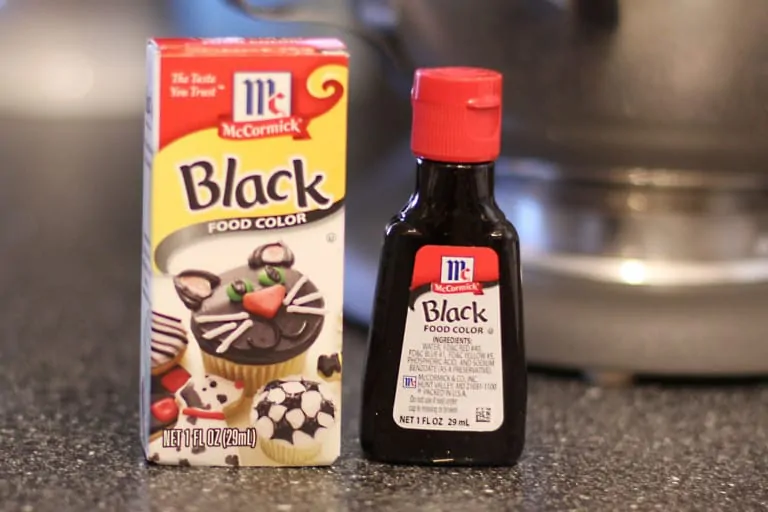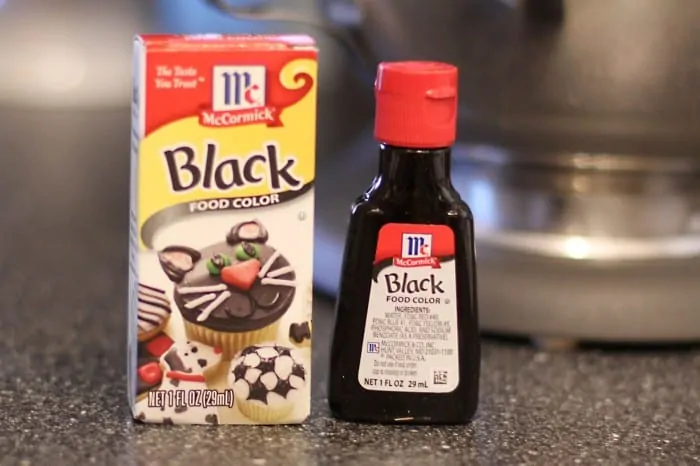 McCormick's Tricks For Your Treats idea sheet provides fun yet simple Halloween decorating ideas that were easy to recreate. They offer Sweet Treat ideas and Spooky Treat Ideas. My daughter is always up for spooky. First she made an eyeball cupcake…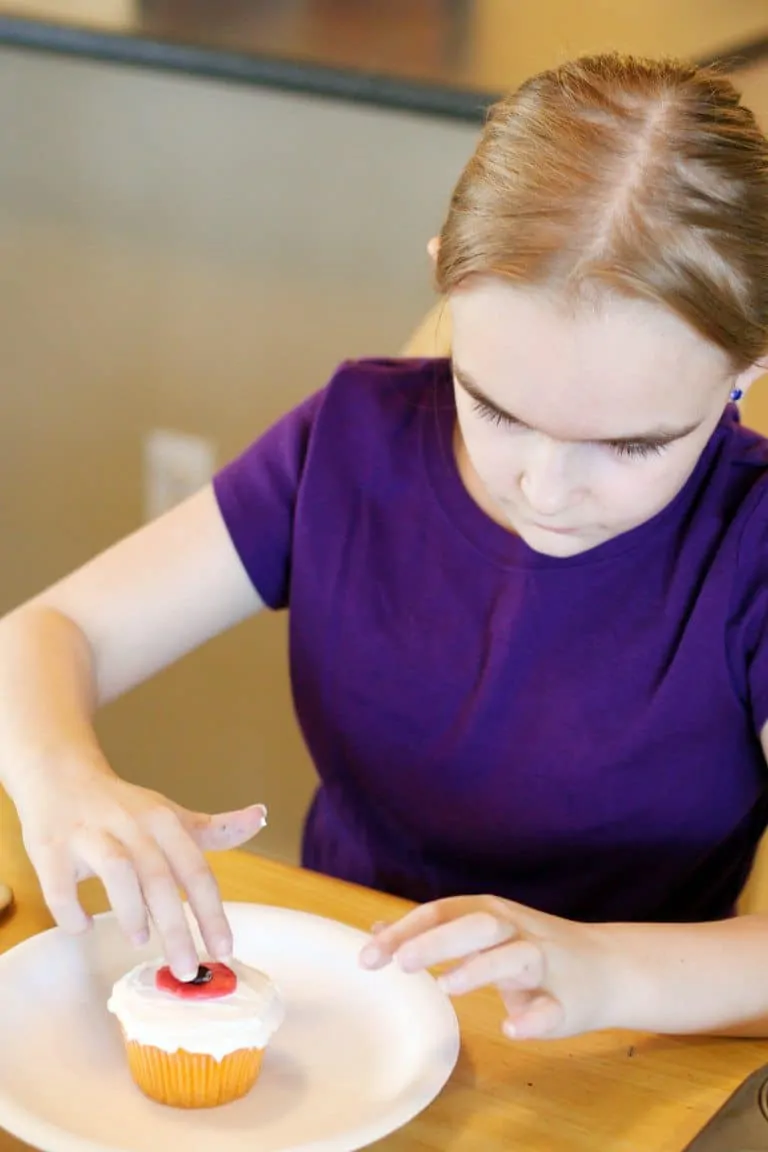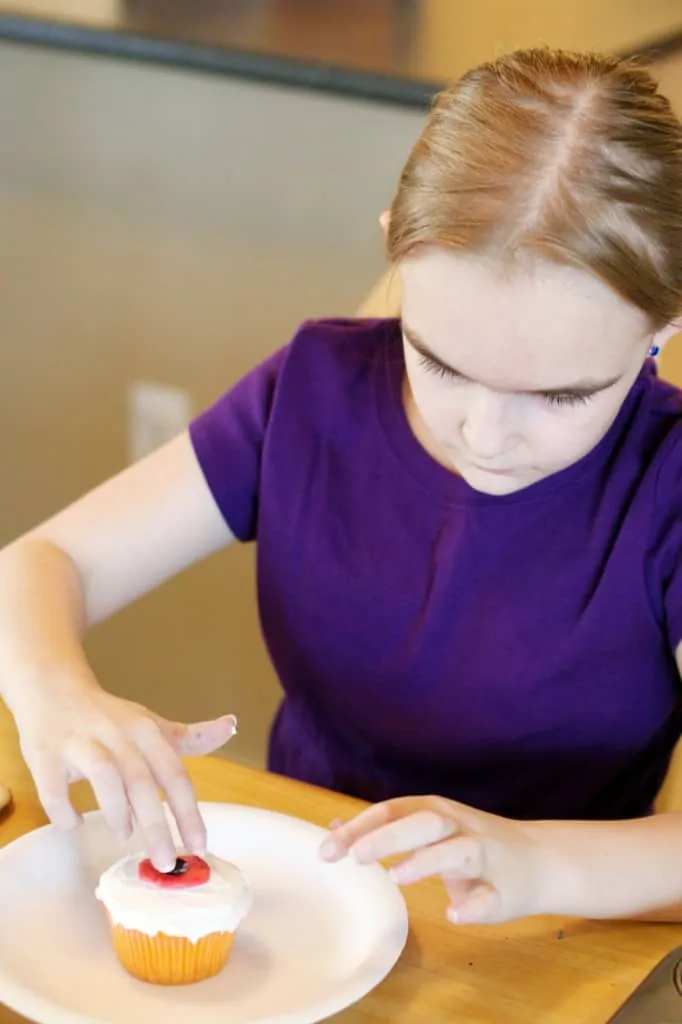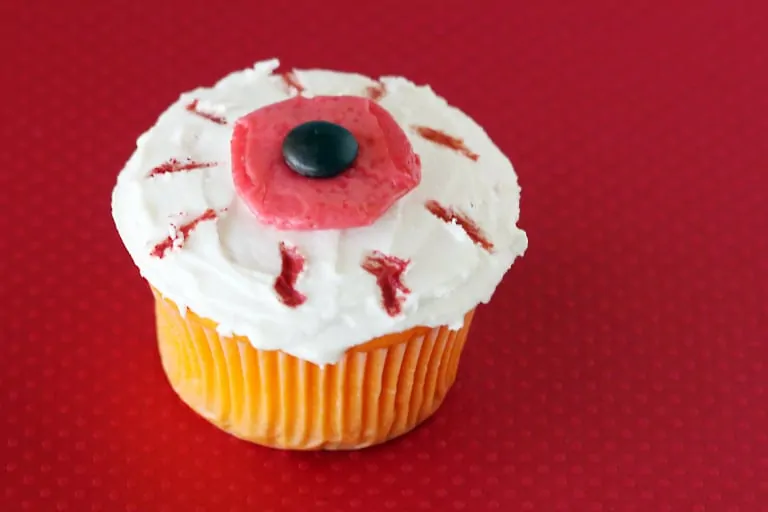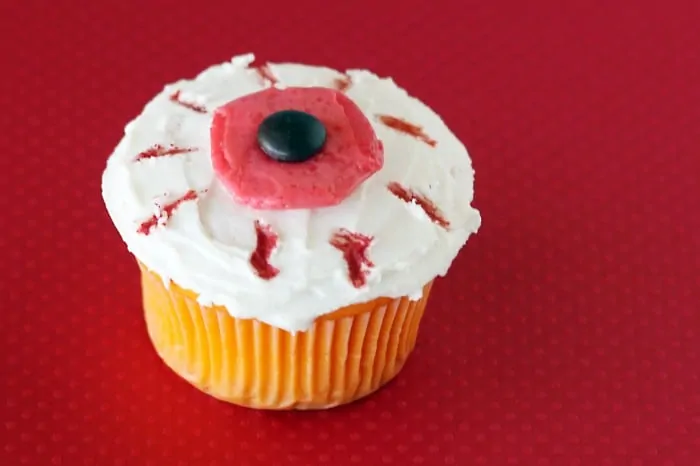 Next it was a candy corn vampire…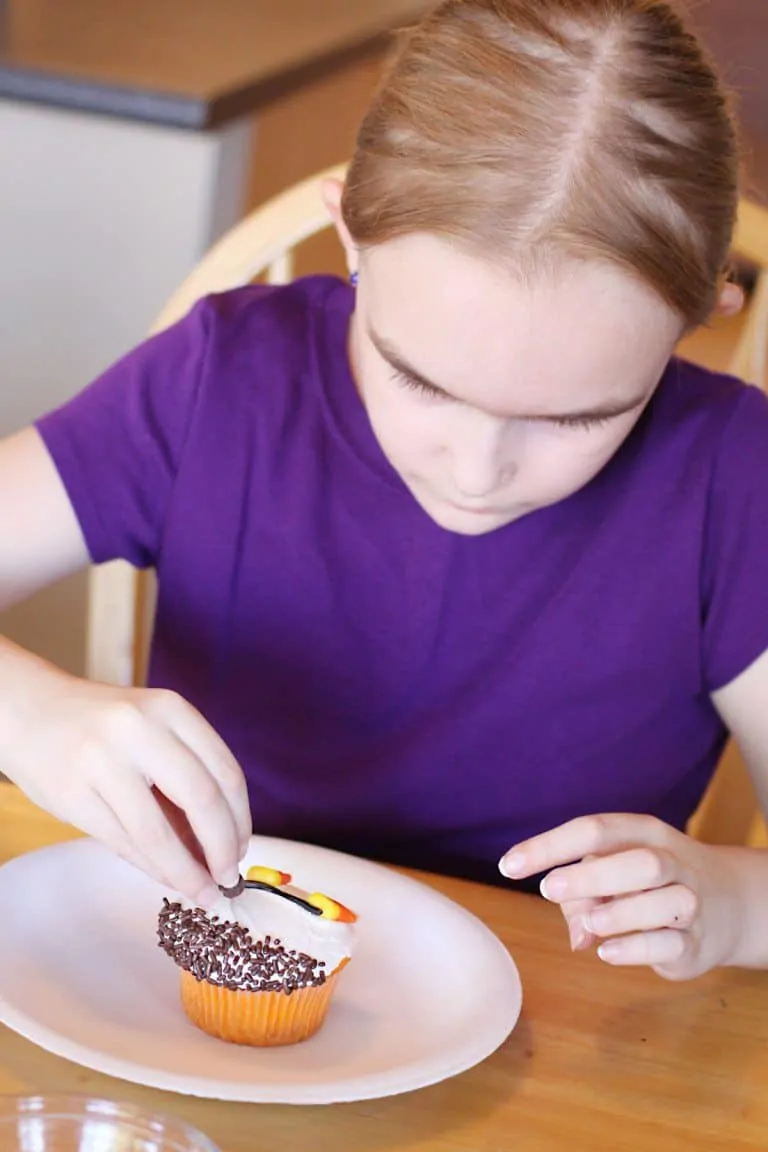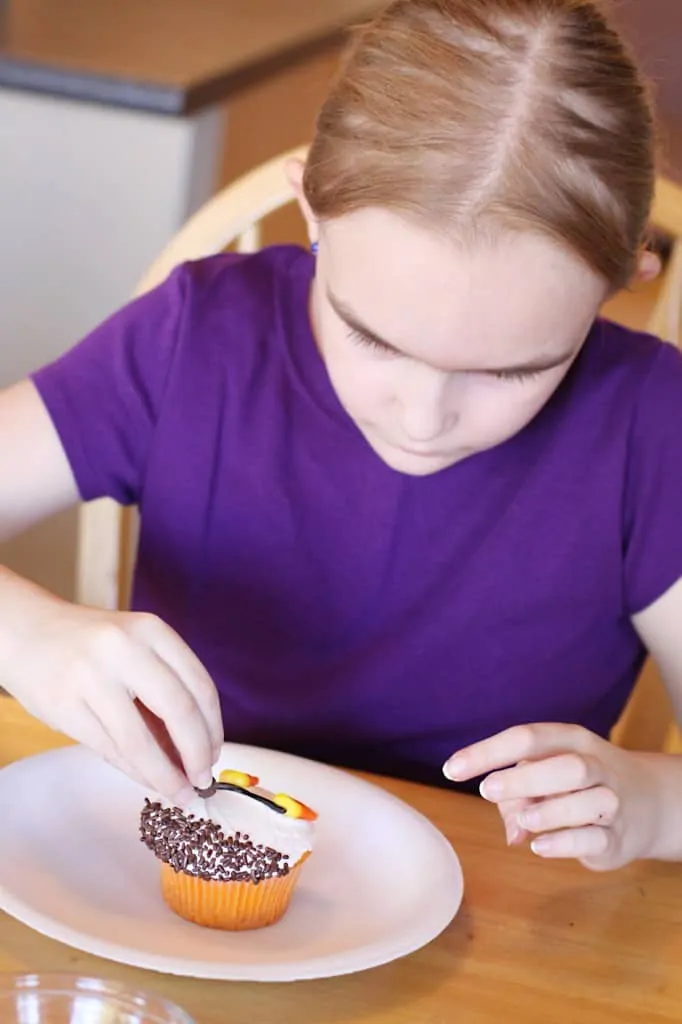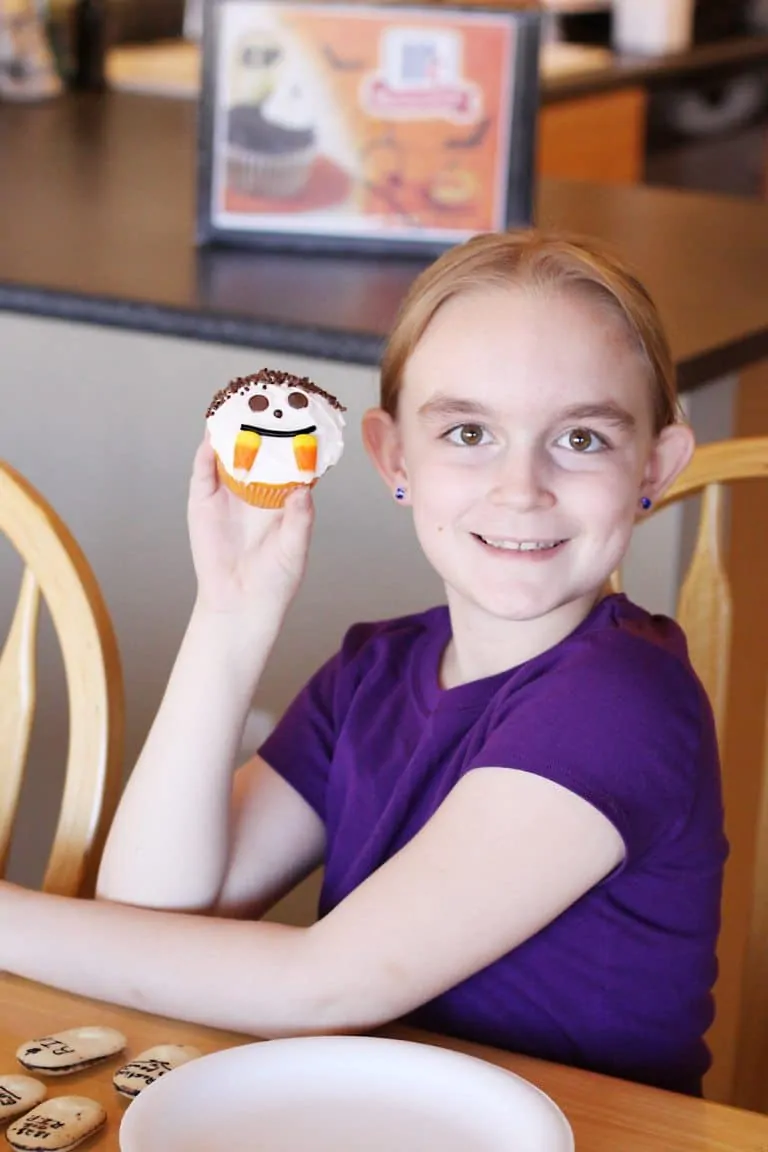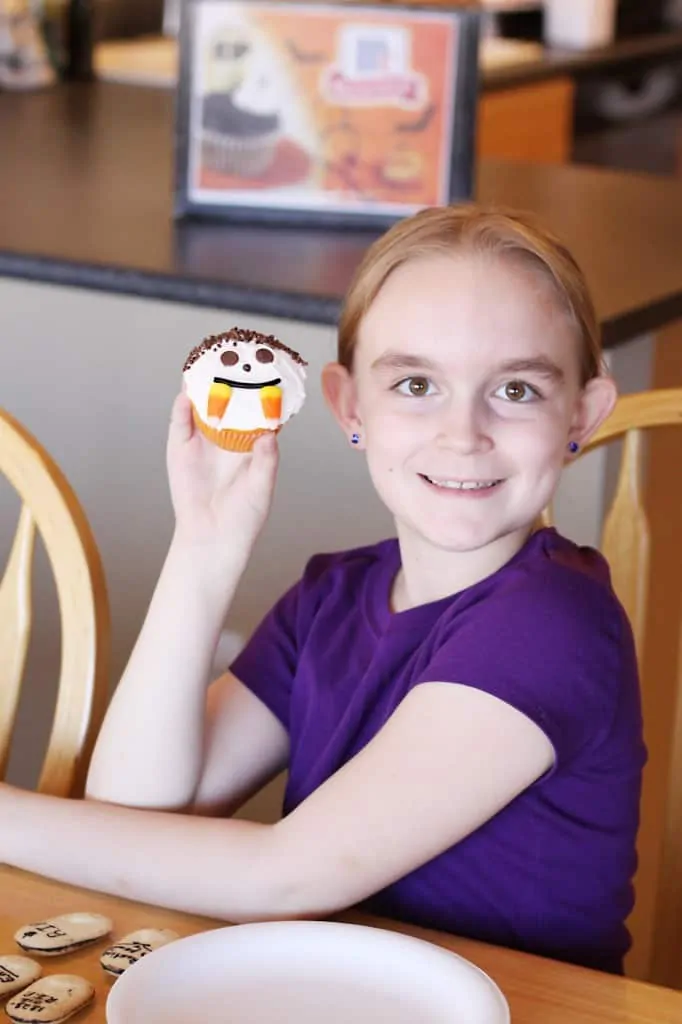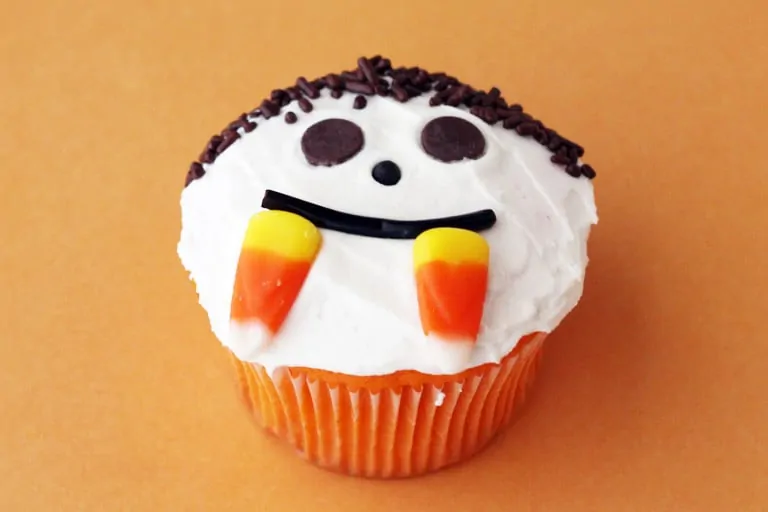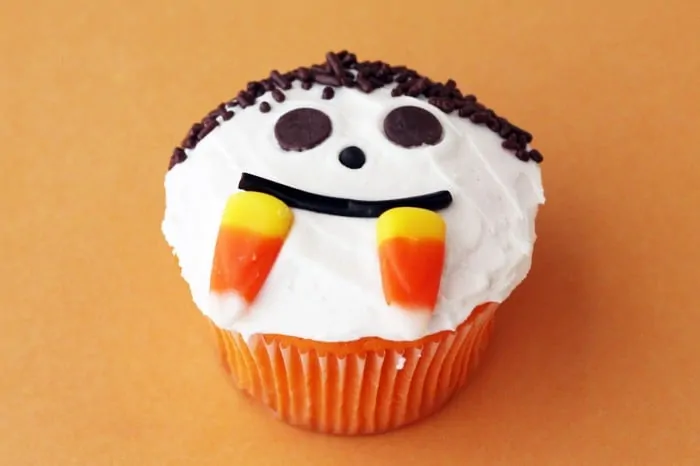 And then the cute (I mean spooky!) little spider cupcake…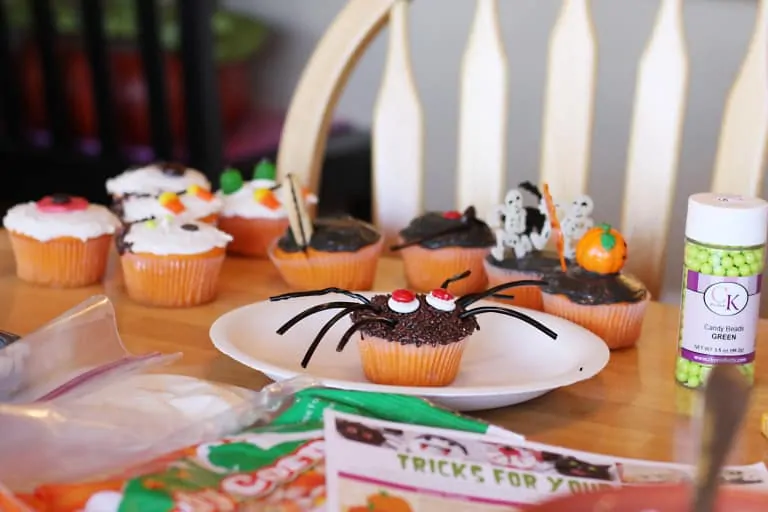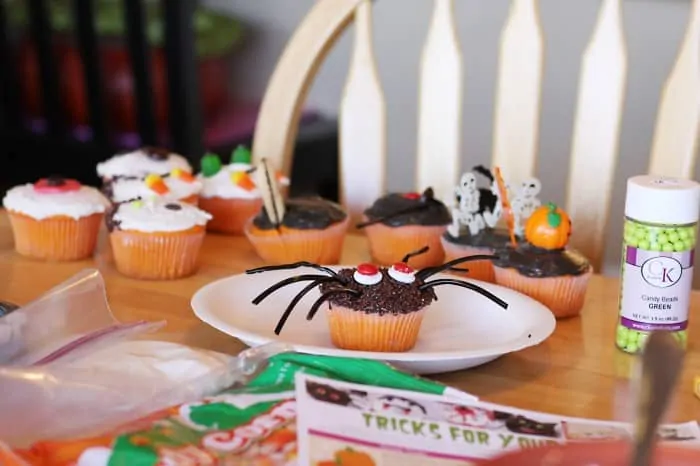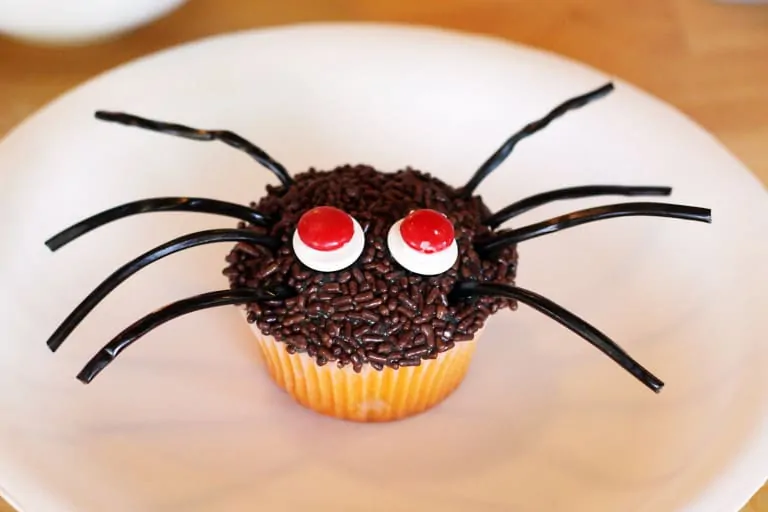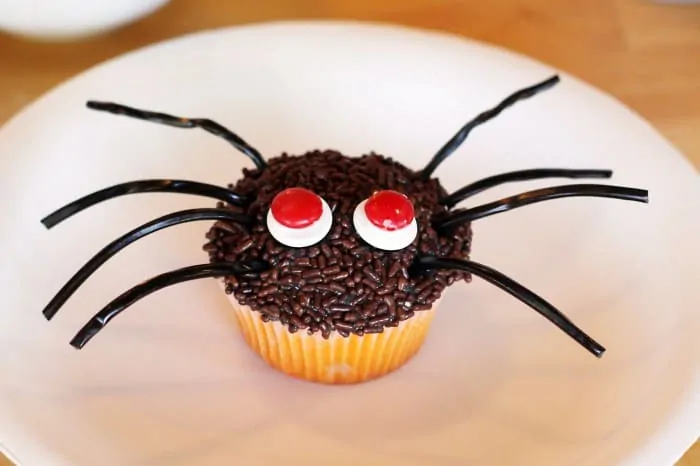 A spooky black cat cupcake…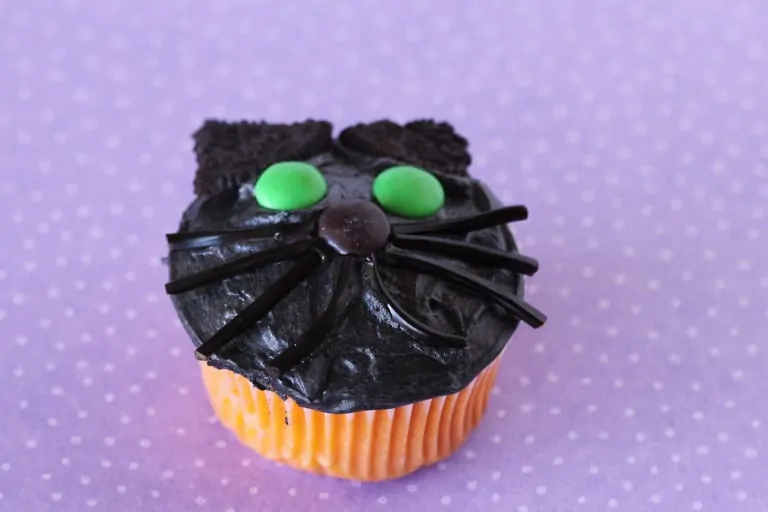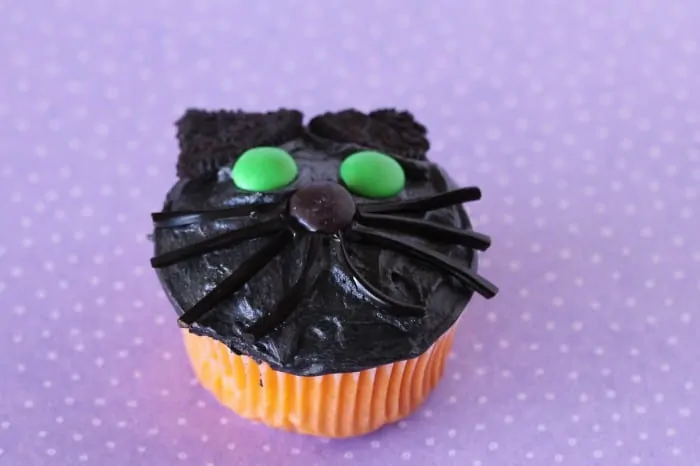 Some creative skeleton cupcakes…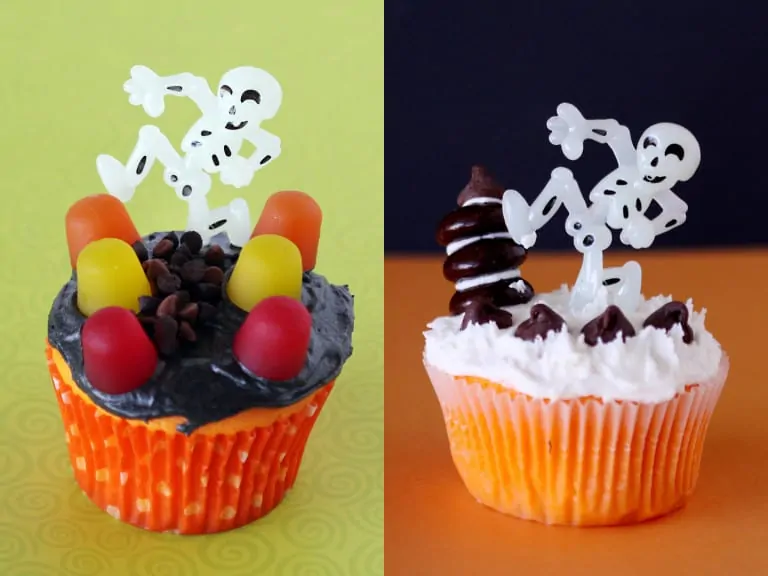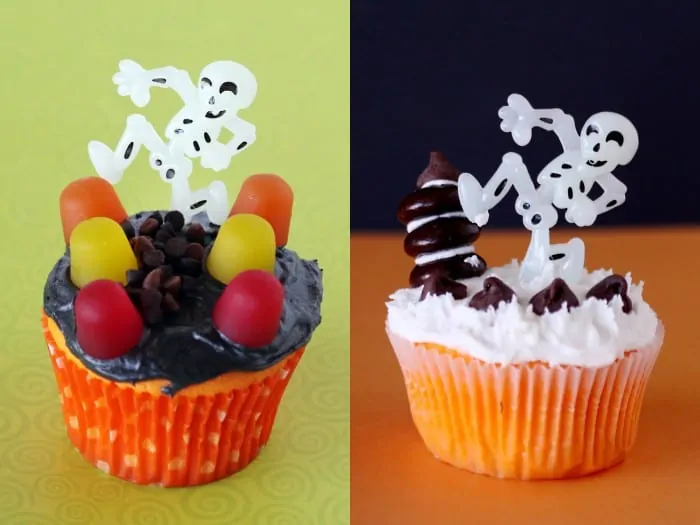 And our favorites – the ones we decorated together – the ghosts in the graveyard cupcakes…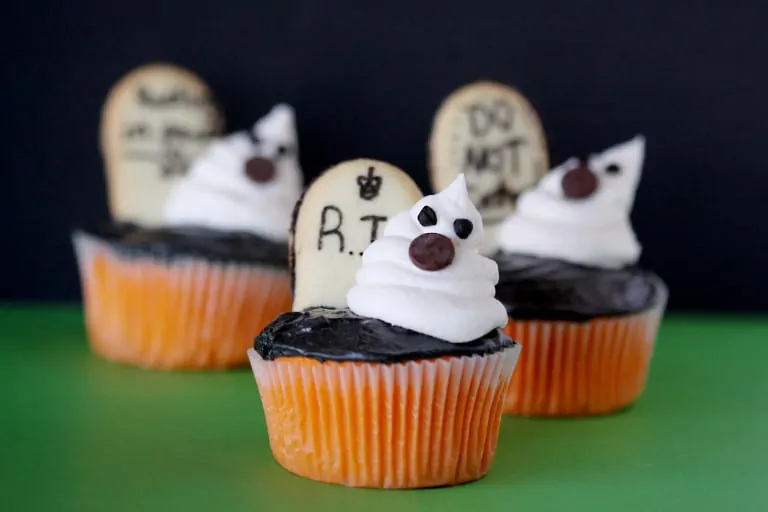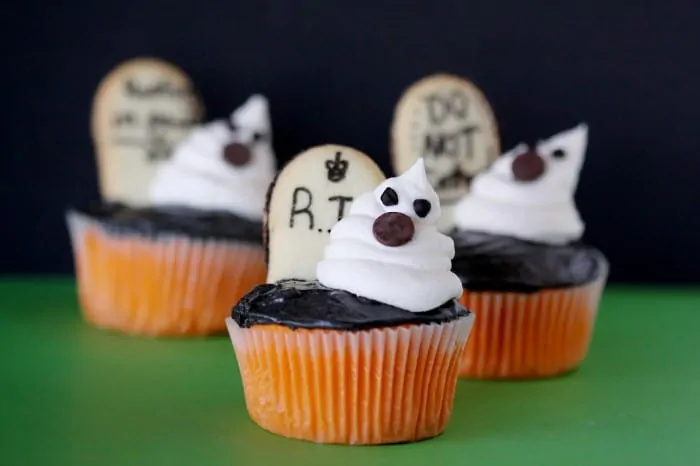 The ghosts were created easily by putting white frosting into a Ziploc bag, cutting a corner off the bag and piping the frosting on to the cupcake (no decorator bag or tips needed), and finishing with chocolate chips for the mouth and eyes.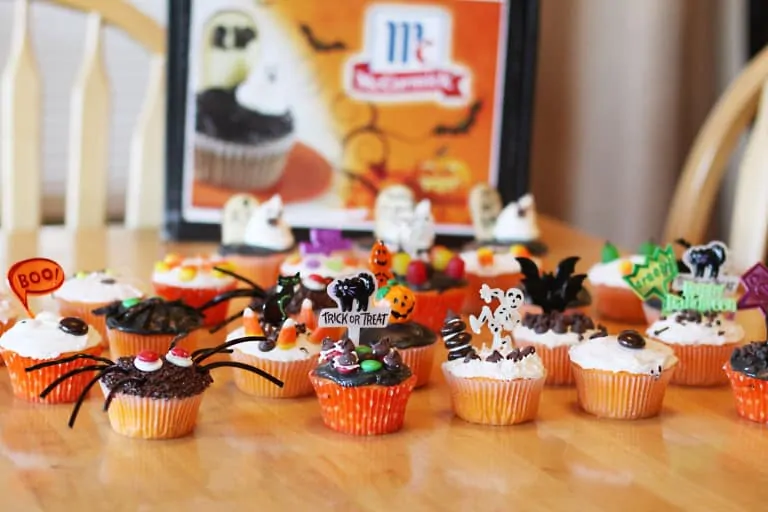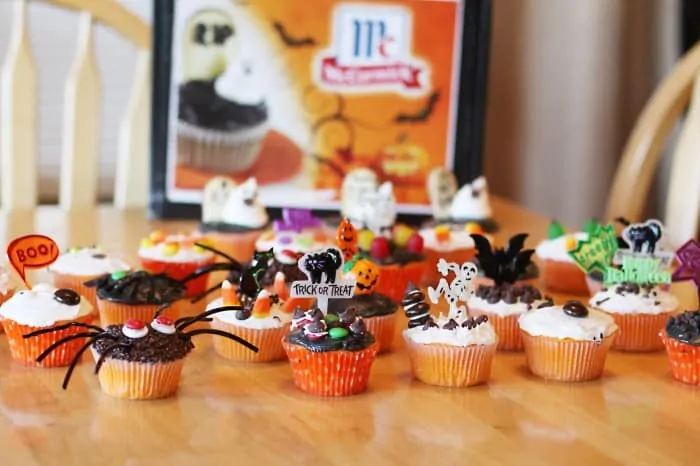 We really enjoyed spending our Sunday afternoon hanging out at the kitchen table and decorating cupcakes together. It's something we need to take the time to do more often, as I know that all too soon she'll be a teenager and probably think that she has better things to do than to make cupcakes with her Mom. Though knowing this child's deep love of cake (her second word, I kid you not, was bir-cake – for birthday cake), I have a feeling she'll always have a few minutes to eat one of Mom's cupcakes.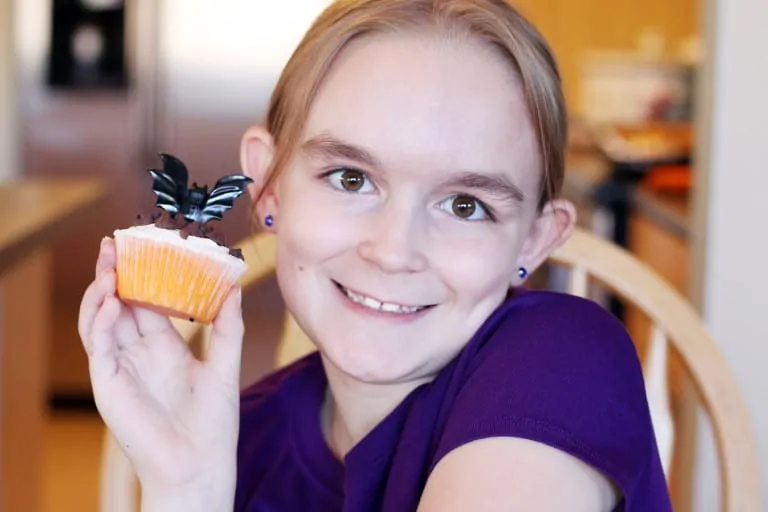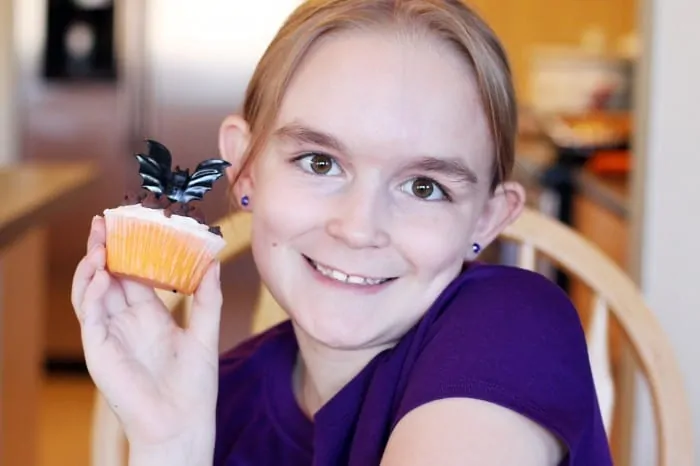 Orange Velvet Cupcakes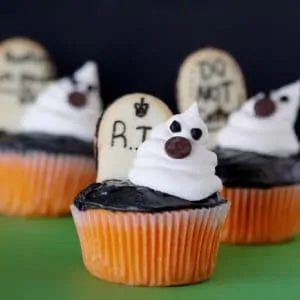 Orange Velvet Cupcakes
Ingredients
Cake Recipe
1

cup

of butter softened

1 1/3

cupssugar

Orange McCormick food coloring

or Red & Yellow

3

eggs

2

tsp

McCormick Pure Vanilla

21/2

cups

all-purpose flour

11/2

teaspoons

baking powder

1/4

teaspoon

baking soda

1/2

teaspoon

salt

1

cup

buttermilk
Frosting
1

stick of butter softened

2

tablespoons

of Crisco

you can add more butter instead of Crisco

1

pound

two bag of powdered confectioners sugar

2

teaspoons

of vanilla

1

teaspoon

of salt

Whipping cream
Instructions
Preheat oven to 350 degrees

In a large bowl, cream together butter and sugar. Once light and fluffy add your pink food coloring. Start with a small amount and increase to reach your desired shade of pink. Blend well with butter and sugar.

Add in eggs, one at a time, beating well after each addition. Add in vanilla and beat well.

Combine the flour, baking powder, baking soda and salt in a separate bowl. Add 1/3 of the dry ingredients to the batter and beat until well combined. Add in 1/2 of the butter milk, beat until combined, followed by another 1/3 of the dry, then the remaining buttermilk and finally the remaining dry ingredients. The batter may look a bit lumpy after buttermilk is first added, but beat well and it will combine nicely.

Fill paper lined muffin cups two-thirds full and bake at 350 degrees for approx 20-25 minutes or until a toothpick inserted into the center comes out clean. Watch the cupcakes closely in the last few minutes of baking so that they do not over brown. Allow to cool for ten minutes before removing from pan, then transfer to a wire rack to finish cooling.
Frosting
Blend your butter, Crisco and vanilla together, adding in the powdered sugar and salt. The mixture will be very dry. Slow start adding your whipping cream, about one tablespoon at a time, until you reach the desired consistency. I find that I prefer my frosting firmer for some recipes and softer for others, so I do not have a standard amount of whipping cream that I use. Once you have reached the desired consistency, beat for 1-2 minutes until light and fluffy.
Disclaimer
Nutrition information is estimated as a courtesy. If using for medical purposes, please verify information using your own nutritional calculator. Percent Daily Values are based on a 2000 calorie diet.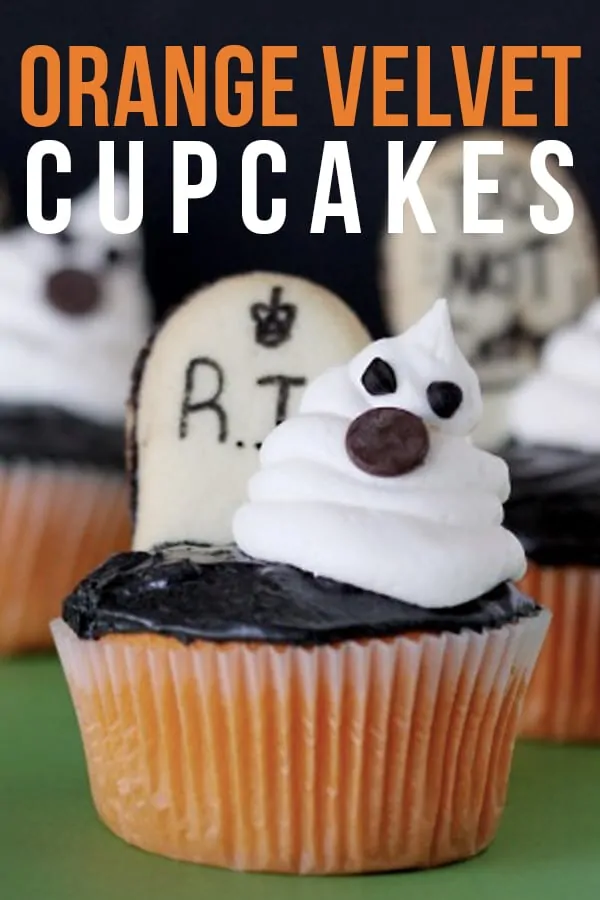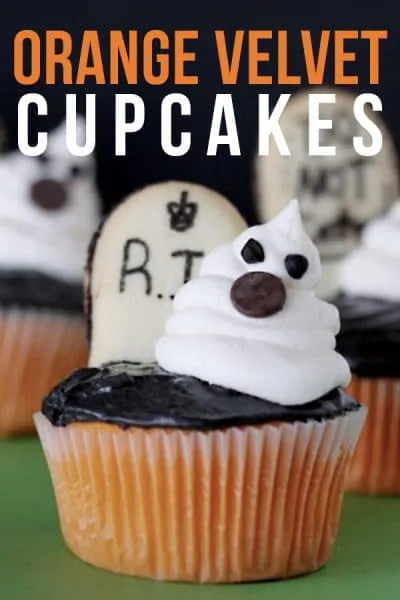 Originally published in 2011