I love a good brownie, and I really love a good caramel brownie. A warm, chocolatey, messy, gooey brownie, full of caramel, melting chocolate and topped with ice cream. The kind of brownie that, at least for me, is usually a mess to make, and if my kids are involved, always a mess to eat!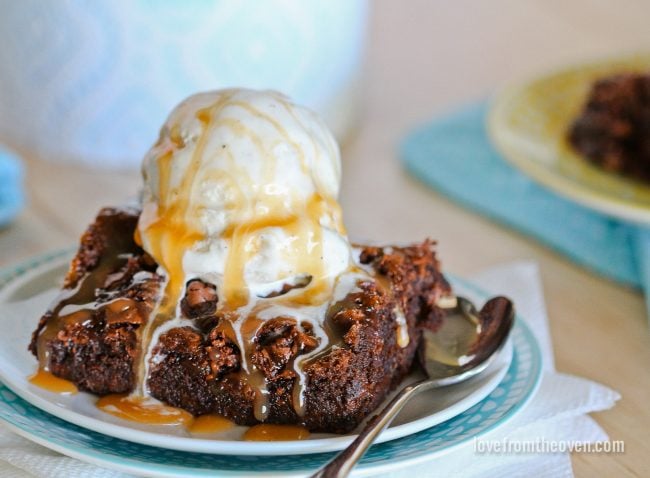 Oh yeah, THAT kind of brownie.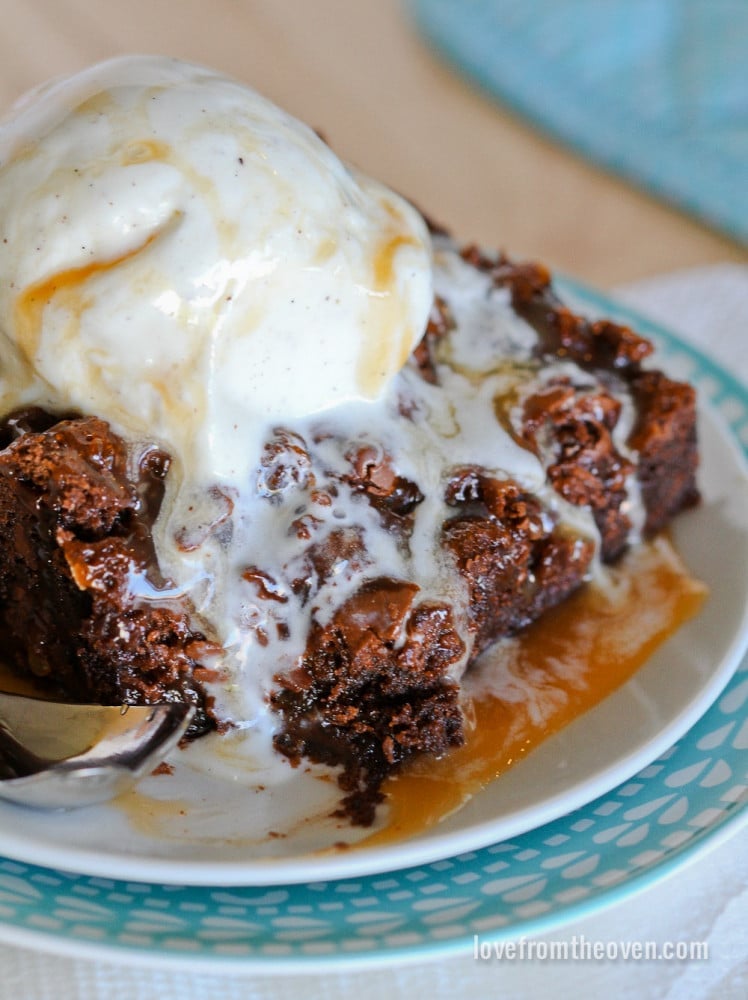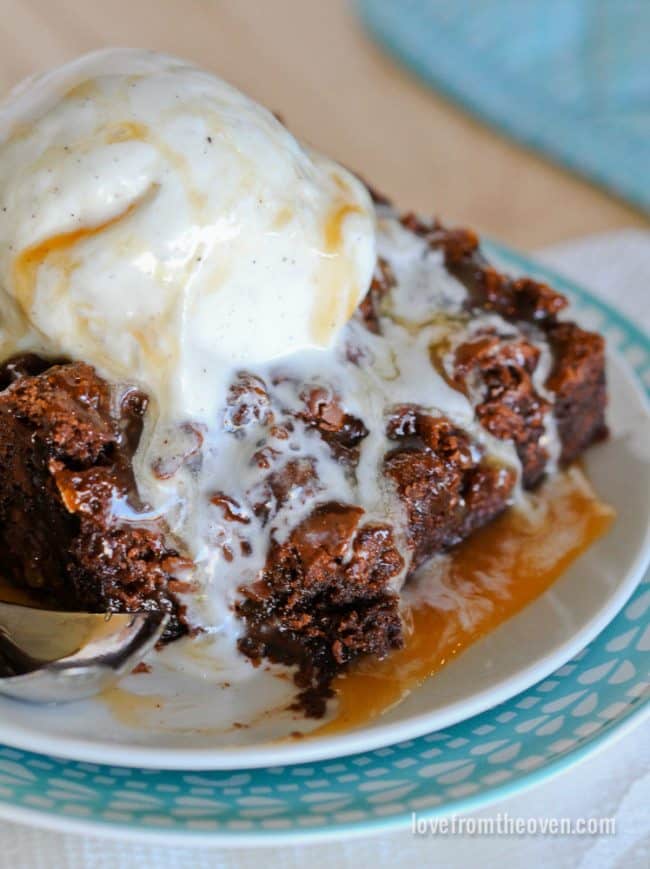 I'm always sharing the photos of my yummy recipes here on the blog, but I don't always share what it looks like while I'm making my recipes. It's a mess. When I'm baking, I'm usually trying to focus on ingredients and writing down notes, watching temperatures and times. I'm not really paying attention tom, much less cleaning up, the mess in the process.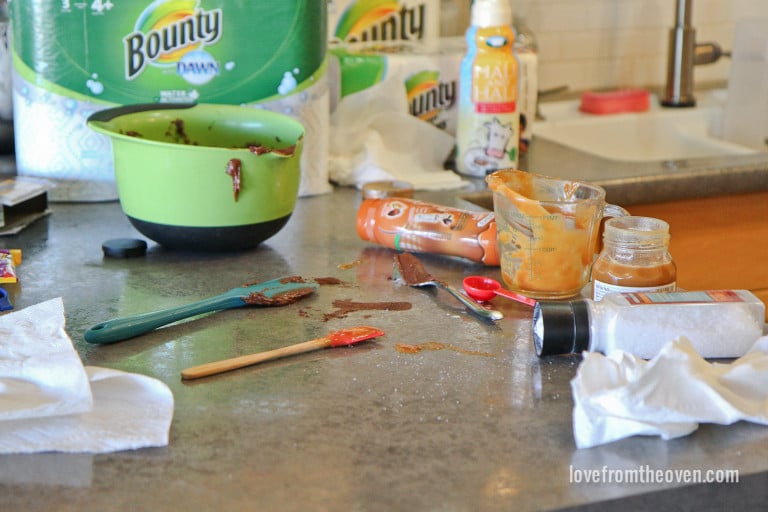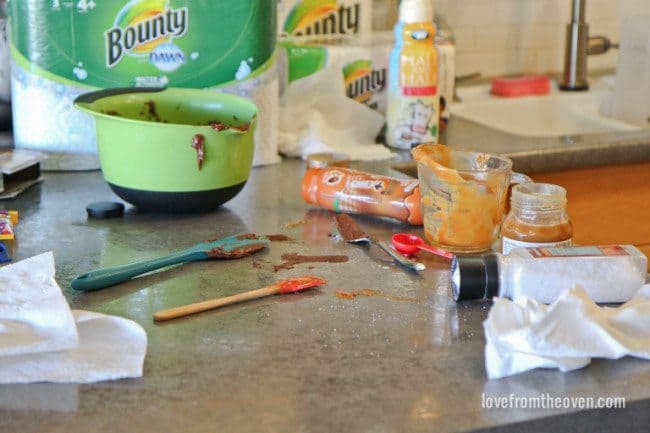 After I get everything into the oven and finish writing down my recipe notes, it's time to face the mess that I left behind, which often means things like caramel and brownie batter have dried and become one with my kitchen counters. As much as I love messy ingredients like caramel, they don't just wipe right up. Clean up is, without a doubt, my least favorite part of cooking and baking, and I'm sure I'm not alone in that one.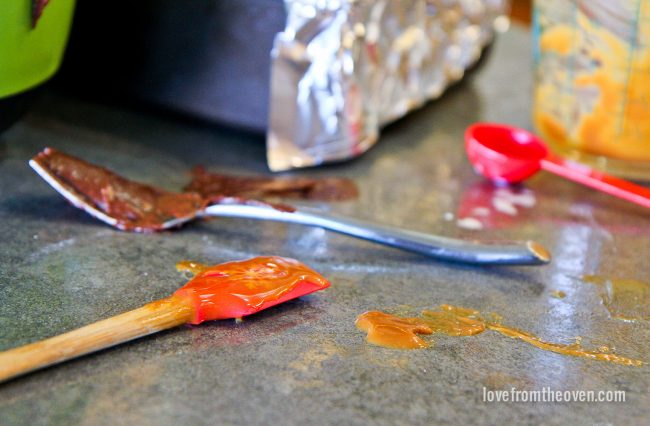 Recently the folks at Bounty asked if I would like to join their Quicker Picker Upper Crew, and share my thoughts on some of the Bounty products. Given that I always have a giant bulk pack of Bounty Paper Towels in my pantry, and use a LOT of paper towels (the dirty dishrag thing has always grossed me out a bit, I want some clean to wipe up with!), I was totally on board.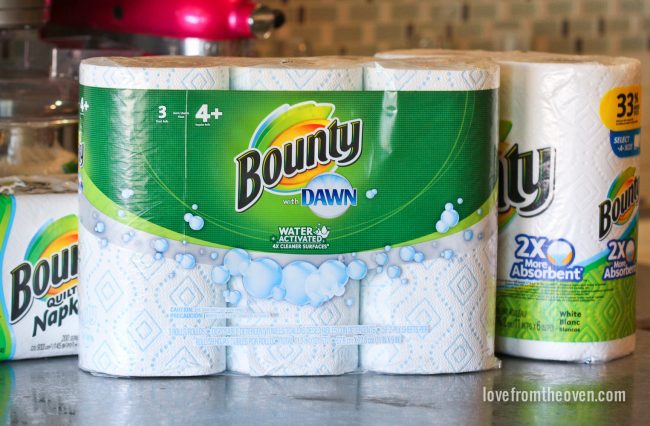 When I received a box full of Bounty products, I was pretty excited to see their newest product, New Bounty With Dawn. People, the Dawn is already in the paper towel. When you clean up a lot of butter, oil, caramel and messes like I do, this is BIG news.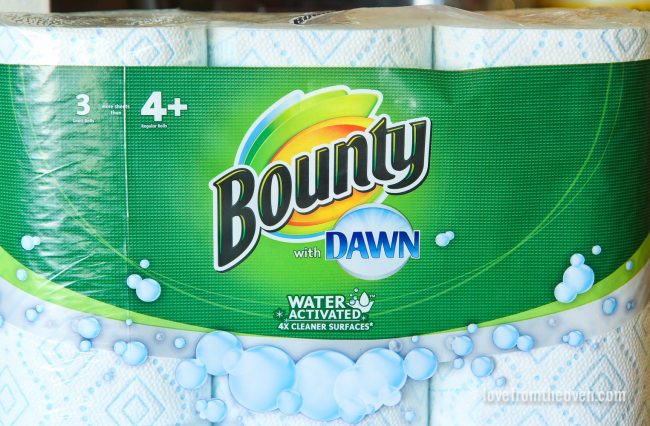 These are pretty brilliant. The strength of Bounty, with the grease-fighting power of Dawn, all in one. For years I've poured good old blue Dawn (seriously, the stuff is magic, I even use it on laundry when the kids have grease stains) onto my paper towels to clean up messes, so I feel like the cleaning fairies were watching and made these just for us! I mean if I'm going to encourage you to make messy recipes like this, I should at least help you clean up after.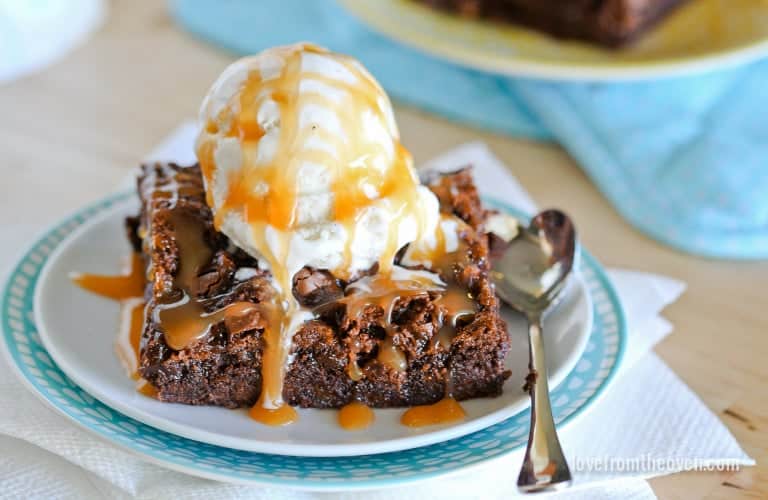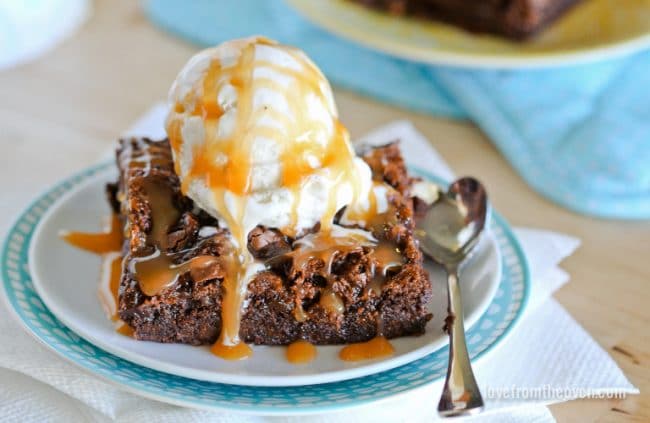 While I was excited to try Bounty With Dawn, I'm also a natural born skeptic. It was time to put them to the test and see how well they could clean up things like dried on caramel. Given that caramel is basically the glue of the baking world, I figured this was a great way to really see just how well Bounty With Dawn works.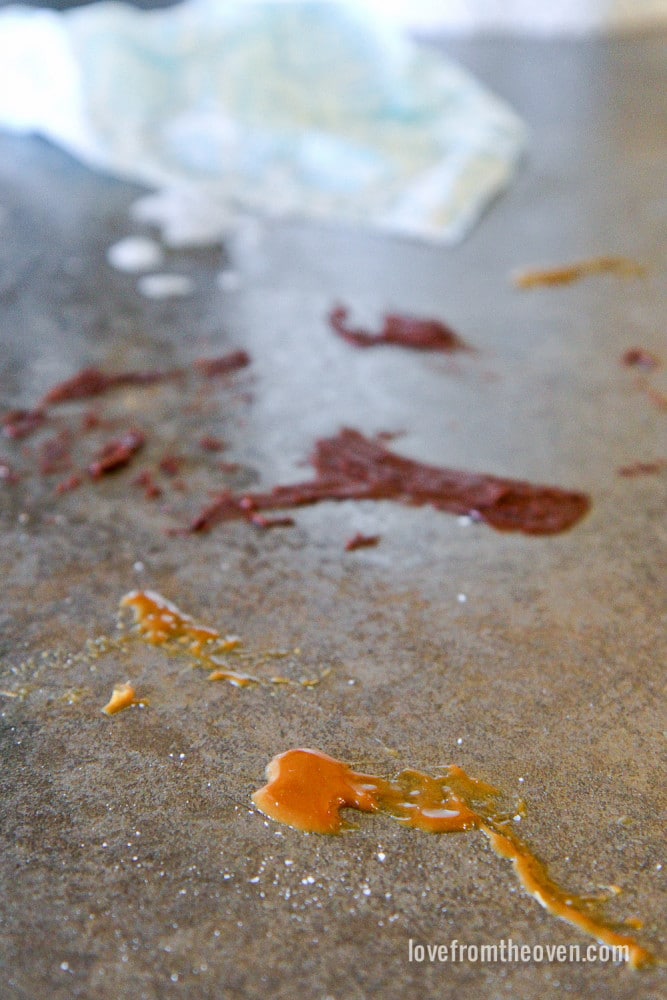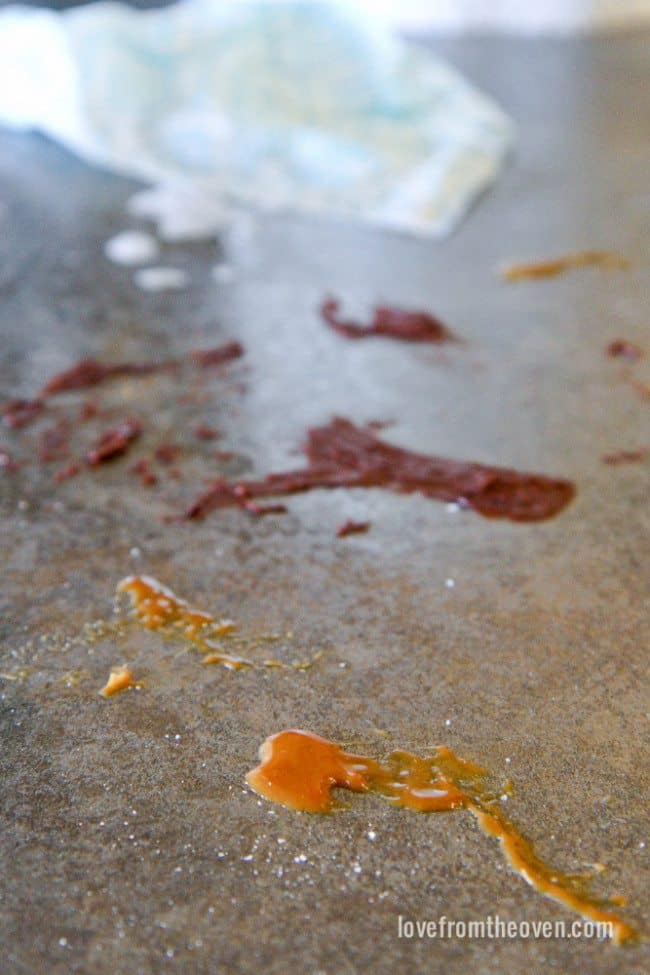 Bounty With Dawn is activated by water, and it's designed to stand up to tough messes. Like a dishcloth, Bounty stays intact while cleaning, and you can rinse it out and keep cleaning, allowing you to clean up tough messes with one sheet.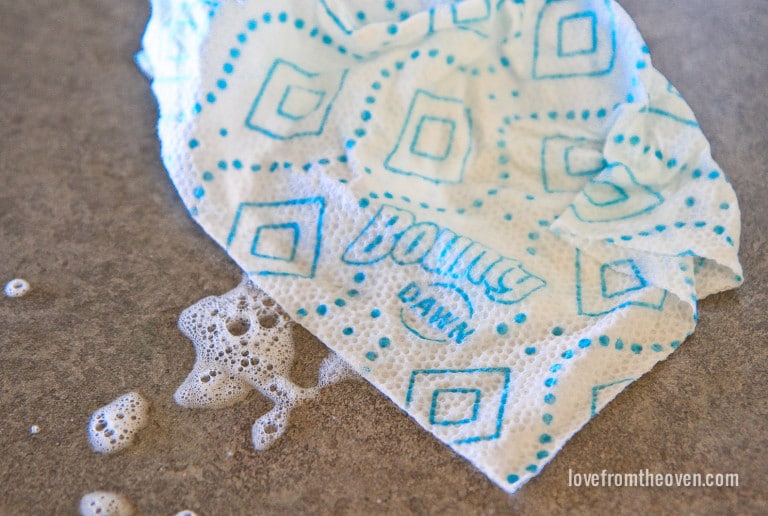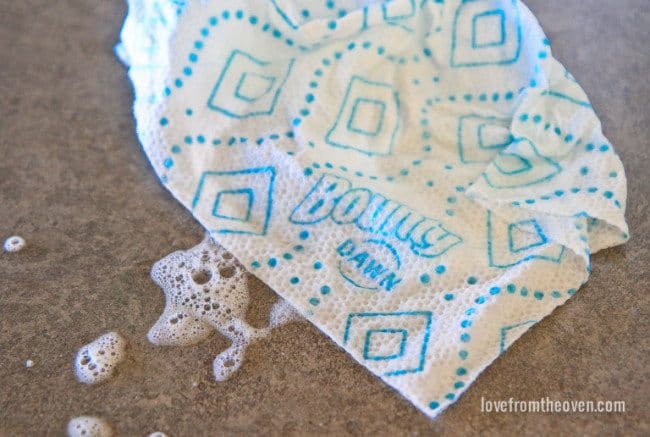 You can use it on all kinds of surfaces, from messy countertops to pots and pans, to stovetops, stainless steel and even mirrors. Depending on how you are using it, you either wet it and start cleaning, or if you are cleaning a shiny surface, such as a mirror, you leave the sheet running under the water for a few seconds, squeeze out the water, and clean.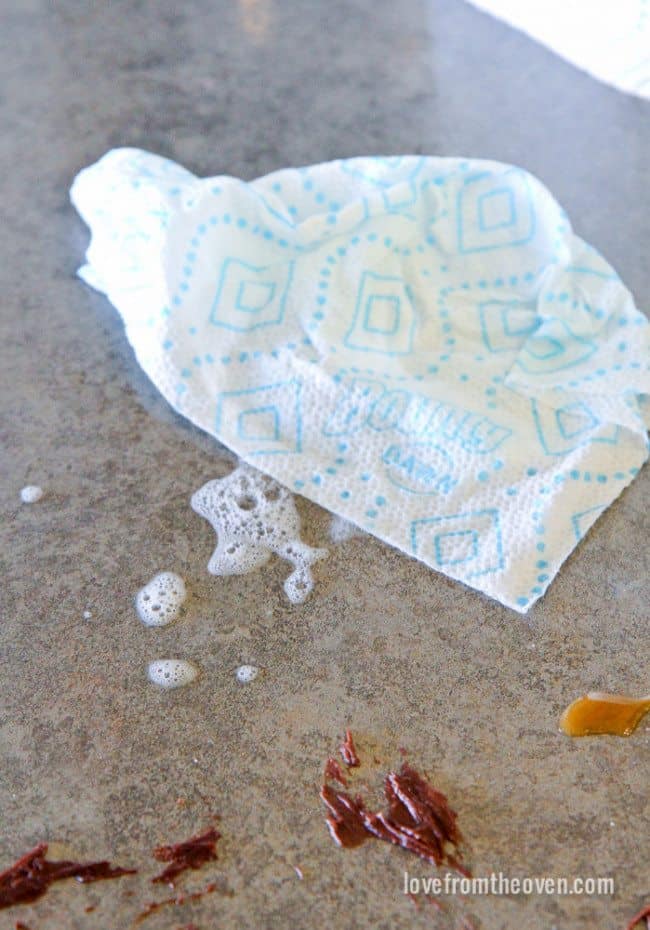 With all the caramel and dried on brownie batter on my countertop, I had to wring out my Bounty With Dawn once, but that single sheet cleaned the entire countertop, perfectly. I was very impressed. I won't lie, things that make clean up easier kind of thrill me. Hey, I spend a LOT of time in the kitchen making messes! 🙂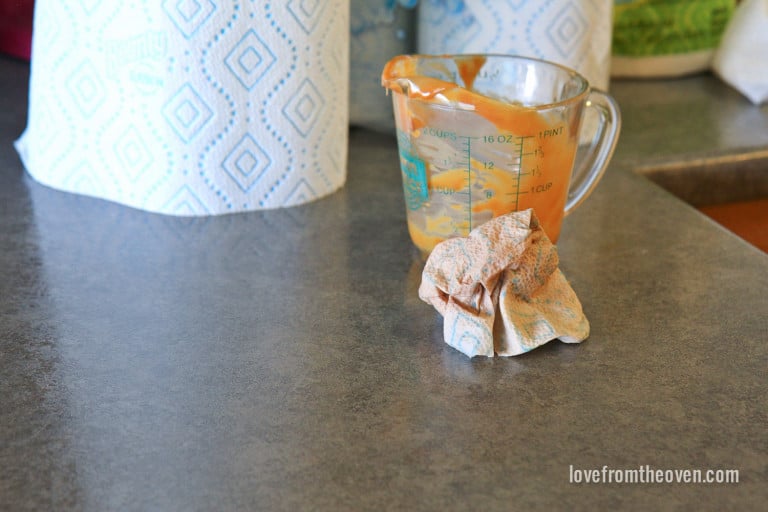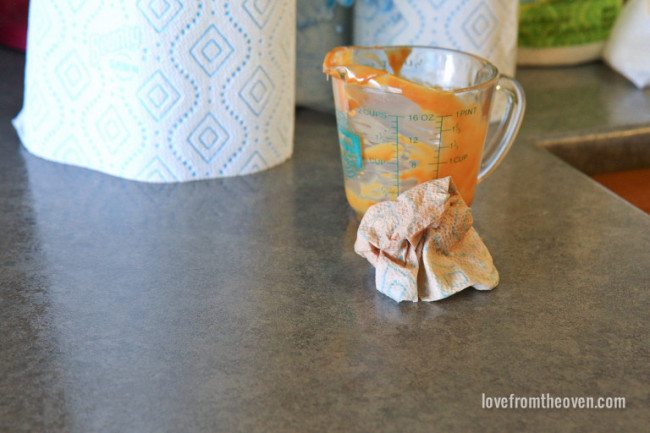 Spotless, with one sheet. Two thumbs up for Bounty With Dawn! I've used these in a variety of ways, and so far, I'm loving them. They are great for cleaning up the kitchen table, which my four year old can turn into the greasiest mess ever, multiple times a day. In the kitchen I've used them on my dishes, pots and pans, the microwave, countertops, my glass cooktop and even my stainless steel appliances, which a certain four year old likes to cover in fingerprints. I love that they have to power to clean up those greasy fingerprints, yet leave a streak free shine. That's kitchen winning if you ask me!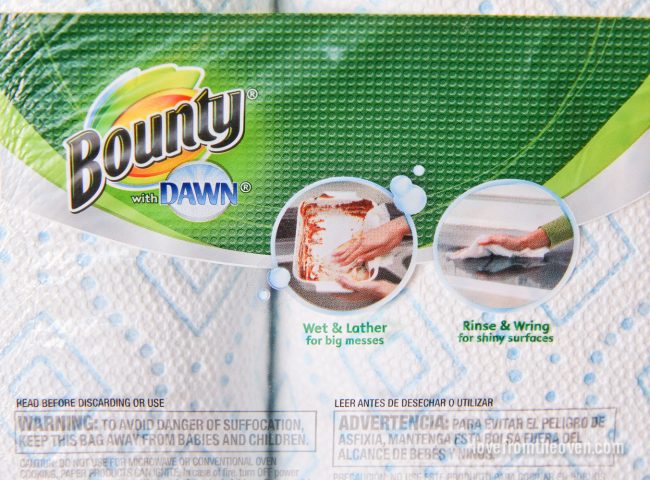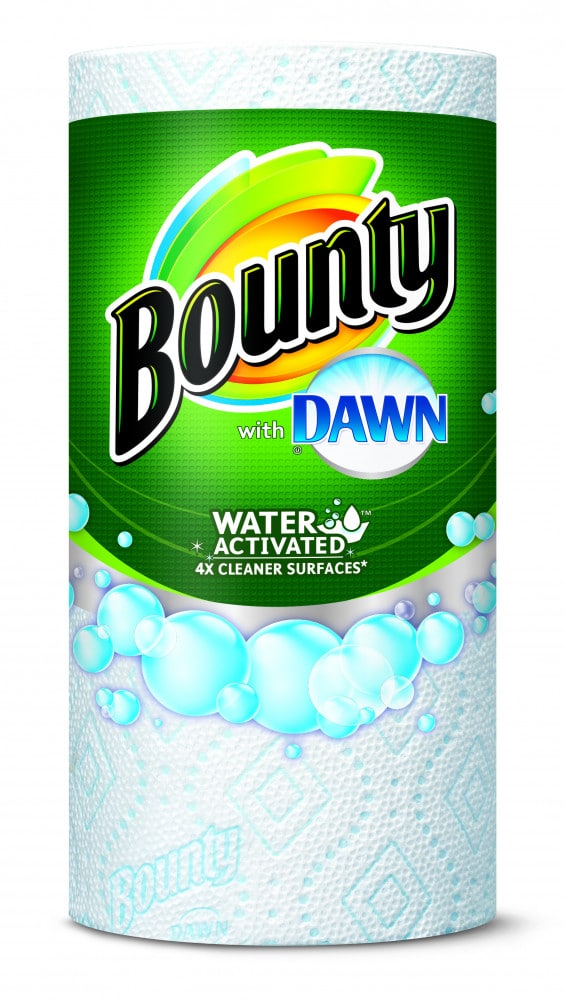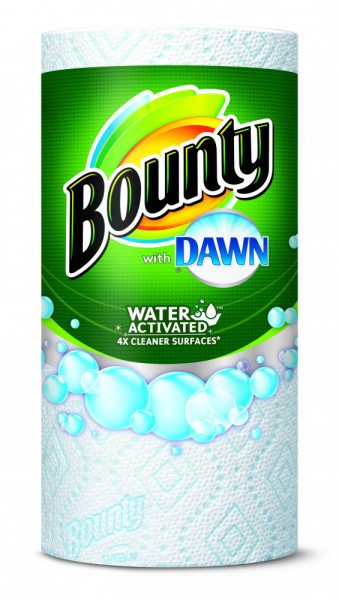 Bounty With Dawn isn't just for the kitchen. I store a roll in my hall closet, so they are readily available in the back of the house. I love using them to quickly clean off door handles, light switches and the surrounding areas, and walls that somehow attract fingerprints and crayon on almost a daily basis. I swear my child is like Pigpen from the Peanuts cartoon, she leaves a mess trail. All those messes that a regular paper towel doesn't quite manage to take care of, Bounty With Dawn has got them covered. If you've got messy little fingers in your house, really, Bounty With Dawn, you've gotta have it!
So now that I've told you how to clean up these messy brownies, let me tell you how to make them!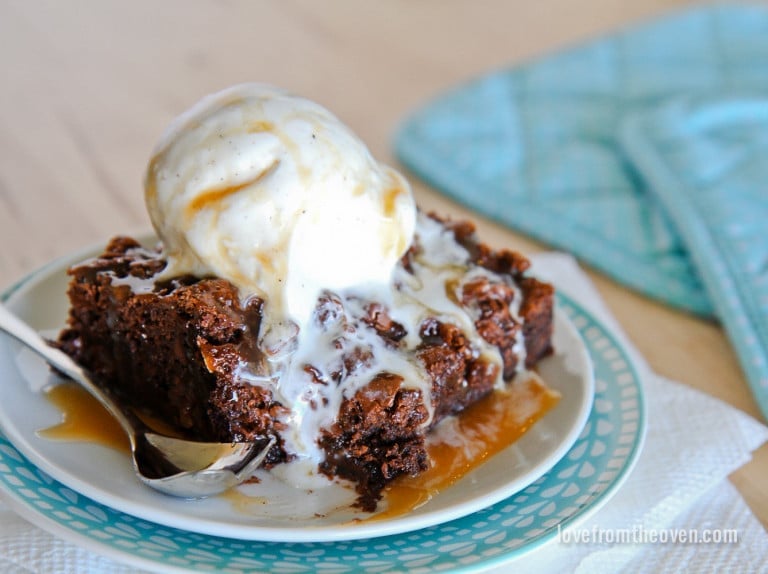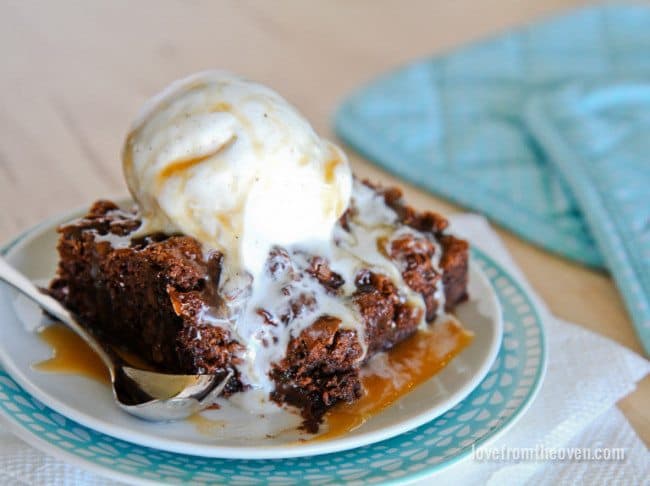 These aren't just packed with caramel, they are also topped with chocolate chips. Kind of going with "more is more".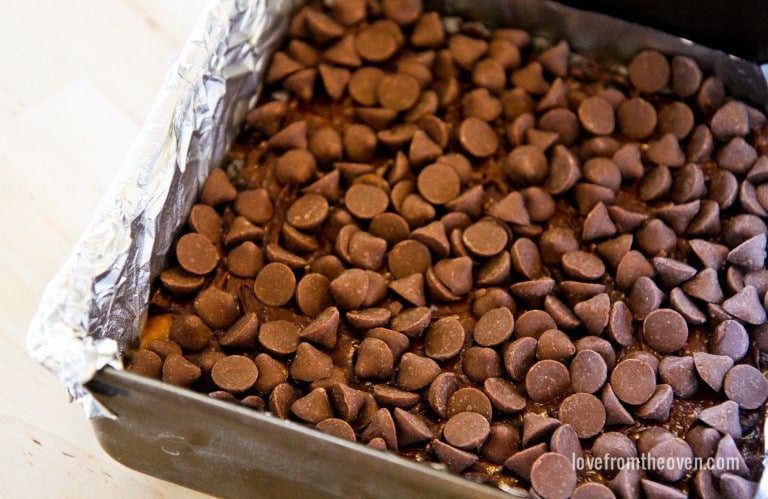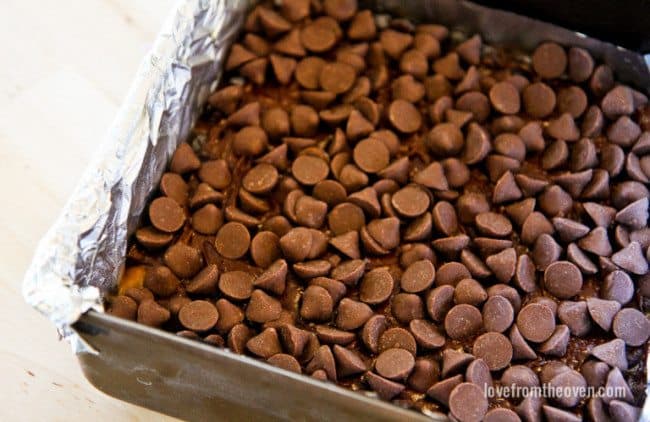 For these brownies you can either start with a from scratch brownie recipe, or go with a box mix. I LOVE to doctor up a box mix, so that's what I did with these. I used a few different kinds of caramel in these. I stirred about 1/2 cup of caramel ice cream sundae topping right into my brownie mix. After placing a layer of brownie batter on the bottom of my pan, I poured in a layer of melted caramels. After removing them from the oven, I drizzled some caramel sauce over the top. And of course if you are serving them with ice cream, a little caramel sauce to finish it off is perfect.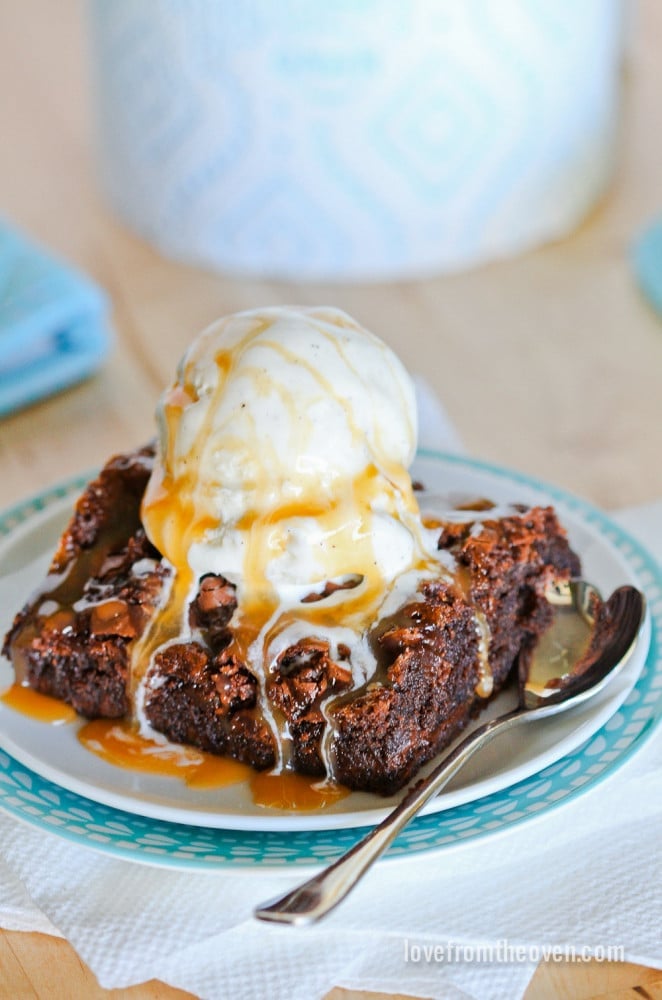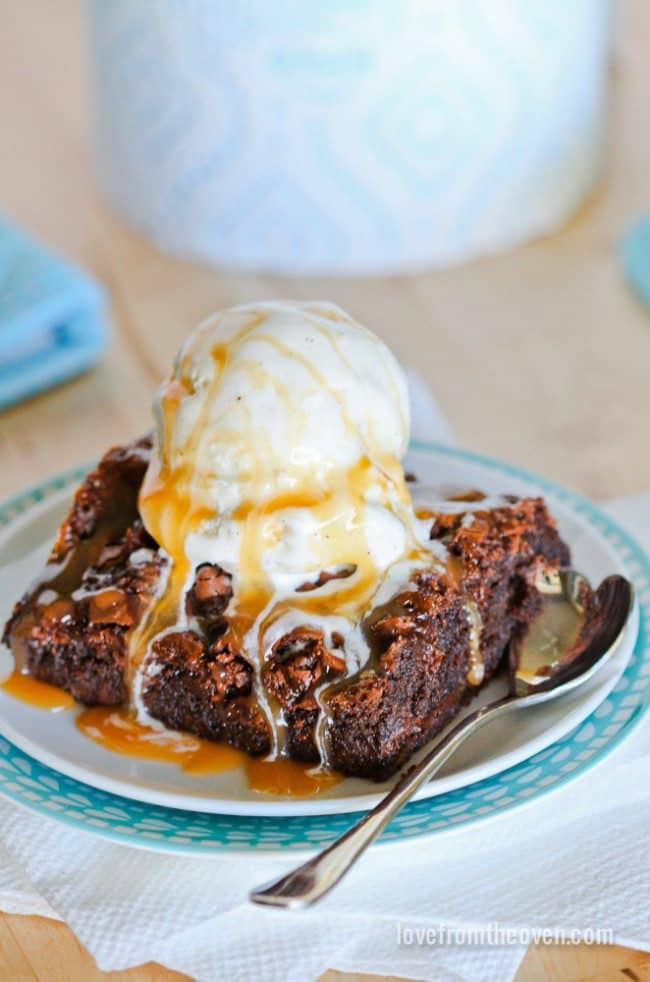 To make this from scratch, try my EASY BROWNIES recipe instead of a box mix!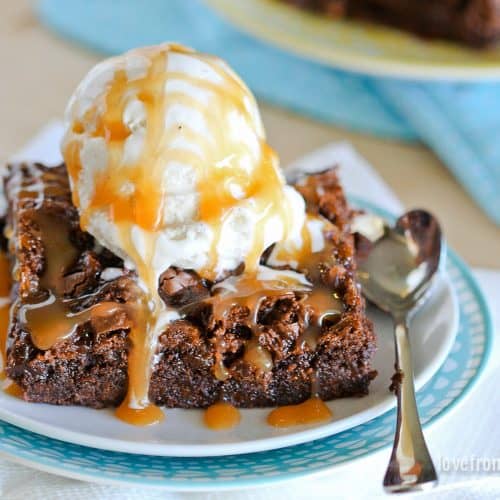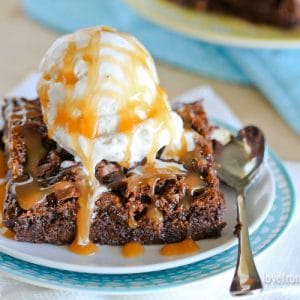 Caramel Brownies
Ingredients
One package

8x8 or 9x9 pan size chocolate brownies (or your favorite brownie recipe)

Ingredients listed on brownie package

1/2

cup

caramel ice cream topping

11

oz

bag Kraft Caramel Bits

2

TBSP

water or half and half

1

cup

chocolate chips

Optional Extra caramel ice cream topping

Optional Sea salt to taste
Instructions
Preheat oven according to brownie package (or recipe) directions and prepare baking pan with non-stick cooking spray.

Prepare brownies according to package (or recipe) directions. After batter is mixed, stir in 1/2 cup caramel ice cream topping. Spread a thin layer of brownie batter into the bottom of baking pan.

Prepare caramel bits by placing caramel bits in medium saucepan. Add water; cook on medium-low heat 3 min. or until caramel bits are completely melted, stirring constantly. Pour over brownie batter spread into pan. Top with remaining brownie batter and sprinkle with chocolate chips.

Bake according to package directions. You may need to extend baking time by 5-10 minutes. Remove from oven, and drizzle on additional caramel ice cream topping if desired. Sprinkle with sea salt if desired. Serve warm or cooled. For more caramel flavor, drizzle with caramel sauce just before serving. Enjoy!
Don't forget to grab some Bounty With Dawn to help clean up the mess!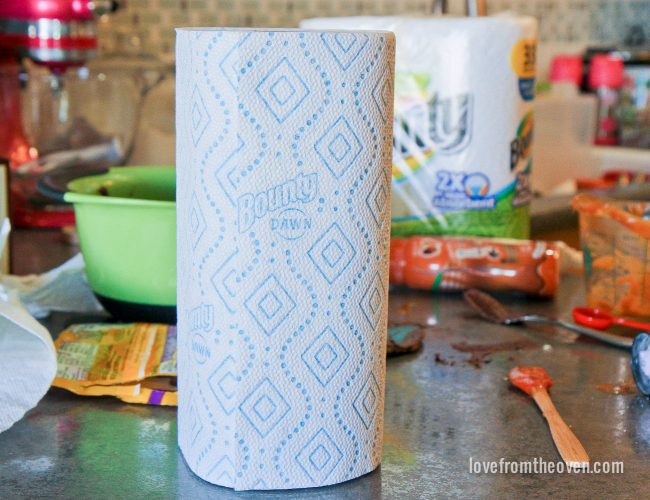 Enjoy!
Disclosure: As a member of the Quicker Picker Upper Crew, I was provided free samples of products from Bounty, and am compensated for my post. All opinions and experiences however are mine and mine alone.