I've never hidden the fact that while I love to bake, cooking can be a different story. Meal planning and dinners have always been a bit of a challenge for me. I am always looking for easy meals that my family, including the picky eaters, will enjoy. Being a bit more organized about meal planning was one of my new year's resolutions this year, and I'm trying! Today I want to share a simple and delicious Easy Shrimp Alfredo recipe with you, as well as what a weekly meal plan looks like for us.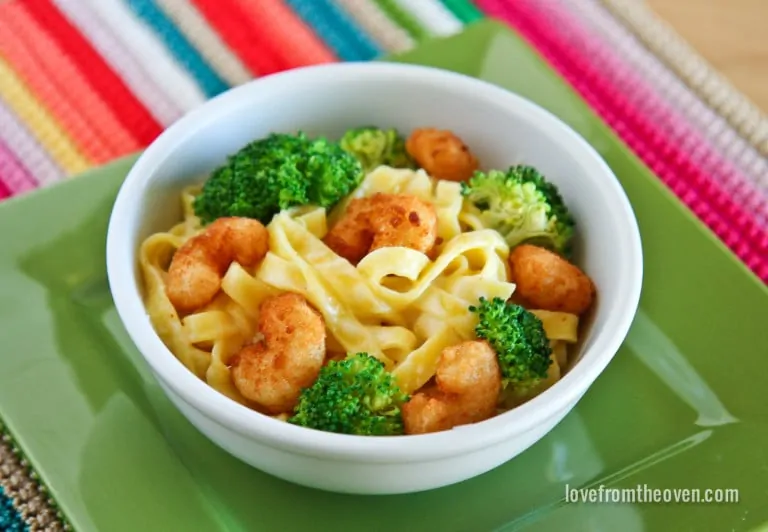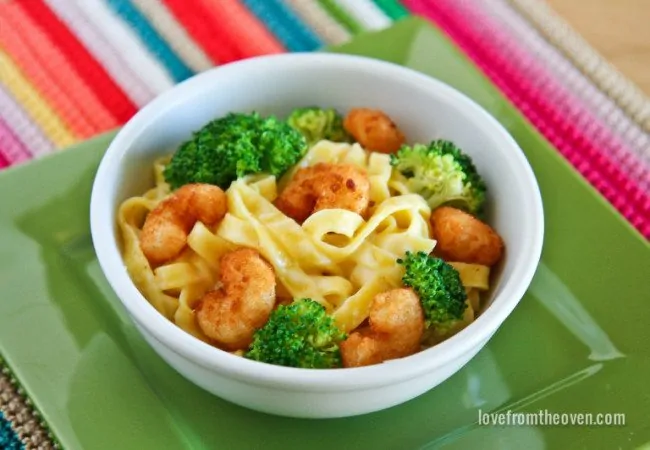 The folks at SeaPak Shrimp & Seafood Company recently asked me if I would like to try some of their products and work them into my meal plan. Since that whole meal plan thing is something I am really trying to improve this year (you know, have more than four meals, one being takeout pizza!), I was up to the challenge. And I'm also excited that they are going to give someone a year's supply of SeaPak!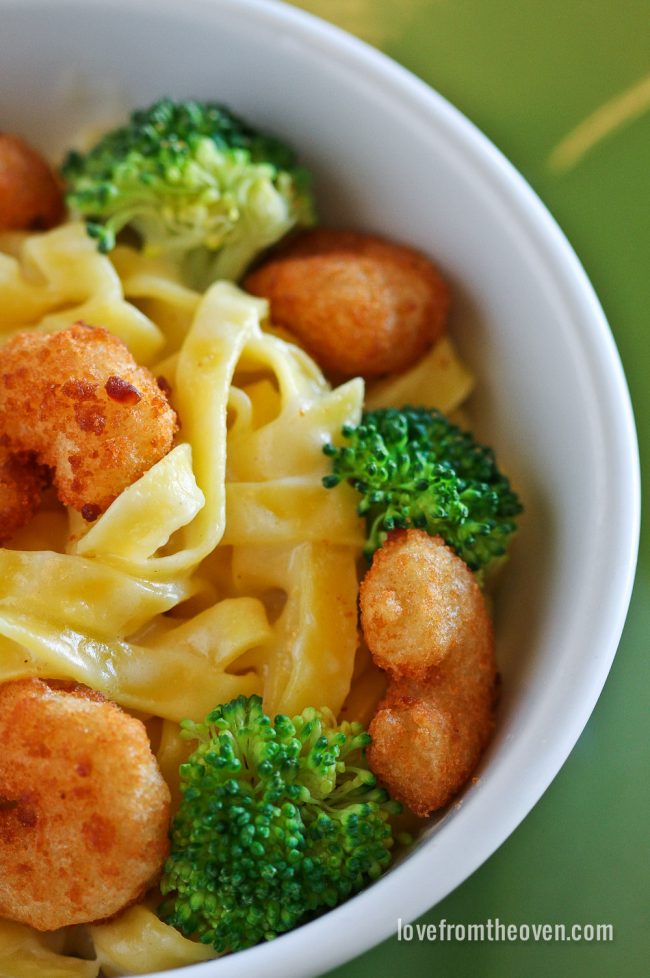 I think one of the biggest challenges for meal planning for me is the actual "planning" part. So many times I find myself unprepared, not having all of the items I need, or not getting the timing right. I've tried to really simply things this year, keep my pantry stocked with staples and have quick and easy protein sources, such as SeaPak Shrimp & Seafood, stocked in the freezer.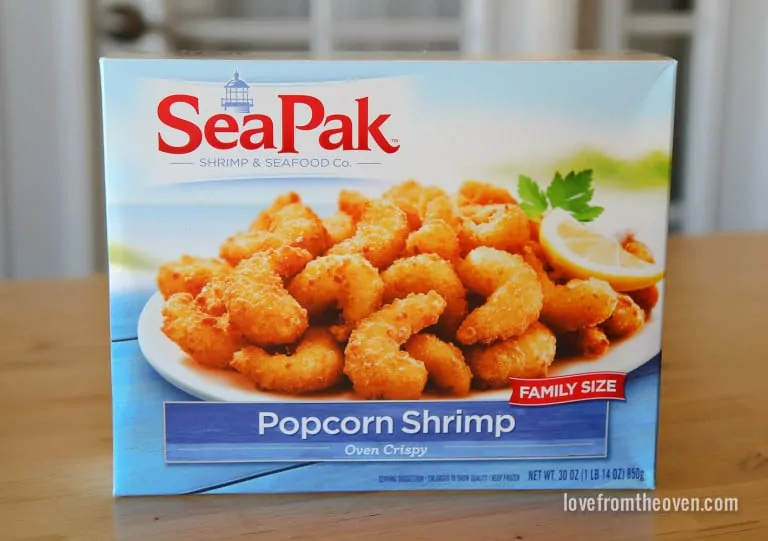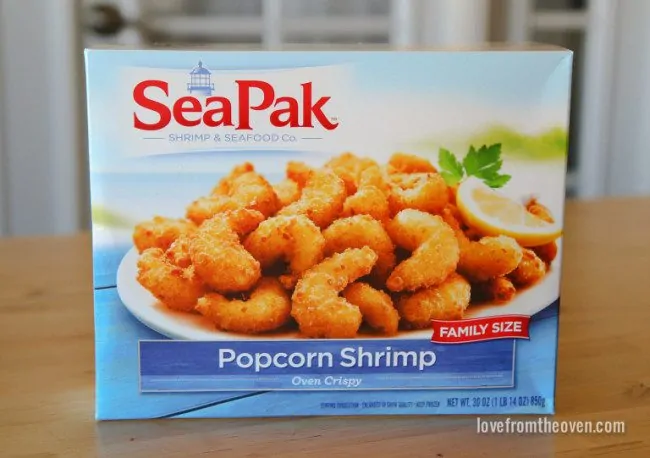 Another challenge I face is having two picky eaters. Both my girls are pretty darn picky, and one is not into trying new foods. She's fond of walking through the kitchen while I'm cooking and declaring, "not gonna try it". Thanks for that vote of support kid! She also is not a fan of her foods mixed together, even foods she likes, so that counts out a lot of casseroles and slow cooker meals. I've taken to coming up with dishes that the rest of the family can mix together, but that I can serve her side by side, such as this Shrimp Alfredo.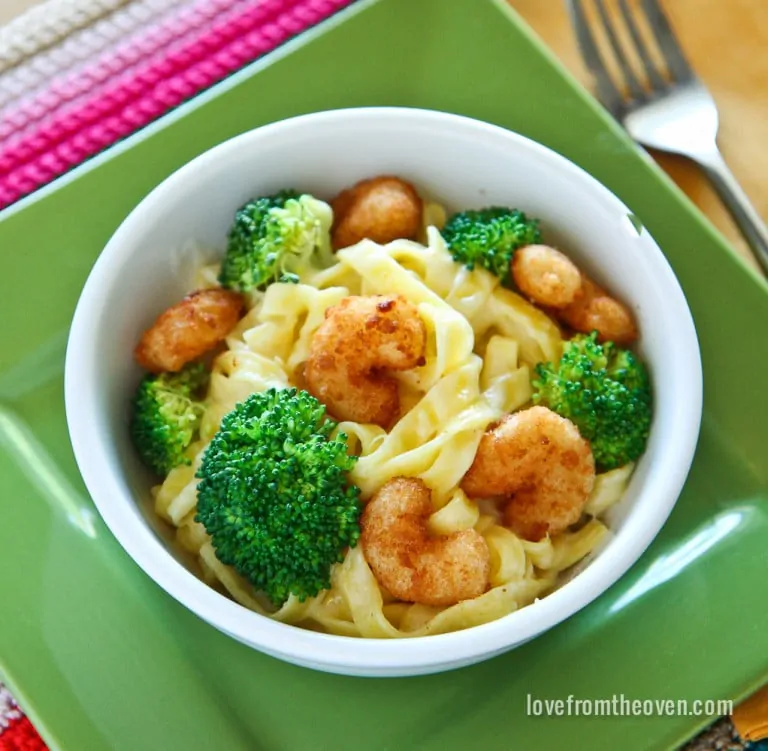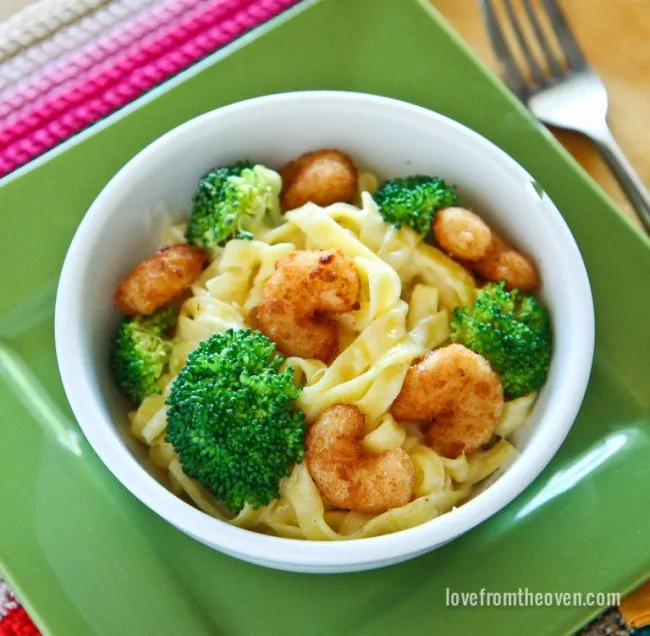 There is something so fun about popcorn shrimp. I remember getting it as a kid when we would go out to dinner, and to this day it has a nostalgic quality to me. My girls love fettuccine alfredo, and while broccoli isn't their favorite, this meal was a hit, and was so easy to whip up. While I love to roast my veggies when I have the time, I love the frozen and fresh steamer bags that allow me to pop my veggies in the microwave. A dinner like this works well for me, I can make my pasta and sauce on the stove, while my shrimp cooks in the oven and my veggie cooks in the microwave, and they all come together in the end.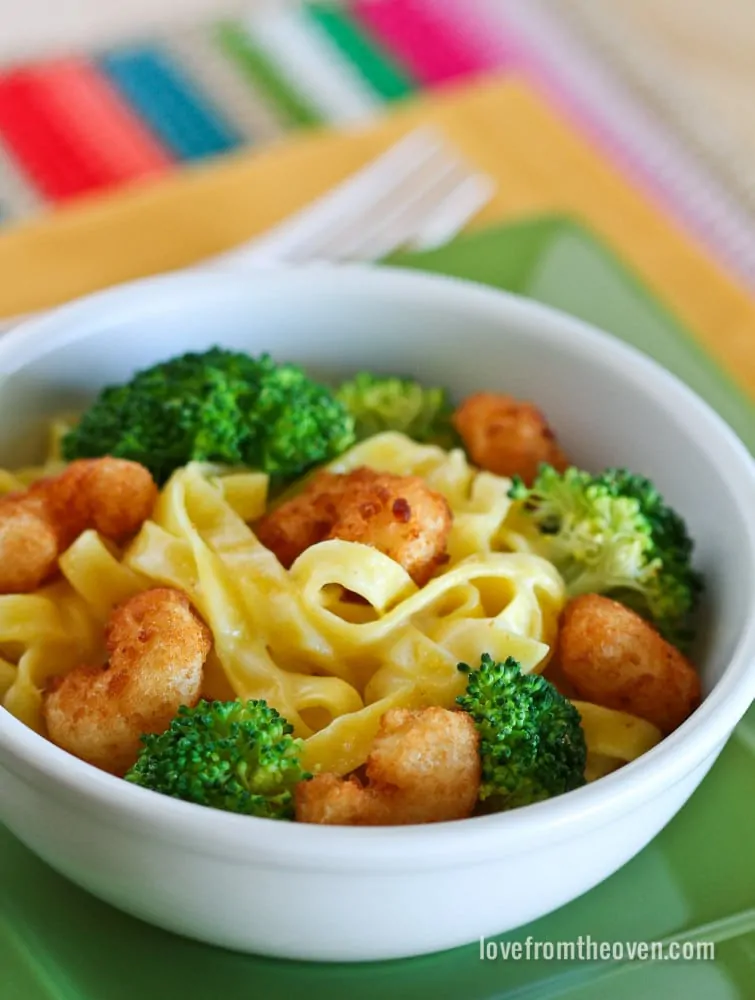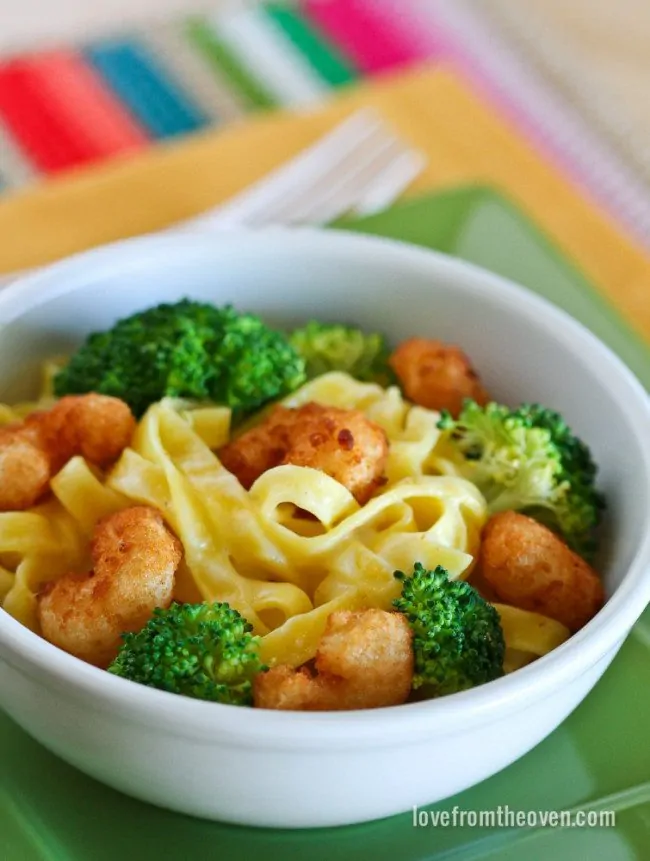 So what does a typical weekly meal plan look like for me, a busy mom who doesn't love to cook, and often has to whip up meals quickly after school and before taking my oldest daughter to an evening of dance lessons? Here's a sample of a weekly meal plan for us. It's not fancy, it's not elaborate, and there is some takeout in there, but it's real and it's do-able, which is what I think is most important!
Weekly Meal Plan
Sunday – Roast With Potatoes and Carrots
Monday – Meatless Monday – Takeout Pizza (our favorite local pizza place has half off deals on Monday, and for me having our crazy Monday dinner picked up on my husband's way home is a sanity saver!). Served with a salad and veggies.
Tuesday – Taco Tuesday – Fiesta Shrimp Tacos
Wednesday – Turkey Sliders
Thursday – Chicken Pot Pie
Friday – Easy Shrimp Alfredo With Broccoli (recipe below)
Saturday – Bar-B-Que or Breakfast For Dinner
That's what a simple week looks like for us. As I said, nothing fancy, but something I can achieve. I try to always make a little extra, which gives us leftovers for lunches. We are creatures of habit, so I often put simple spins on things like the Easy Shrimp Alfredo, and another week we'll have a similar dish made with macaroni. For me keeping things simple is really the key to making meal planning work for our family.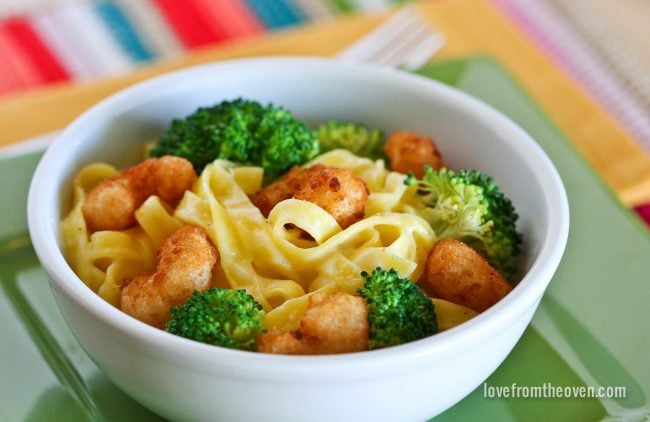 If you are looking for meal planning inspiration and more delicious recipes, make sure to head over to the SeaPak website.
Also, don't miss my delicious Bang Bang Shrimp recipe.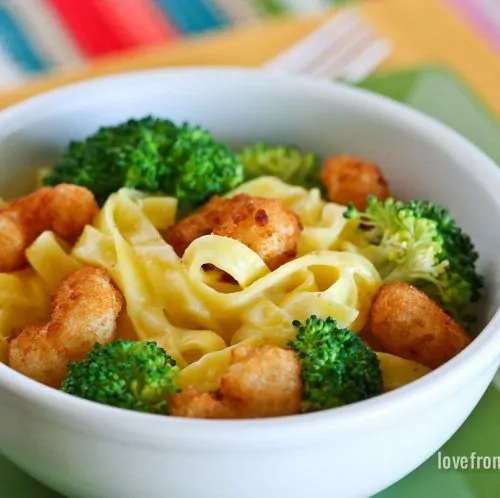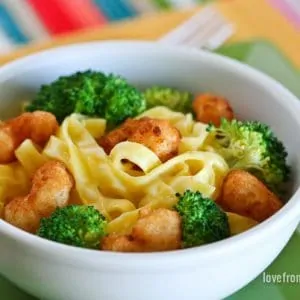 Easy Shrimp Alfredo
Ingredients
Fettuccine Alfredo
1/2

pound

uncooked fettuccine

4

oz

cream cheese

cut into eight pieces

1/4

grated Parmesan cheese

3/4

cup

milk

1/4

cup

butter

1/5

tsp

salt
Broccoli
2

cups

fresh or one pound frozen broccoli florets
Shrimp
1 - 12

oz

package SeaPak Popcorn Shrimp
Instructions
Shrimp
Preheat oven to 450 degrees F. Arrange frozen shrimp in a single layer on baking sheet so shrimp are not touching. Bake for 110 to 11 minutes on middle rack. For best results, turn shrimp after five minutes
Fettuccine Alfredo and Broccoli
While shrimp is baking, cook pasta in a large pot according to package directions. Fresh broccoli can be cooked with the pasta during the last two minutes of pasta cook time. For frozen broccoli, prepare according to package directions.

In a saucepan, cook remaining fettuccine alfredo ingredients on low heat until cream cheese is completely blended and mixture is mixed well.

Once pasta is done drain and return to pan. Add sauce and stir to coat evenly. Add cooked pasta, broccoli and shrimp. Serve.
Disclaimer
Nutrition information is estimated as a courtesy. If using for medical purposes, please verify information using your own nutritional calculator. Percent Daily Values are based on a 2000 calorie diet.
This easy Shrimp Alfredo is quick and easy to whip up, you can easily have it on the table in under 20 minutes start to finish. Even I can do 20 minutes! I hope you enjoy this recipe as much as we do!
Disclosure: This post was sponsored by SeaPak Shrimp & Seafood Company. All opinions however are mine and mine alone.