One of my all time favorite things to have for breakfast is pancakes. I make my fluffy pancake recipe almost weekly! Pancakes are such a delicious way to start the day, and you can really customize them with mix-ins and toppings. A nice stack of fresh, hot pancakes are pretty darn perfect if you ask me.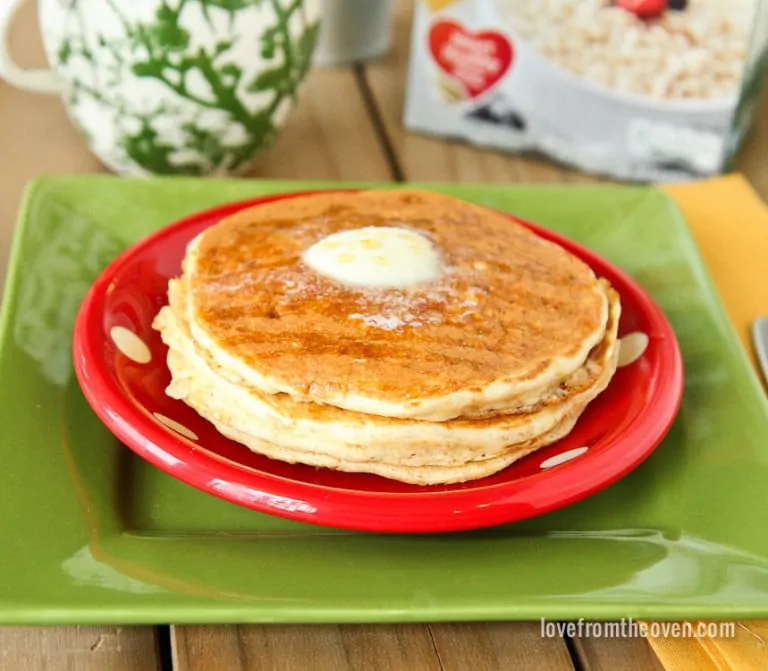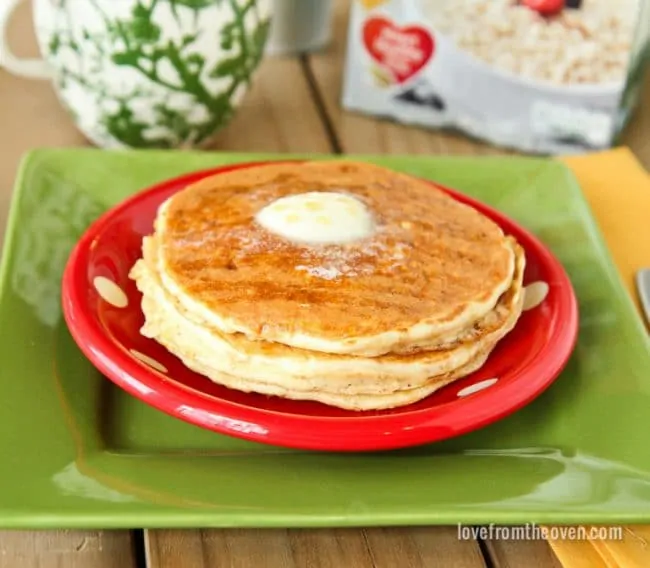 I could probably eat pancakes every day, but it always seems like something I feel like I need to save for the weekends, when I have more time. Well, that's about to change as I just discovered how to make a perfect single serving of pancakes using a packet of instant oatmeal. It's quick, it's easy and it's delicious! Pancakes on a random Tuesday morning? I think yes!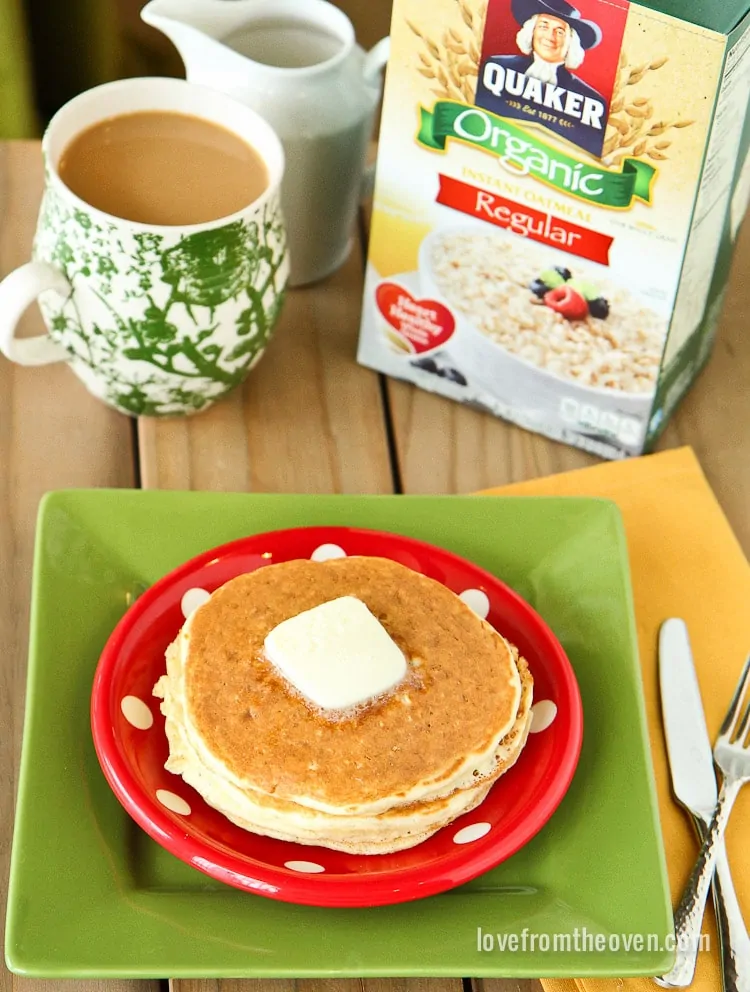 The folks at Safeway asked if I would like to visit my local Safeway store, and take a look around to see what was new. Safeway is where we usually shop, but typically I'm rushed, have the kids in tow, am flying through the store grabbing what's on my list, you know the drill. This seemed like a great excuse for a shopping trip by myself. Is it just me or do you know that you are

a mom when a child free trip to the grocery store to actually look around, stroll the isles and discover new products feels like a great little getaway? Well this was one of those trips, no kids in tow, grab a drink at the Starbucks when walking in, and peacefully walk up and down the isles, realizing that there are a lot of great new products on the shelves.
It's amazing how much more you notice when you have a chance to slow down. I realized that Safeway places "new!" tags to help point out the new products, so from now on I'll have to keep my eyes open for them. I love that I can also check the new items page on their website to see what I might find before I head to the store.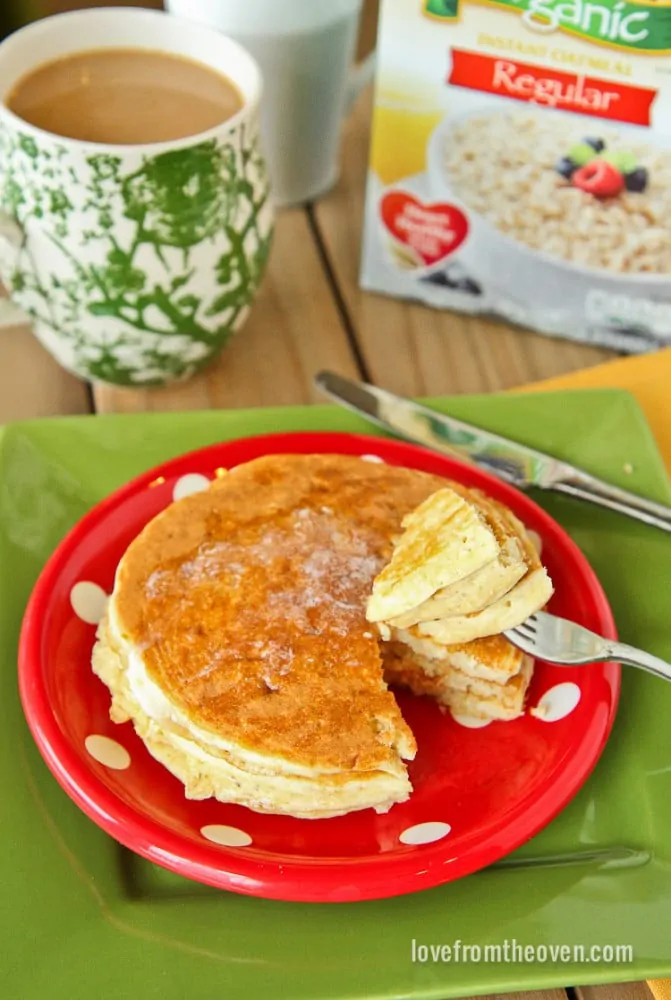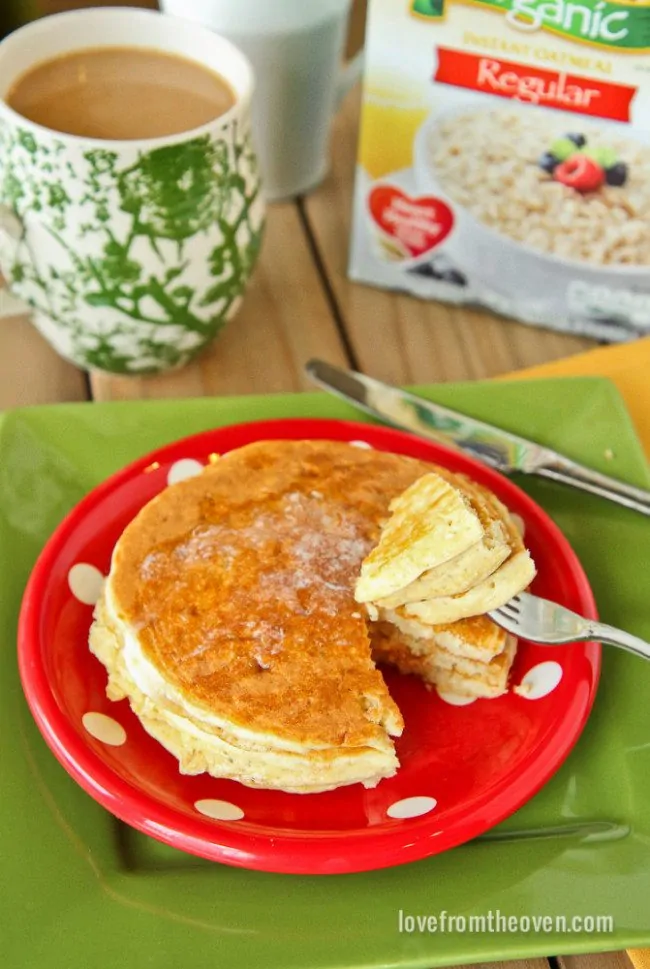 While shopping, I picked up a box of Quaker's new Organic Instant Oatmeal. I figured I'd just make my oatmeal the way I always do, easy peasy. It dawned on me though that I could try and make pancakes with my oatmeal. I had been craving pancakes for a few days (okay, more like weeks) and because I often make my pancakes with oatmeal, it made sense that I could use one of the instant oatmeal packets to make a single serving of pancakes. I scaled down a recipe, mixed it up, and hoped for the best. I was thrilled with the results. While quick and easy, these pancakes are also hearty and taste amazing. A fabulous breakfast on those days where I know I might not see lunch until the mid-afternoon, or when I'm up at 4:30am for my crazy early workouts and need a little something extra to keep me going.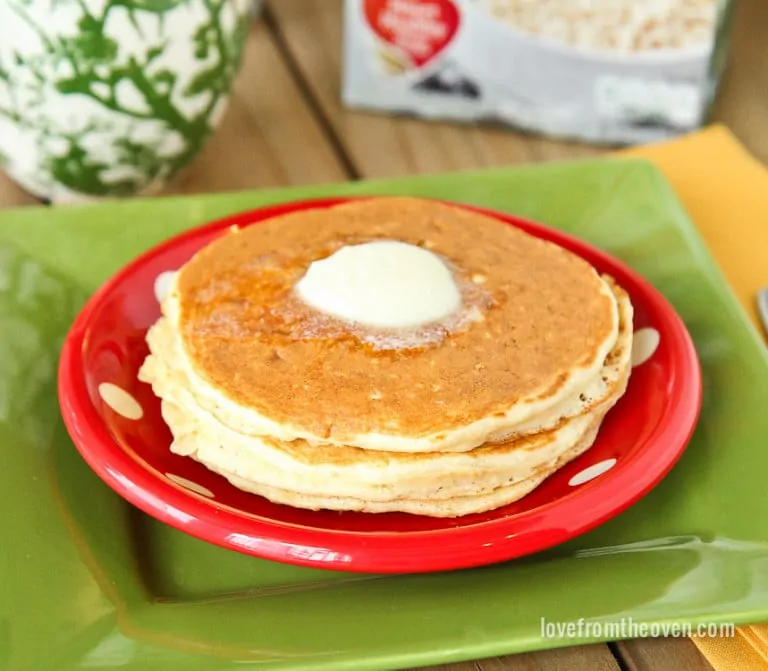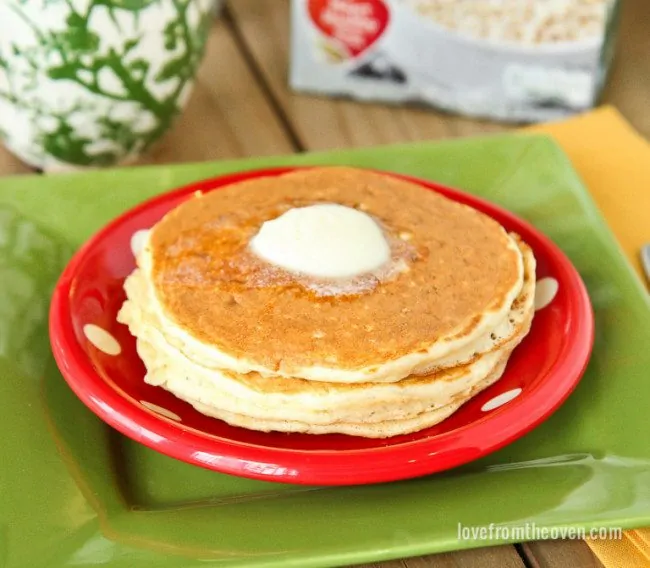 If you are a pancake lover like me, you are going to love these. I can't tell you how many times I've made these, they are so quick, easy and delicious. I'm a bit excited how simple these are and how quickly they come together. You mix up your ingredients in a single bowl, and then scoop your batter onto your griddle (or I just use my omelet pan). Quick tip, my favorite way to scoop my pancake batter is to use an ice cream scoop, works like a charm. Just a few minutes later you have a delicious stack of three pancakes. You could add some fruit or sides and split the pancakes to serve two, or if you are on the hungry side and need some fuel to keep you going for a while, enjoy them yourself.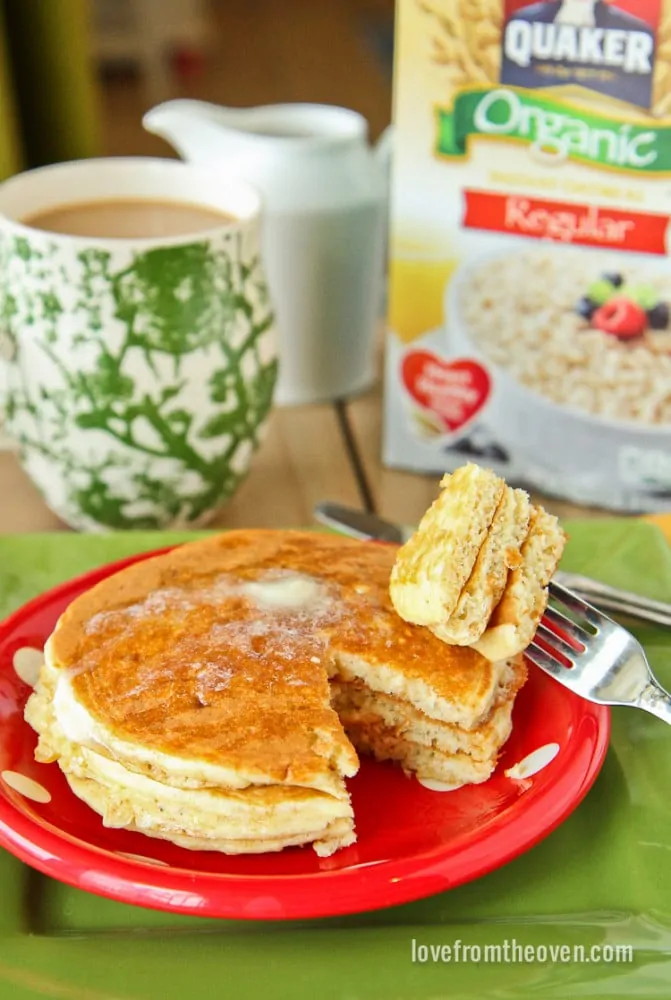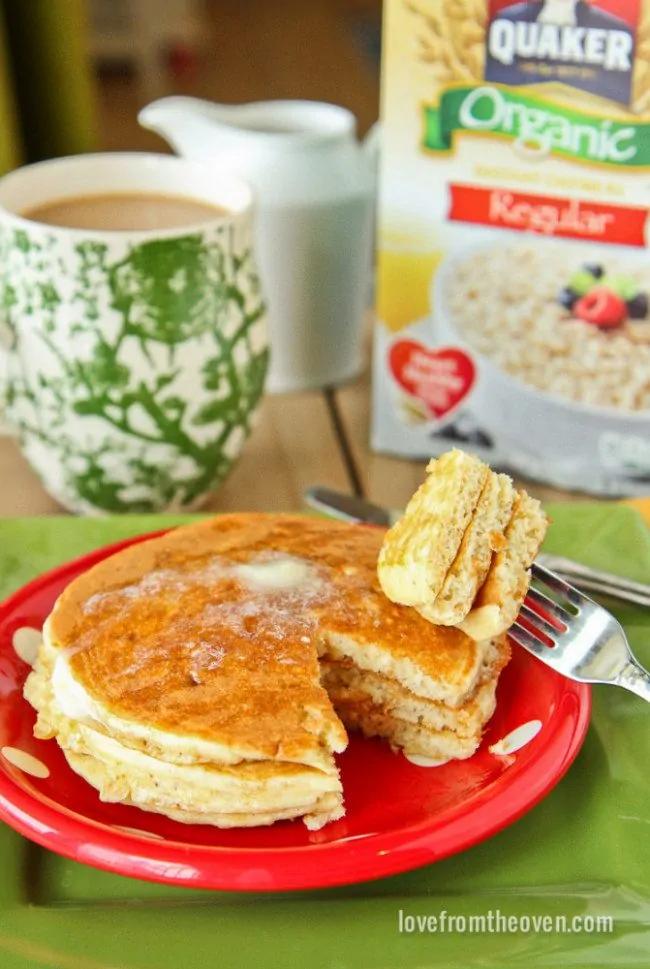 You can customize these pancakes to suit your tastes. The recipe calls for 1/4 cup of flour, you can use all purpose, whole wheat, or my favorite, white whole wheat flour. If you eat your pancakes with syrup, you can actually omit the sugar from the recipe all together, or if you are like me and aren't a big syrup fan, you can make the recipe with the teaspoon of sugar. You could even add in a ripe mashed banana if you wanted. And I'm always a fan of mixing in berries or nuts, so have fun and use what you like and have on hand.
Single Serving Oatmeal Packet Pancakes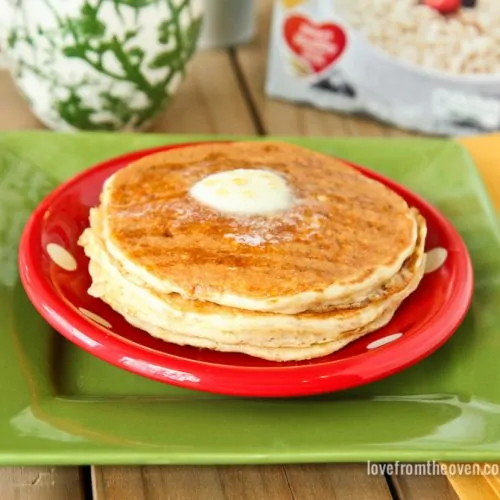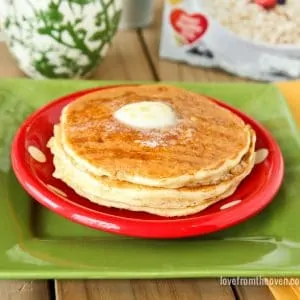 Oatmeal Packet Pancakes
Ingredients
1

packet Quaker® Organic Instant Oatmeal

1/4

cup

flour

1

egg

1/4

cup

milk

1

tsp

sugar

1

tsp

baking powder

not baking soda
Instructions
In a bowl, combine Quaker® Organic Instant Oatmeal packet, flour, egg, milk, sugar and baking powder. Stir to combine, but do not over mix. Mixture may appear to "foam" a bit, from the baking powder. This is what helps make your pancakes fluffy.

Spray a griddle or pan with non-stick cooking spray, then place a skillet or pan on medium heat. Scoop pancake batter (I like using an ice cream scoop) into pan. You can make two large size pancakes or three medium size pancakes. Cook until edges start to brown and bubbles form. Flip to cook on other side. Remove from pan, repeat with remaining batter and serve with toppings of your choice.
Disclaimer
Nutrition information is estimated as a courtesy. If using for medical purposes, please verify information using your own nutritional calculator. Percent Daily Values are based on a 2000 calorie diet.
I hope you enjoy this delicious single serving oatmeal packet pancake recipe. I'm pretty thrilled with how simple and delicious it is. Make sure to check out what is new at your local Safeway, Vons, Pavilions, CARRS, Tom Thumb or Randalls store.
Disclosure: This post was sponsored by Safeway Inc. All opinions however are mine and mine alone.