Disclosure: This post is sponsored by Conagra, but as always, all opinions shared are my own.
With 10-Minute Chow Mein, you can enjoy a delicious Asian meal with less time than it takes to pick up takeout. Using La Choy Beef Chow Mein and Sweet and Sour Sauce makes this recipe one of the ultimate quick weeknight dinners!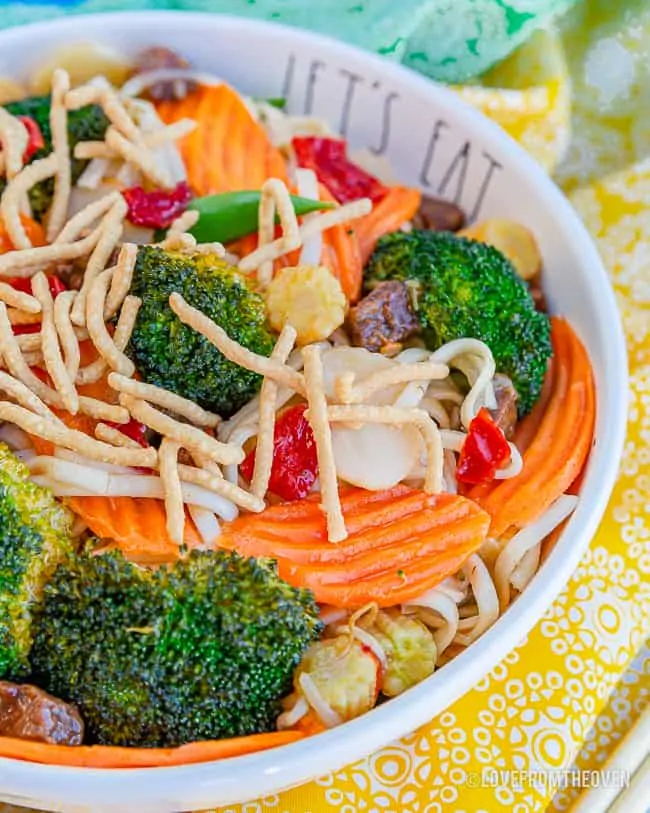 We've all been there: between driving kids to practices, keeping track of homework and trying to get any work done at all, you realize you forgot all about dinner. Again.
The kids are hungry and you're exhausted so you fall back on your old standby: Chinese take-out. No shame in that, right? Chinese food is delicious and pleases everyone in my family. But ordering take out every time I face a dinner time crunch would put a serious strain on my pocketbook. Not to mention, delivery can sometimes take even longer than cooking a meal for myself.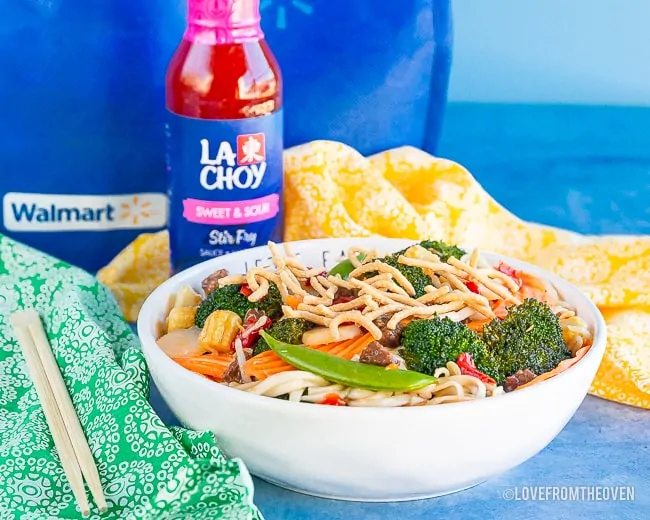 That's why I was excited to partner with Conagra and La Choy to create a 10-minute Chow Mein that does the job even better than take out. This recipe has all the flavors of our favorite Asian meals made ultra-easy by using can of La Choy Beef Chow Mein and La Choy Sweet and Sour Sauce.
La Choy has been making flavorful Asian meals easy to make at home for over 90 years. Can you believe that? There's a reason their products have been a staple for busy home cooks' pantries for almost a century. Their canned and bottled products are affordable, easy to find at any Walmart store and made with quality ingredients.
La Choy Beef Chow Mein
Made with tender cuts of beef and Asian-style vegetables seasoned with a flavorful sauce, this ready-to-eat chow mein was perfect served over lo mein noodles. I tossed in a few extra veggies to enhance the meal and served this topped with water chestnuts and crunchy chow mein noodles.
When you order take out, you don't always know what's going into your food. What I love about the La Choy beef-flavored chow mein is that it's made with no artificial flavors and no artificial colors.
Likewise, the Sweet and Sour sauce is also made from natural ingredients with Oleoresin Paprika giving it a bright right color (rather than artificial dyes). I opted to use this tasty gluten free bottled sauce to flavor an easy vegetable stir-fry. It's also delicious drizzled over chicken and pork, as a dipping sauce for egg rolls or to season fried rice.
I appreciated making this dish knowing I was serving my family a meal made with ingredients I could trust.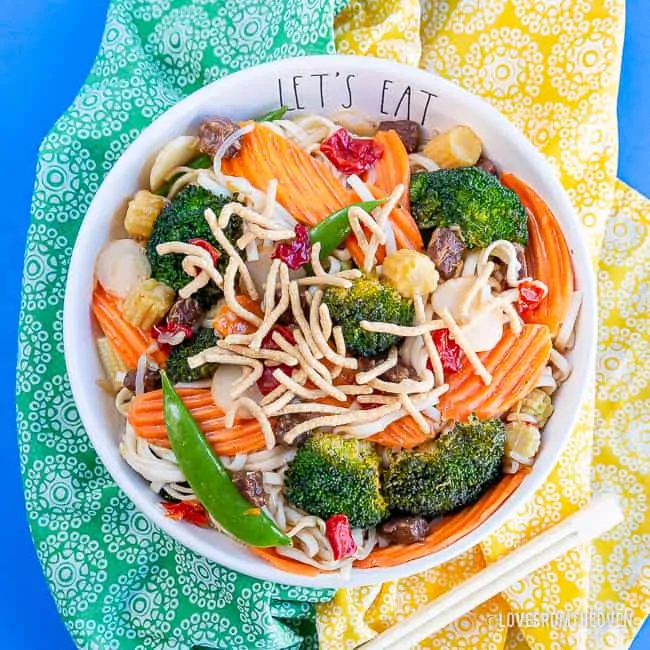 To make this meal even easier, I used Walmart Online Grocery to pick up what I needed for this recipe. If you've never experienced the wonders of online grocery order and pickup, get ready for your life to change.
Walmart Online Grocery makes it possible for you to grocery shop from anywhere, anytime. I can order right online from my phone while I wait to pick up the kids, during a quick lunch bread, or even from bed in my pajamas. No dealing with crowds or lines or fussy kids in the store. Miracle of miracles!
Since I'm cooking and baking constantly for this blog and for my own family, I'm constantly running out of one thing or another. Walmart Online Grocery has been a life saver. I can order and pick up my groceries faster than you can say "chow mein!"
I was able to get all of these La Choy products with no hassle and get back to what I like most–cooking!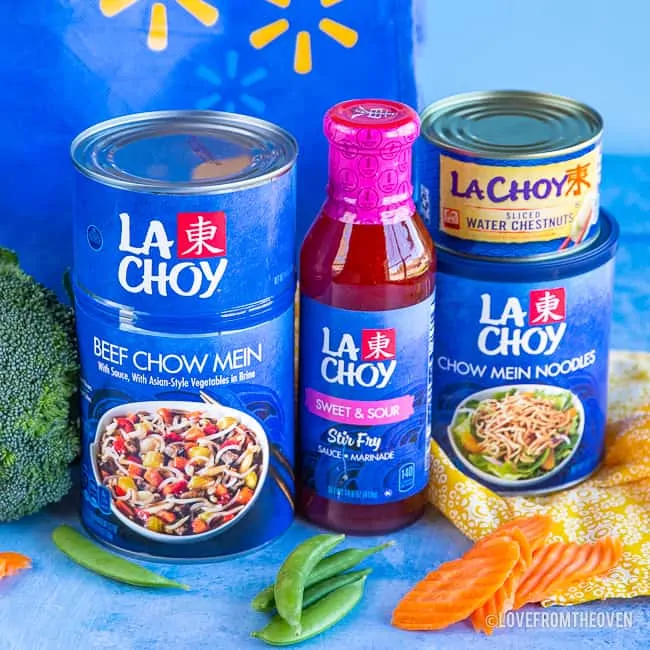 10 Minute Chow Mein Recipe
This lightning quick recipe using La Choy products makes dinner time a breeze.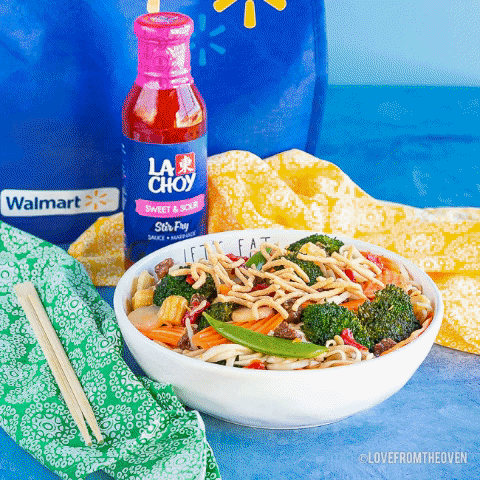 Ingredients
La Choy Sweet and Sour Stir-Fry Marinade
Lo mein noodles or spaghetti noodles
Raw stir-fry vegetables
Water chestnuts (optional)
La Choy Chow Mein Noodles (optional)
First, prepare the noodles according to package directions. While the noodles are cooking, chop the vegetables into even, bite sized pieces.
Add enough oil to a large skillet, pan or wok to cover the bottom. Heat to medium and add the vegetables. Cook until the vegetables are tender and slightly darker in color.
Pour sweet and sour sauce over the vegetables and stir to coat well. Remove from heat.
Prepare the can of La Choy Beef Chow Mein according to package directions. Add the chow mein to a large bowl along with the cooked noodles and vegetables and gently stir to combine.
If desired, add water chestnuts and sprinkle chow mein noodles on top for extra crunch! Serve immediately.
Taking just minutes to prepare this Beef Chow Mein is just as fast as takeout and much easier on your wallet!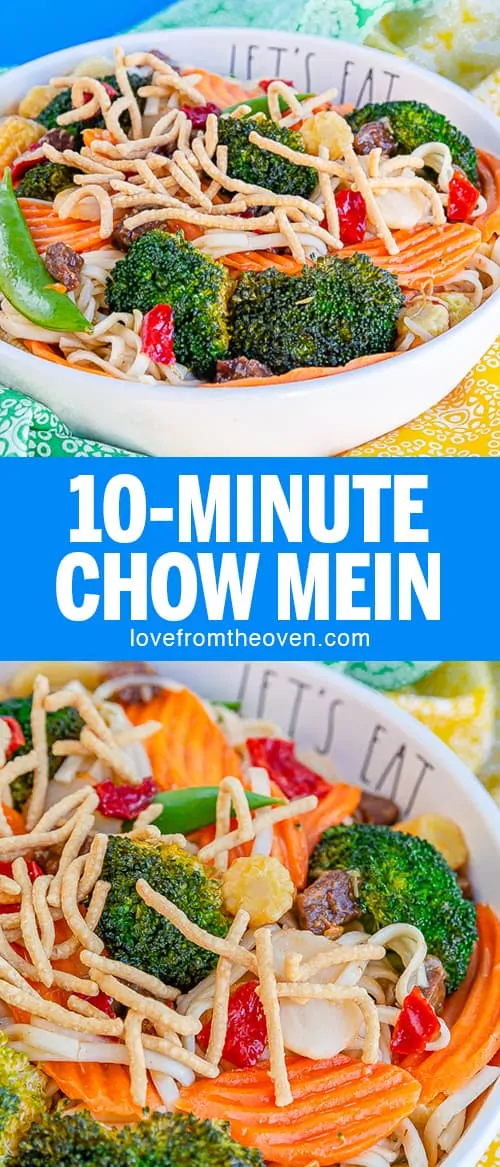 Click to Pin and Save Recipe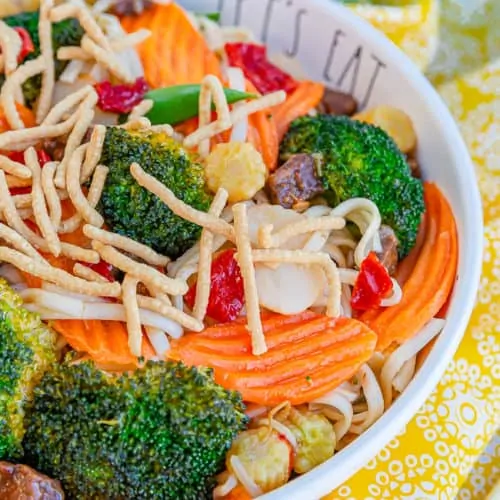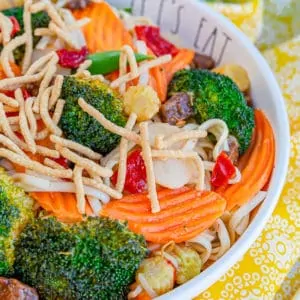 10 Minute Chow Mein
Ingredients
1

Can

La Choy Beef Chow Mein With Sauce & Asian Style Vegetables (42oz)

1/2

cup

La Choy Sweet & Sour Stir Fry Marinade

8

oz

Lo Mein Noodles or Spaghetti Noodles

3

cups

raw vegetables such as carrots, snow peas, broccoli

if using carrots, make sure they are cut thin

8

oz

La Choy Water Chestnuts

Optional

La Choy Chow Mein Noodles

Optional - For Topping
Instructions
Start by preparing noodles or spaghetti as directed on package. While water is heating to a boil, prepare stir fry.

Cut vegetables into bite-size pieces. If you're cooking more than one type of vegetable, cut into smaller pieces so they cook at similar rates. Add oil to pan, enough to cover the bottom of a large skillet or wok, and heat to medium. When hot, add vegetables and cook, stirring occasionally, until they are tender and slightly darker in color. Add in sweet and sour sauce and stir well to combine and cover. Remove from heat.






Prepare La Choy Beef Chow Mein according to package directions. One heated, add noodles, vegetables and chow mein to a large bowl and gently stir to combine. Top with sprinkle of La Choy Chow Mein noodles. Serve immediately.
Disclaimer
Nutrition information is estimated as a courtesy. If using for medical purposes, please verify information using your own nutritional calculator. Percent Daily Values are based on a 2000 calorie diet.