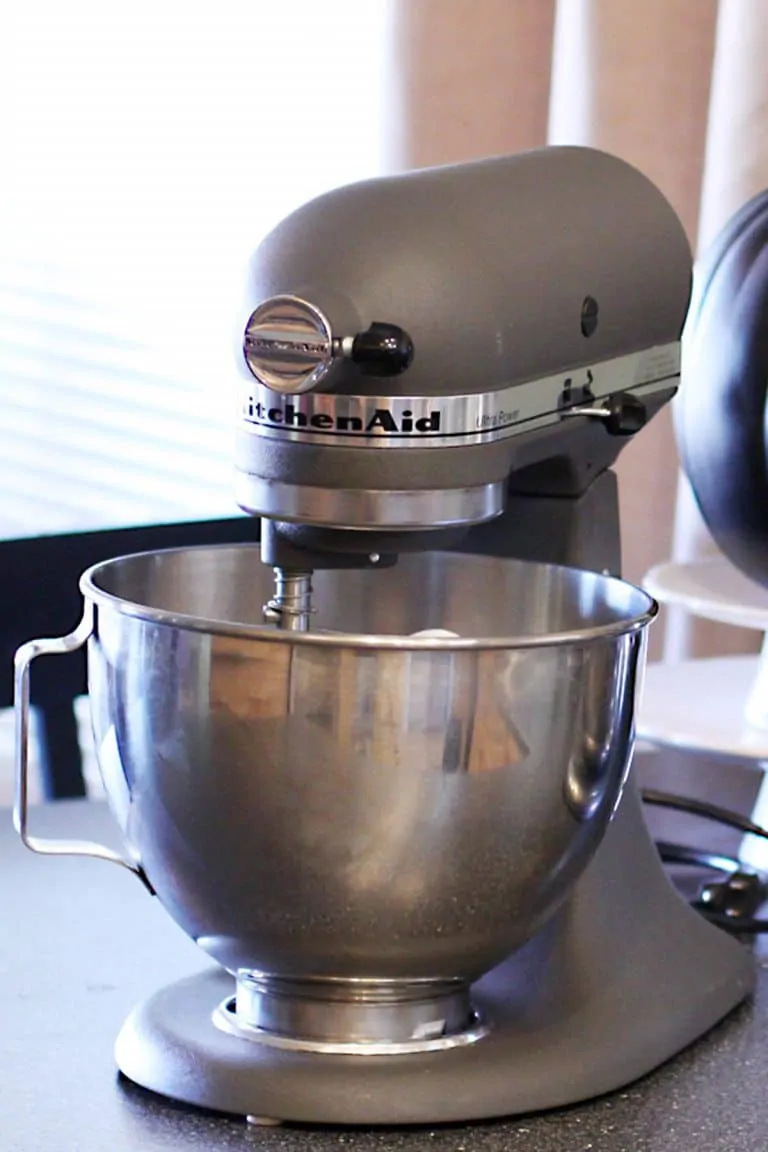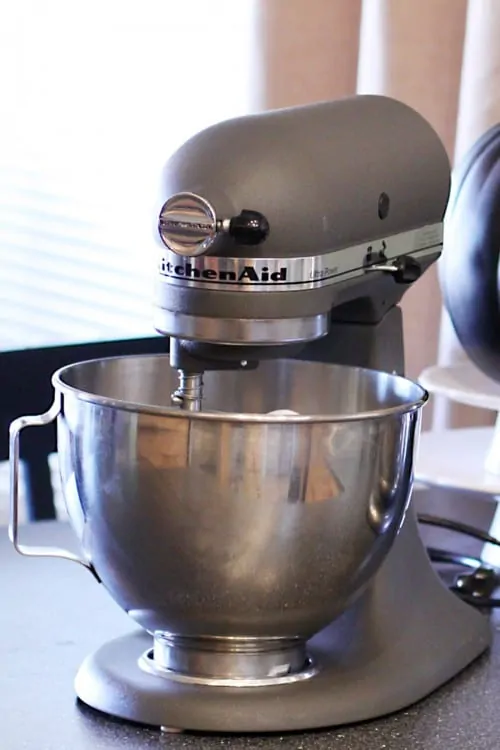 Let's talk mixers, shall we? I have been using my KitchenAid Ultra Power 4.5 Quart Stand Mixer for the past 14 years, after receiving it as a Christmas gift from my husband (quite possibly his best Christmas gift choice ever!). In those past 14 years my kitchen has been gutted and remolded, all of the cabinets, flooring and appliances have been replaced (some twice!). The AC on our home was replaced. Our cars, computers and electronics were all replaced, multiple times. But my trusty KitchenAid Stand Mixer has stood through it all, mixing up countless cakes, muffins, cookies and my always popular holiday mashed potatoes. It's been a loyal and hardworking friend who has never let me down. That's true quality if you ask me.
When KitchenAid asked if I would like to try out their newest mixer, a 7 Quart Bowl-Lift Residential Stand Mixer, I didn't have to give it a second thought.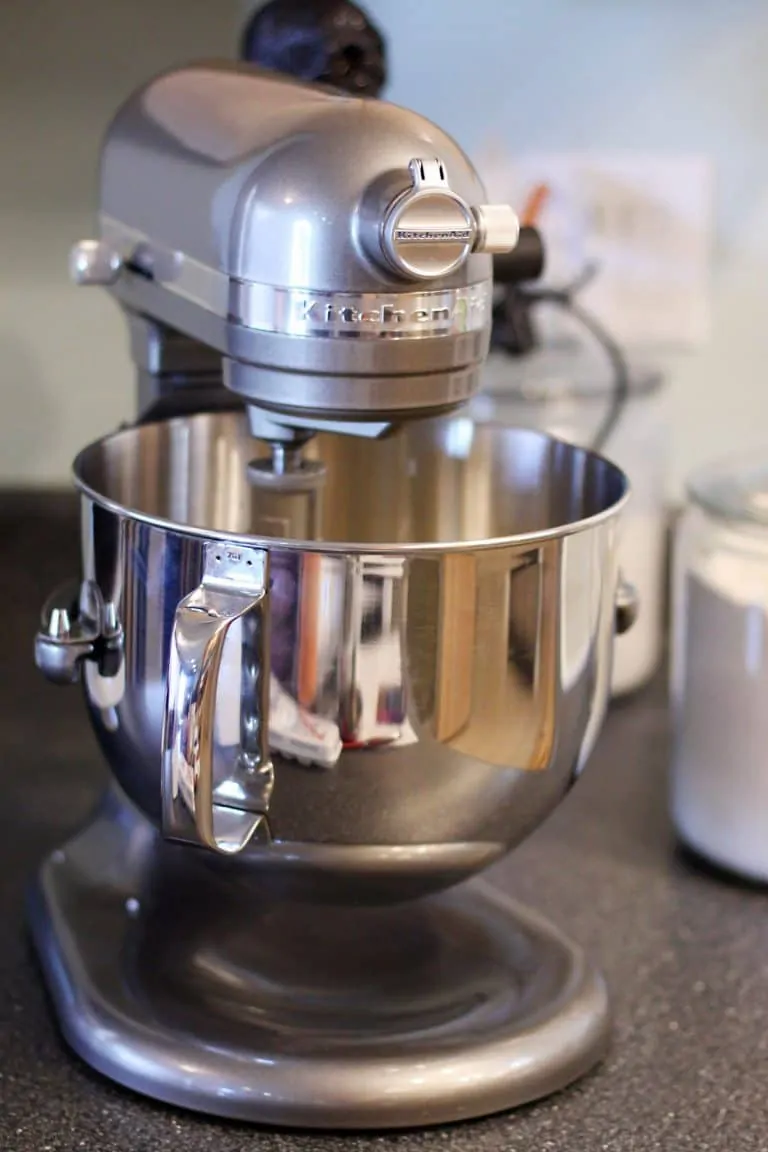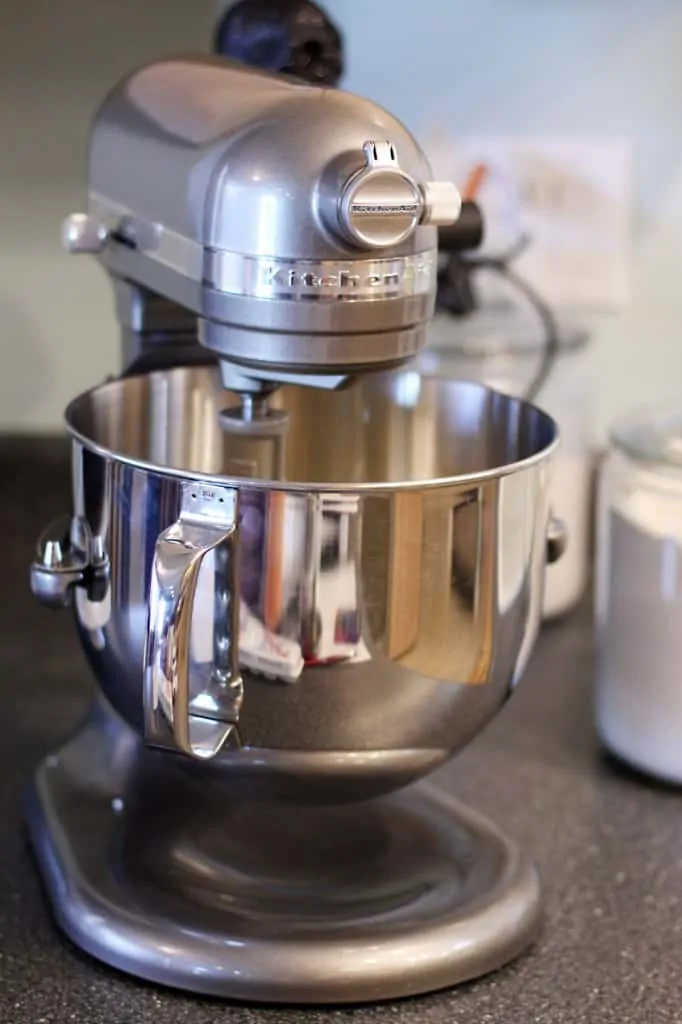 As much as I adore my 4.5 Quart Mixer, there are recipes that are just too much for it. I make large batches of muffins and breads to freeze, and often they are a bit more than the 4.5 Quart bowl can handle. When it comes to those larger recipes, the KitchenAid 7 Quart Bowl-Lift Residential Stand Mixer is a dream. The capacity is truly amazing. It can handle 8 1/2 pounds of mashed potatoes, 8 1/2 loaves of bread and up to 14 dozen cookies. And while it is larger than my 4.5 Quart, it still fits in the same space on my counter top, tucking under my cabinet. I was a bit worried it would be too tall, but it fits perfectly.
Since KitchenAid Mixers are so popular and found in so many kitchens, I thought it would be helpful to show the 7 Quart in comparison to my 4.5 Quart to give you a good idea of it's size and differences. Let's start with a quick video to give you a good look…
The 7 Quart Mixer is KitchenAid's most powerful and quietest mixer available. With a 1.3 HP high efficiency motor, it is designed to run longer with less heat build up. It easily handles recipes that require longer mixing, kneading and whipping times.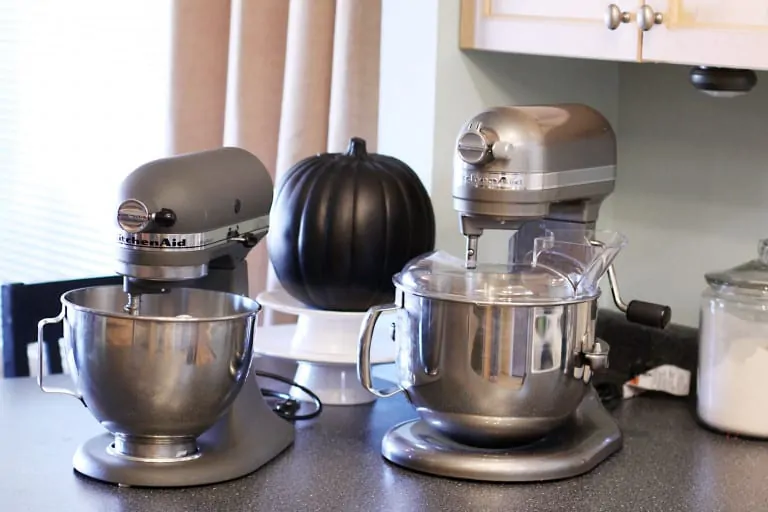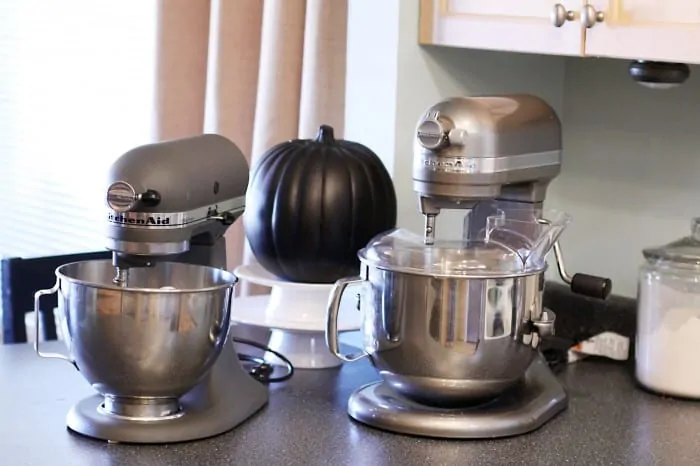 KitchenAid Mixers have a reputation for being extremely well built and long lasting, and the 7 Quart Bowl-Lift Residential Stand Mixer is designed for a long life of high performance and is backed by a two year hassle free replacement warranty.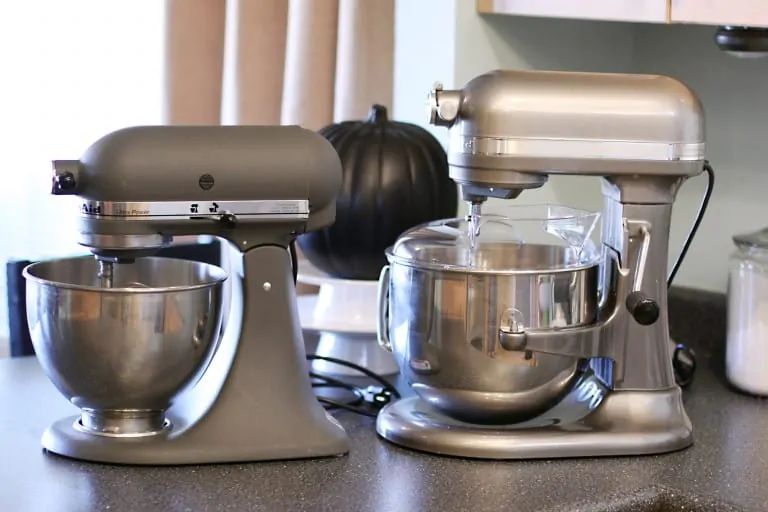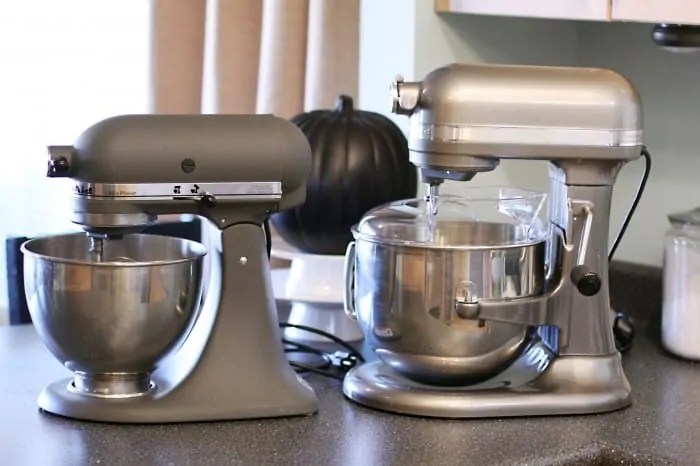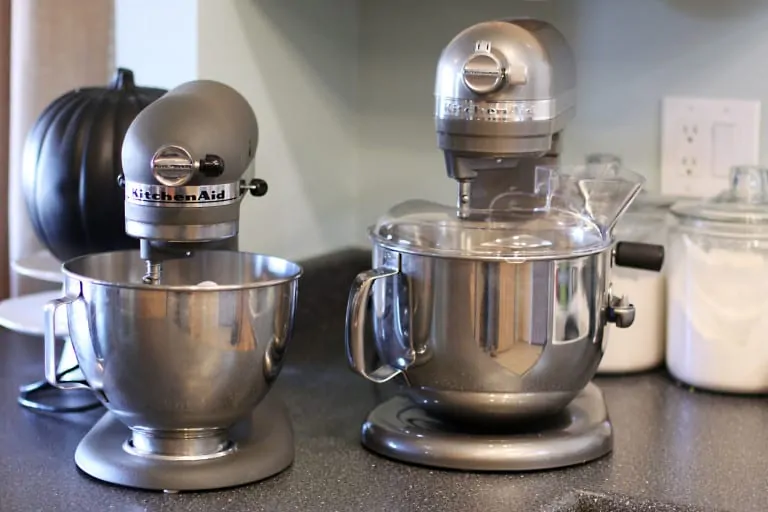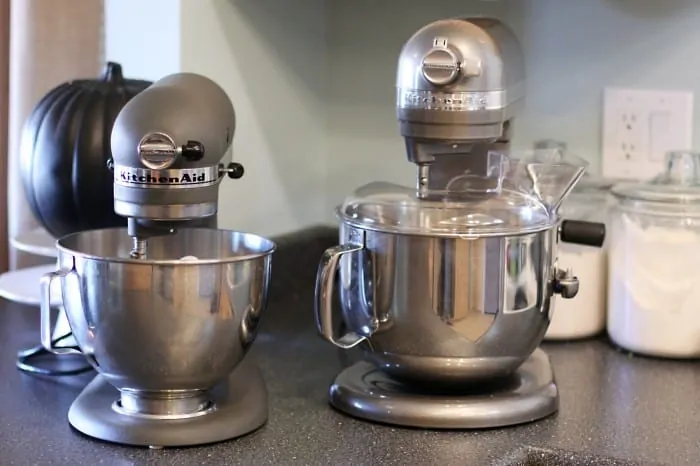 The capacity really is amazing to me. Here is a double batch of cake for some cake pops I made…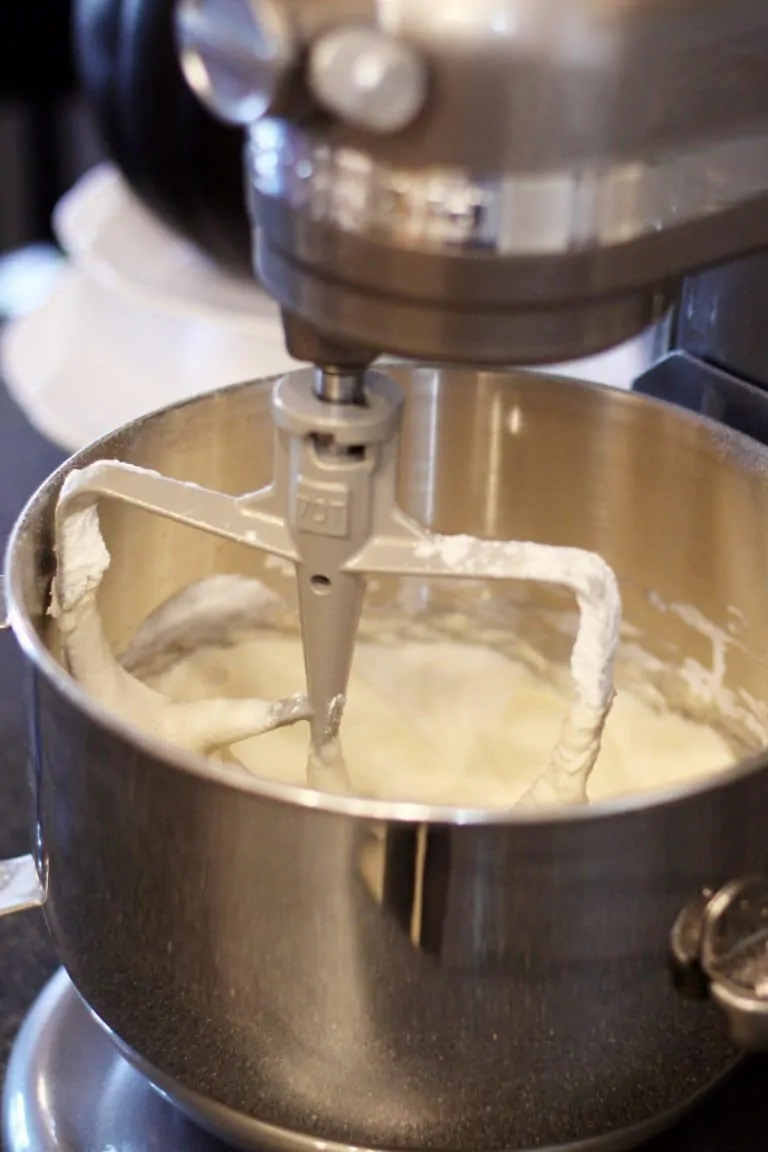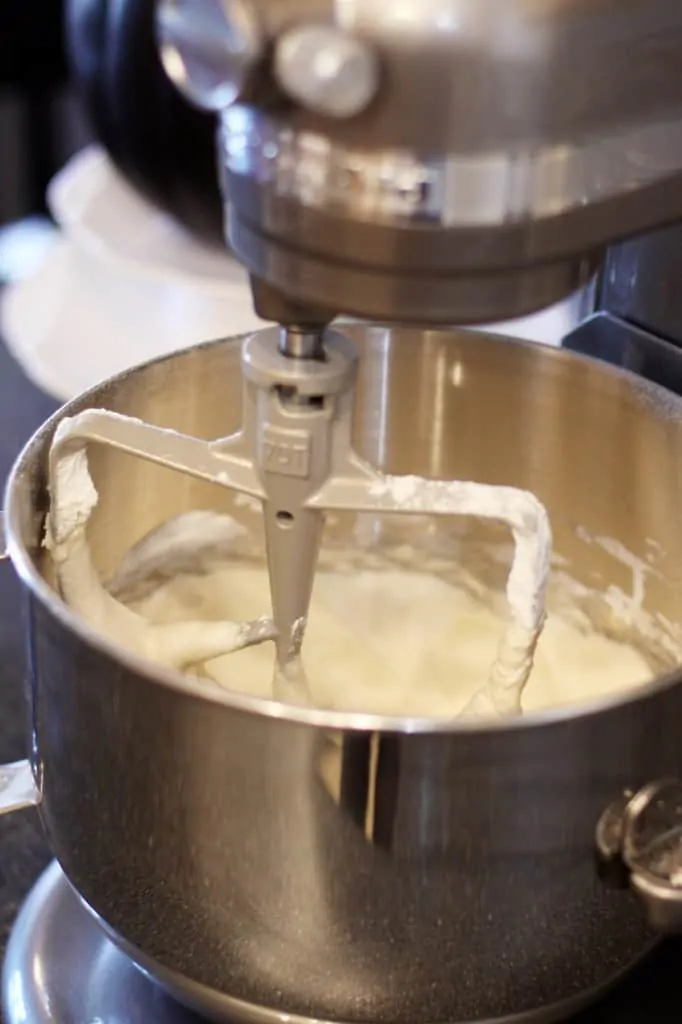 I could have easily put two to three more batches in there. I also found that the flat beater did an amazing job of mixing every bit of the bowl.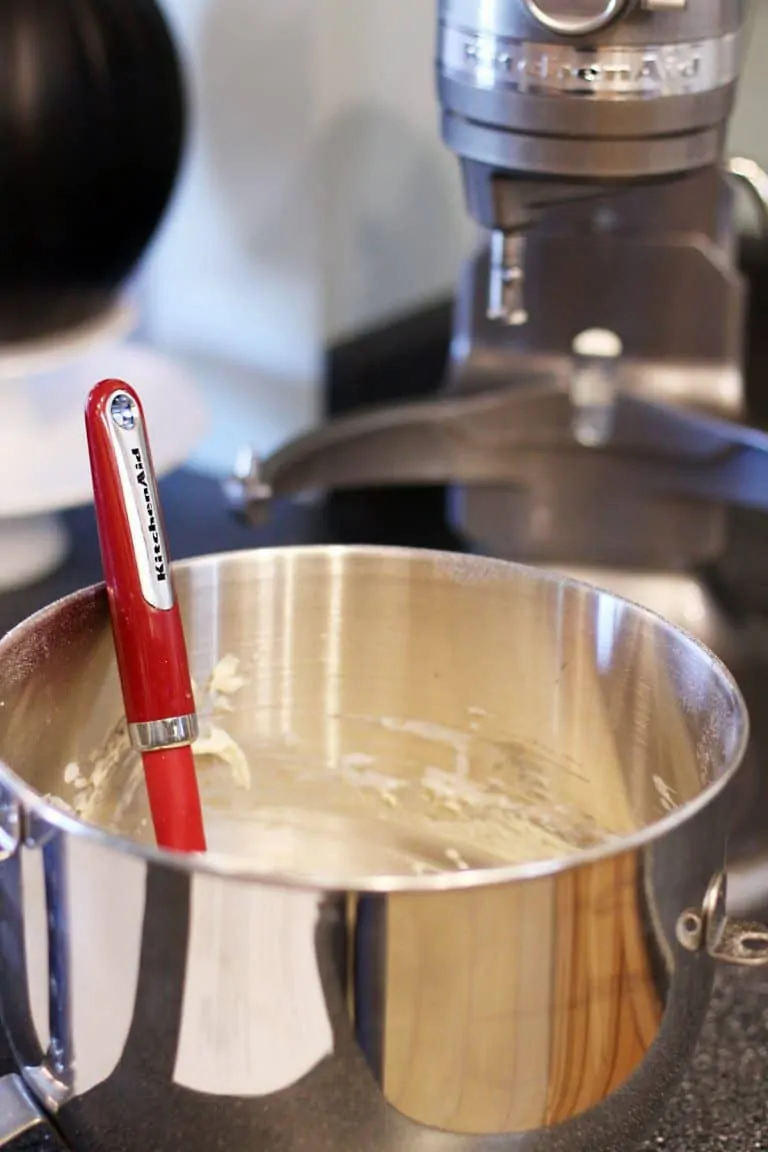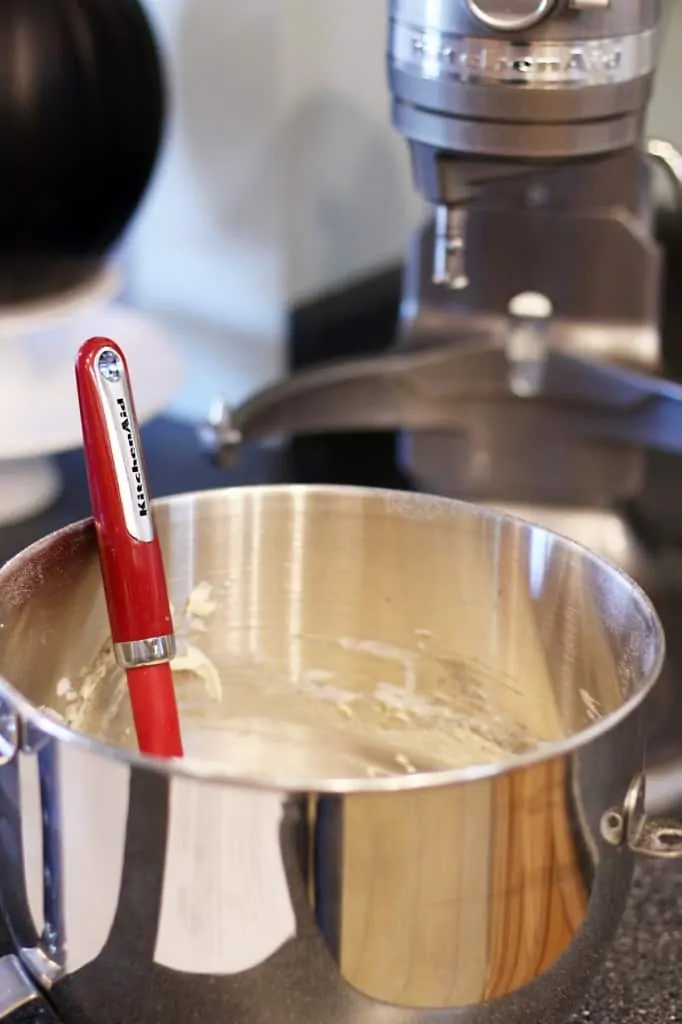 I stopped to scrape down the sides a few times as I always do, and each time found that everything was completely mixed, there were no dry ingredients in the bottom or on the sides. Having only used the tilt head style mixer, I wasn't sure what the lift bowl would be like, but I find it very easy to use. I think I prefer it, as I no longer have to worry about the mixer bumping into the cabinet when I'm lifting it (something I've done a time or two).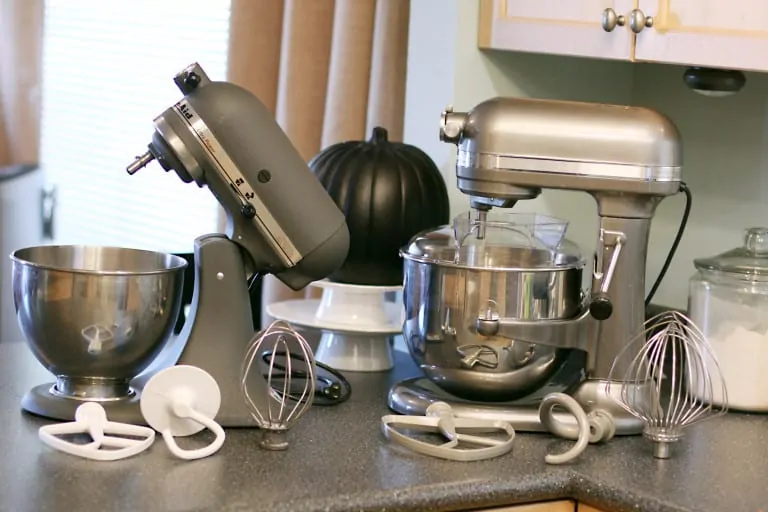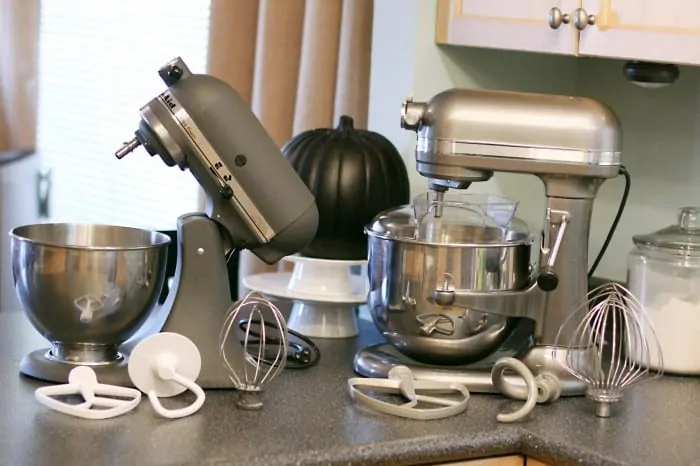 The mixer includes a stainless steel 11-wire Elliptical Whip, coated metal Flat Beater and Power Knead Dough Hook. All of these accessories are dishwasher safe.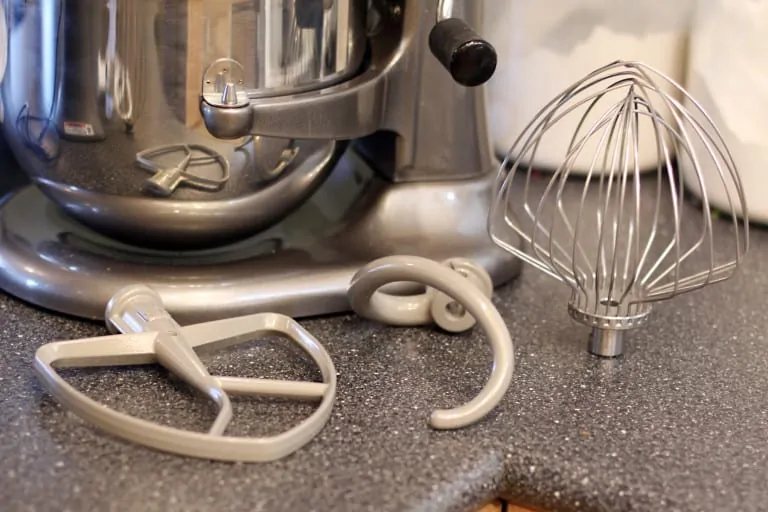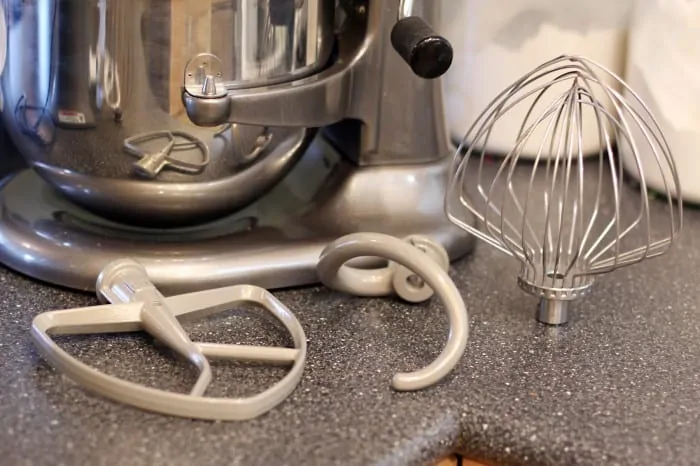 The Elliptical Whip is a different design from the one I am used to, and it's pretty darn cool.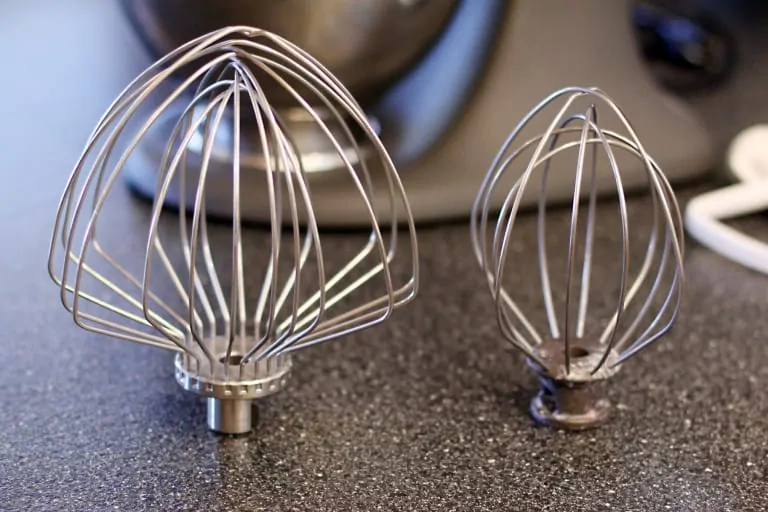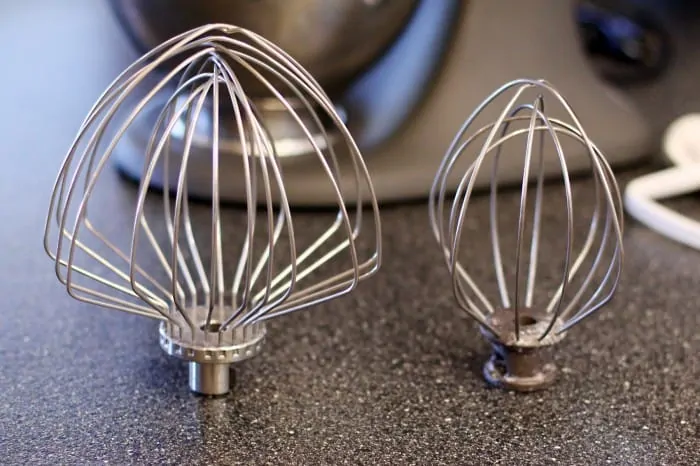 The Attachment Power Hub is designed to fit all current KitchenAid attachments and future larger capacity commercial style attachments. Here is a comparison of the two bowls. The new polished stainless steel bowl does have a more comfortable handle than my older one does.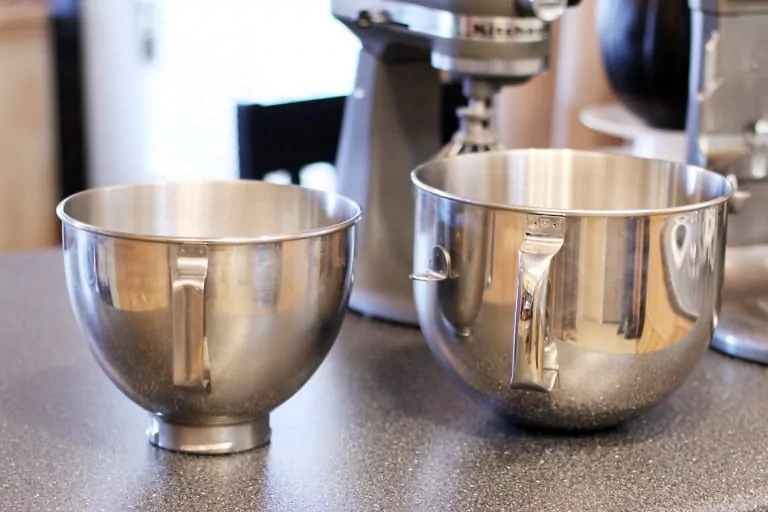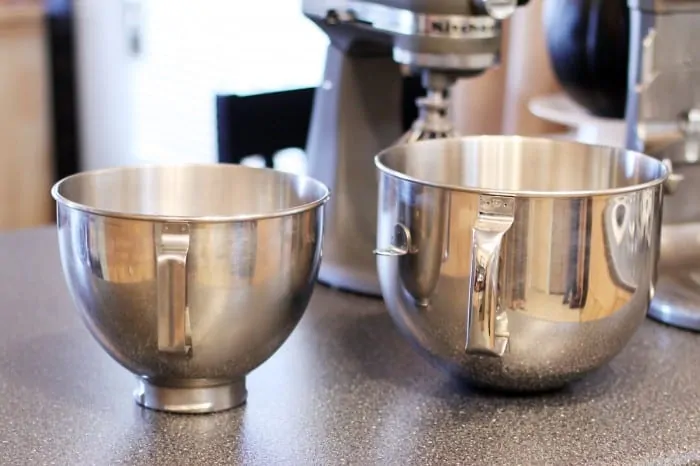 The 7 Quart Mixer comes in four colors, Candy Apple Red, Black Storm, White and Medallion Silver, which is what I have. The silver is gorgeous (photos don't really do it justice). The premium 2-Coat paint is stunning.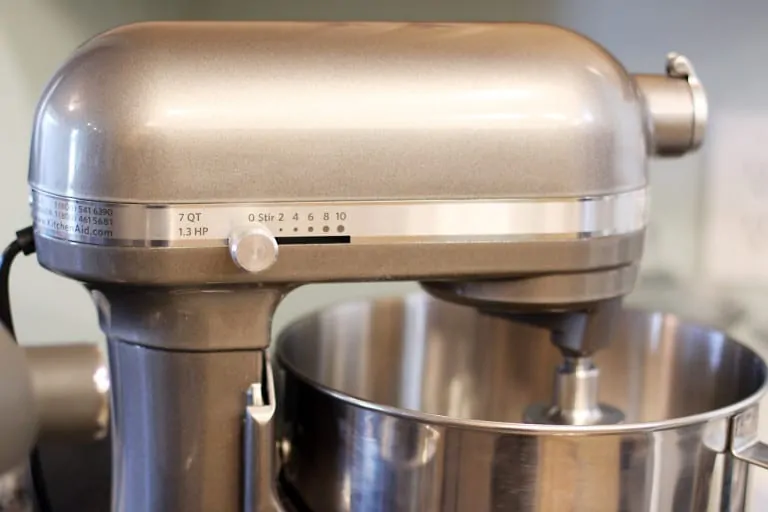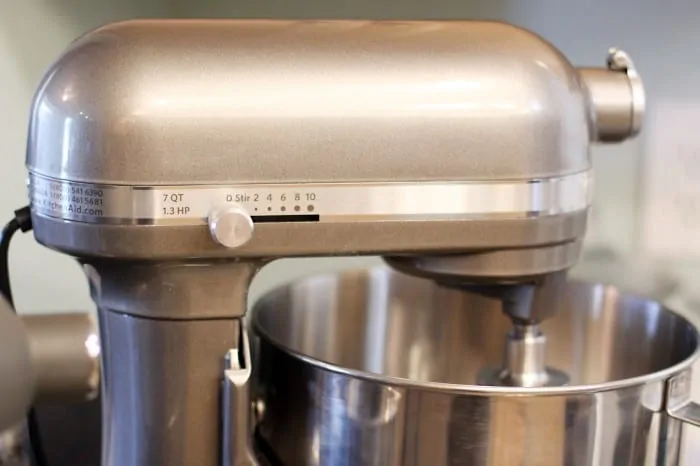 Check out the Candy Apple Red, really a stunner…
This truly is an amazing mixer. I can't say enough for the 7 Quart capacity, I love knowing that all of my recipes will easily fit in the bowl, with ample power to mix them. If you are considering upgrading your mixer, or getting your first KitchenAid, definitely consider the KitchenAid 7 Quart Bowl-Lift Residential Stand Mixer. You could even print out photos of it and leave them all over the house (and in the laptop bag, and on the windshield, and in the medicine cabinet), as "subtle" hints for the upcoming holiday season, reminding your favorite gift giver of all of the delicious recipes that would be whipped up in this! Happy Mixing!