Sometimes I forget how absolutely amazing apple desserts are, but this caramel apple crumble has reminded me that apples can rock dessert in a big way. If you are looking for a non pumpkin dessert for Thanksgiving, this caramel covered apple crumble fits the bill perfectly.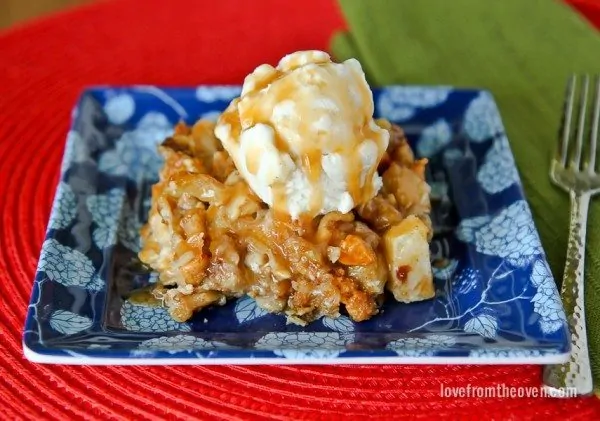 This is one of those recipes that turned out absolutely amazing. The kind you have to back away from the pan with your fork from, because you could probably eat the entire pan (wait, is that just me, please say it's not just me!).
But it also did not turn out at all how I planned for it to. I was planning make a really awesome cinnamon apple magic cookie bar, using the Eagle Brand recipe for Apple Magic Cookie Bars and adding to it a bit (it had no cinnamon – sorry, anything baked apple must have cinnamon!). I'm kind of obsessed with magic cookie bars, and always have been. In my head I was picturing a wonderful apple magic cookie bar. You know one you could carry around, like mobile apple pie!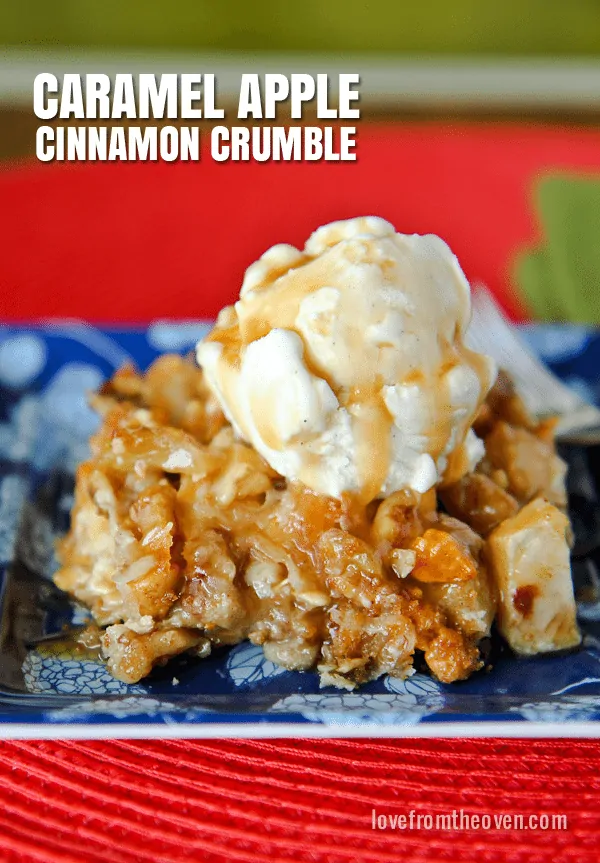 This recipe, kind of like my kids, had a mind of it's own. It was NOT feeling the bar thing. At all. But, luck have it, apple crumble is a thing, and a very delicious thing, so what was supposed to be an apple bar, became an apple crumble.
Heck, maybe this is how the crumble originally got it's name, someone's delicious apple bar couldn't stay apart, so "crumble" it was. It's so delicious that I'm not going to hold a grudge, it just gives me an excuse to work on another bar recipe. 🙂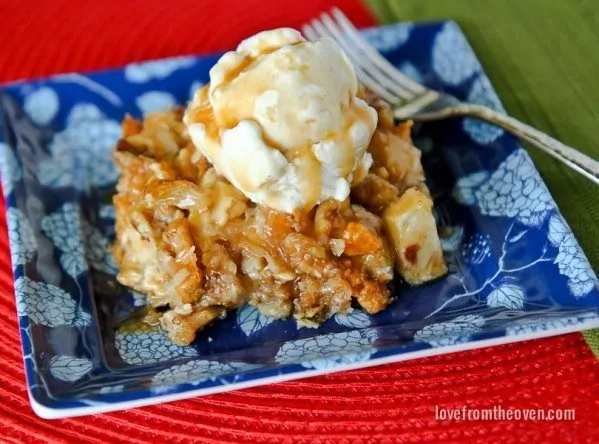 This apple crumble has a lot going on, but you kind of just throw it all in the pan, so it's not a lot of work. There are so many layers of flavors and textures, which I really love in a dessert. Let's see, we have a graham cracker crust, oats, coconut (yes, I know some of you hate coconut, just leave it out, that's cool), apples (obviously), walnuts, cinnamon, butterscotch chips, cinnamon chips and caramel. Seriously, a LOT of great flavors. For good measure, top it with some vanilla ice cream. Um, YUMMY!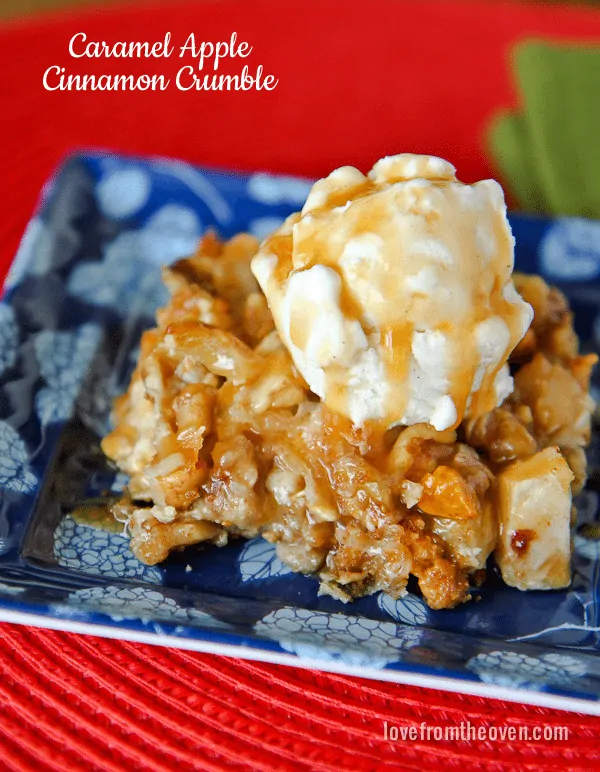 I think part of the reason this didn't work out so well in bar form is that I probably didn't chop my apples up finely enough. Mine were about 1/2″-3/4″ in size. Probably more suitable for pies, these probably should have been closer to 1/4″ in size.
Also apples can have a lot of variation when it comes to moisture. I've made pies where the apples were completely full of moisture, and others where they were dry as a bone. These were some dry Granny Smith apples. They don't taste dry at all when you eat them, and I adore the tartness of Granny Smith apples, but by being on the dry side, they don't break down as much moisture when you bake them. They hold their shape nicely, but maybe a touch too nicely for this recipe to work as a bar. At least that's my theory. Maybe I just have bad bar mojo this week. But I really don't care either way when they taste this great. It's not like having to grab a fork is really going to keep me from dessert.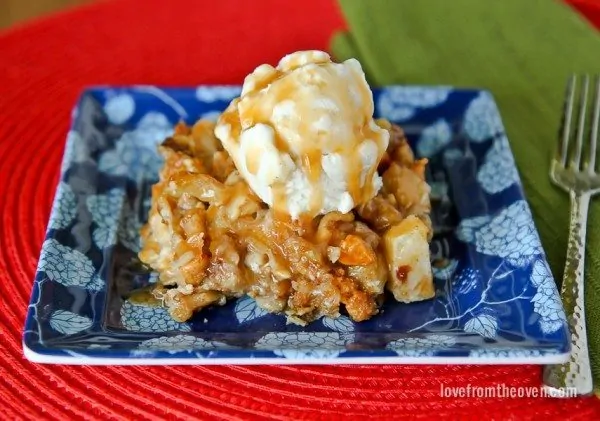 This caramel apple crumble was a huge hit at my house, to say the least. I highly recommend serving it warm or just warming it up to serve, with vanilla ice cream. Ice cream and anything warm apple are BFFs and it's like a combo you just should not mess with. It works.
If you love oats and caramel, make sure to also try my Carmelitas!
Caramel Apple Crumble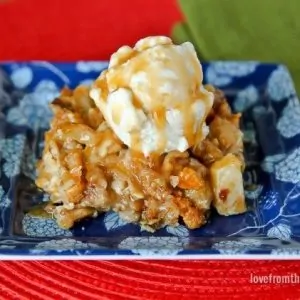 Caramel Apple Crumble
Ingredients
1 1/2

cups

graham cracker crumbs

1/2

tsp

cinnamon

1/2

cup

butter

melted

1

cup

old-fashioned rolled oats

1

14 oz. can Sweetened Condensed Milk

2

cups

peeled

cored, finely chopped Granny Smith apples, or other firm, tart apples

1/2

cup

butterscotch chips

1/2

cup

cinnamon chips

1/2

cup

flaked coconut

if you don't like coconut, you can leave out

1/2

cup

finely chopped nuts

Optional - 1/4 to 1/2 cup Caramel Ice Cream Topping
Instructions
HEAT oven to 350°F. Spray a 13x9-inch baking pan with no-stick cooking spray.

COMBINE graham cracker crumbs, cinnamon and butter. Press into bottom of prepared pan. Sprinkle oats over crust. Pour sweetened condensed milk evenly over oats. Layer with apples, butterscotch chips, cinnamon chips coconut and nuts.

BAKE 28 to 33 minutes or until lightly browned. Remove from oven and immediately drizzle caramel ice cream topping over bars - probably about 1/4 cup total. Let allow to cool fully if you want to try to cut into bars. Otherwise scoop and serve warm with ice cream and an additional drizzle of caramel ice cream topping.
Notes
Recipe from Eagle Brand. While this recipe is intended to be a bar cookie, I did not have luck with mine remaining in bar form. That said, it is absolutely positively delicious as a crumble!
Disclaimer
Nutrition information is estimated as a courtesy. If using for medical purposes, please verify information using your own nutritional calculator. Percent Daily Values are based on a 2000 calorie diet.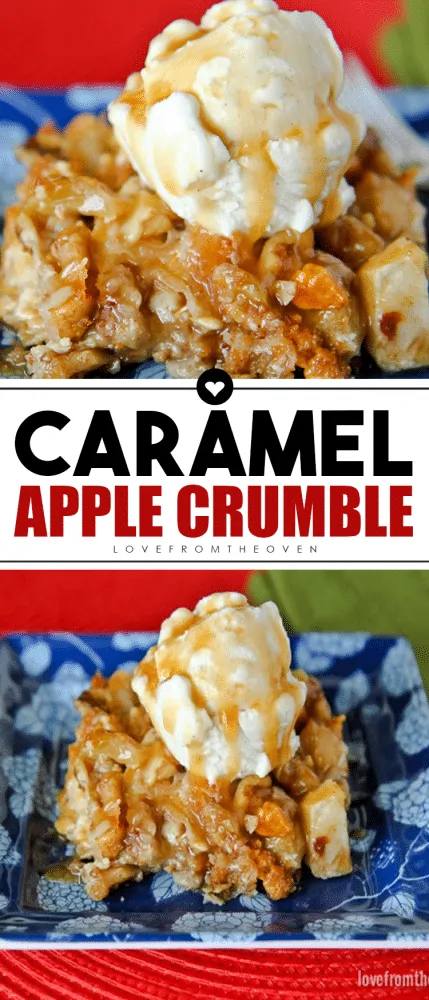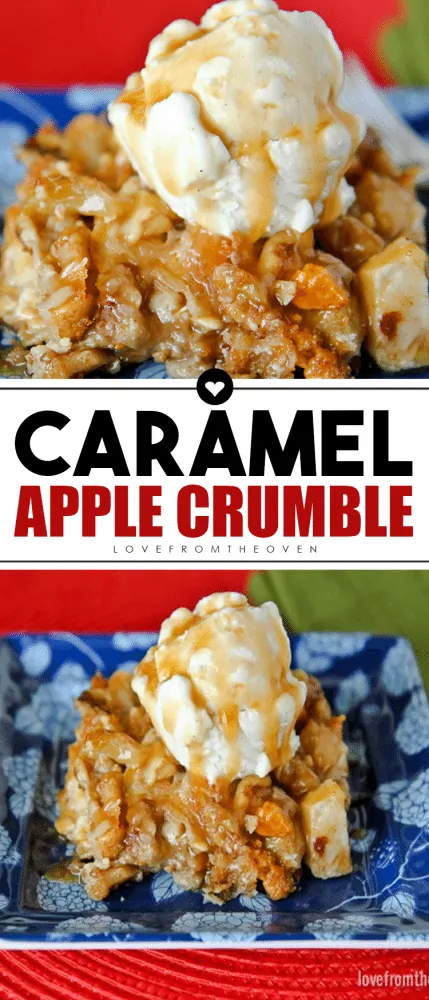 If you want to try and make these as bars, by all means, do, I would just advise cutting those apples up teeny tiny. If you love apples and caramel, seriously MAKE THIS caramel apple crumble. Both my husband and I were bonkers for it. It is such a fantastic blend of flavors and textures. If you love apple recipes, I have a great collection of them for you to check out!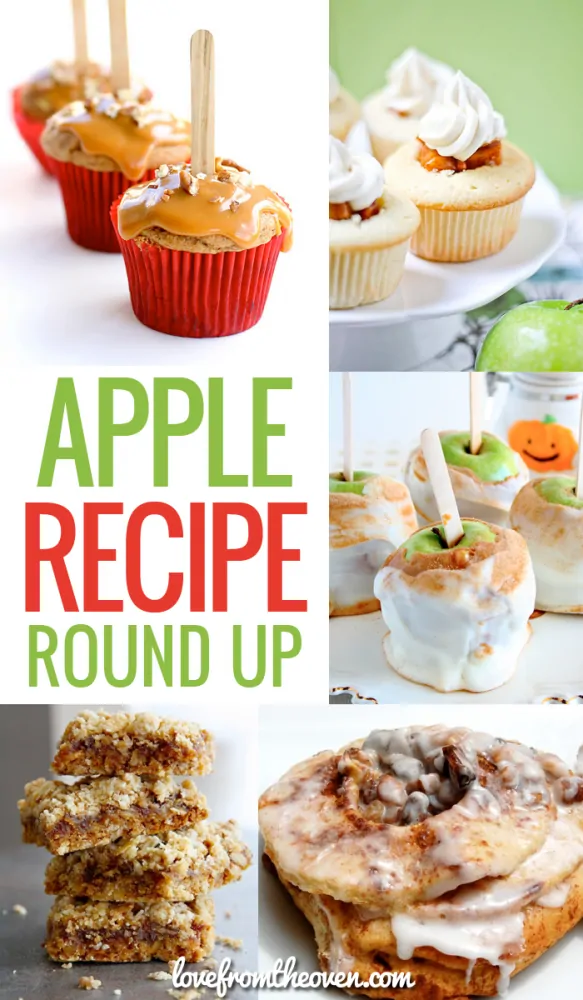 Originally published September 2014