Pie = Good. Pops = Good. Pie Pops = AWESOME!
Babycakes recently released some great new items, including a Babycakes Pie Pop Maker. As they say on their website, what could possibly be cuter than pie? Why, mini pies on a stick, of course! Say "Hi" cutie pie!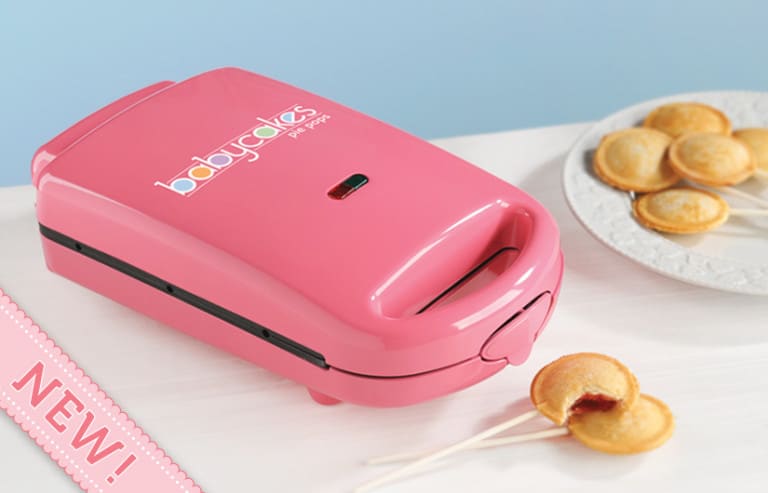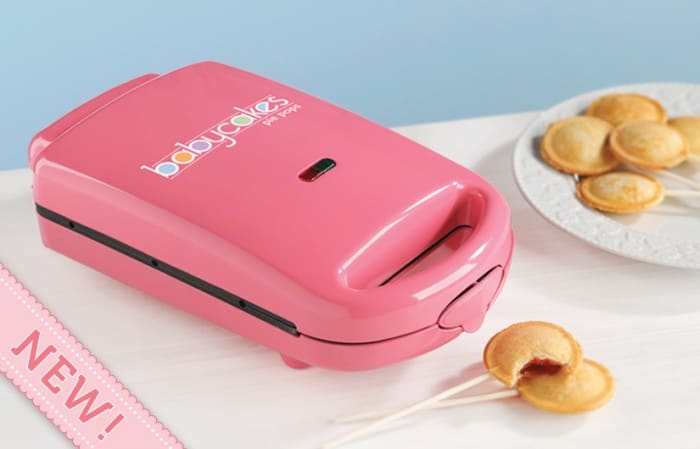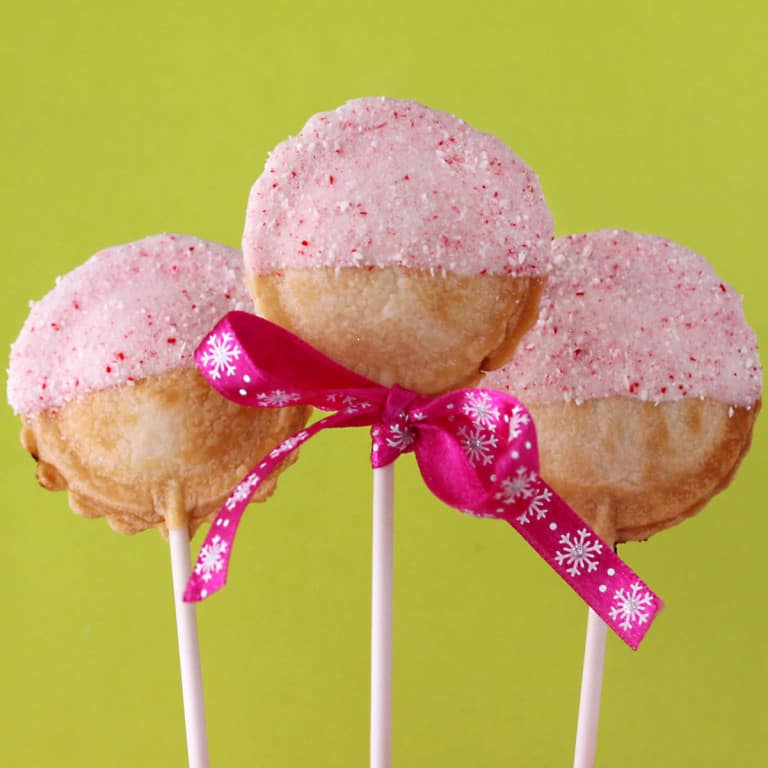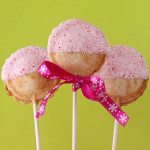 Not only do I have my step by step review to share with you (with Chocolate Pie Pops, Pumpkin Spice Pie Pops and Peppermint Crunch Pie Pops), but the great folks at Babycakes are giving one of my readers a Pie Pop Prize Pack which will include the new Pie Pop Maker, an extra pack of 50 treat sticks and one sample size Babycakes Dessert Coffee.  Now let me show you what this sweet little machine can do!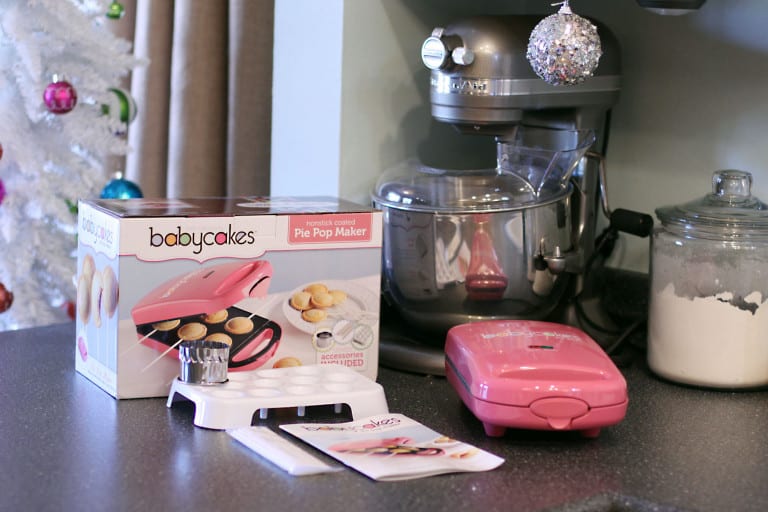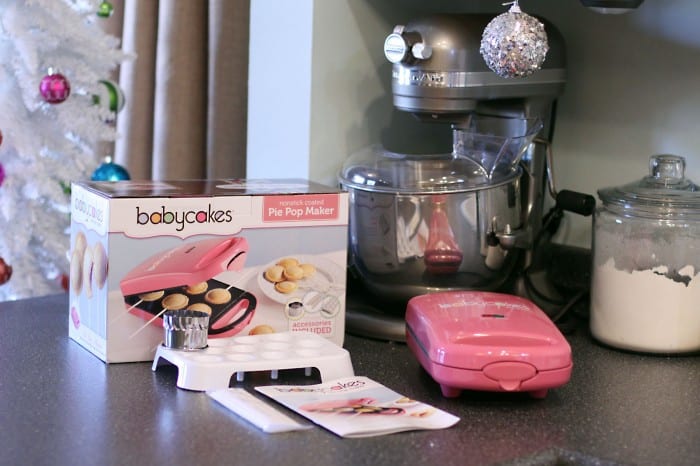 In addition to the Pie Pop Maker, inside the box you will also find Pie Pop treat sticks, a Pie Pop Stand (which you can also use with your cake pops!) and a Stainless Steel Crust Cutter.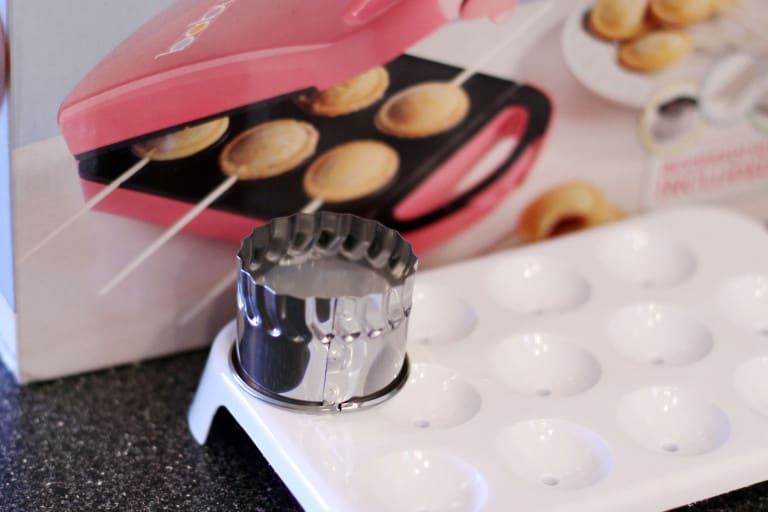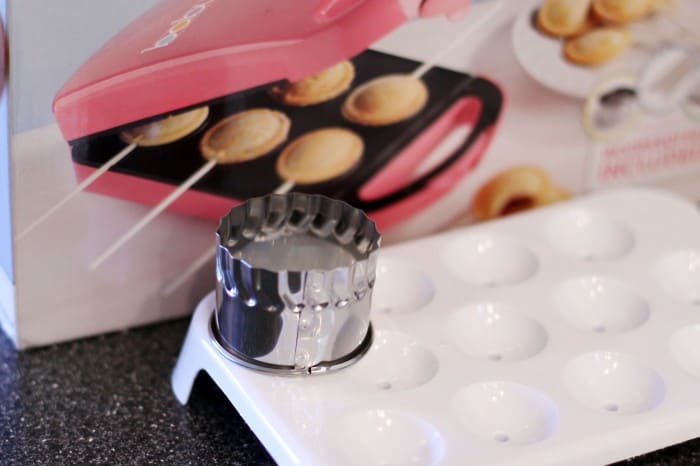 I have to say, the Pie Pops were easier to make than I anticipated. I worked with a refrigerated pie crust and decided I would make three different fillings.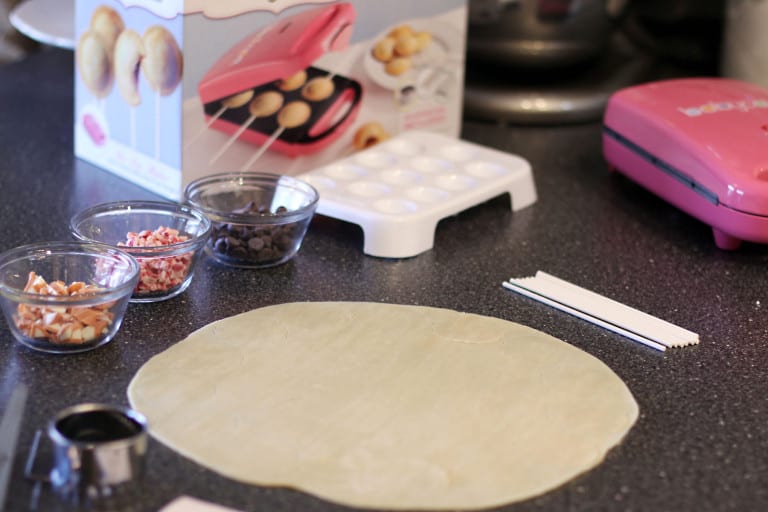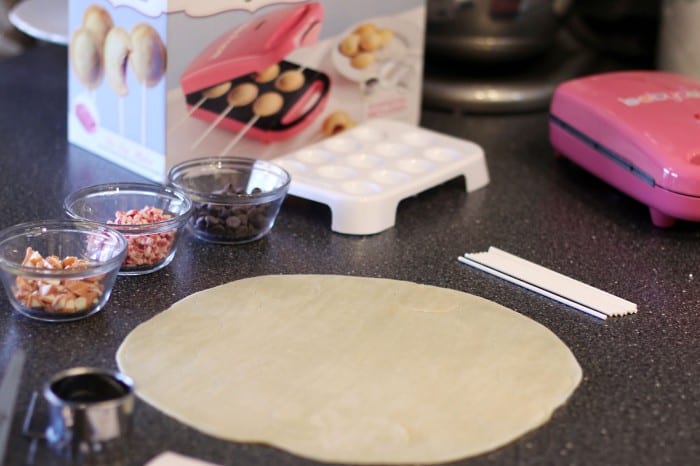 I rolled my pie crust out a bit thinner than it comes in the package, then started cutting my crusts with the included crust cutter. After preparing my crusts and fillings it was time to heat up the Pie Pop Maker.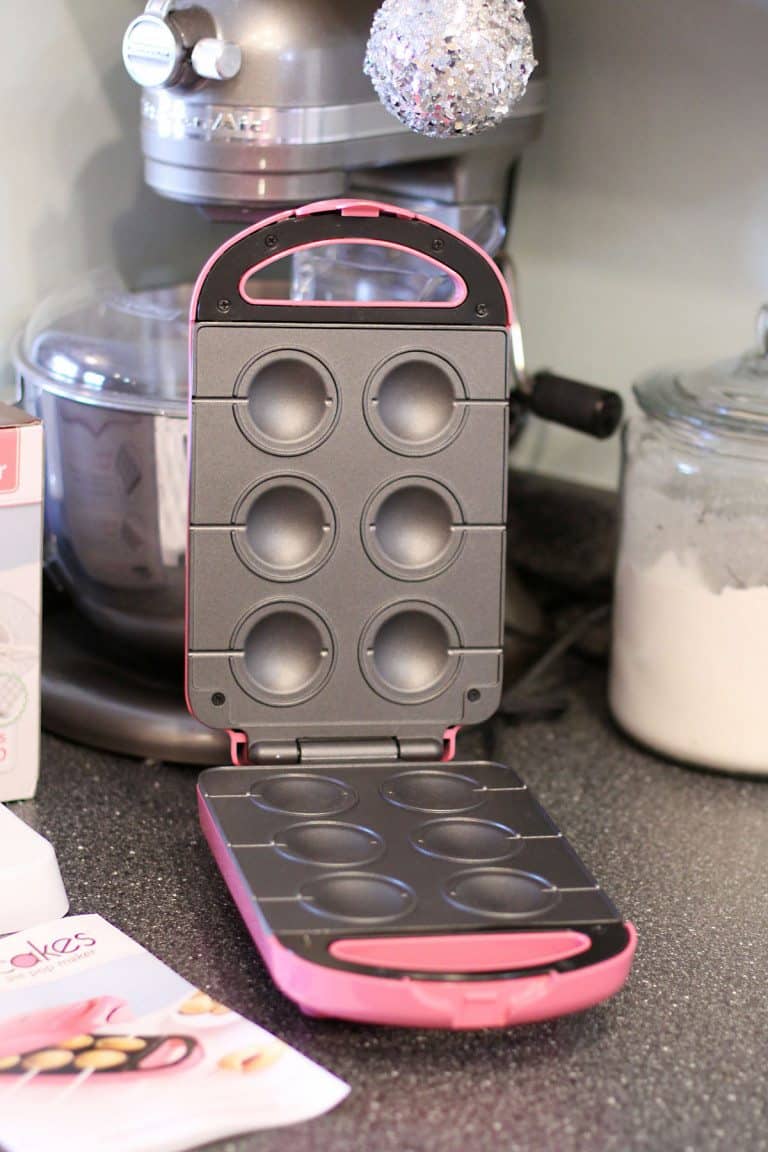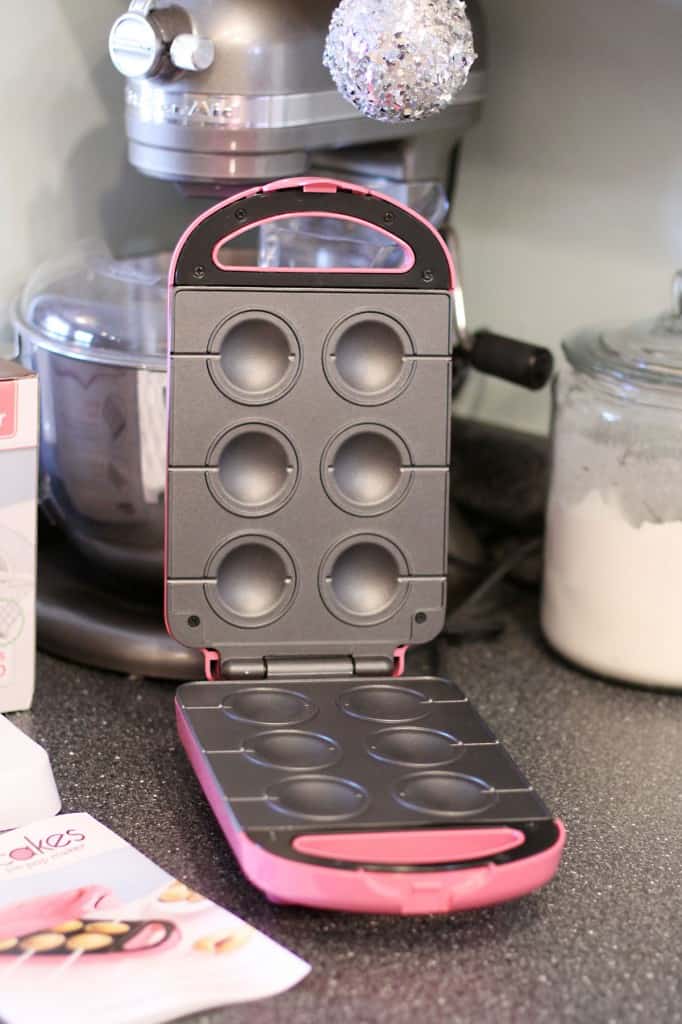 One it's preheated, it's time to position the bottom crust circles in each Pie Pop baking reservoir and then align the sticks with the notches in the cooking plates. You don't have to use the sticks, you can make mini pies without them if you like.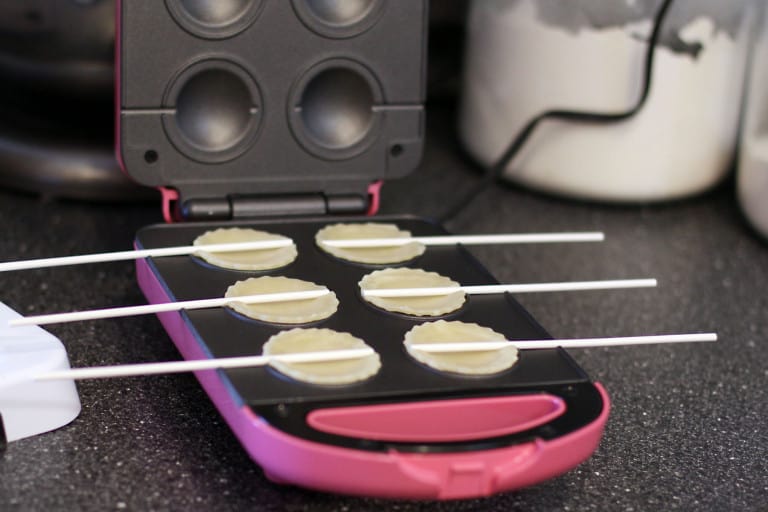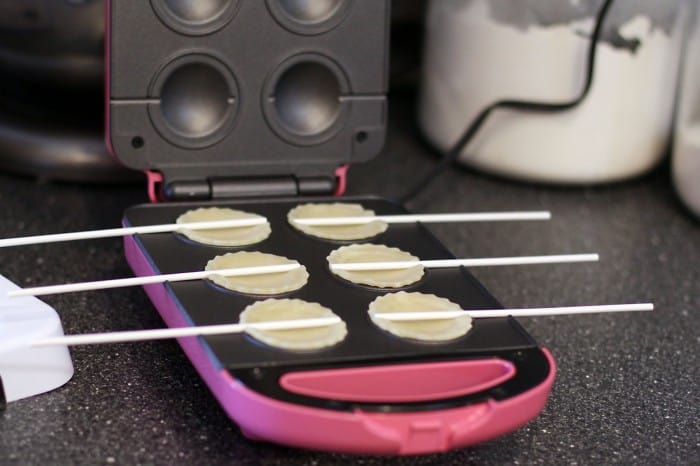 Next step is to add the filling. My three fillings were Pumpkin Spice Kisses, Andes Peppermint Crunch Baking Chips and chocolate chips.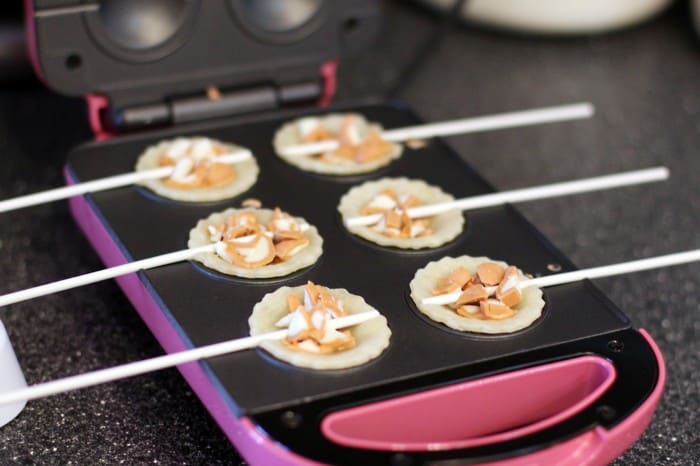 You only need a small amount of your filling.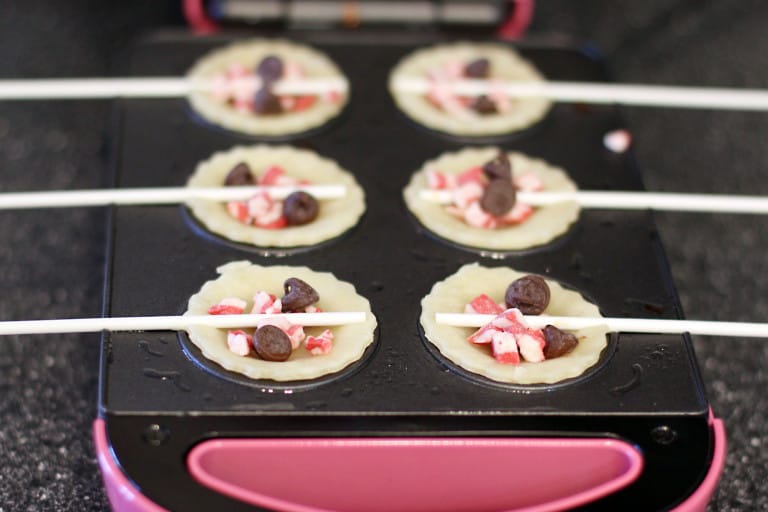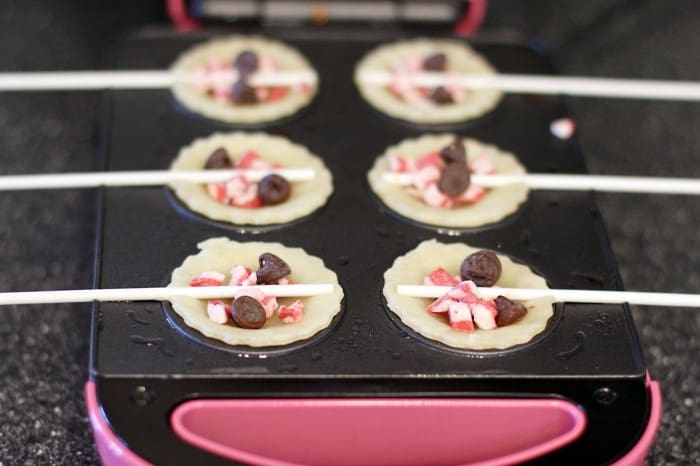 Next, add the top piece of pie crust to each Pie Pop.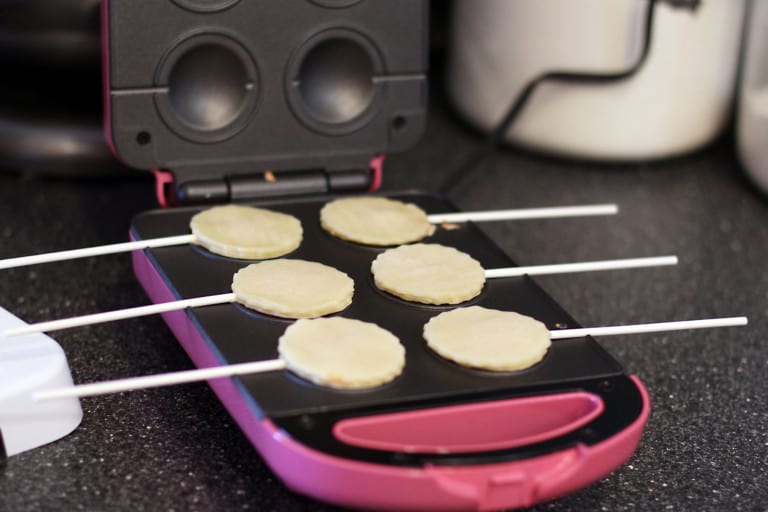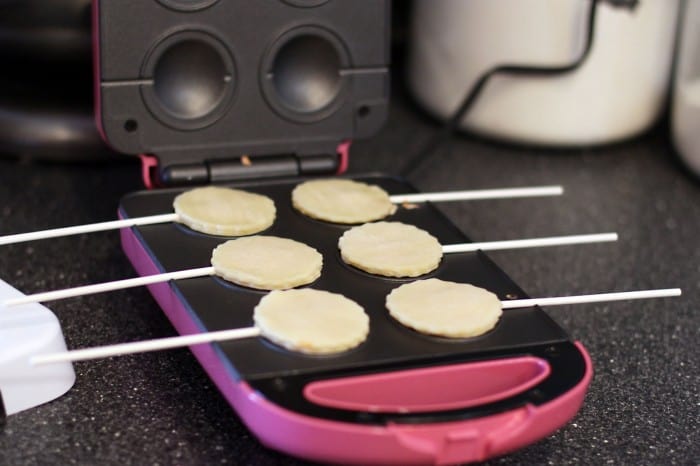 Close the lid and cook approx two to four minutes.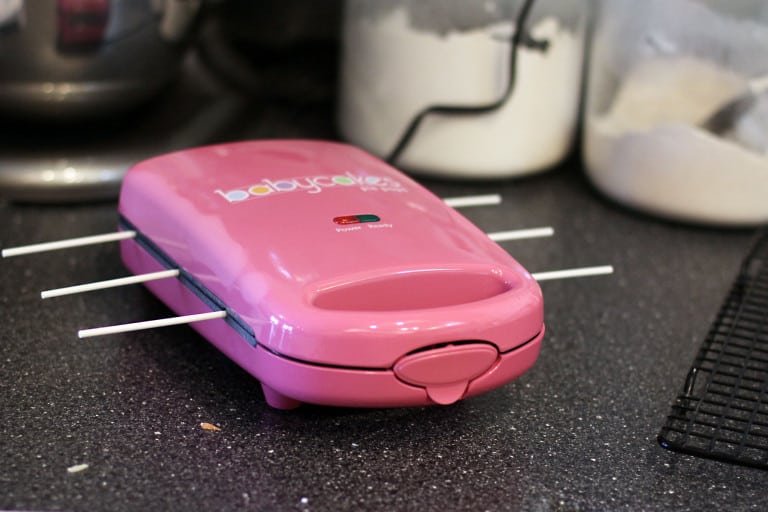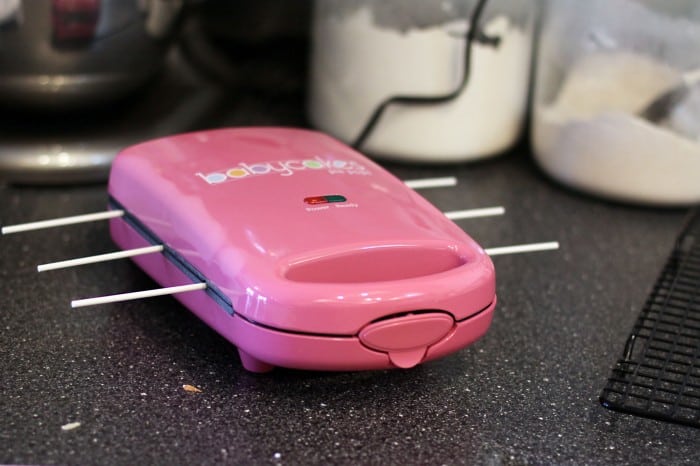 And look, Pie Pops!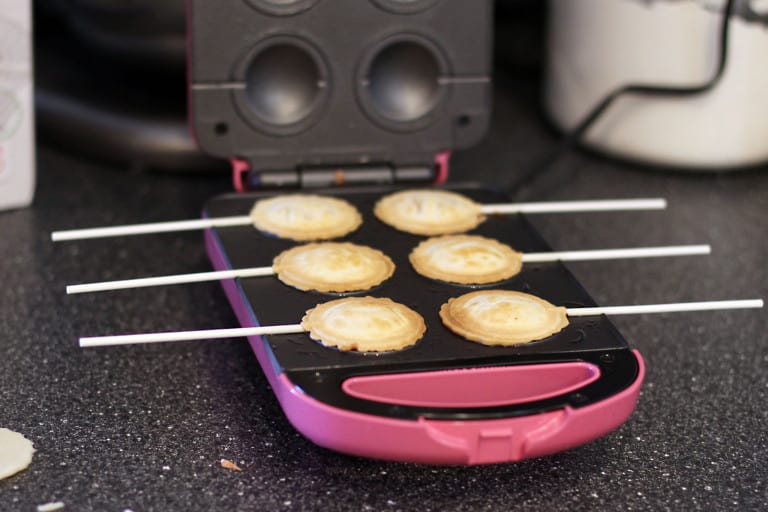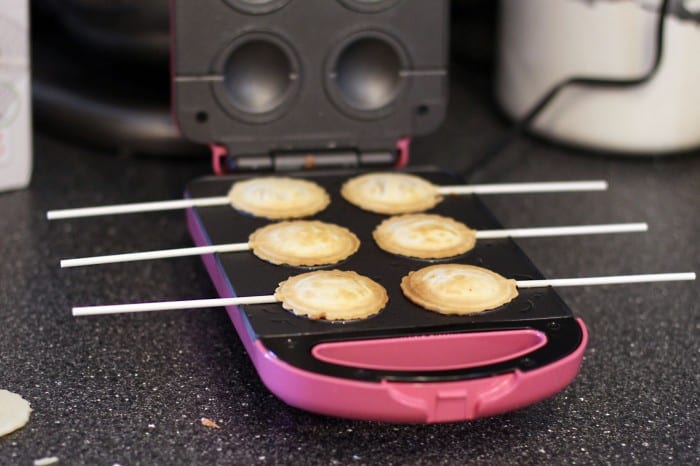 Now take the Pie Pops out by the sticks and set them in the Pie Pop stand to cool. It's THAT easy!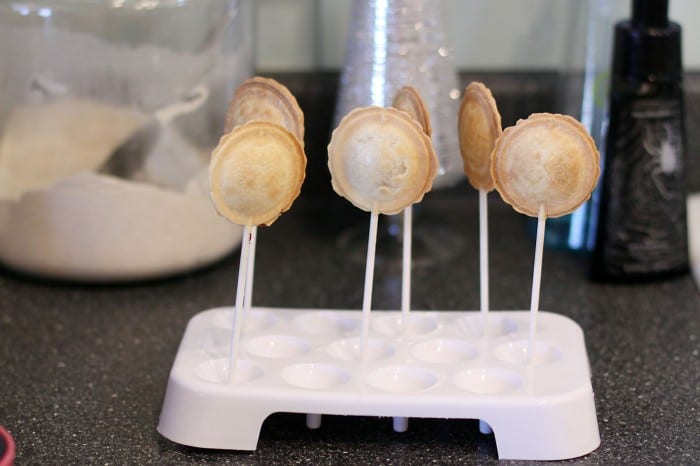 It was fun, simple and quick. I decided to dip mine into chocolate and add some sprinkles, for fun, for flavor and to tell which Pie Pops were which. 🙂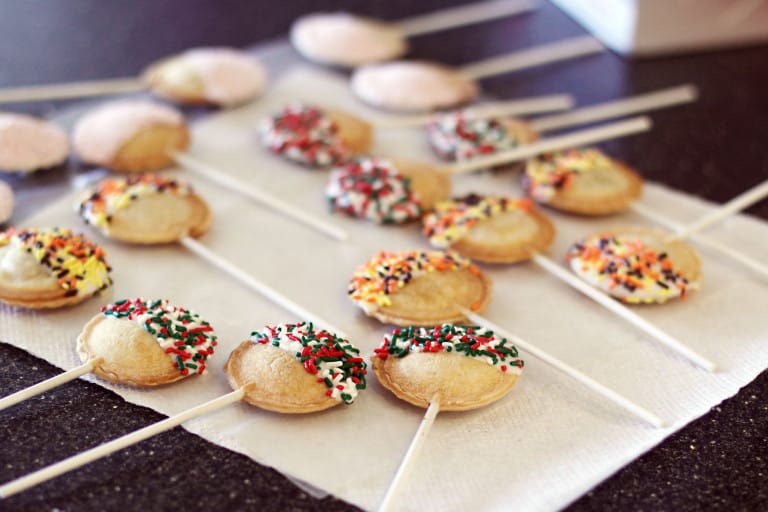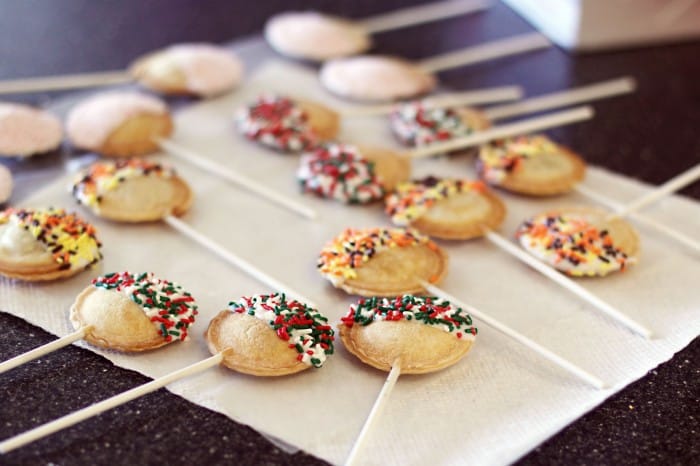 We have Pumpkin Spice Pie Pops… How fun are these for Thanksgiving???? Pumpkin Pie? Yes, on a pop please!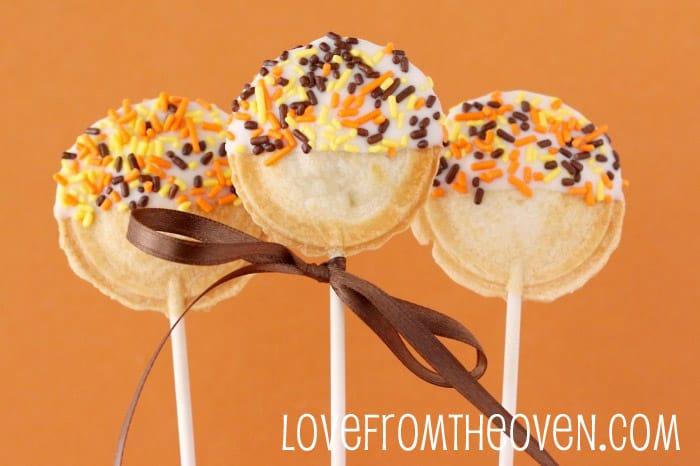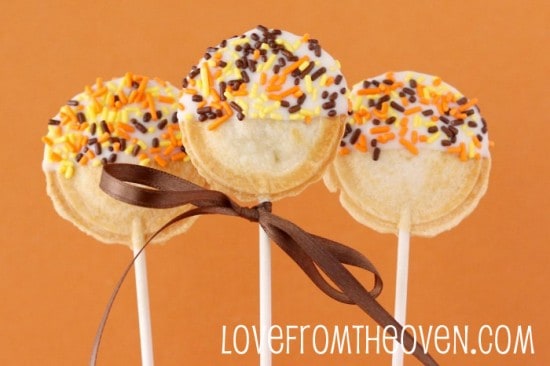 We have Chocolate & Peppermint Crunch Pie Pops with Candy Cane Sprinkles…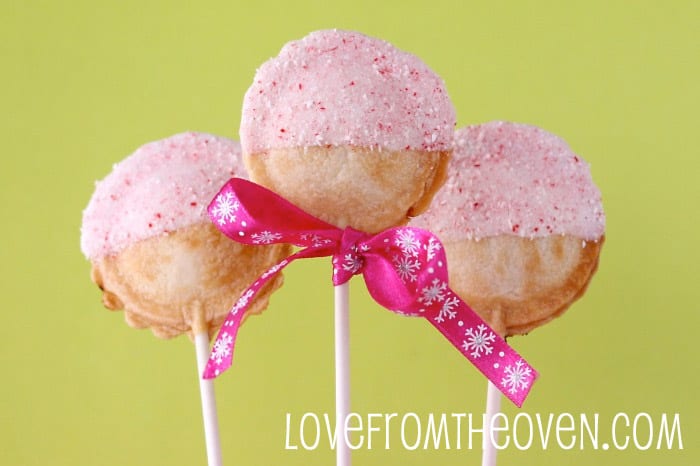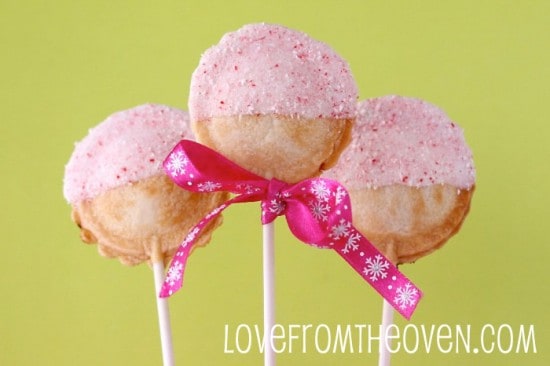 Want a bite?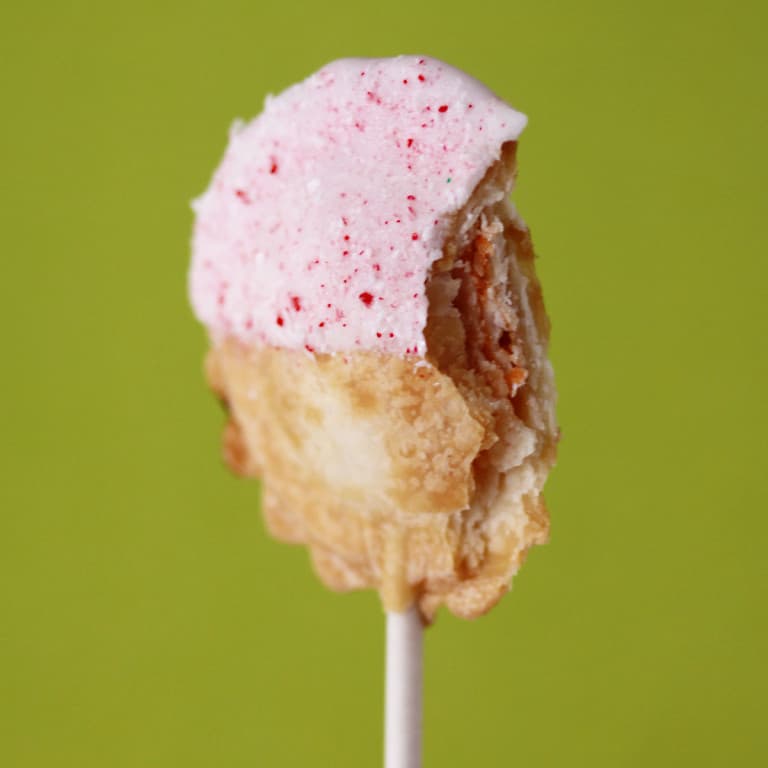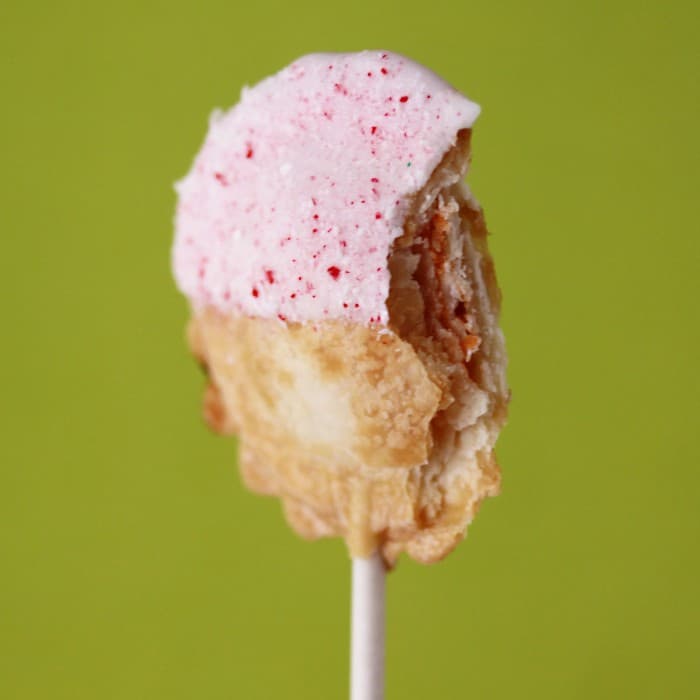 And we can't forget good old chocolate, it needs it's turn as a Pie Pop as well…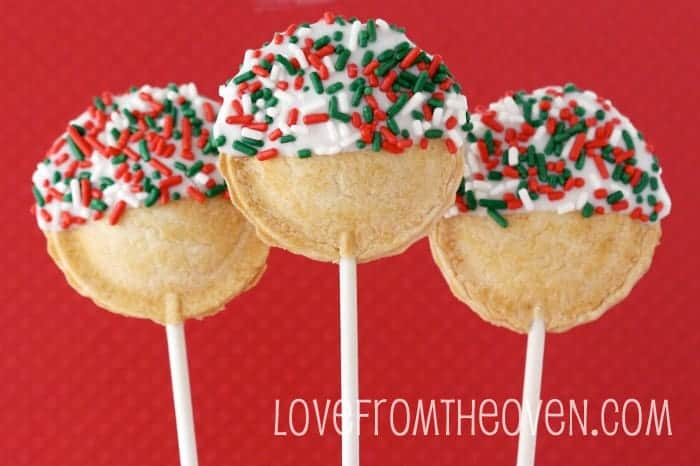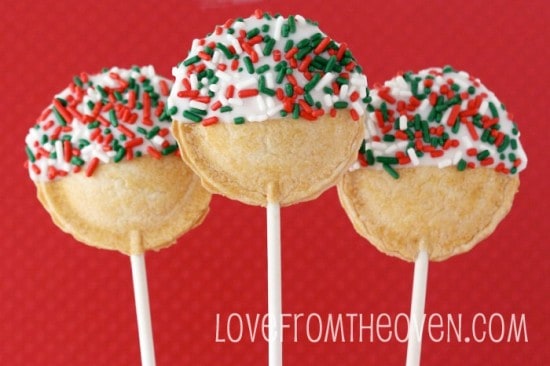 Yummy…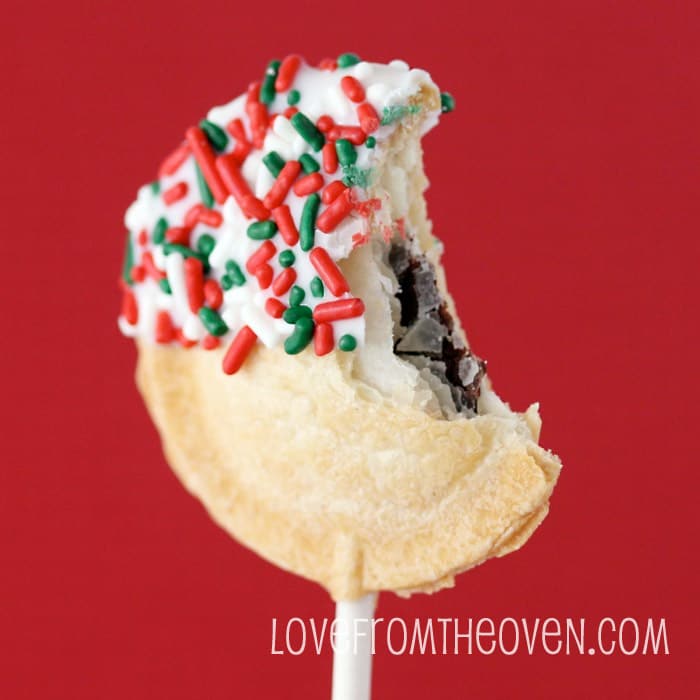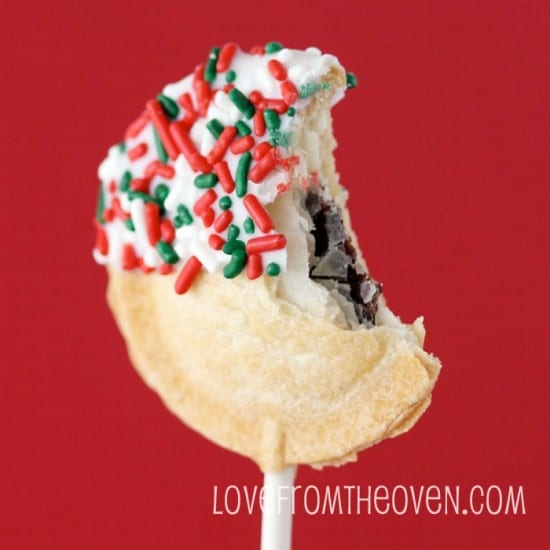 I LOVE these! They are SO much fun to make and are VERY tasty. They were a huge hit with my daughter, and I overheard her telling a number of her friends about them.
THIS CONTEST HAS NOW ENDED.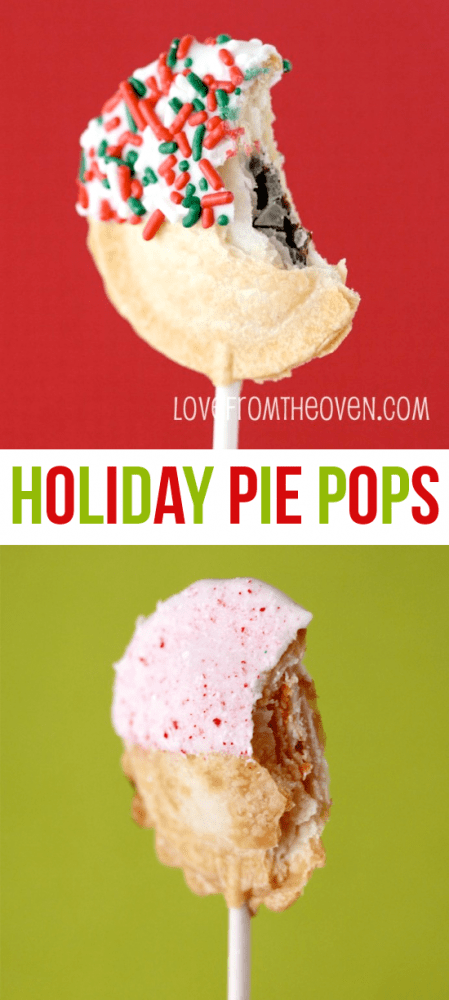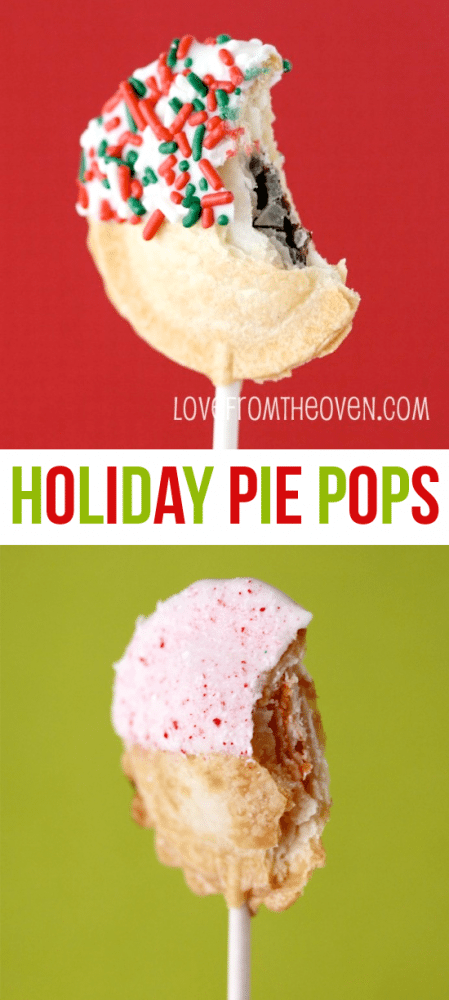 TO ORDER A PIE POP MAKER VISIT BABYCAKES!
Would you like to win your own Pie Pop Maker from Babycakes???? Here's how to enter to win the Pie Pop Prize Pack from Babycakes!
1. Leave a comment on this post, and you are entered to win. That's it. Nothing to buy, nowhere to go, just leave a comment – easy peasy!
Would you like to increase your chances of winning? You can do any, or all, of the following for extra entries!
2. Follow Love From The Oven on Facebook and leave a comment on this post that you do.
3. Follow Select Brands Babycakes on Facebook & comment on this post that you do.
4. Follow Love From The Oven on Twitter and leave a comment on this post that you do.
5. Follow Select Brands Babycakes on Twitter and leave a comment on this post that you do.
6. Share this contest on Facebook, Twitter, blog or your favorite social media site, and leave a comment here that you do.
So for SIX entries, you will leave SIX separate comments on this post (each comment counts as an entry, so don't lump them all into one post or it only counts as one entry).
The winner will be selected at random on Wednesday, November 16th! Open to US residents. Thanks so much for entering, thanks to Babycakes for sponsoring and good luck to everyone!