When it comes to all things in the baking world, one of my favorites has always been frosting. Sweet, delicious, creamy, wonderful, buttercream frosting. I've often joked that cupcakes are simply carriers for frosting. It's all about the frosting. Which is why I decided it was about time that my pop making focused on my favorite part of this baking game. The buttercream.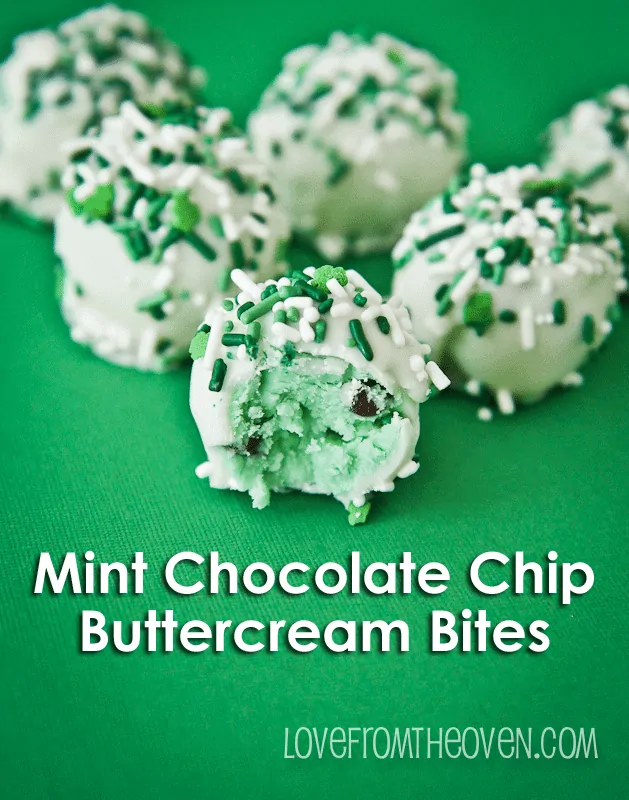 I wasn't sure if it would work, but it did, and it did well. Let me introduce my Buttercream Bites.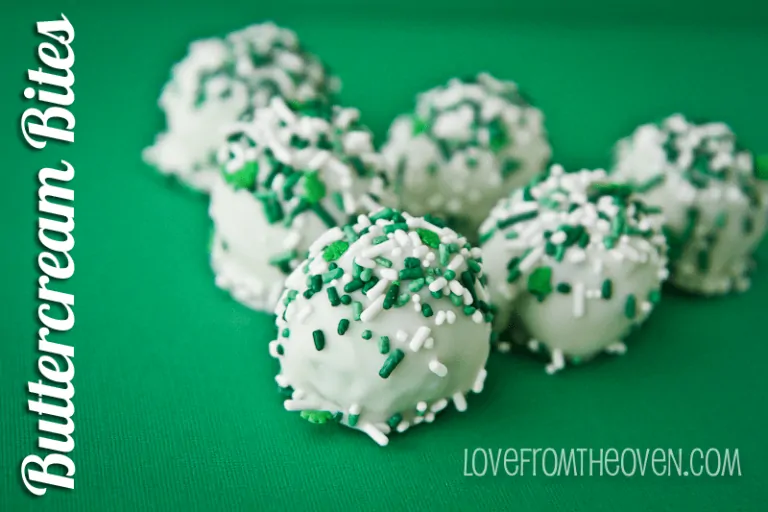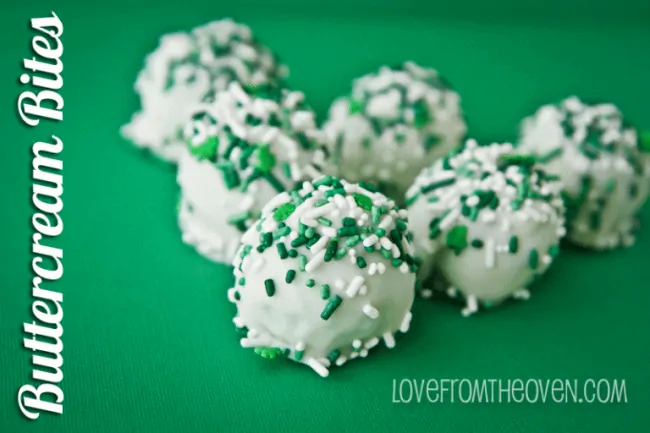 On the outside they just look like regular old cake balls. But inside, it's just pure buttercream deliciousness.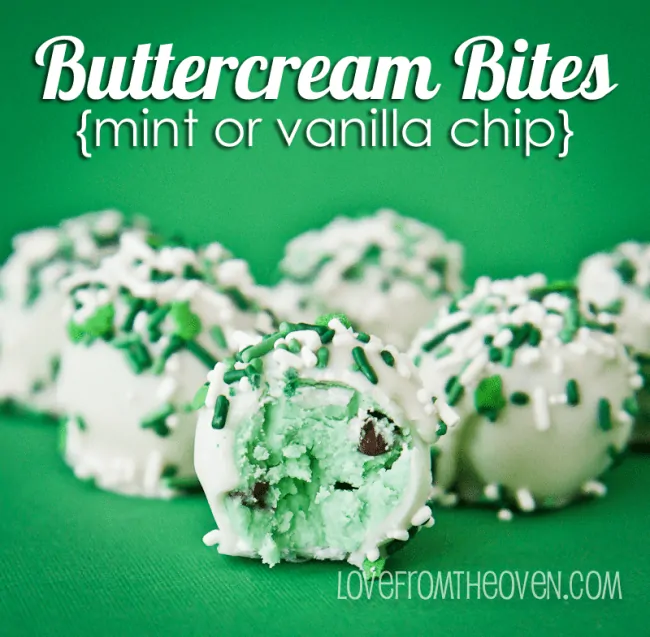 These. Are. So. Good.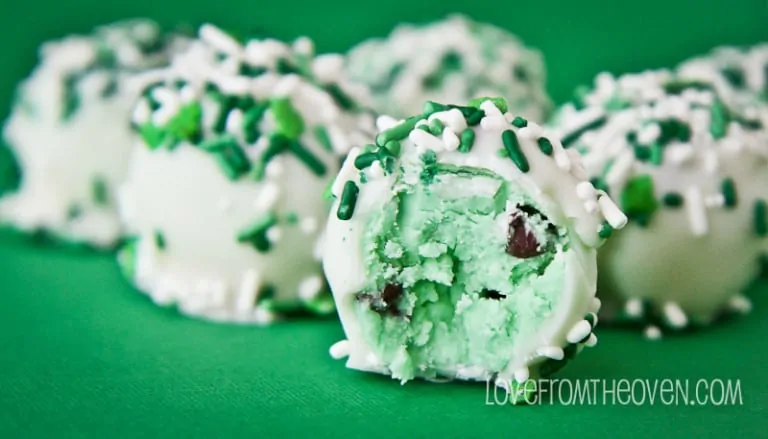 You can make these either straight vanilla or go for a minty taste with a bit of peppermint extract. They are pretty simple, just a bit messy to make, I mean frosting doesn't exactly roll itself into little balls. 🙂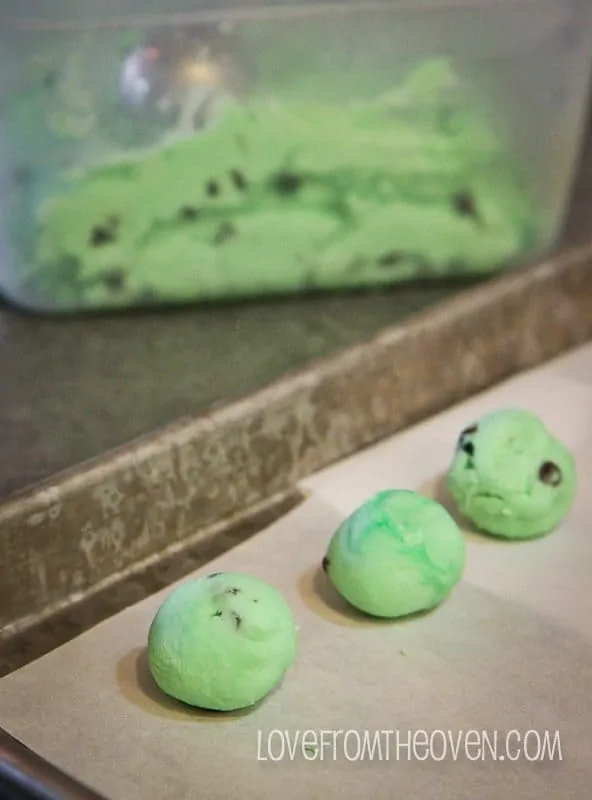 Because I didn't want these to be pure over the top sweet overkill, I added some cream cheese to the recipe. Because of that, you will want to keep these in the fridge.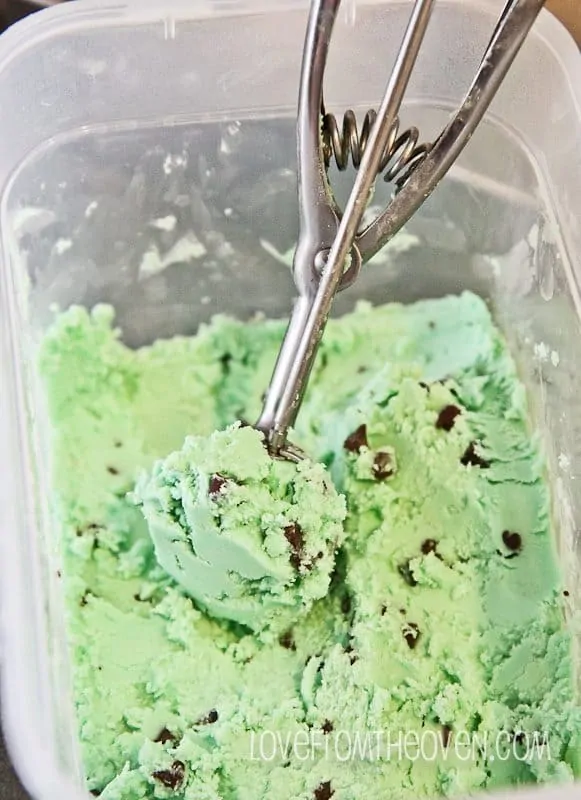 To make these I made the frosting and then stuck it in the fridge for 24 hours. You could probably put it in for just a few hours, but with a sick little one in the house, my productivity has been s-l-o-w. So after chilling the frosting, I used a small scoop to make the balls – that part is very much like making cake pops.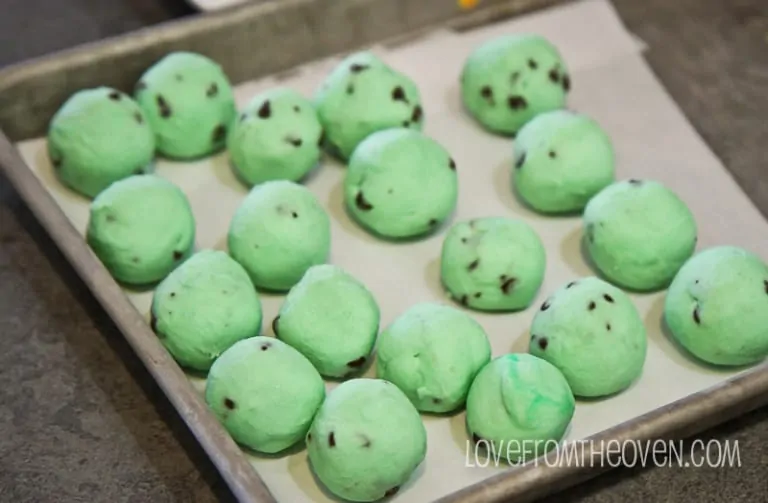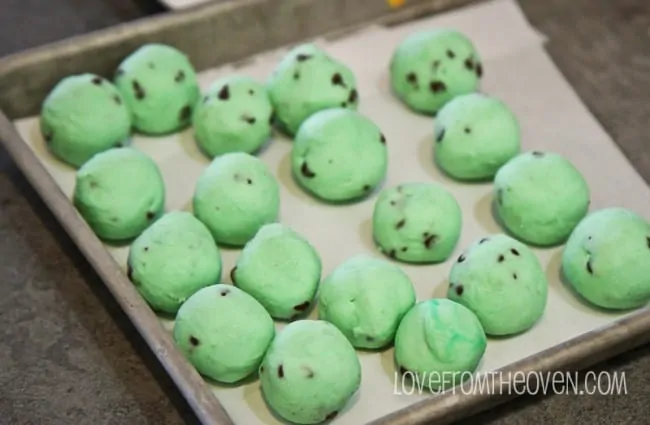 After the balls were all made, into the freezer they went for a few hours. After that they were dipped in chocolate coating (such as Wilton Melts or Candiquik) and decorated with some sprinkles. That's it. Again, these need to be stored in the fridge, because of the cream cheese and the fact that they are frosting, so they will melt if you let them sit at too warm of a temperature.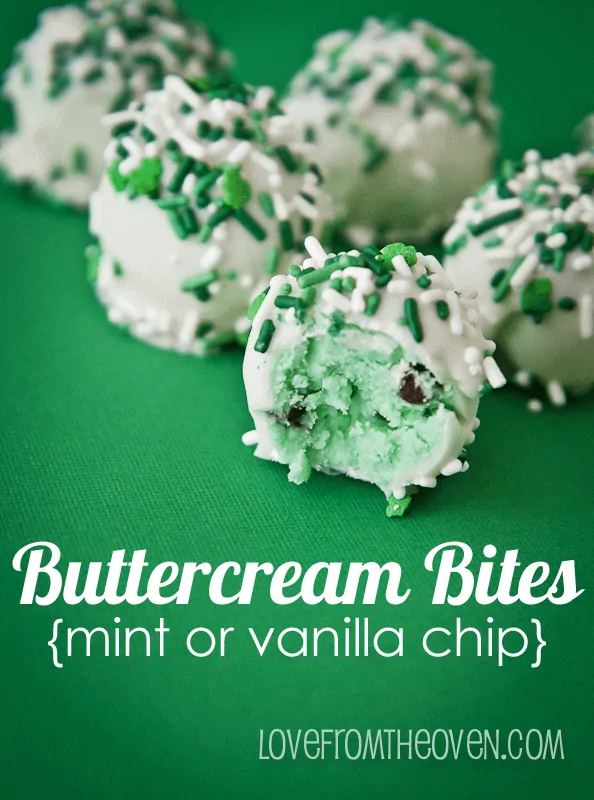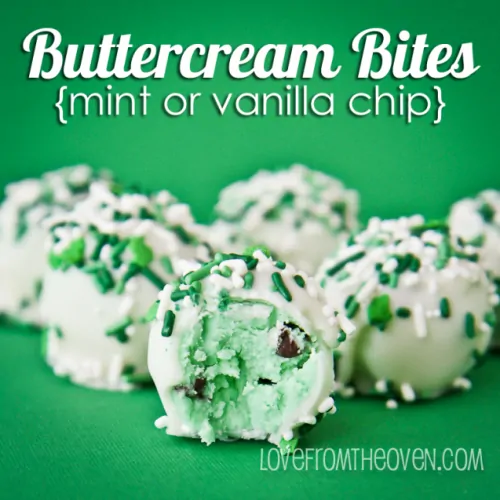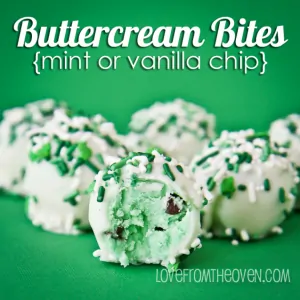 Buttercream Bites In Mint or Vanilla Chocolate Chip
Ingredients
There's no cake in these pops! A delicious buttercream frosting is the star of this show.
1/2

cup

1 stick of butter - softened (not melted!)

4

oz

of cream cheese - softened

not melted!

4

cups

of powered sugar

2/3

cup

mini chocolate chips

optional, you can leave these out

1

teaspoon

of McCormick Vanilla Extract

1/2

teaspoon

of McCormick Peppermint Extract

optional - use if you want a mint flavor

McCormick Green Food Coloring

1/4

teaspoon

of salt

optional - I prefer it to cut the sweetness a bit

Chocolate or vanilla coating of your choice

one bag of Wiltons Melts or container of Candiquik

Sprinkles for garnish
Instructions
In a large mixing bowl, combine your butter and cream cheese until well mixed and fluffy. Add in vanilla and peppermint extract (if using).

Add in a few drops of green food coloring until the desired hue is reached. Remember that your color will lighten when you add in powdered sugar.

Add in salt (optional) and powdered sugar about 1/2 cup at a time, until you reach your desired consistency. 3 1/2 cups might be enough for some, depending on your butter and cream cheese, while some may need the entire 4 cups (or even a tad more). You want a very thick frosting - much thicker than what you'd frost a cake with, but still able to stir.

Add in your chocolate chips.

If needed add in a drop or two more food coloring. Stir until well combined.

Place mixture in refrigerator for at least two hours.

Once chilled use a spoon or small scoop to create balls of frosting, and place them on a baking sheet (that will fit in your freezer) lined with wax or parchment paper. Depending on the size of your balls (I made mine about 1-1 1/2" in diameter) you should get about 24 balls.

Once all the balls have been made, place in the freezer for at least two hours.

Prepare your chocolate coating according to package directions. Make sure it's not too hot prior to dipping.

Take your frosting balls out of the freezer, just a few at a time, and dip them into the chocolate coating, and then sit them on a sheet of wax paper. Because they are so cold, the chocolate will set quickly, so make sure to immediately to add your sprinkles after dipping each ball.

Repeat with remaining frosting balls.

Store in refrigerator.

Enjoy!
Disclaimer
Nutrition information is estimated as a courtesy. If using for medical purposes, please verify information using your own nutritional calculator. Percent Daily Values are based on a 2000 calorie diet.
Looking for more St. Patrick's Day sweetness? Check out my St. Patrick's Day Bite From Other Blogs Recipe Round up for lots of great sweet green treats from myself as well as other bakers and bloggers from around the web.