Fluffy and golden brown, these buttermilk pancakes are worth getting out of bed for! Whether you're a seasoned pancake pro or new to making homemade pancakes, you'll find this pancake recipe simple and easy to follow. Once you try these pancakes made from scratch, you'll be ready to say goodbye to the box mixes forever.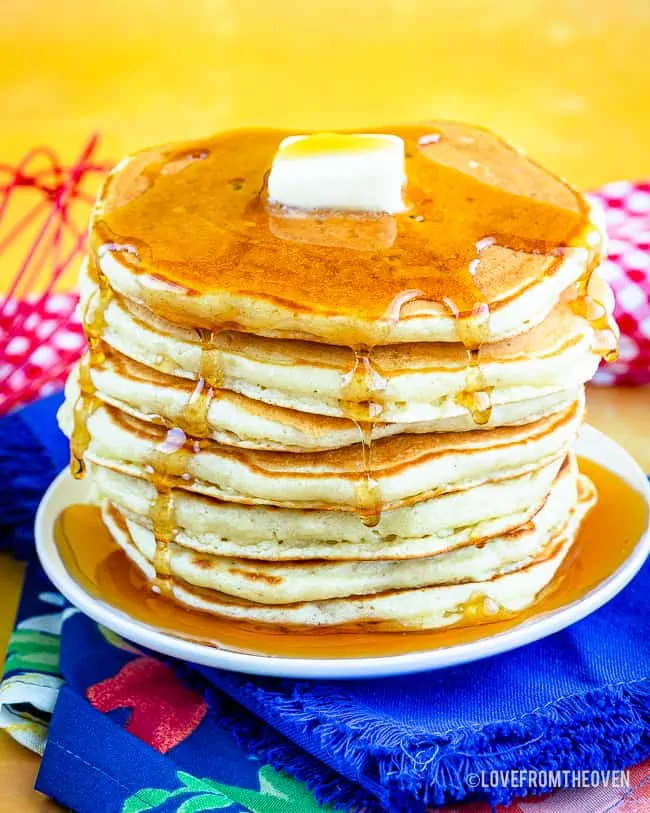 Reasons To Make This Pancake Recipe:
It produces perfect pancakes, with great flavor and texture, every single time.
The ingredients are simple and straight forward.
Everyone will be eating pancakes quickly, as this recipe is incredibly easy to make.
You are ready to make pancakes from scratch, and will love that they are as easy as using a mix.
Buttermilk Pancakes
Look, I'm no stranger to boxed pancake mixes. For years, that's how I made my pancakes. Then, I discovered that making buttermilk pancakes from scratch took very little additional effort and tasted even better. This is the pancake recipe I reach for most often. It makes fluffy, golden, delicious pancakes every time!
A stack of these homemade pancakes covered in pure maple syrup is my idea of a perfect weekend breakfast. While simple, buttermilk pancakes are far from boring. Light and airy, these flapjacks still hold up well to just about any topping you can imagine.
I use this basic easy pancake recipe as a starting point for several variations, including my famous Blueberry Pancakes. Whether you add mix-ins or enjoy them on their own, I think you'll agree: these the very BEST pancakes out there!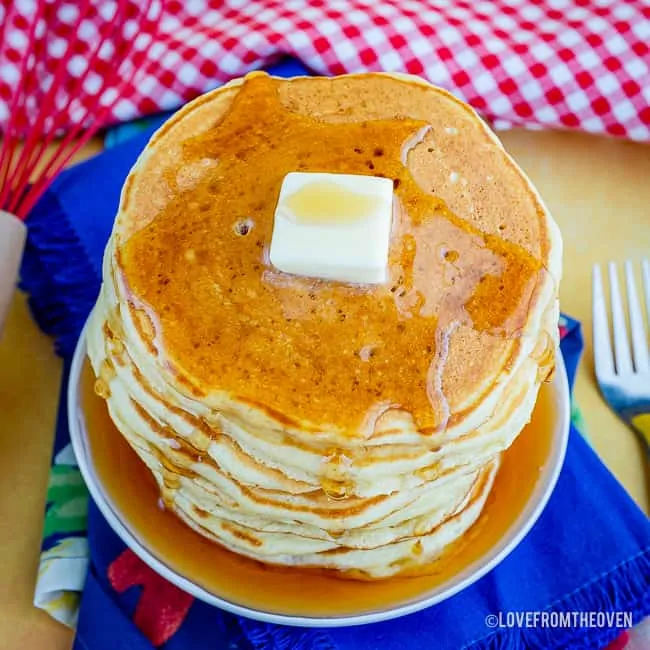 Buttermilk Pancake Recipe
There's nothing revolutionary about this pancake recipe: Flour with baking soda and baking powder gets added to buttermilk, eggs and butter. A bit of sugar sweetens the batter just enough before it's scooped on the stove top or griddle to cook.
For years, I made pancakes that were passable but not amazing. Over time, though, I discovered these tips and tricks for getting perfect buttermilk pancakes every single time.
Tips for Making the Best Pancakes:
Use REAL buttermilk. I'm a big fan of buttermilk substitutes and use them often. However, in this recipe I find that real buttermilk works best. The cultures in the milk react with the baking soda to create pancakes with fluffy insides and good flavor. If you can't get real buttermilk, you can still use the buttermilk substitute, I just prefer the stuff from the carton if I can get it.
Check your baking powder and baking soda. These ingredients might seem everlasting but they lose some of their effectiveness if they sit in the pantry for too long. Double check the expiration dates on your boxes of baking powder and baking soda. If they're not up to date, toss and replace them with fresh boxes. The last thing you want is a batch of dense flat pancakes.
Don't mix too much! Be nice to your batter. After adding the wet ingredients to your flour mixture, mix together until just barely combined. A few lumps are okay! Over mixing activates the gluten and results in tough pancakes.
Bonus tip: Want even fluffier pancakes? Let the batter rest for a couple of minutes before you cook the pancakes. Waiting just 2 or 3 minutes gives the baking soda and buttermilk time to react, making pancakes that rise and fluff even better.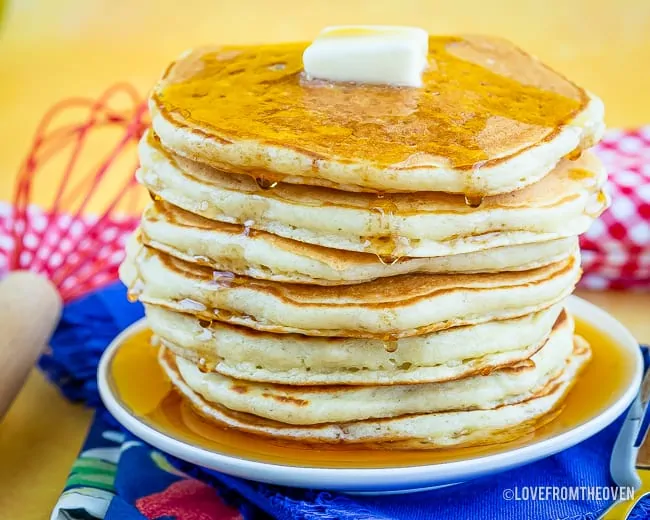 How to Make Pancakes
There's an old saying that the first pancake is always a flop. That may or may not be true, but I've definitely had to make a few "flop" pancakes in my time before I figured out the nuances of cooking pancakes! There's so much about cooking pancakes from scratch that you have to feel out.
Your stove temperature, pan and spatula all affect the success of making perfect pancakes: I recommend a well seasoned cast iron skillet, griddle pan or crepe pan for making buttermilk pancakes. Use a thin, flexible spatula for easier and more precise flipping and keep a close eye on the stove temperature as you go.
Tips For Cooking
Turn the stove top to medium low and spread a very thin layer or butter or cooking oil on your pan. Check to see if the pan is heated by dropping a bit of batter onto the surface. If it sizzles immediately, the pan is hot enough. (If the batter smokes, it's too hot.)
Use a leveled ice cream scoop or 1/4 c. measuring cup to scoop the batter. Scoop the batter into the heated pan and use the back of the scoop or a spoon to spread the batter a bit. This is a thick pancake batter, it will not just spread out on it's own.
Do not overcrowd the pan.
The pancake is ready to flip when bubbles begin to appear on the surface and the underside is lightly browned. Flip once and cook on the remaining side until golden.
Remove from the pan and serve hot with all your favorite pancake toppings!
Freezing And Reheating Pancakes
This recipe makes approximately 8 pancakes, depending on how generous your scoops are. I love to double the recipe and refrigerate or freeze the leftovers. Having pancakes ready to go in the fridge makes for easy breakfasts.
To Freeze Pancakes:
Let them cool completely then place a piece of wax paper between each pancake. Put the stack of pancakes in a freezer bag and keep frozen until ready to eat.
To Reheat Pancakes:
Microwave the frozen pancakes for approximately 20 – 30 seconds per pancake. Cooking times will vary based on the strength of your microwave.
OR
Bake the pancakes from frozen in a 350 F oven for about 10 minutes. This is a great option for reheating a large batch for a family breakfast!
Once you master the art of the best buttermilk pancakes, you'll be ready for making all kinds of delicious homemade pancake recipes! Try my Sheet Pan Pancakes, Banana Pancakes, Blueberry Pancakes with Blueberry Compote next!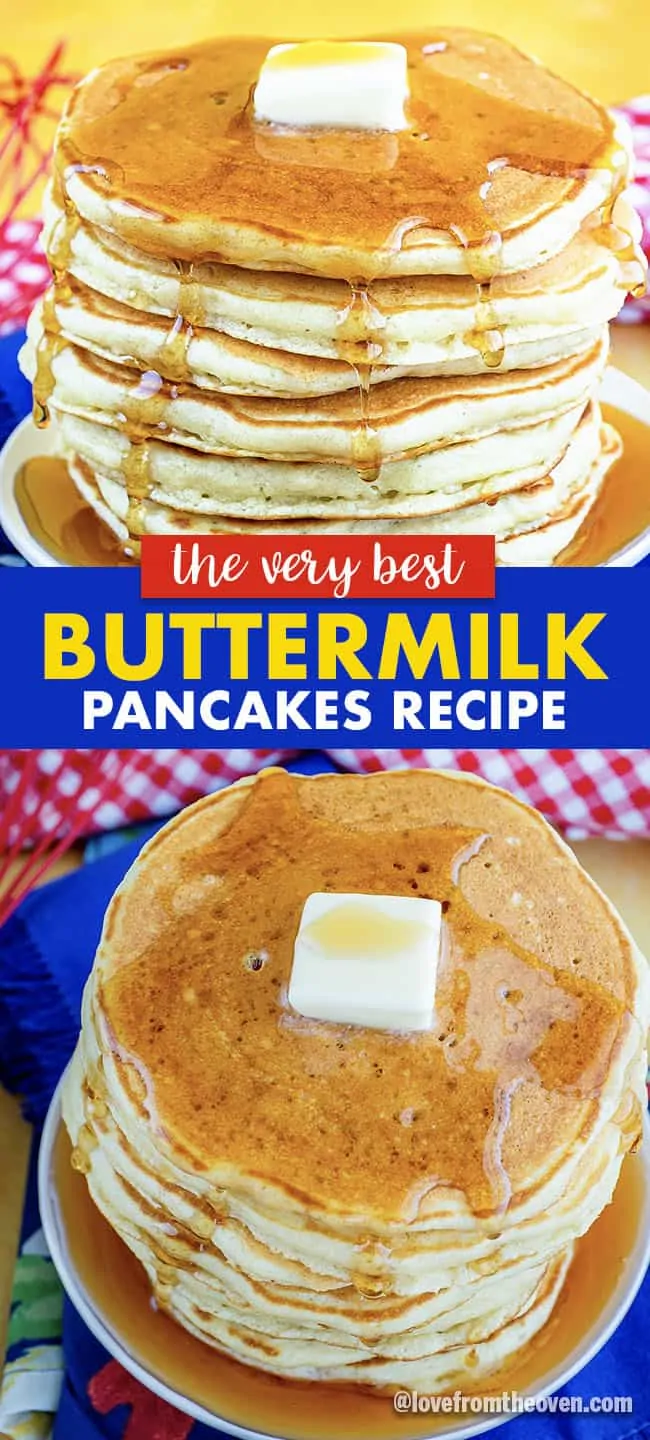 Click to pin and save this recipe!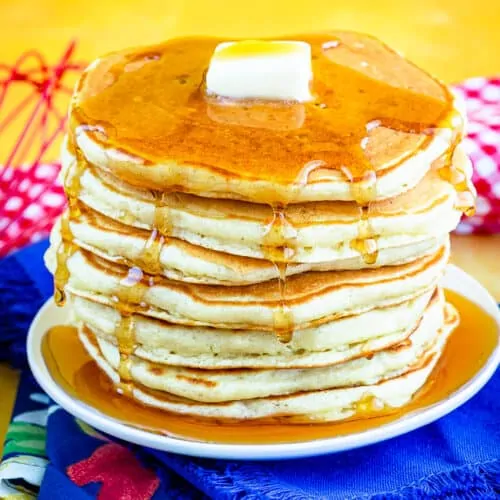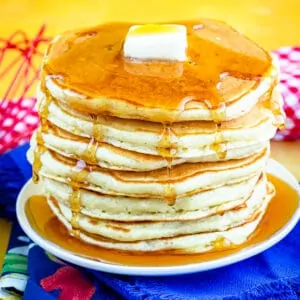 Buttermilk Pancakes
Once you try these buttermilk pancakes made from scratch, you'll be ready to say goodbye to the box mixes forever. 
Ingredients
2

cups

all-purpose flour

3

tsp

baking powder

1

tsp

baking soda

1

tsp

salt

4

tbsp

granulated sugar

1

cup

buttermilk*

see notes for substitution

2/3

cup

milk

2

eggs

1/4

cup

butter

melted

Additional butter

or oil, for pans
Instructions
Combine flour, baking powder, baking soda, salt and sugar in a bowl. Stir to combine. Add in buttermilk, milk and eggs, stirring just enough to start to combine. Add in melted butter and stir just until combined. Batter will be lumpy and thick. Let batter sit for 2-3 minutes, this will allow time for the baking powder and buttermilk to help puff up the batter.

Scoop approximately 1/4 cup of batter (an ice cream scoop is perfect) into a skillet that has been preheated to medium-low / medium heat (for reference I heat to 4 on a 1-10 scale) and lightly brushed with butter or oil. The batter will be thick and you will need to use your scoop or spoon to help spread the batter out a bit.

When bubbles start to appear on surface and edges of pancake begin to appear to be browning, flip with a spatula and cook until golden. Pancakes should only be flipped once. Transfer to a plate and devour with butter, syrup or blueberry compote!
Nutrition
Calories:
236
kcal
|
Carbohydrates:
33
g
|
Protein:
6
g
|
Fat:
9
g
|
Saturated Fat:
5
g
|
Cholesterol:
62
mg
|
Sodium:
557
mg
|
Potassium:
305
mg
|
Fiber:
1
g
|
Sugar:
9
g
|
Vitamin A:
319
IU
|
Calcium:
151
mg
|
Iron:
2
mg
Disclaimer
Nutrition information is estimated as a courtesy. If using for medical purposes, please verify information using your own nutritional calculator. Percent Daily Values are based on a 2000 calorie diet.