I'm not Bakerella (Queen of the Cake Pops), but I whipped up some cake pops at my daughter's request for her birthday.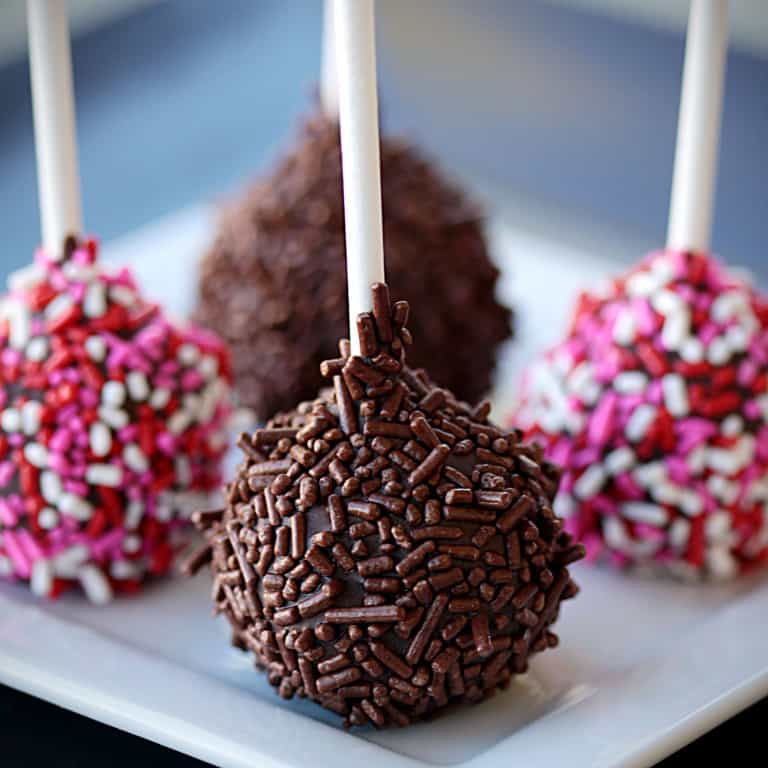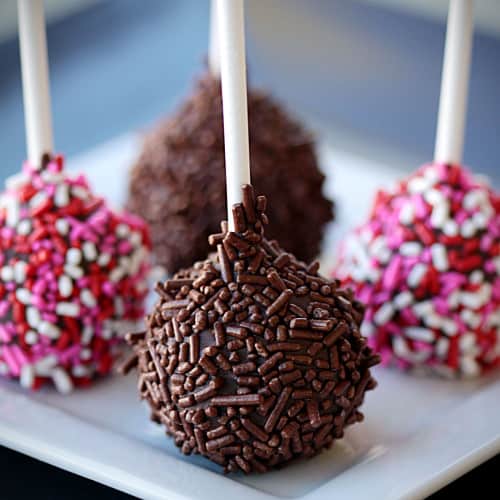 I have to be honest, I think I prefer Oreo truffle pops or cake pops made with my Babycakes Cake Pop Maker a bit more, but my daughter was mighty happy with these, and she is the birthday girl.  Here's how to make cake pops…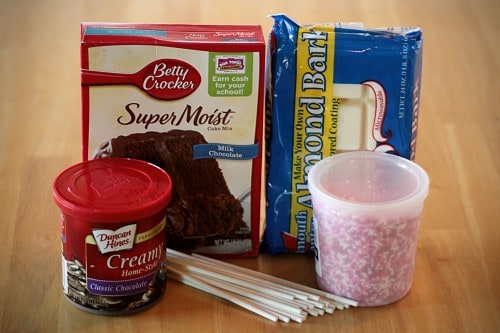 Easy ingredients – a cake mix (and what you need to make the cake), a can of frosting, chocolate, sprinkles and sticks.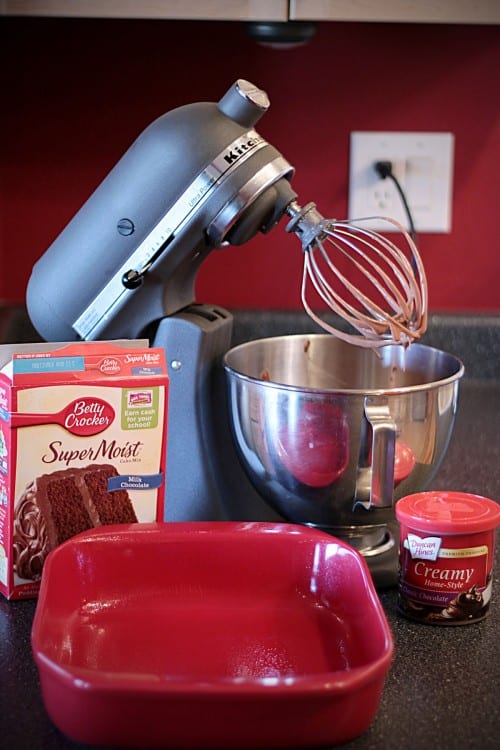 Make up your cake mix and bake.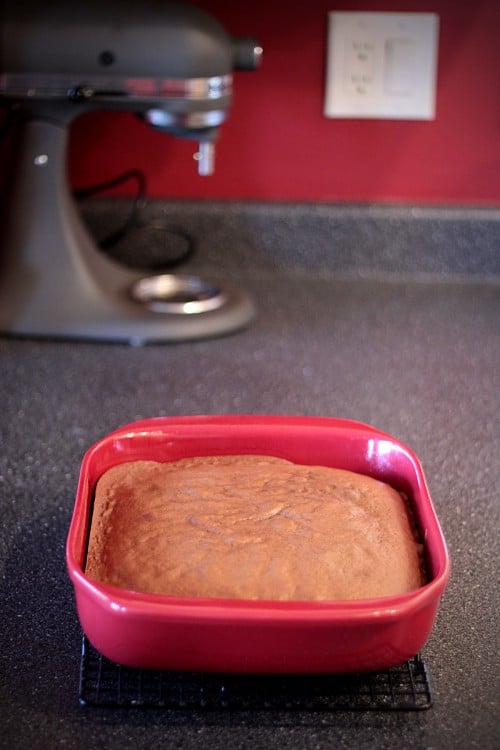 Now we have cake.  And now we are going to destroy the cake…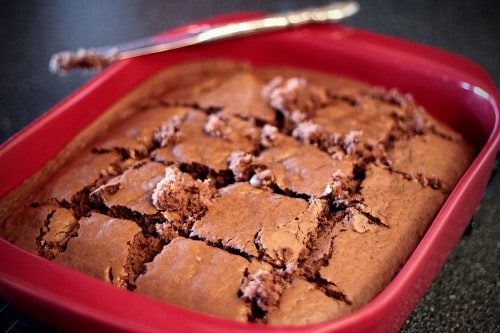 Not quite destroyed enough yet…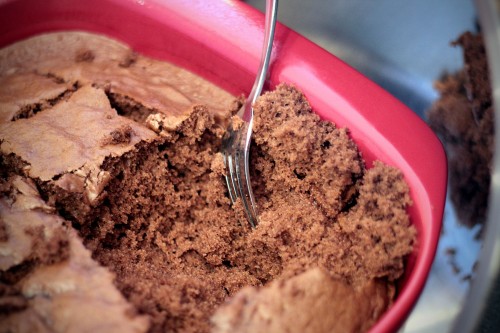 And now into a bowl.  I know some people use a food processor, but this was easy enough, and less clean up than the food processor would have been.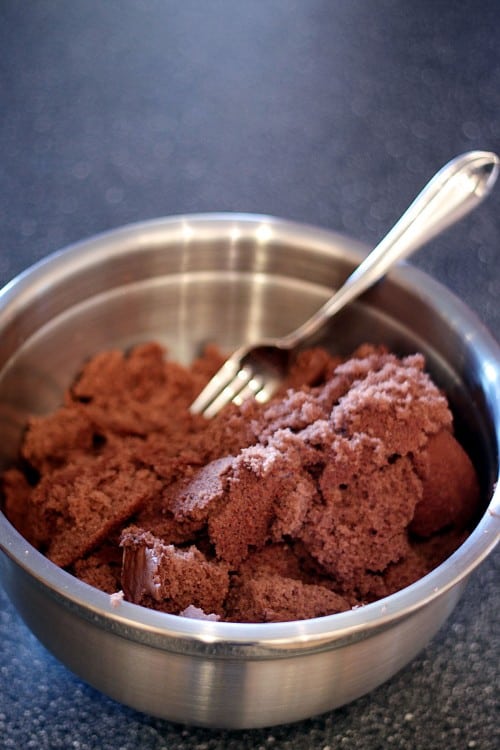 Now to add the frosting.   I am not a fan of canned frosting, so it was a bit painful for me to add it, but hey, it certainly qualifies as easy.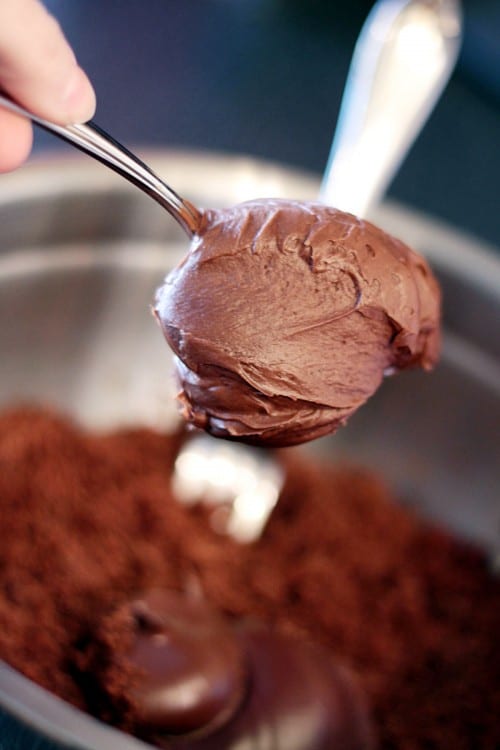 I used about half the can.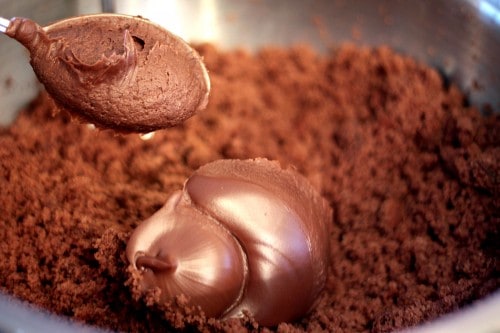 After combining the cake and frosting it formed a ball of dough so to speak.   I think some people chill the dough, but since my little one was napping I had to take advantage of the time and went straight in to creating the cake pop balls.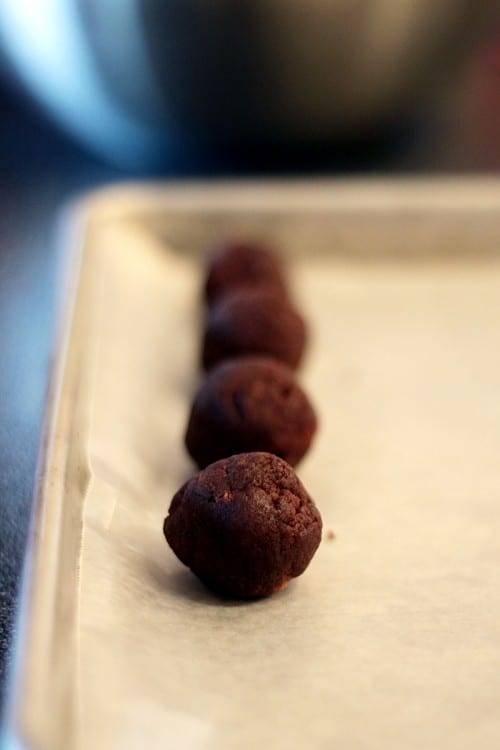 The next step was to put the sticks in.  I prefer to dip the stick into a bit of melted chocolate, than into the cake pop.   This seems to help the pop stay on the stick better, which helps a lot when you are dipping them in the chocolate.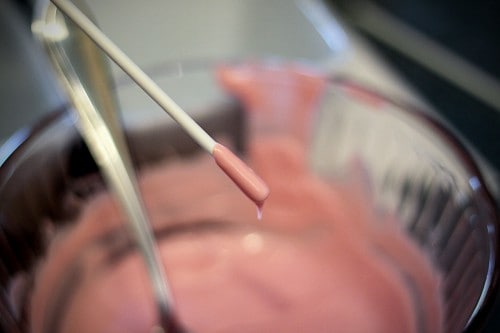 I made pink, white and chocolate covered cake pops.   I started with the pink.   I'm trying to get all of the pink I can in for Valentine's Day.    After putting the sticks into the cake pops, I stuck them in the fridge for a  few hours.    During that time I taught Grace how to use the dishwasher.  A mom can dream, right?
After that I dipped each one into the chocolate and than coated with a variety of different sprinkles.   And ended up with cute little things like this…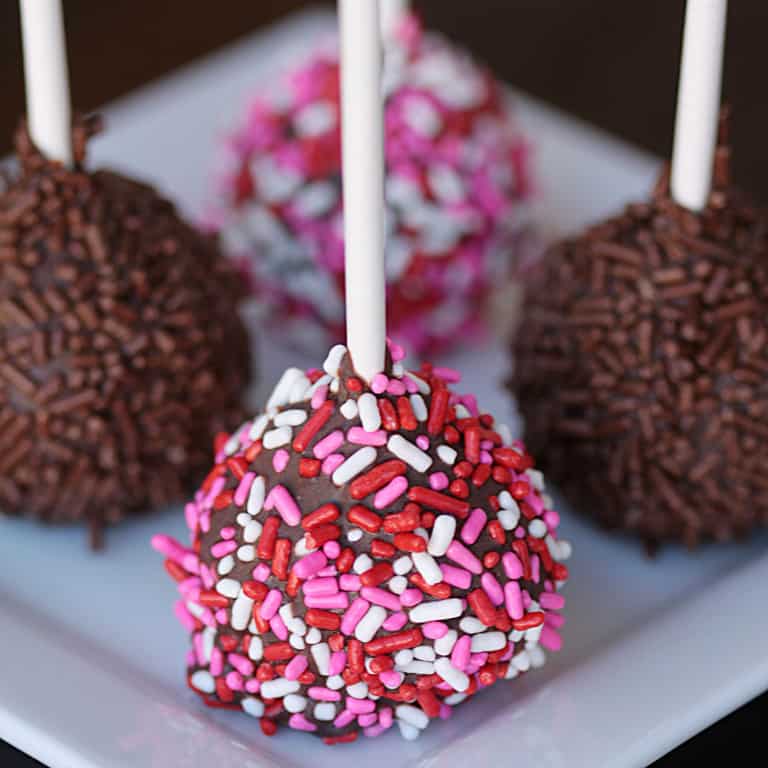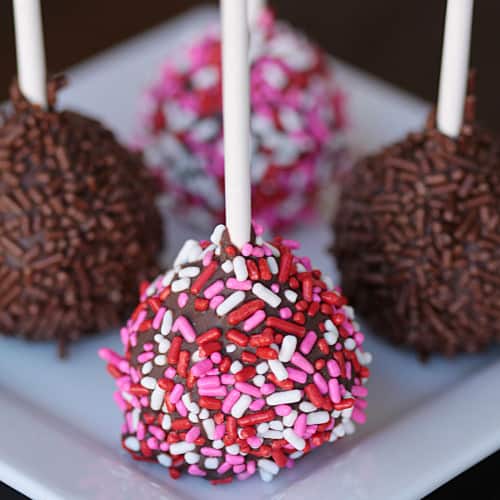 A few more shots of cake pop goodness.   I didn't have the time to try any of Bakerella's cute cake pop decorating ideas, it was more a sprinkle and go type of thing.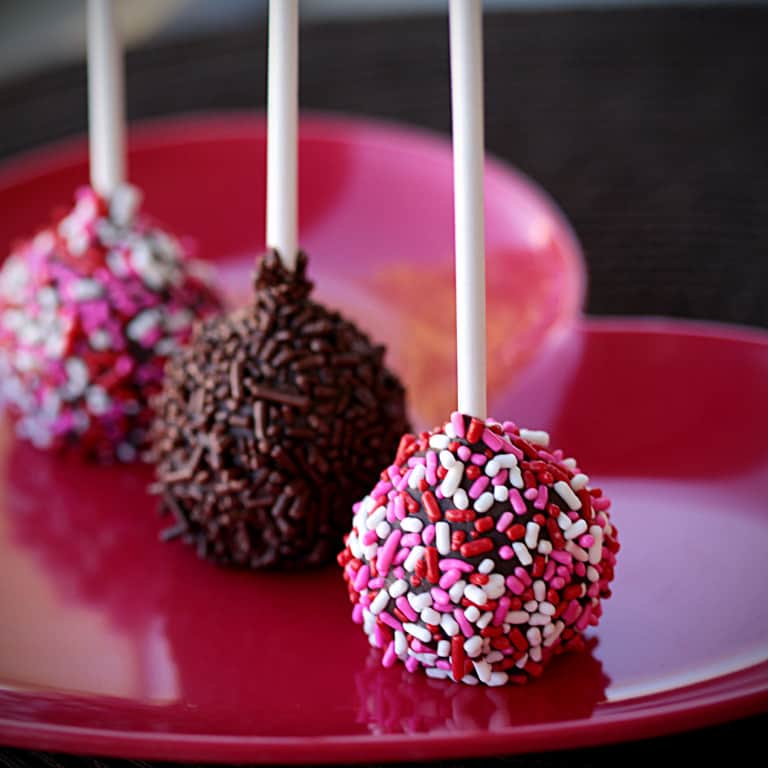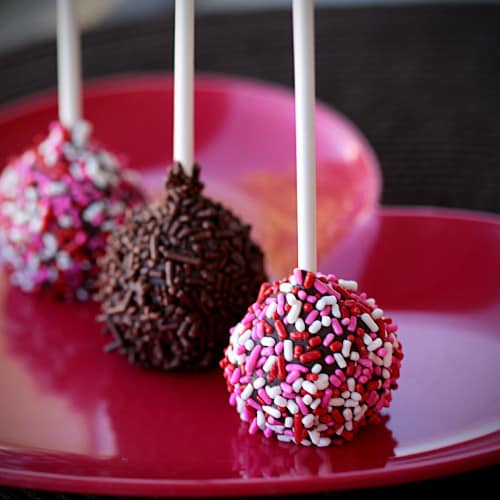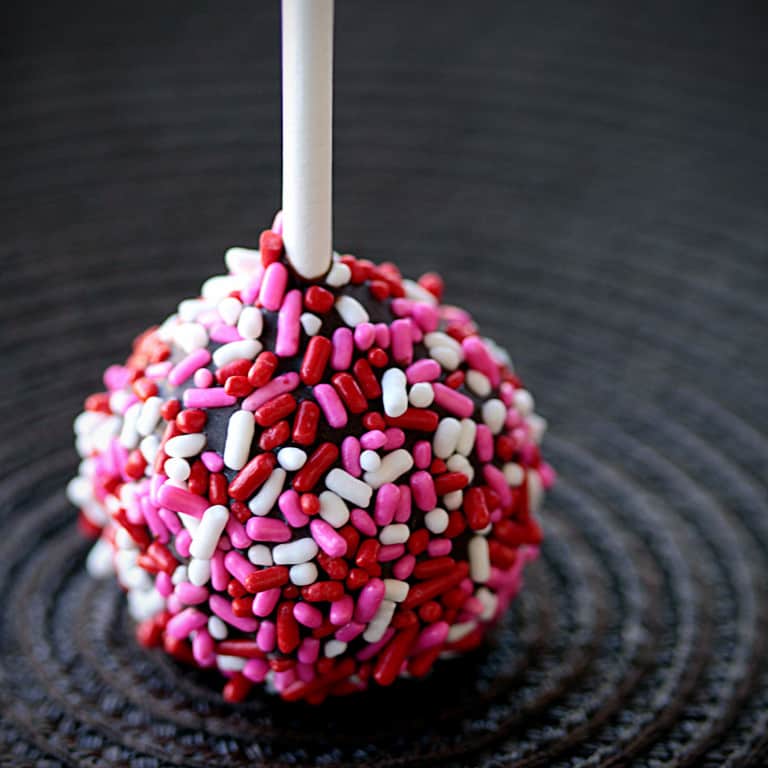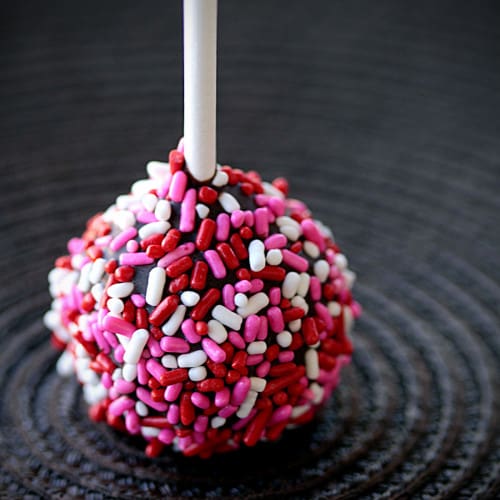 Also check out my Cake Pops 101 Guide for more info, as well as my favorite tools and supplies that help make making cake pops a little easier.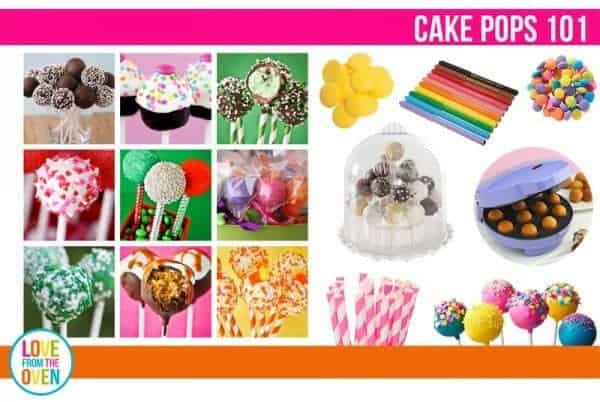 *Update – since I wrote this post, I've made quite a few other cake pops as well.  Click here to see all my cake pop posts!

Cake Pops With The Babycakes Cake Pop Maker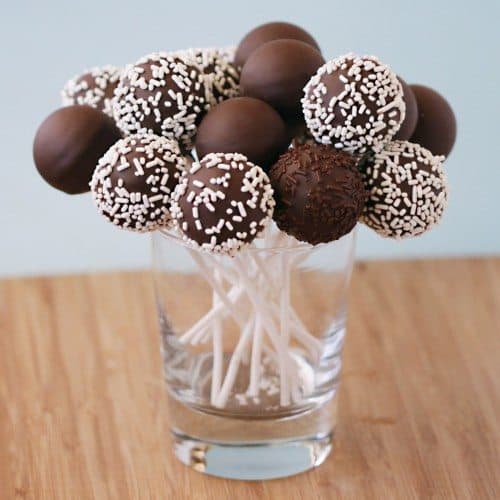 My daughter insisted on blue and green decorations for hers.  Unfortunately she told me this after my trip to the baking supply store.  Thankfully I had some blue and green sugars, though not as brightly colored as I would have liked.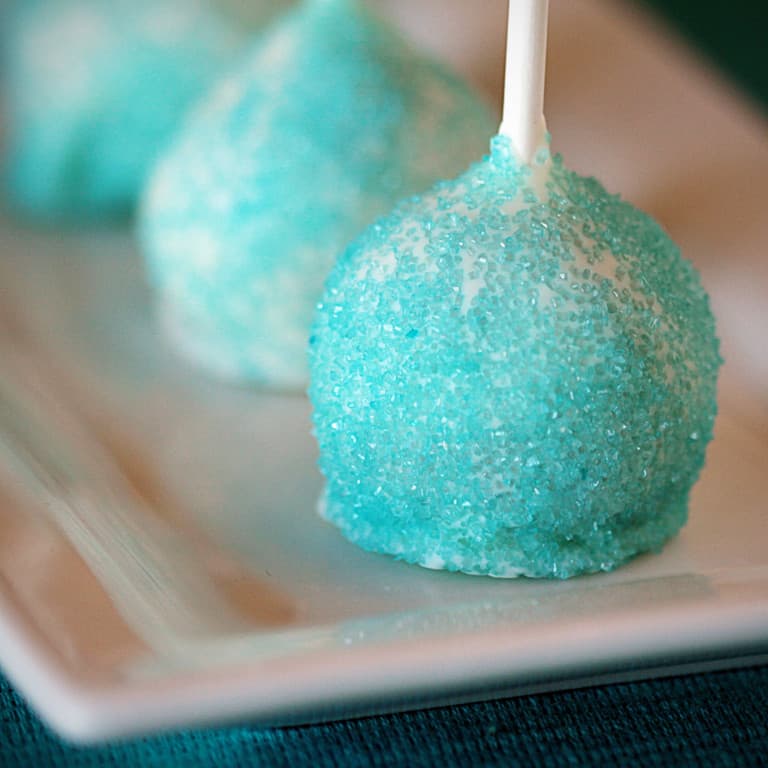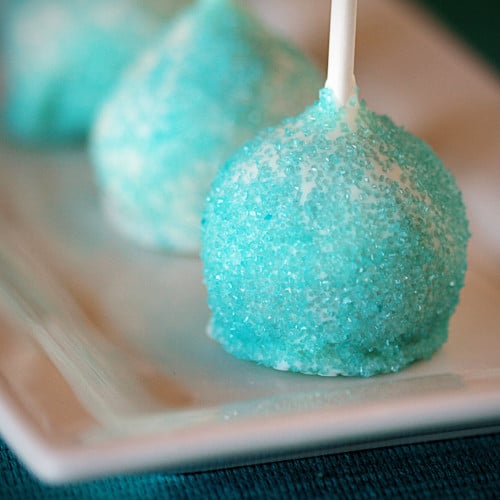 I didn't plan to put these on a styrofoam stand, so I let them sit, cake pop down, to try.   To keep with the last minute theme, my daughter requested on her way to school that I put them on a stand.   This isn't the most inspired, but I had to whip something up at home while Grace was napping.   Eh, not that pretty, but it held up the cake pops, so it was functional.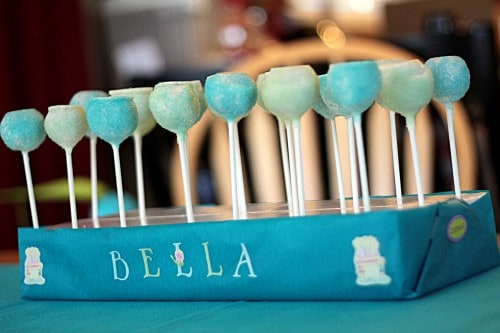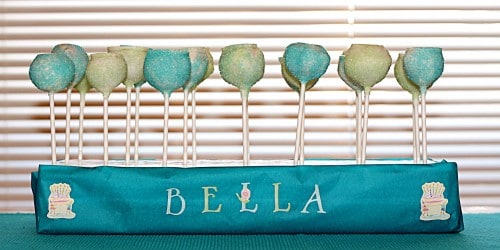 So while they weren't the cutest, the girls at my daughter's dance studio seemed to enjoy them, so mission accomplished.