So what do you do when you bought enough Halloween candy for 500 kids, and maybe 10 kids came to your door? You start baking that candy into anything and everything. First up, it's candy bar brownies. Or candy bag brownies, because these are kind of like just dumping the entire bag of candy into your brownies. It's safe to assume that Weight Watchers will not be contacting me to develop recipes any time soon!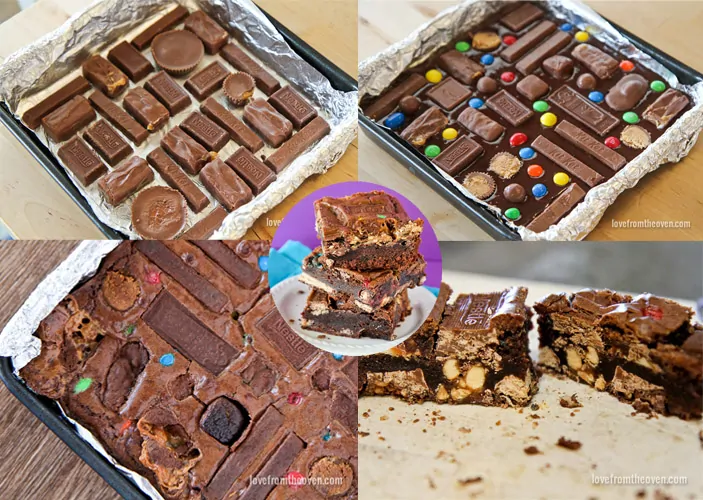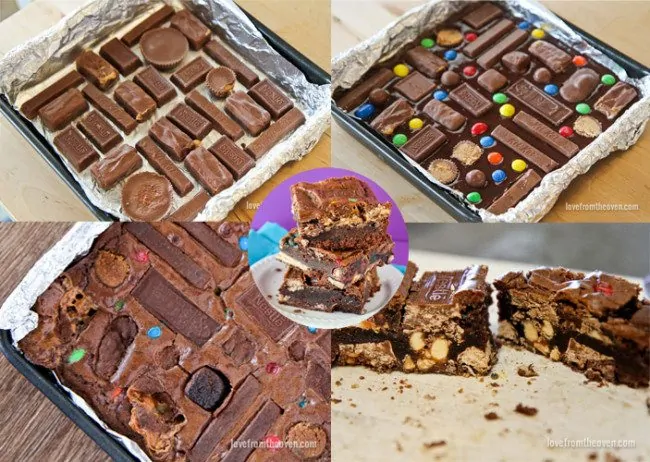 So yeah, these brownies are, well, excessive. 🙂 Let's call a spade a spade.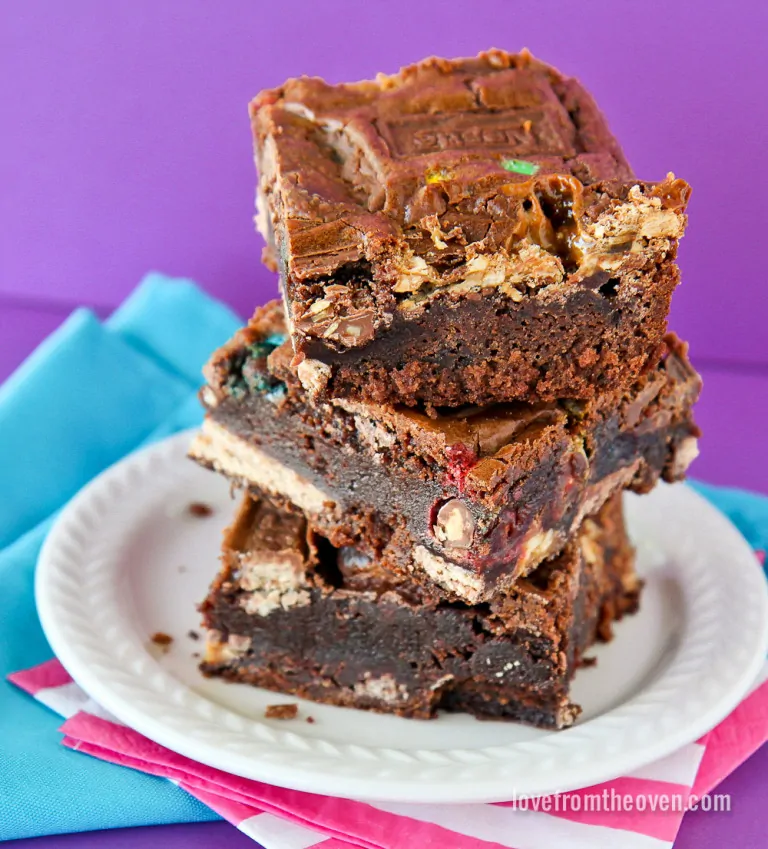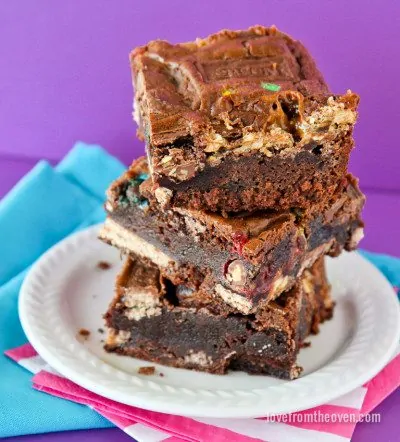 These are super simple to make, the hardest part is unwrapping all those individual little fun size bars. When they say "fun" clearly they are not talking about peeling the wrappers off of slightly melted chocolate.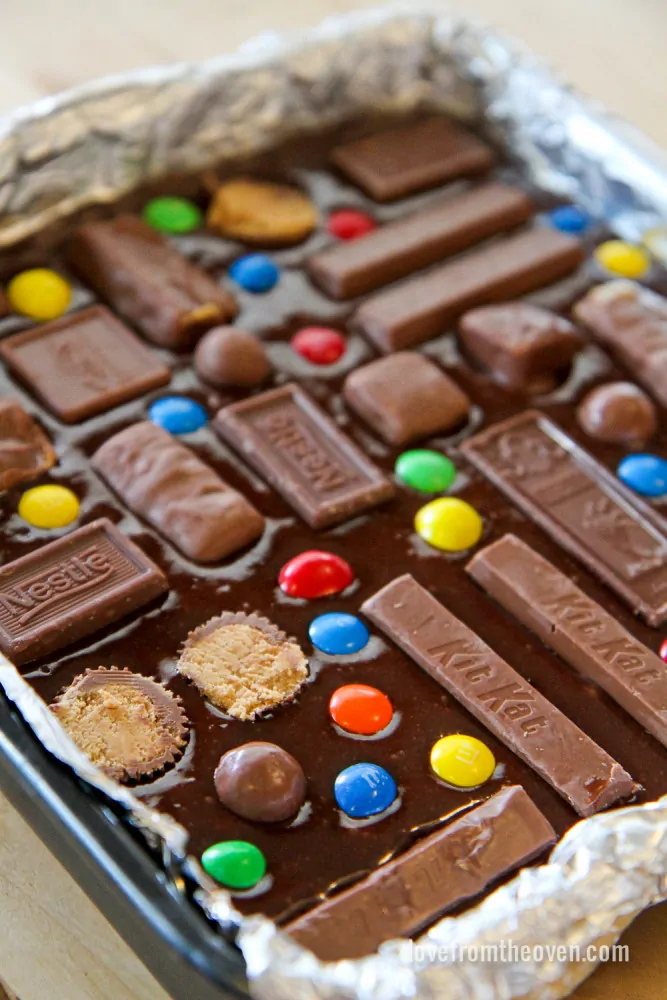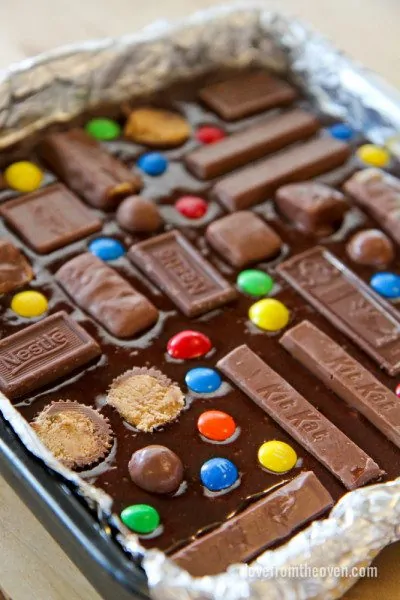 I started with a brownie mix, one that makes a 13×9 size pan, and an 8×8 pan. If you make these, you want to make sure to make them thick, thus the larger brownie mix in the smaller pan. I lined my pan with foil, which I always do, it makes it so easy to pop the brownies out of the pan for cutting, then gave it a very light spray of non-stick cooking spray, and then filled the pan with candy bars.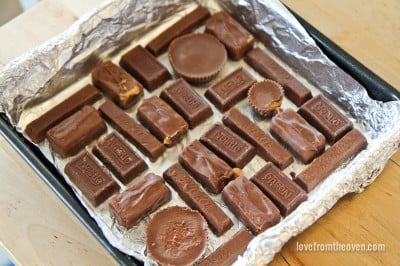 Next I poured in my entire batch of brownie batter and then topped with another layer of candy.
I did say these were excessive, right? Then into the oven they went. I ended up baking them pretty close to the times called for on my brownie mix. I wasn't sure if they would take more time, but nope, basically follow the baking instructions on your box (or recipe if you are going the from scratch route).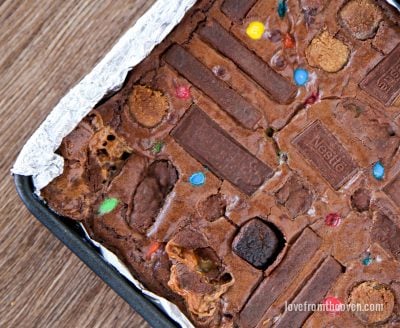 I let them cool completely then actually stuck them in the freezer for about 20 minutes prior to cutting to try and get a clean cut on them.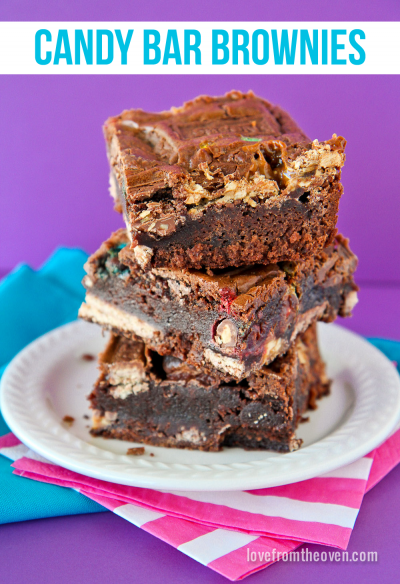 While I cut them into large pieces for photos (truth is realistic serving sizes look kind of pitiful in photos), for serving you probably want to cut these into little pieces, think the size you would cut fudge into. These brownies are loaded.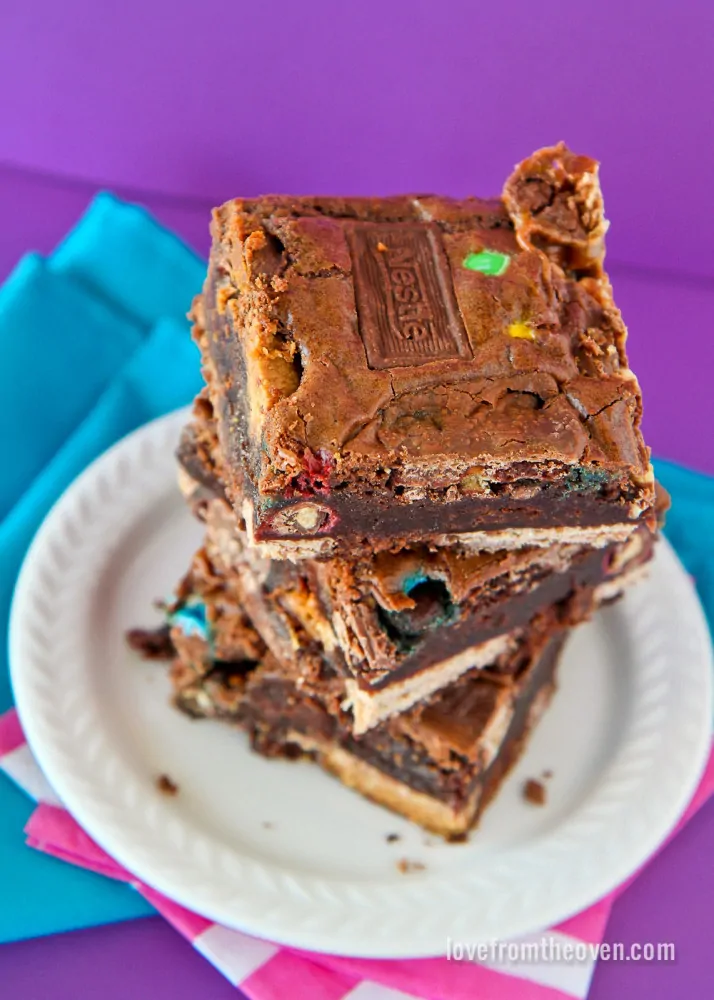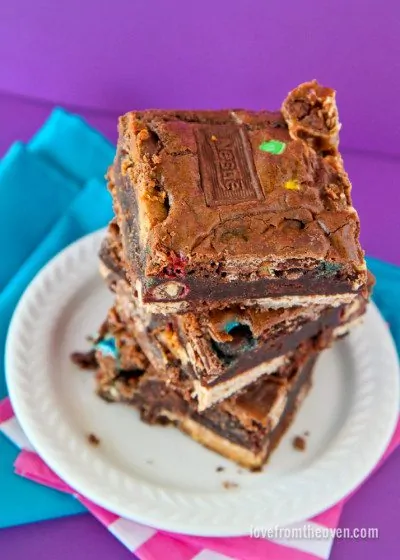 I used mainly Snickers, Kit Kats, Reese's Peanut Butter Cups and Nestle Crunch bars in these, because that's what we have an abundance of. You are probably good with darn near any kind of candy bars that you have on hand.
Candy Bar Brownies
If you'd prefer to make these homemade, instead of using a brownie mix, I suggest using my EASY BROWNIES recipe.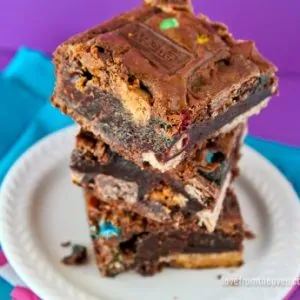 Candy Bar Brownies
Ingredients
1 13

x9 inch size brownie mix

Ingredients called for in brownie mix instructions

Assorted fun size or chopped up candy bars
Instructions
Line a 9x9 (or 8x8) inch pan with foil. Spray lightly with cooking spray. Place a number of unwrapped candy bars into the bottom of the pan, leaving room between for brownie batter to fill in. Prepare brownie mix according to package directions. Pour brownie batter onto candy in pan, then place another layer of candy on the top of the brownie batter. Bake according to brownie mix directions. Allow to cool completely, cut and serve.
Disclaimer
Nutrition information is estimated as a courtesy. If using for medical purposes, please verify information using your own nutritional calculator. Percent Daily Values are based on a 2000 calorie diet.
Kinda crazy!
If you are like me, and still have a few tons of Halloween candy sitting around, don't worry, I have more ways for you to use it all up. Check out these awesome recipe rounds ups to use up leftover candy. I've gathered up all of the best recipes from the bakers and bloggers you love! Over 175 recipes, so I'm sure you can find something!
Recipes Using Reese's Peanut Butter Cups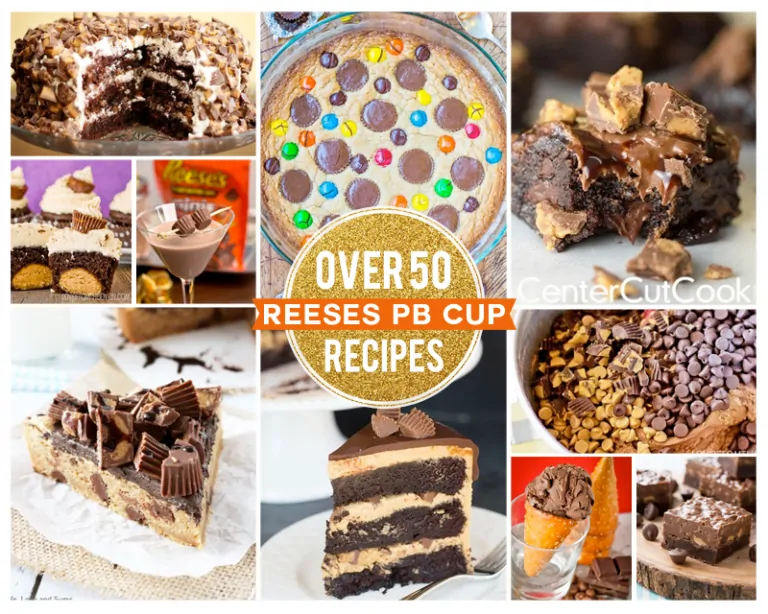 Recipes Using Butterfingers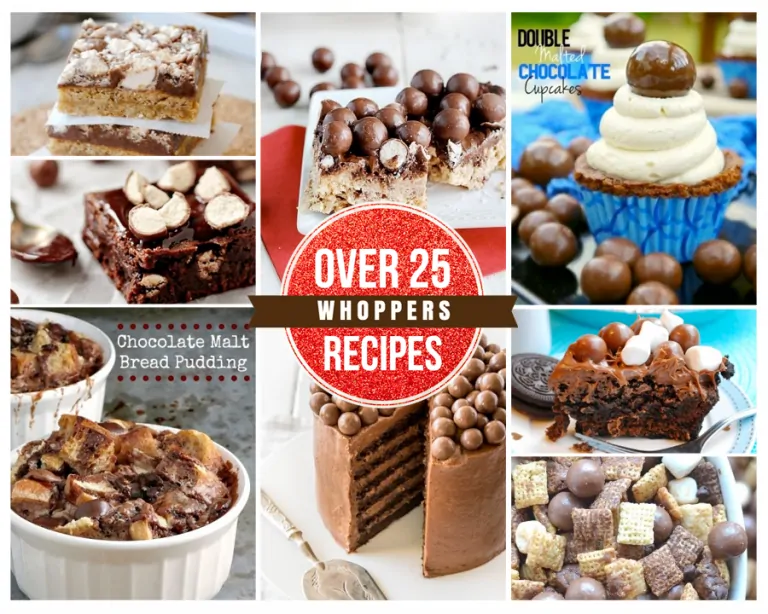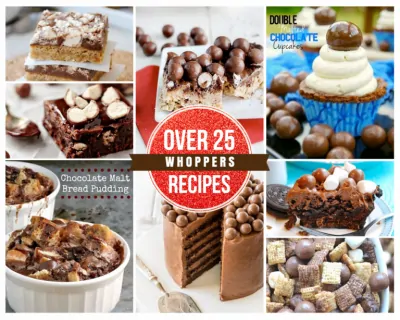 Happy Candy Consumption!