I love making, baking and creating treats for Halloween. There are so many fun, whimsical and colorful options that it can make me feel like a kid in a candy store! Fun, whimsy and candy are what this crazy candy corn bark is all about. A few months ago I made some Crazy Candy Bark for my daughter's birthday, and it was so fun that I had to recreate it with a Halloween spin.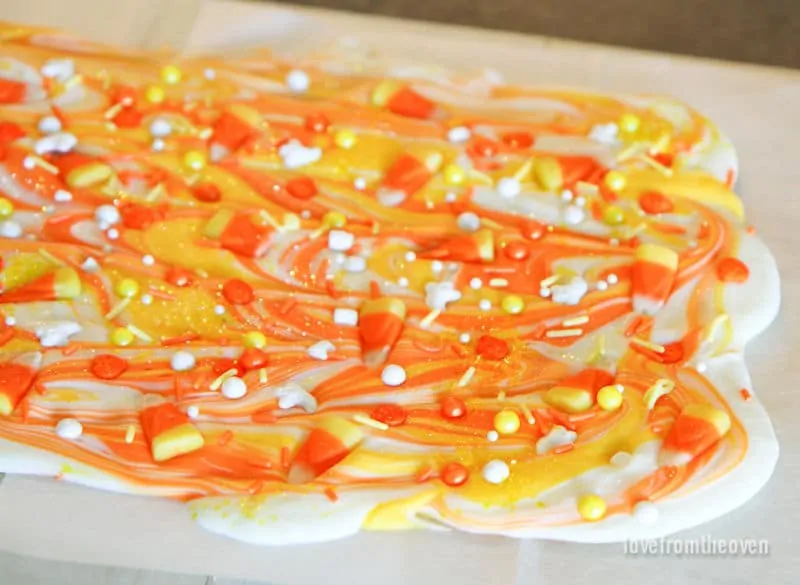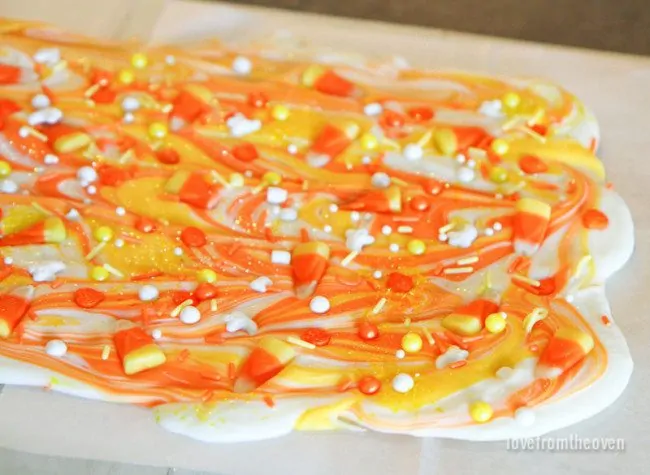 This fun bark is SO simple to make. It looks so fun and festive yet it's incredibly easy to whip up. You simply need some chocolate candy coatings, I used white, yellow and orange. Along with that you need some candy corn and a variety of candies or sprinkles that match the color scheme.
You start by covering a baking sheet with either parchment paper or a silicone baking mat. This makes it quick and easy to remove your bark after it's set up. Next you melt your candy melts according to the package directions.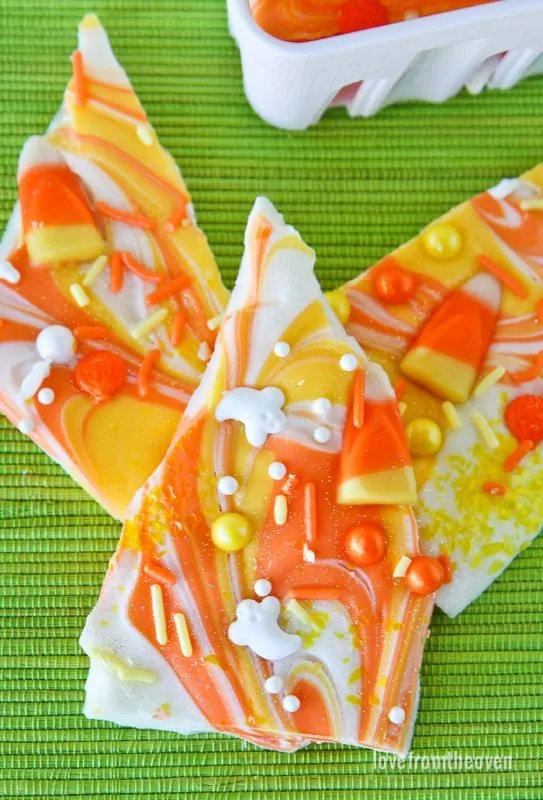 After melting your candy melts, you drop the different colors by spoonfuls onto your baking sheet. Then once all of your candy melts are on the baking sheet, take a knife and gently swirl the colors together. Don't overdo it or you lose the swirl effect. It looks so neat, but it's SO easy!
Next up is my favorite part, covering the bark with all kinds of candy and sprinkles! I used Orange Shimmer Sixlets, Yellow Shimmer Sixlets, Mallow Bits, Halloween Sprinkles, Candy Corn and Yellow Edible Glitter. There is no right or wrong with this part, just use candies and sprinkle that you like and have colors that will work. You just sprinkle them onto your melted candy coating right after swirling it, and prior to it setting up. After this I place my candy coating in the fridge for approximately 30 minutes to set (though it will set up at room temperature, it will just take longer) and then it's ready to be broken into pieces.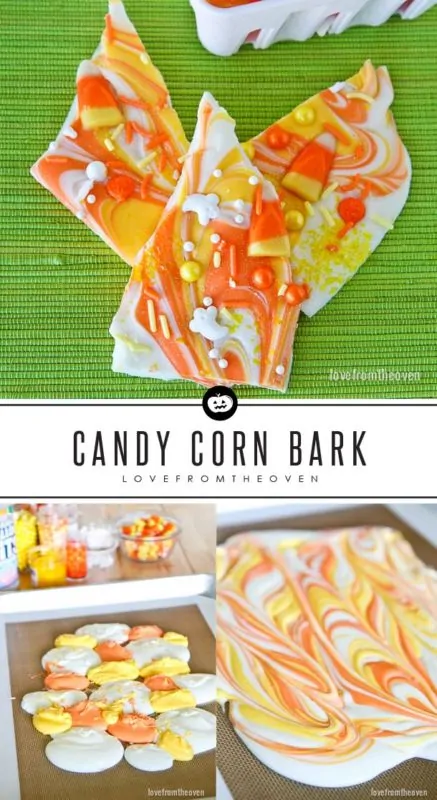 This is so fun to make for a party, to break into pieces and use on top of a cake or cupcakes or to package up into little cellophane bags, tied with ribbon, to give as treats to friends and family. While my version was based on candy corn colors, feel free to get creative! Orange, purple and green would be super fun.