So I think that I might have found the most incredible recipe ever. And I do not say that lightly. Let me just show you. Caramel Pecan Rolls anyone?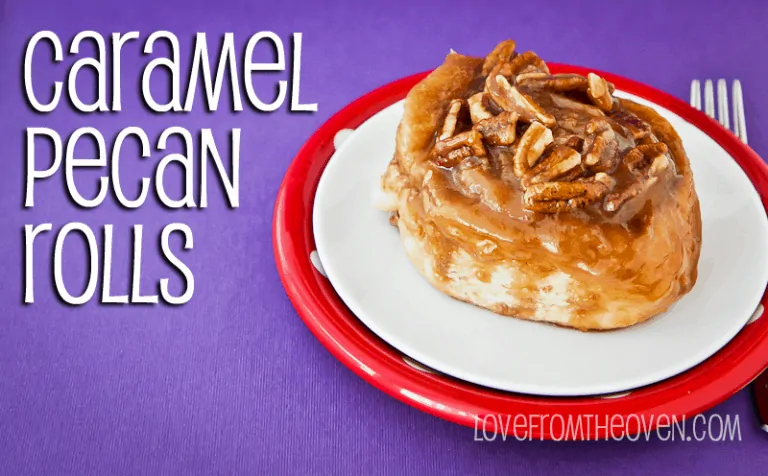 The recipe for these over the top delicious rolls comes from folks over at the Become A Better Baker. They asked if I would like to check out their series of videos and possibly share one, along with a recipe, with my readers. Um, yes, I think I would be more than happy to make Caramel Pecan Rolls!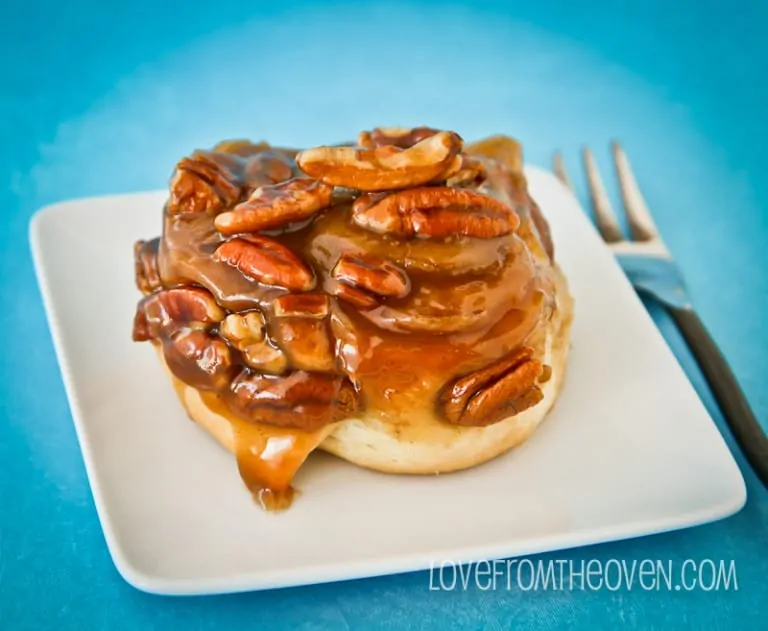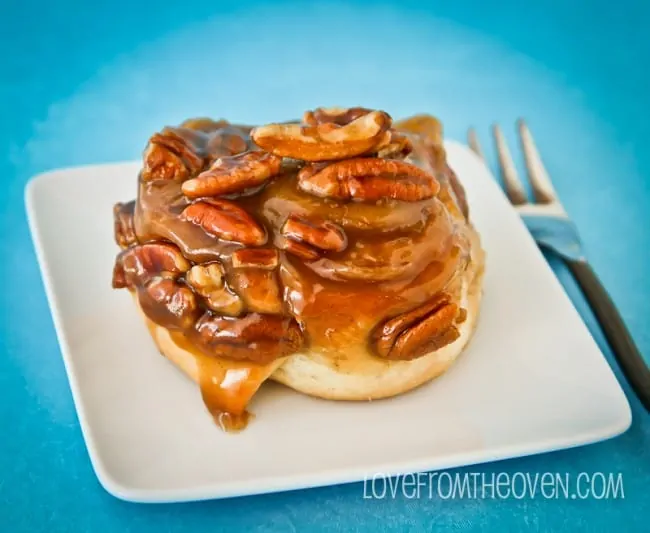 The video that instantly got my attention was "Yeast Choices – Cutting Through The Confusion". I've talked a number of times here about how I am a bit intimidated when it comes to baking with yeasts. I've been working at making more recipes using yeast and have been becoming more comfortable, but truth be told, I've really not known the difference between the yeasts. I get a lot of questions from readers about this as well, so clearly I am not the only one. This short and simple video TOTALLY clears it up. If you have any questions about yeast, take three minutes and watch this.

They have so many great videos that very simply explain information that is so helpful to those of us who bake. I watched the "Kneading With A Dough Hook" video prior to making the Caramel Pecan Rolls, and followed their tips to have my mixer do the kneading for me. And "Cinnamon Roll How To's" is certainly a great choice.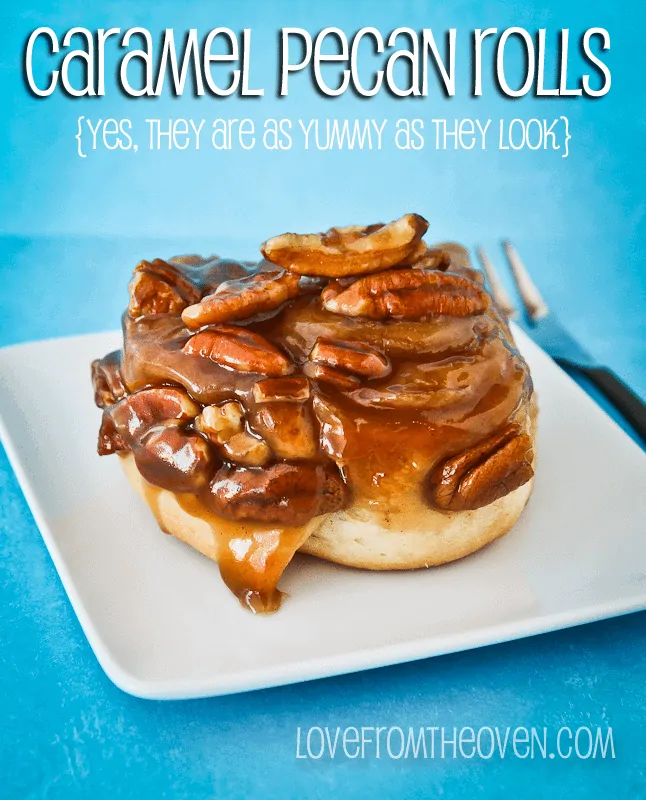 When it came to picking a recipe, the Caramel Pecan Rolls were calling out to me (as they are now, though in a different way, from my kitchen). How can they not? I make a lot of cinnamon roll type recipes, and they are all great, but I have never quite replicated what my great grandmother's cinnamon rolls tasted like. Something about the dough, I couldn't tell you what it was, but I knew that I was not achieving it. Until now.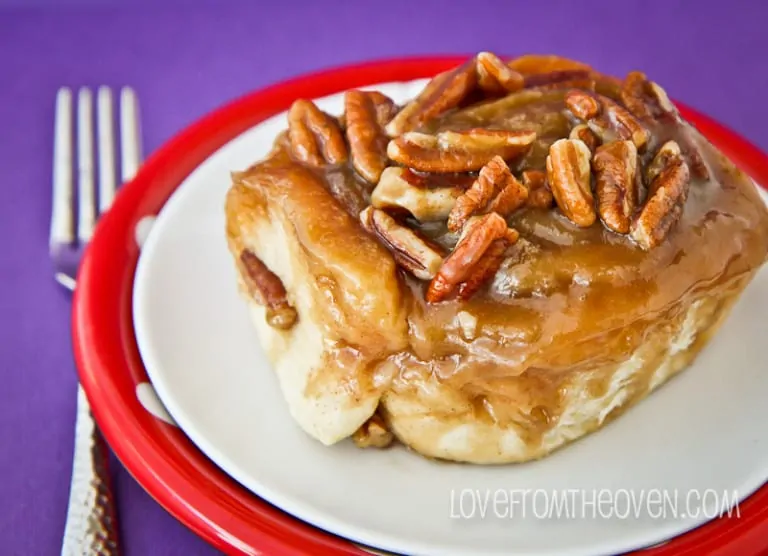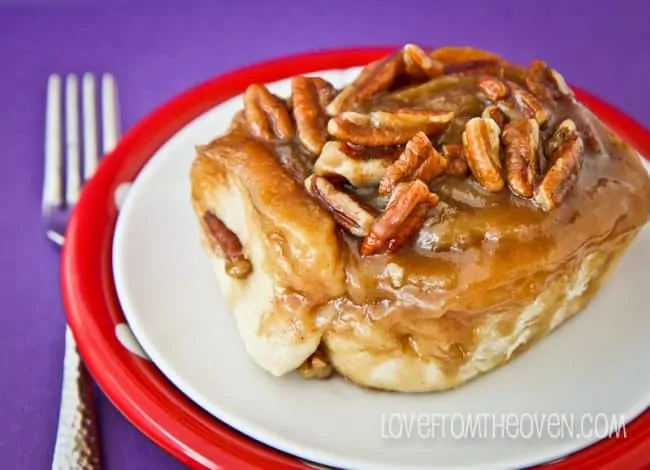 When I saw this recipe, it was a bit different from the ones I've made. It used eggs, something none of my roll recipes have. It also required kneading, which most of my recipes have had but only minimally. It also used the Fleischmann's® RapidRise Yeast. Can I just say, using that yeast is awesome. Not only did I not have to proof it in water, but these rolls rose better than any I have ever made.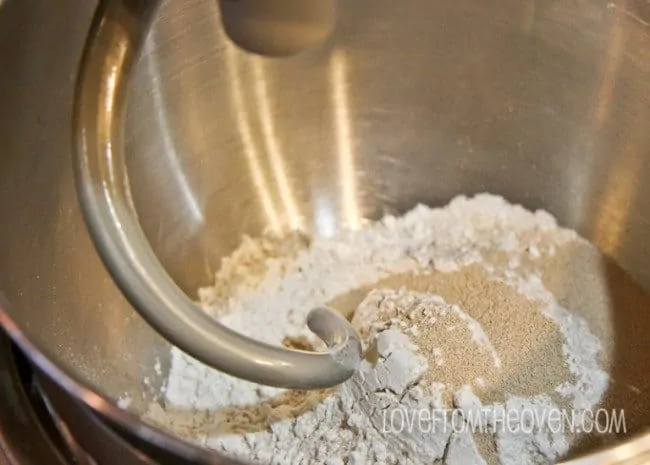 You make a very simple but oh so delicious caramel sauce that goes into the bottom of your pan, along with pecans.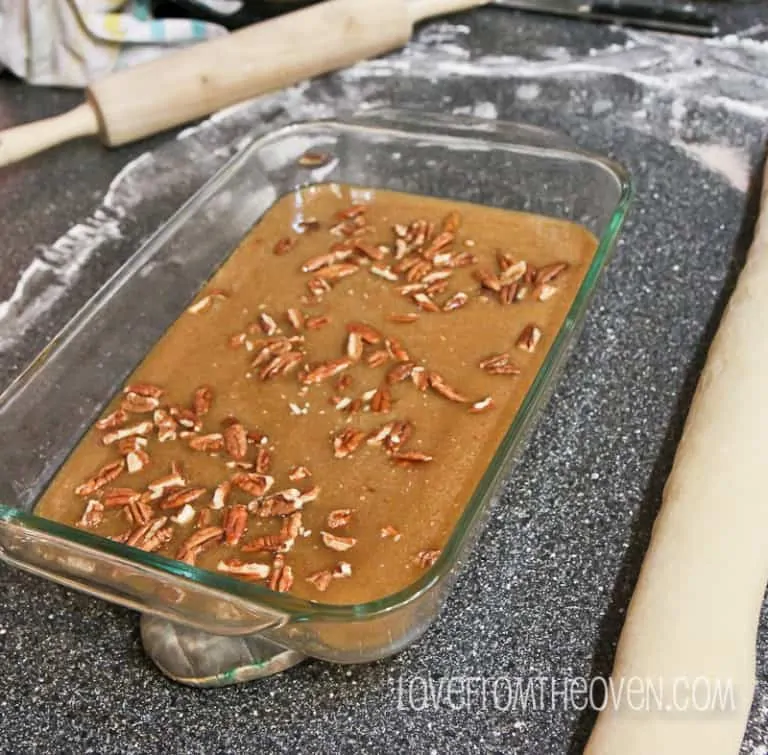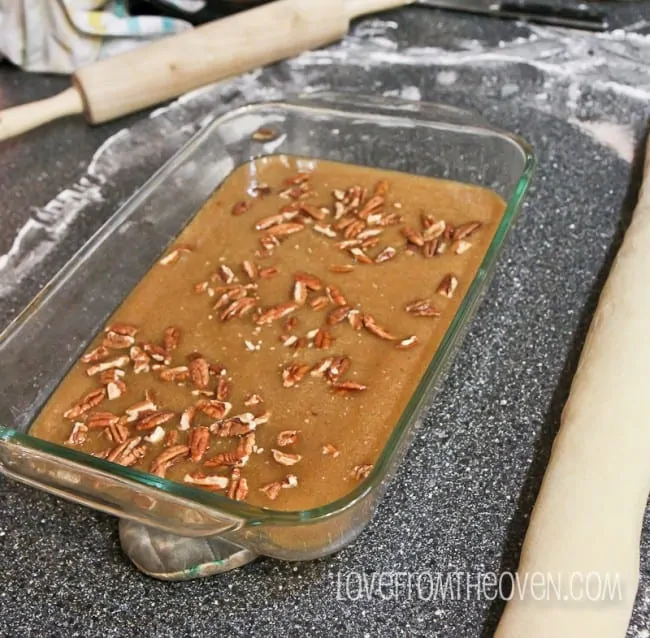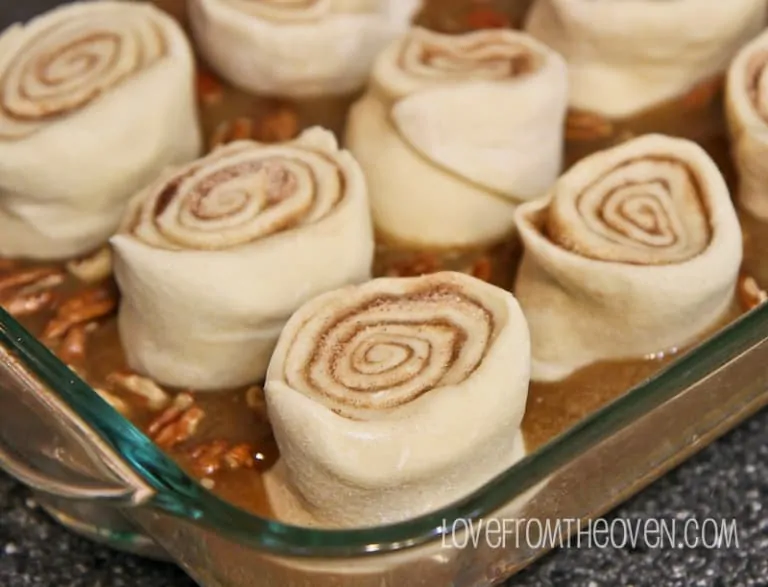 Talk about a great rise – less than an hour and check them out!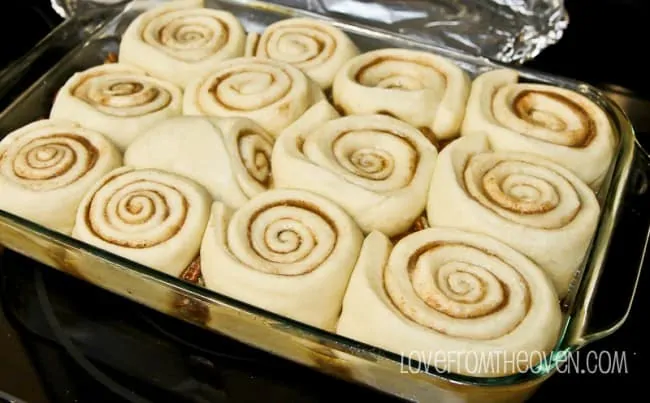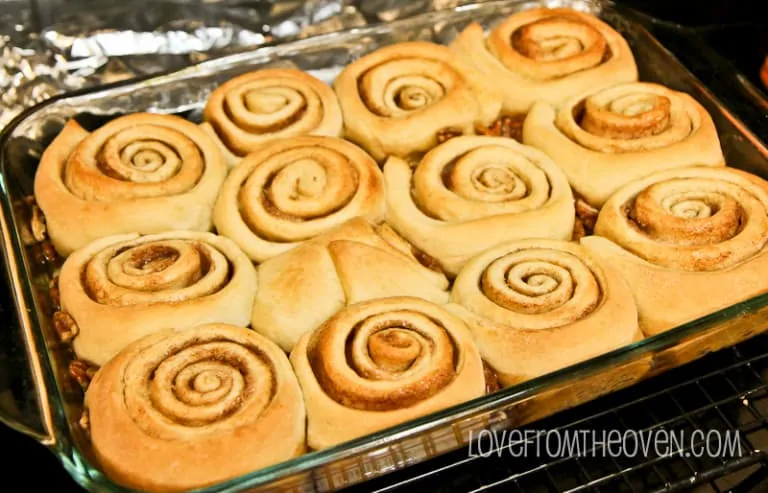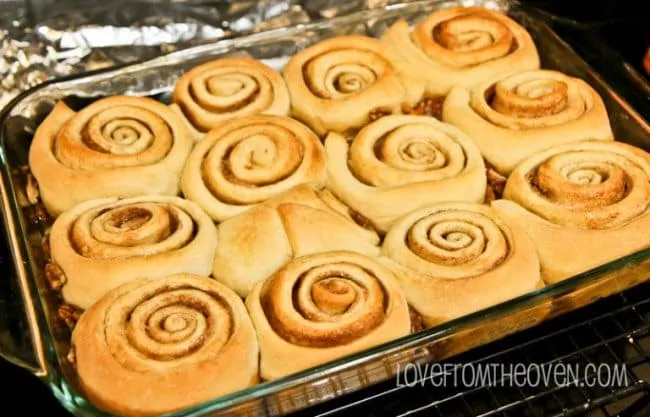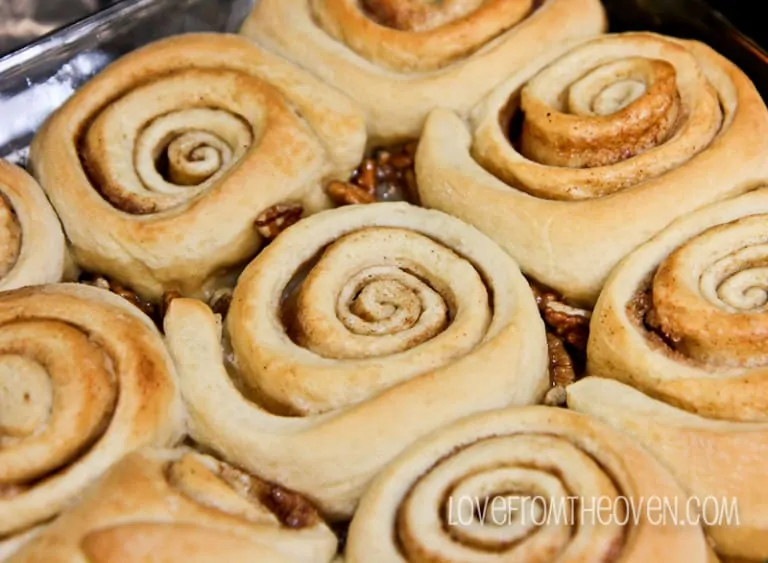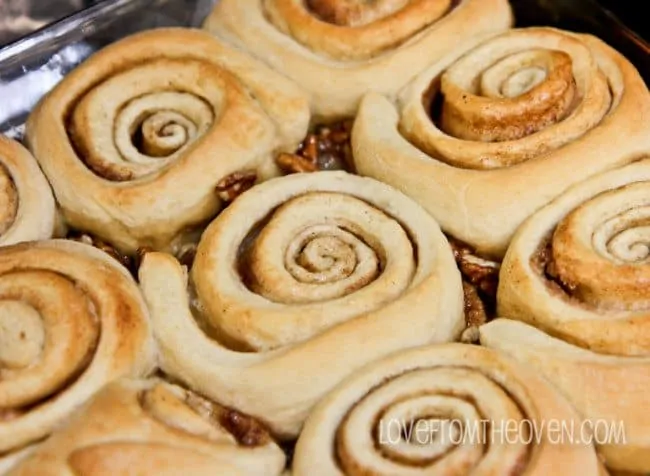 Take them out and turn them over and my oh my.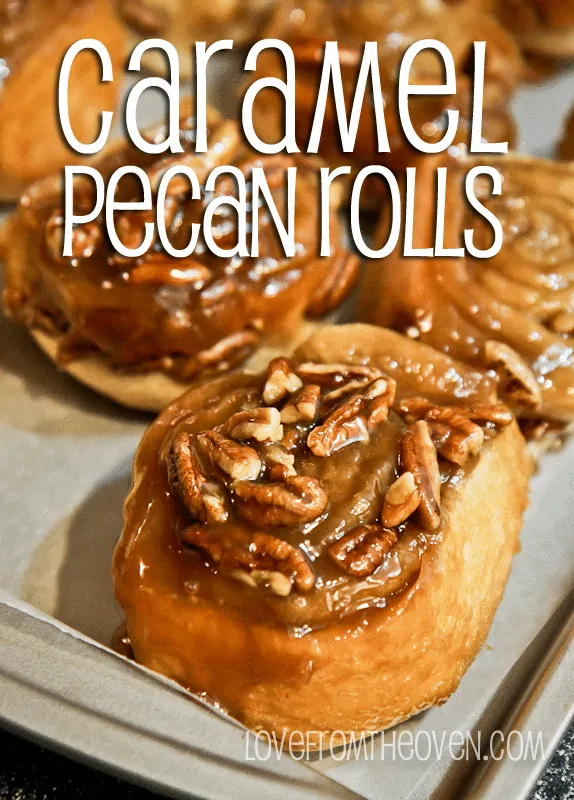 How you doin?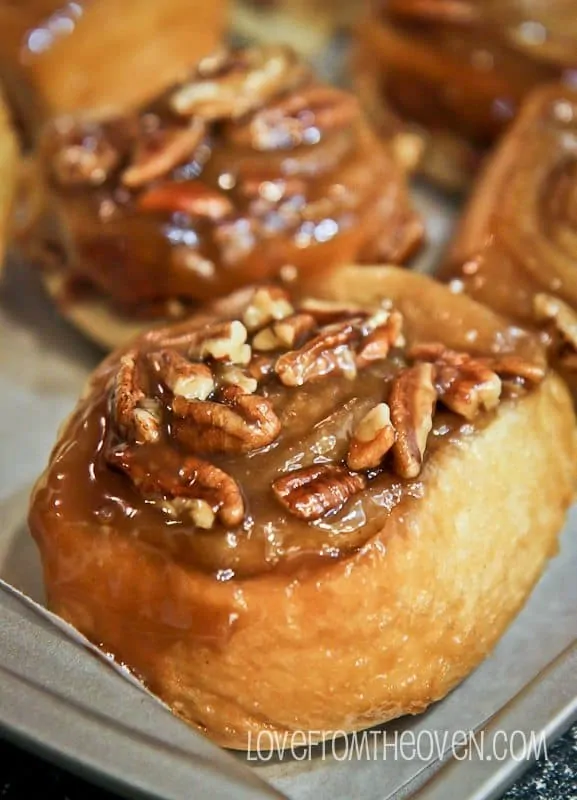 These somehow manage to taste like ten times more amazing than they look.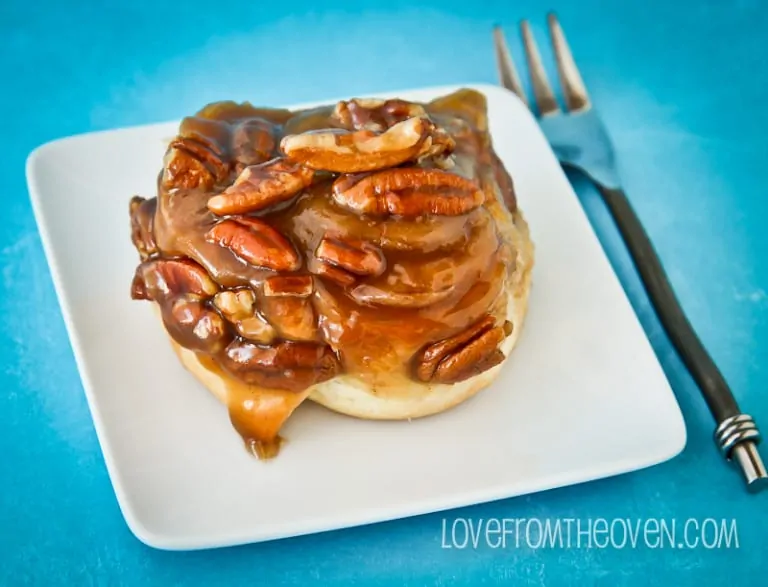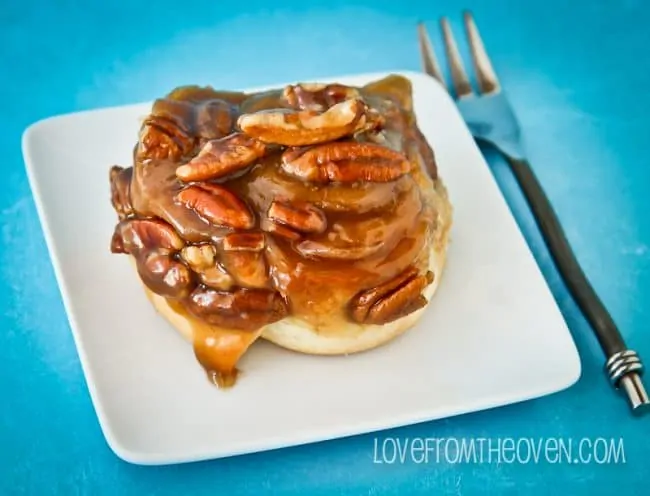 This would be an incredible Christmas morning breakfast. I made this recipe at night and baked them right before bed. They were fabulous in the morning, moist and soft and delicious. They do have make ahead directions if you want to make them and bake them the next day, but I will say these were great the next morning. And I don't feel like "Great" even does them justice.
Find the recipe for these over at Breadworld.com and make sure to visit Become A Better Baker for lots of great recipes, tips, tricks and awesome helpful videos that make baking easier. You can also visit them on Facebook and follow along on Pinterest.
If you love caramel as much as I do, make sure to also try my caramelitas!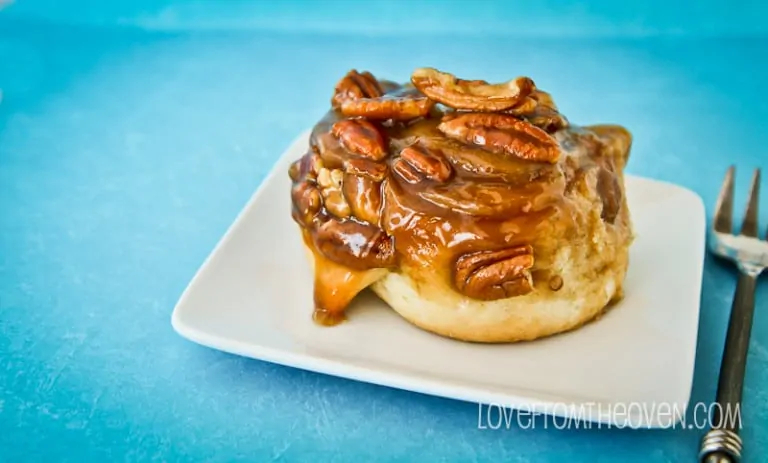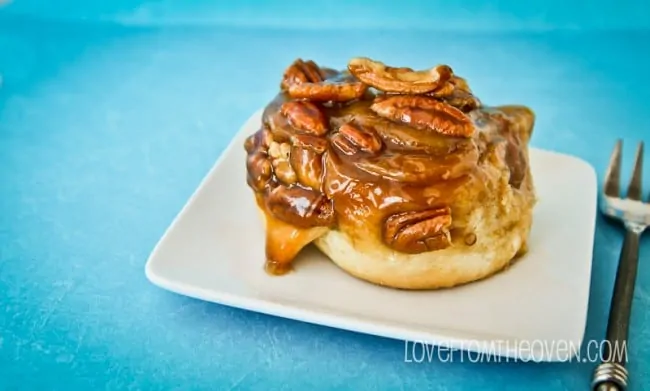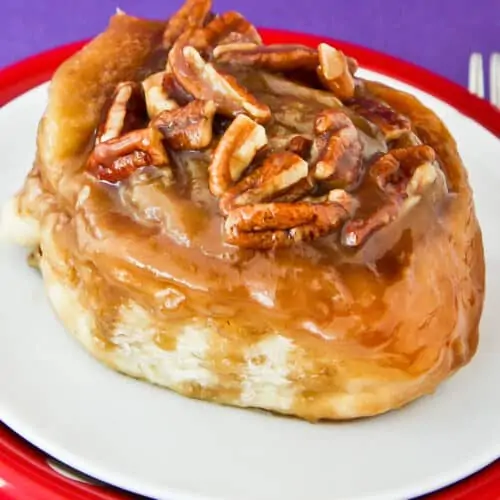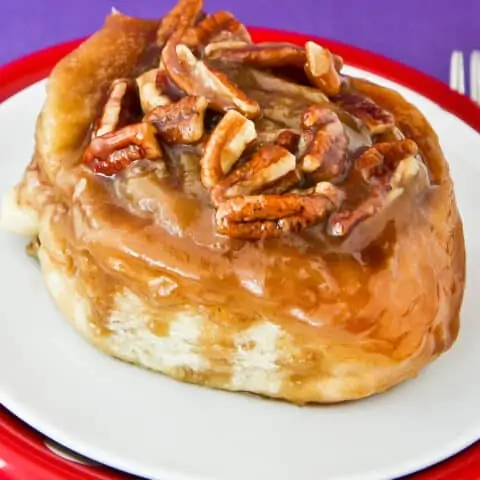 Caramel Pecan Rolls
Ingredients
Rolls:
1

cup

butter

softened

1/2

cup

sugar

2

teaspoons

salt

2

eggs

3

envelopes Fleischmann's® RapidRise Yeast

(or 6 3/4 tablespoons measured)

7-1/2 to 8

cups

flour

2-1/4

cups

very warm water

120° to 130°F – but not hotter

9

tablespoons

butter

melted

1

cup

sugar

2

tablespoons

Spice Islands® Ground Saigon Cinnamon

2

cups

chopped pecans

this equals 8 ounces
Caramel Syrup:
2

cups

butter

2

cups

brown sugar

1/2

cup

Karo® Light Corn Syrup

1-1/4

teaspoons

Spice Islands® Pure Vanilla Extract

3

cups

whole pecans

this equals 12 ounces
Instructions
For Rolls:

Mix 1 cup butter, sugar and salt in a large bowl. Add eggs. In a separate bowl, combine yeast and 4 cups flour; mix thoroughly.

Add flour mixture to butter/sugar mixture, then add water. Mix well and add an additional 3-1/2 to 4 cups of flour, 1 cup at a time, until soft smooth dough forms. Turn out on lightly floured surface. Knead until smooth.

Cover and let dough rest 10 minutes. Divide dough into 3 equal portions.

Roll each portion out to an 14 x 8-inch rectangle on a lightly floured surface. Brush each with 3 tablespoons melted butter. Combine 1 cup sugar with cinnamon. Sprinkle 1/3 cup cinnamon sugar and 2/3 cup chopped pecans on each rectangle. Roll up from long side. Cut each roll into 8 slices.

For Caramel Syrup:

Melt butter in a saucepan. Add brown sugar, corn syrup and vanilla. Stir until blended. Place 1 cup caramel syrup and 1 cup pecans in each of three 13 x 9-inch pans. (Or 1/2 cup syrup and 1/2 cup pecans in 8-inch square baking pans). Place 8 rolls per 13 x 9-inch pan, or 4 rolls per 8-inch pan, cut side down. Cover; let rise until double, about 45 to 50 minutes.

Bake Caramel Pecan Rolls at 325°F for 15 to 20 minutes for 8-inch pans and 20 to 25 minutes for 13 x 9-inch pans. Cool slightly before turning out of pan.

To Freeze: Follow recipe as recommended up to and including when rolls are shaped and placed in pan. Tightly wrap rolls and pan with plastic wrap and foil. For best flavor, thaw and bake within one week of freezing.

To Thaw: Place pan of rolls covered in refrigerator overnight. Remove from refrigerator and continue the thaw and rise process at room temperature. When thawing at room temperature, allow at least 2 hours for rolls to rise after removing from the refrigerator. If rolls are not rising, boil a pot of water, remove from heat, cover the pot with a wire rack and place pan of rolls, covered with a cloth on top of rack. The steam will warm the dough to speed the rising process. Once the rolls have doubled in size, bake according to recipe.
Nutrition
Calories:
599
kcal
|
Carbohydrates:
53
g
|
Protein:
5
g
|
Fat:
43
g
|
Saturated Fat:
19
g
|
Polyunsaturated Fat:
6
g
|
Monounsaturated Fat:
16
g
|
Trans Fat:
1
g
|
Cholesterol:
86
mg
|
Sodium:
425
mg
|
Potassium:
147
mg
|
Fiber:
3
g
|
Sugar:
37
g
|
Vitamin A:
872
IU
|
Vitamin C:
0.2
mg
|
Calcium:
44
mg
|
Iron:
2
mg
Disclaimer
Nutrition information is estimated as a courtesy. If using for medical purposes, please verify information using your own nutritional calculator. Percent Daily Values are based on a 2000 calorie diet.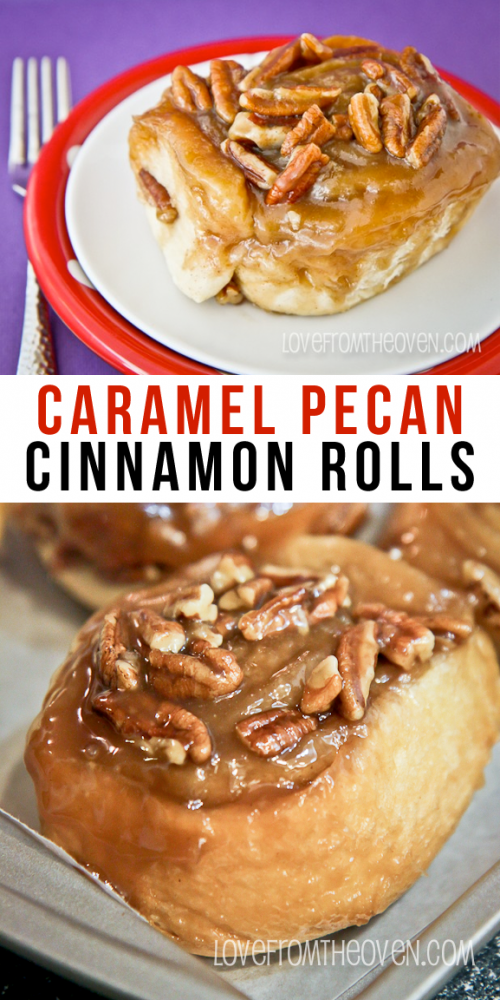 Disclosure: I was compensated for this post by BecomeABetterBaker.com, but all opinions are, as always, mine and mine alone!