Ice cream sandwiches are an all time favorite of mine. You get two desserts in one, with a fabulous combo of both flavors and textures. While I love the classic ice cream sandwich combo of chocolate cookies and vanilla ice cream, my absolute favorite ice cream sandwich combines snickerdoodles with a vanilla and caramel ice cream. There is something about the combo of cinnamon and caramel that is pretty perfect in my opinion. I had a caramel snickerdoodle ice cream sandwich on vacation once, and ever since then I've been wanting to recreate the same deliciousness at home. The time has come.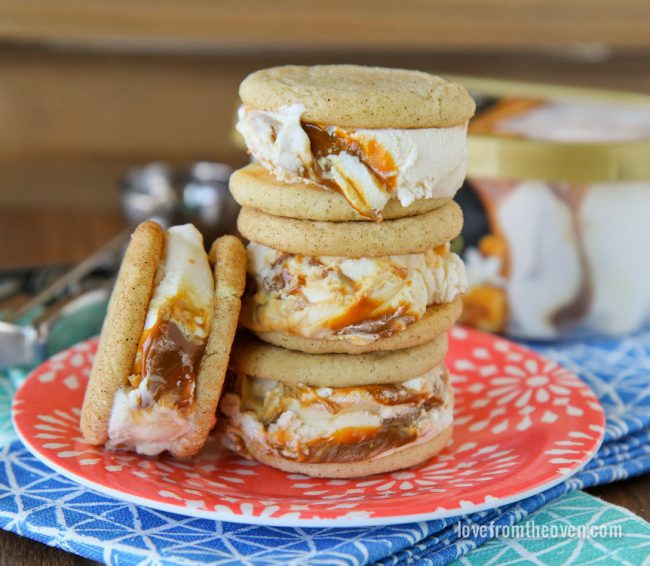 My friends at Safeway asked me if I would like share how we enjoy the new Breyers® Gelato Indulgences™. As soon as I saw the Vanilla Caramel flavor, I knew that I needed to pair it with snickerdoodles! Thanks to Safeway for sponsoring this post.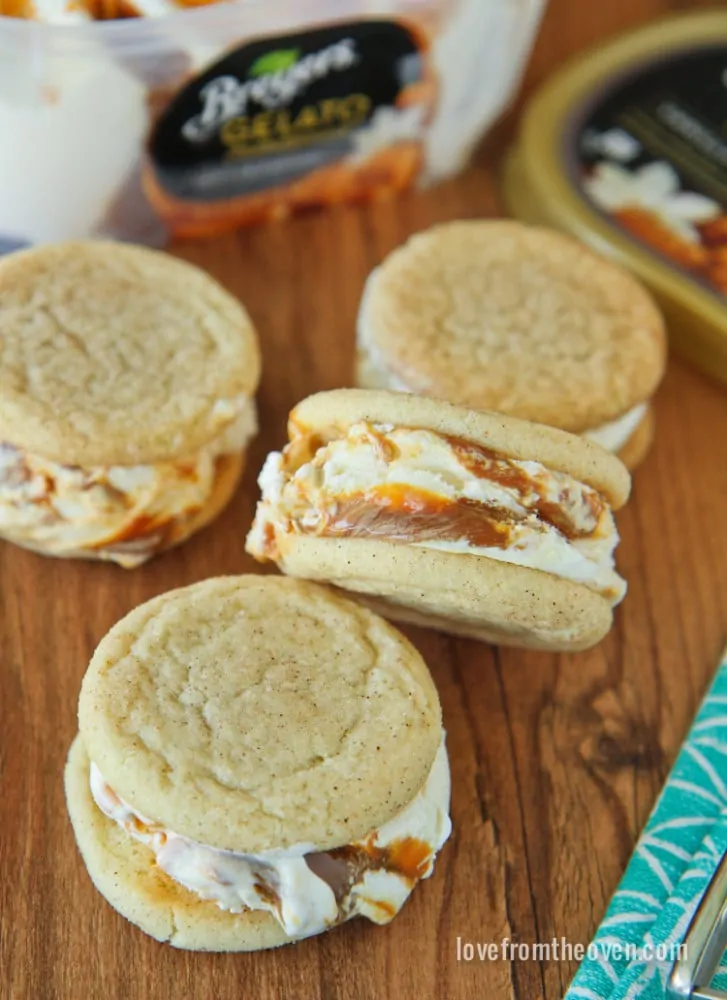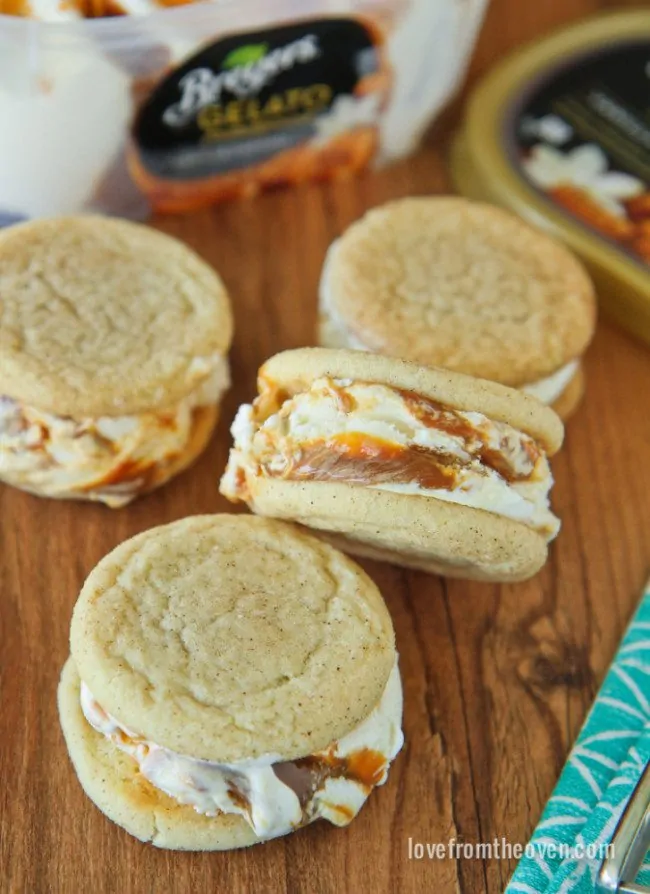 Breyers® Gelato Indulgences™ are new at my local Safeway. I love that Safeway makes it so easy to spot new products with their "NEW" tag on store shelves. They had a great selection of flavors. In addition to the Vanilla Caramel that I went with, they also had Chocolate Caramel, Raspberry Cheesecake, Tiramisu, Mint Chocolate and Cappuccino. Lots of awesome flavors to pick from. I bet the Mint Chocolate would be amazing sandwiched between two chocolate cookies! I love that the Breyers® Gelato Indulgences™ look just like the gelato at gelato shops I've been to, but they are much more convenient in my freezer, that's for sure!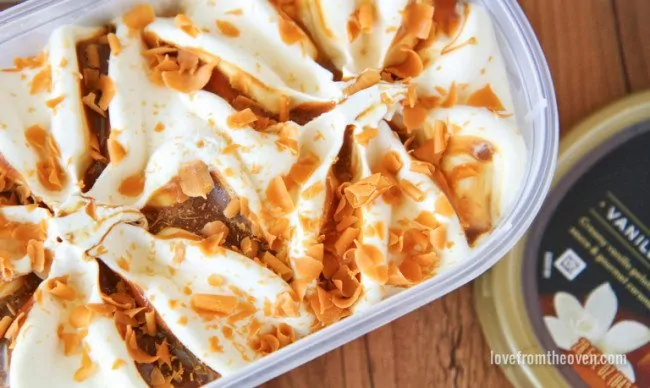 If you've never made ice cream or gelato sandwiches at home, they simply could not be easier. The only thing I really do different when I'm baking cookies to use for ice cream or gelato sandwiches is when I pull them out of the oven, I immediately give them a gentle press down with the bottom of a glass, just to flatten them a bit. While this isn't necessary, I find it makes them a bit easier to stack or store in my freezer.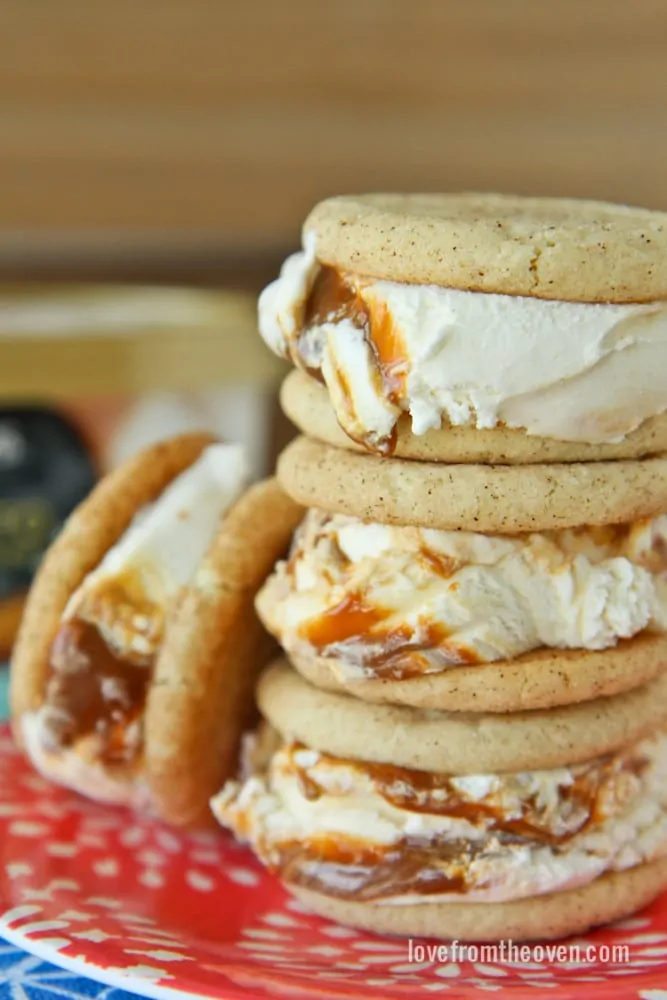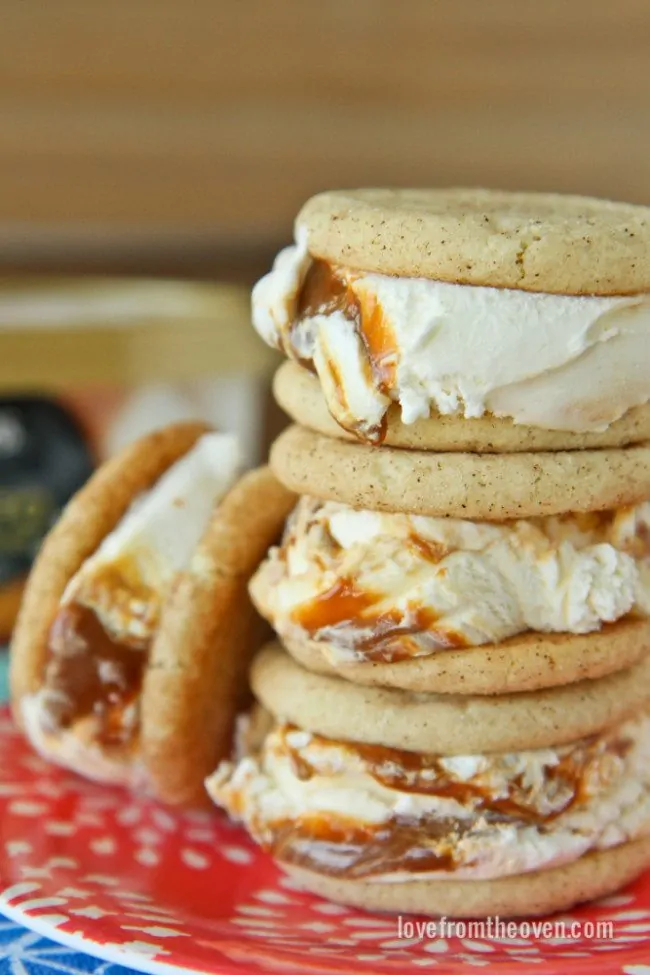 Look at all of that caramel! That's all from the Breyers® Gelato Indulgences™ Vanilla Caramel – no extra caramel added! You can use a knife or the back of a spoon to swipe the gelato around the sandwich after filling it for a "neater" look, but I feel like leaving them as is adds to the charm. Well that and I like to leave my caramel nice and gooey, just like it is!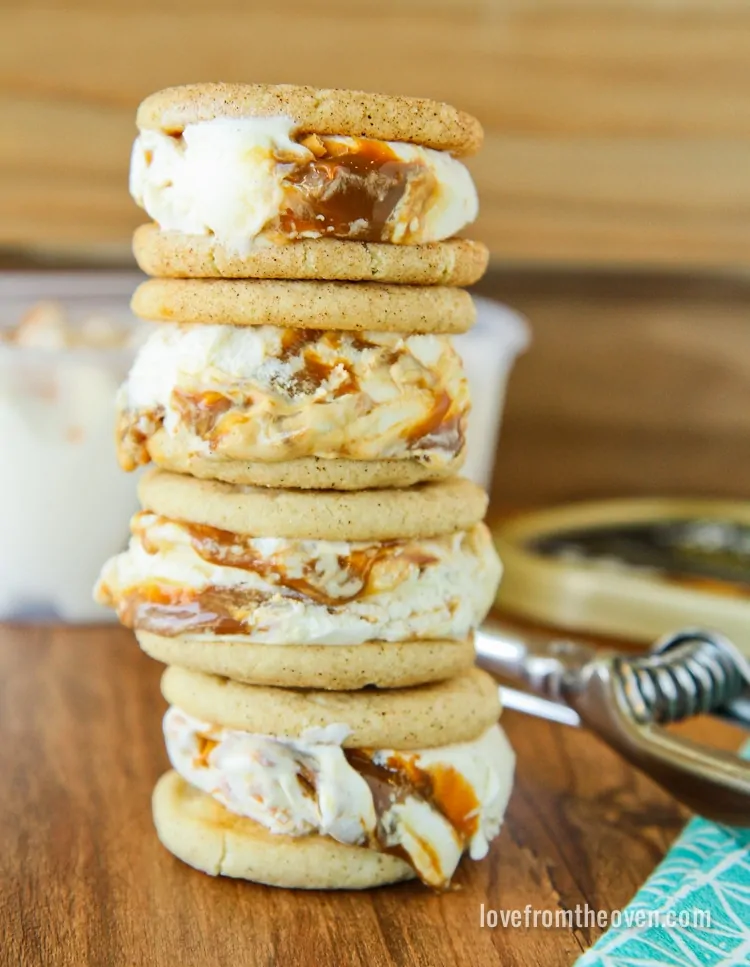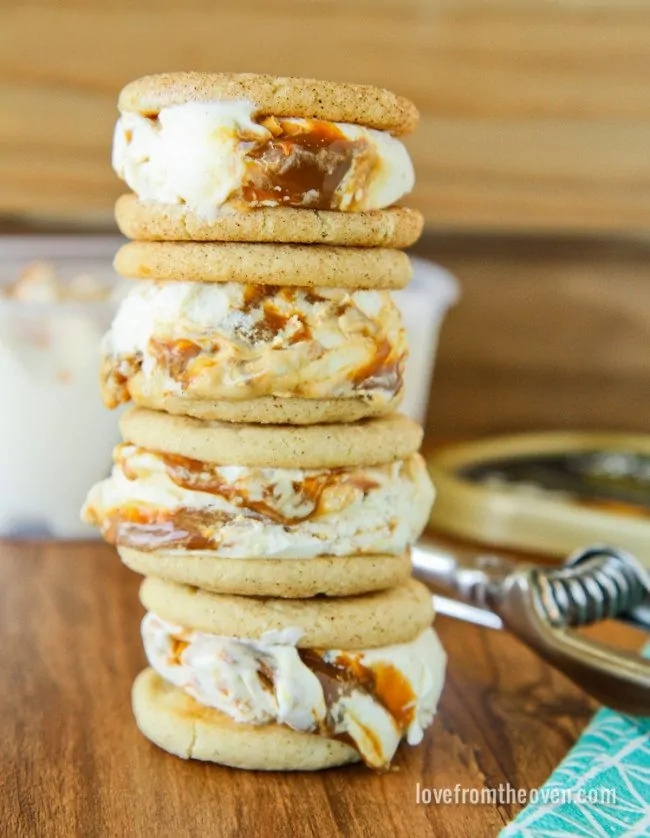 While you need to make sure your cookies are totally cool before place your gelato on them, I go the extra step and actually freeze my cookies prior to placing the gelato on. However, I do live in Phoenix, so things can get melty here a bit more quickly than in other areas. I like to freeze my cookies, fill them with gelato, turn them into sandwiches, then pop them back in the freezer, wrapped in foil. This works well if you want to have a number of sandwiches ready at the same time for get togethers or parties.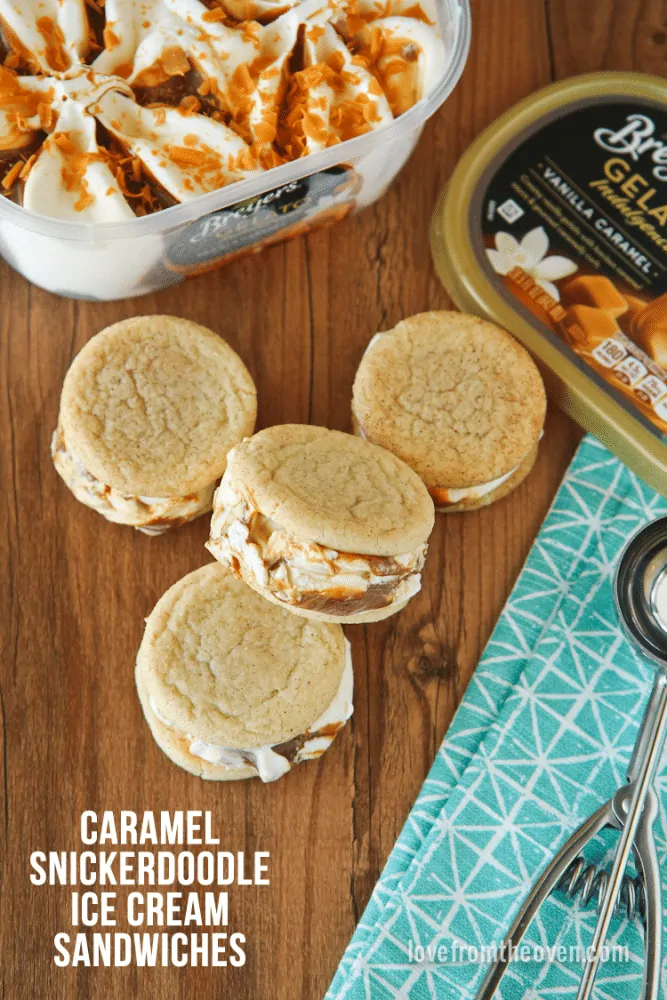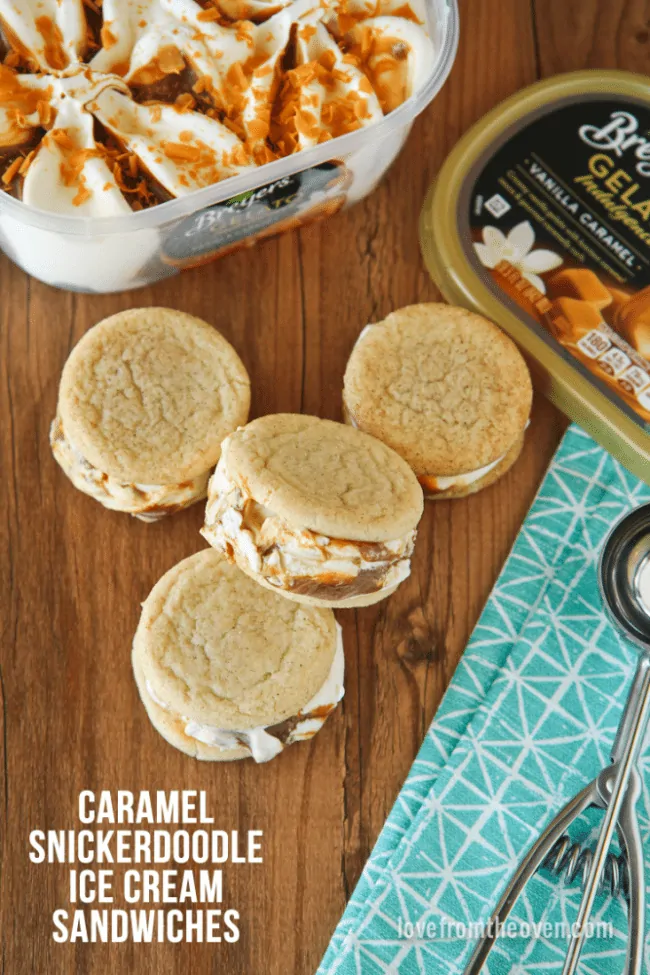 This recipe makes approximately 36 snickerdoodles, about 3 inches in diameter. You can fill some with gelato, or buy two containers of gelato and fill them all! Another great option is to crumble up a snickerdoodle and add it to a scoop of gelato in a bowl.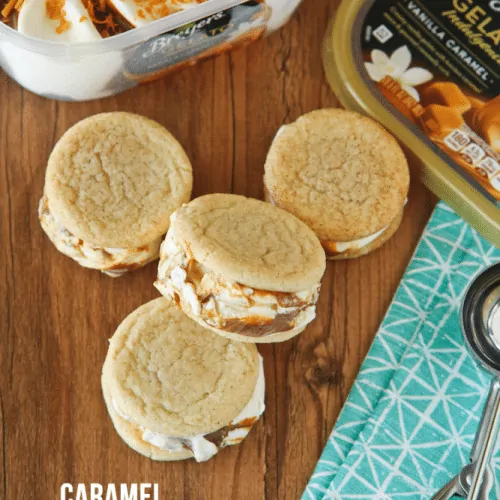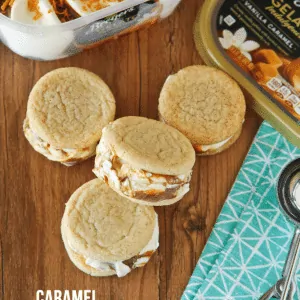 Caramel Snickerdoodle Gelato Sandwiches
Ingredients
3 3/4

cups

flour

1

teaspoon

baking soda

1/2

teaspoon

baking powder

1

teaspoon

cream of tartar

1

cup

butter

2 sticks

1 3/4

cups

granulated sugar

2

eggs

1/4

cup

milk

1

teaspoon

vanilla
Topping
5

tablespoons

sugar

2

teaspoons

cinnamon
Breyers® Gelato Indulgences™ Vanilla Caramel Gelato
Instructions
For the dough:. In a bowl, sift together the flour, baking soda, baking powder and cream of tartar. Set aside.

In a separate bowl, cream the butter and sugar until fluffy. Add the eggs, milk and vanilla. Mix well.

Stir in the dry ingredients. Stir until just combined.

Cover bowl (or remove dough from bowl and wrap in plastic wrap) and chill for 2+ hours. You can chill for up to 24 hours if you have time.

When ready to bake, Preheat the oven to 350 degrees. Form the dough into 1 inch balls. Mix cinnamon and sugar in a small bowl and roll each ball of dough through the cinnamon and sugar mixture to coat well.

Place on a greased baking sheet or a cookie sheet covered with wax paper or silicone baking mat.

Bake 8-9 minutes. Do not overbake. Allow to cool on baking sheet for at least ten minutes before transferring to a wire cooling rack.

Allow cookies too cool completely. Once completely cool, place a small scoop of Breyers® Gelato Indulgences™ on the back of one cookie, and create a sandwich by placing another cookie on top. Serve immediately or wrap tightly in plastic wrap or foil, and store in the freezer. Enjoy!
Disclaimer
Nutrition information is estimated as a courtesy. If using for medical purposes, please verify information using your own nutritional calculator. Percent Daily Values are based on a 2000 calorie diet.
I hope you enjoy these caramel snickerdoodle gelato sandwiches as much as we do! I absolutely adore this flavor combo! Make sure to check out what is new at your local Safeway, Vons, Pavilions, CARRS, Tom Thumb or Randalls store.
Disclosure: This post was sponsored by Safeway Inc. All opinions however are mine and mine alone.