Who says you can't have chocolate, or cookies, for breakfast?  Not me!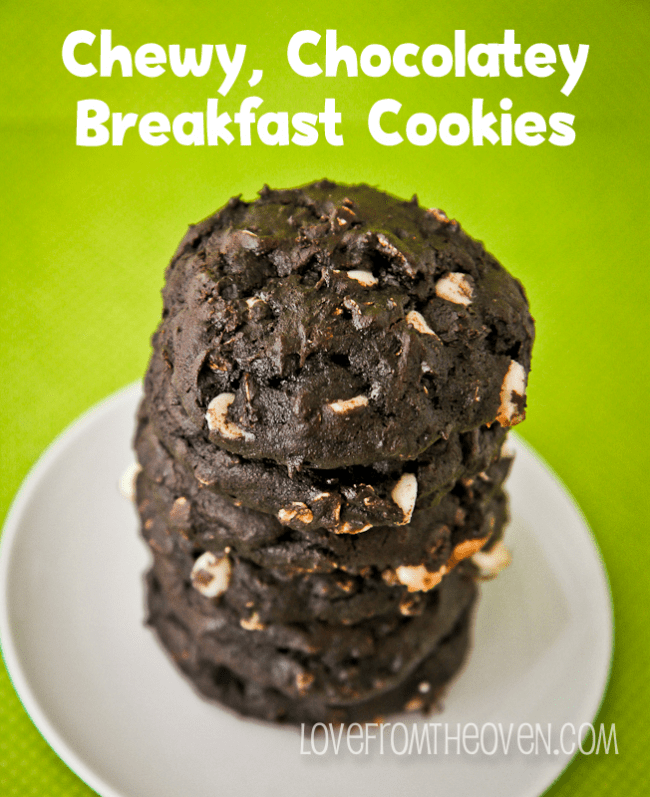 But these aren't just any cookie.  These are packed full of whole grains with whole wheat flour and oats.  They have protein and calcium from Greek yogurt.  Potassium, vitamins & fiber from bananas.   With only 1/4 of a cup of butter, compared to the standard cup of butter in most cookie recipes, these cookies are a-okay to start your day with.   The ingredient list is super similar to what I use to make muffins, but somehow calling it a cookie makes it feel even more decadent.  It's a little easier to get out of bed at the crack of dawn if there is a chocolate cookie waiting for you.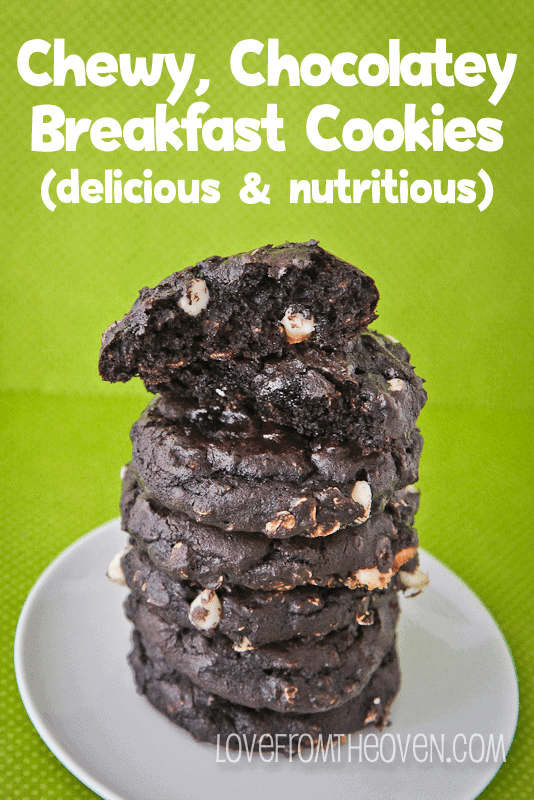 After recently making Chocolate Chunk Breakfast Cookies…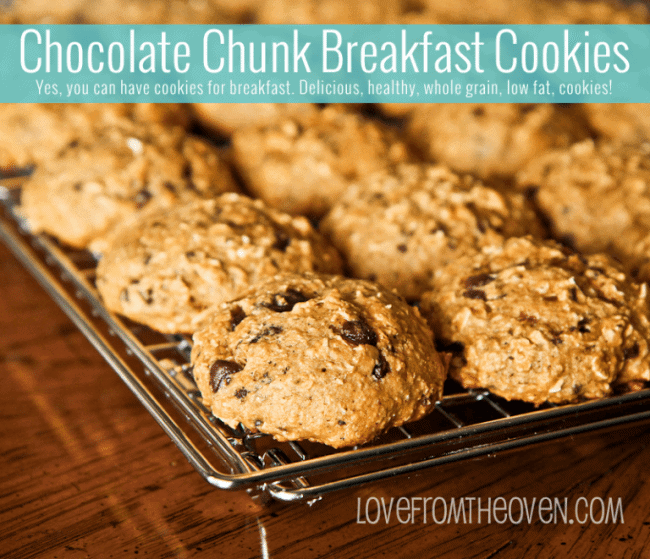 my daughter insisted that I come up with a chocolate breakfast cookie.  Challenge accepted.  And owned.   These are GOOD.   Like good for any cookie GOOD.   The fact that are made with whole wheat, oatmeal, yogurt and banana are like a really happy bonus.    Seriously.  MAKE THESE COOKIES.  Trust me.    Big, chewy, fudgey, moist, chocolatey cookies.   You won't miss all the extra butter or white flour, I promise!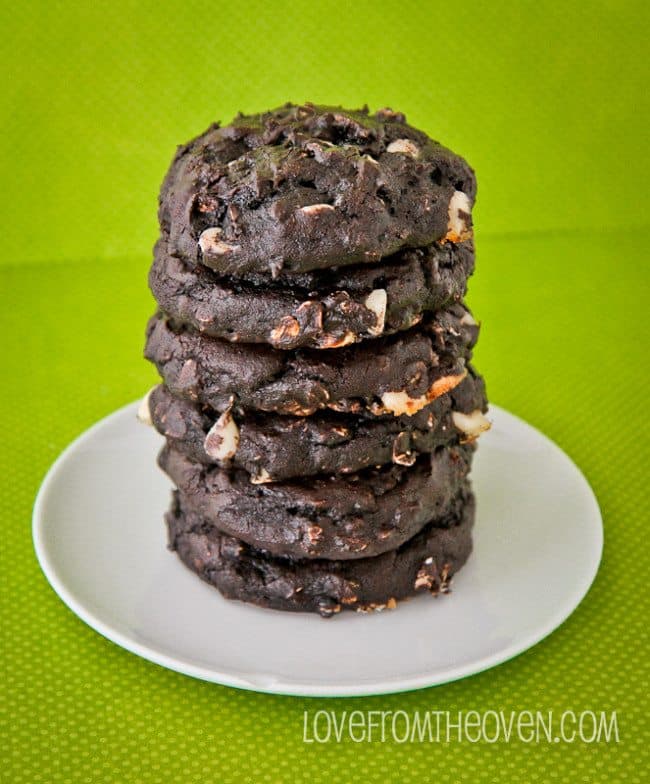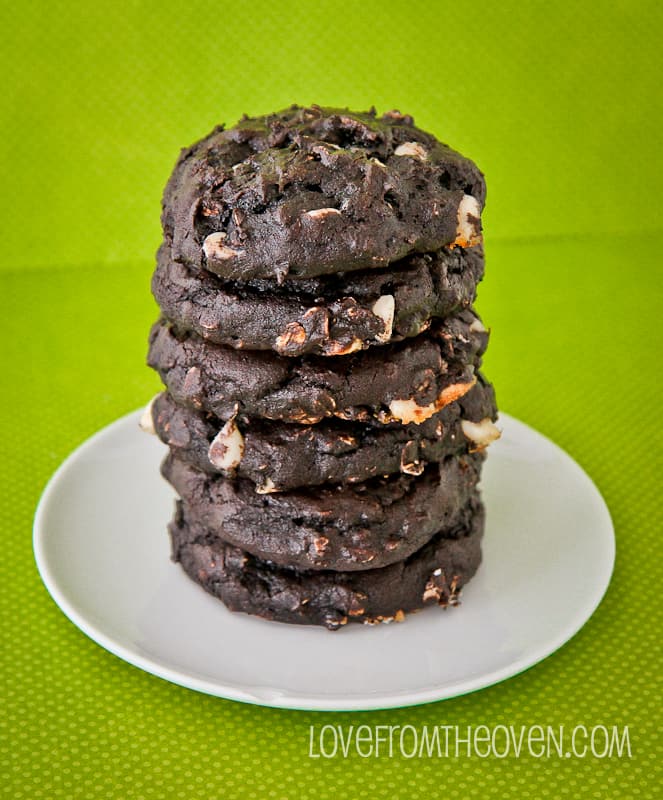 These are pretty simple and straight forward, like making any other cookie.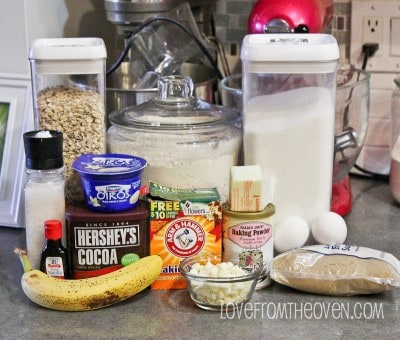 Because of the yogurt, when you mix the ingredients they take on a slightly curdled look.  That's okay, don't freak out. 🙂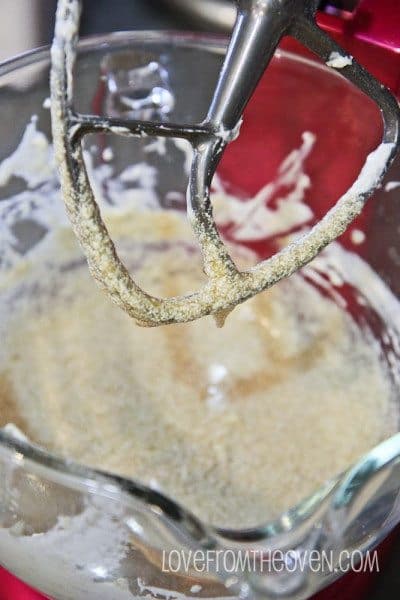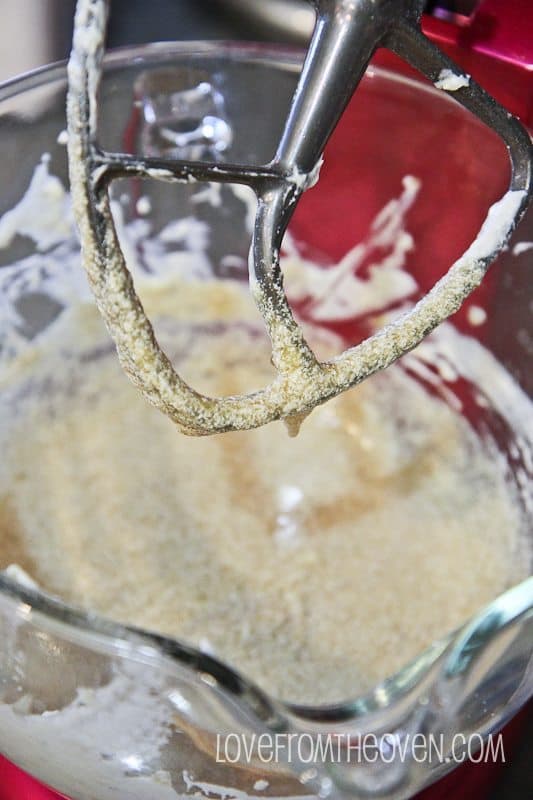 The dough is pretty sticky, so if you have parchment paper or a Silpat, pop those onto your cookie sheet prior to baking.  Otherwise just make sure to get them off of your baking sheet as soon as you get them out of your oven.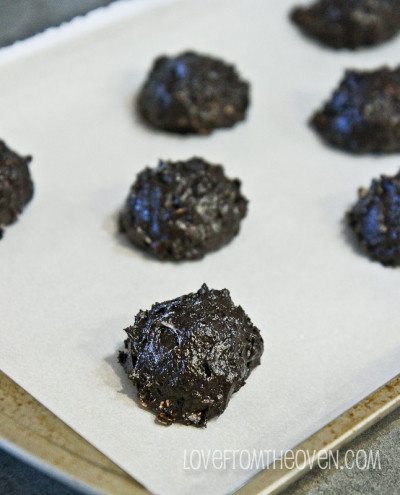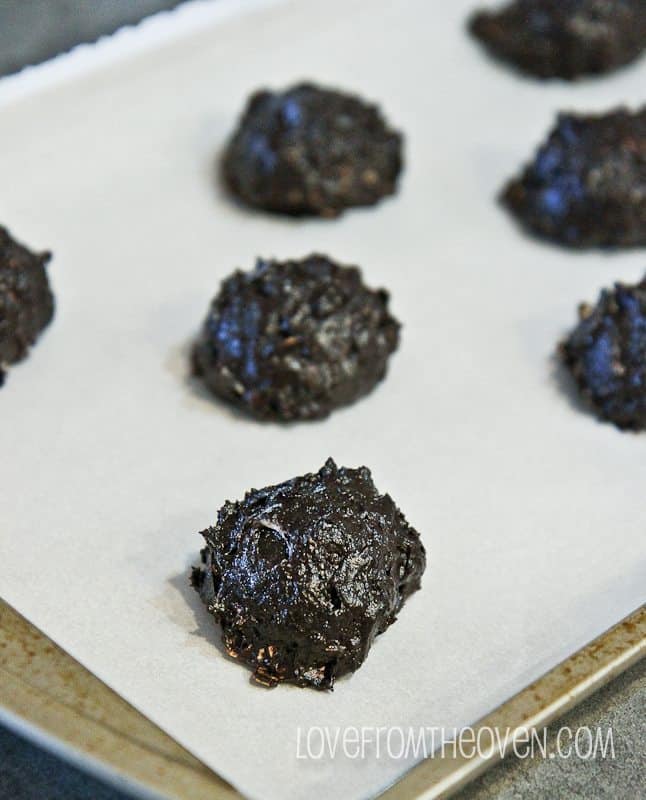 I used a cup of white chocolate chips in these, but by all means, go with milk, dark, semi-sweet chocolate chips, nuts or any other mix in that strikes your fancy.  I can't add nuts due to my daughter's nut allergy, but boy these would rock with some walnuts in them!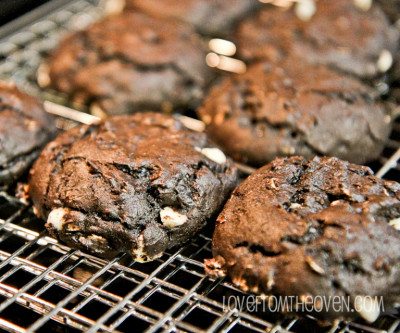 Okay, here is the recipe!   This made 24 generously sized cookies for me, but you could always make slightly smaller cookies if you want.   I put about eight of them in a container and put the rest in a freezer bag and popped them into the freezer.  I love to keep the freezer stocked with muffins and things like this, they are the ultimate quick and easy grab and go breakfast or snack.   Enjoy!
Chocolate Breakfast Cookies
Cookies for breakfast? Absolutely! These cookies are packed full of whole grains with white whole wheat flour and oats, have protein and calcium from Greek yogurt and the goodness of bananas. With only 1/4 cup of butter, they are much lower in fat than your standard cookie, yet are packed full of delicious flavor. Feel free to substitute your favorite mix-ins in place of the white chocolate chips, or even leave them out, they will still taste great! These are a great start to the day for picky eaters!
Ingredients
1 1/4 cups white whole wheat flour
1 1/2 cup oats
2/3 cup cocoa powder, preferably dark cocoa
1/4 tsp salt
1 tsp baking soda
1 tsp baking powder
1/4 cup of butter, softened
1/2 cup Greek yogurt (I used vanilla flavor)
1 large ripe banana
1/2 cup sugar
2/3 cup brown sugar
2 tsp vanilla extract
2 eggs
1 cup White Chocolate Chips or other mix in of your choice
Instructions
Preheat oven to 350 degrees.
In a large bowl, combine your white whole wheat flour, oats, cocoa powder, salt, baking soda and baking powder. Set aside.
In a mixing bowl, combine your softened butter, Greek yogurt and banana. Mix with a mixer until smooth. Add in sugar and brown sugar and mix until well combined. Mixture may have a slightly curdled appearance due to the yogurt, don't worry, this is okay. Add in your eggs and vanilla and mix well.
Slowly add in dry ingredients to wet ingredients, stirring until combined, but not over mixing. Add in your chocolate chips or other mix ins.
Drop your cookies onto a cookie sheet lined with parchment paper or a Silpat (if you do not have these, make sure to lightly spray your pans with cooking spray and remove cookies immediately after taking out of the oven, to avoid sticking). Use approximately two tablespoons of cookie dough per cookie (a large cookie scoop). Leave 2" of space between cookies.
Bake for approximately 10-12 minutes. Remove from oven and allow to cool.
Enjoy!
Leftovers can be stored in freezer bags in the freezer. Take a cookie out for breakfast and pop into the microwave for a few seconds to defrost.
https://www.lovefromtheoven.com/chewy-chocolatey-breakfast-cookies/
Want to try another breakfast cookie?  Don't miss the peanut butter banana white chocolate version!