It's football season. While I may not exactly be up to date on everything (okay, anything) football related, I am always up for game day snacks, especially fun bite sized ones. For today's Waffle Wednesday, a number of Eggo Chief Waffle Officers, like myself, are sharing fun ways to work Eggo Waffles into your game day eats. Chicken And Waffle Bites anyone?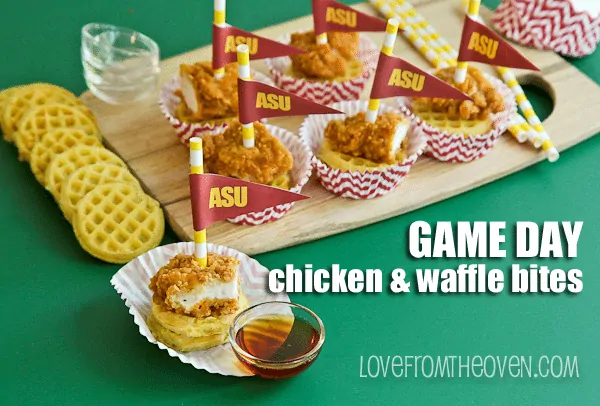 These are so fun and so easy to make. If you are so inclined, you can make your chicken for these from scratch, giving you some flexibility in the spices and flavors. Another option is to pick up some frozen chicken and heat it up at home, or if you are really short on time you can pick up some chicken nuggets from a restaurant or ready made chicken at the deli. Whatever works for YOU! You could go a different direction for a brunch and serve sausage on them as well. This is one of those ideas that is completely flexible, which is always fun.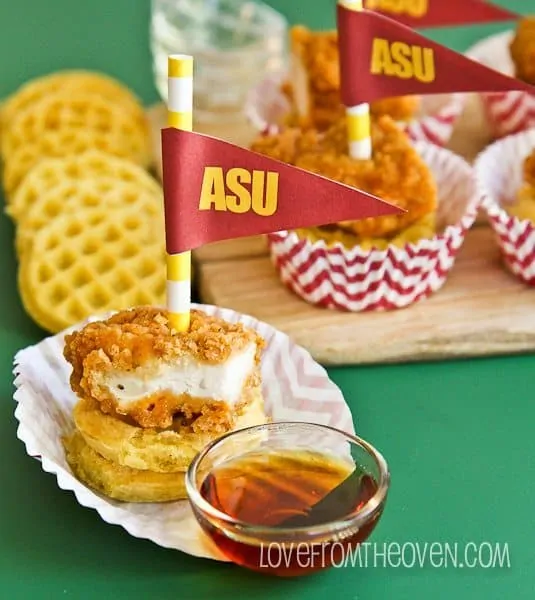 For a fun presentation I placed each Waffle Bite, consisting of two Eggo Homestyle Mini Waffles and a bite sized piece of chicken, into a cute cupcake wrapper and used fun paper straws as skewers to hold them together. If you want to personalize it for your favorite team, pick your team colors for the cupcake wrappers and straws (Maroon and Gold for me, I'm an Arizona State University alumni) and you can even add little paper flags to really show your team spirit.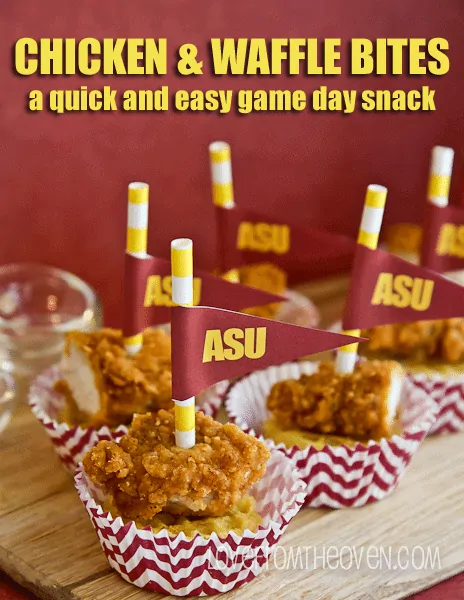 You can spin this any way you want, game day, birthday party, holiday – depending on the colors and presentation, it can be anything you like. It's fun and super simple and they took just minutes to assemble. My kind of snack!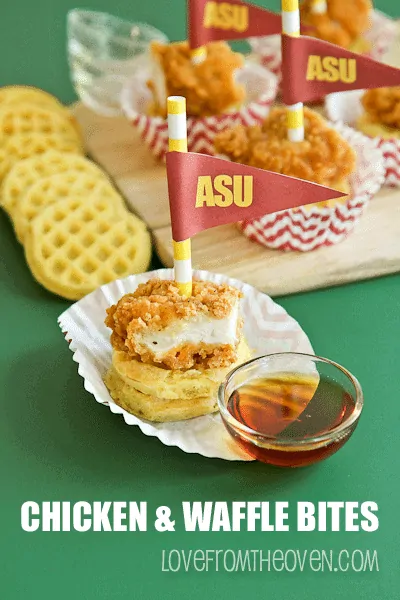 I used small containers to hold syrup on the side for dipping. You could certainly drizzle syrup over each one, maybe between your waffles and chicken, but I prefer a less sticky presentation.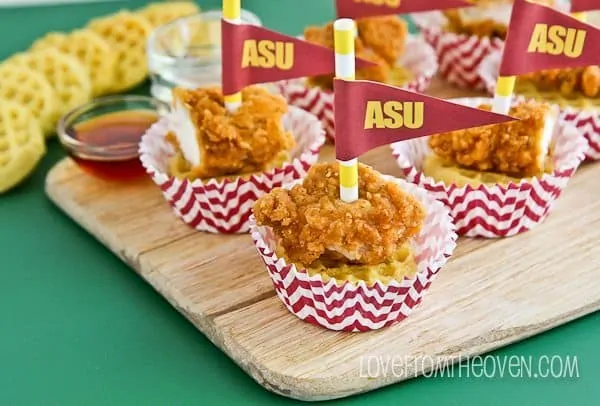 A different take on these would be using Eggo Cinnamon Toast Waffles along with some sausage – I think that would be absolutely delish and a really fun item on a brunch table.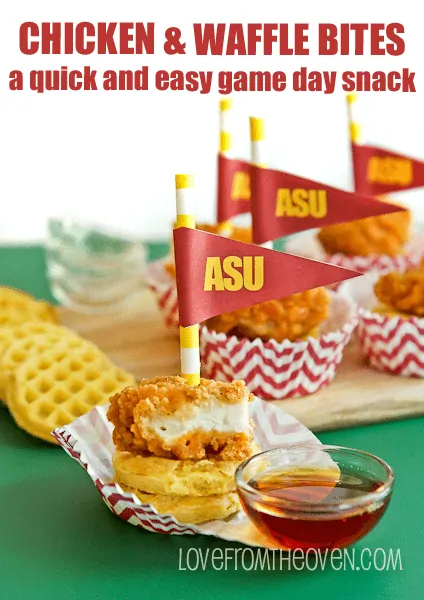 Do you have a fun idea for a recipe using Eggo Waffles? Make sure to head over to the Eggo Waffles Facebook page and enter it in The Great Eggo Waffle Off. You would win $5,000 with your recipe. Yes $5,000! So head on over, that's a contest not to be missed out on. While you are there check out all of the delicious recipes that are already entered.
Waffle lovers, I will see you back here next week for another #WaffleWednesday.
Disclosure: Kellogg's sponsored this post and I am compensated for being a Chief Waffle Officer. That said, all opinions are, as always, mine and mine alone.