If you love chocolate you are going to want to make these Brownie Truffle Fries, also called Chocolate Fruffles!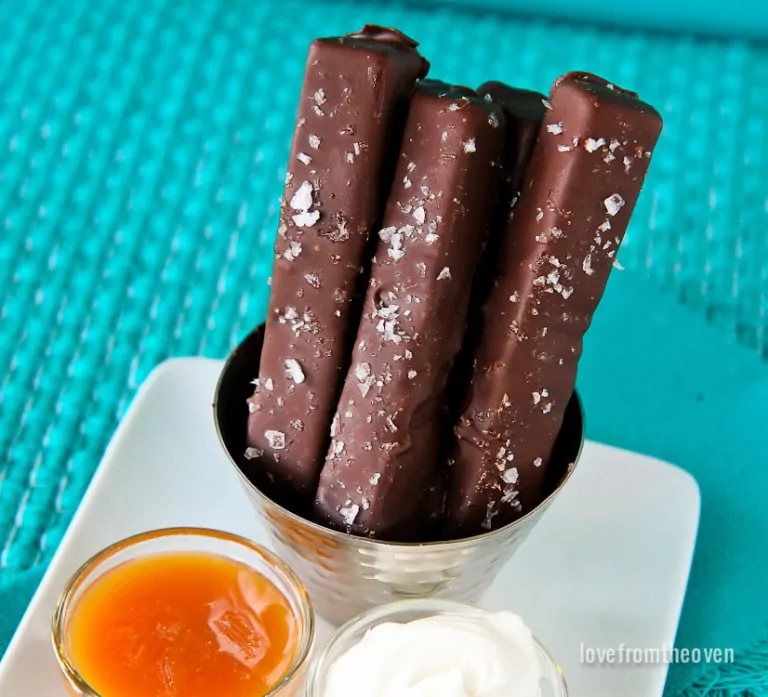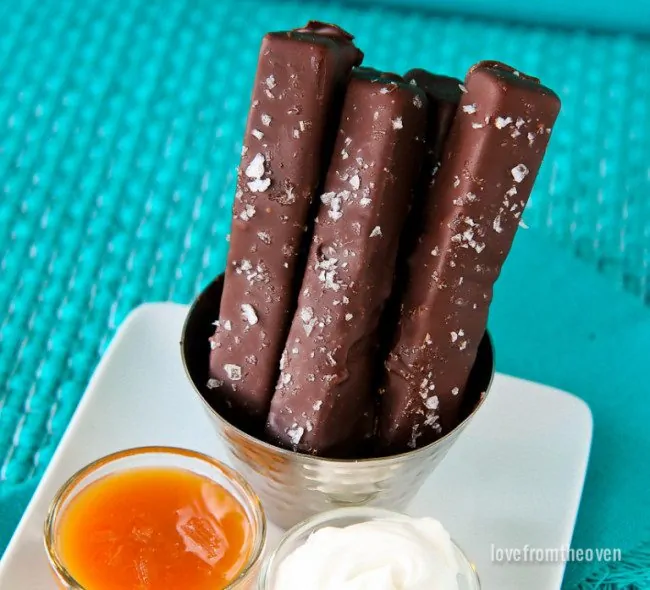 We recently tried the Chocolate Fruffles from Red Robin. They are described as "soft fudge brownies dipped in dark chocolate and bejeweled with French sea salt and sugar crystals." Brownies, chocolate and sea salt – I mean how do you say no to THAT?
Since my oldest daughter has food allergies she can't eat most restaurant desserts (don't worry, we tried these on a night she wasn't with us), I decided I had to recreate these at home so she could try them.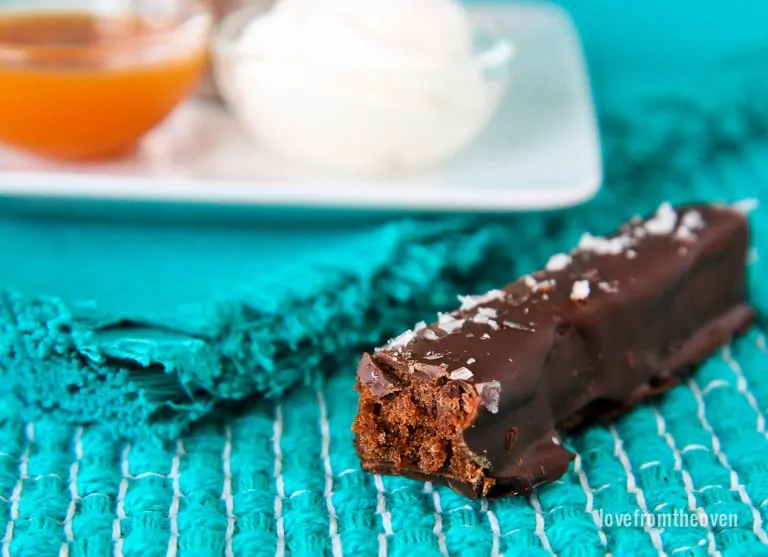 These are really easy to make and they taste amazing. And let's be honest, they are fun! I think it's safe to say that these totally stand up to the ones you'll find at Red Robin. I might even go out on a limb and say I like this brownie truffles recipe better than the Chocolate Fruffles recipe.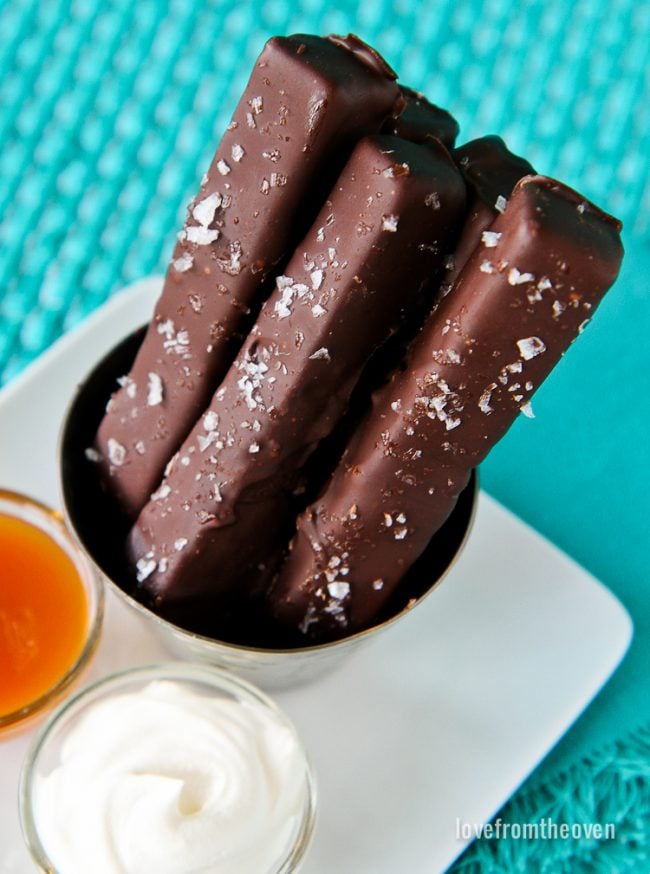 The brownie center is moist and rich, and not overly sweet, and when it's combined with a delicious chocolate shell and served with dipping sauces such as salted caramel sauce, hot fudge, jam or whipped cream – it's a pretty amazing and impressive dessert.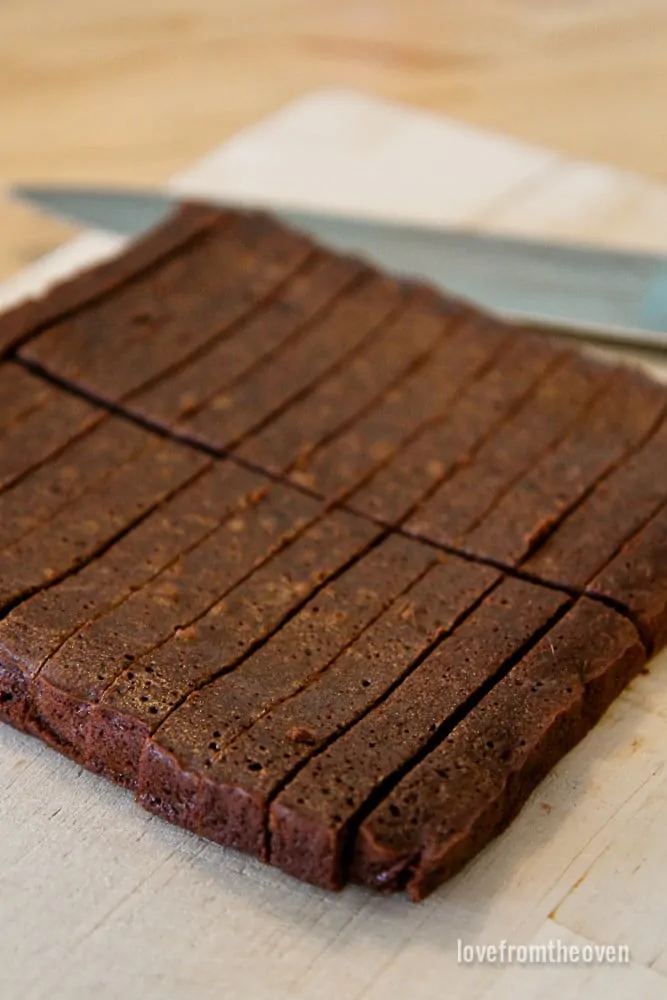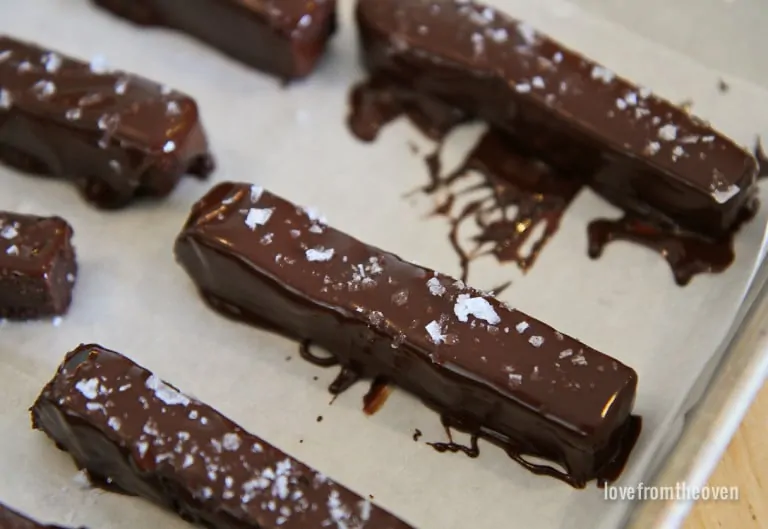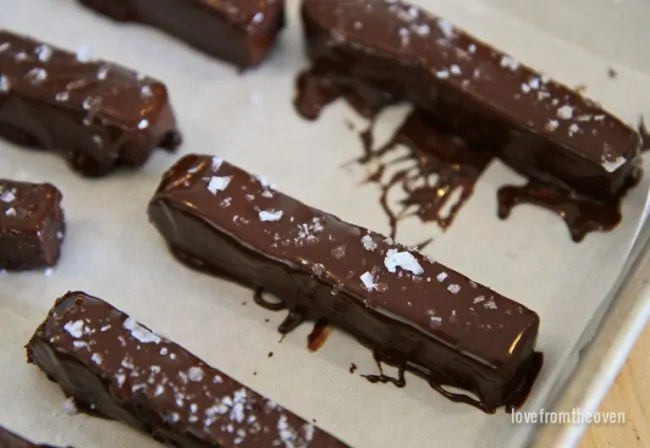 While this recipe calls for each brownie "fry" to be dipped in chocolate, you can absolutely cut back on the amount of chocolate you use and just cover the top of each fry in chocolate. It will still be a fabulously decadent dessert. If you go for the full chocolate coating, they are rich! One (maybe two) is more than enough for a dessert serving, especially if you serve it with dipping sauces.
This recipe can really go a long way when sharing with friends and family as it makes 24 brownie fries. You store these in the refrigerator, so this is a great dessert to make ahead of time, and the chocolate coating really seals the moisture into the brownie, so you could even make them two or three days in advance and they will still be fabulous.
Looking for something a bit simpler but equally delicious? Try my EASY BROWNIES recipe.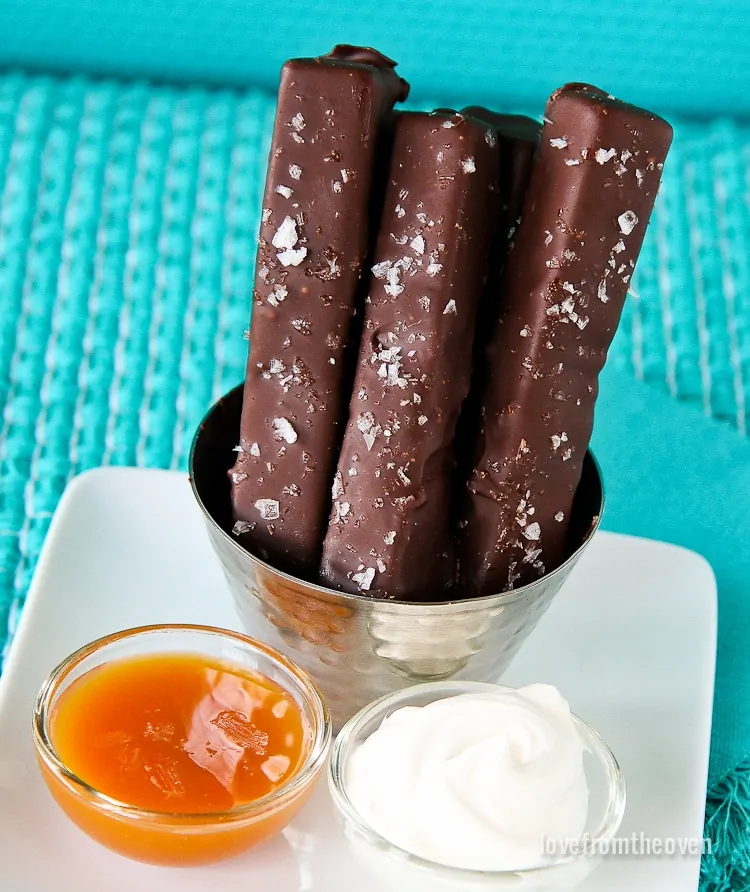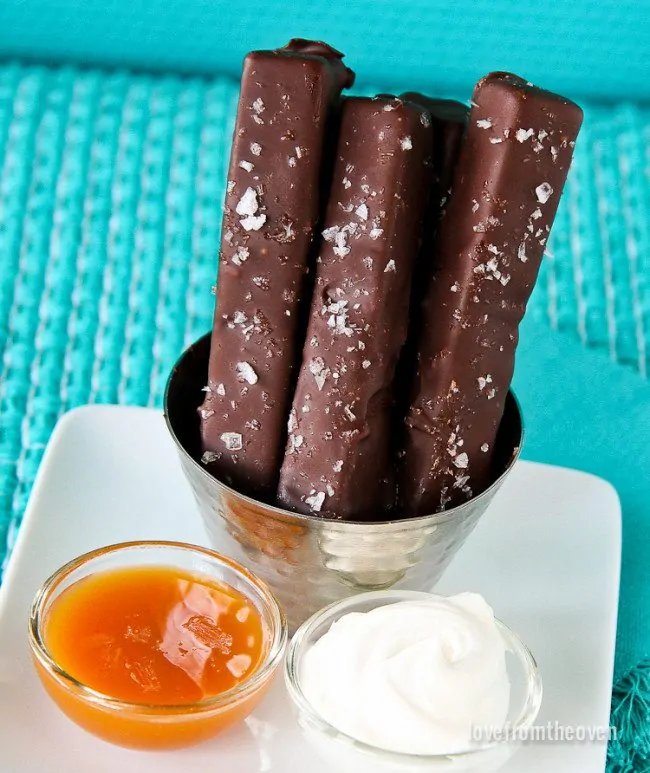 Chocolate Fruffles | Brownie Truffle Fries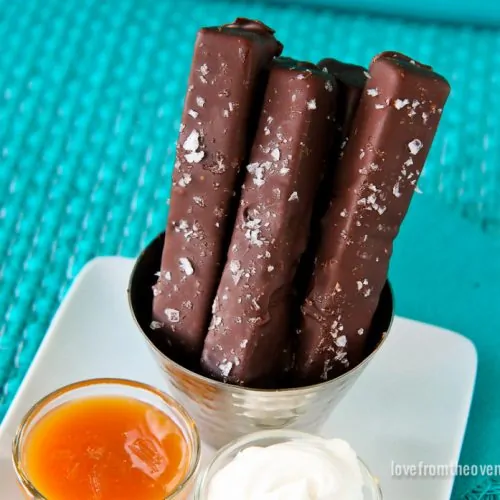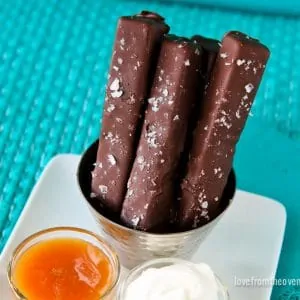 Chocolate Fruffles Brownie Truffle Fries
Ingredients
2

eggs

1/2

teaspoon

salt

1

cup

sugar

1

tablespoon

pure vanilla extract

1/2

cup

butter

3

ounces

unsweetened baking chocolate

chopped

1/2

cup

all-purpose flour

12

oz

semi-sweet or dark chocolate

chopped

Optional - sea salt for sprinkling on top - I prefer Maldon Sea Salt Flakes
Instructions
Preheat oven to 350 degrees F.

1. Using a mixer, beat eggs and salt together in a large mixing bowl until frothy.

2. Add the sugar and beat 2 to 3 minutes. Add the vanilla and beat for another 30 seconds.

3. Place butter and unsweetened chocolate in a microwave safe bowl and microwave on high for 1 minute. Remove from microwave and stir well. Microwave an additional 15 seconds if needed, and repeat again if needed.

4. With mixer on, slowly pour chocolate and butter mixture into egg and sugar mixture. Add the flour and beat 1 minute. Scrape down the sides of the bowl with a spatula, and beat mixture for an additional 30 seconds.

5. Line an 8x8 baking pan with foil or parchment paper. Lightly spray with nonstick cooking spray. Pour batter into pan. Place the pan on the top rack of the oven and bake 15 to 20 minutes until the center is barely set. You want these brownies to be slightly undercooked. Allow to cool completely.

6. Once brownies have cooled completely, but brownies in half with a knife, then cut each half into approximately 1/2" wide strips. Once cut, wrap all the brownies up in foil and place in the refrigerator for at least 30 minutes to chill.

7. When ready to top brownies with chocolate, chop and melt the semi-sweet or dark chocolate according to package directions. Dip each brownie "fry" into the chocolate and place it onto a baking sheet lined with either a silicone baking mat or parchment paper. Immediately sprinkle with sea salt. Repeat with remaining brownie fries. Place baking sheet with brownie fries into the fridge to store. Serve cold.
Disclaimer
Nutrition information is estimated as a courtesy. If using for medical purposes, please verify information using your own nutritional calculator. Percent Daily Values are based on a 2000 calorie diet.