I'm shaking up the traditional recipe for popcorn balls with delicious Chocolate Peanut Butter Cheerios Cereal Popcorn Balls. These easy popcorn balls get a big burst of flavor thanks to the addition of new Chocolate Peanut Butter Cheerios. Let me tell you, these might be the best Cheerios, or any cereal, I've ever had. They are SO good!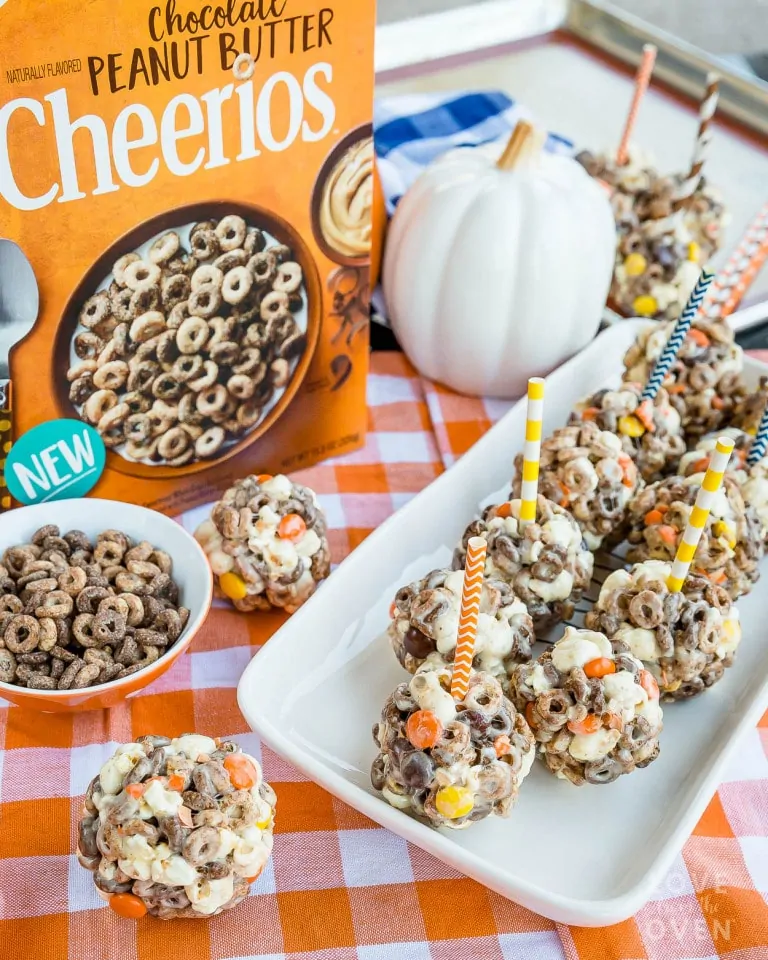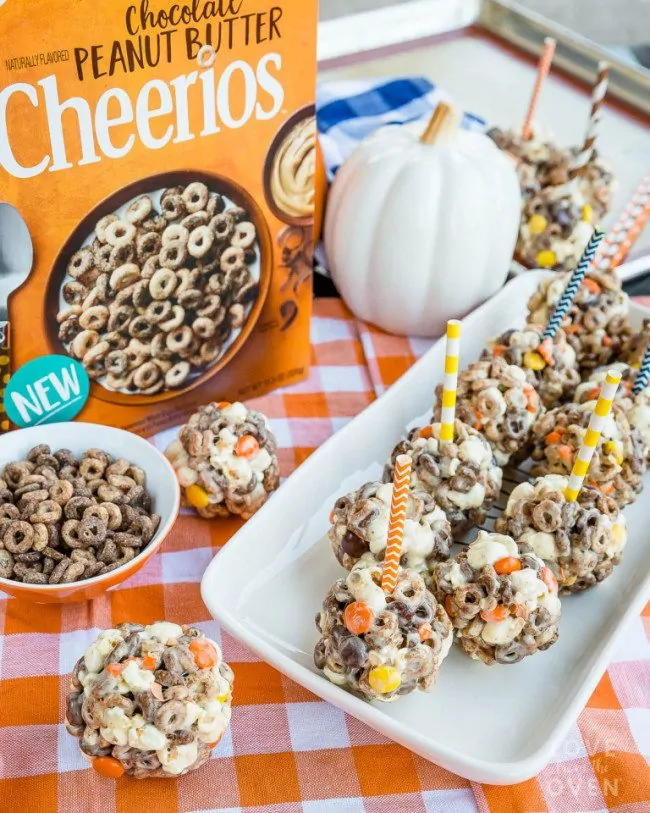 Not only are these cereal popcorn balls fantastic for Halloween parties or get togethers, but they are a tasty treat that your family and friends will enjoy year round. You only need one bowl and about 10-15 minutes time to whip up a batch! And if you can't have peanut butter products don't worry, I've got some alternate recipe options for you that will still be delicious!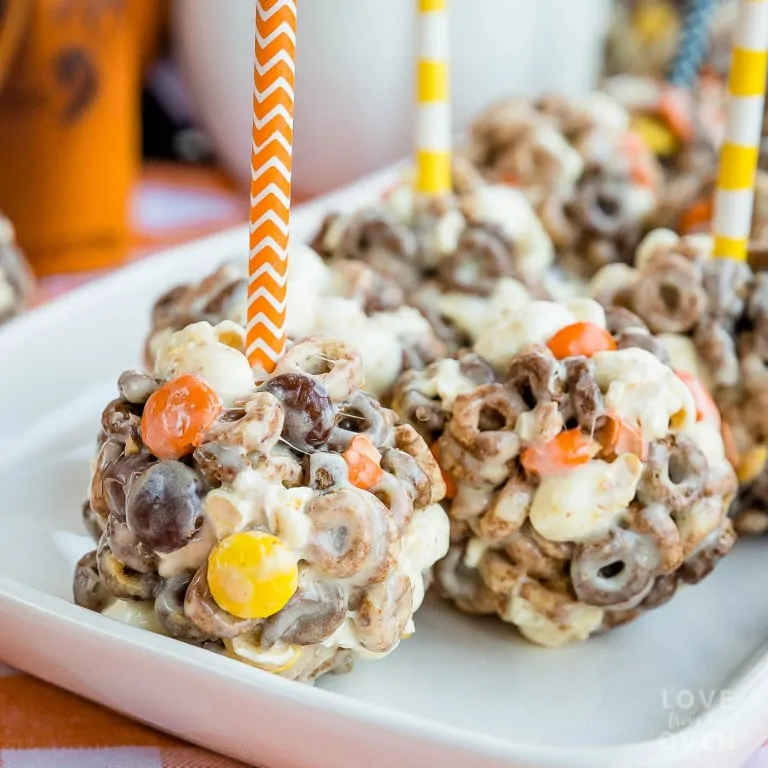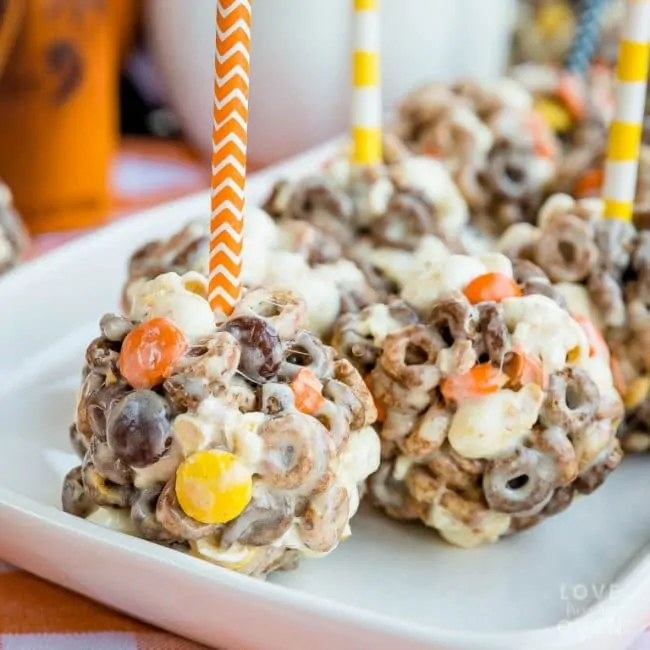 A few weeks ago my friends at General Mills Cereal reached out to me to let me know that they had a new product coming out, Chocolate Peanut Butter Cheerios. General Mills is great about keeping bloggers such as myself in the loop when new products come out, but this was a bit different. They know that we have a nut allergy in our home and they wanted to talk to me a bit about the product and the lengths of which General Mills is going to in order to make sure that the existing products that are still safe for those with peanut allergies.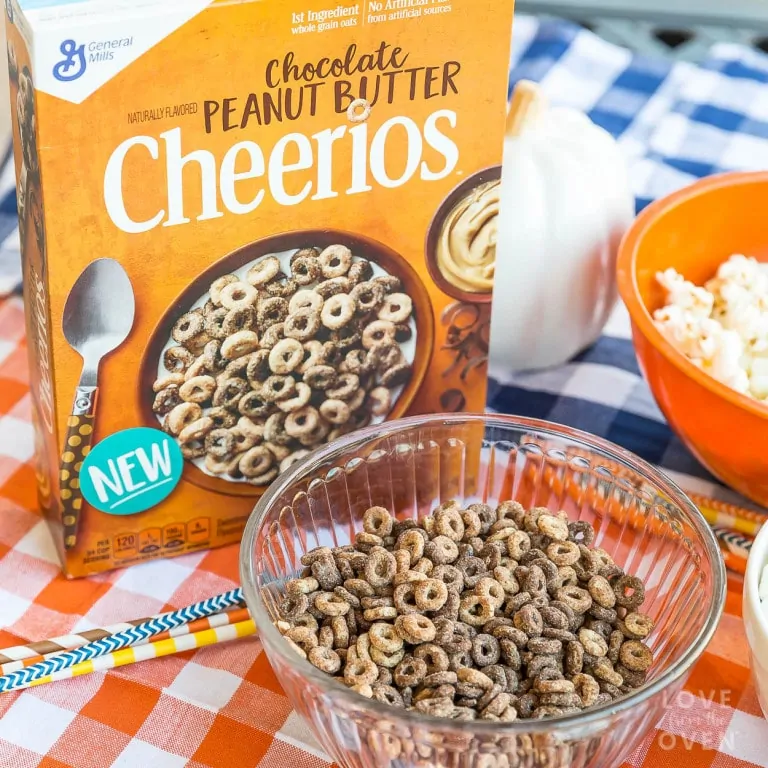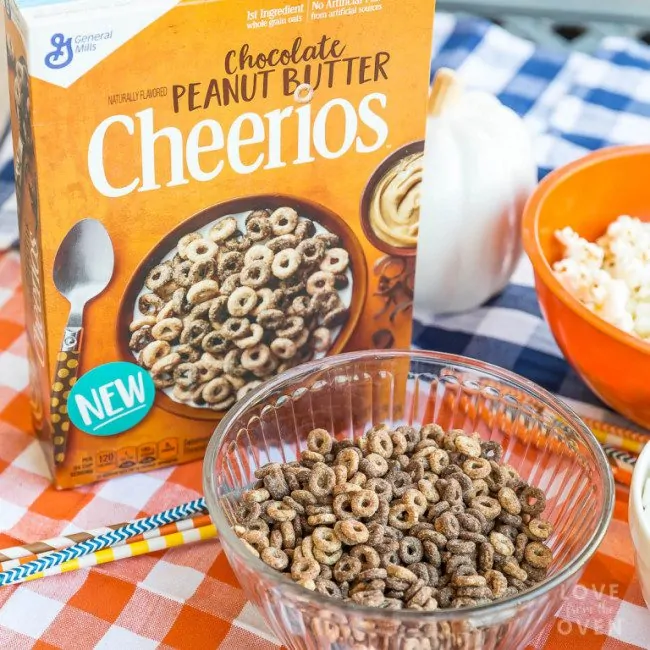 The peanut butter used to make Chocolate Peanut Butter Cheerios will be added at a separate facility to avoid any cross contamination. Other Cheerios varieties such as Original Cheerios, Multi-Grain Cheerios, Pumpkin Spice Cheerios, Chocolate Cheerios and Very Berry Cheerios continue to be safe for those with peanut allergies.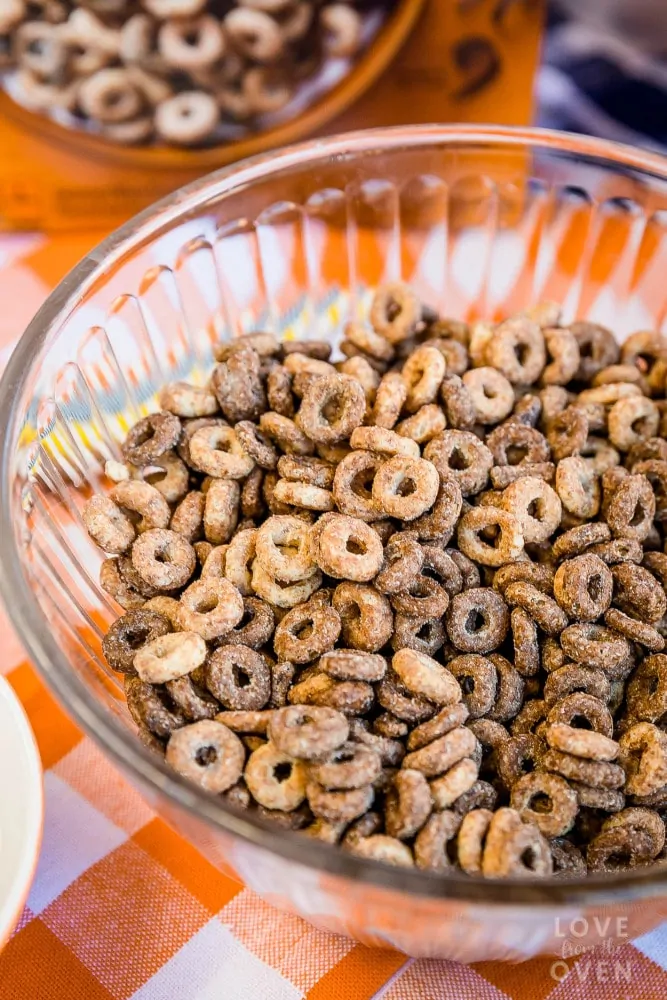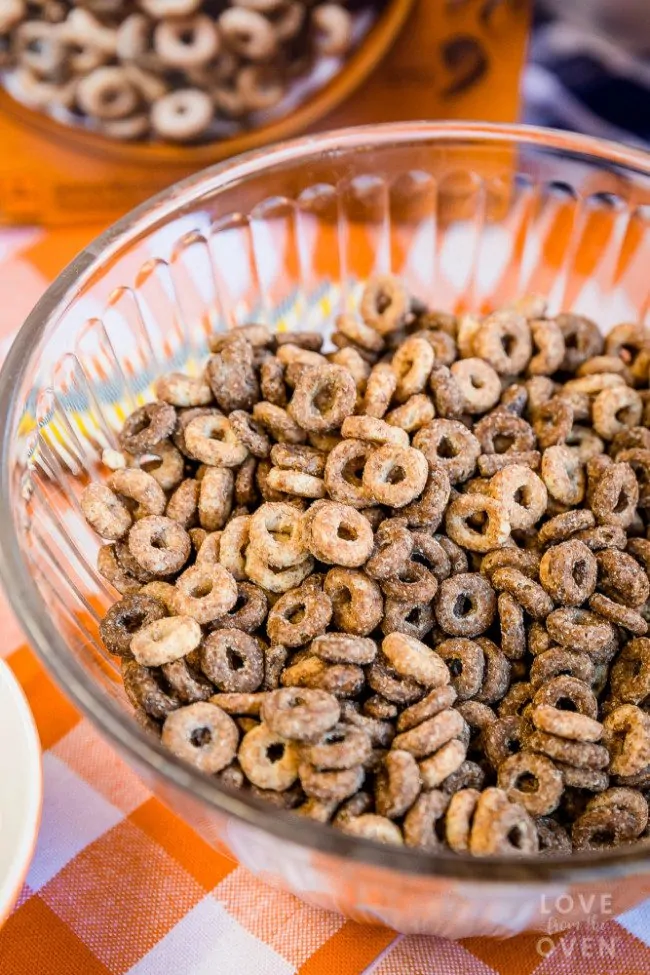 There are callouts on the front of the Chocolate Peanut Butter Cheerios cereal box and on the nutrition panel stating that the cereal contains peanut butter. Chocolate Peanut Butter Cheerios also were made to look different from other Cheerios products, featuring different color O's to avoid confusion with other Cheerios products when out of the box.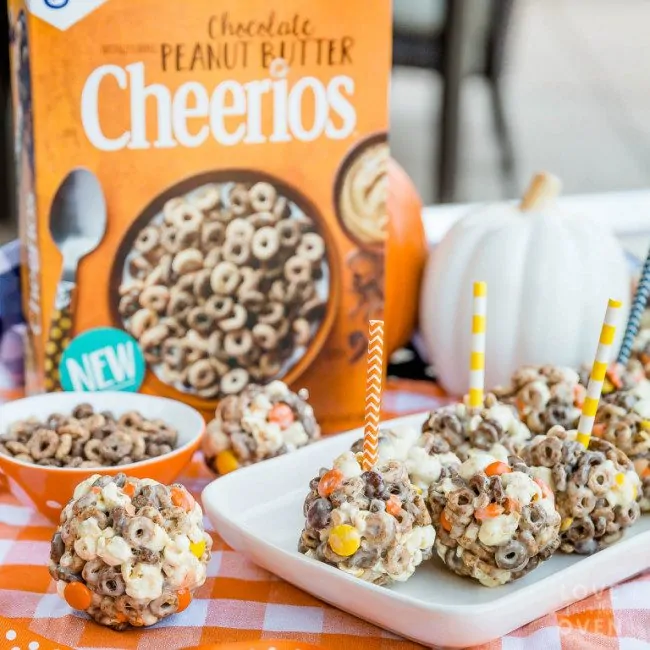 As the mom of a child with food allergies, this matters to me. A lot. Lately there seems to be an unfortunate trend of companies adding new products, and instead of taking steps to assure that existing products will continue to be safe for those who enjoy them, the existing products move to the "may contain" or "made on equipment with" category, which means my daughter, and others like her, can no longer enjoy them.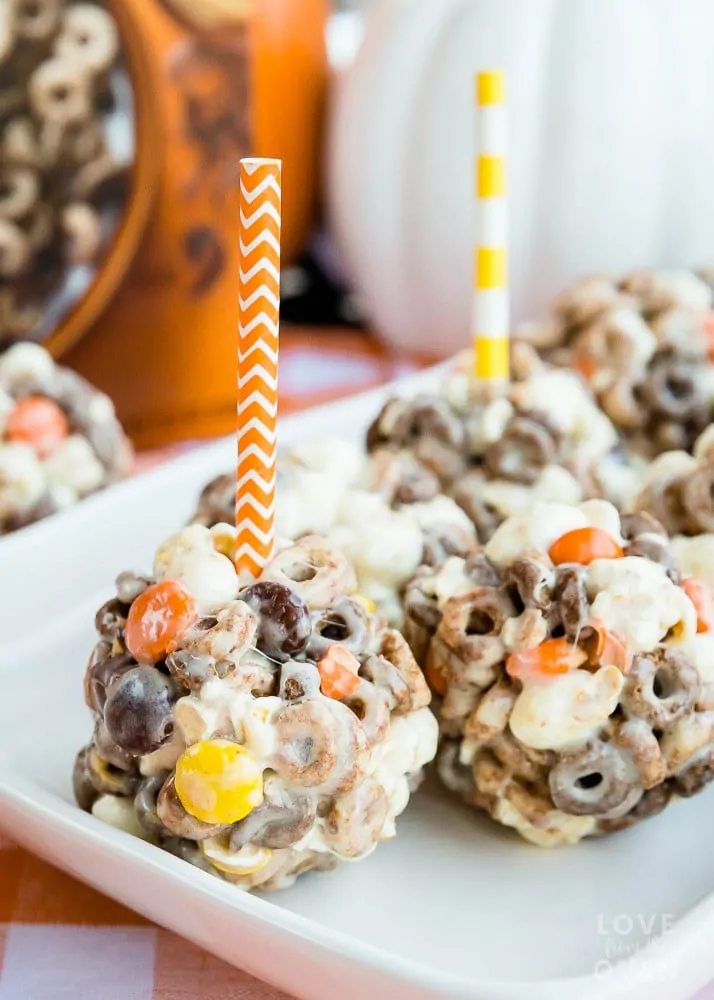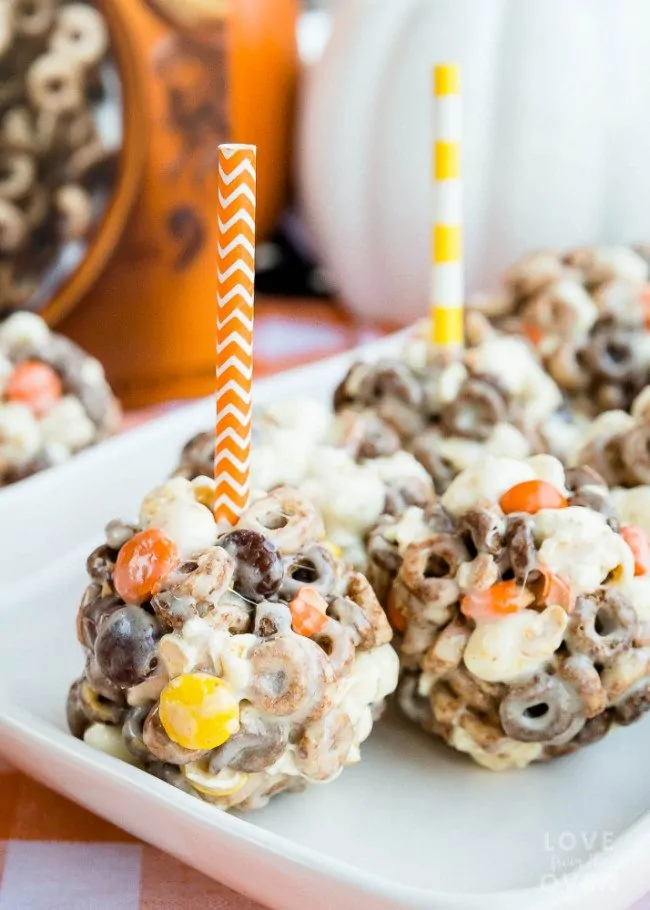 I know it takes a tremendous amount of planning, and is costly to keep lines or products separate during manufacturing. I understand why many companies do not go to those lengths. That is why I appreciate it all the more when companies like General Mills do take such measures, and I don't have to tell my daughter that even more foods are now off limits.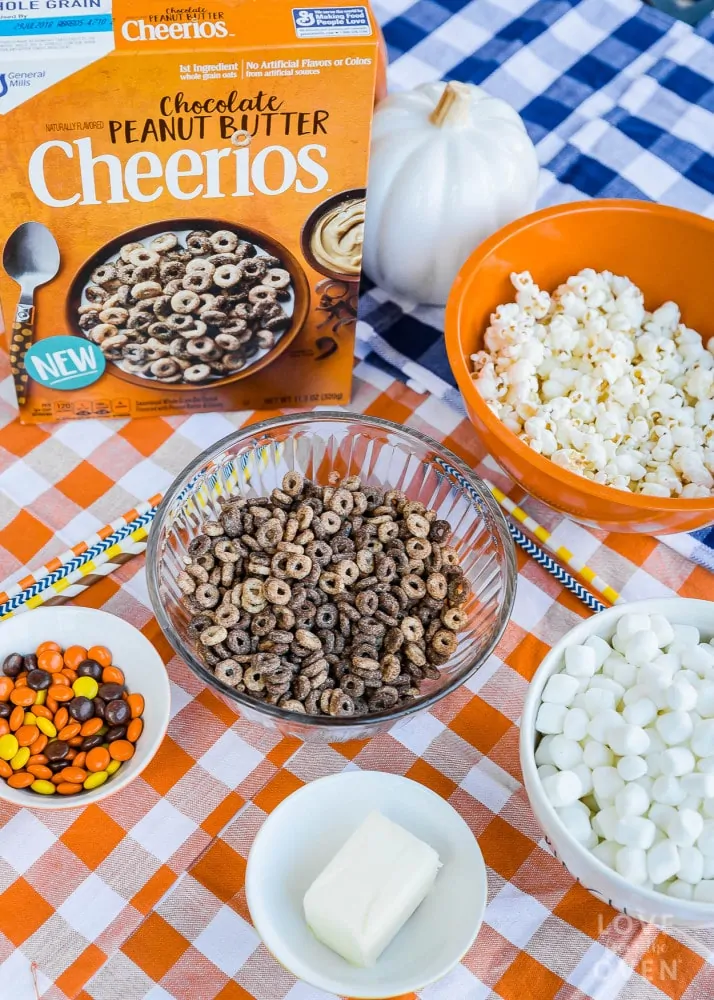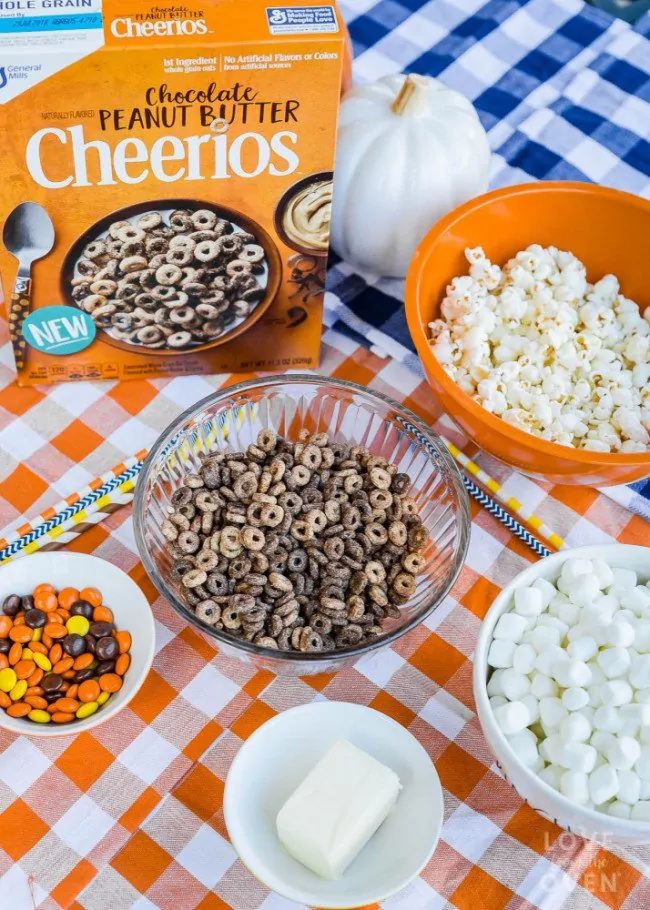 Thankfully we can have peanut butter in our home, my daughter simply cannot consume it (walnuts are another story!). I can't begin to tell you how GOOD these new Chocolate Peanut Butter Cheerios are. It's not like I have a snack bag of them in my purse or anything… (okay, it's exactly like that, but what a fantastic grab and go snack!).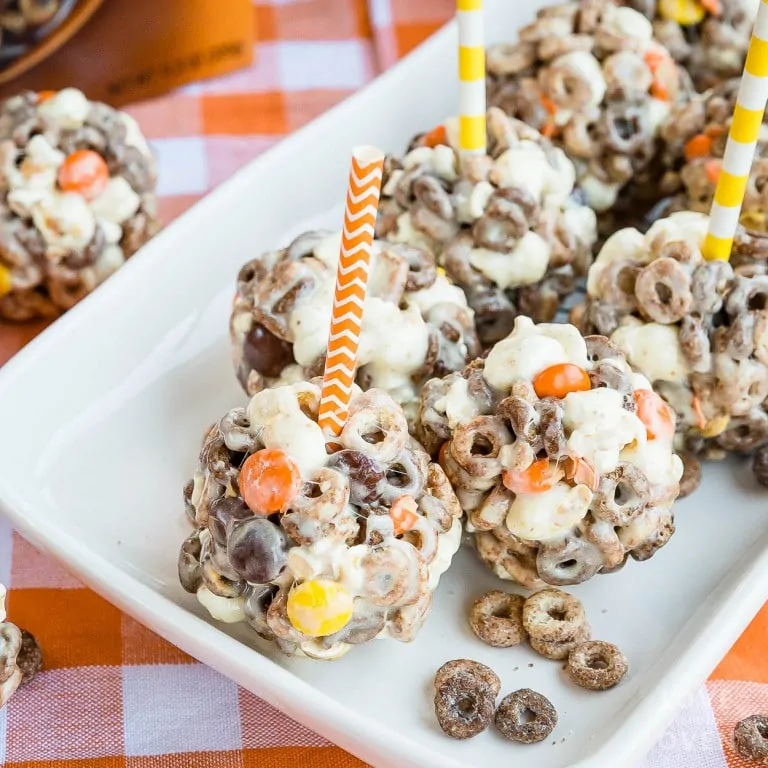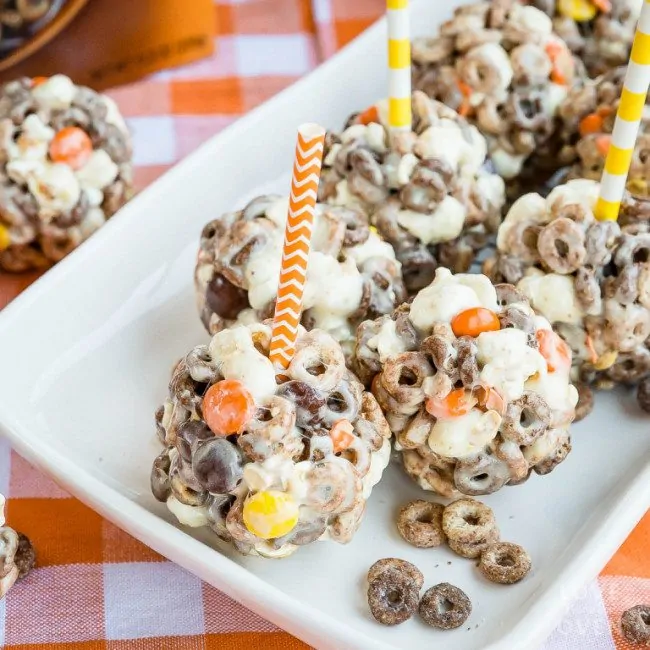 These Chocolate Peanut Butter Cheerios Popcorn Balls are quick and easy, so you can have the kids help if you would like. Once completed you can add straws or sticks to the balls for a fun cereal popcorn ball pop type treat. I suggest wrapping each popcorn ball individually with plastic wrap to give you a few days of freshness. Even if you can't eat peanut butter, I've got some recipe adaptations at the end of the recipe for you.
Make sure to also try my Peanut Butter Rice Krispie Treats and Reese's Pieces Cookies!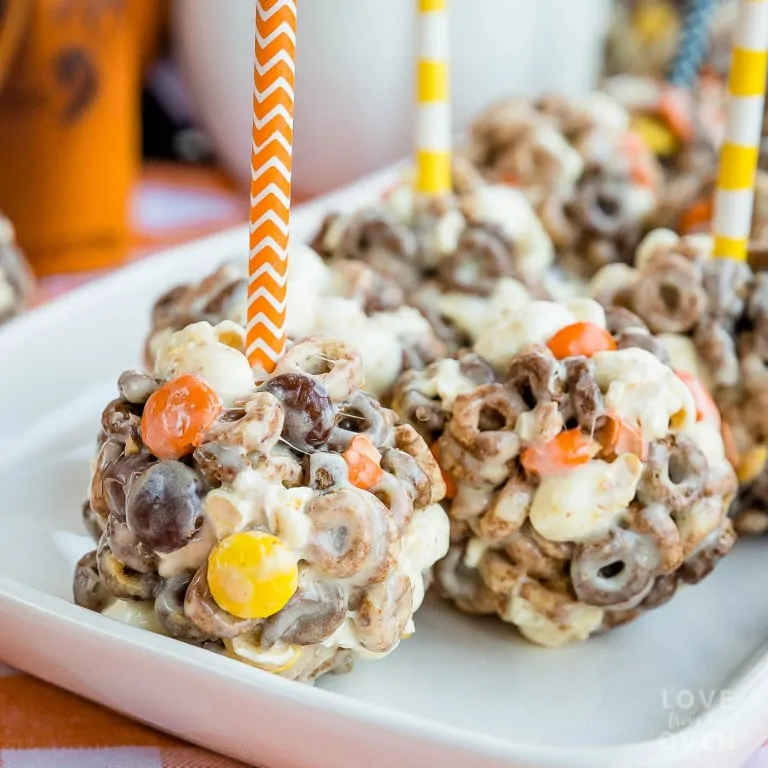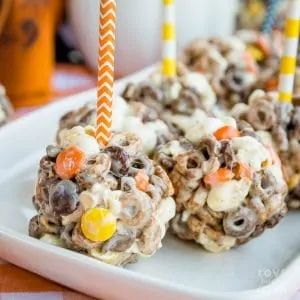 Chocolate Peanut Butter Cheerios Popcorn Balls
Ingredients
6

cups

miniature marshmallows

1/4

cup

butter

8

cups

popcorn

4

cups

Chocolate Peanut Butter Cheerios

1

cup

peanut butter candies

optional
Instructions
In a large microwave safe bowl combine marshmallows and butter and microwave in 30 second increments until melted. Alternatively marshmallows and butter can be melted in a saucepan.

Remove from heat and add in popcorn and Chocolate Peanut Butter Cheerios, stir to combine. If desired add in peanut butter candies.

Lightly coat hands with non-stick cooking spray or oil. Using hands shape mixture into 12 balls. Place on a baking sheet covered with a silicone baking mat or parchment paper. If desired place straws or sticks into balls. Serve or wrap each ball in plastic wrap.
Notes
Can't eat peanut butter? A few great flavor options include sea salt popcorn paired with Chocolate Cheerios or kettle corn paired with Pumpkin Spice Cheerios for a fun seasonal treat!
Disclaimer
Nutrition information is estimated as a courtesy. If using for medical purposes, please verify information using your own nutritional calculator. Percent Daily Values are based on a 2000 calorie diet.
I hope your family enjoys these yummy cereal popcorn balls as much as we did. Look for new Chocolate Peanut Butter Cheerios in your local grocery store. I can't wait for you to try them, they are delicious!
PIN TO SAVE THIS POPCORN BALL RECIPE!


Disclosure: This post was sponsored by Cheerios. All opinions however are mine and mine alone.