Churro lovers rejoice, I have a delicious and easy recipe for Churro Cupcakes for you today!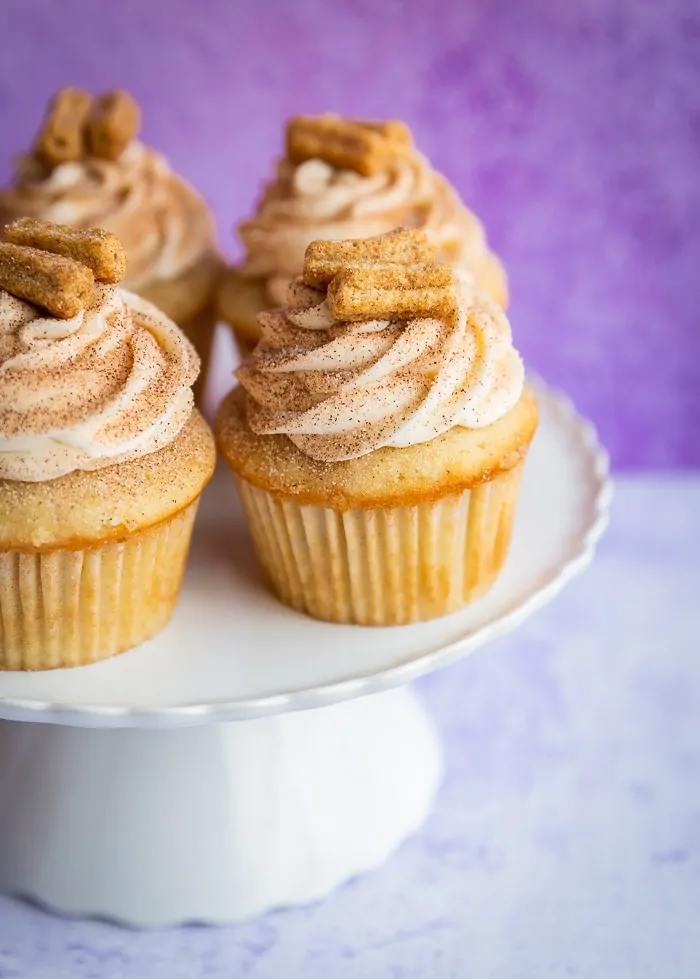 Cinnamon Toast Crunch Churros Cereal
Recently my friends at General Mills sent over a box of their new Cinnamon Toast Crunch Churros cereal to try. After opening the box and seeing the cereal, two things then happened. First, I immediately ripped open the box and grabbed a handful. Second, I realized I had to make Churro Cupcakes as soon as possible. I love churros! Churros are my favorite thing about Costco. And maybe Disneyland. Making churros at home however is not my thing, and for very good reason.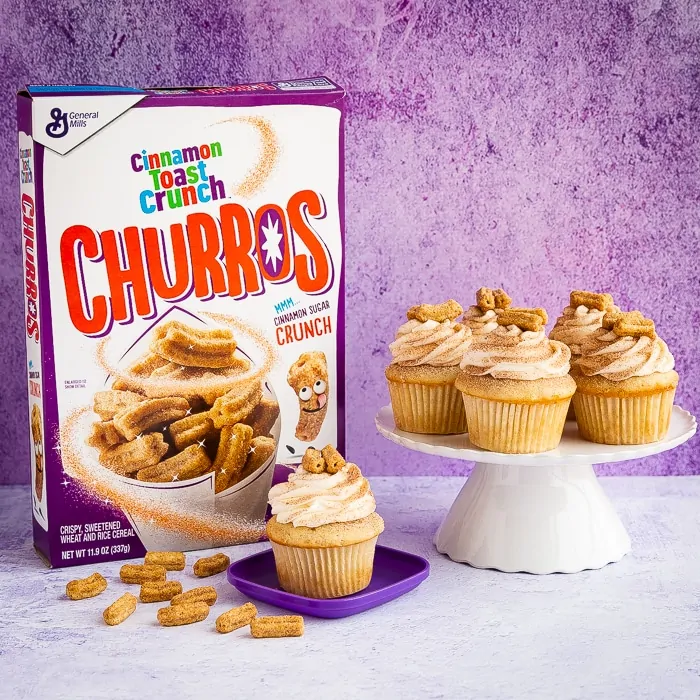 Exploding Churros
Why don't I make churros at home? That's a good question! Once upon a time I did make homemade churros. Long story short, I made homemade EXPLODING churros. One minute I'm frying these doughy bits of golden goodness. The next minute, BOOM. With no warning one of the churros exploded in the oil. My entire kitchen, which was fairly small and very enclosed, was covered with hot oil. To this day I do not know how I didn't get burned.
Thankfully my husband was home and came running into the kitchen. He found me standing there, pretty much frozen in shock, with no idea what to do. If you've never had your entire kitchen coated with hot oil, it's one heck of a mess to figure out. Oil was on the ceiling, floor, every cupboard, every appliance, and my clothing. Bless him, he basically extracted me from the kitchen and took care of it. He probably went through a full size bottle of blue Dawn dish soap on clean up.
That was probably seven years ago, and to this day I've only fried food twice since the churro incident. Both times I was honestly terrified. Frying churro trauma, it's a real thing my friends. But it's not just me, there has even been a lawsuit over exploding churros! There seem to be different explanations as to what causes a churro to explode.
Why Do Churros Explode?
Most often exploding churros are said to be due to not being piped with the right star tip. The ridges on churros aren't just for decoration, they help with even cooking and prevent steam from building up on the inside of the churro. Too hot of oil temperature was blamed in the lawsuit I mentioned. Either way, I won't be frying churros again any time soon. And by any time I mean ever. But you know what I will make? Churro Cupcakes – no frying required!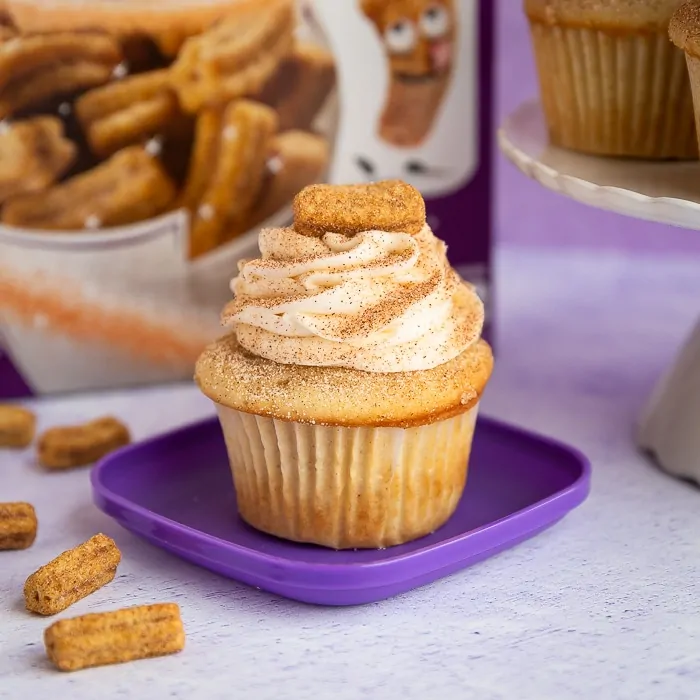 Churro Cupcakes
Save yourself the trauma of exploding churros, and grab a box of Cinnamon Toast Crunch Churros. They are ridiculously good, and won't explode! Truth be told they've yet to get paired with milk in our house, they are perfect for snacking straight from the box. And of course, for topping churro cupcakes.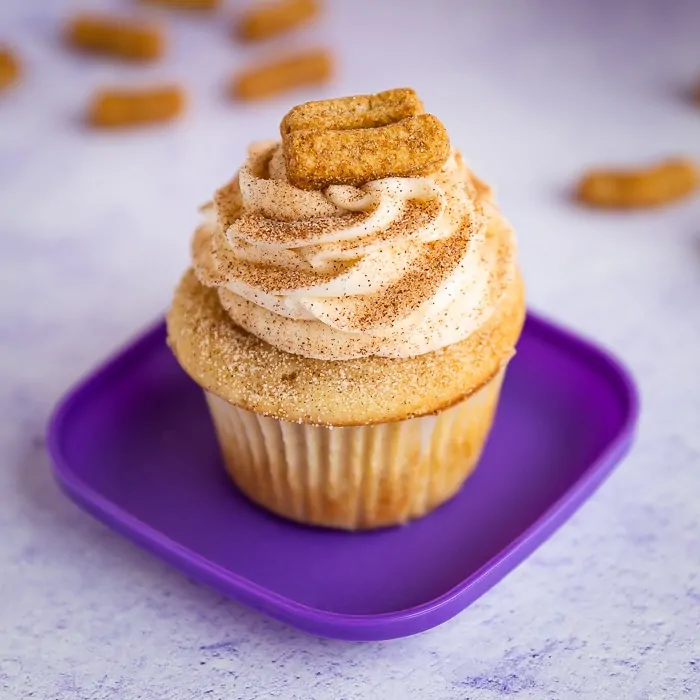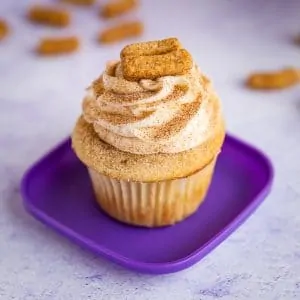 Churro Cupcakes
The delicious cinnamon sugar flavor of churros comes together in these easy Churro Cupcakes.
Ingredients
Cupcakes
1 2/3

cups

all-purpose flour

1

cup

granulated sugar

1/2

tsp

baking soda

1 1/2

tsp

baking powder

1/4

tsp

salt

1

tsp

cinnamon

3/4

cup

unsalted butter

room temperature

3

egg whites

room temperature

3

tsp

vanilla extract

1/2

cup

sour cream

room temperature

1/2

cup

whole milk

room temperature
Frosting
4

oz

cream cheese

softened

1/2

cup

butter

softened

4

cups

powdered sugar

1/2

tsp

cinnamon

1/4

tsp

salt

optional

2

tsp

vanilla extract

2-4

tbsp

milk

half and half or heavy cream, as needed

1/2

cup

cinnamon sugar mixture to garnish
Instructions
For the Cupcakes:
Preheat oven to 350 degrees F. Prepare cupcake pan(s) with 16 cupcake liners.

In a large bowl, mix together all dry ingredients together until well combined.

Using a separate bowl, whisk together the wet ingredients until combined. This mixture may look quite lumpy, don't be alarmed.

Add the wet ingredients to the dry ingredients. Mix until combined, but do not over mix.

Distribute the batter evenly into cupcake papers.

Bake for 15-20 minutes or until golden and springy to the touch. Remove from oven and allow to cool completely prior to frosting.
Frosting
Using a mixer, beat cream cheese until creamy. Add butter and beat until the two are well combined, approximately two minutes.

Add one cup of powdered sugar, as well as cinnamon and salt, to the mixture and beat until combined. Add remaining powdered sugar, one cup at a time, beating each time until well combined. Add vanilla and beat until combined.

Add milk, half and half or cream, one tbsp at a time, until desired texture is reached. Less liquid will give you a thicker frosting, more liquid will give you a thinner frosting.

Pipe or spread onto cooled cupcakes. Sprinkle with cinnamon sugar mixture and top with Cinnamon Toast Crunch Churros cereal for garnish. Enjoy!
Nutrition
Calories:
391
kcal
|
Carbohydrates:
54
g
|
Protein:
2
g
|
Fat:
18
g
|
Saturated Fat:
11
g
|
Cholesterol:
50
mg
|
Sodium:
207
mg
|
Potassium:
105
mg
|
Fiber:
0
g
|
Sugar:
42
g
|
Vitamin A:
595
IU
|
Vitamin C:
0.1
mg
|
Calcium:
56
mg
|
Iron:
0.7
mg
Disclaimer
Nutrition information is estimated as a courtesy. If using for medical purposes, please verify information using your own nutritional calculator. Percent Daily Values are based on a 2000 calorie diet.
Cinnamon and Sugar Recipes
I hope you enjoy these delicious, no frying required, Churro Cupcakes! If you love the combo of cinnamon and sugar, here are some more recipes to try!
CLICK TO PIN THIS RECIPE TO SAVE!