You know how sometimes you just want to eat cookie dough? Wait, that's not just me, is it? I'm going to guess I'm not alone in the love of cookie dough. Well today I am going to celebrate that love of cookie dough with some Cookie Dough Cake Pops – no baking required, but don't worry, there's no raw egg here to cause any worry. And if cookie dough itself isn't good enough, these Cookie Dough Cake Pops are coated in delicious DOVE Promises Silky Smooth Dark Chocolate. Delicious is an understatement.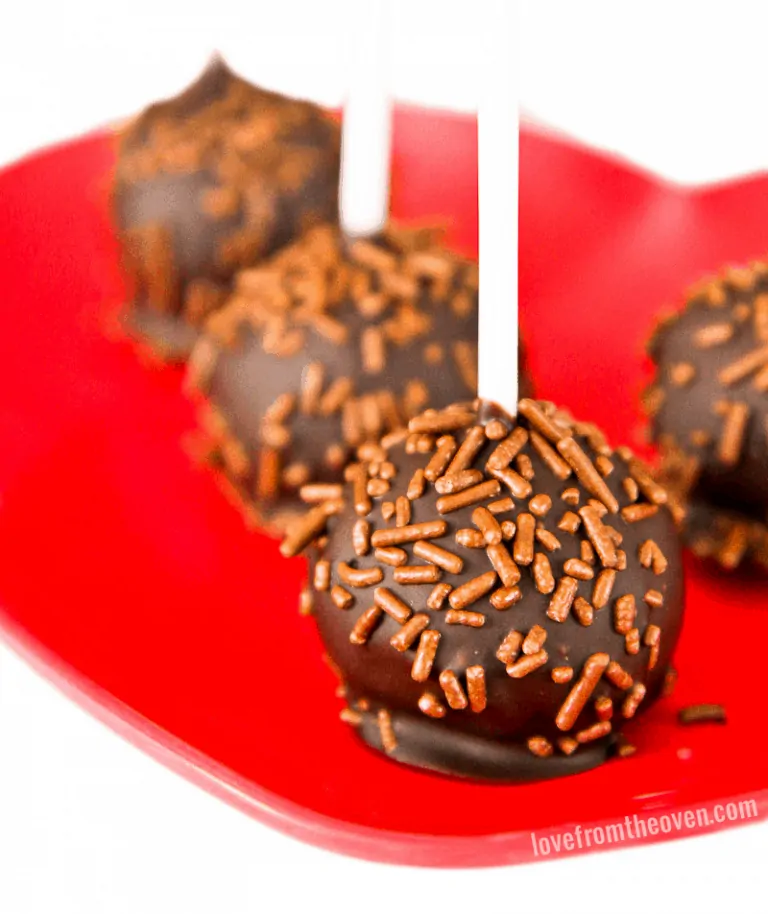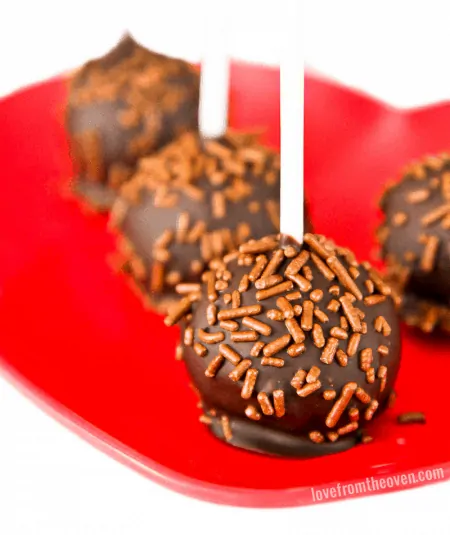 These are very similar to cake pops, but there is no baking required, which is great in the hot summer months, and it is also a time saver.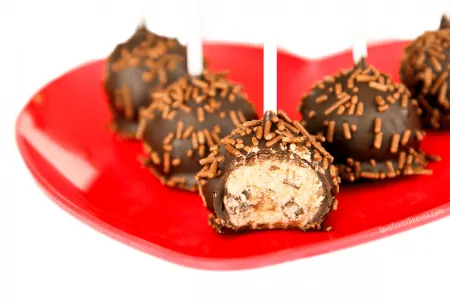 DOVE Dark Chocolate and Cookie Dough! It's safe to say that these are a few of my favorite things! Have you ever used DOVE Chocolate in your baking? Easy to use and delicious.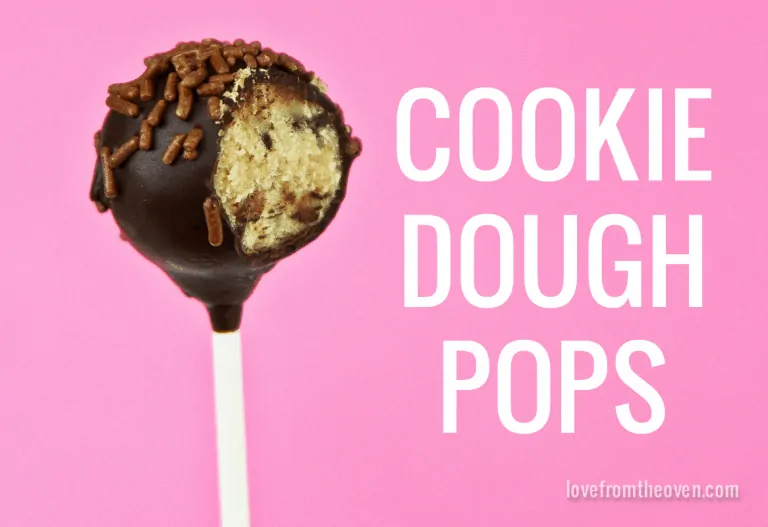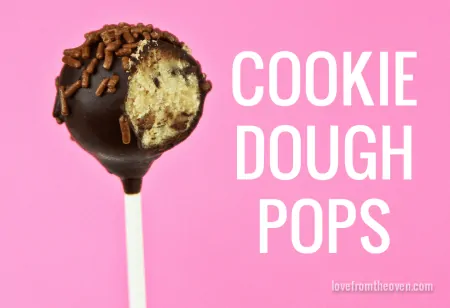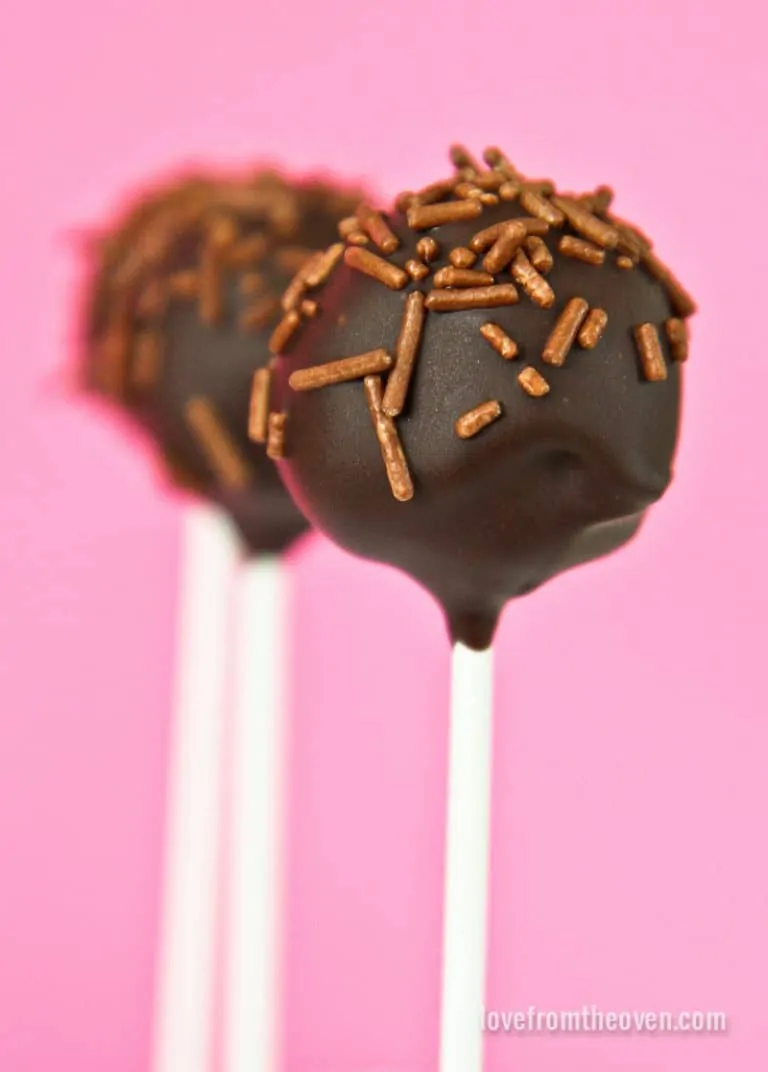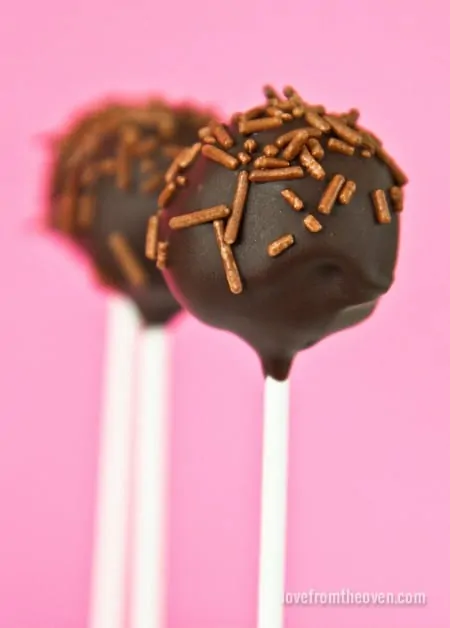 I've always been pretty honest that I think cookie dough is the best part of cookies, so enjoying it wrapped up in Silky Smooth Dove Dark Chocolate Promises – yes please! These cookie dough pops are the perfect size for a delicious indulgence.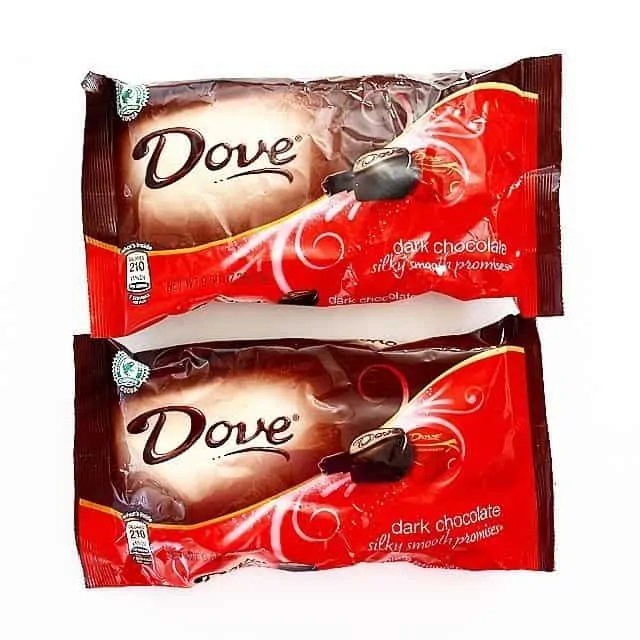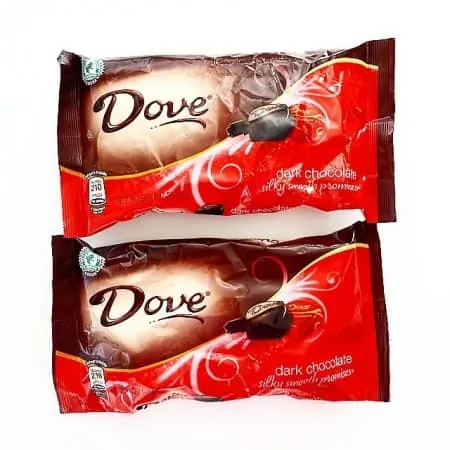 These are really quite simple to make. You start by making your cookie dough, and chilling it for a bit in the fridge. This recipe makes about one dozen cookie dough cake pops, and uses five of Dove Dark Chocolate Promises chopped up and mixed in with the cookie dough, and about 25 Dove Dark Chocolate Promises, melted, to coat the pops. This even leaves you a few extra pieces of chocolate to enjoy all on their own.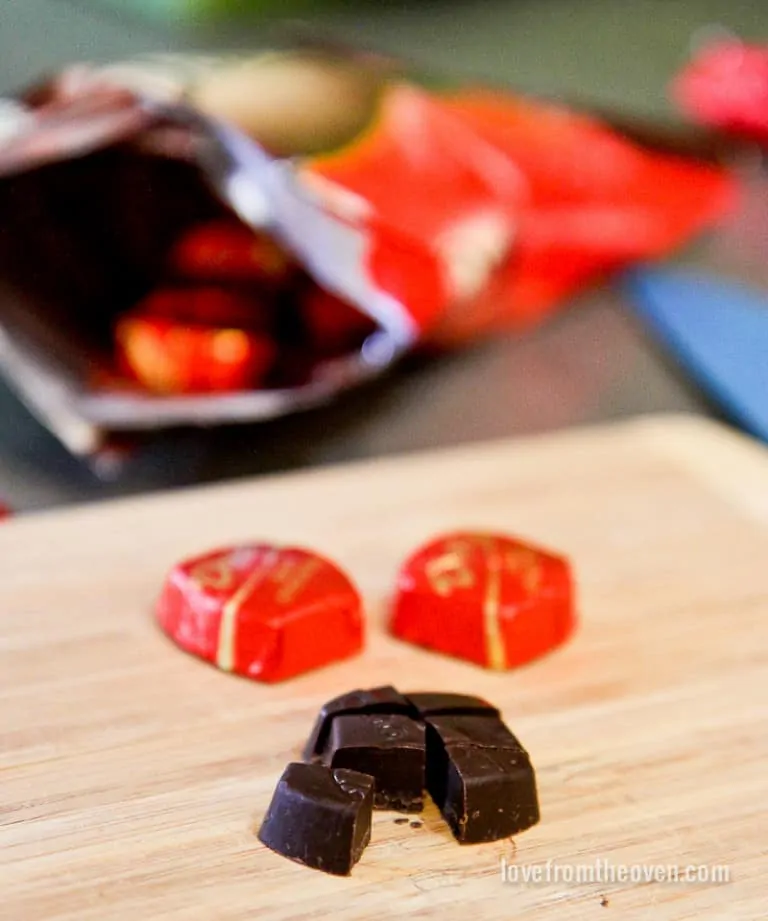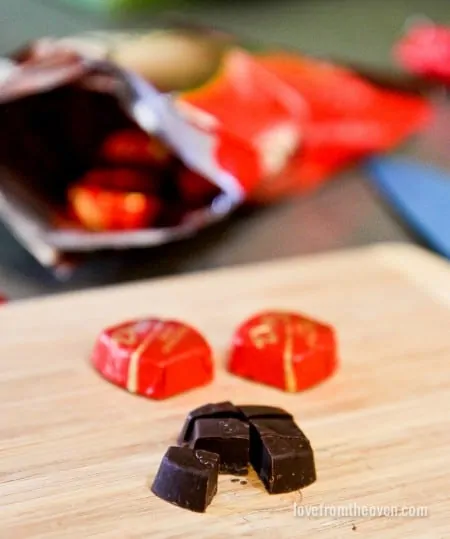 Wise words from chocolate. 🙂   I always love the little messages inside the Dove wrappers.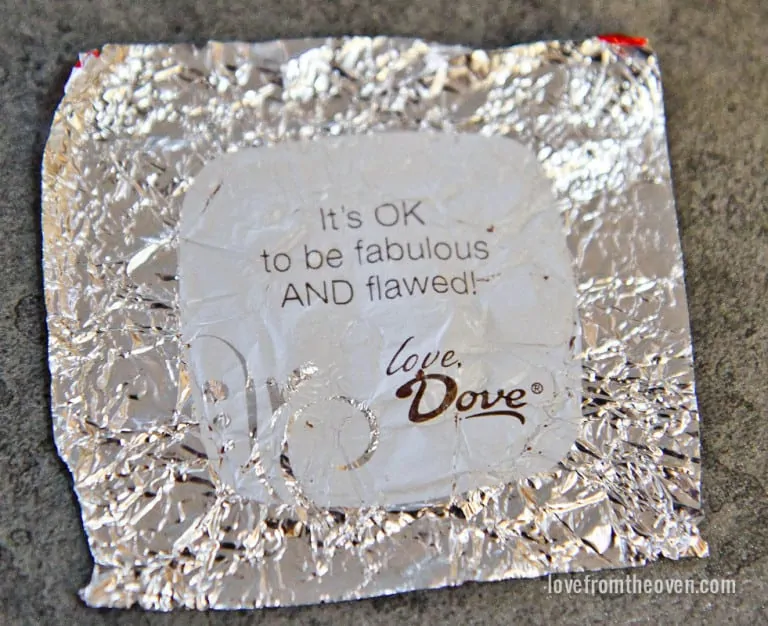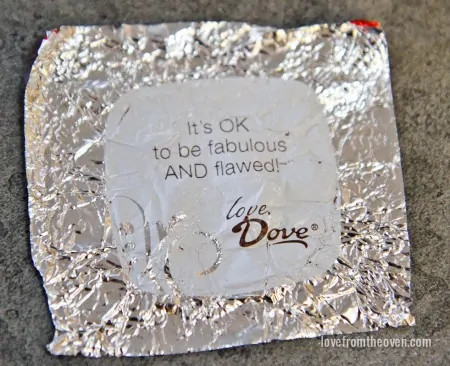 While your cookie dough is chilling, you can chop up your Dove Dark Chocolate Promises and get them melted. I melt mine in the microwave, and my rule of thumb for melting chocolate in a microwave is to always go low and slow – you can always add more heat and time. I work in 20 second increments and only use about 50% power on the microwave, and I stir well in between. It usually only takes me about a minute total to get my chocolate melted. Once your chocolate is melted, you are ready to dip your cookie dough pops.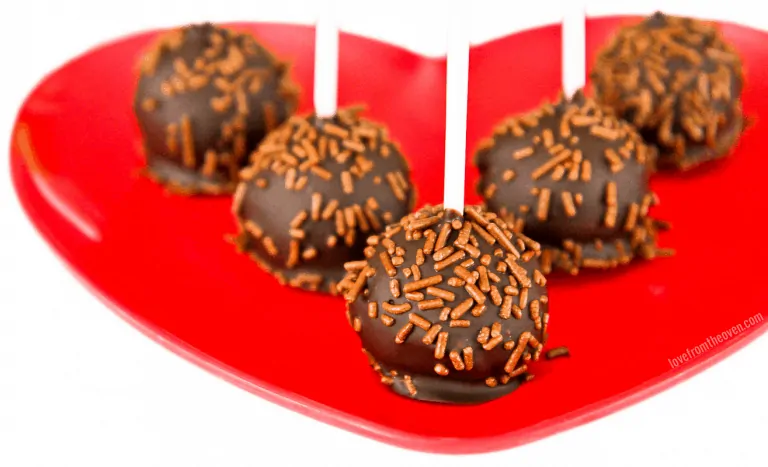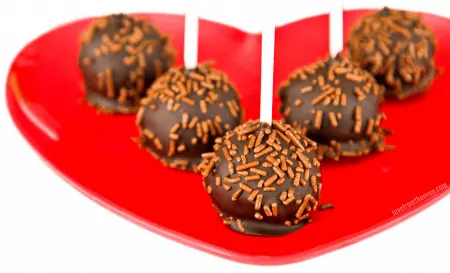 Seriously delicious. I love the combo of the dark chocolate with the cookie dough. That whole baking of cookies can be a bit overrated, cookie dough is simply spectacular as it is.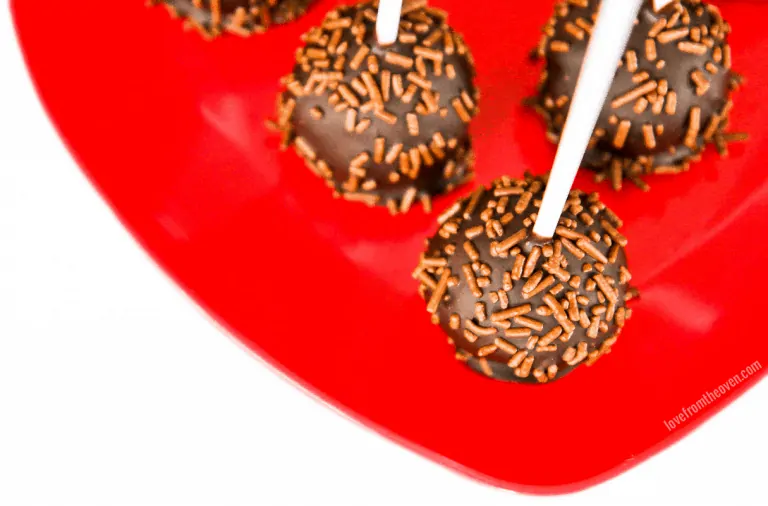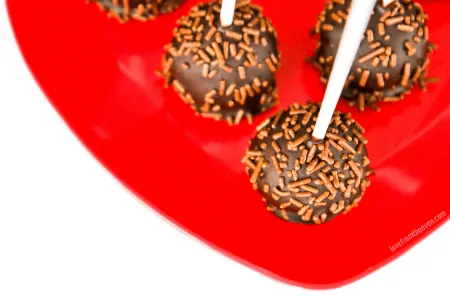 These delicious Dark Chocolate Cookie Dough Pops are sure to make someone's day, even if it's yours!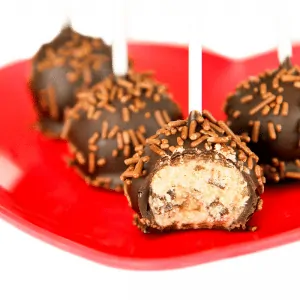 Cookie Dough Cake Pops with Dove Chocolate
Ingredients
1/4

cup

butter

softened

1/4

cup

packed brown sugar

2

tablespoons

granulated sugar

1

tablespoon

milk

1/2

teaspoon

vanilla extract

1/4

teaspoon

salt

2/3

cup

all purpose flour

1/4

tsp

baking soda

5

Dove Dark Chocolate Promises

each cut into approximately 9 small pieces

25

Additional Dove Dark Chocolate Promises

12

Lollipop Sticks

you can also use Popsicle sticks
Instructions
In a large bowl with an electric mixer, mix butter until fluffy, add in sugars and mix until well combined, at least one minute. Add in vanilla and milk and mix until very well combined. In a separate bowl, combine salt, flour and baking soda. Mix into butter mixture, along with the 5 Dove Dark Chocolate Promises that have been cut into 9 piece each. Combine until all ingredients are mixed, but do not over mix. Chill dough in refrigerator for at least 30 minutes. You can leave the dough in the fridge overnight if needed, but the dough will start to dry out slightly the longer it's left in the fridge.

After dough has chilled, separate into 12 pieces, and roll each into a small round ball. Return to fridge to chill.

Unwrap 25 Dove Dark Chocolate Promises, and chop pieces (cut each Dove promise into approximately four pieces). Place in a microwave safe bowl (glass works well) and heat in microwave at 50% power for 20 seconds. Remove from microwave and stir well, return to microwave and heat again for 20 seconds at 50% power. Repeat this process until chocolate is mostly melted, then continue stirring to fully melt chocolate.

Line a baking sheet with wax paper. Working one cookie dough pop at a time, dip your lollipop stick into the melted chocolate, covering one end of the stick with about 1" of chocolate, then slip the stick into a cookie dough pop. You are not dipping the entire pop, just the stick, and then placing the chocolate dipped stick into a pop. Once all pops have their sticks, place them in the freezer for 5-10 minutes. This helps the pops stay on the sticks. Remove pops from freezer and working one pop at a time, dip into melted chocolate, covering pop. Hold pop over your bowl to allow excess chocolate to drip off, this usually takes 30-60 seconds, but helps prevent excess chocolate from dripping everywhere. Sprinkle with sprinkles if desired. Place dipped pop onto a wax covered cookie sheet (or into a cake pop stand if you have one). Repeat with all pops. Place in the fridge to chill for at least 30 minutes prior to serving. Store in fridge for up to one week.
Disclaimer
Nutrition information is estimated as a courtesy. If using for medical purposes, please verify information using your own nutritional calculator. Percent Daily Values are based on a 2000 calorie diet.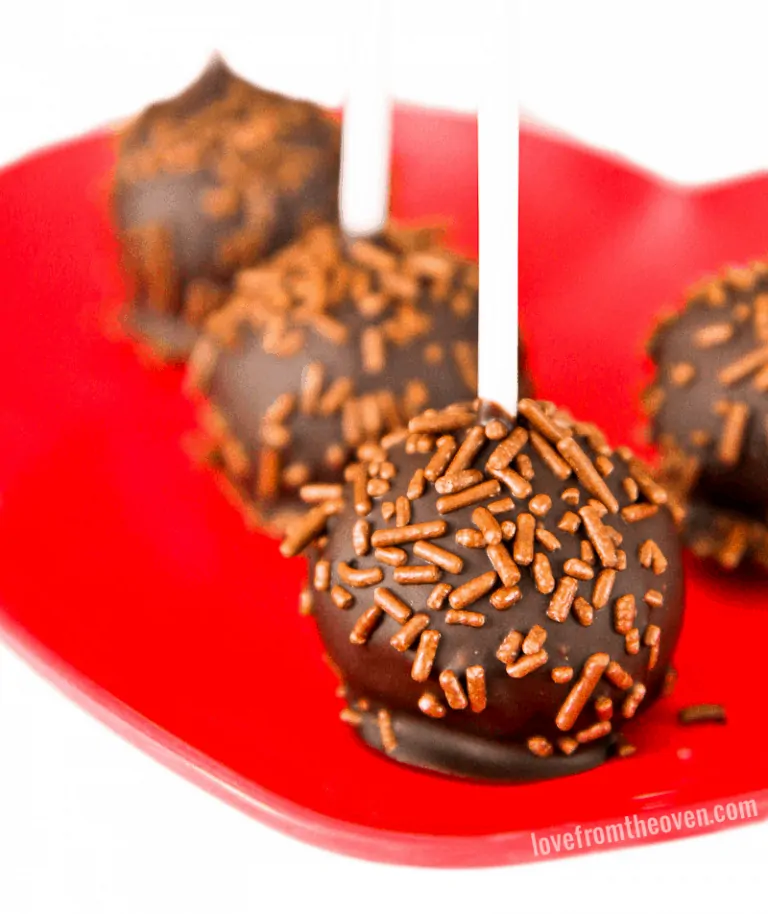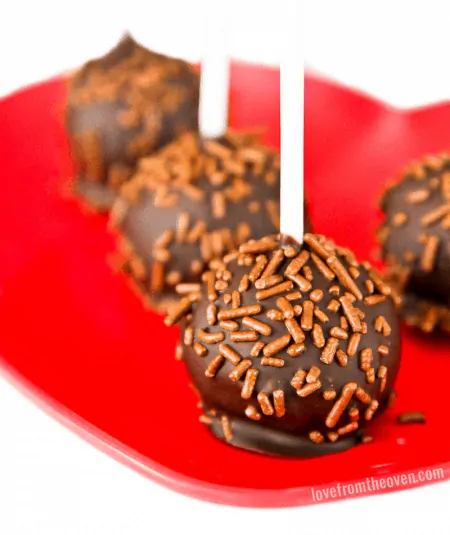 You can find more delicious recipes using DOVE Chocolate on their Facebook page, on Twitter and on their Website.   One of my favorite recipes using DOVE Chocolate is My Chocolate Chunk Cream Cheese Cake. Oh my, try this!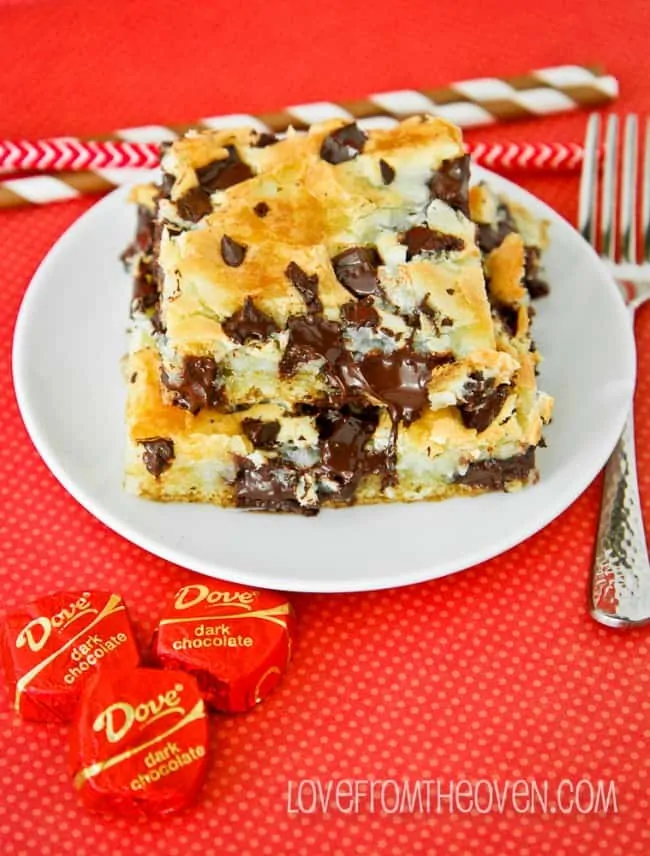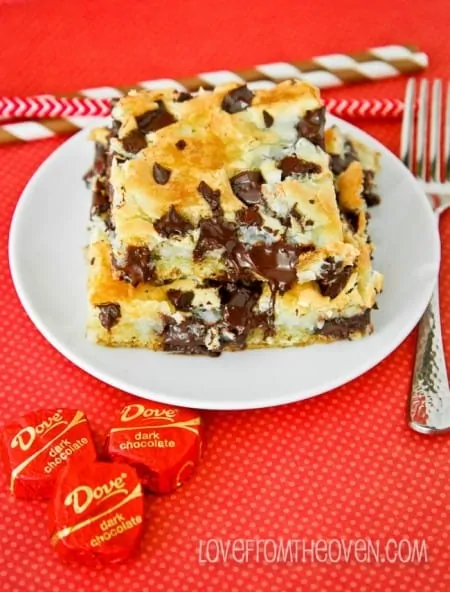 Discover DOVE® Dark Chocolate:
As the #1 solid dark chocolate on the market[1], the unique, silky-smooth taste of DOVE® Dark Chocolate lives up to people's expectations of what chocolate should taste like. Available in four varieties, including new DOVE® Silky Smooth Sea Salt Caramel Dark Chocolate, DOVE® uses carefully selected cocoa beans to deliver its signature taste and a special process that delivers the unique, silky-smooth texture.
DOVE® Dark Chocolate is available in the following varieties:
·        Single Bar (1.34 – 1.44oz)
o   Silky Smooth Dark Chocolate
·        Large Bar (3.07 – 3.3oz)
o   Silky Smooth Dark Chocolate
o   Silky Smooth Almond Dark Chocolate
o   Silky Smooth Mint & Dark Chocolate Swirl
·        Bag of PROMISES® (8.0 – 9.5oz)
o   Silky Smooth Dark Chocolate
o   Silky Smooth Almond Dark Chocolate
o   Silky Smooth Mint & Dark Chocolate Swirl
o   New! Silky Smooth Dark Chocolate  Sea Salt Caramel
When you discover the silky-smooth taste of DOVE® Dark Chocolate, you'll be reminded why you've always loved chocolate. Discover DOVE Dark Chocolate. It's not just dark, it's DOVE®.
Disclaimer: Compensation was provided by DOVE® Dark Chocolate via MomTrends. The opinions expressed herein are those of the author and are not indicative of the opinions of Dove or Momtrends.