I love cookies and I love ice cream, but what I really LOVE are cookie ice cream sandwiches!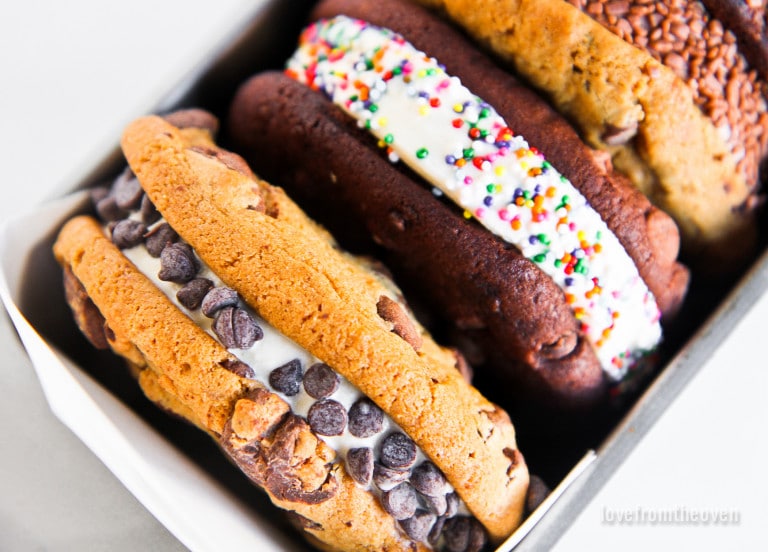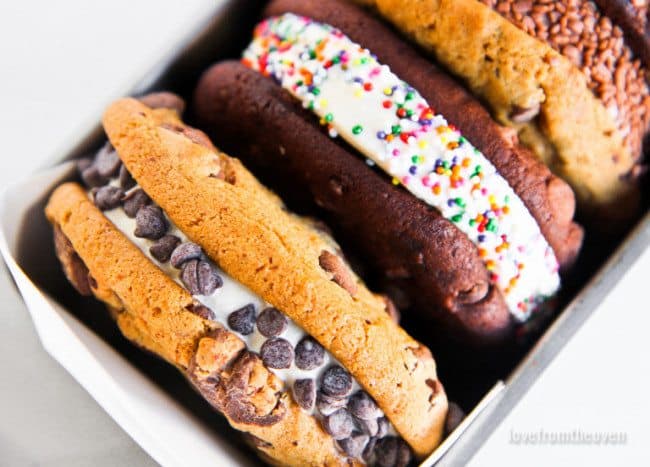 Seriously, is there anything better than cool, creamy ice cream sandwiched between delicious cookies?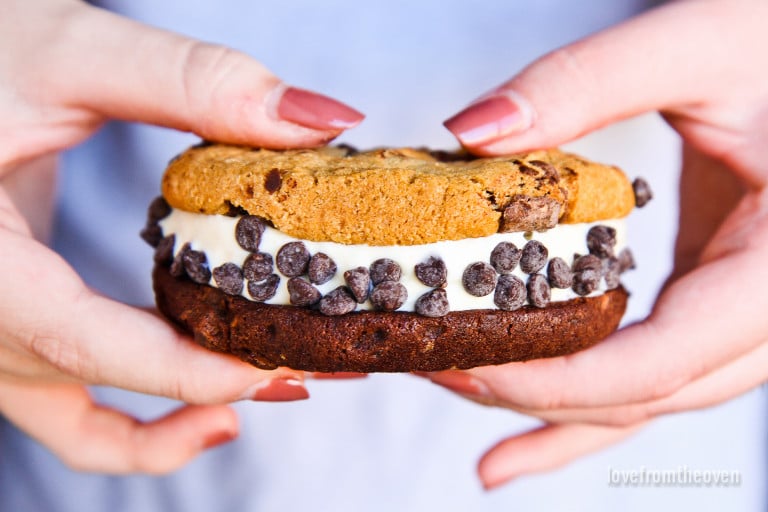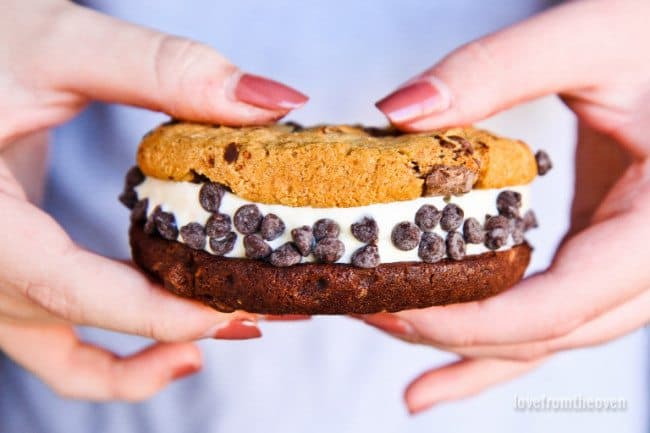 And these cookie ice cream sandwiches are made even sweeter because I didn't have to do any baking thanks to Otis Spunkmeyer's new line of snacks.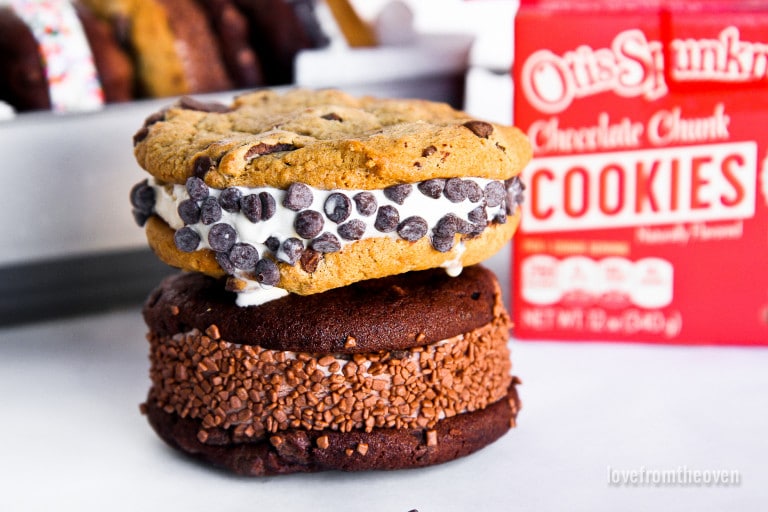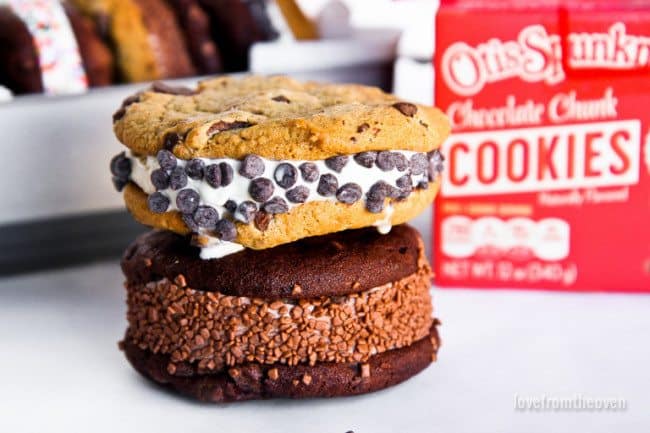 Yes, Otis Spunkmeyer, you know those delicious cookies that you often find baking fresh in some of your favorite establishments. You can now buy them at your grocery store. Happy dance!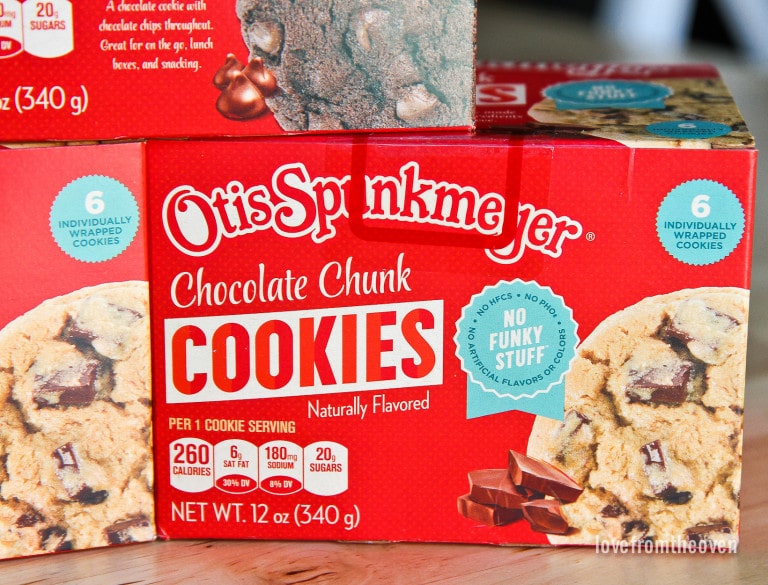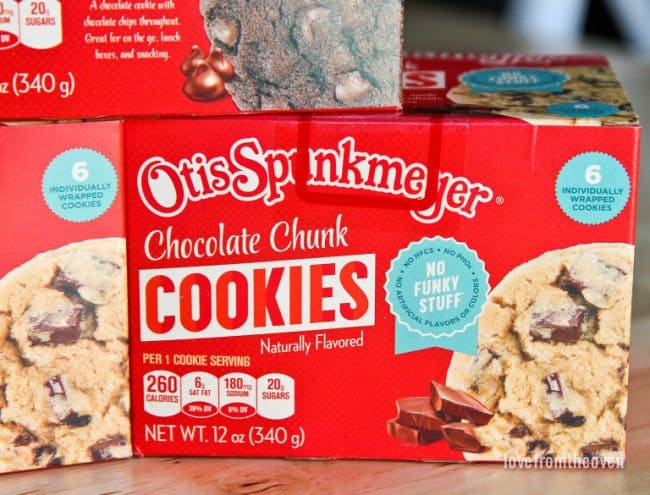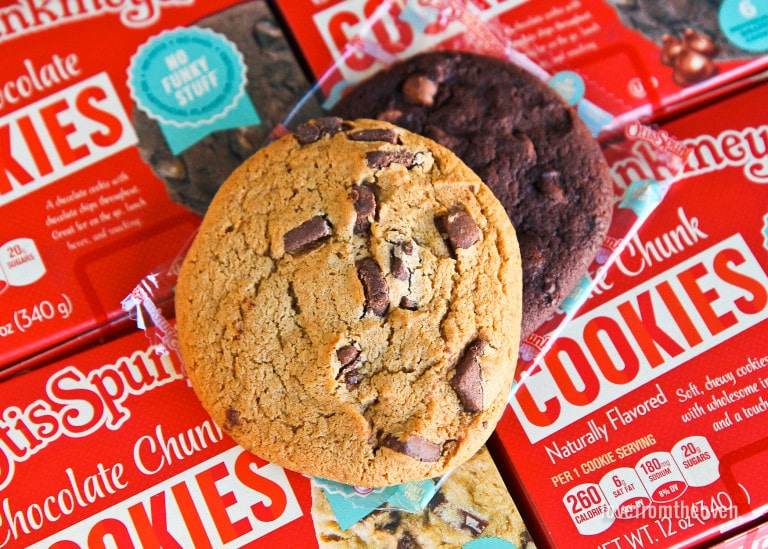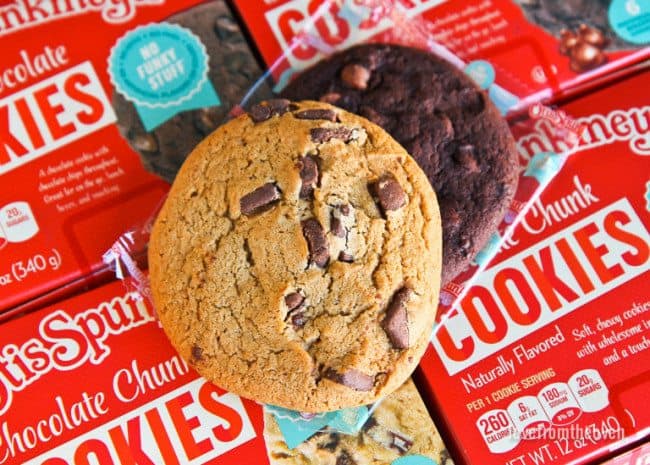 As a food blogger, I work with a lot of brands and get to try a lot of products. Dare I say I can be a bit hard to impress, especially when it comes to baked goods. I like my baked goods homemade, and the bar is set pretty high. When the folks at Otis Spunkmeyer asked if I would like to try their new line, I was curious, especially after enjoying their cookies at my daughter's swim school for years. I was blown away by how good these are. They absolutely exceeded all of my expectations. These aren't your average snack cakes, they are incredible.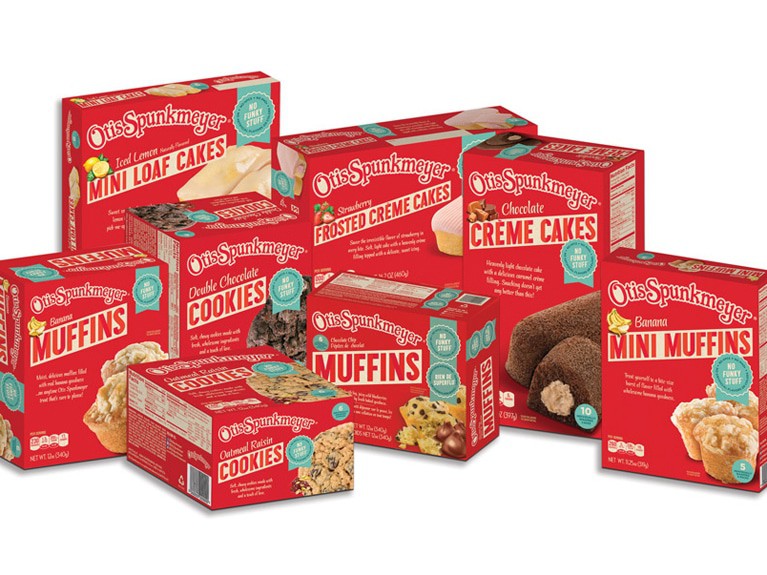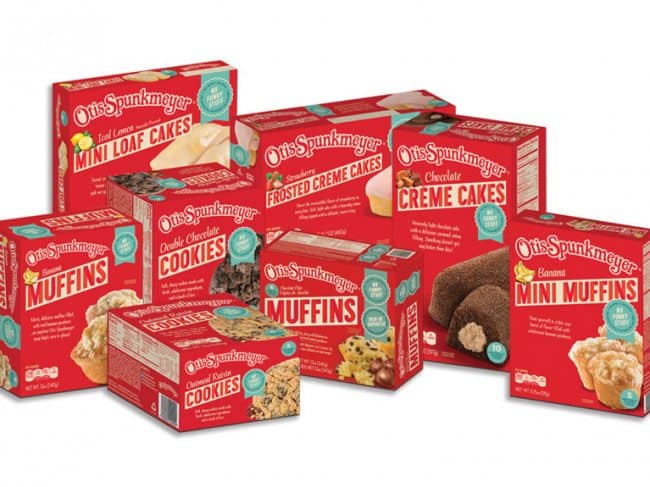 You can now find Otis Spunkmeyer cookies, snack cakes, muffins, mini muffins, mini cupcakes and more at grocery stores nationwide, including Walmart and sold online via Amazon Fresh. Obviously I adore the cookies, but the Mini Loaf Cakes in Iced Lemon and Cinnamon Crumb, oh my word, they might be my favorites. I have a birthday coming up next week and I think I might just request a box of Ice Lemon Mini Loaf Cakes and a candle. And tell my family to get their own box. 🙂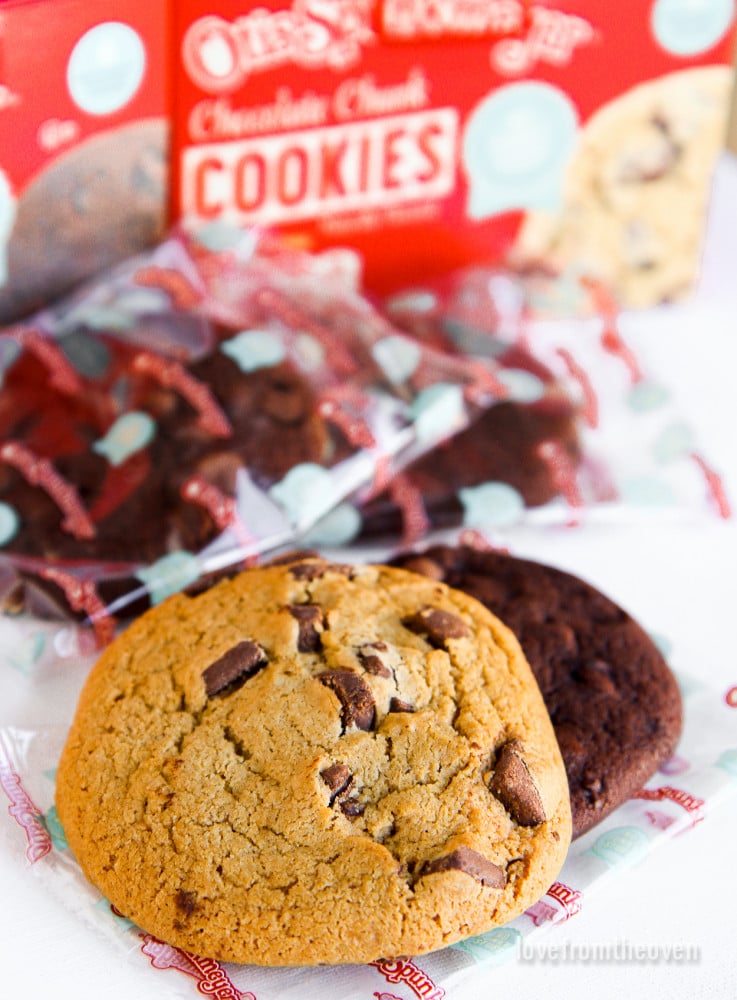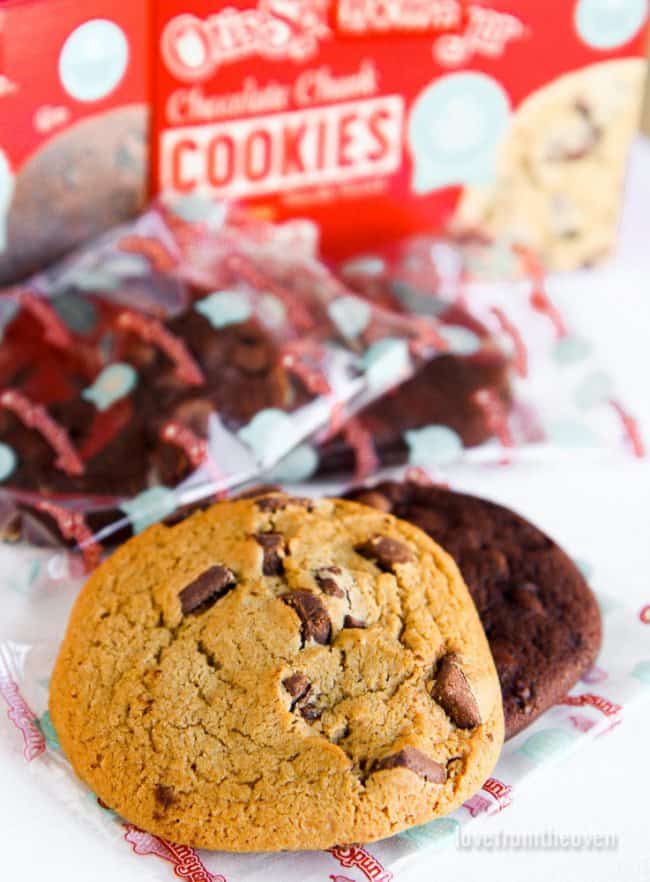 In addition to the great taste, I also love that Otis Spunkmeyer promises "No Funky Stuff," meaning all foods are made without artificial flavors or colors, high fructose corn syrup, or partially hydrogenated oils. My youngest daughter and artificial food colors do not get along very well, so I LOVE that I don't have to worry about those with these products. I think these will be my go to option for classroom party treats this coming school year.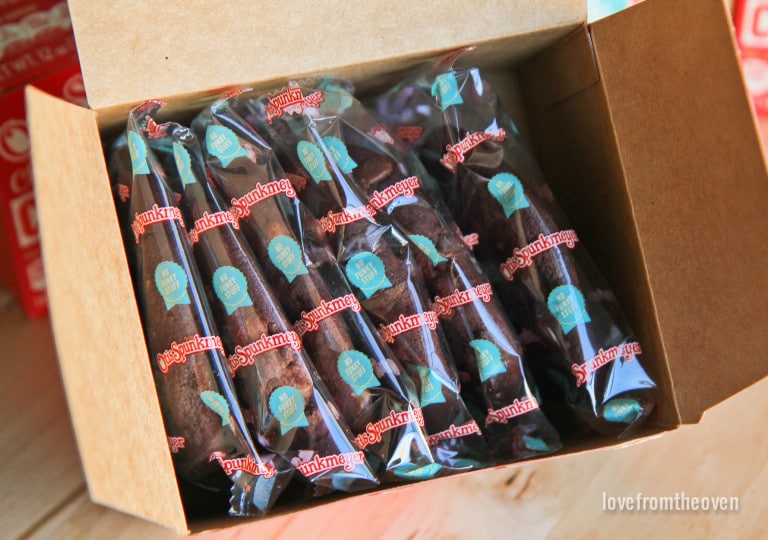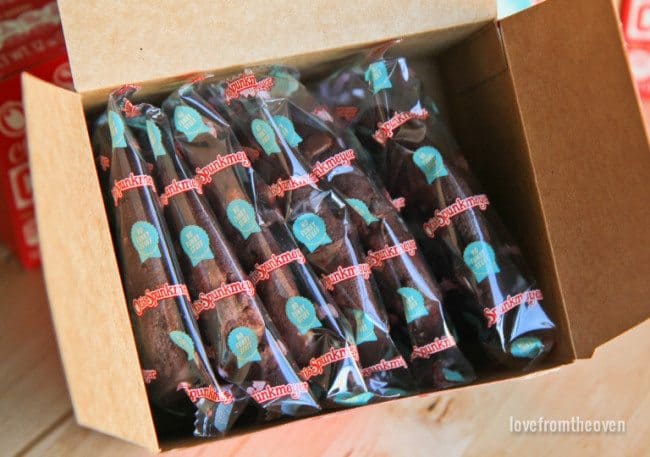 All the Otis Spunkmeyer snacks are individually wrapped, making them a great on-the-go snack option. As a busy mom, I'm often grabbing things at the last minute, and I love that convenience.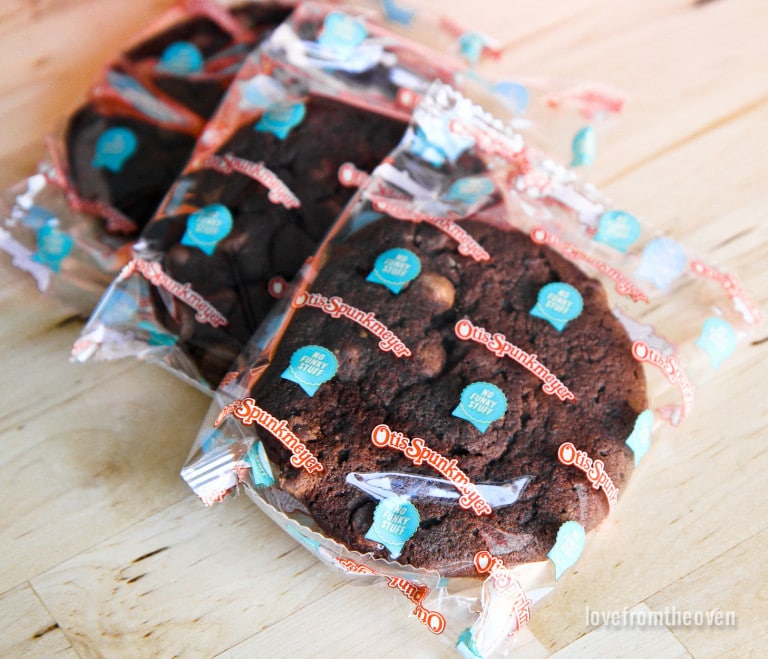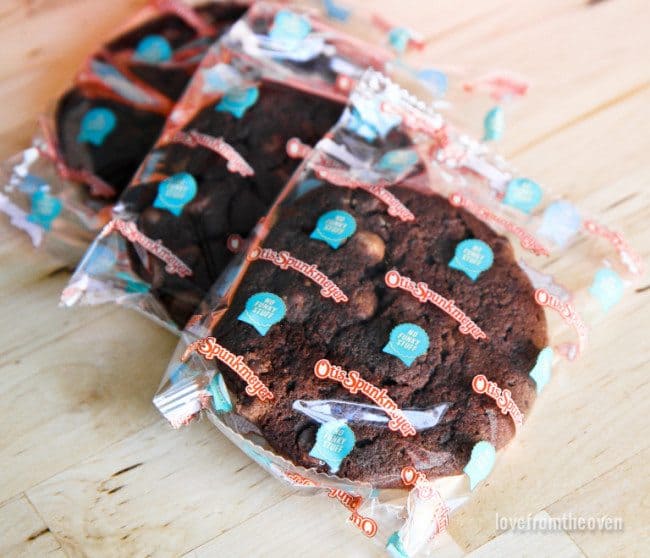 Now let's use some of these delicious cookies to make ice cream sandwiches! I used the Chocolate Chunk and Double Chocolate cookies for my ice cream sandwiches. Pair them or get the best of both worlds by making an ice cream sandwich with both!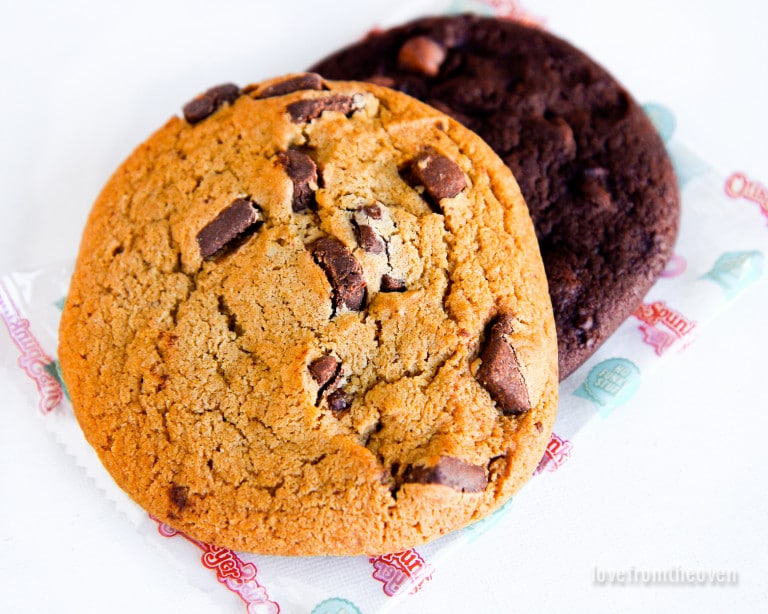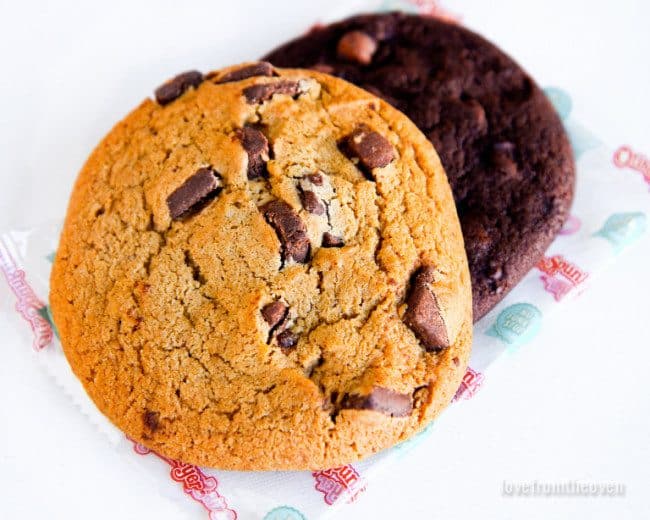 There are a few ways to make ice cream sandwiches. You can simply scoop your ice cream right onto your cookie, sandwich it and enjoy, you can't go wrong with that. Another option is an idea I saw a few years ago that I love. You scoop the ice cream into a baking pan lined with parchment paper, and press it into a layer in the pan, between 1/2″ and 1″ thick. That pan with ice cream goes into the freezer for at least four hours, then when you pull it out, you use a round cookie cutter to cut out perfectly shaped ice cream circles for your cookies.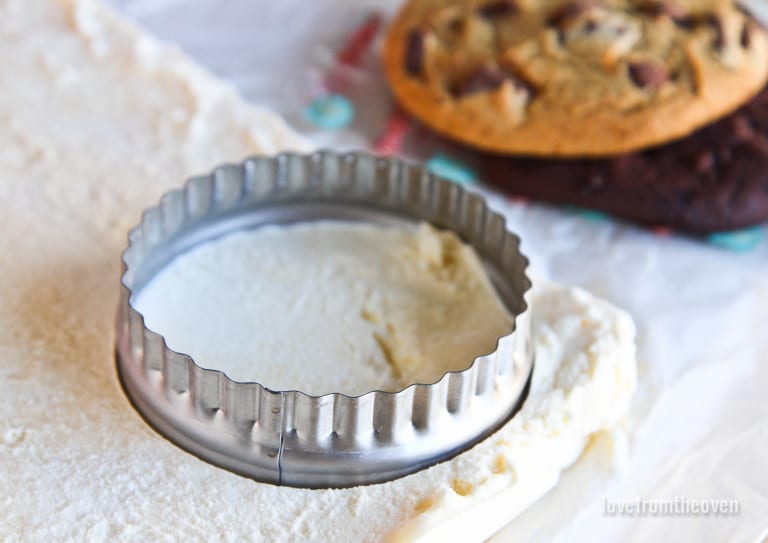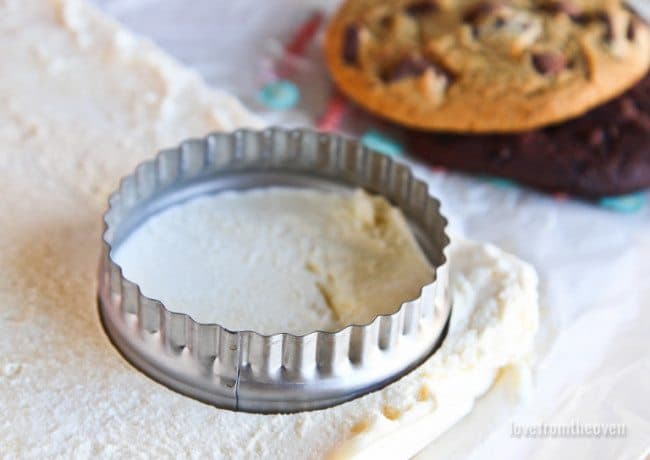 This is a great way to go if you want to make your ice cream sandwiches ahead of time and pop them back into the freezer a few hours before serving. You can even do this a few days in advance if you like. I use a 13″ x 9″ size pan, and get about nine ice cream rounds out of it, but if you gather up the ice cream "scraps" if you will, you can get another one or two rounds as well.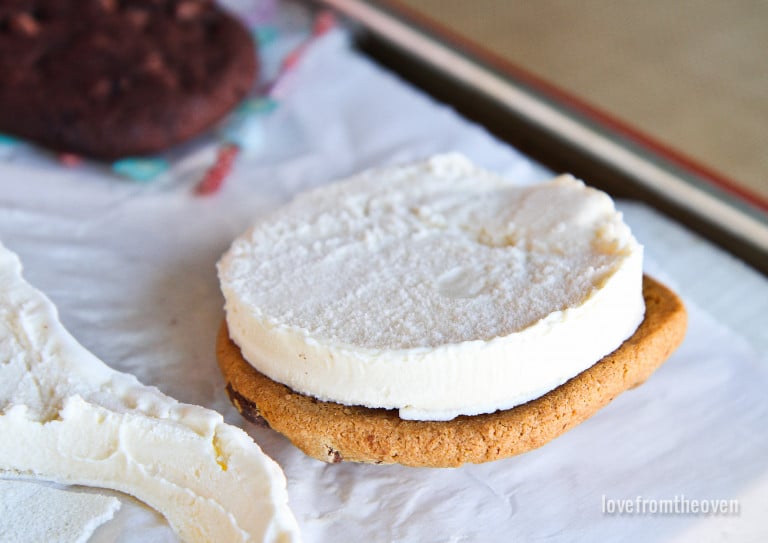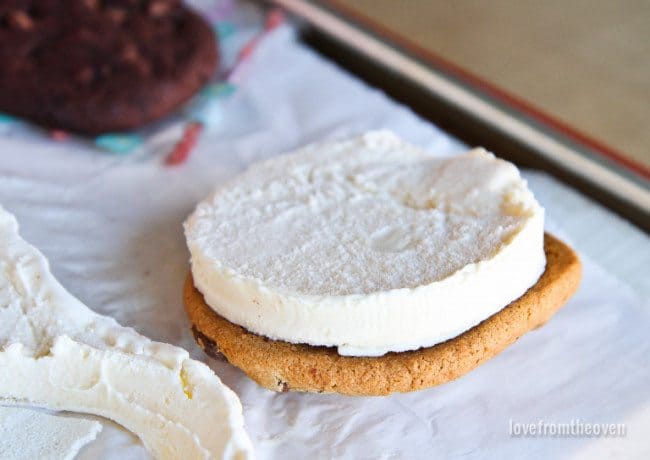 You simply place your ice cream round onto a cookie, add another cookie to the top of your sandwich, and voila, a perfect ice cream sandwich!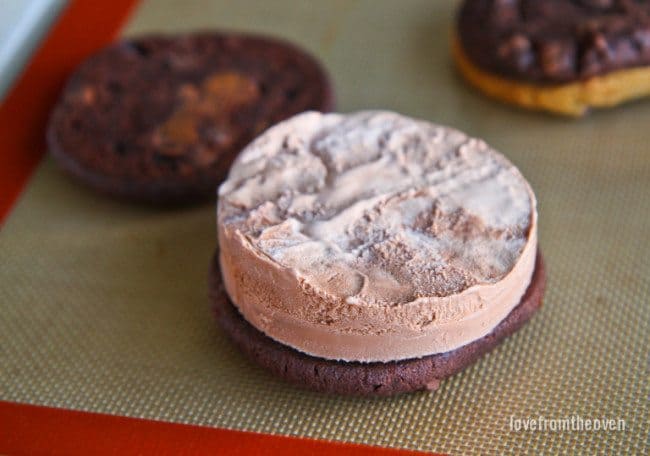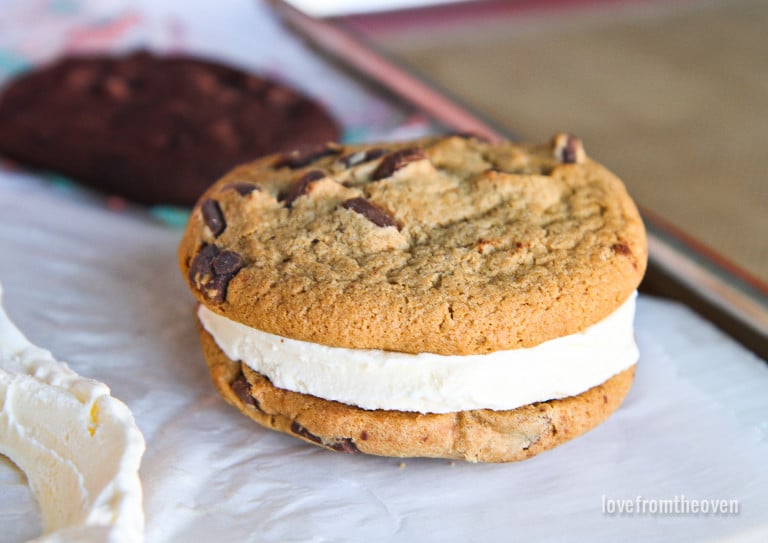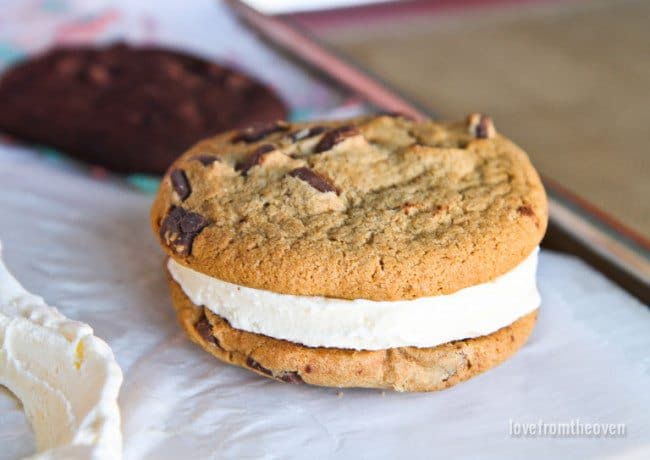 Once you've assembled your sandwich, you can add sprinkles or dip it into mini chocolate chips, nuts or candies.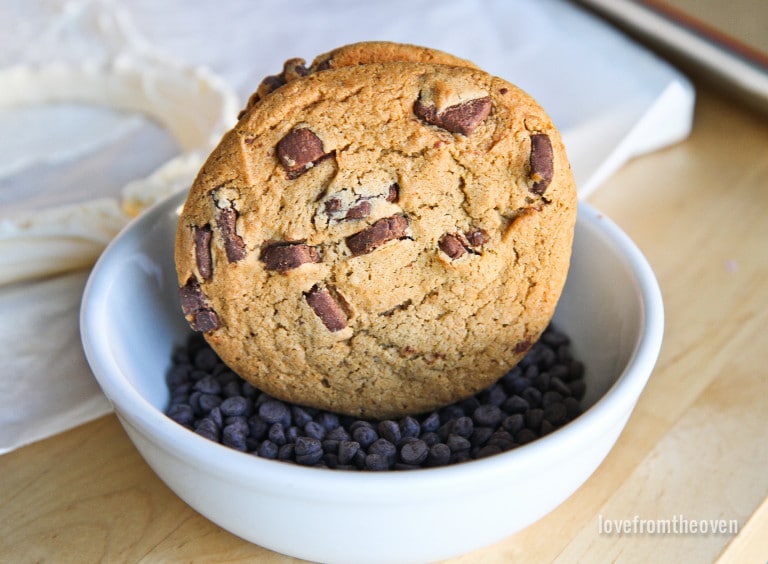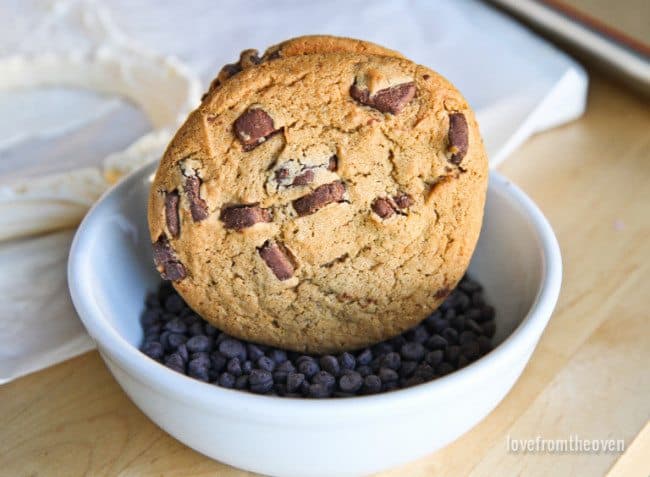 These. Are. Amazing. If you are making them ahead of time you can either individually wrap them and return them to the freezer (great for storing for more than a day or two) or place them in a sealed container and store in your freezer. When ready to serve you just pull them out and watch everyone smile when they see them.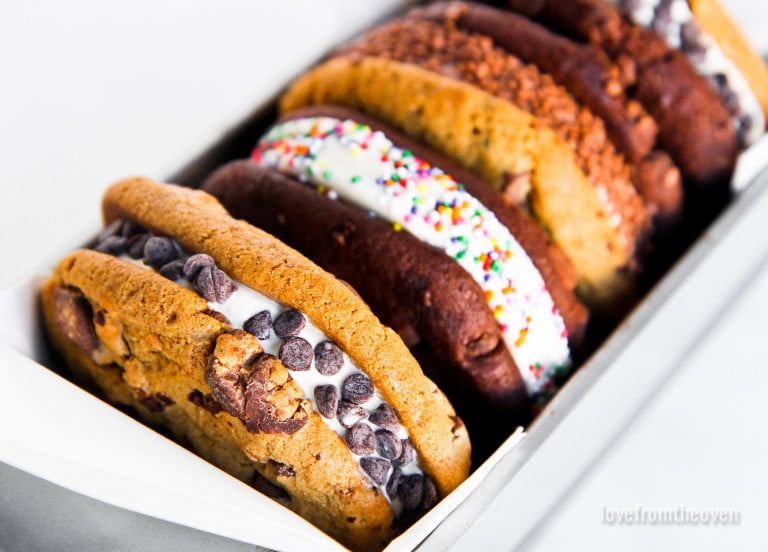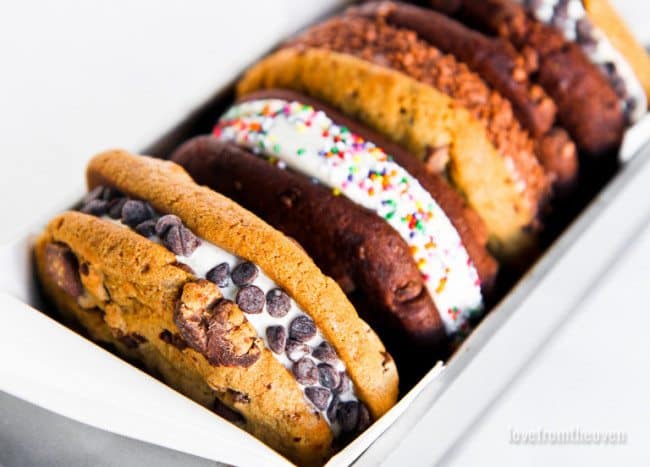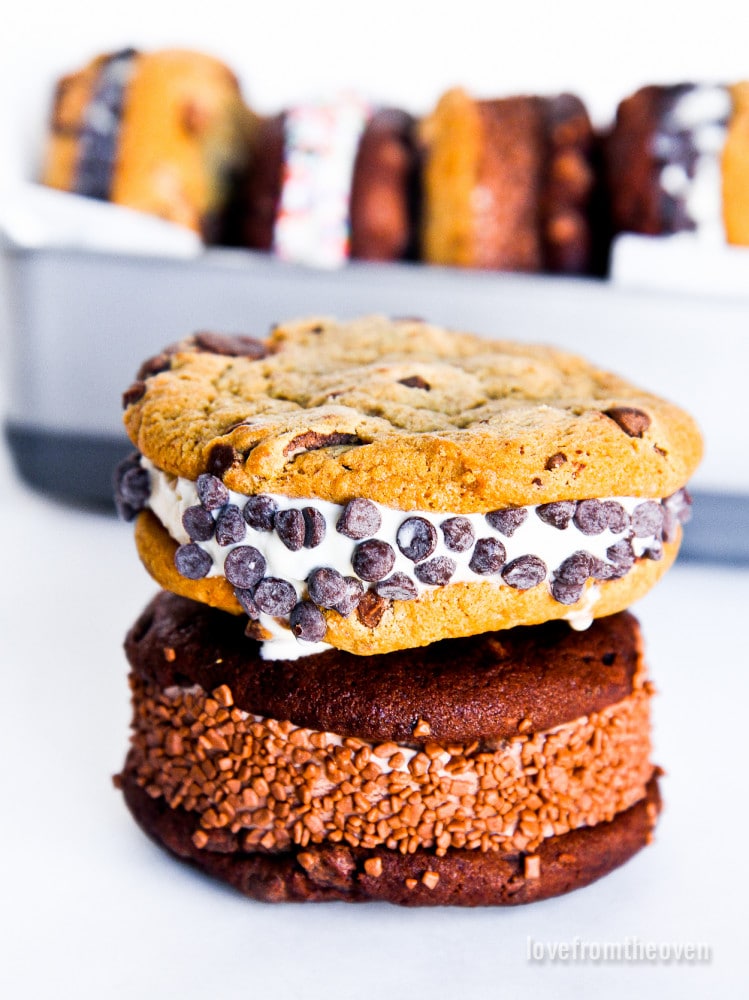 COOKIE ICE CREAM SANDWICHES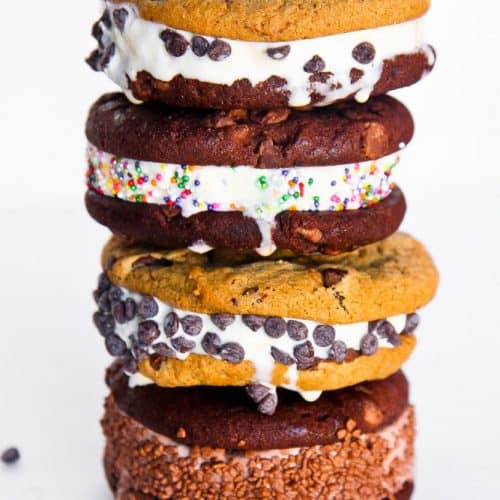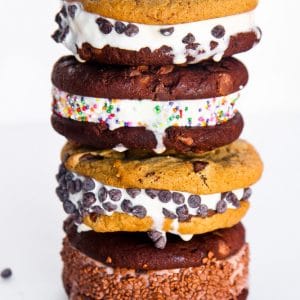 Cookie Ice Cream Sandwiches
Ingredients
*For each ice cream sandwich you will need:

2

Otis Spunkmeyer Cookies

1/2-1

cup

ice cream

any flavor

Optional: mini chocolate chips

sprinkles, nuts or candies to garnish
Instructions
Place your ice cream between your cookies to create a sandwich, and dip ice cream edges into garnish items if desired. Serve immediately or store in freezer.
A perfect summertime treat if you ask me!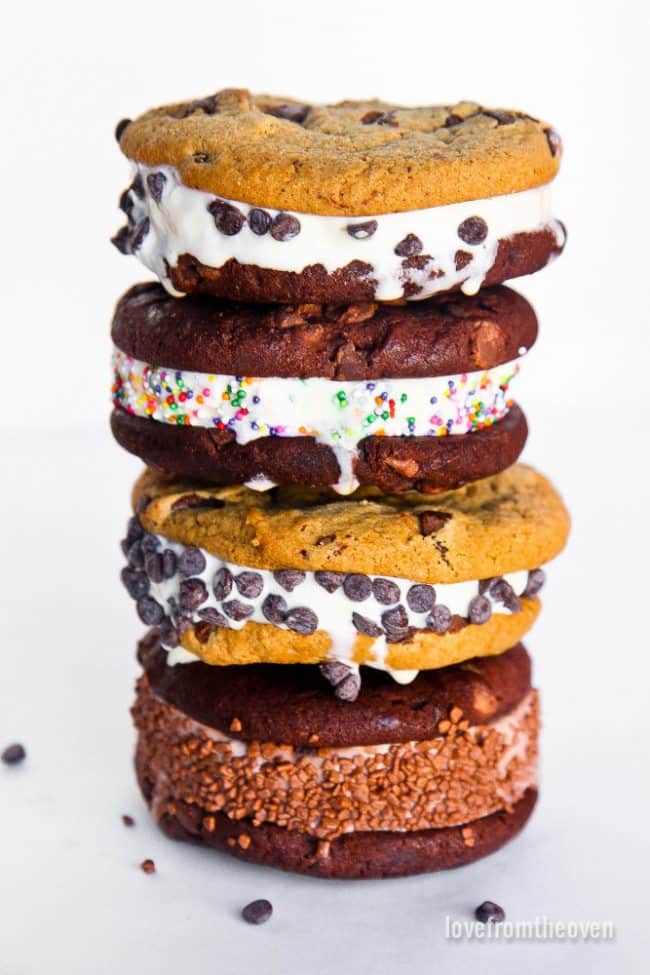 Make sure to keep your eye open for Otis Spunkmeyer in your grocery store or visit them online. You can also follow them on Facebook, Twitter and Instagram. I can't wait to hear what you think and which products are your favorites!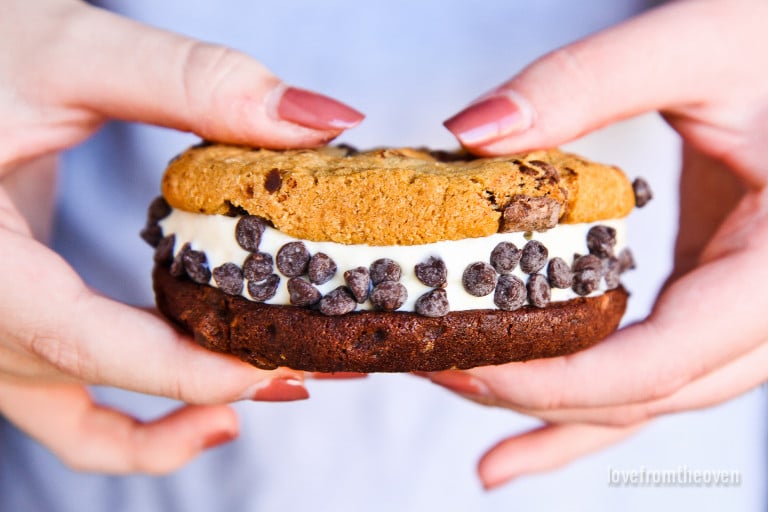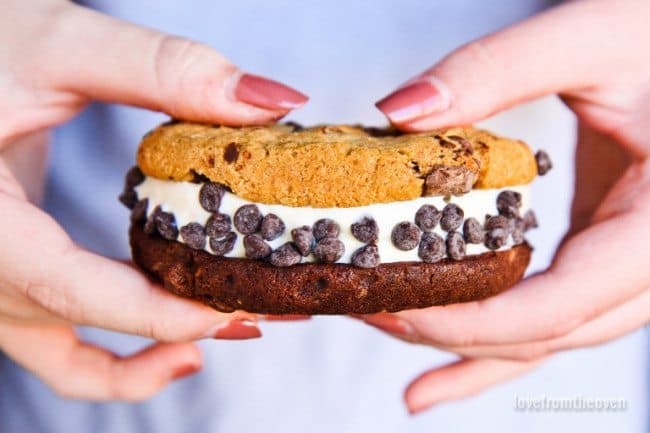 Disclosure: This post was sponsored by Otis Spunkmeyer. All opinions however are mine and mine alone. #OtisSpunkmeyer