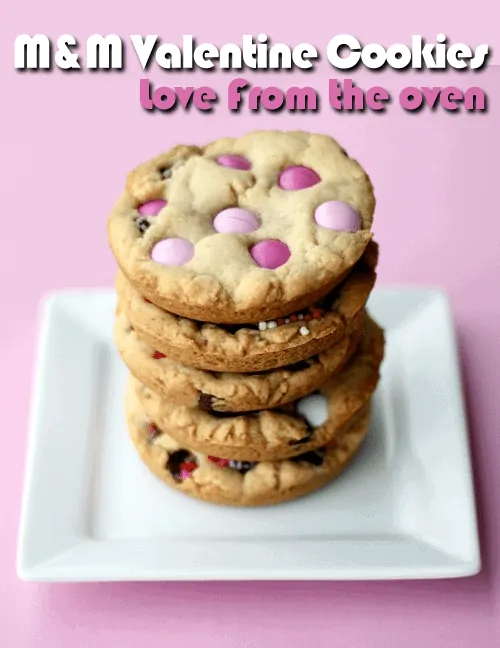 When I bought Wilton Whoopie Pie Pan on a whim the other day, I kind of felt like I may have thrown away a few bucks, as I had no intention of making whoopie pies.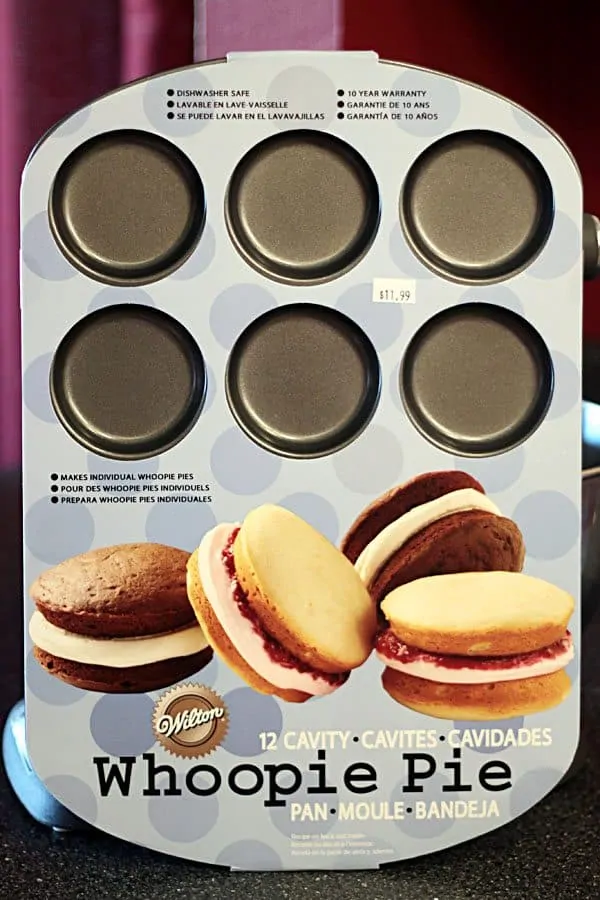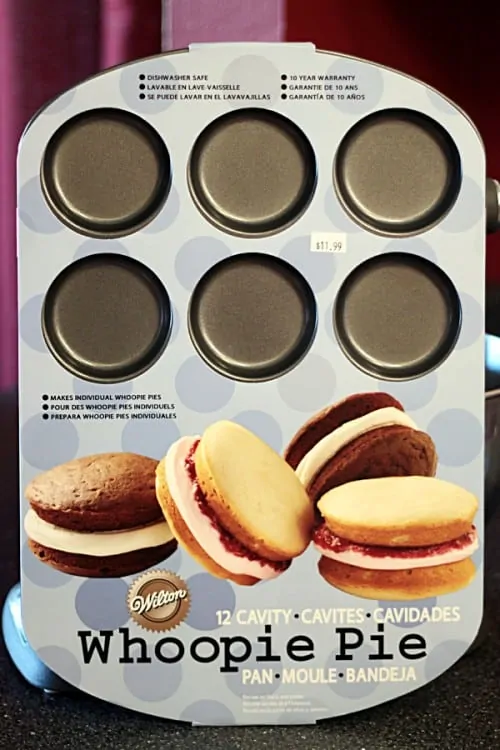 Oh was I so so wrong. This is my new found holy grail of cookie pans. I am way to flipping excited about this pan, like abnormally profess my love in front of everyone excited. I may have even run out and purchased the Heart Whoopie Pie Pan. Hell, I may even make whoopie pies! It's that fabulous.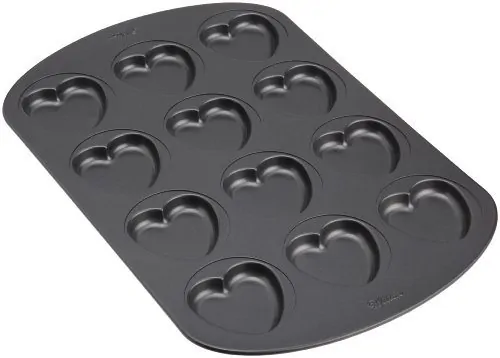 I LOVE to make cookies in the muffin top pan (a la Jenny over at the oh so awesome Picky Palate). But let's face it, those are some BIG cookies and my seven year old gets all kinds of bent when I tell her she can only have half a cookie (even if the cookie is approximately the size of her head). The whoopie pie pan is the amazing middle ground. Perfect uniform sized cookies in a "sure you can have the entire cookie because I'm such an awesome mom" size.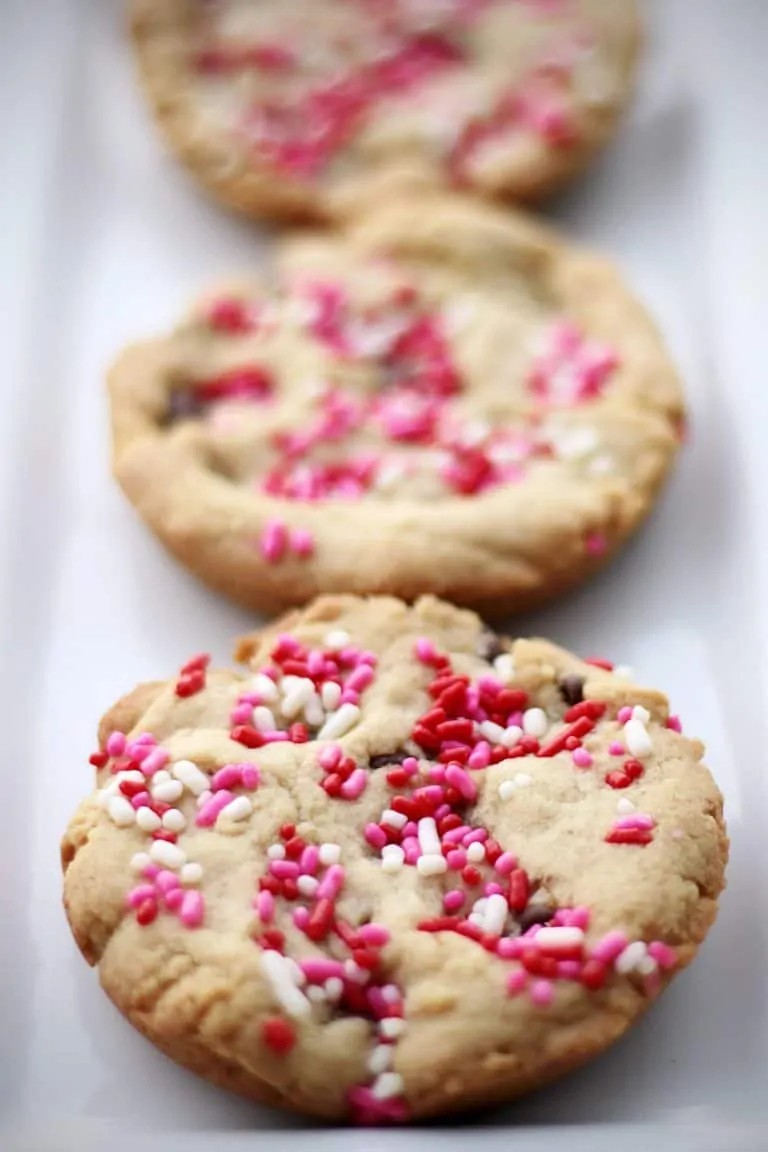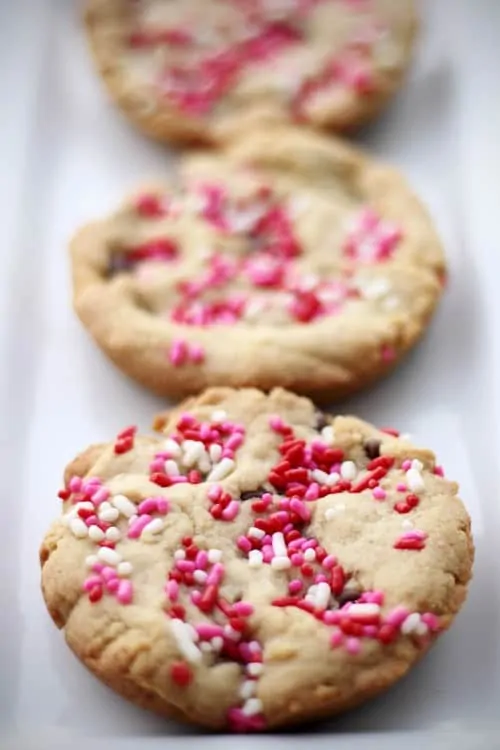 So anyways, now that I have hopefully conveyed my (somewhat disturbing) love of this pan – let's talk about the cookies I made! I used Jenny's Picky Palate Recipe for XXL M&M Cookies (though we should probably revise it to L-XL M&M Cookies).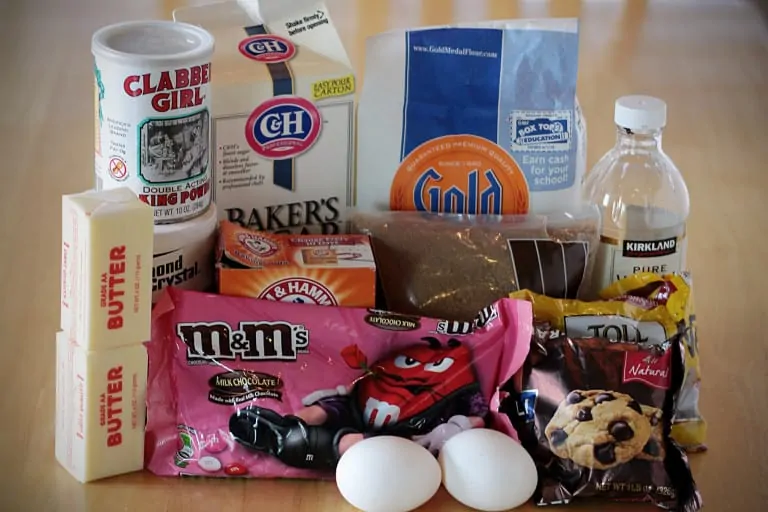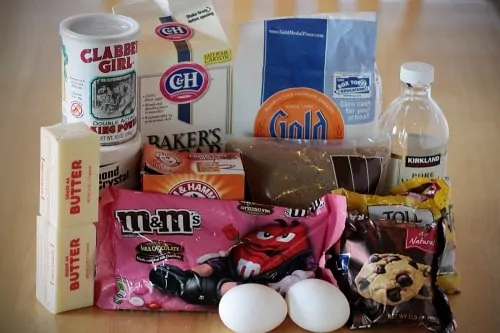 XXL M&M Chocolate Chip Cookies
2 sticks softened butter
3/4 Cup sugar
1 Cup packed light brown sugar
2 extra large eggs
2 Tablespoons pure vanilla
3 3/4 Cups all purpose flour
1 1/2 teaspoons baking soda
3/4 teaspoon salt
12 oz bag chocolate chips
1 bag M&M's (you'll have some left over) & various sprinkles
(I added 1/2 tsp of baking powder to her recipe)
Preheat oven to 350 degrees F. In a stand or electric mixer beat the butter and sugars until well beaten. Beat in eggs and vanilla until well combined. Place flour, baking soda and salt into a large bowl; mix.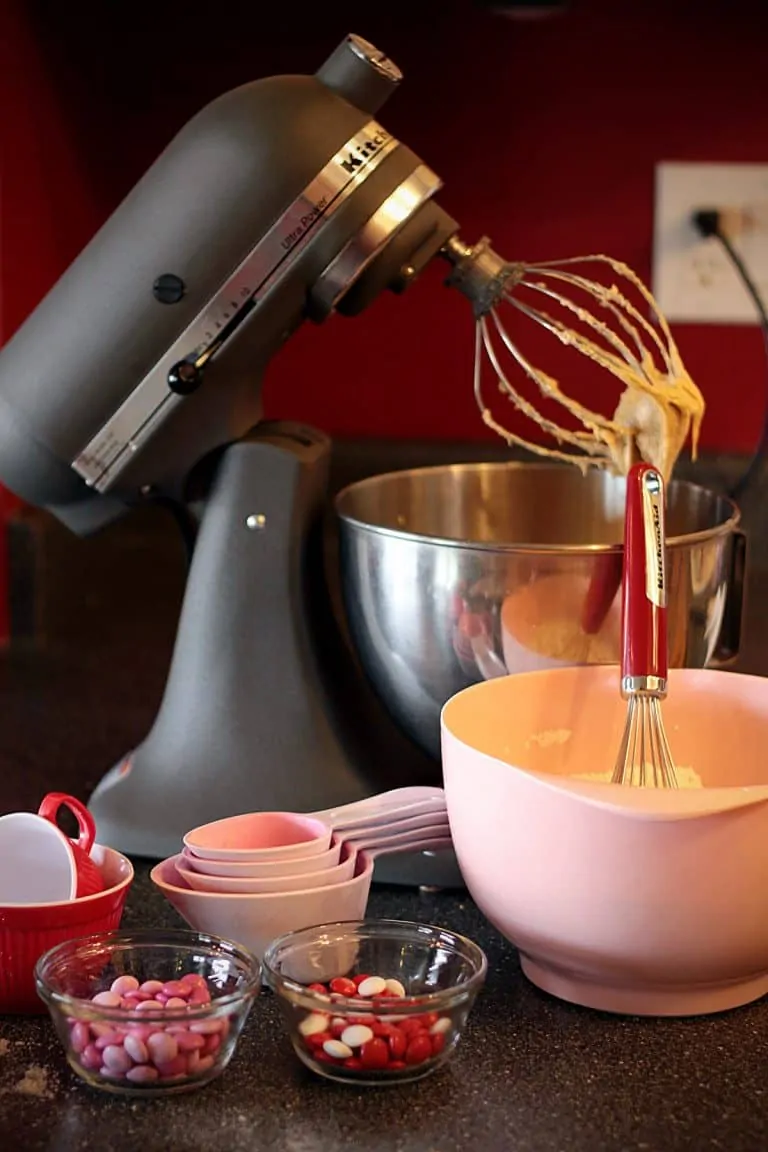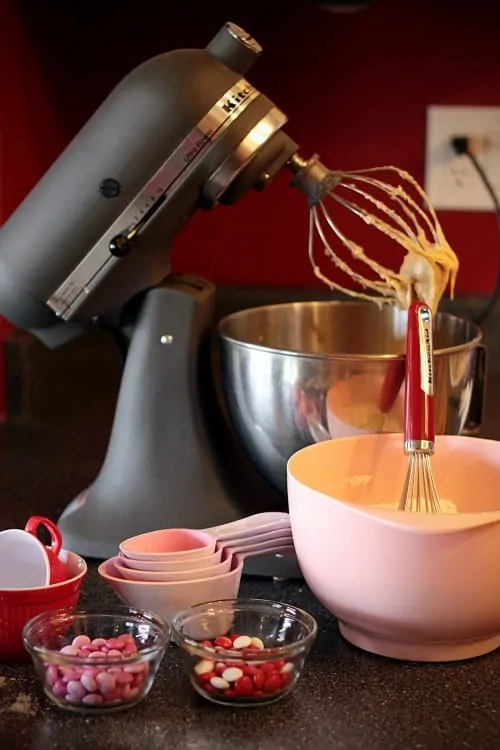 (I try to be really festive and match my baking supplies and materials to the holiday. Okay, that's a lie – at Halloween I'll still be baking with red and pink items, at which time it won't look nearly as cute in photos).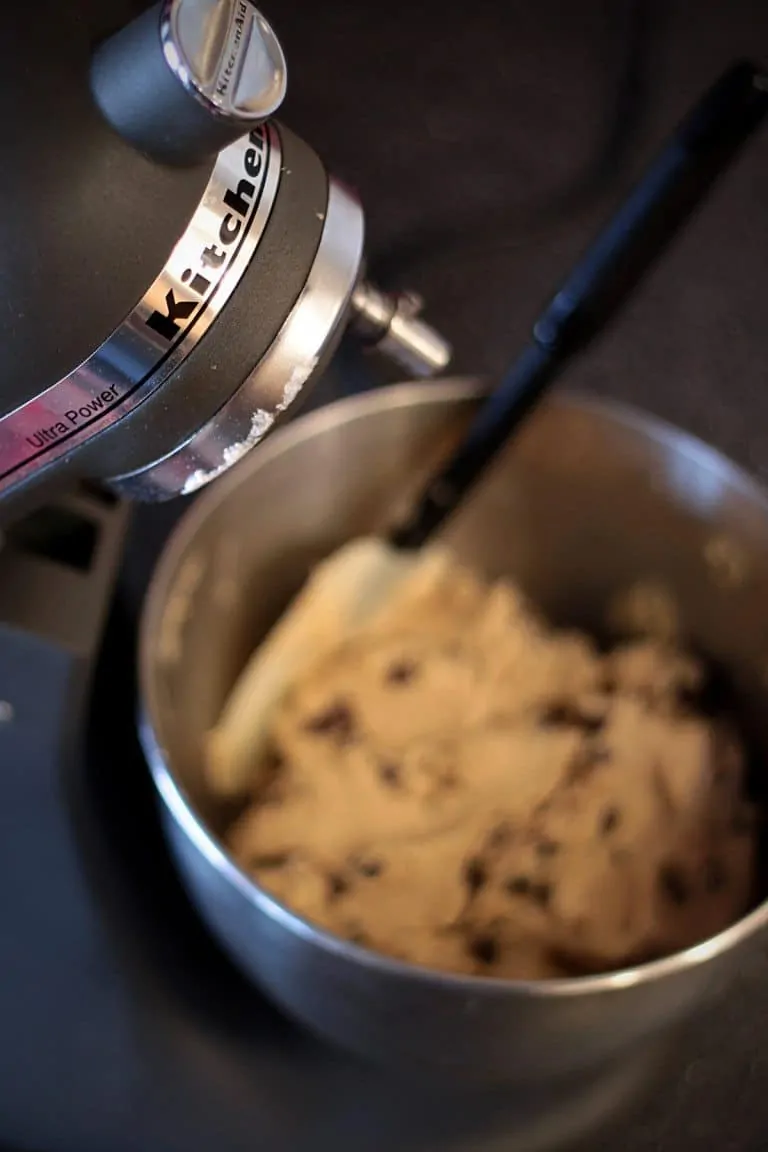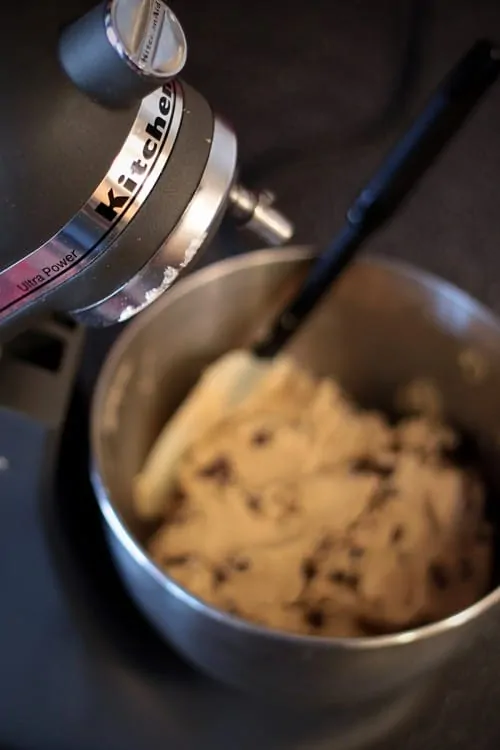 Slowly add to wet ingredients along with the chocolate chips. Do not mix in M&M's or sprinkles in with the batter – they go on last.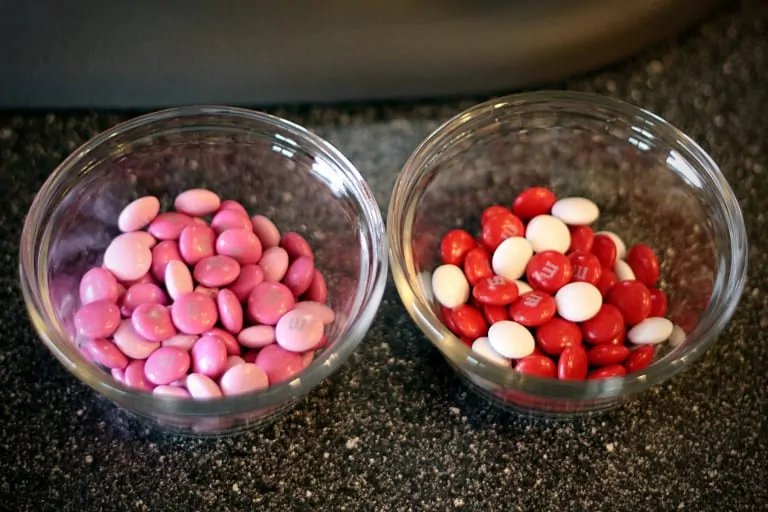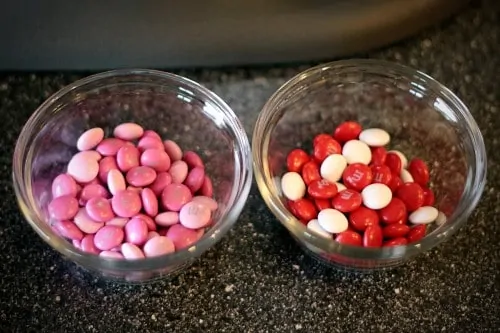 I separated the M&Ms because I just wasn't completely loving the mauve tone pink with the red. And yes, I felt like a roadie for Van Halen on the 1984 tour while doing so.
Press dough into whoopie pie pan, than press M&M's or sprinkles onto the top of each cookie and bake.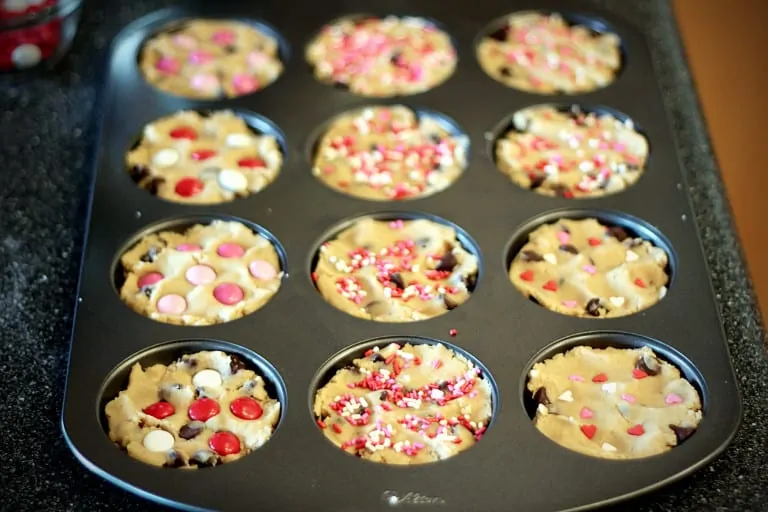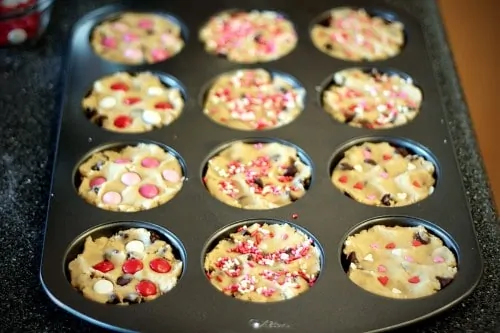 Mine took about nine minutes each (and I prefer mine slightly underdone).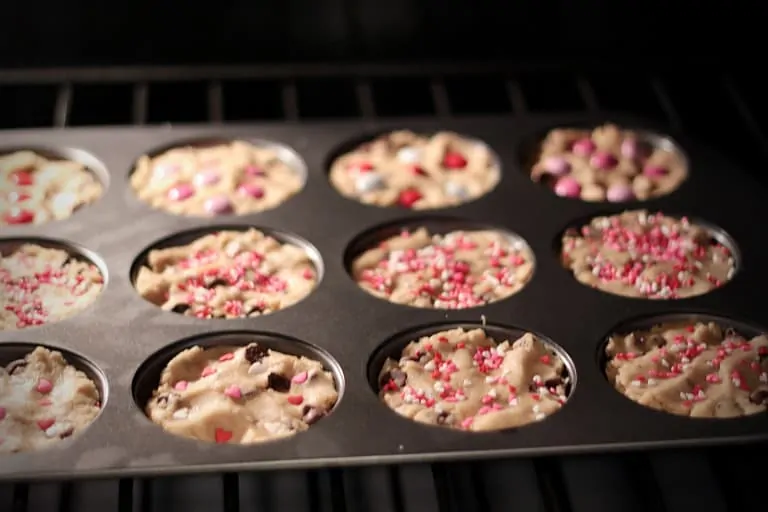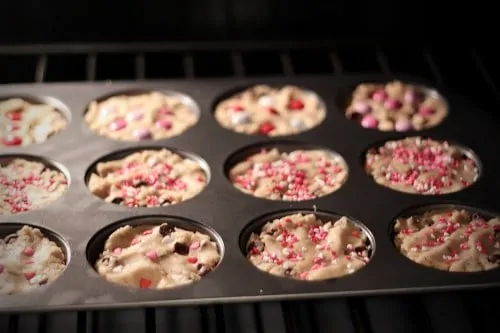 And out come the cutest chocolate chip Valentine cookies!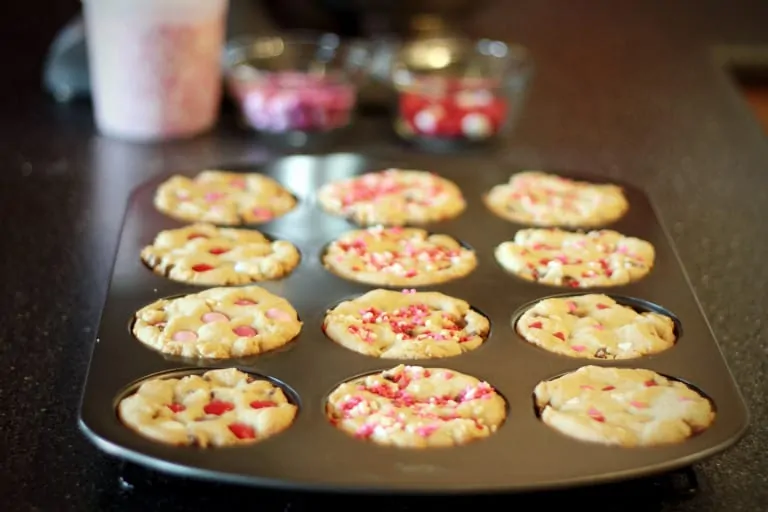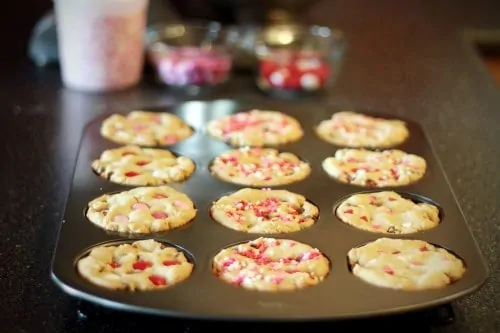 I let mine cool about ten minute in the pan before pulling them out. They came out SUPER easily, the non-stick is actually, well, non-stick. A refreshing change of pace in my non-stick experience. I was able to get 34 cookies out of the recipe. Truth be told I'm sure you can get three dozen out of it IF you do not eat two cookies worth of dough for lunch. Trust me.
Awww… So cute I almost couldn't eat it. But I got over that.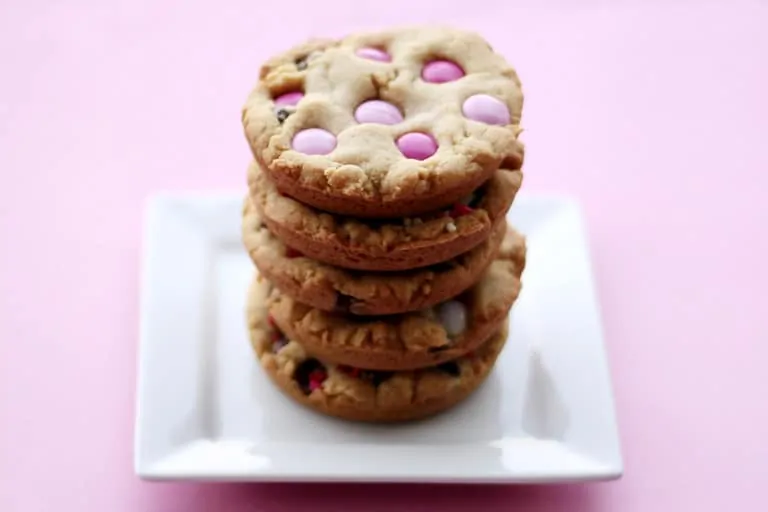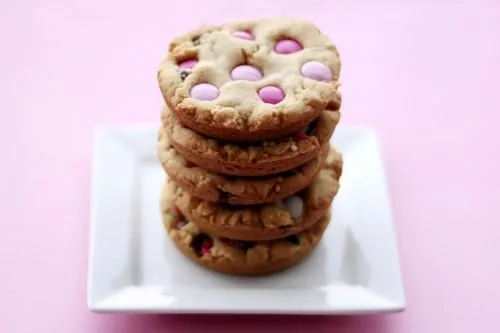 I mentioned I love the pan, right? Seriously – buy the pan! Cute cute cute!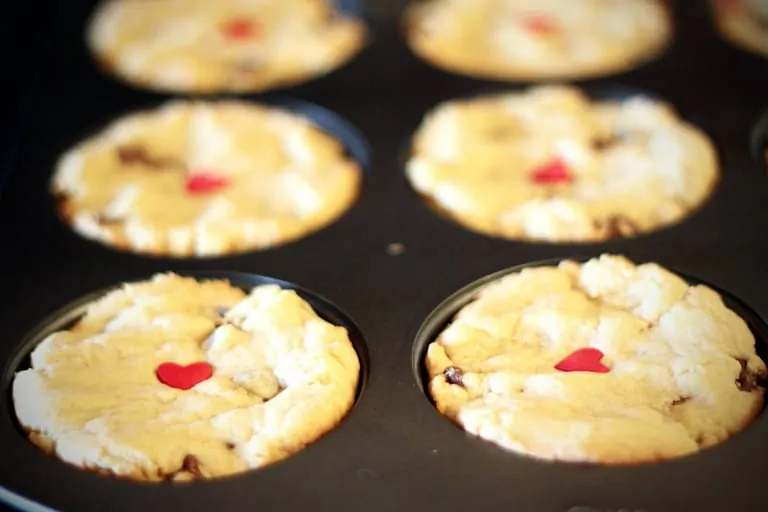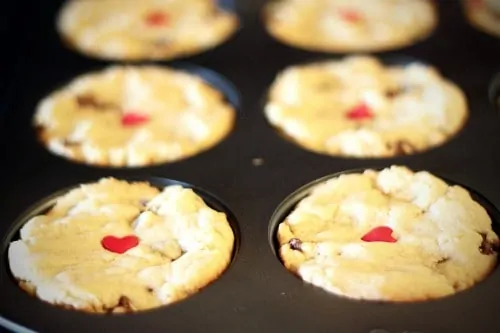 And to make me love this even more, the cookies are the PERFECT size to fit in the bags that I use for my pretztels.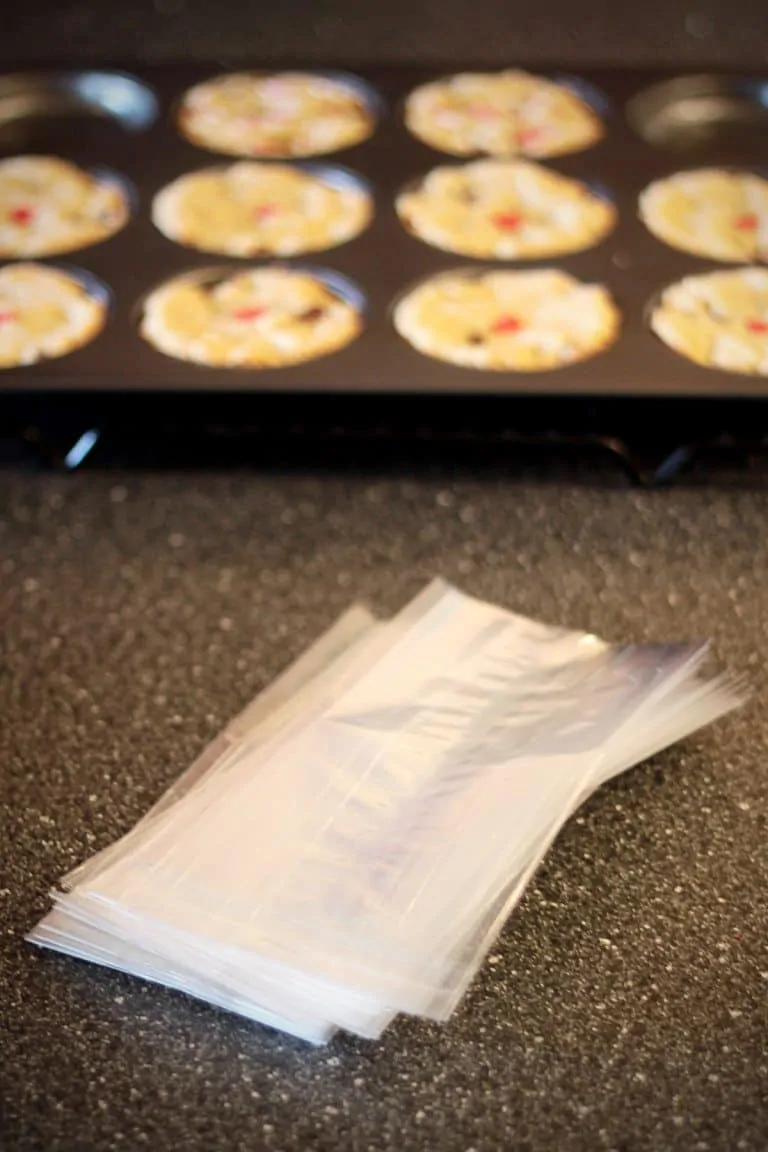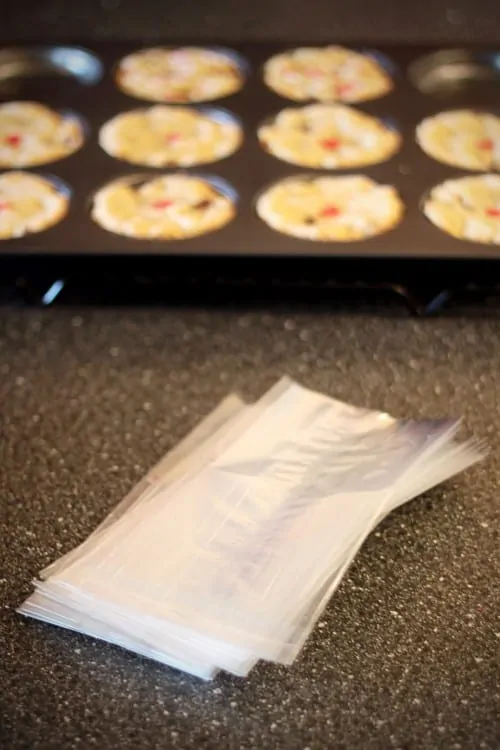 See – perfect fit!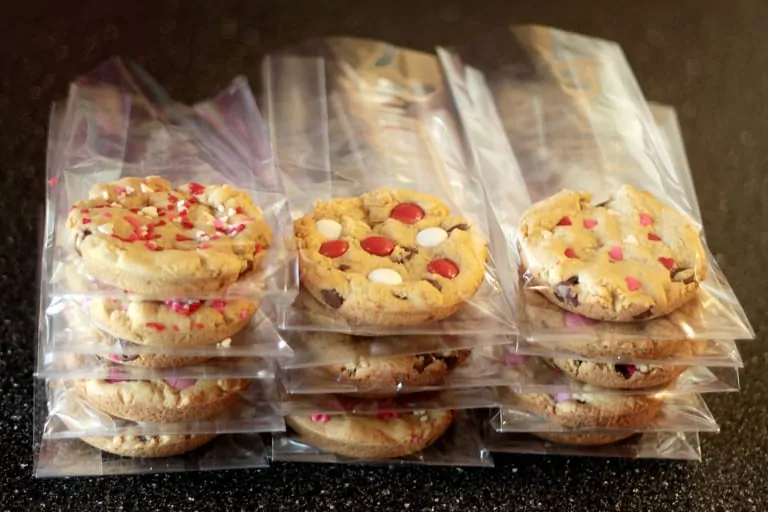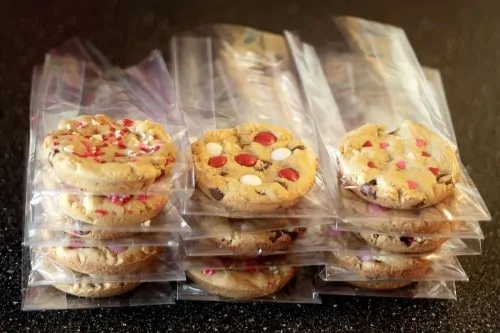 Tomorrow I'll finish packaging and share what I'm doing for that. 🙂