Let's talk about packing school lunches. My little one takes her lunch every day, and my oldest takes hers most days, so I pack a lot of lunchboxes. It can get a bit monotonous, so I love when I have a reason to shake up their lunches with a little change or surprise. But I'm always about keeping it simple. Today I'm sharing how I make an easy bento lunch for my kids. No bento box? Don't worry, you can use these same ideas in any container or even baggies.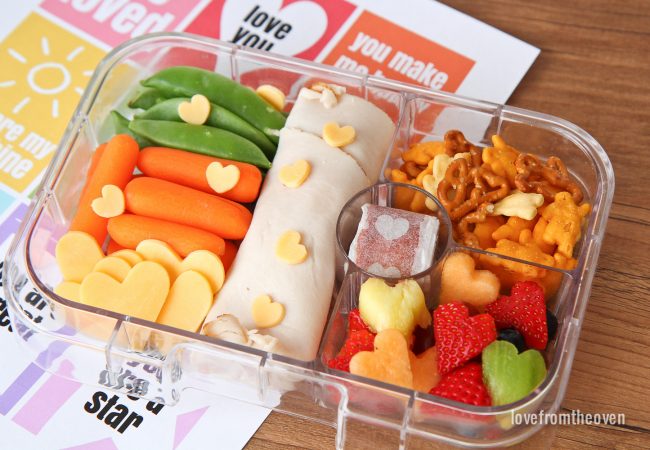 With Valentine's Day not too far off, I've been thinking about fun ways to pack an exciting themed kid lunch, but with the challenge of avoiding artificial flavors and synthetic colors that are so common with V-Day treats. While you see lots of fun and crazy colors on the blog in my baking creations, we actually try to stick to simple foods when it comes to what we pack for the girls. And since we're huge fans of convenient, better-for-you foods in our house, I was thrilled when the folks at Annie's Homegrown reached out to share the news about their new organic fruit snack – Annie's Organic Really Peely Fruit! I knew it would be a great addition to a Valentine's Day themed bento – especially for my youngest daughter, for whom we actually avoid artificial flavors and synthetic colors as much as possible. And this is why I'm such a big fan of Annie's, and why my cabinets are always packed full of Annie's products. Thanks so much to Annie's for sponsoring this post.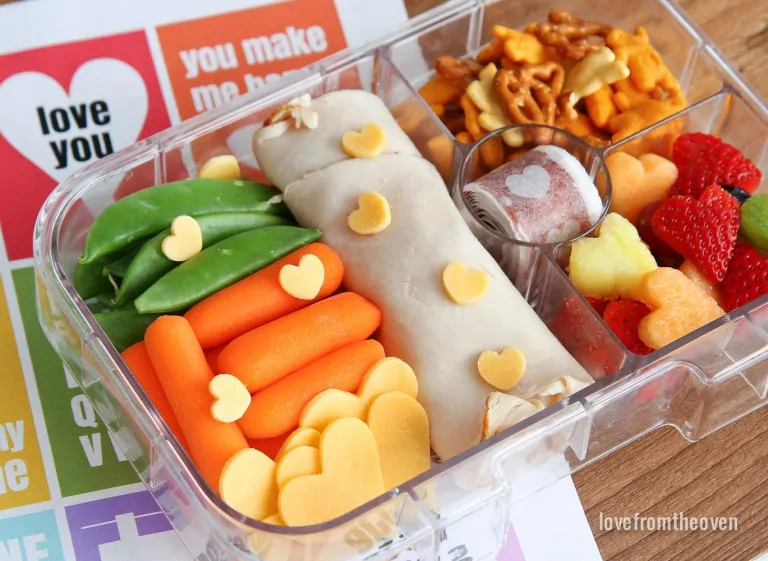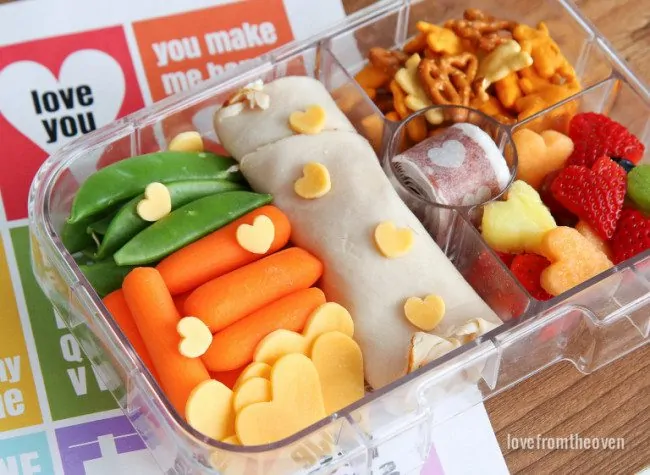 Annie's Organic Really Peely Fruit Tape is a fun peel and eat snack that is certified organic and made with ingredients you can pronounce. What's better?he first ingredients are real fruit juice & fruit. Can't beat that. And let me tell you, it's delicious. I may have eaten a few, you know, for research and all that. I was excited to have something fun and new to add to the lunchbox, especially for a sweet Valentine's Day lunch.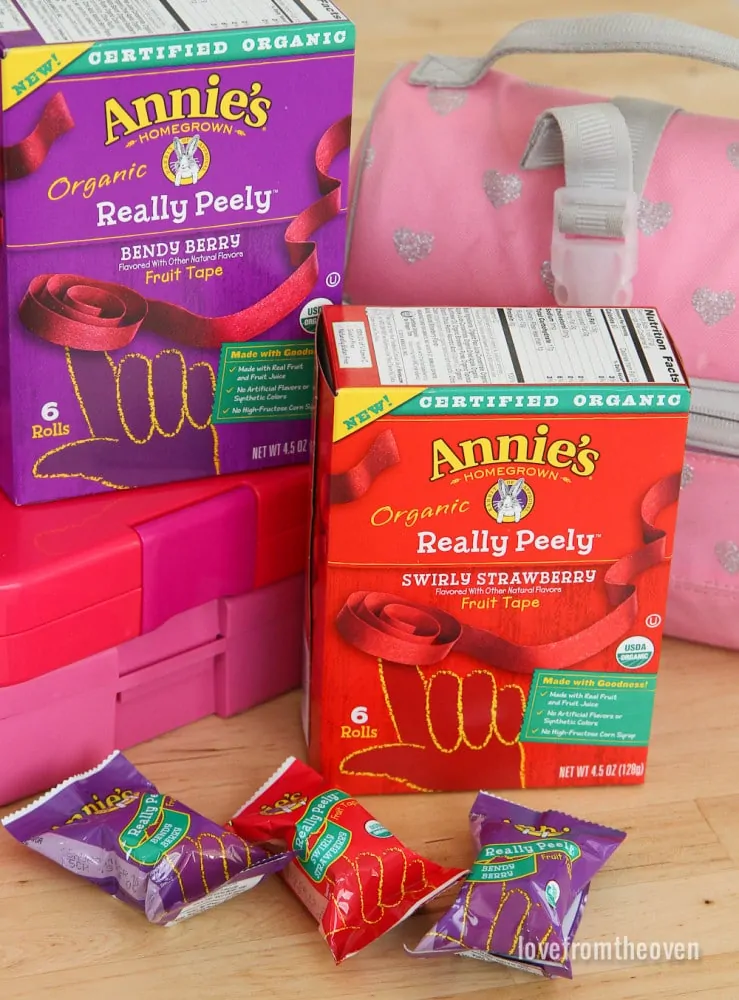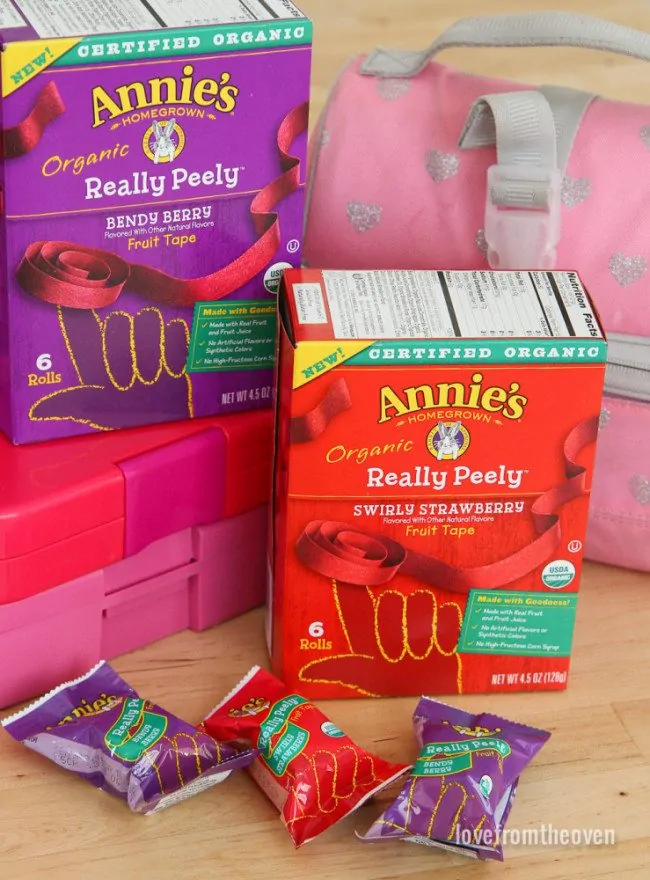 So let's talk lunch making. For my youngest I always make a bento style lunch. Why? The kids get such an incredibly short amount of time to eat, and I've found this to be the best way to maximize her lunch period and get the most food in her. When you are little, it's easy to spend half your lunch period just trying to open up bags and containers, so the bento style lunch saves time. All she has to do is open her box and start eating. For holidays or special occasions it's fun to take just a few extra minutes and do something special with her lunch, like this Valentine's Day themed lunch I am sharing.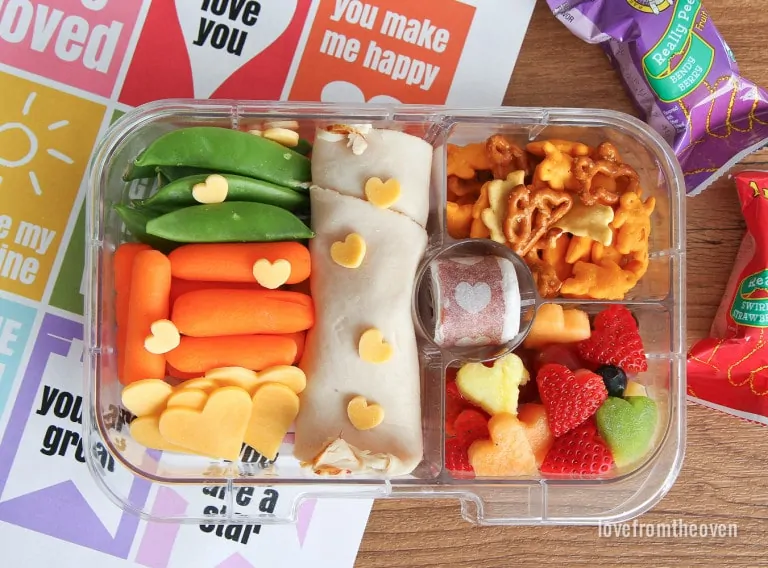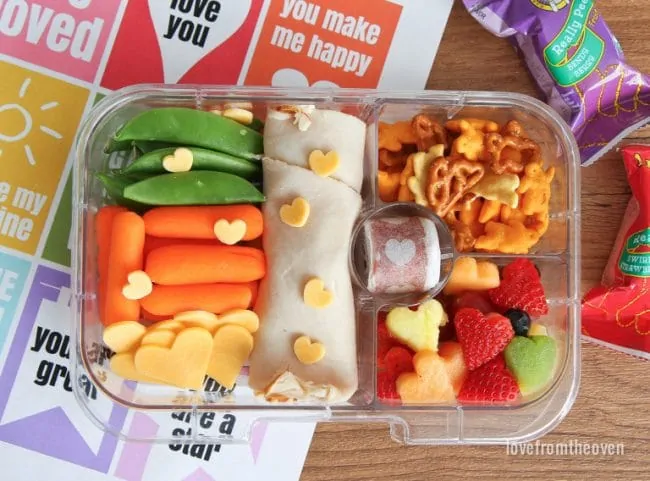 While you're not going to find me carving a hard boiled egg to look like Hello Kitty, I will break out a few mini cookie cutters from time to time. I promise you this is super simple and quick. For this lunch I used a heart cookie cutter for some of her fruit, cheese and for the Really Peely. An extra two minutes, tops, because I know how precious those morning minutes are. I love the idea of her opening her lunch box to a sweet surprise like this on Valentine's Day (or the day they'll celebrate at school). So let me walk you through our lunch.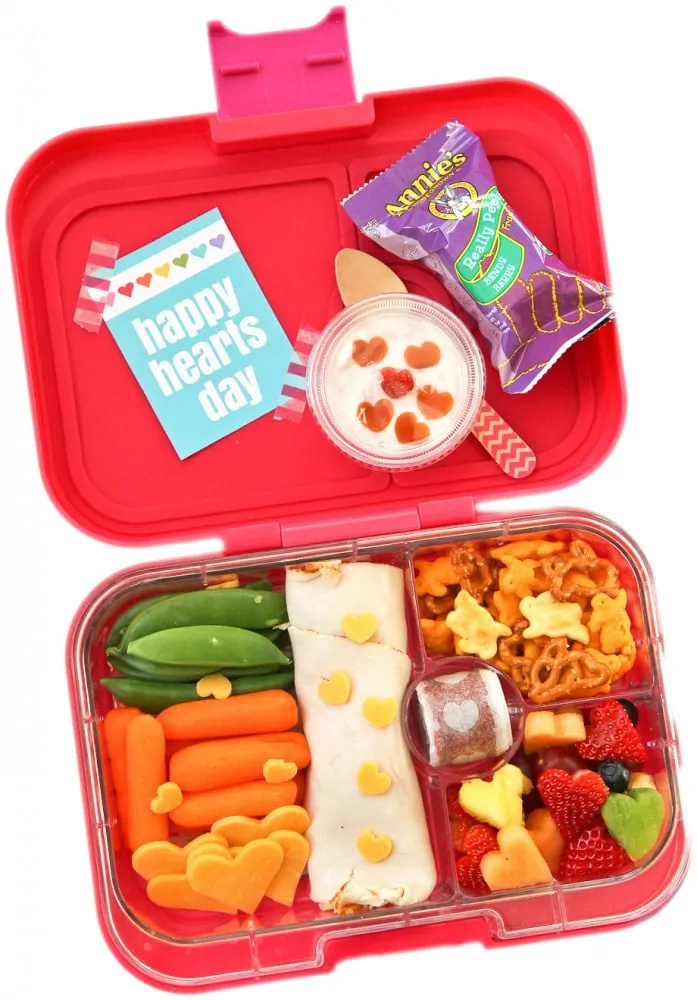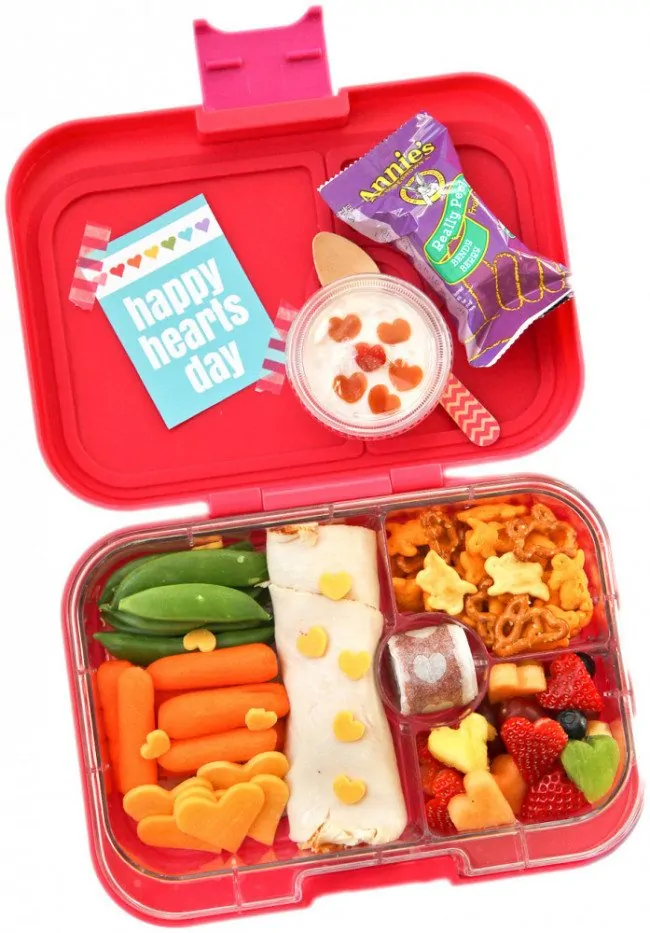 My kids have never been big on sandwiches, so a typical lunch for us includes some meat and cheese, some grains, fruits and veggies. Sometimes I'll also add in a bit of yogurt and a little treat. While I pack these into a bento box, they could really go into any type of container or even baggies. This fun Valentine's lunch idea will work however you make your lunches.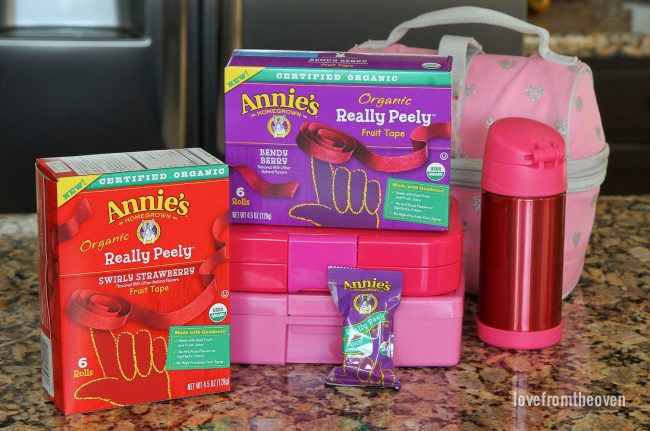 Easy Bento Lunch For Kids
Let's make lunch! For a fun Valentine themed spin on things, I decided to punch the first four inches or so of Annie's Really Peely Fruit Tape with a mini heart cutter (you can find these in the clay area of craft stores). It turned out SO cute and I love that you can see the heart cutouts even when I rolled it back up to tuck into her lunchbox.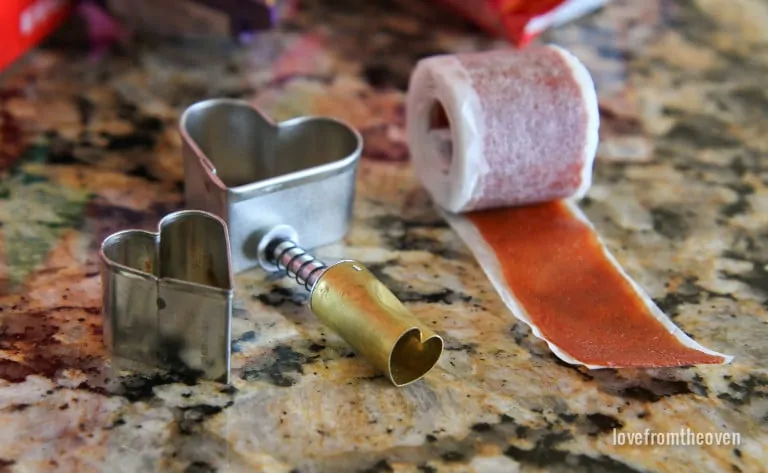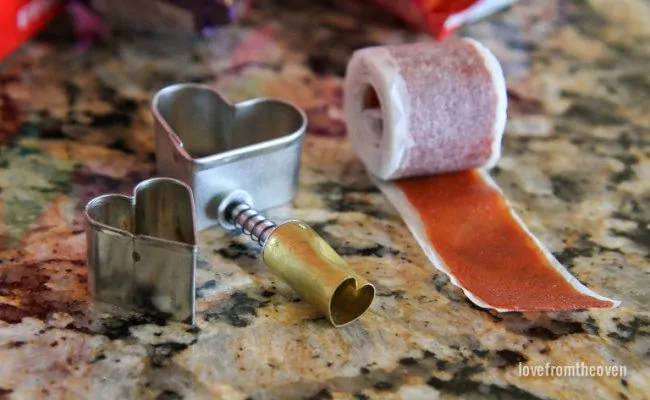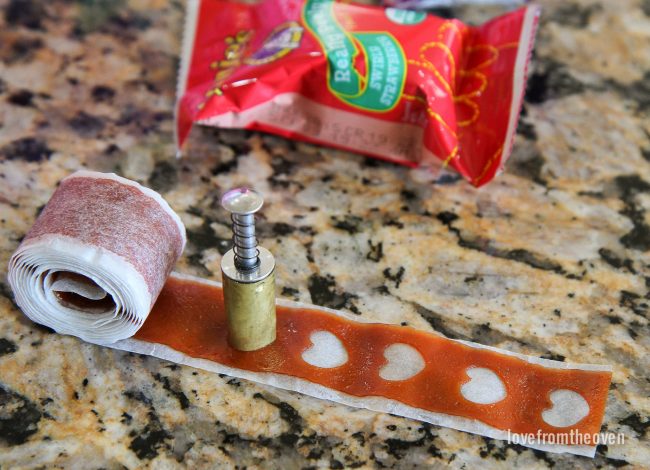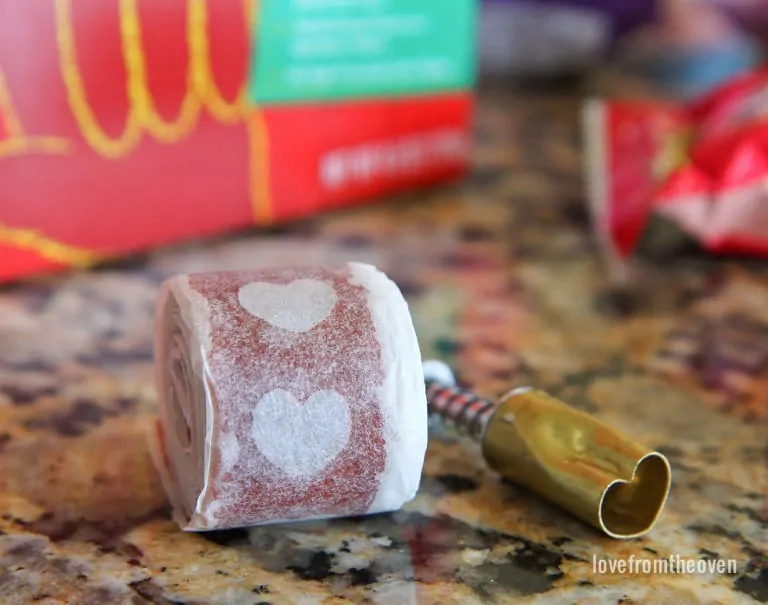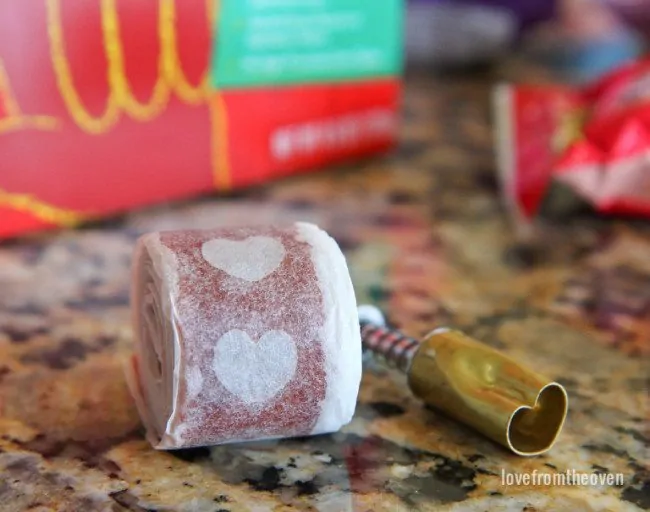 I kind of wish someone would make ME a lunch like this. Sigh. The little hearts that I cut out from the Really Peely Fruit Tape, those found their way into her yogurt. Well, truth be told a few found their way into my mouth, but the rest made it into her yogurt.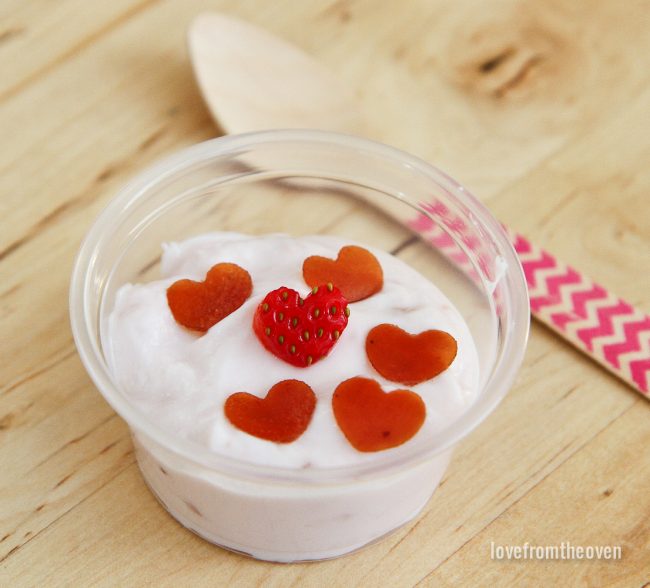 I also used some larger heart cutters to cut a few pieces of fruit and her cheese. The heart cutters work great with strawberries, honeydew, cantaloupe and watermelon. Pineapple is a bit trickier. Even if you only cut one or two hearts into their fruit, the message is there.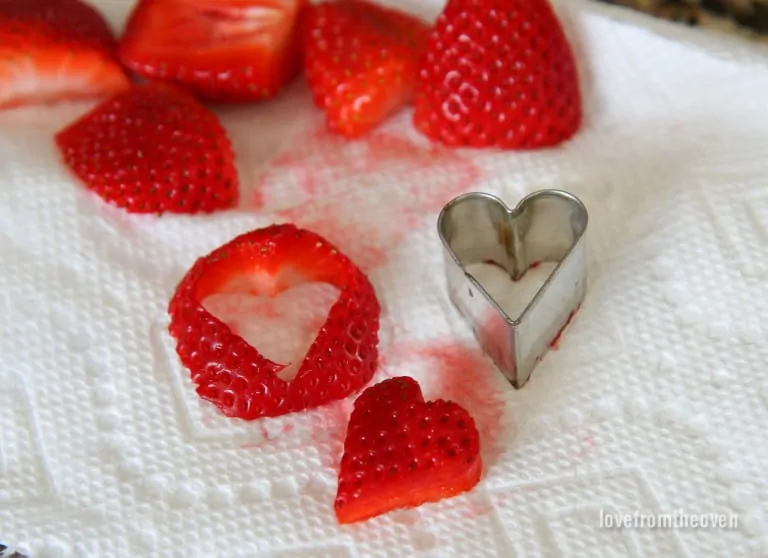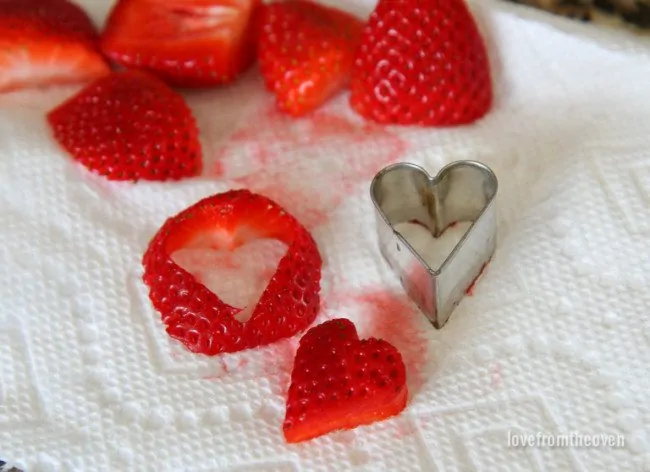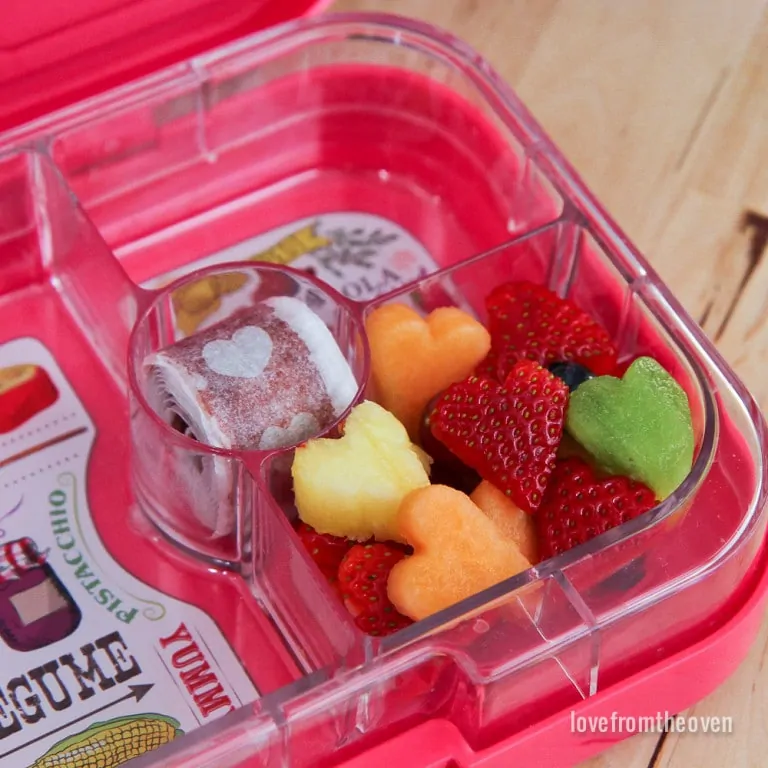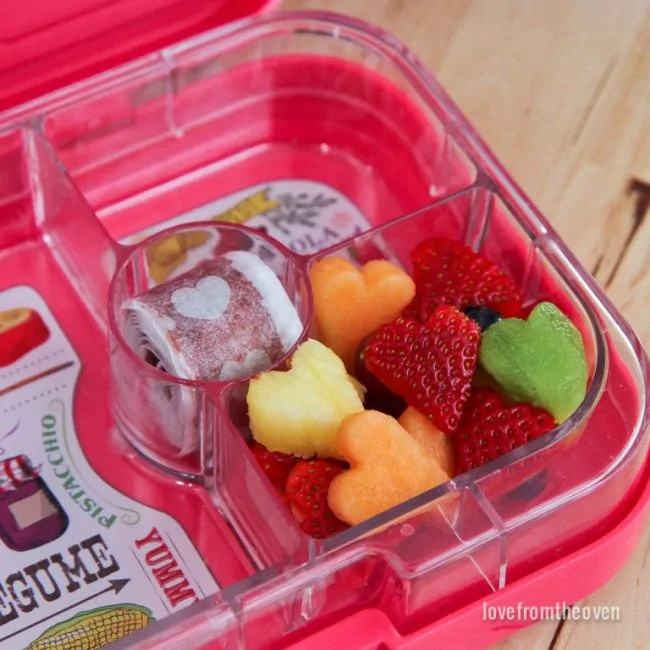 From their I started packing our lunch like I usually do with some meat and veggies, but I cut the cheese into hearts and scattered them around.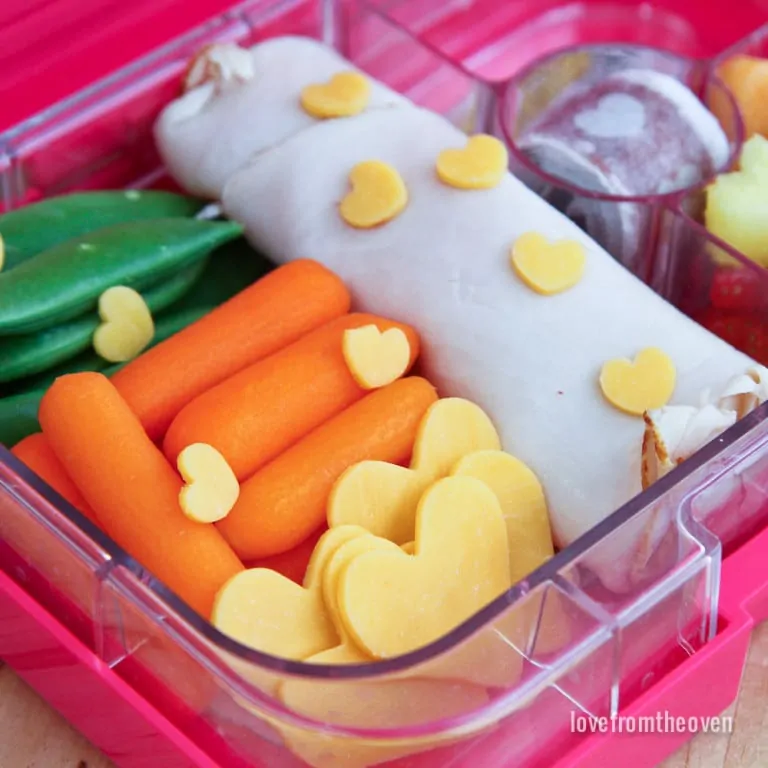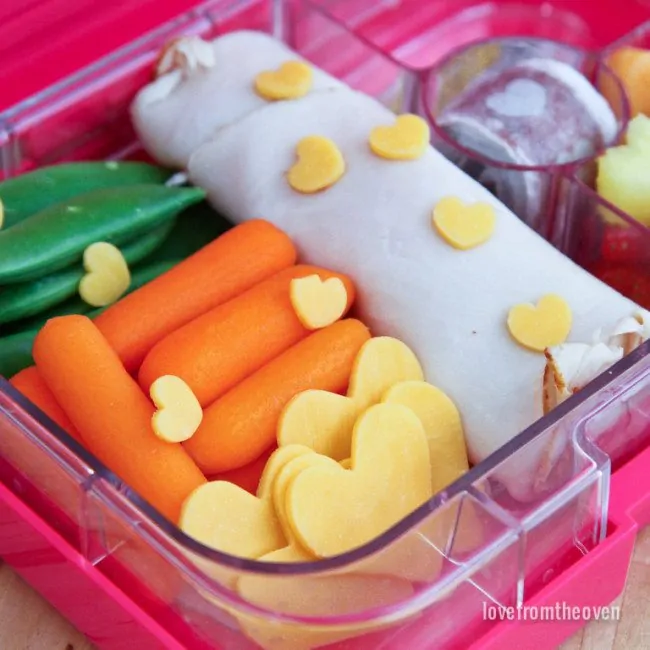 I finished off with some Annie's Snack Mix.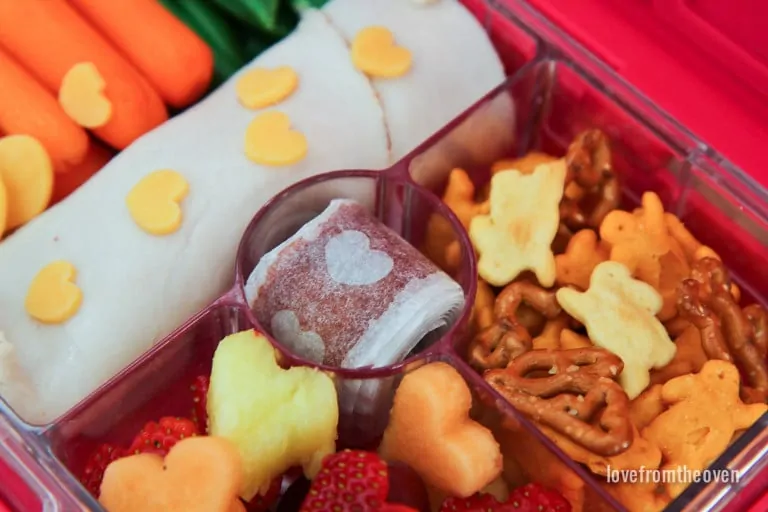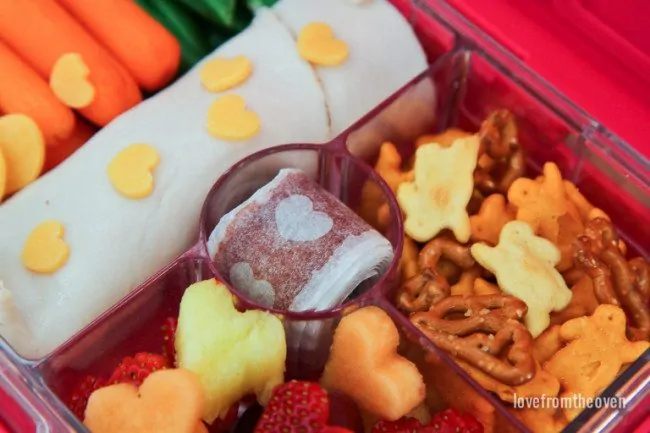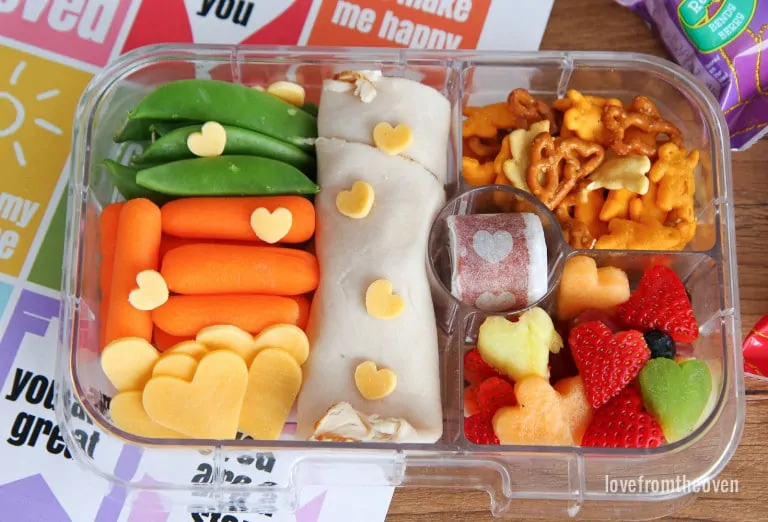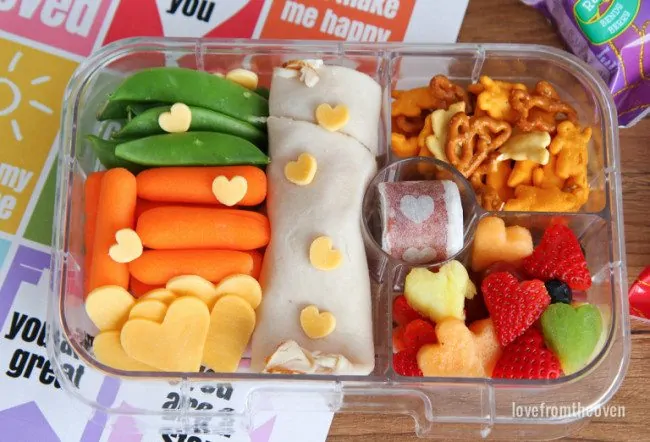 And because Valentine's Day is all about sweet little love notes, I whipped up a page full of fun little lunchbox love notes that I could print off, cut, and tuck into lunchboxes, backpacks or any little place where they could be discovered. You can download a copy here and print your own! You can use these year round, not just for Valentine's Day.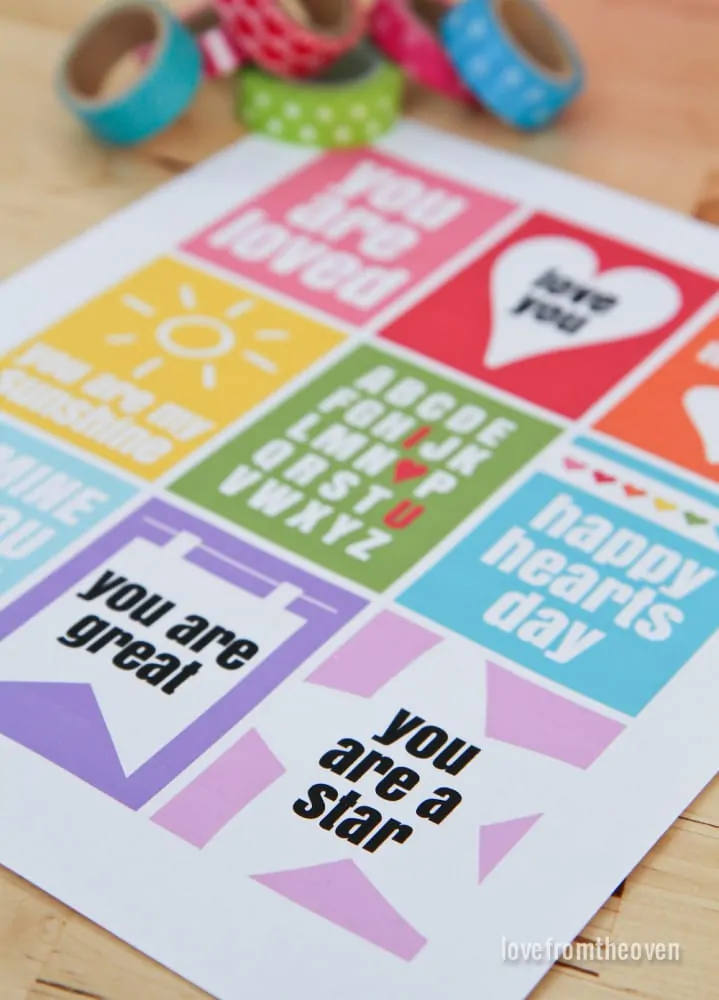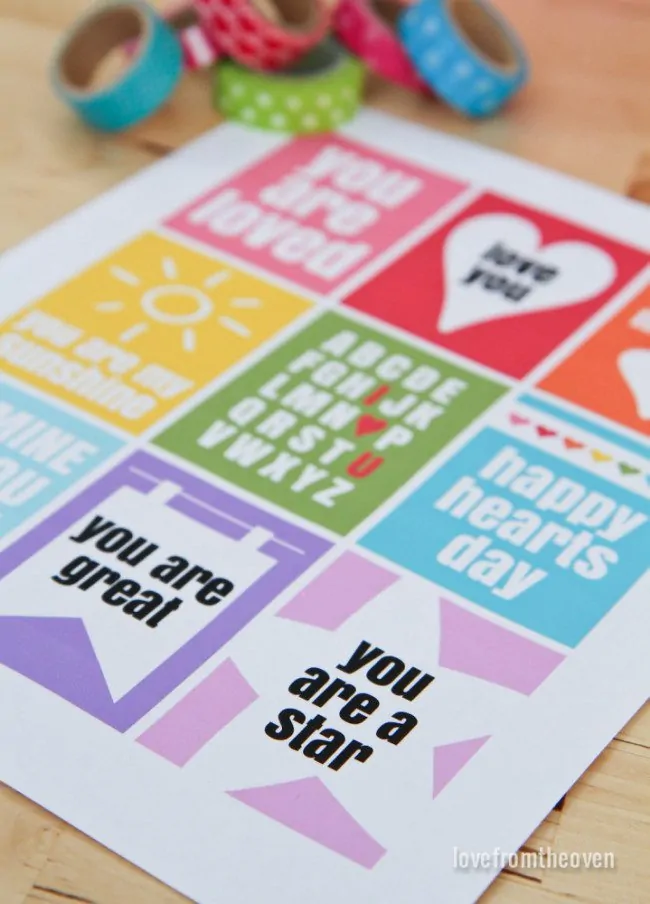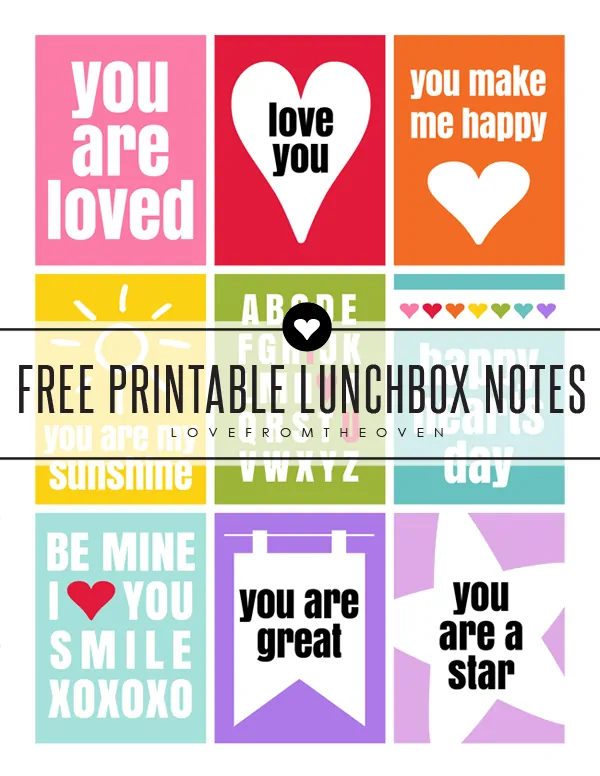 I cut one out and taped it to the inside of my daughter's bento box. I thought about adding one to the outside and to her water bottle, but she is very easily distractable, so I figured I'd limit it to one if I wanted her to still eat her lunch. 🙂 This is also a great excuse to use that washi tape I buy but never seem to use!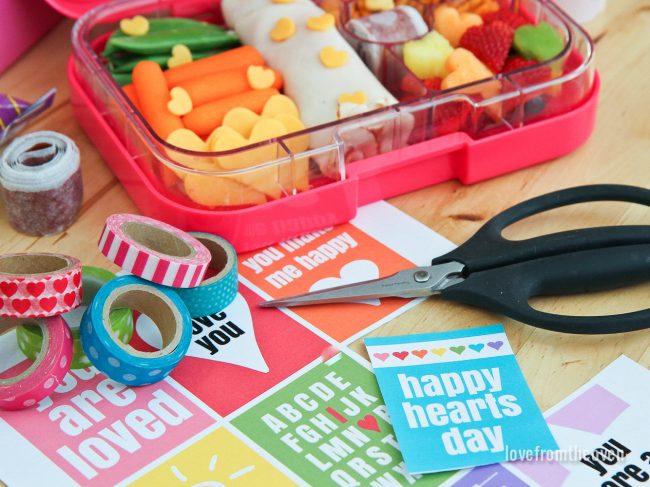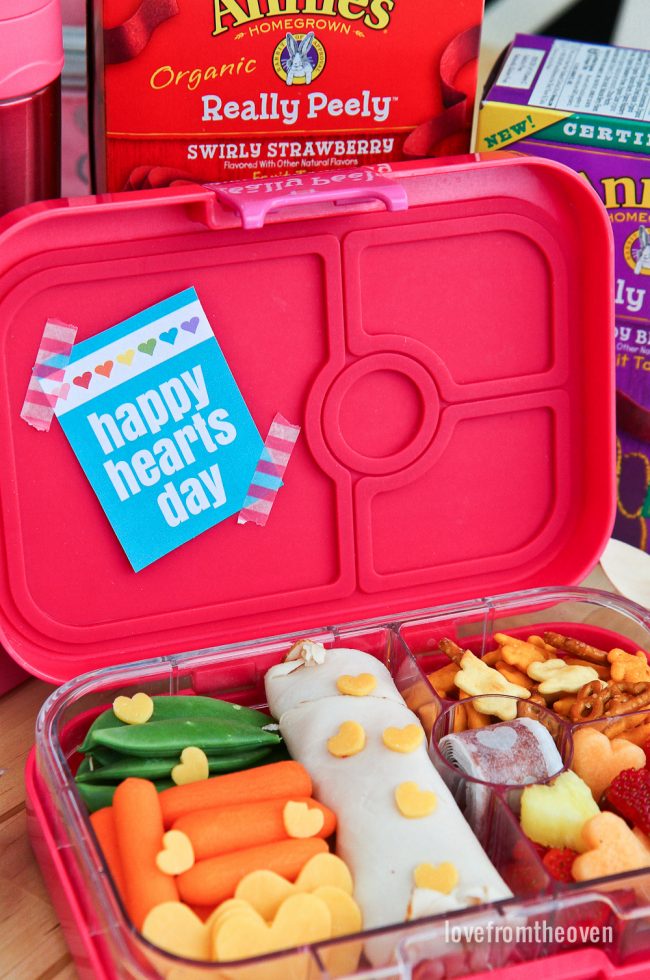 And that's it! A fun and delicious lunch, packed full of love and nutrition. No matter what kind of school day she's having, I know this will bring a smile to my daughter's face at lunch time, and that makes me feel good. It also makes me feel good to pack her a lunch with protein, fruit, veggies and delicious products from Annie's. I hope this has inspired you to make a fun and love filled, easy bento lunch for one of your kids, someone special or even YOURSELF! 🙂 We can all use a little extra love, right? #ChooseGood
Disclaimer: This post was sponsored by Annie's. All opinions however are mine and mine alone.