Everything you love about brownies and pie come together in this rich and delicious easy brownie pie. While it tastes phenomenal, it's deceptively simple to make. Grab this easy brownie pie recipe and whip up an amazing dessert in no time!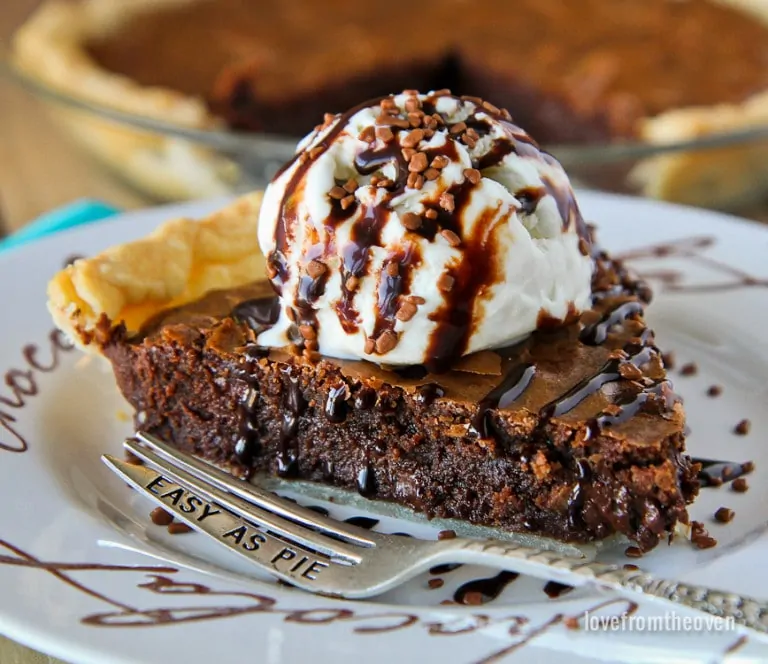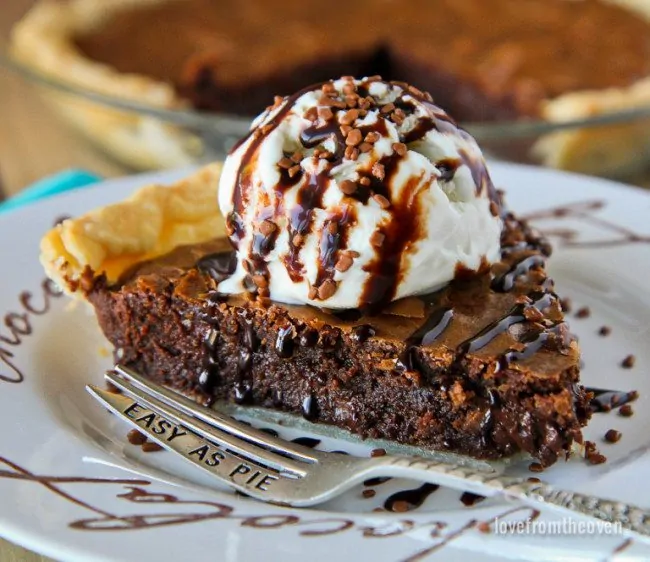 Looking for regular brownies instead of brownie pie? Check out my EASY BROWNIES recipe.
Most days I would be super excited to share an easy brownie pie recipe with you. But this isn't just another recipe. This is a recipe by my friend Joan, the amazing, enthusiastic, supportive, energetic, intelligent, kind, wise and life loving woman behind the super popular baking blog Chocolate, Chocolate And More.
Joan passed away unexpectedly last week, leaving behind three wonderful children who she loved intensely. And she has without a doubt left a hole in the heart of all who knew her, both in person and online. Today I am joining many of my friends and fellow bloggers in remembering Joan, and her love of chocolate. I'm pretty sure she'd want us all to enjoy a have a slice of her Easy Brownie Pie. #chocolateforjoan
I picked this recipe of Joan's to share because it's simple, delicious and packed full of her beloved chocolate. It's down to earth, even using a refrigerated pie crust, because much like me, Joan was always more than happy to keep recipes simple. Make it simple, fun and delicious.
EASY BROWNIE PIE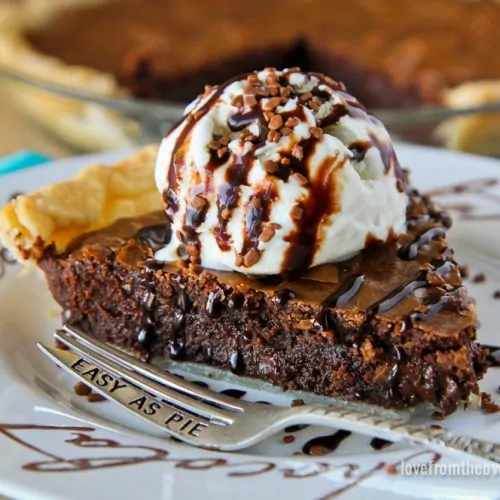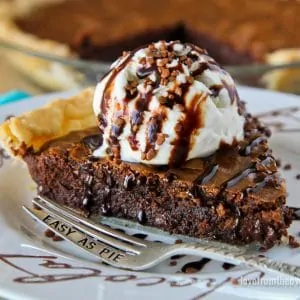 Easy Brownie Pie
Ingredients
1

ready made refrigerated pie crust

1/2

cup

butter

2

ounces

unsweetened chocolate

, coarsely chopped

1

cup

sugar

3/4

cup

all-purpose flour

2

eggs

1

teaspoon

vanilla extract

dash of salt

1

cup

semi-sweet chocolate chips
Instructions
Place Pie crust in a pie pan and set aside.

in a medium saucepan, melt butter over low heat. Add chocolate, stirring until completely melted.

Remove from heat and stir in sugar. Add flour, eggs, vanilla and salt. making sure all ingredients are mixed in well. Stir in chocolate chips.

Spread mixture into pie crust. Bake in a preheated 350 degree oven for 25 minutes, until top has a crust and sides are firm. Remove from oven and let cool completely.
Disclaimer
Nutrition information is estimated as a courtesy. If using for medical purposes, please verify information using your own nutritional calculator. Percent Daily Values are based on a 2000 calorie diet.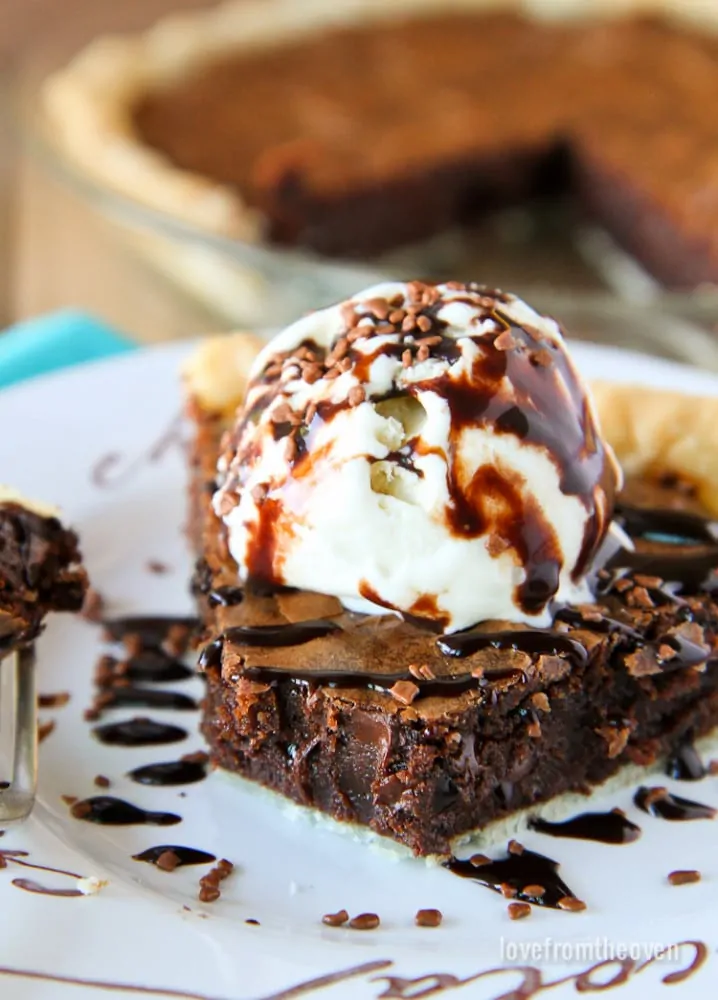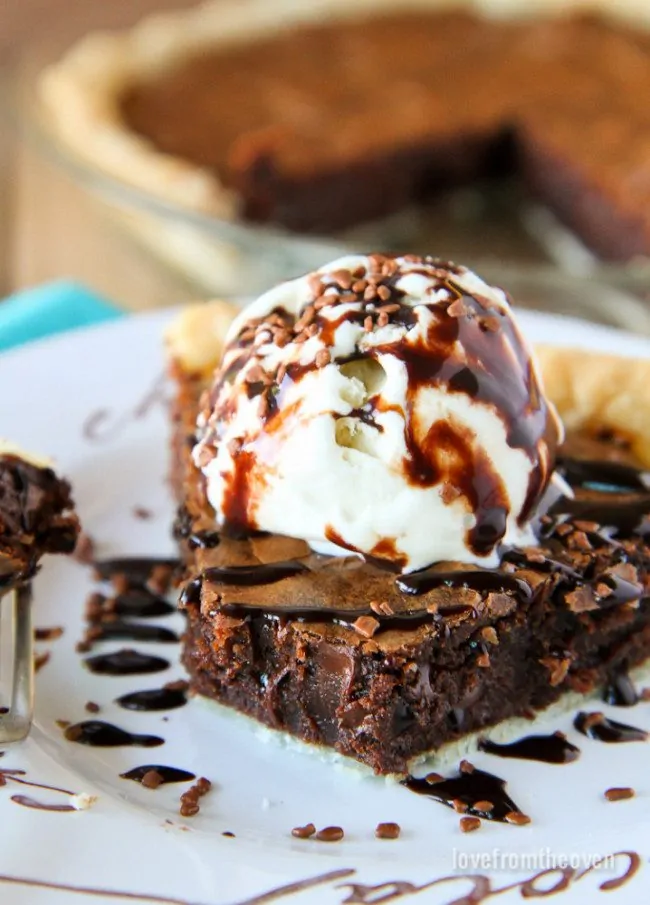 I can't recall when I first met Joan, you just kind of always knew of her if you were a food blogger, especially if you were a baking blogger. She was one of the first commenters and readers of my blog back in it's early days.
This amazing blogger was following me, which always seemed so crazy, but that was Joan. She was all about supporting those around her and doing what she could to help lift them up, encourage them and support them. Joan was a uniting force within the blogging community and a shining example of kindness.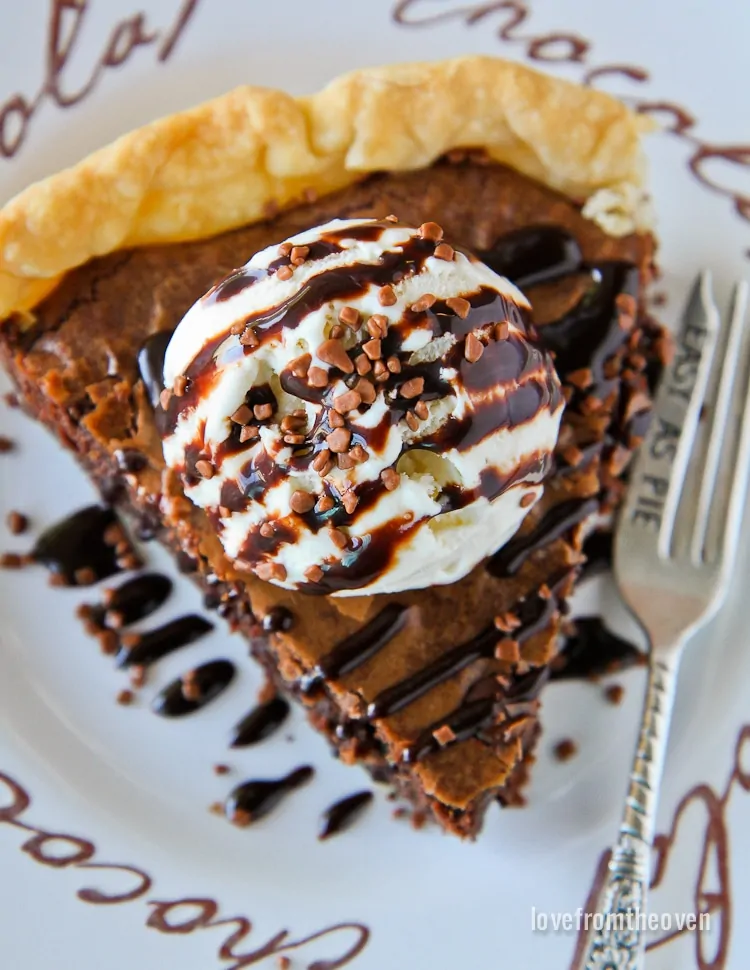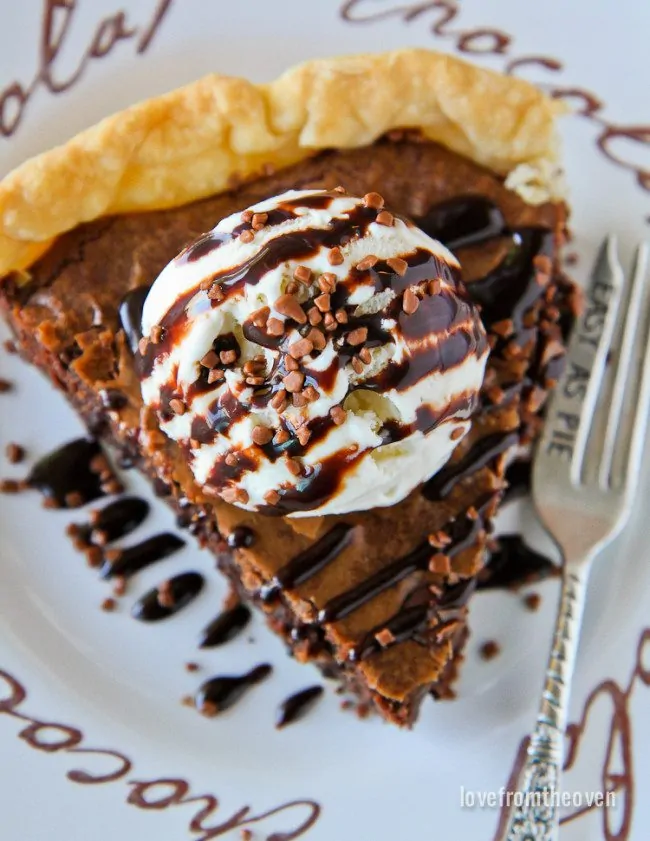 I had the pleasure of first meeting Joan in person in 2014, when we connected in person at a conference in Seattle. The thing with Joan is you didn't really meet her, she greeted everyone as though they were life long friends and family. You didn't so much meet Joan as you as you reunited with a long lost friend. She had the type of personality that filled the room, a warmth that you always felt in her presence, and an absolutely infectious laugh.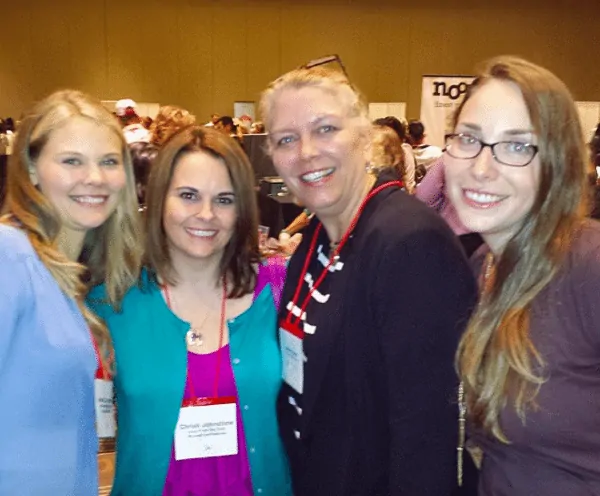 Joan was one of the very first people to review my cookbook and make one of the recipes with her youngest daughter. She was the type of person to just jump in and do what she could to help you, and propel you, your blog and your career forward.
She was an incredibly savvy businesswoman, and the over two million followers of her blog on Facebook speak to that. She was a matriarch in the food blogging world, a guiding light who was so smart, and very willing to share her knowledge with the rest of us. She never saw other bloggers as competitors, they were all her friends.
If she learned something, she was always willing to share it with others. It's almost contrary to how business is done these days, but it goes to show that leading by example and working by the golden rule really makes a difference.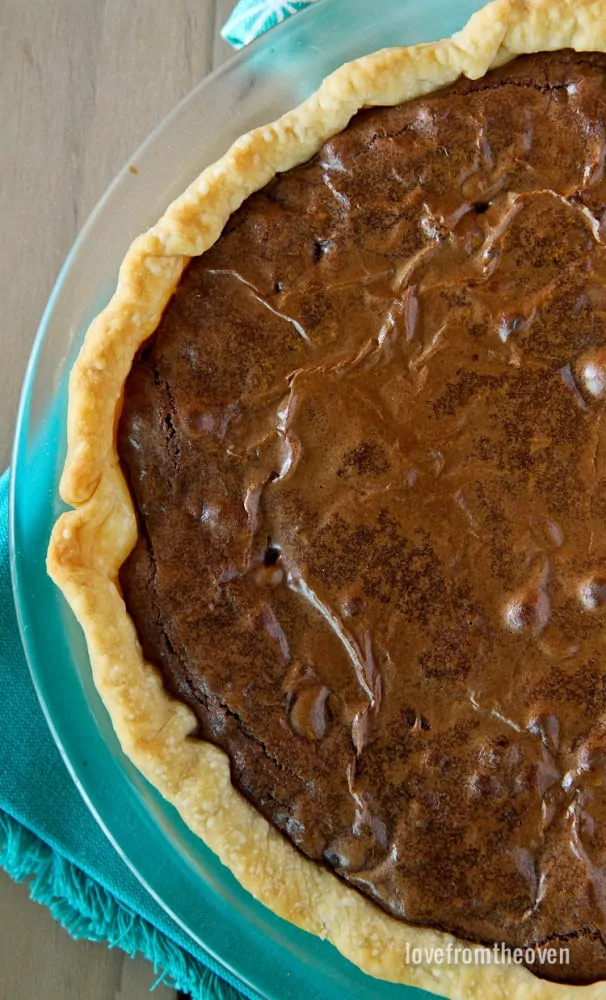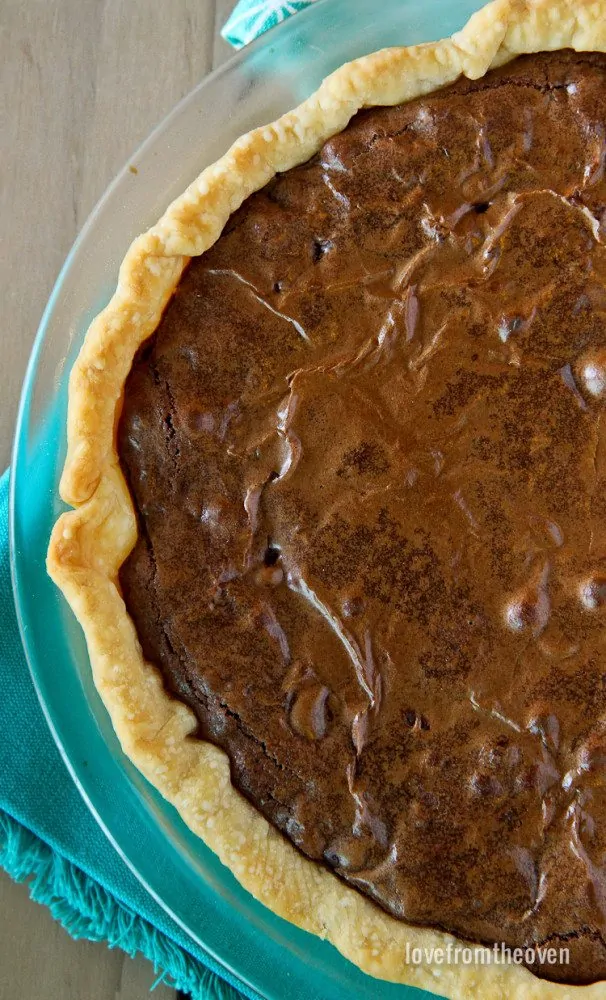 Joan shared more than just blogging advice. With her youngest daughter the same age as my oldest daughter, we had many conversations about kids, and she always had wonderful words of wisdom and experience to share. She was always willing to give of herself. She was always there to share a laugh, share advice and share support.
I was blessed to spend a long weekend with her earlier this year, here in Phoenix, as a few of us food bloggers gathered at our friend Mary's home for a weekend retreat. We ate, we talked, we shopped, we laughed until we cried, and we ate some more.
I will never forget going to our favorite local breakfast restaurant where Joan ordered six or seven menu items. I'm talking full breakfasts. She wanted to try each and every one of them, and she wanted to share them with the rest of us.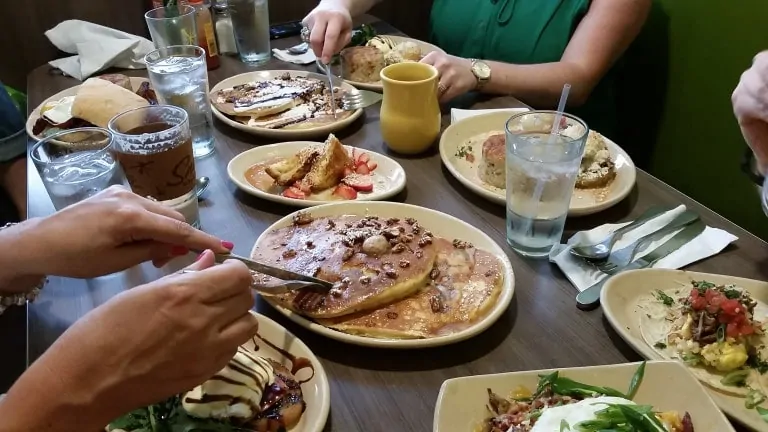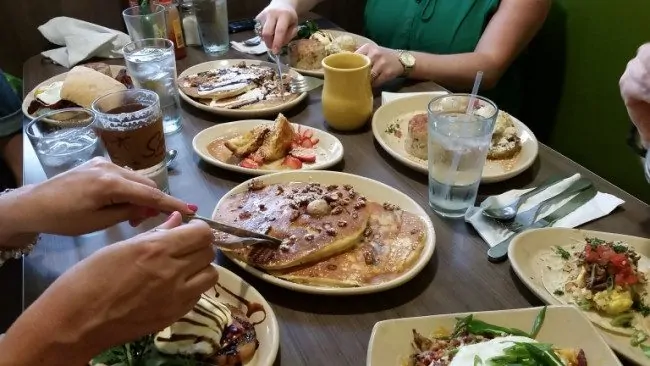 She lived life to the fullest. This photo, taken that morning by our friend Rebecca, really captures Joan, and that weekend. You were sure to have a good time when you were with her. My sides hurt from laughing over those three days, and that time spent together. #thedolls #sheismallory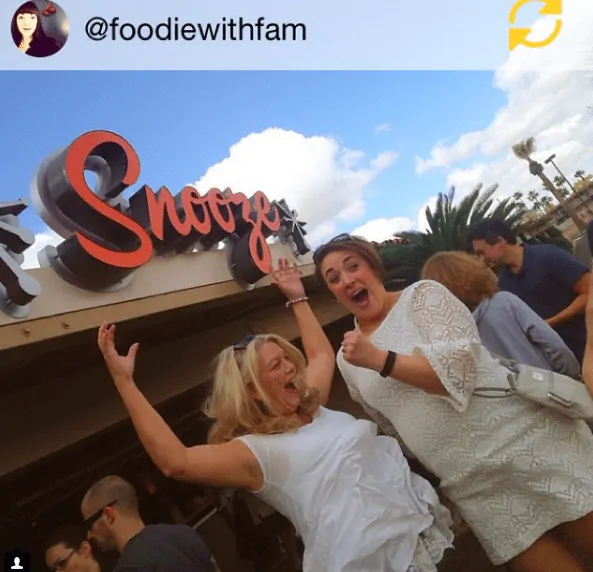 I still can't believe she's gone. My heart breaks for her family, especially her three children, C.J., Cassie and Grace, all of whom she adored beyond measure. The way blogging works, is visits to blogs help create the revenue that supports bloggers.
The great thing about this is that by visiting her blog (which is full of so many great recipes that you may spend the entire day there, be prepared!) is that it can continue to help generate revenue to support her kids. So the next time you want to make something chocolatey and delicious, head to Chocolate Chocolate and More.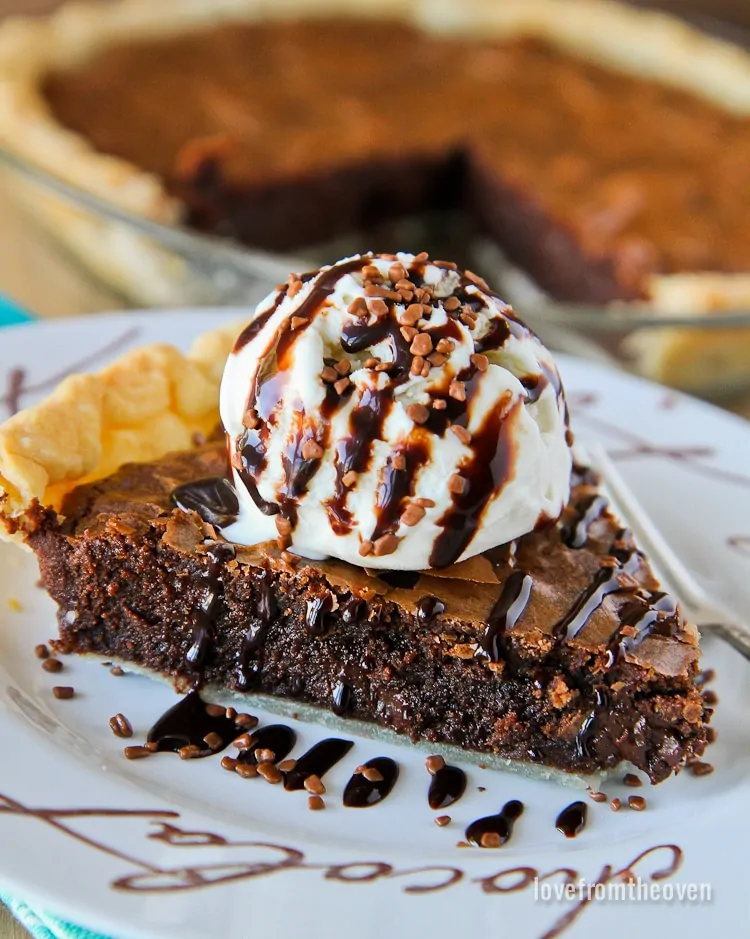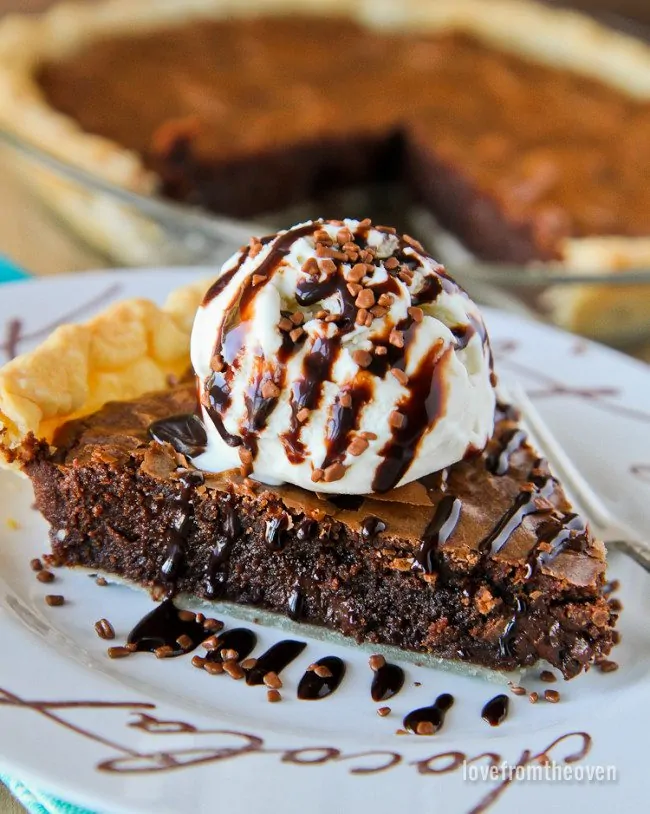 I highly suggest starting with her amazing Easy Brownie Pie recipe. You can whip it up in no time.
We are all reminded how short and precious life is. Things can change in a moment, when we least expect it. We need to make the most of each day, and live life to the fullest, something I can say Joan did, and was a shining example of. I sometimes exist more than I live, and that needs to change.
We need to love, live and experience life to the fullest, we need to make the most of each day. Join me in doing what you can to make that happen in your life. Tomorrow is promised to nobody, so let's do what we can to get the most out of each and every day. Let's embrace embrace each other and our friendships and be quick and willing to lend a hand and support to others, as Joan was so gracious about doing every day.
I look at Joan's amazing blog, and the work she has created over the years, and thank about how very special that is for her children to have. Those recipes that are there, and I think there is comfort in familiar recipes and foods. I hope that C.J., Cassie and Grace can find some peace and love over the years in the incredible collection of recipes their mom created, and be able to share and pass them down to their own families one day.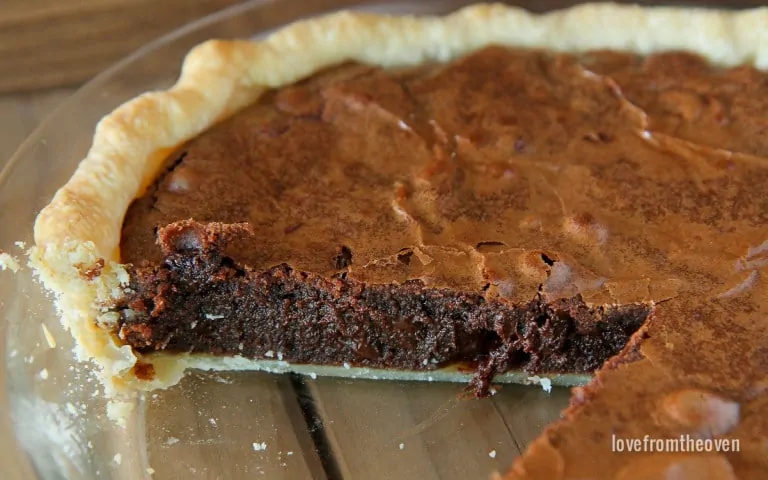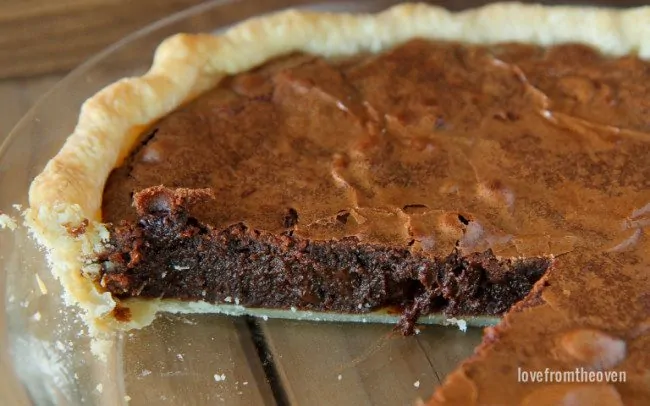 I also think her words on that screen, those words are like a journal, surrounded by delicious recipes. What a keepsake that is for her kids. When I first started blogging, I would talk about personal things going on in life, mixing a little journal with a lot of food.
I've slowly worked away from that, swayed by comments of "just give me the recipe, I don't care about your kids…" or concern for how brands I work with may feel about my opinions or thoughts. That needs to change. Those of us who blog have a unique opportunity to sprinkle our life throughout our posts, and that just might leave behind an absolute treasure for our loved ones one day.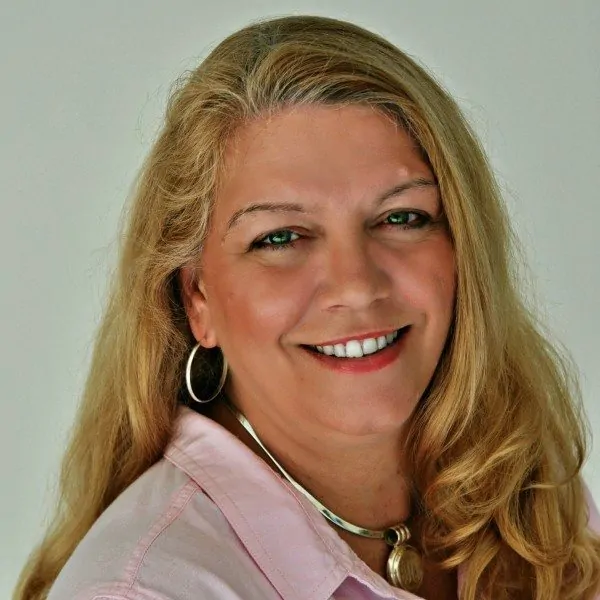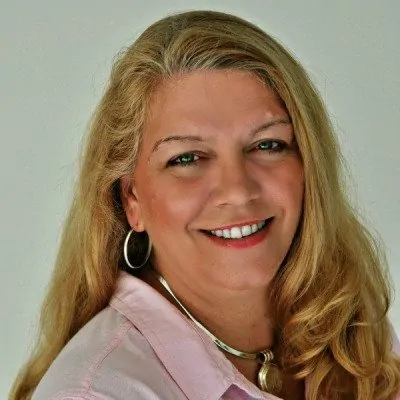 Thank you for taking the time to read this post, and my words about this wonderful woman. Please take the time to visit her blog, I have NO doubt that you will love what you find. Joan and I shared a love for simple, straight forward, delicious desserts. Find one, make it and share it with someone you love.
Joan, you will be so very missed. You will always be one of the dolls, our Mallory, and a beautiful example of how to embrace life, and those around you. XOXO