I know it's August. I know it's supposed to be 115 degrees here in Phoenix today. I know fall (at least in the desert) is a long way off. But I'm tired of waiting. It's time for pumpkin, my much loved, glorious, delicious, fabulous pumpkin. Pumpkin is one of my favorite ingredients to bake with, and the combo of pumpkin and cinnamon in the oven is blissful. So calendar and temperature aside, pumpkin season has arrived in this house. And this seems like a great way to kick it of…
Easy Cinnamon Pumpkin Cake With Cinnamon Cream Cheese Glaze.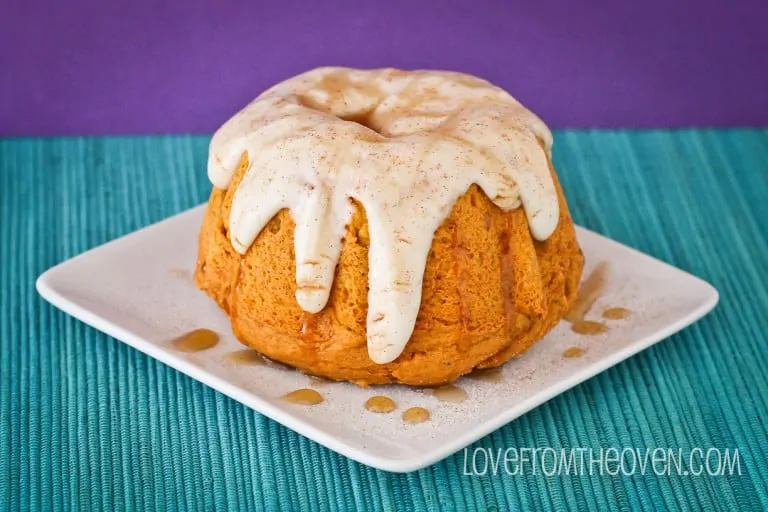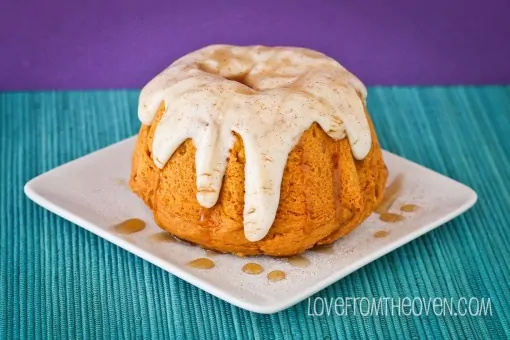 If you really want to take it over the top, serve warm with a scoop of ice cream! The cake recipe is based on one I've seen for years – a cake mix + can of pumpkin combo. I went back and forth on if I should include eggs as I've seen it made both ways, and I settled on using one egg. Popular opinion is that you can leave the egg out if you want.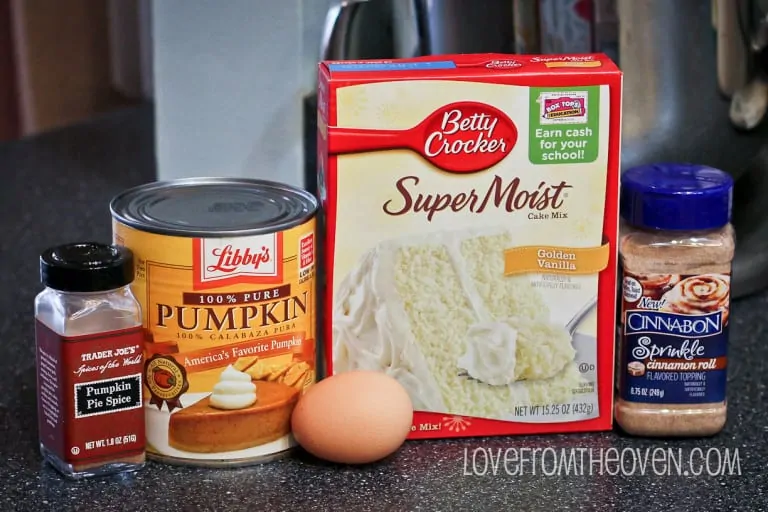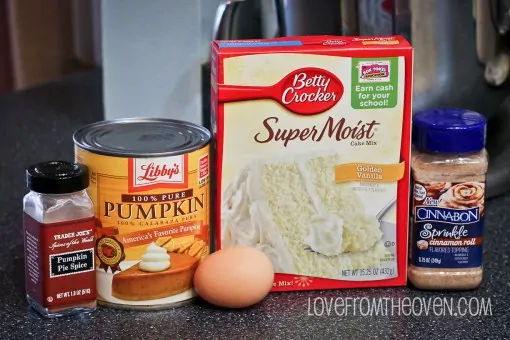 You'll notice a fun new ingredient in the line up. Cinnabon Cinnamon Roll Sprinkles. This yummy new product helps bring the taste of Cinnabon to your kitchen. The folks at Cinnabon Creations have asked bloggers to come up with some yummy recipes to share as part of their Cinnabon New Product Challenge. Goodness knows you do not have to twist my arm to bake with cinnamon!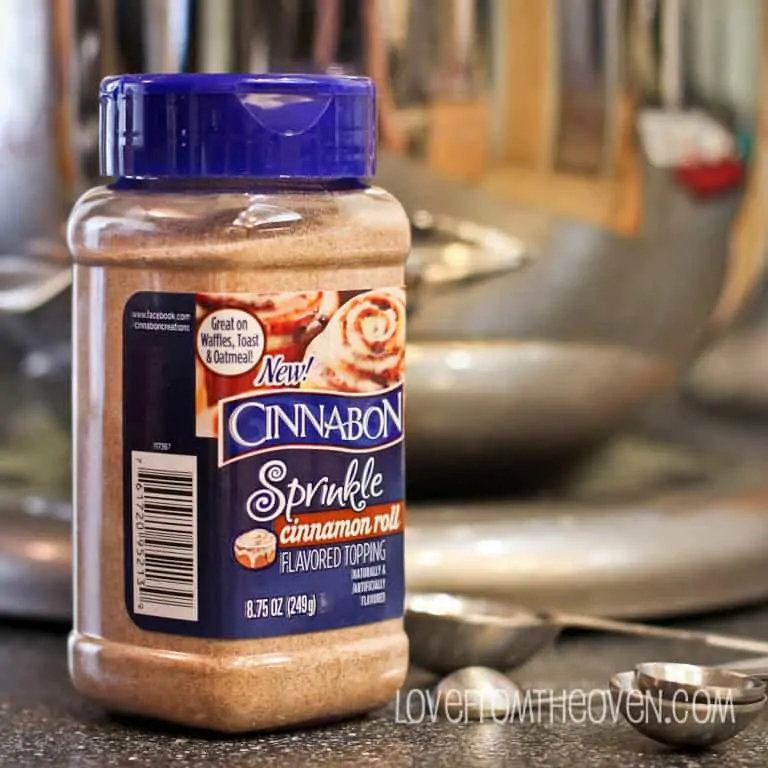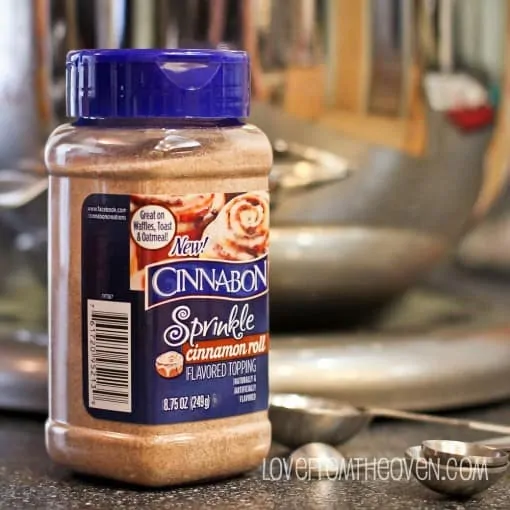 So back to making this delicious cake. The recipe is super simple (be sure to see the bottom of the post for a printable recipe). I used a box cake mix (I had a vanilla, but I think a yellow or spice would work wonderfully – I just used what I had on hand), a can of pumpkin, one egg, Cinnabon Sprinkles & spices of your choice (I went with pumpkin pie spice to kick up the pumpkin notes).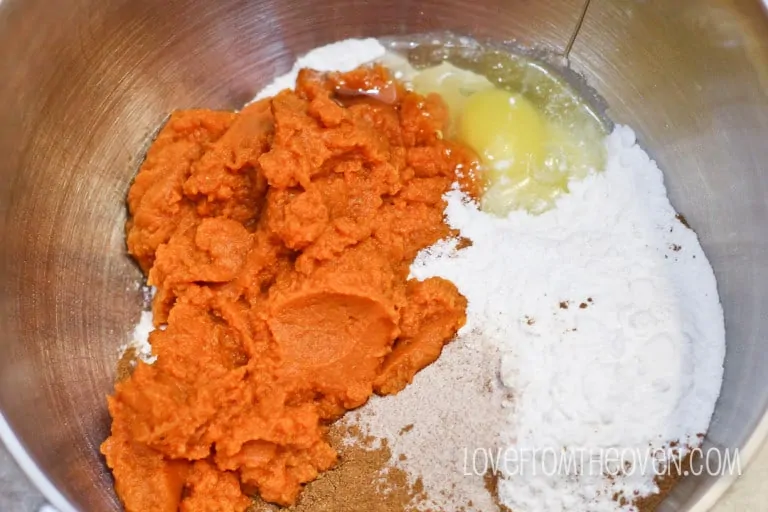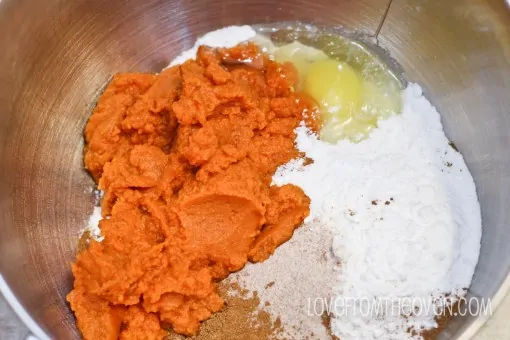 Combine your cake mix, one egg, one 15 oz can of pumpkin (which is equal to 1 3/4 cups), one heaping tablespoon of Cinnabon Sprinkles and one heaping tablespoon of your spice(s) of choice. Mix it up in your mixer as you would normally make a cake mix, and then transfer to your baking pan, cupcake tin, bundt pan – whatever you want. I went with mini bundt cakes. You will bake according to the regular package directions, but do keep a close eye on it as every cake mix + pumpkin may bake up a bit differently.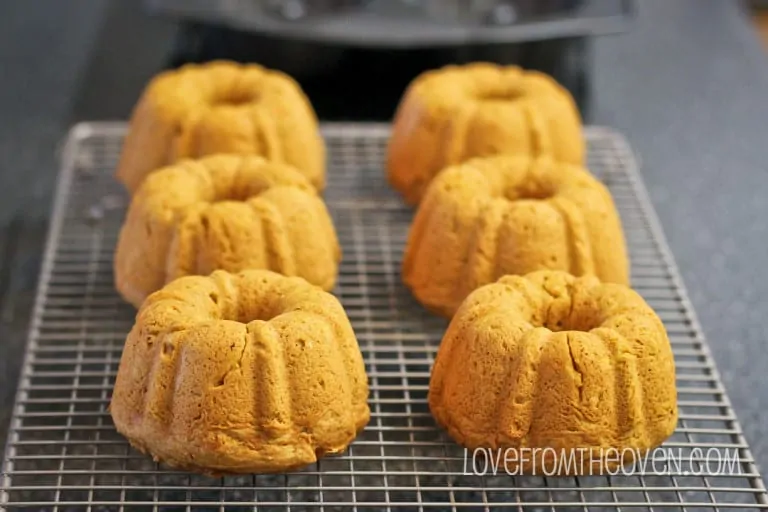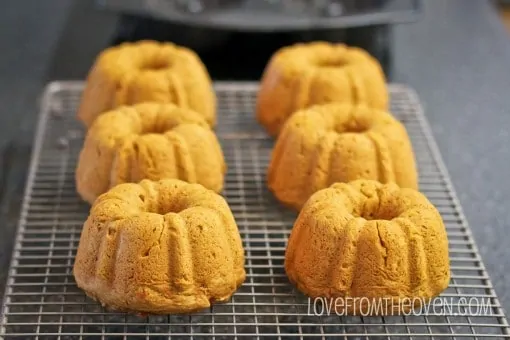 Now, it's completely acceptable to just stop here. These are delicious just like this. But I had another new Cinnabon Creations product I simply had to try, and topping these cakes seemed like the perfect way to do that.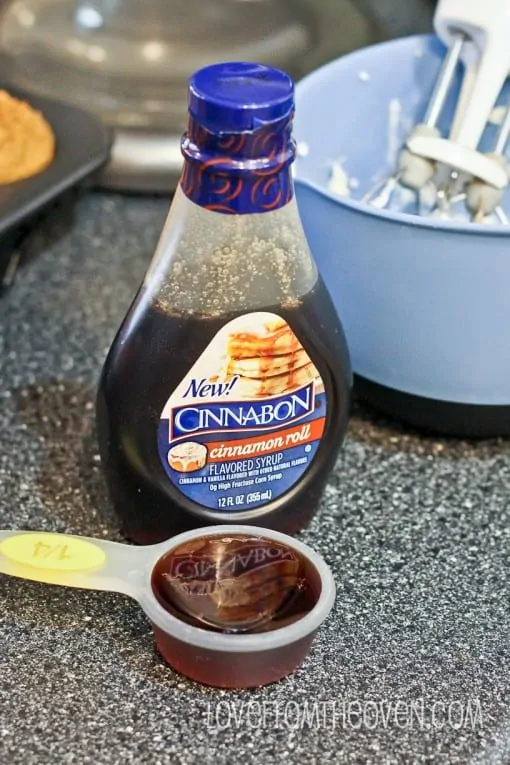 How about a nice cinnamon cream cheese glaze?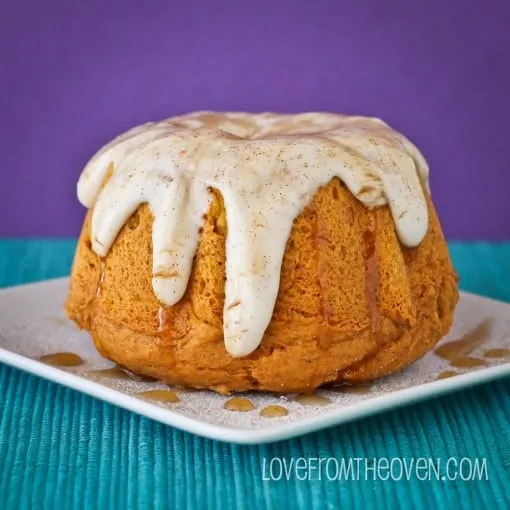 I think that works. 🙂 The glaze is a combo of an 8oz package of cream cheese (I used low-fat, as it tends to be a bit softer and melt easily, which for this recipe is what I wanted), Cinnabon Creations Cinnamon Roll Syrup, Cinnabon Sprinkles and powdered sugar. They are mixed together and spooned on top of the cake (and it's dreamy if the cake is still warm). It's a bit too thin to be an actual frosting (for say a cupcake) though you could probably add more powdered sugar until you reach a frosting consistency if you wanted to.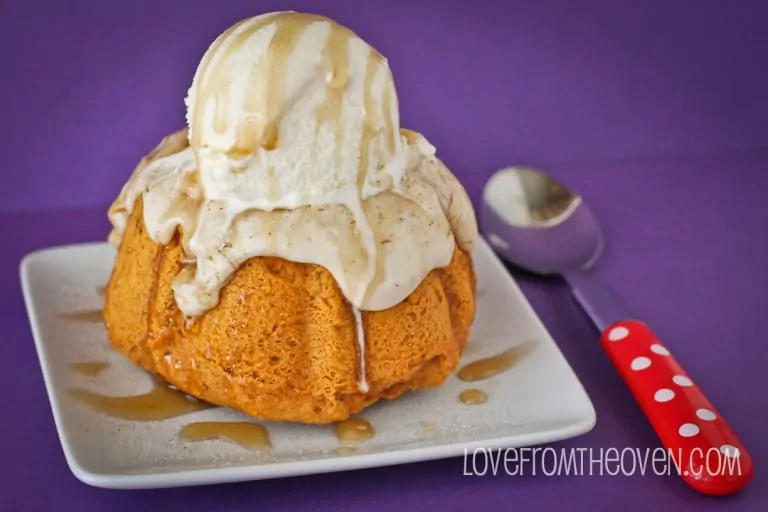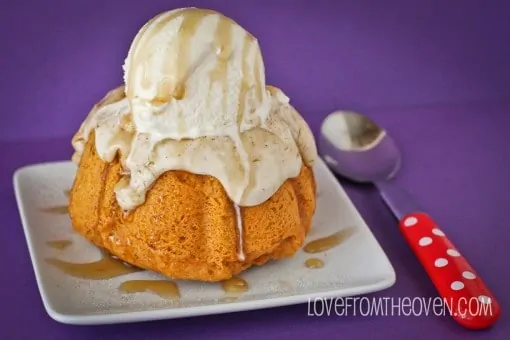 This was a big hit in my house. I added a drizzle of the Cinnabon Creations Cinnamon Roll Syrup and a sprinkle of the Cinnabon Sprinkles, for good measure. 🙂 Make sure to check out the Cinnabon Creations page on Facebook for more info about these great new products.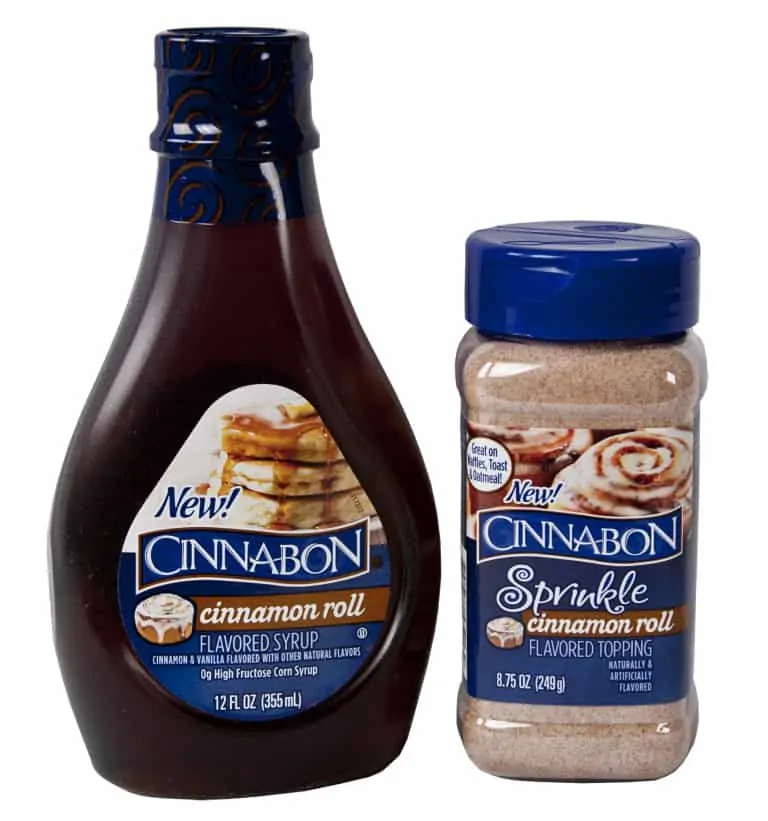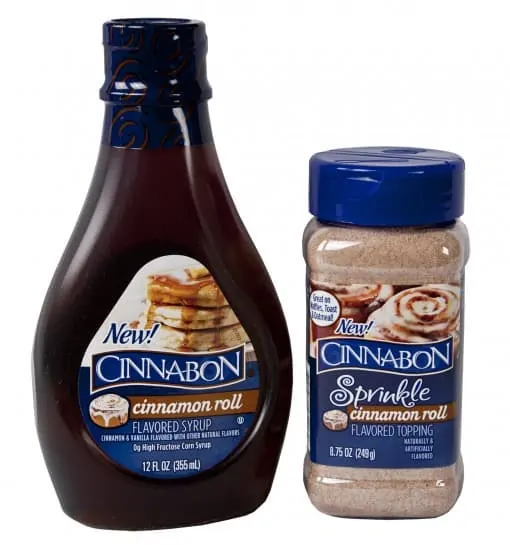 The delicious new Cinnabon Creations are available in limited markets at the moment, but hopefully will be widely available soon. They have coupons available on the Cinnabon Creations page, so make sure to stop by and pick up a coupon. There are so many ways to use the Cinnabon Creations – heck, I can think of a dozen ways just to work them in to my breakfast! French toast, pancakes, cinnamon toast, waffles and let's not forget the best choice – cinnamon rolls! Check out the awesome Cinnabon Fudge recipe created by Shugary Sweets using the Cinnabon Creations. Cinnamon fudge? Um, yes please!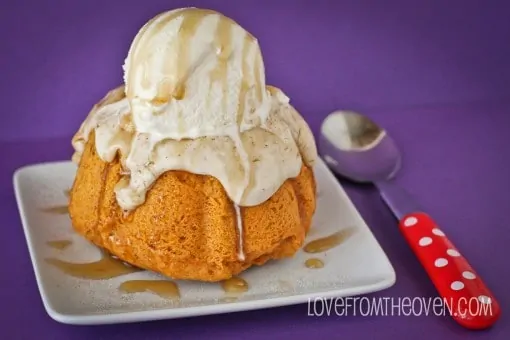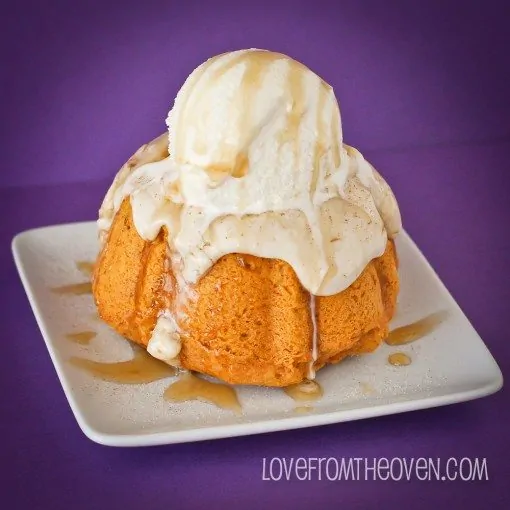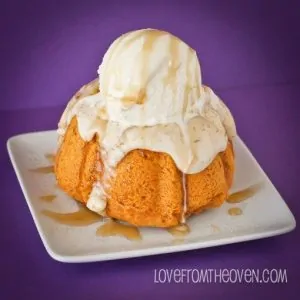 Easy Cinnamon Pumpkin Cake With Cinnabon Creations
A delightful blend of pumpkin and cinnamon! By Love From The Oven.
Ingredients
CAKE

One Cake Mix

Yellow, Spice or White

One 15 Oz Can Pumpkin or 1 3/4 Cup Pumpkin

One Egg

One Heaping Tablespoon Of Cinnabon Cinnamon Roll Sprinkles

One Heaping Tablespoon Of Spice

Cinnamon or Pumpkin Pie Spice

CREAM CHEESE GLAZE

One 8 OZ Block Of Cream Cheese

Low Fat Works Well

1/4

Cup

Powdered Sugar

1/4

Cup

Cinnabon Cinnamon Roll Syrup

One Tablespoon Cinnabon Cinnamon Roll Sprinkles
Instructions
Combine cake mix, pumpkin, egg, spice & Cinnabon Sprinkles in a mixing bowl and mix well.

Pour cake batter into your choice of pan (rounds, 13x9, cupcake, bundt, mini bundt...)

Bake according to package directions.

To prepare cream cheese glaze, unwrap cream cheese and put into a microwave safe bowl. Microwave for approx 20 seconds (you want to soften, not completely melt).

Remove from microwave and add cream cheese and Cinnabon Syrup. Mix well with electric or hand mixer.

Cake can be allowed to cool or can be served warm, topped with cream cheese glaze and optional scoop of ice cream. Glaze is best added to your cake as you are serving it, and should be kept in the refrigerator.
Disclaimer
Nutrition information is estimated as a courtesy. If using for medical purposes, please verify information using your own nutritional calculator. Percent Daily Values are based on a 2000 calorie diet.
Disclosure: I received the Cinnabon® products used and was entered for a chance to win a Cinnabon Creations prize package in exchange for this post. No monetary exchange took place. All opinions are my own