If you are looking for a delicious Mother's Day breakfast or brunch recipe that is so simple that even your family could whip it up for you, then this easy French toast casserole, with a buttery brown sugar topping, is absolutely perfect!
I've made quite a few French toast casseroles in my day and I have to say this one somehow manages to be both the tastiest and the easiest.  Boy do I love it when something like that happens. When I say this is easy enough that my family, or yours, could make it for Mother's Day, I'm not exaggerating.
What helps make this French toast casserole so easy are Farm Rich French Toast Sticks.  By starting with these French Toast Sticks, and adding your own ingredients, you get an amazing breakfast (perfect for Mother's Day!) and the results are pretty much fool proof.   Thanks to Farm Rich for sponsoring this post, and helping make my breakfast crazy delicious.
Most of the French toast casseroles I've made require that you make them up a day ahead of time and refrigerate overnight.  While this is great for popping in the oven in the morning, I'm the type who doesn't always have it all together 24 hours in advance.  Or 12.  Or even two.  I'm kind of that last minute mom who wants to do/make/create something special, but spent too much time pinning recipes and not enough time planning ahead.  That's what's great about this recipe, it can be assembled and baked in about an hour, and that is Real-Life Good.
Let me walk you through how easy this is to make. You'll heat up your oven and grab an 8×8 or 9×9 pan. With two boxes of Farm Rich French Toast sticks, and a few other simple ingredients, you are ready to go.  I used the Original French Toast Sticks for this recipe, but you could also use the Cinnamon French Toast Sticks as well.
You will layer one box of French toast sticks in your pan. The box fits perfectly, it's like it was meant to be!
Then you'll mix up your milk, eggs, vanilla and some cinnamon and pour half the mixture over your French toast sticks.
Next you'll add in another box of French toast sticks, and you'll pour the remainder of your milk and egg mixture over those.  Then you will top them with a yummy combo of brown sugar, flour, butter and cinnamon.  Then into the oven it goes for about 45 minutes.
And out comes deliciousness!
This is so good that you can eat it just how it is, or you can top it with some powdered sugar, berries, syrup or even a little drizzle of cream cheese frosting.  Whatever works for you.
When I say this is amazing, I really, truly mean that. It was very hard to put that fork down. And I might have considered heating up leftovers at 9pm (which I hear is totally acceptable, especially on Mother's Day).
I feel pretty confident that my husband and kids can totally handle this recipe.  One could preheat the oven, one could place the Farm Rich French Toast Sticks in the pan and the other could mix up the egg and milk mixture… wait, this is so easy I don't think I even need to mom-micromanage it for them.  They've got this!
Easy French Toast Casserole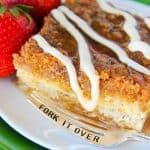 Easy French Toast Casserole
Ingredients
2

boxes Farm Rich French Toast Sticks

2

extra large eggs

or 3 small

1/2

cup

milk

2

tsp

vanilla

1

tsp

cinnamon

½

cup

flour

½

cup

brown sugar

¼

tsp

. salt

½

cup

very cold butter

cut into small pieces
Instructions
Preheat oven to 350 degrees F.

Spray an 8x8 or 9x9 square pan with non-stick cooking spray.

Layer one box of Farm Rich French Toast Sticks along the bottom of the pan.

In a bowl, combine milk, eggs, vanilla and 1 tsp cinnamon. Pour half the mixture over the French toast sticks in pan.

Layer another box of Farm Rich French Toast Sticks on top of the existing layer, then pour remaining egg and milk mixture over that layer. Set aside.

In a large bowl combine flour, brown sugar, cinnamon and salt until well combined. Cut in butter with two knives (think of making a scissor motion with them) or a pastry blender. You are just trying to get the cold butter to combine with the dry ingredients. Don't worry if it doesn't get totally combined.

Sprinkle the brown sugar mixture on top of the French toast. If you have some dry ingredients that didn't fully combine with the butter, sprinkle that on first, followed by the bits combined with butter.

Bake for approximately 45 minutes or until the top layer starts to turn golden brown. Remove from oven and serve.

Serve with syrup, powdered sugar, cream cheese frosting and/or fresh fruit.
If you haven't tried the great Farm Rich products yet, put that on your to do list!   You can even sign up for their newsletter for exclusive offers and promotions by heading here.  And make sure to check out their "Real-Life Good" page which is packed full of tips, hacks, recipes and great tasting food that help simplify everyday life.  I'm all about keeping it simple and delicious.
I hope you get to make this amazing French toast casserole soon, or better yet, that your loved ones make it for you for Mother's Day.   To all the moms, grandmas, aunts, sisters and awesome women out there, Happy Mother's Day!
Disclosure: This post was sponsored by Farm Rich.  All opinions, and love of this French toast, are mine and mine alone.