This Easy Homemade Caramel Sauce recipe is one that you will want to make again and again! This rich, creamy homemade caramel sauce has a great depth of flavor. It pairs wonderfully with ice cream, apples and baked goods. Because I love the combo of salty and sweet, I've added sea salt to this yummy caramel sauce. If you haven't tried making your own homemade caramel sauce before, you will want to give it a try!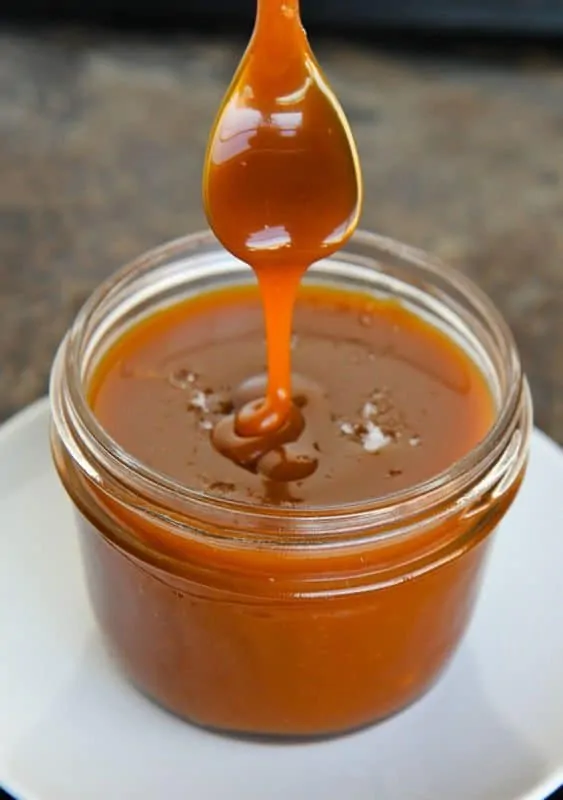 Caramel is one of my favorites. When combined with salt, it creates a flavor combo that for me is hard to beat. While there are many great jarred caramel sauces available, sometimes they can be a bit too sweet and one dimensional. This easy homemade caramel sauce has a richer, almost slightly smoky, flavor to it. Making your own caramel sauce is actually quite simple, and requires very few ingredients. One of the most important ingredients is patience!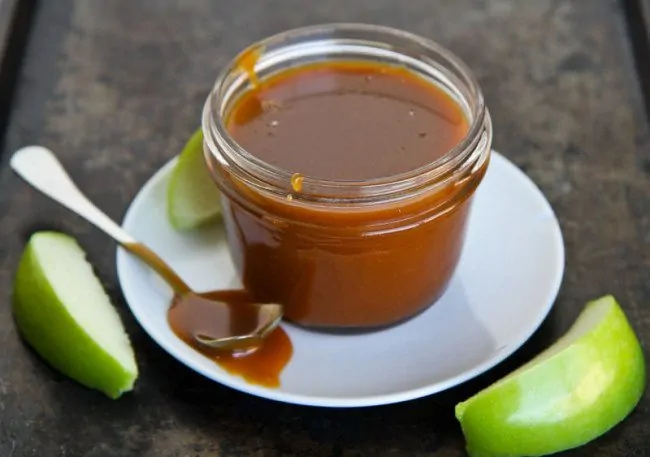 All you need to make your own caramel sauce is butter, sea salt, sugar and cream. That's it! I love Maldon Sea Salt Flakes. You can order a box for less than $10, and that little box goes a very long way. It's amazing on both sweet and savory foods, and you'll find more uses for it than you can imagine.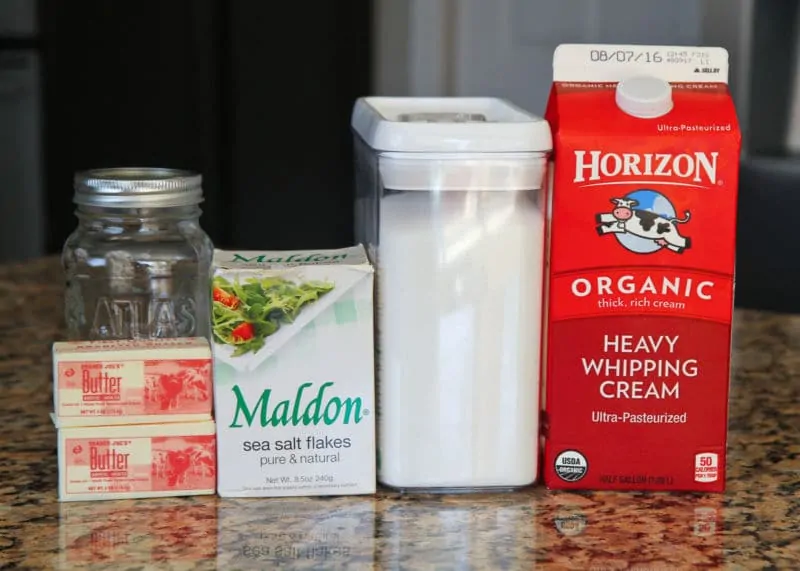 I love to have this homemade caramel sauce on hand to use as an apple dip and ice cream topping, and it is wonderful when paired with many baking recipes.
If you love caramel and apples, make sure to try my fun Caramel Apple Chocolate Bark!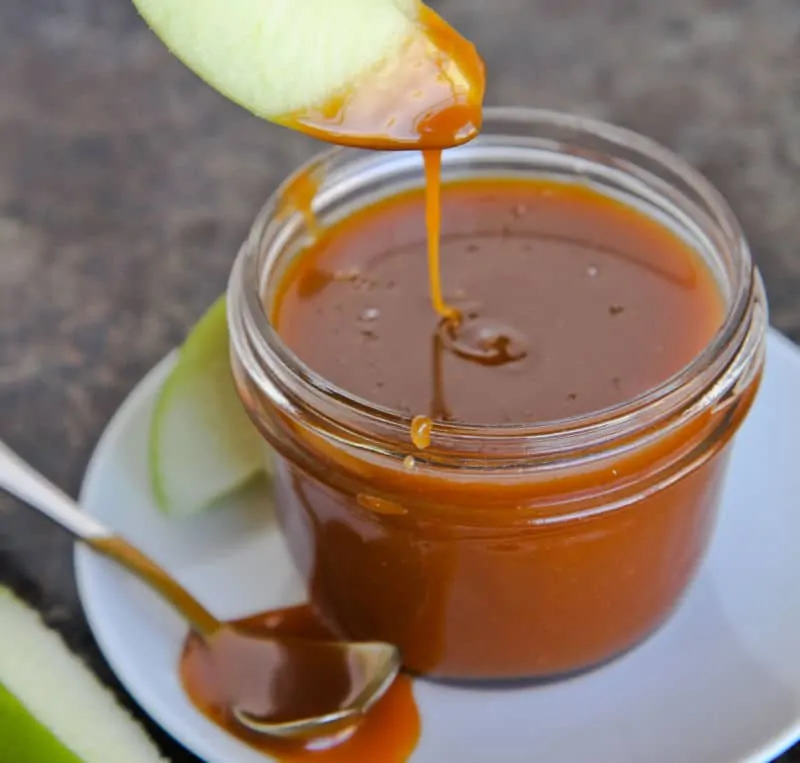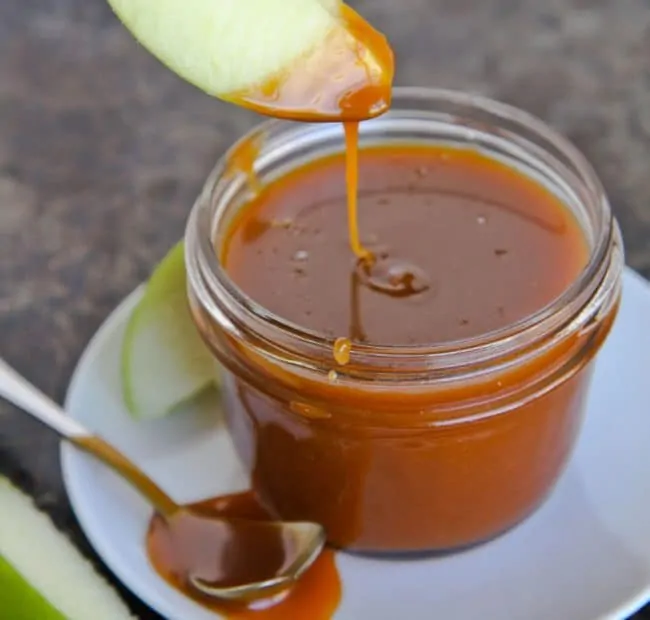 When making homemade caramel, patience is so important. You'll start by putting your sugar in a large, heavy pot. While you might think that you don't need a large pot given the amount of ingredients you are working with, at different times in this recipe the mixture will boil and bubble up and for safety purposes I always use a large pot so that I don't have to worry about it boiling over or burning myself.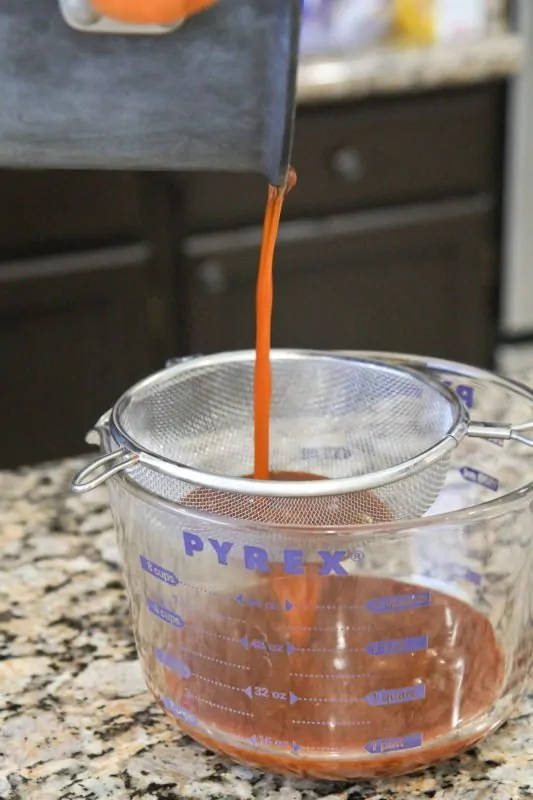 Once the sugar is in the pot, you want to let it melt, without disturbing it too much. You can gently stir it with a whisk, but if you stir it too much while it's melting down, you can end up with a lot of sugar clumps in your caramel. If this happens, don't worry, all is not lost, simply grab a wire mesh strainer and strain them out prior to putting your caramel sauce into it's final container. I use a mason jar to store my caramel.
I love to serve this whenever I make my homemade Beignet Recipe!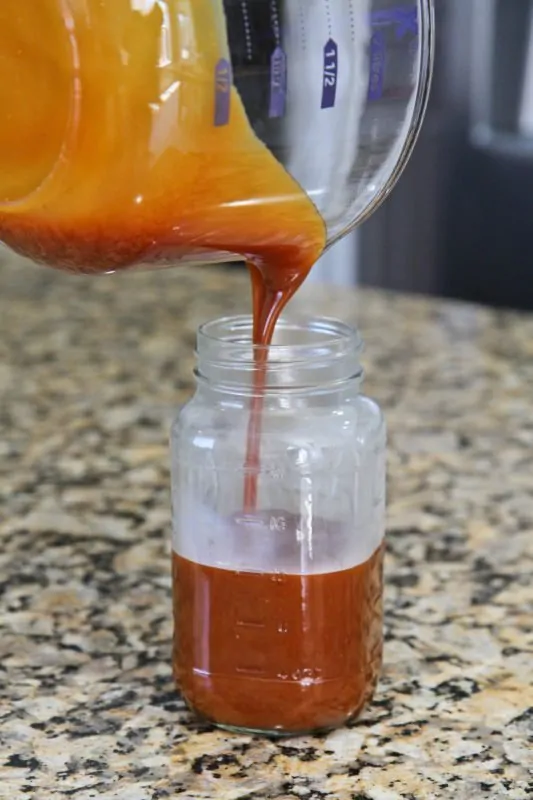 When melting your sugar, you are wanting to find the sweet spot between the sugar not being fully melted, and the sugar getting burnt. This is not a recipe that you want to leave on your stove and walk away from, because a few seconds time can make a big difference. Once your sugar has melted and is a warm, brown color with a rich aroma, you are ready to put your butter in. While it can be a bit intimidating, I promise this recipe is super simple, and totally worth it!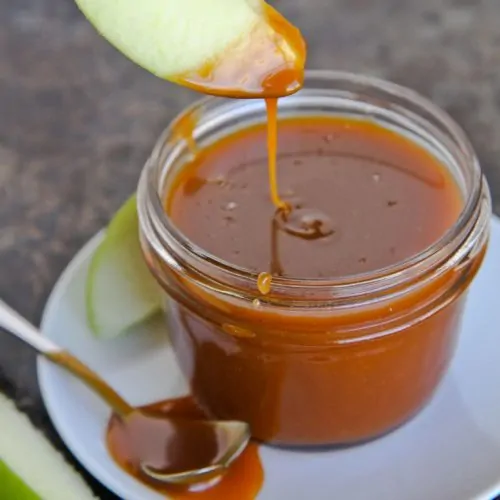 Easy Homemade Caramel Sauce Recipe
Ingredients
2

cups

sugar

12

tbsp

butter

, cut into pieces

1

cup

heavy whipping cream

1

tbsp

sea salt

(I prefer Maldon)
Instructions
In a large, heavy saucepan, heat sugar over medium heat. Allow sugar to melt over heat just until it becomes liquidy. Resist the urge to stir often during the melting processes as this will create many clumps, it's best to just let the sugar melt down over the heat.

Once sugar is completely melted, add the butter and whisk carefully until fully combined. The mixture will bubble up when butter is added, so use caution. Once the butter is full incorporated, remove from heat and immediately add whipping cream and salt. The mixture will again bubble up when the whipping cream is added, so use caution. Whisk until all ingredients are well combined. Some salt might not break down fully, that is okay.

If mixture appears to have clumps, pour mixture through a wire mesh strainer into a bowl. Store remaining mixture in a closed container, such as a mason jar. Make sure to use care when transferring hot mixture into a glass jar. Cool to room temperature. Mixture should be stored in refrigerator and is good for up to two weeks.
Disclaimer
Nutrition information is estimated as a courtesy. If using for medical purposes, please verify information using your own nutritional calculator. Percent Daily Values are based on a 2000 calorie diet.