This is a Sponsored post written by me on behalf of Frozen Food Foundation. All opinions are 100% mine.
I was recently invited through Social Spark to sample some frozen foods and share how I include frozen food in my family's meals. Given that I almost always have a freezer stocked full of frozen produce, and turn to them to help complete our dinners many nights per week, I was happy to be on board.
More often than not, life for us is crazy and often chaotic. Sometimes the meals I plan to make each week get pushed back, moved or changed all together, which is why frozen foods are always on my shopping list, especially frozen vegetables. No matter what my dinner plans, I know that I can always have nutritious veggies ready to go in a matter of minutes.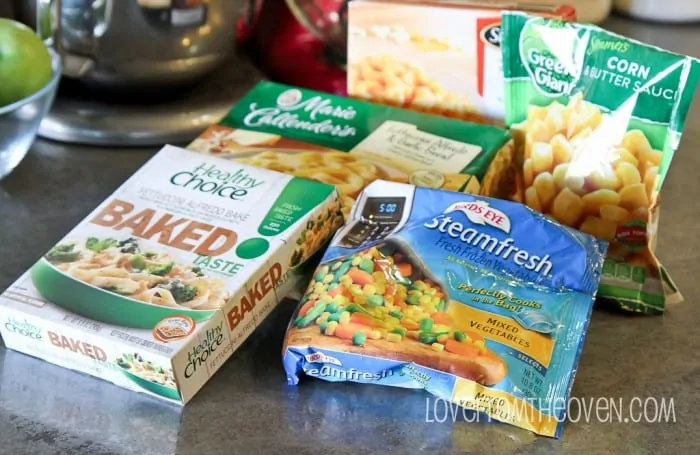 Did you know that frozen fruits and vegetables can be nutritionally equal – and in some cases better than – their fresh counterparts? Picked and frozen at their peak ripeness, they have a high nutritional value at the point of freezing, sort of like hitting the pause button.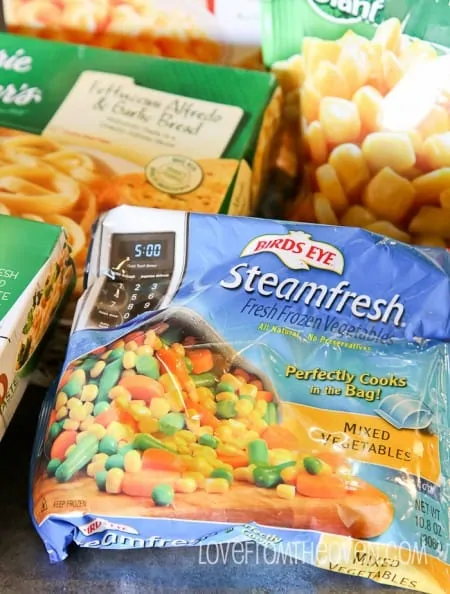 A study conduced by the Frozen Food Foundation and University of Georgia compared the nutrient content of eight commonly purchased frozen and fresh fruits and vegetables: blueberries, strawberries, broccoli, green beans, corn, spinach, cauliflower and green peas. To account for variables such as growing conditions, country of origin, and time in the supply chain, samples were prepared from fresh produce taken from six independent grocery stores.
Each fruit and vegetable was analyzed under three conditions: frozen; fresh (on the day of purchase); and fresh-stored (after five days of storage in a kitchen refrigerator). Surveys show that Americans may, on average, store perishable fruits and vegetables for up to five days or more, based on bi-weekly grocery shopping habits.
The study results reveal that, in many cases, the nutritional value – namely the amounts of Vitamins A, C and folate – of frozen fruits and vegetables is greater than that of fresh-stored produce owing nutrient degradation resulting from long storage time. That's pretty amazing!
Frozen veggies are a part of most of our meals, both as a side dish and incorporated into casseroles, soups and stews. I'm not the best meal planner, so having veggies that are there, ready to go, but not going bad, is incredibly helpful for me. One of my faily's favorite dinners is a delicious chicken pot pie, which is almost always made with not only frozen veggies, but frozen chicken and even pie crusts.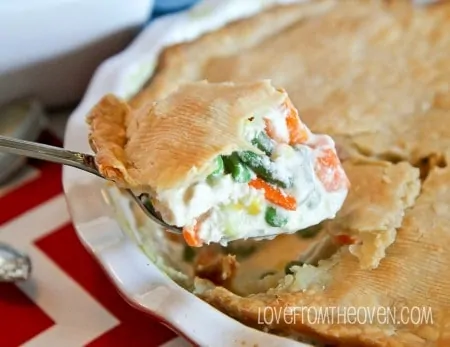 With so many great frozen foods from brands like Hot pockets/Lean Pockets, Healthy Choice, Marie Callender's, Birds Eye, Buitoni, Stouffers/Lean Cuisine, and Green Giant, the options for meals are really endless. There are many days where I will throw some chicken into my crockpot early in the day (my favorite easy way to cook chicken), and figure out as they day goes by what I'm going to make. My chicken, along with some frozen foods, can easily become Alfredo Chicken Bake, Chicken and Corn Enchiladas, Sweet And Sour Chicken or Buffalo Chicken & Veggie Sliders.
Everyone in my family loves when I make chicken pot pie, it's such a wonderful comfort food, and great for a chilly winter night. I start with making my chicken in the crockpot (I just throw a few chicken breasts in with a tiny bit of chicken broth and let them cook, so easy!), and once the chicken is done I prepare a simple sauce for my pot pie. I typically use a frozen pie crust, and since the veggies will cook in the oven, I simply thaw them with some warm water before assembling my pot pie and baking it. A seriously easy meal.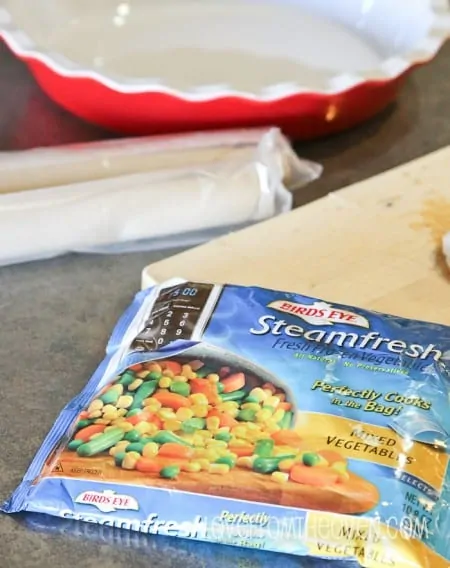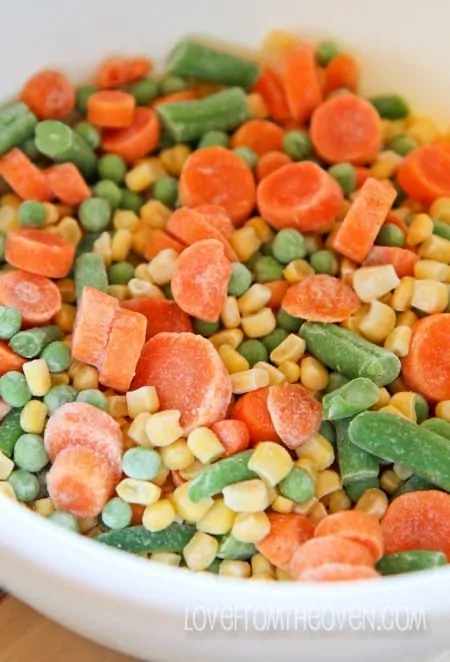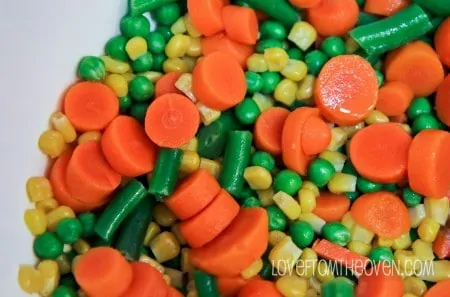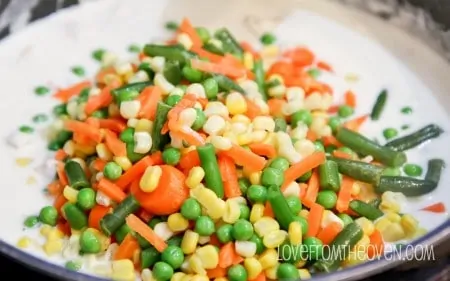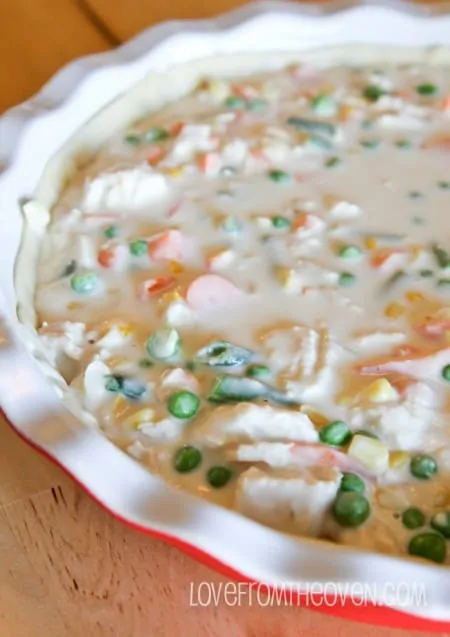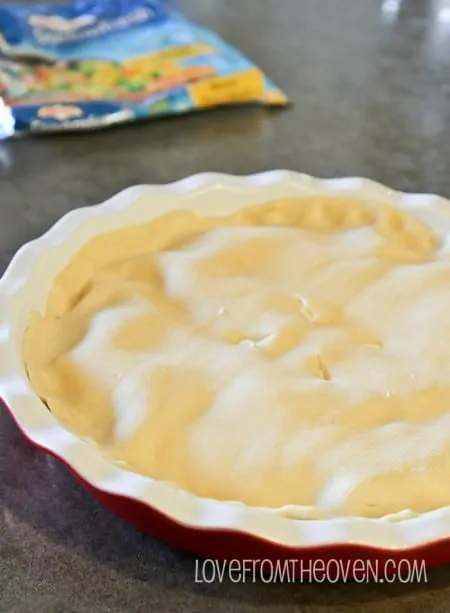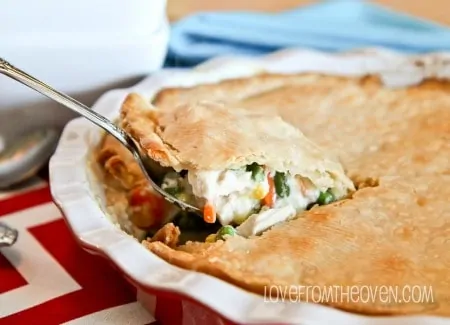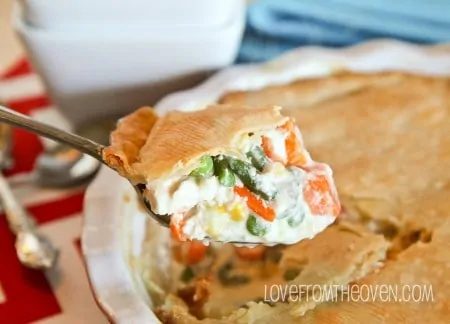 Easy Chicken Pot Pie Recipe
Ingredients
1 pie crust, top and bottom (homemade is fine, I typically use frozen, letting it thaw first)
4 tablespoons butter
1/3 cup flour
1 cup chicken broth
1 cup milk
1 cup heavy cream
Approximately 2-3 warm chicken breasts, cooked and chopped or shredded
2 bags (approximately 20-24 ounces total) of frozen vegetables of choice (I prefer a mix of carrots, peas, corn and green beans)
Instructions
Preheat oven to 400 degree F.
Prepare or thaw your pie crust and place bottom of pie crust into a deep dish pie pan (between 8-10")
Place frozen vegetables in a large strainer and run under warm water to slightly thaw (make sure water has drained off).
Heat butter in a large skillet over medium heat. Once melted, stir in flour and mix well until mixture is combined. Slowly pour in milk and chicken broth and stir well, bringing to a simmer until flour mixture is well incorporated into milk and chicken broth. Reduce heat and add heavy cream, stirring well until thickened, approximately 3-5 minutes.
Add vegetables and chicken to liquid mixture in pan and stir gently to combine.
Pour chicken, vegetable and liquid mixture into pie dish (pre lined with bottom pie crust). Gently place second pie crust on top and pinch edges of pie crusts to seal closed. Cut four small 1" slits into the center of the pie crust to allow for venting.
Bake for approximately 30 minutes. Remove from oven and allow to cool for 5-10 minutes.
We love this recipe and I love that I can make it almost any time I want, as the frozen veggies, chicken and pie crusts are all ready and waiting in the freezer. It's also a great way to get my kiddos to eat lots of different veggies in a single meal.
To learn even more about the benefits of frozen foods, check out the Frozen Foods Foundation's website as well as their Frozen Food Foundation Facebook and Frozen Food Foundation Twitter pages.
Enjoy!