Back to school time is here! Time for school supplies (why do kids always need 40 glue sticks?), first day of school photos, old friends and new teachers and packing up those lunch boxes. If you are like me you might have a picky eater or two in your house and that can lead to the contents of the lunch box getting a bit boring after a while. Over the years I've come up with some really simple ways to add a little fun to the lunch boxes.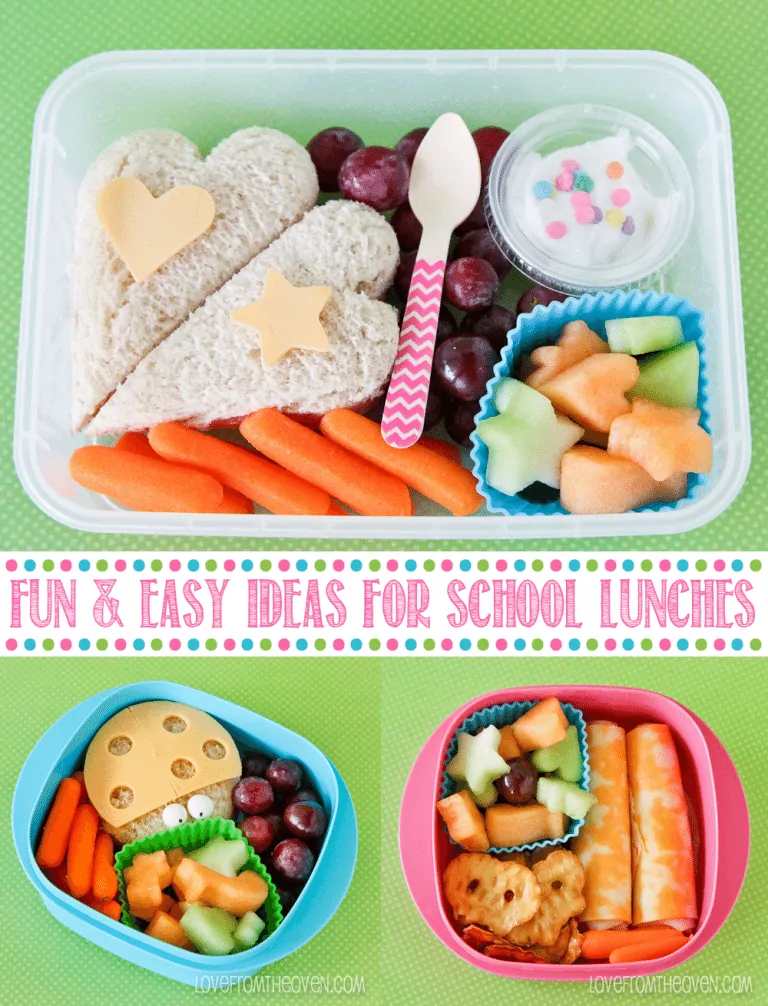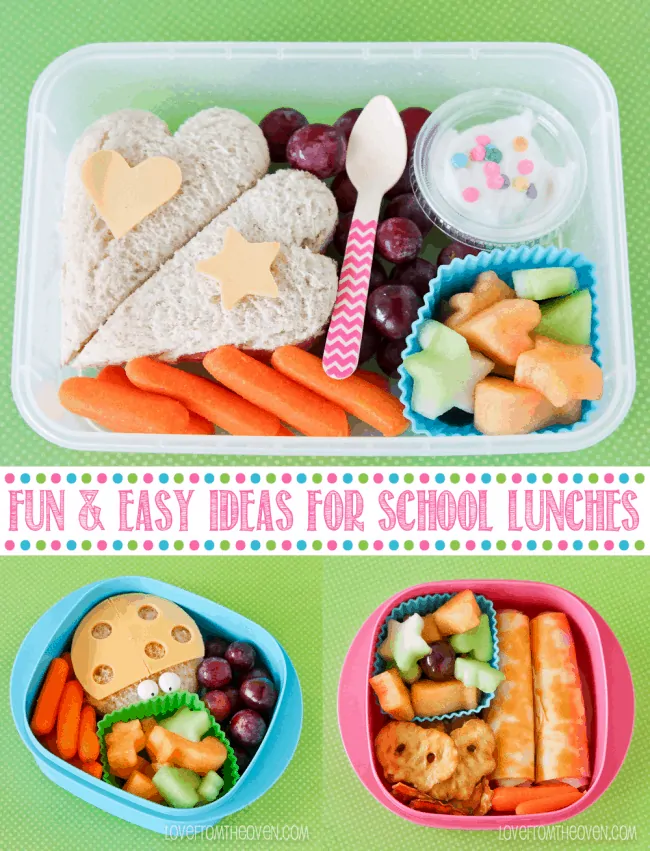 Some of you may be familiar with the concept of bento, a compact, visually appealing, balanced lunch. There are some people making the most amazing intricate bento lunches, carving hard boiled eggs into the likes of bunnies and kittens, which is a bit advanced to me, especially at 6am when I'm packing lunch. However I love the idea of packing lunch into a small container and making it visually appealing and fun. So I'm all about the easy bento-lite style lunch in the lunchbox.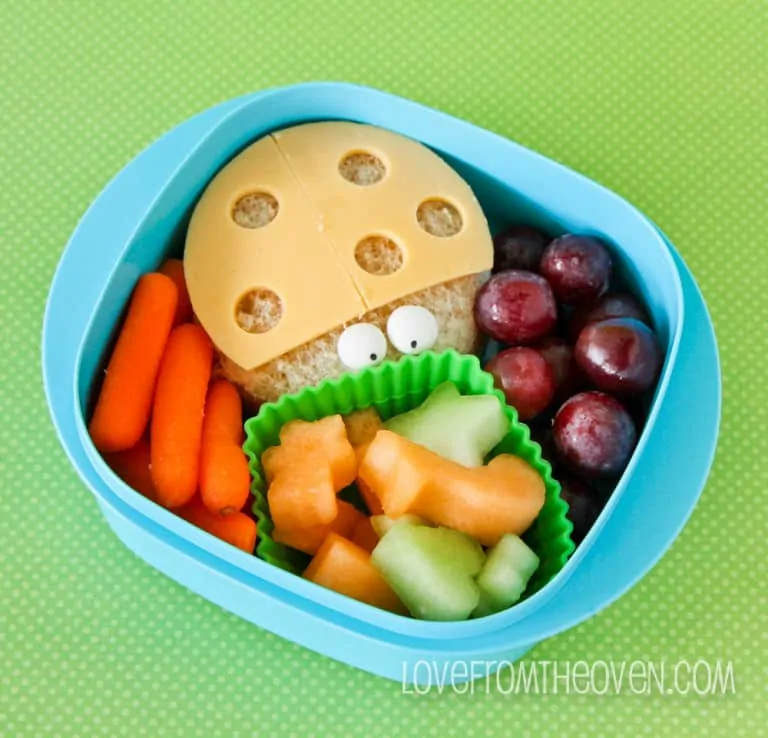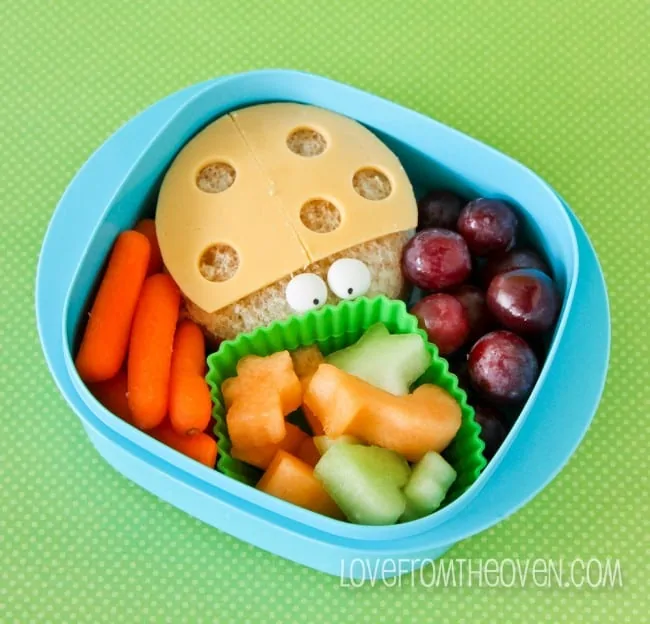 As a KRAFT Tastemaker, each month I get to share some of my favorite ways to use KRAFT products. This month I thought it would be fun to talk about something that could be helpful with back to school time. It just so happens that August is National Sandwich Month, so sandwiches, lunches and packing those lunch boxes seemed like the perfect topic to discuss.

As I mentioned, I have some pretty picky eaters. They also tend to want the same things over and over. I think this is what motivated me to start making fun bento style lunches. Someone one told me that when it comes to school lunches, that is the meal to pack what you know your kids will eat, versus what you want them to eat. All it takes is one visit to a school cafeteria and you realize that lots of food gets thrown away, so I have always followed this advice. I try to stick to favorites in the lunchbox. While I might want a bit more variety in food groups sometimes, the most important thing is that the kiddos eat what they have in those lunchboxes to get them through the afternoon. I pack what I know works and try to make it fun and appealing.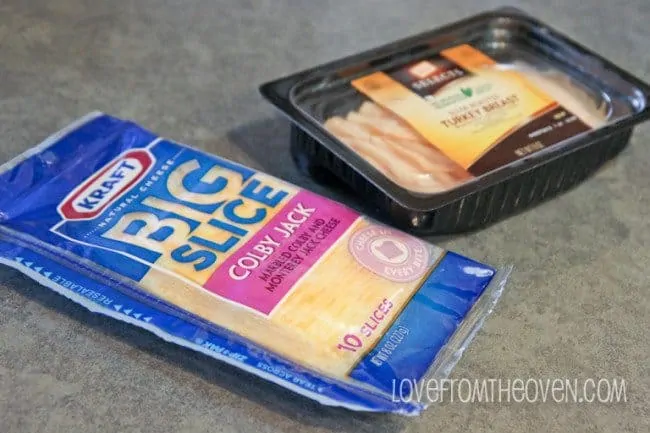 My daughter is pretty dedicated to turkey and cheese sandwiches (hold the crust, please!). How do you make the same sandwich different day after day? A few cookie cutters can go a long way! I have some cookie cutters that are made specifically for sandwiches, found at my grocery store, but I also use my good old fashioned made for cookies, cookie cutters as well.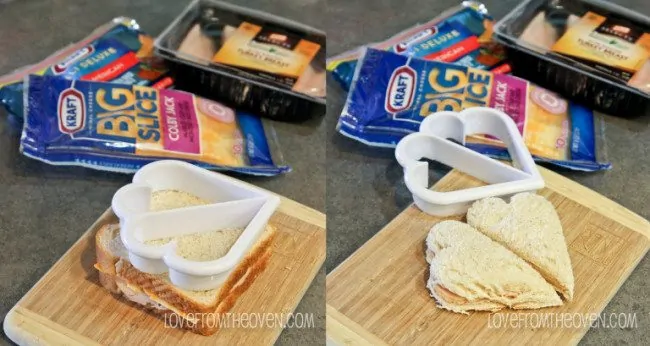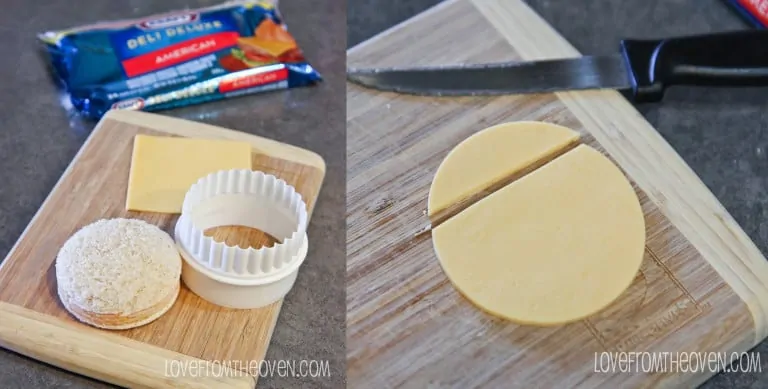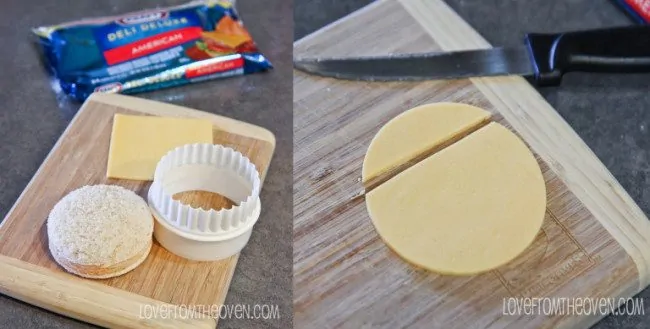 And those cookie cutters aren't just used on the sandwich, I also use them on cheese, fruits, anything really! The sandwich above I cut with a round cookie cutter, then I used the same cutter to cut out a round piece of KRAFT Deli Deluxe Cheese. I cut the top of the circle off, used a smaller cutter to cut a few more holes and with the addition of two eyes (from my baking supplies – but you could also use a Swiss or other white cheese and a food marker), your sandwich becomes a ladybug.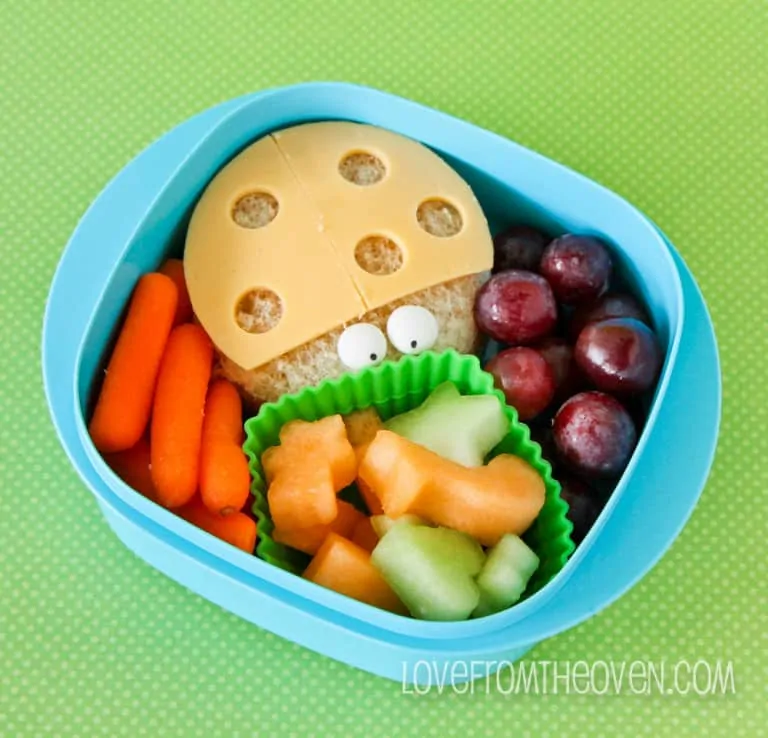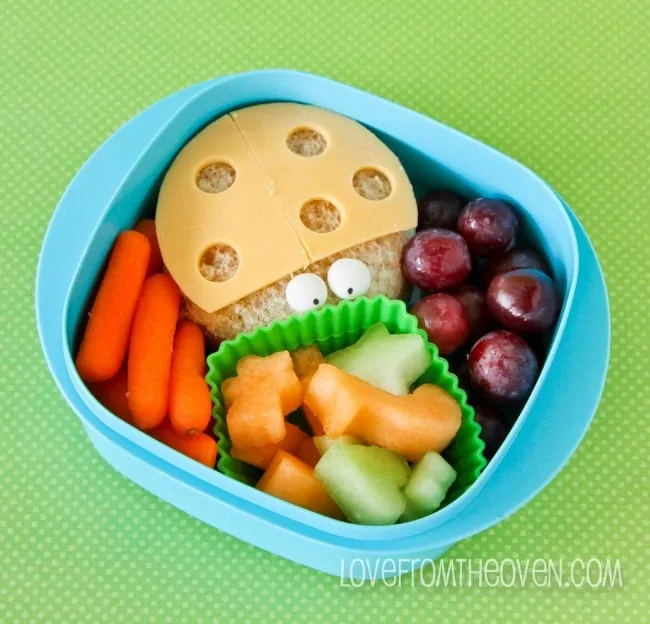 Sometimes I add some extra cheese shapes to the top of my sandwiches. I have some mini cutters from my local craft store (as well as a few that might have once been used for the kids play dough!). A little heart and star add something special to the top of this heart sandwich.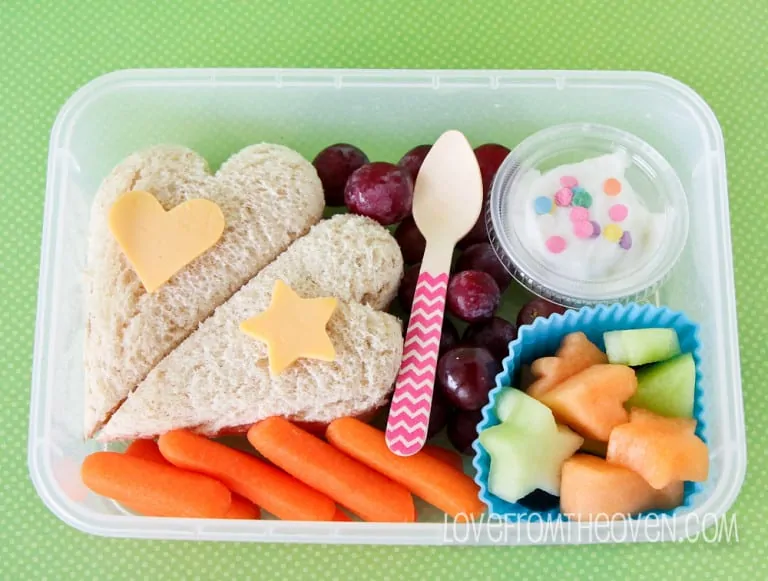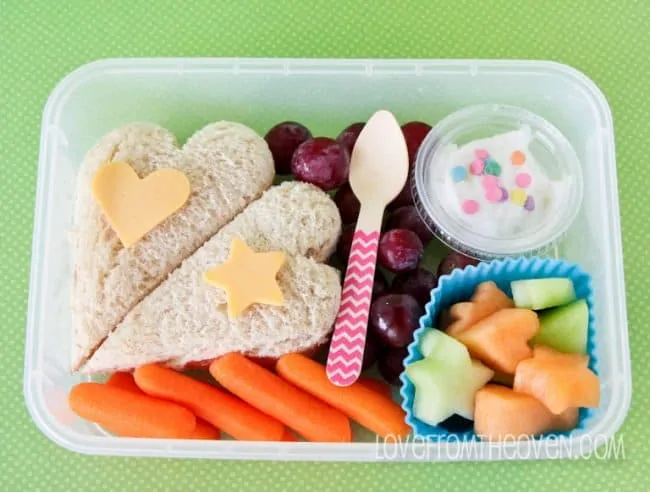 If your kids are a bit more diverse in their food choices, you can find great sandwich recipes on the KRAFT website. Every now and then we skip the bread (okay, maybe mom forgot to pick some up!), and simply make roll ups with our KRAFT Cheese and OSCAR MAYER Turkey. The KRAFT Big Slice cheeses are great for making roll ups! They are a bit longer than usual cheese slices, perfect for rolling up with your favorite meats or veggies. You can even add a tortilla to the roll up.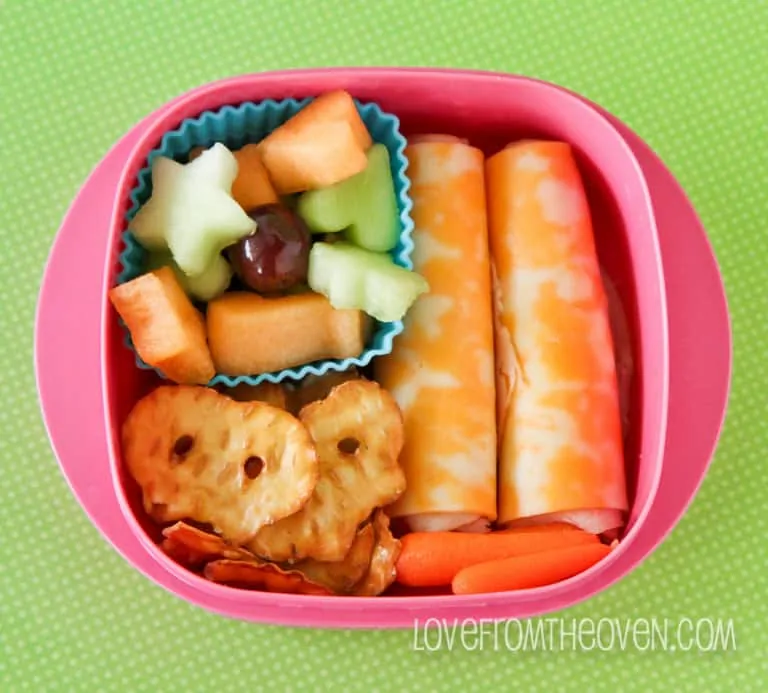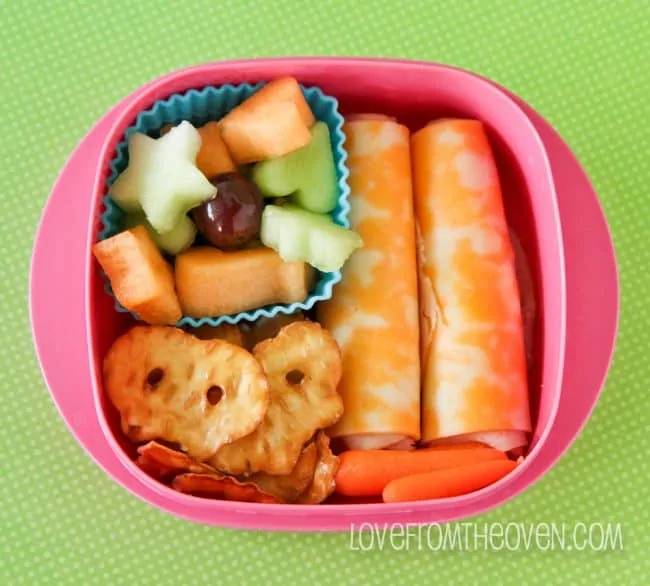 There are so many variations you make make simply by switching up your cookie cutters, as well as your meats, breads and cheeses. The mini cookie cutters are are great for cutting fruit. Yes, it takes a little time, I usually cut a few piece into shapes and mix them in with regular cubes. I've found that the cutters work wonderfully with melon.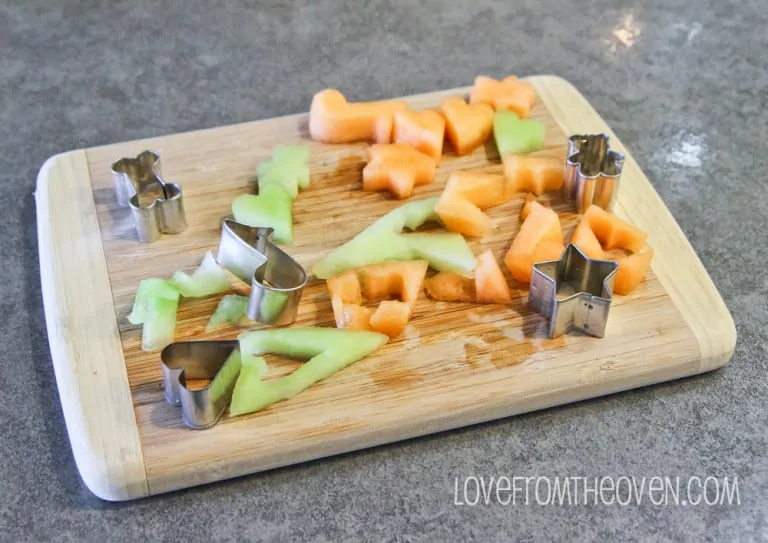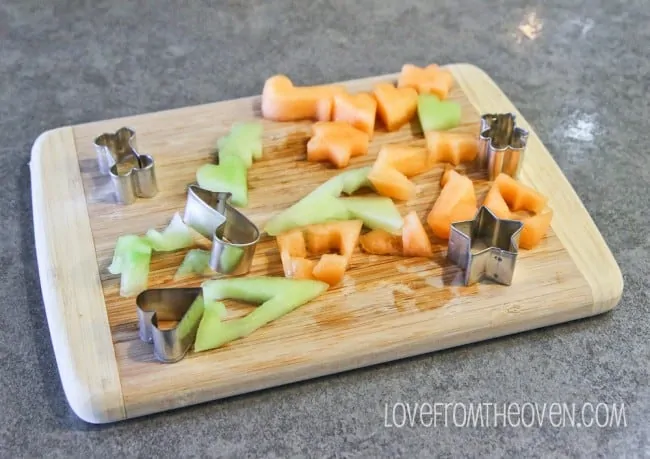 Hearts, stars, music notes and teddy bears.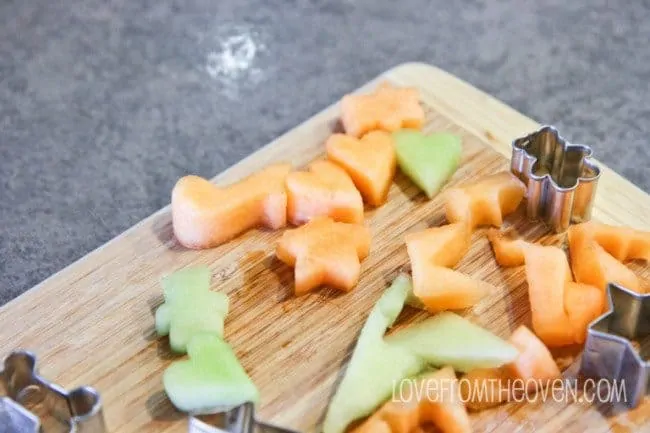 The bento style lunches are typically placed in small containers. They are packed pretty tight, very compact. I pack my sandwiches, my fruit cups (usually in silicone baking cups), yogurt and other "large" items into my containers, then fill in with things like carrots, olives, grapes, crackers, berries, pretzels and sometimes even a few KRAFT Jet-Puffed Marshmallows or small cookies. The sky is the limit, especially if you have adventurous eaters. I also try to keep a few fun small spoons and forks on hand, as well as small containers for yogurts and dips. And I find yogurt is very well received with a few sprinkles added to the top (who doesn't love sprinkles?).
I don't manage to make a cute bento style lunch everyday. I think I did when my oldest was in kindergarten, but now it's something that I do a bit more randomly. I think this keeps it fun and my daughter is surprised when she opens up her lunchbox and finds a lunch packed with some fun and whimsy. It's great for those days when I know she has a test or presentation, just a little something to remind her mid-day that mom is thinking about her. As tired as I am making those lunches some mornings, I have those moments where I think I only have so many years left of packing school lunches, so if I can add a little something special, it's worth the few extra minutes.
Keeping your cookie cutters, sandwich punches, edible makers, fun silverware, small cups and containers and lunch size containers together in one place helps save time when making these types of lunches. I have a small plastic basket that I keep with my containers, and I just pull it out when I'm packing lunches, so everything I need is right there, quick and easy.
I would love to hear your tips and tricks for school lunches. It's always fun to find new ways to shake up those lunch boxes, and not just for the kiddos, but for those of us packing up those lunches as well!
Disclosure: As a Kraft Tastemaker, I am compensated for my posts with Kraft.
All opinions and product choices are however mine and mine alone.