I love this time of year and I love coming up with Halloween treats. Today I have three different fun Halloween treats for you today created using products from Kraft Foods, and I have a fabulous Halloween giveaway from Kraft Foods!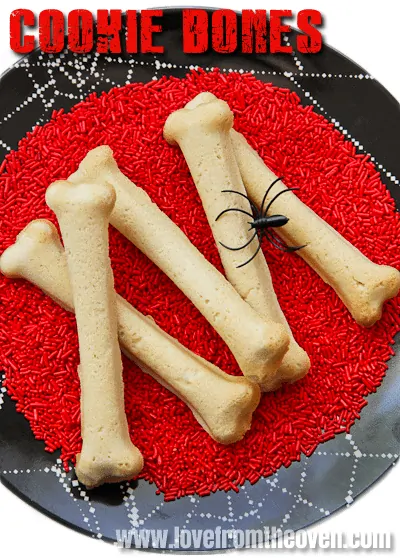 These fun Halloween treats were made using goodies from the Kraft Halloween Prize Pack, just like the one you can win! 🙂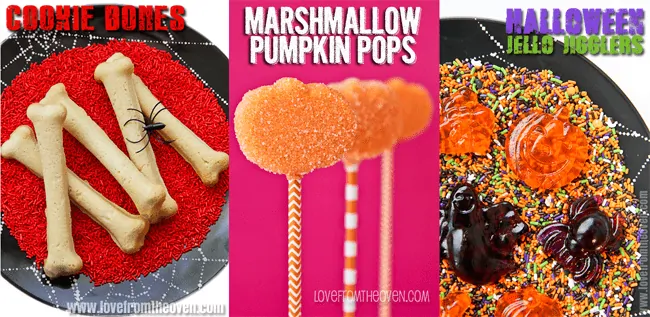 Every year for Halloween we attend the annual Trunk-Or-Treat at my daughter's preschool. It's a great event where the kids can have fun, the adults can catch up and everyone can enjoy Halloween and a great sense of community. Living in a big city, the good old fashioned door to door trick or treating often feels very impersonal to me, which is why I absolutely love taking my girls to Trunk-Or-Treat.

We always meet up with our friends, set up a shade cover, decorate, bring dinner and desserts and spend some time eating and hanging out prior to the costumes and candy. While pizza is usually on the menu for dinner, I like to come up with fun desserts for the kids (and adults). This year I've come up with three fun and super easy Halloween treats.
The first treat I have to share are these super easy Marshmallow Pumpkin Pops…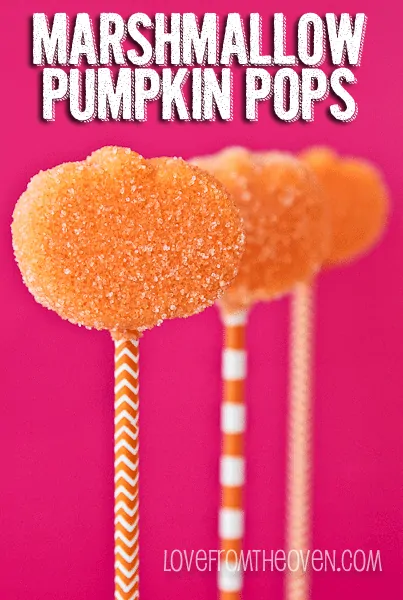 These are incredibly easy to make. I used Kraft Jet-Puffed Jumbo Pumpkin Mallows, popped them onto some pretty party straws and then dipped them into orange candy coating. You can check out my more detailed post on making these by clicking here.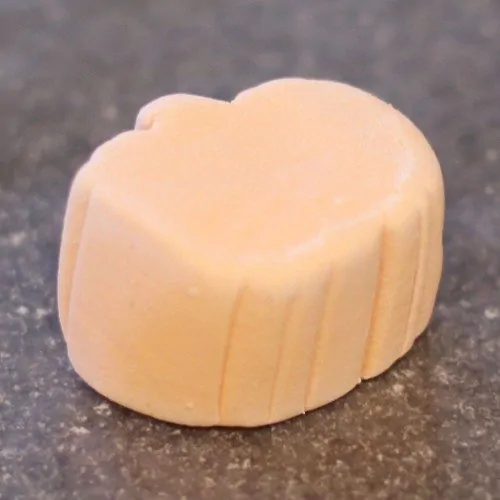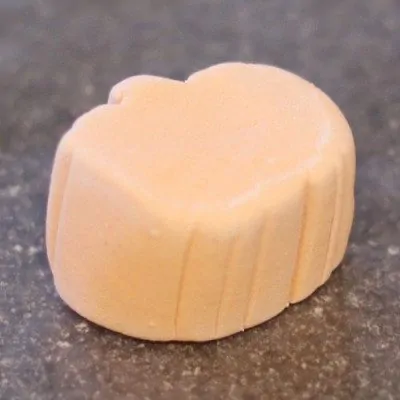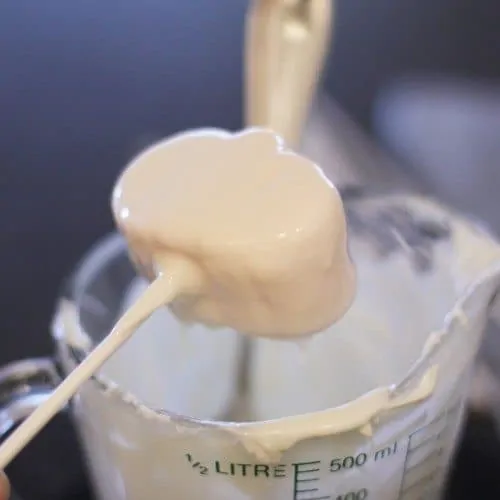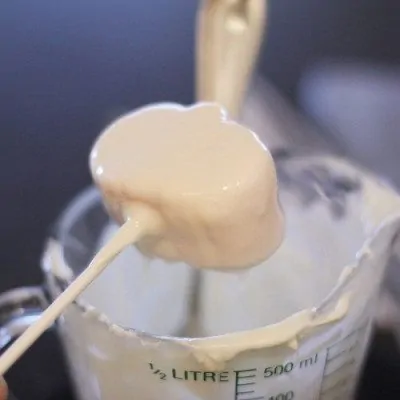 I finished them with a dusting of sanding sugar. Truly a no bake, quick to make pop. You can decorate yours with a variety of sprinkles or other fun items, but I thought these were so pretty with just the simple sugar coating.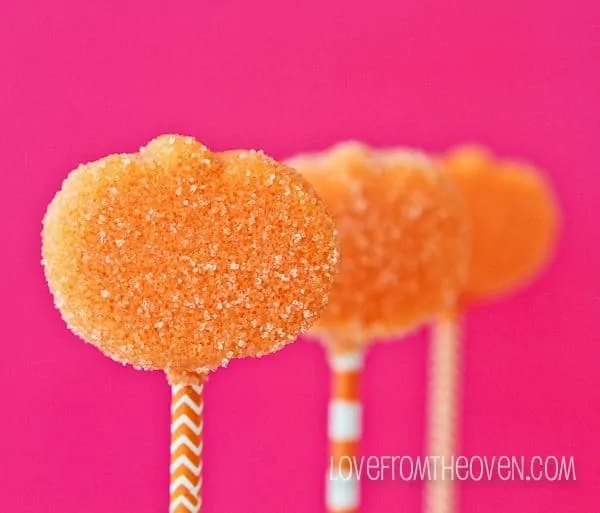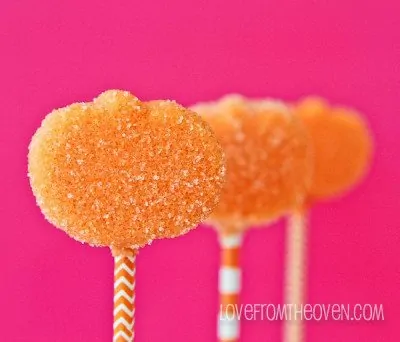 Simply adding little sugar skulls can quickly change the look and feel of these pumpkin pops…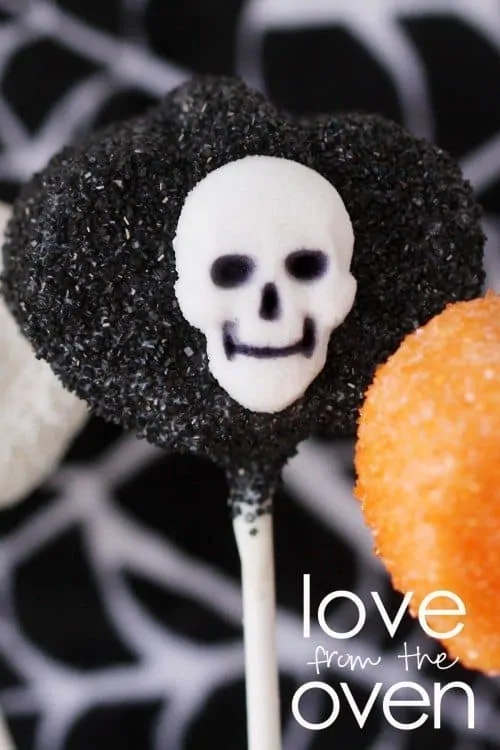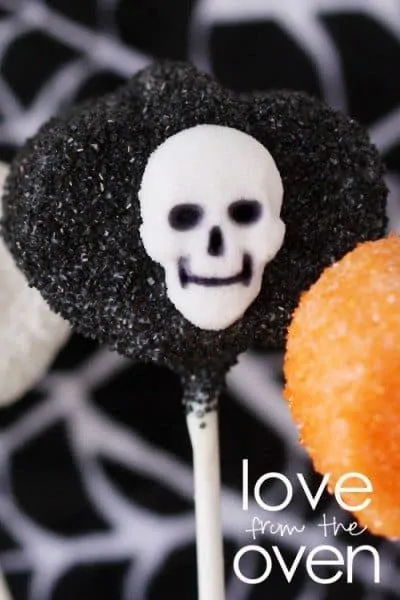 Next up I made some JELL-O Jigglers.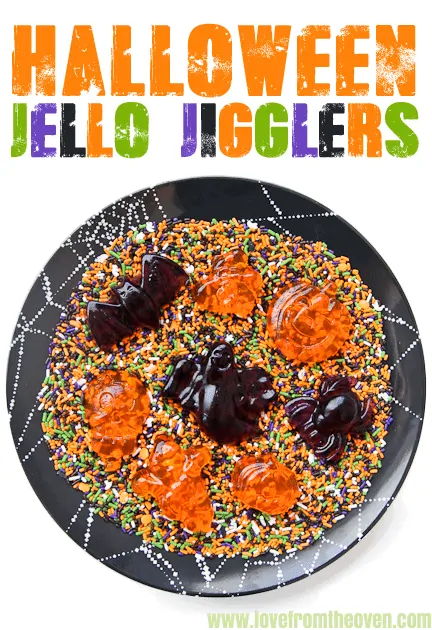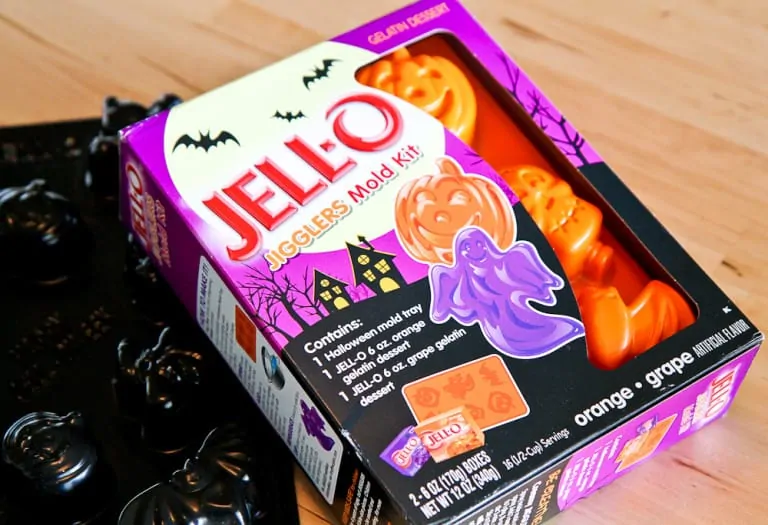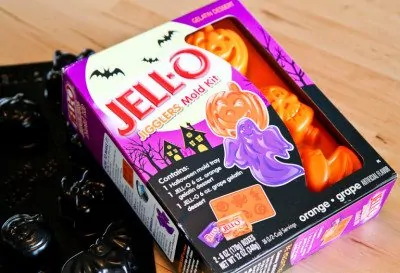 I boiled my water in the microwave, added my JELL-O and poured them into my molds (complete instructions on JELL-O Boxes). After that they are popped into the fridge for a few hours, and voila – fun little Halloween JELL-O shapes. I put mine on a bed of sprinkles, because sprinkles make everything more festive.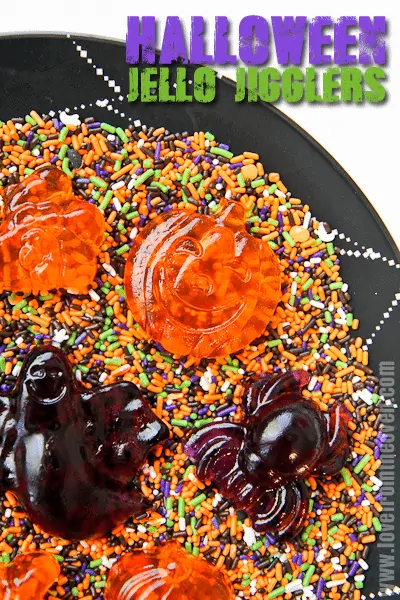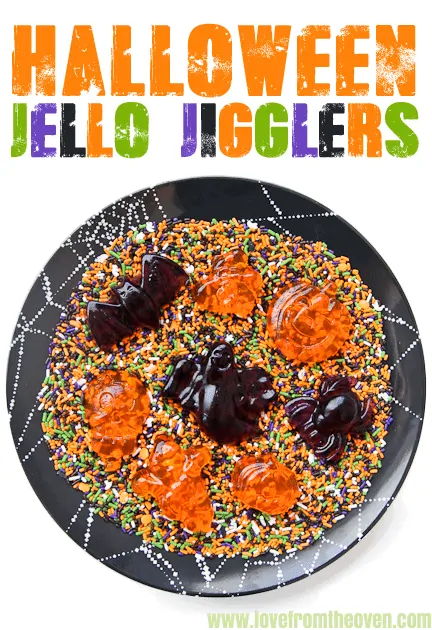 I think this little spider was my favorite.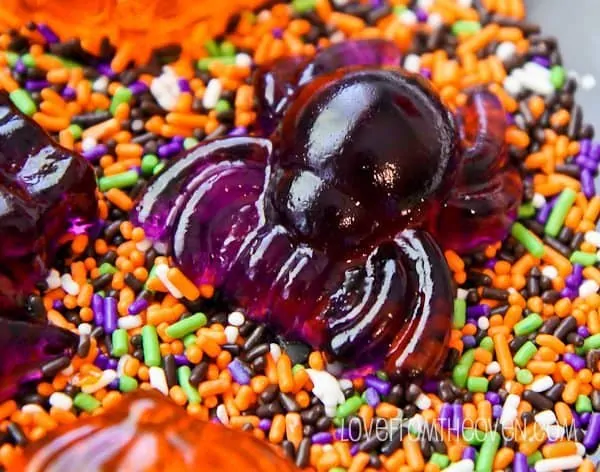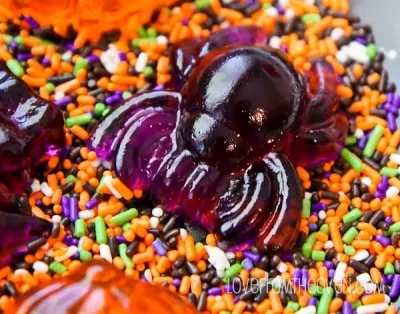 So fun, so easy! The final treat I made were Cookie Bones.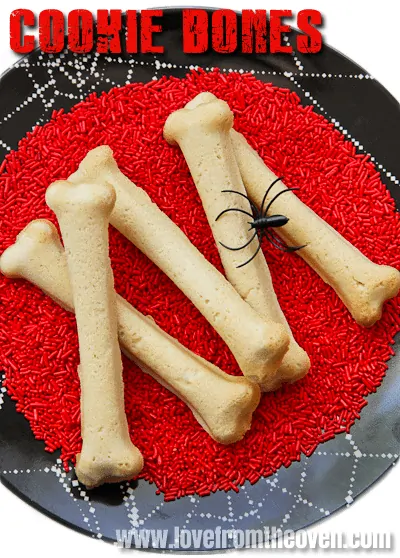 These fun cookie bones have an added twist – pretzel rods inside of them! These are super easy to make, it's just sugar cookie dough placed into this cool Wilton pan. I decided to add pretzel rods to mine to give them more of a crunch. First I pressed in my sugar cookie dough, then I pressed in my pretzel rods, and into the oven they went.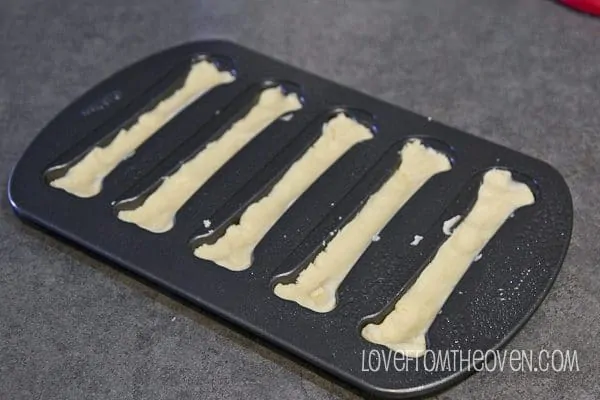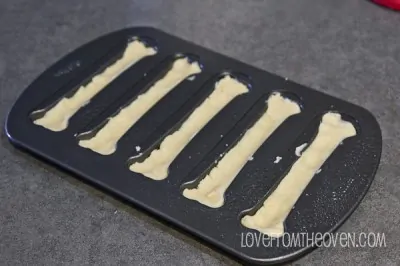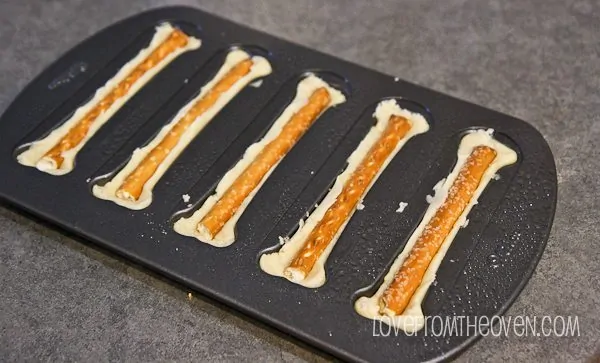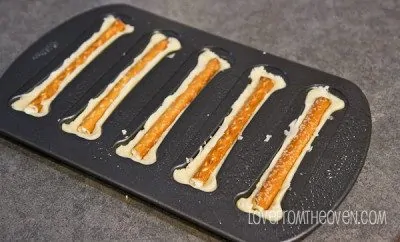 I was originally going to frost them, but they look great unfrosted, so I just left them as is. You can even package them up for treat giving if you like. I put mine into a food safe cellophane bag with a bit of red tissue paper, then tied the bag closed with ribbon and a little spider ring.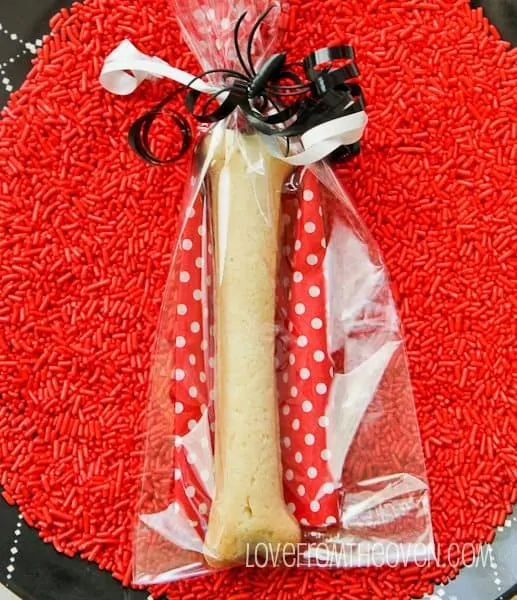 You can find many more great Halloween ideas over on the Kraft website.
Now, I did mention a giveaway, right? KRAFT is giving one lucky Love From The Oven reader one of these awesome Halloween Prize Packs – just like the prize pack I used to make the Halloween treats you see in this post! HEAD TO THIS POST TO ENTER!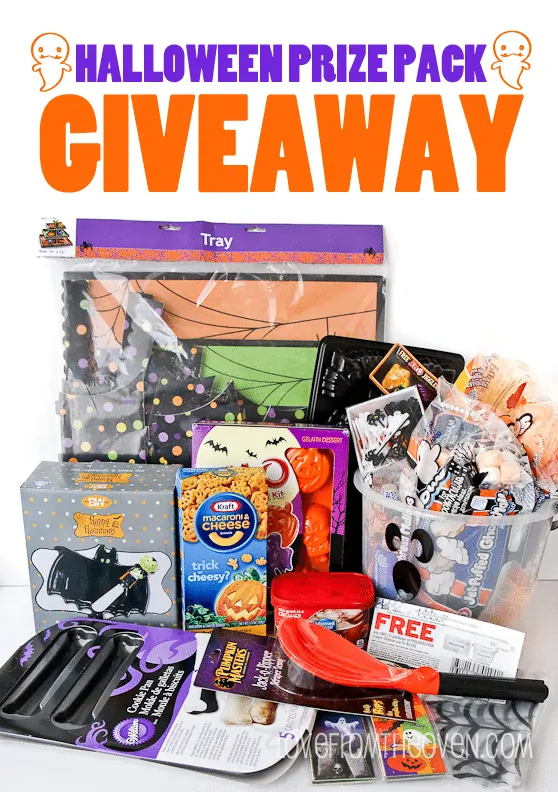 Kraft Foods is providing the prizes for this program at no cost to me and has provided me with a gift of equal value for review. This program is not administered or sponsored by Kraft Foods or its affiliates, but solely by Love From The Oven