Ham and cheese biscuits are a perfect grab-and-go breakfast that are packed full of protein. These easy ham and cheese biscuits come together in minutes and get two thumbs up from my two picky eaters.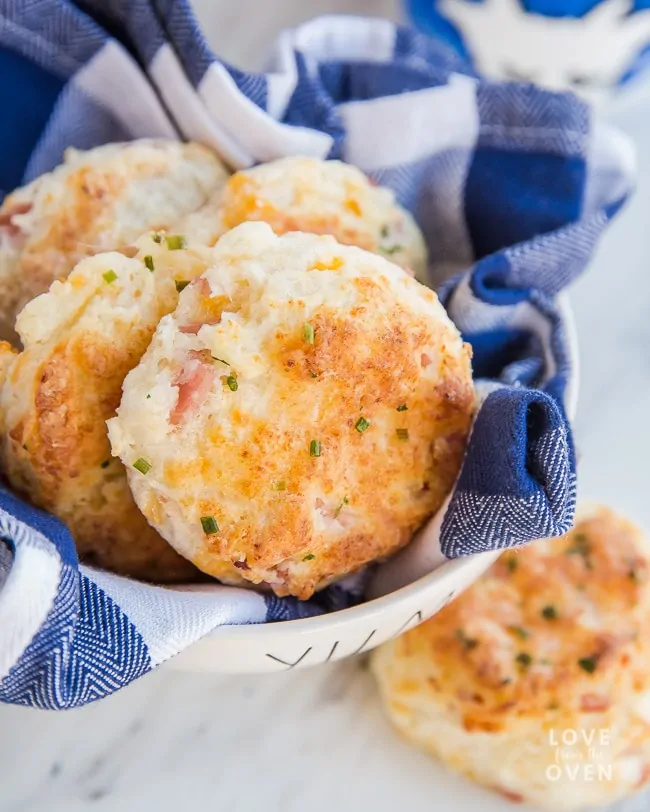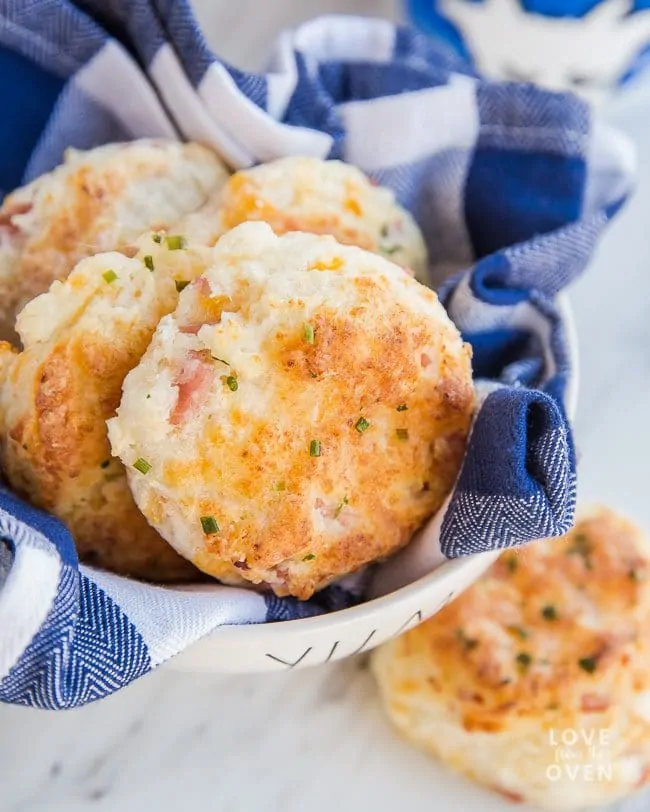 Like most kids, mine are big fans of carbohydrates. And, also like most kids, they do best if they get some protein with those carbs in the morning. I'm always looking for ways to add more protein to foods my kids love, and these ham and cheese biscuits do just that. They even have a secret ingredient to really help kick up the protein.
Ham And Cheese Biscuits Packed With Protein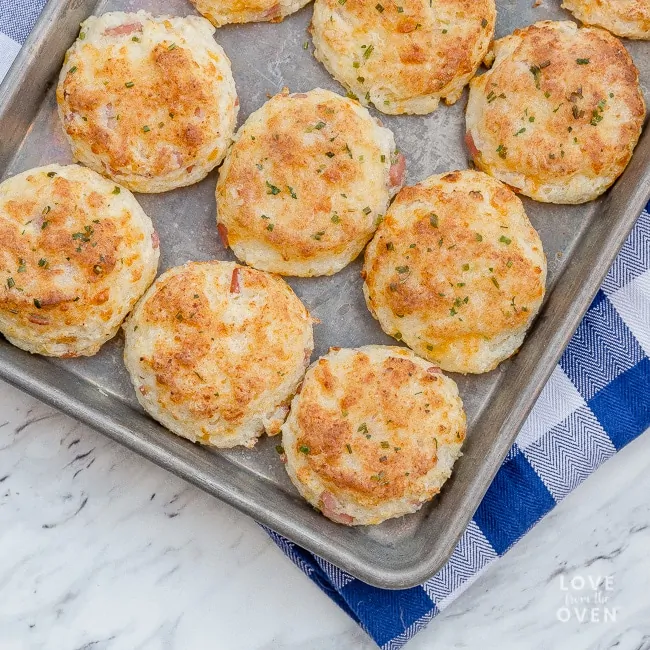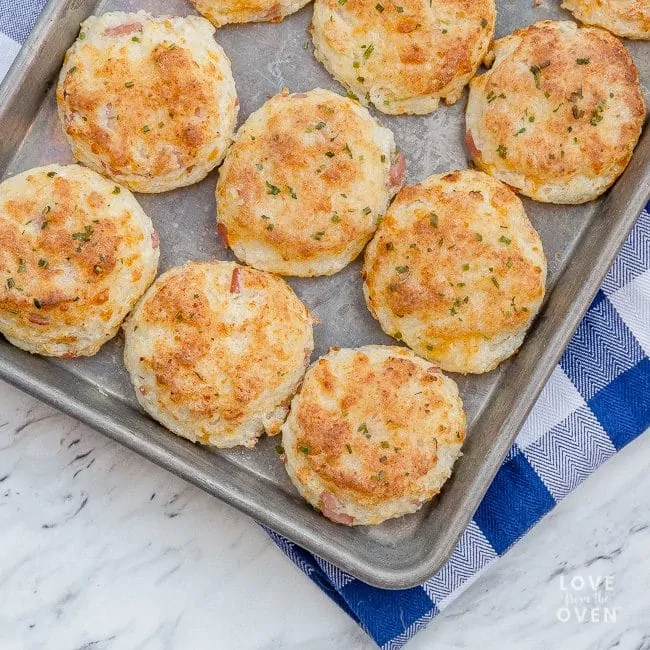 While these ham and cheese biscuits get protein from the ham and cheese, obviously, they also get a protein boost from their secret ingredient. Work with me here, this may seem a bit crazy, but this recipe for 12 ham and cheese biscuits contains an entire 16oz container of Shamrock Farms Cottage Cheese! Oh hey hidden protein, I didn't notice you there! I like to test my secret ingredient recipes on my really picky teenager. She tends to closely examine all foods (in her defense, she has food allergies, so part of it is a safety thing for her). She had NO clue that there was cottage cheese in these. And trust me, if she doesn't notice a difference from our regular biscuits, I don't think anyone will! Thanks to Shamrock Farms for sponsoring this post.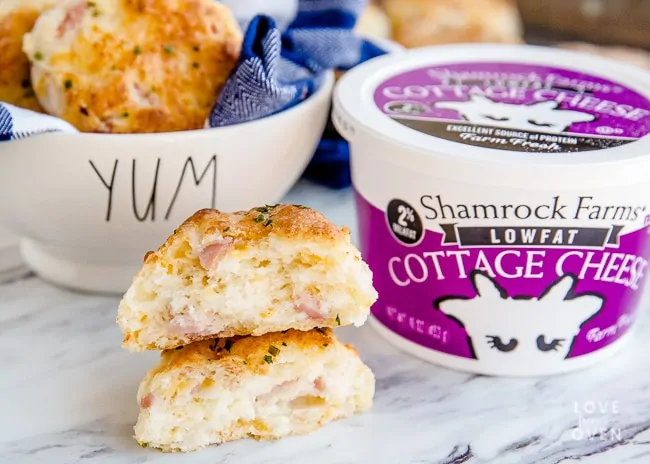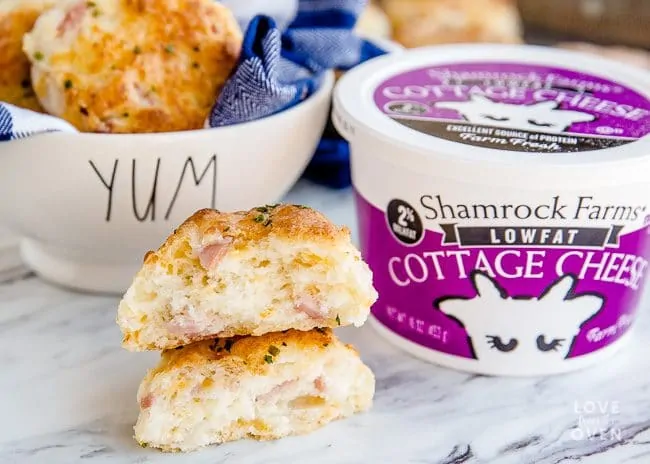 Pure, fresh Shamrock Farms Cottage Cheese naturally provides the protein you need to power your and/or your kids' day. Protein helps with energy and focus, keeping you fuller longer, maintaining bone health, and more lean muscle. Shamrock Farms Cottage Cheese is packed with 13 grams of protein per servings. It's low in fat and calories and high in bone-building-calcium.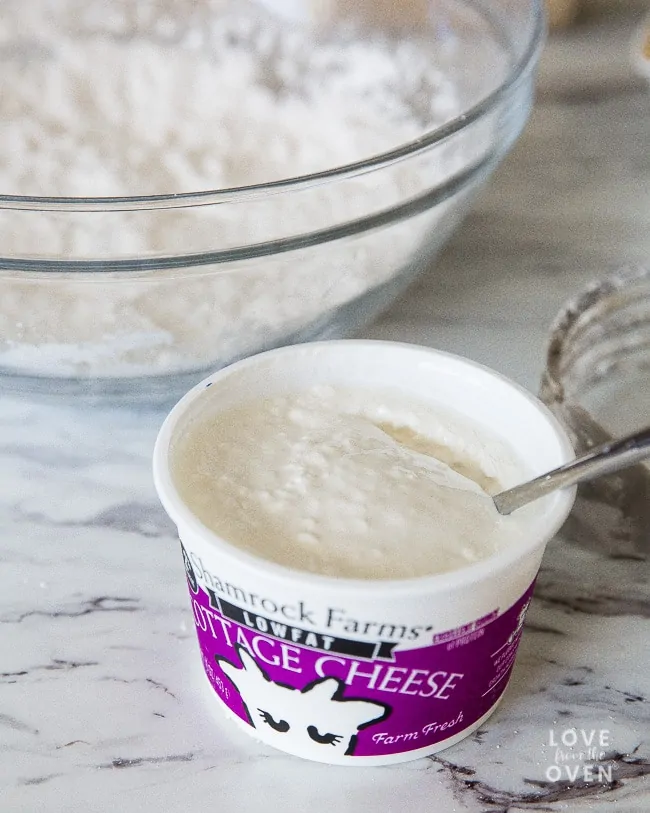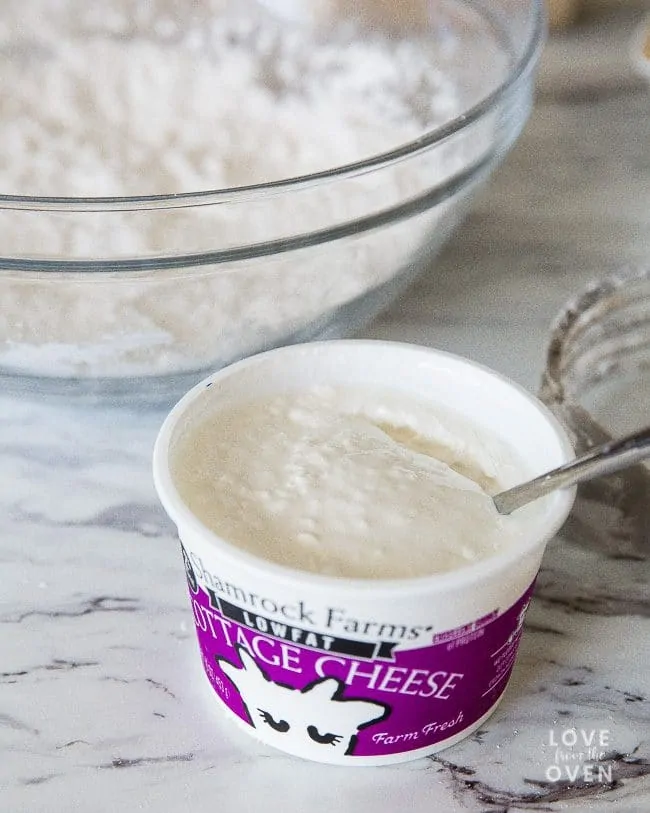 These protein packed ham and cheese biscuits are perfect for breakfast, and I love that you can easily grab them to eat on the go. Not only are these great for breakfast, you can also pair these ham and cheese biscuits with a nice green salad for a super easy dinner. When I make them for dinner, I like to add garlic powder to the dry ingredients.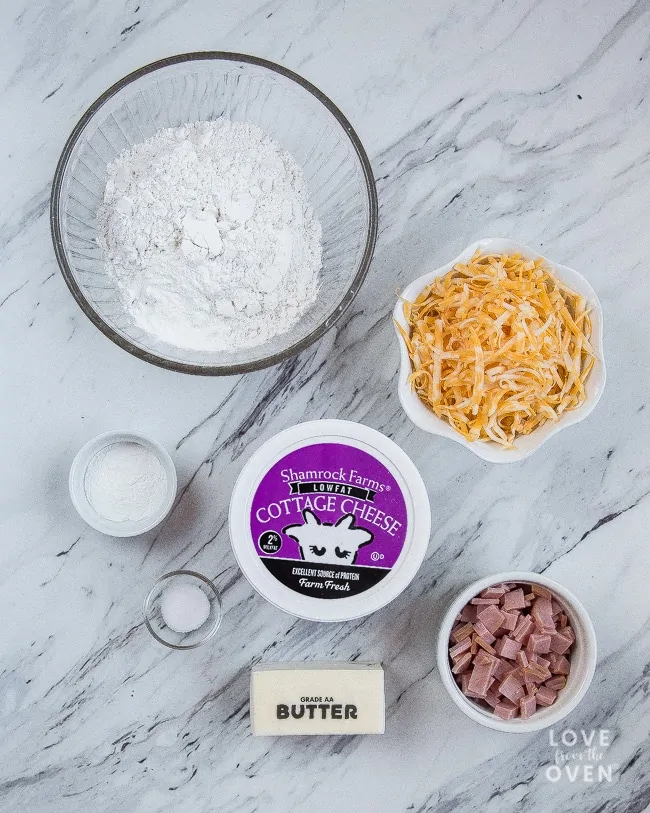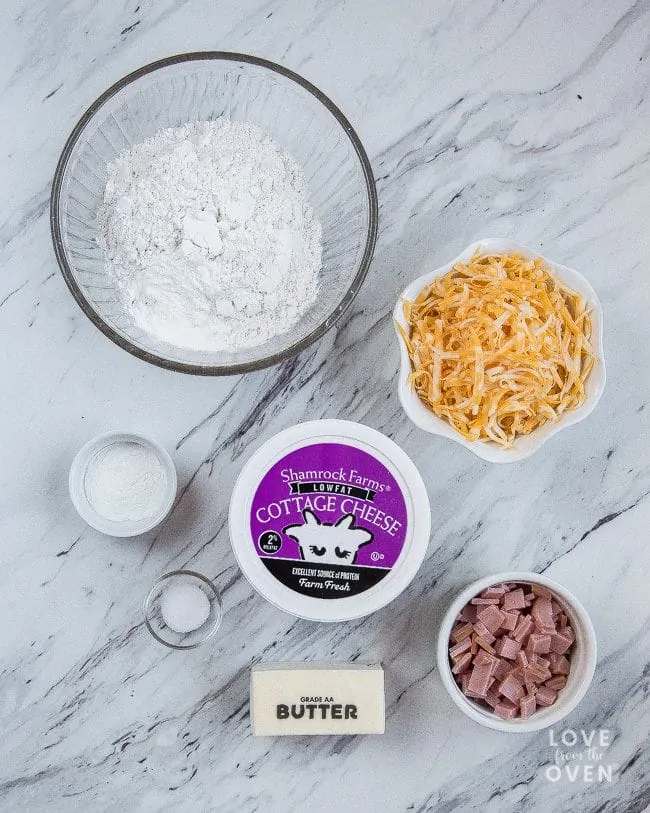 Cottage Cheese Biscuits
These cottage cheese biscuits with ham and cheese come together just like any other biscuit, and are made with simple ingredients. When it comes to biscuits, the ingredients are really quite simple, but there are some tips in how to put those ingredients together. When making biscuits you want your ingredients to be COLD. I actually put my butter in the freezer a few hours prior to making biscuits. You want the butter to stay in small chunks in the biscuit dough and melt in the oven.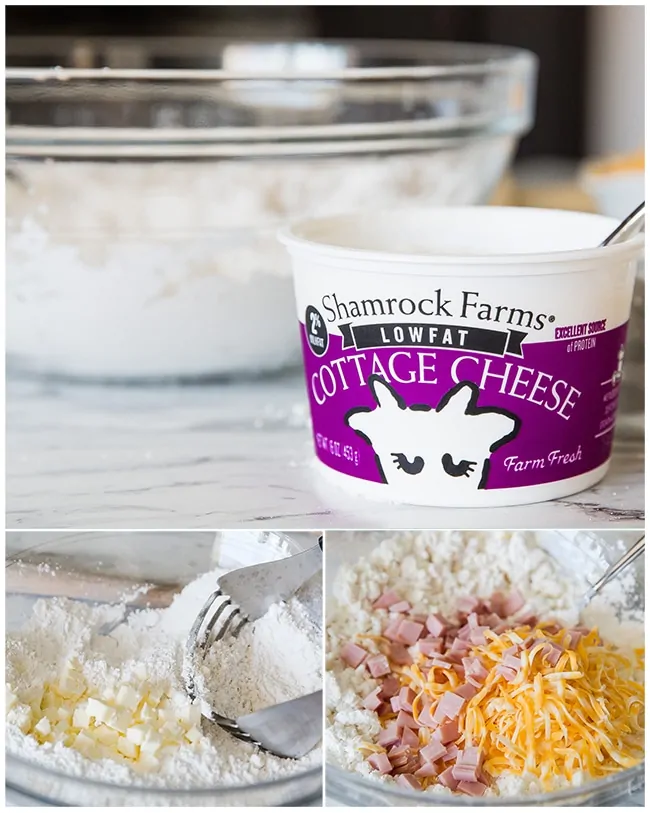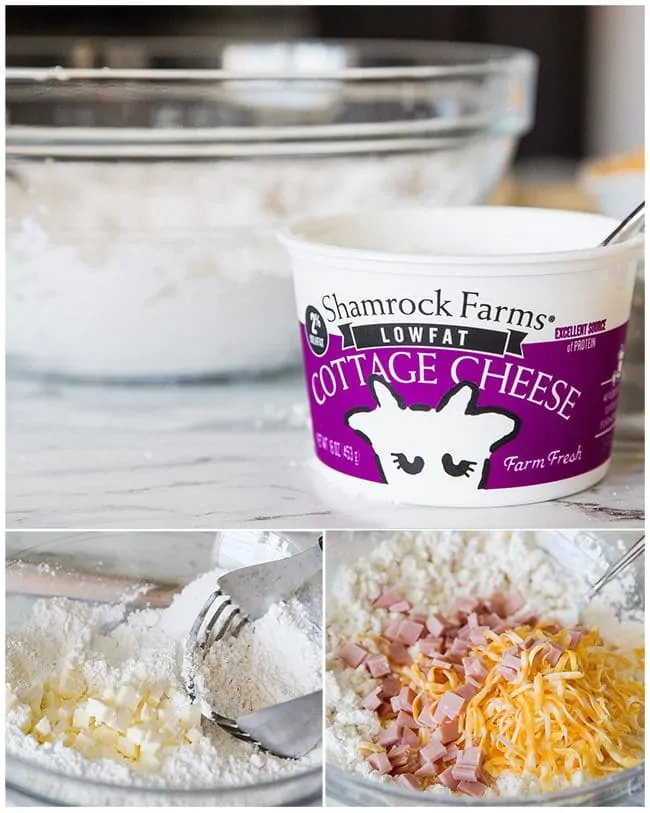 I like to keep all of my ingredients cold in order to help keep the butter cold, so that it doesn't melt into the dough prior to going into the oven. When the cold butter is allowed to melt in the biscuit in the oven while baking, it helps create a tender and flakey biscuit. If you look at the photo below you can see yellow chunks of butter in the biscuit dough. #biscuitgoals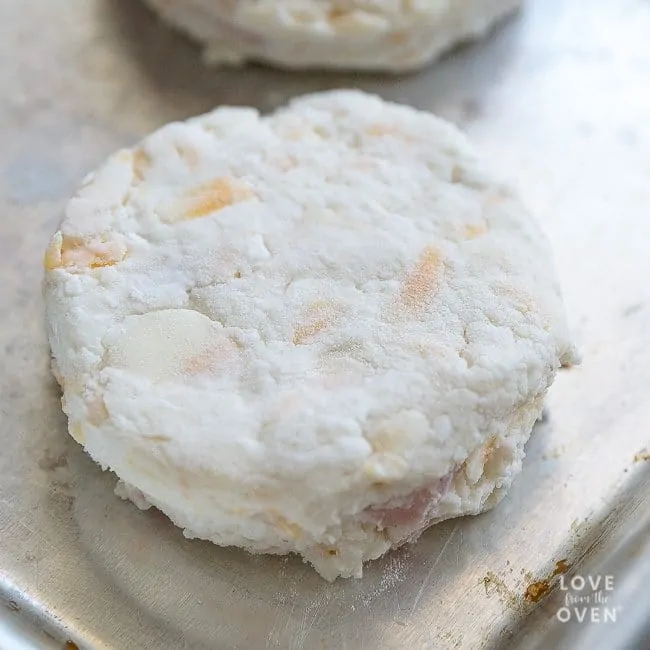 In order to help keep that butter as cold as possible in these ham and cheese biscuits, have all of your ingredients prepped and ready before you start making your biscuits. I often start by cutting my butter into small chunks (think pea size if possible) and then I return them to the freezer. Then I measure out my dry ingredients and gather up my other ingredients. I preheat my oven to a toasty 450 degrees, then I combine my dry ingredients. Next I add the butter and quickly work it into the dough with a pastry cutter.
Remember you want to leave some chunks of butter, just make sure it's well coated and distributed. You do not have to, or want to, totally blend it smoothly into the dry ingredients. After the butter is combined, I add my cheese and ham and give them a quick stir. Then finally I add my cottage cheese, an entire 16oz container of Shamrock Farms Cottage Cheese. Then it's time to stir it a bit, but not a lot. Stirring is not going to completely bring this together, you are going to have to get your hands dirty on this one.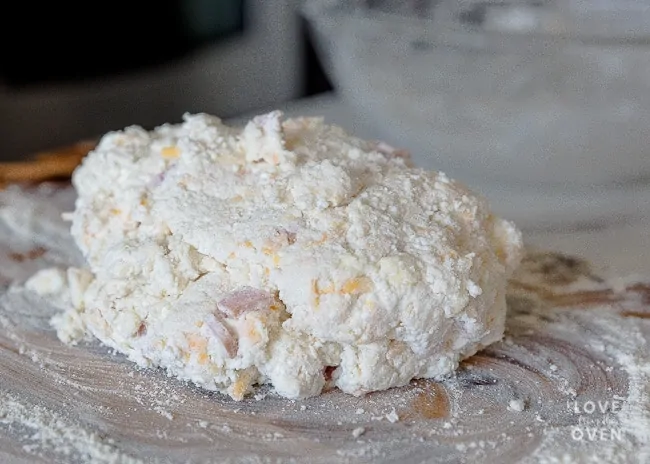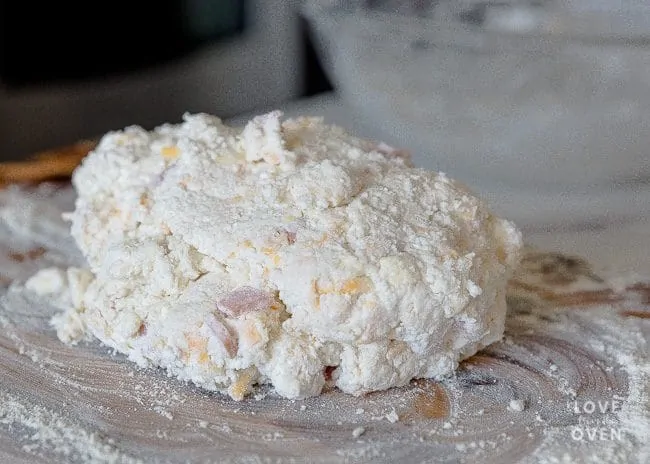 How To Make Ham And Cheese Biscuits
This is a sticky dough. You are going to coat your hands in flour, then start squeezing the dough together. I try to continually fold the dough onto itself until it starts to come into a fairly cohesive lump of dough. This is gentler than stirring, and the folding over and over helps create those layers we all love in biscuits. Once you have all the dough together, transfer it to a very well floured surface. Again, this is a STICKY dough. Add flour to help keep it workable. Gently roll it out to about 3/4″ thick. Then it's time to cut your biscuits. I use about a 1.5″ size circle cutter, but 2″ is ideal. Don't twist the cutter into the biscuit dough. Twisting the cutter sort of seals your biscuit dough which can impact it's ability to rise.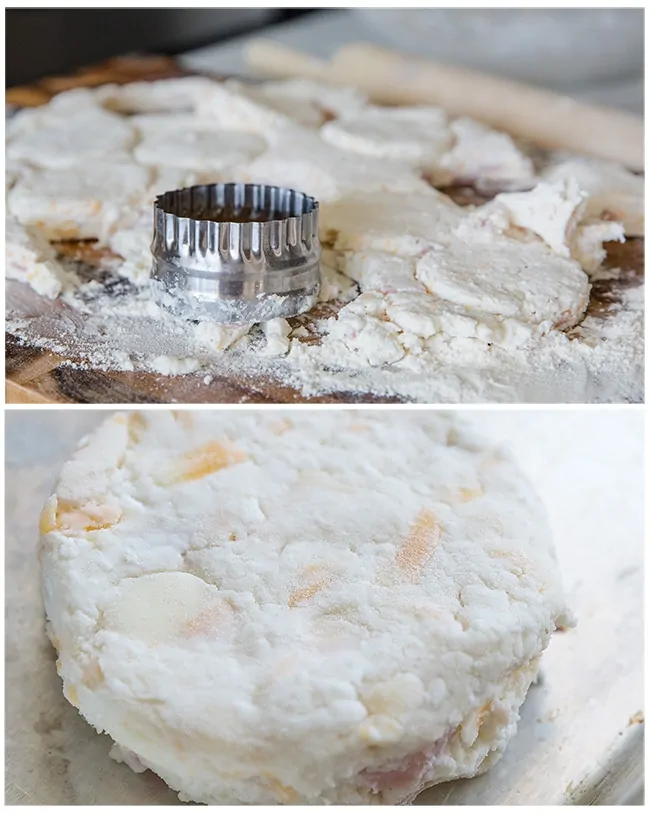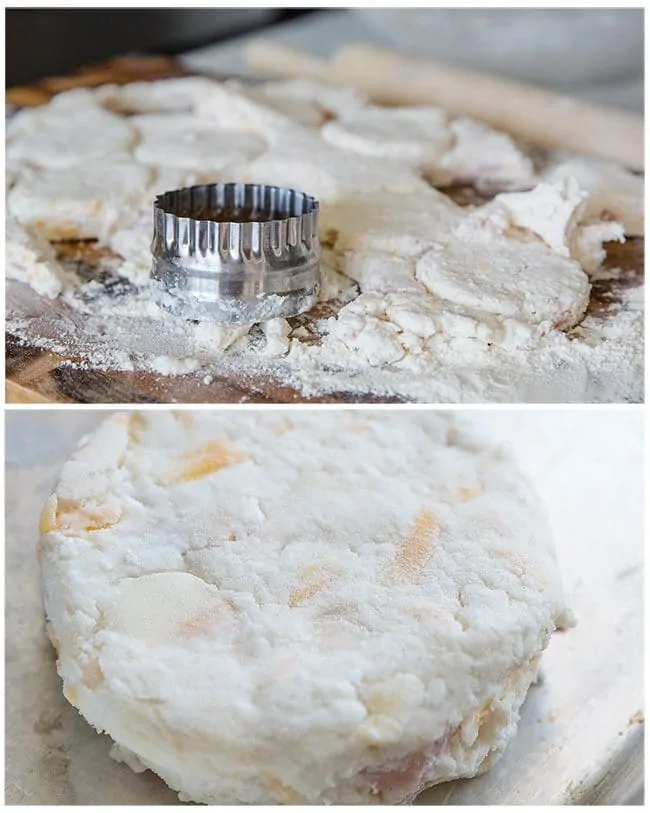 Because these ham and cheese biscuits contain, well, ham and cheese, they don't rise to be quite as fluffy as some biscuits. They have quite a bit of substance, and pack a big flavor punch. These are best served hot out of the oven. If we have any leftover cottage cheese biscuits, I store them in the fridge. You can reheat them in the microwave, and they are great reheated in a toaster oven.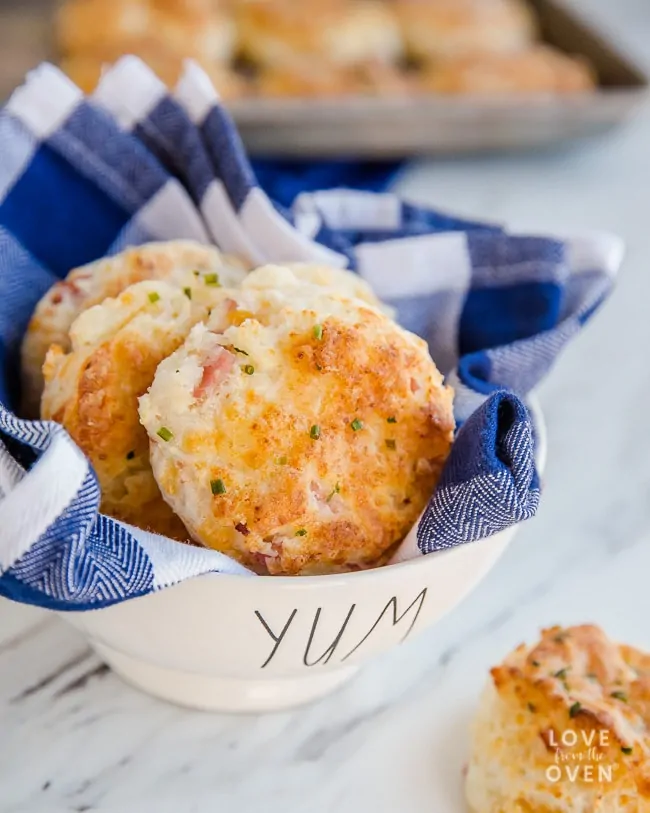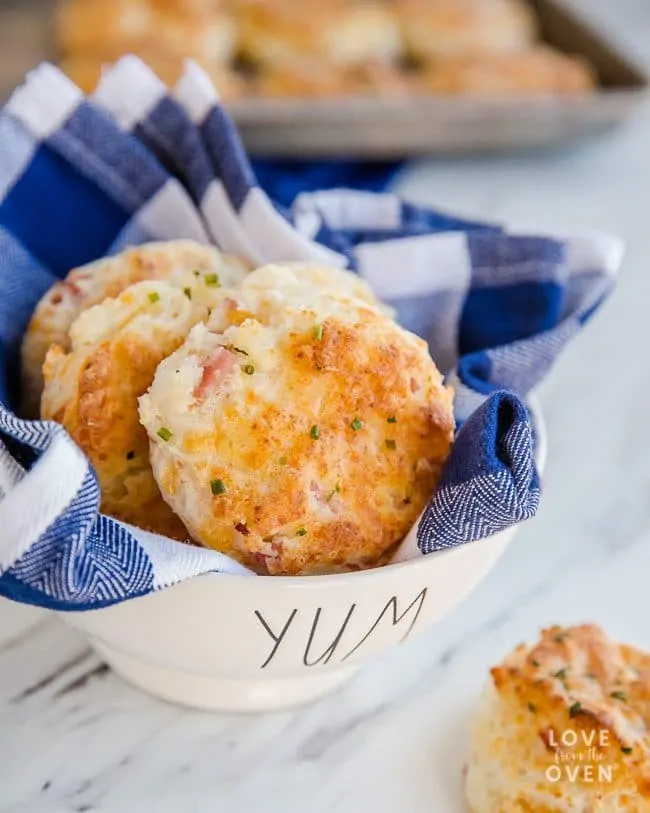 Ham And Cheese Biscuits Recipe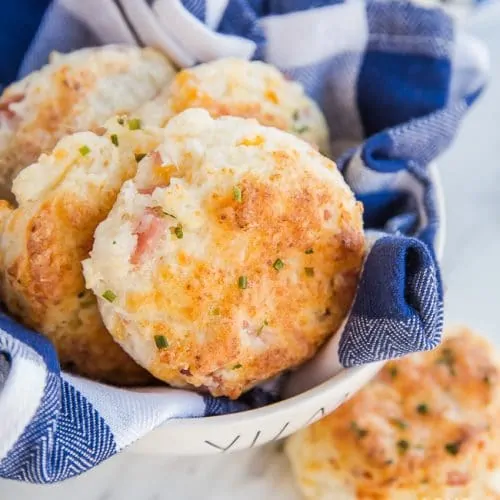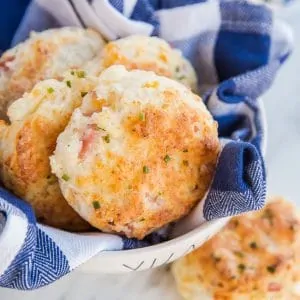 Ham And Cheese Biscuits Recipe
Ingredients
2

cups

all-purpose flour

1

tbsp

baking powder

1/2

tsp

garlic powder

OPTIONAL

1/2

tsp

salt

5

tbsp

cold butter, cut into small pieces

aim for pea sized pieces of butter

1

cup

shredded cheese

1/2

cup

chopped ham, Canadian bacon or even sausage

1

16 oz container

Shamrock Farms Cottage Cheese

1/2

cup

all-purpose flour

for coating hands and surface
Instructions
Preheat oven to 450 degrees F.

In a large bowl combine dry ingredients.

With a pastry blender or two knives, cut in cold butter until well coated in dry ingredients. You want to have small chunks of butter in your biscuit dough.

Gently stir in ham, cheese and Shamrock Farms Cottage Cheese. Mix until just starting to combine.

Coat your hands with flour and work the biscuit dough together by hand by folding it on itself repeatedly until all ingredients are in one fairly cohesive ball of dough. It will still be stick and rough, that is fine.

Turn dough onto a flat surface that has been coated with flour. Fold dough over onto itself a few more times, then gently roll dough to about 3/4" thick. Using a circle cutter, gently cut 12 round biscuits.

Place biscuits on an ungreased baking sheet. Bake for approximately 12 minutes or until golden brown. Remove from oven and allow to cool slightly. then serve warm.

Store any leftover biscuits covered, in the refrigerator.
Notes
If desired, add in 1/2 tsp garlic powder. This works best when making biscuits for dinner versus breakfast. 
If desired you can brush biscuits with butter and sprinkle with chives or parsley immediately after removing from the oven. 
Disclaimer
Nutrition information is estimated as a courtesy. If using for medical purposes, please verify information using your own nutritional calculator. Percent Daily Values are based on a 2000 calorie diet.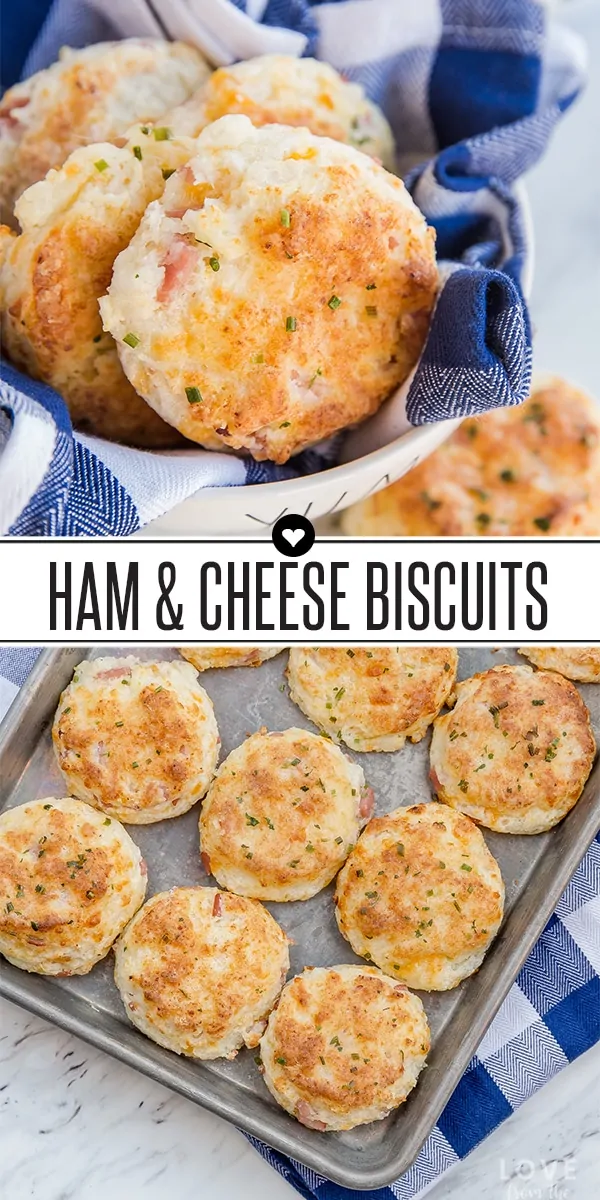 I can't wait for you to try these incredible ham and cheese biscuits that are made with cottage cheese! Trust me, your family will love them. The cottage cheese just melts right in, you don't even notice it, but that extra protein is there! Also check out my Sour Cream Muffins recipe, also using Shamrock Farms products.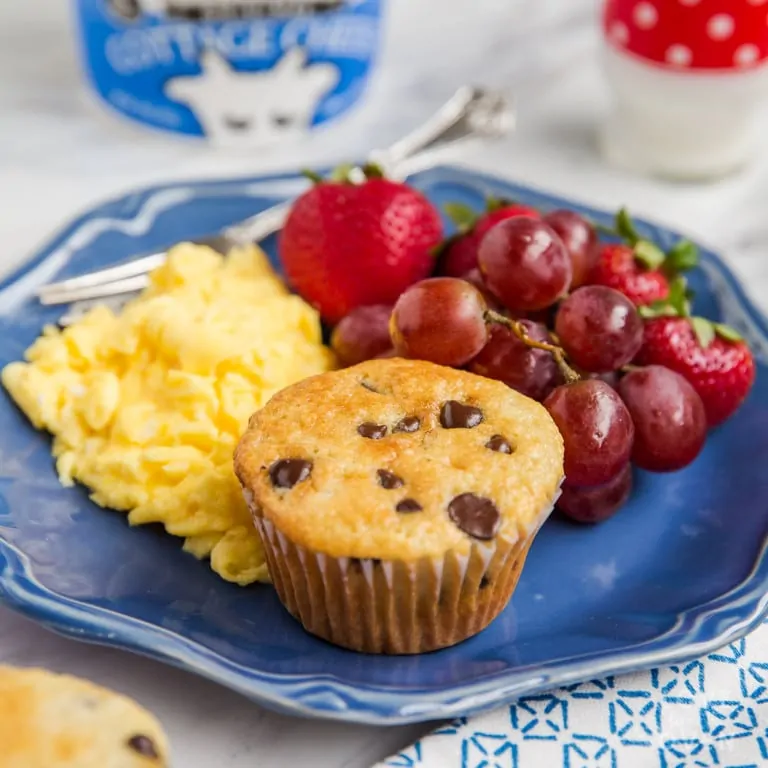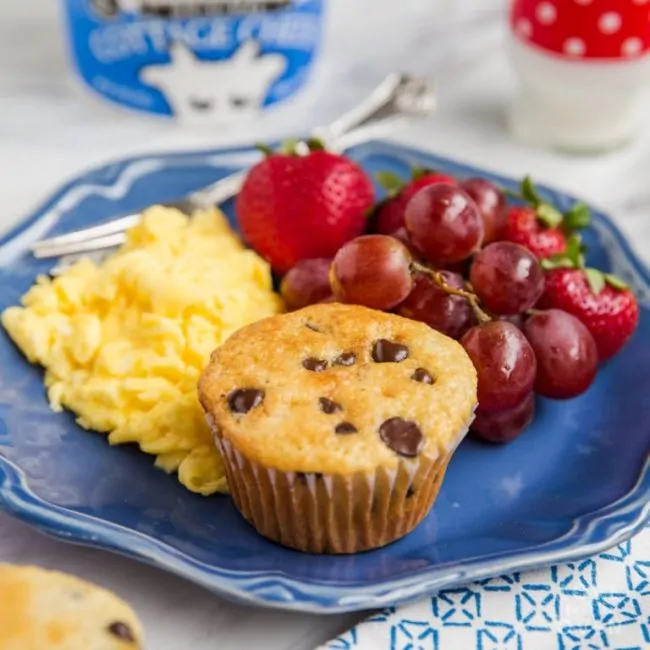 Every Shamrock Farms product begins with pure, wholesome, nutritious milk with no added growth hormones. Their products go through rigorous purity testing, and are cold packaged and shipped to arrive fresh, fast and delicious. Make sure to look for Shamrock Farms products at your local grocery store.
Disclosure: This post was sponsored by Shamrock Farms. All opinions however are mine and mine alone.