Let's talk Christmas cookie decorating! With the holidays right around the corner, holiday cookies and Christmas cookies are on my mind, and my baking list. Every year I have my favorite classic Christmas cookies to make, and I am always excited to try new Christmas cookies as well.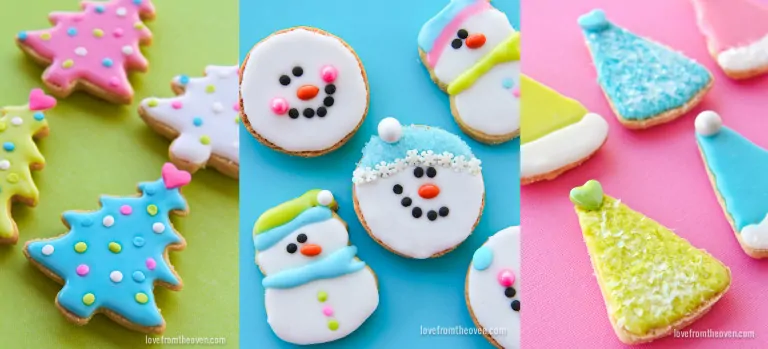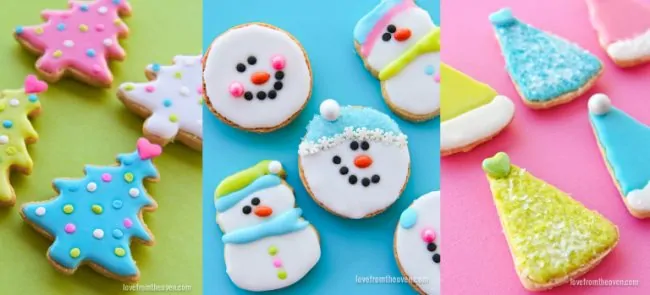 Christmas Cookie Decorating
I'm excited to be partnering with McCormick this season as one of their holiday baking experts, to share my love of, and lots of tips for, making Christmas cookies! The holidays seem to bring out the cookie baker, maker and decorator in so many of us, and it's such a great time to make and share the cookies we love, as well as get a little creative in the kitchen. This month and next, I will be sharing some of my favorite cookie making tips, that will hopefully make your baking fun, easy and full of flavor. I am so excited about this first post in the series, Holiday Cookie Decorating Tips to help you with your Christmas cookie decorating!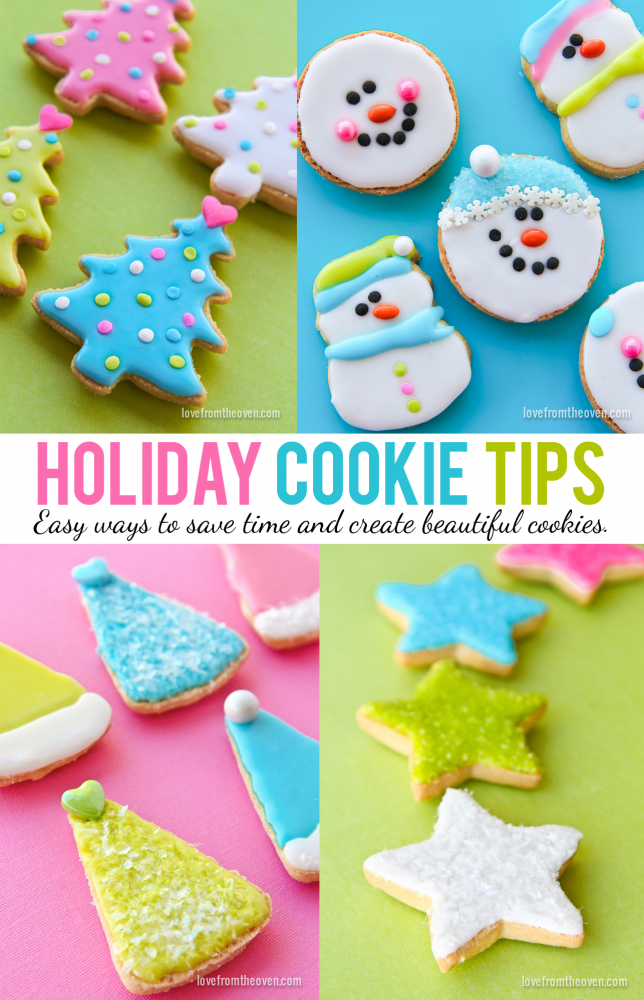 Like so many, I'm busy, and sometimes it's hard to find the time I need to get it all done and make and bake all the holiday treats that I want to make. I'm always looking for tips and tricks to make things a little easier when it comes to the holidays (who isn't?), and today I'm sharing three tips with you that I use to make my Christmas cookies and holiday cookies. So let's dive in and make some cookies!
Tips For Decorating Christmas Cookies
Holiday Cookie Tip:  Pick three or four colors to create a color palette to decorate your cookies with.
While I love decorating cookies with lots of color, especially with the kids, sometimes I really want to create pretty cookies. Cookies that are different, yet all seem to go together, and one of my favorite ways to do that is to narrow my colors to three or four colors, and work exclusively with those colors. You can get great color inspiration from many places, from pretty wrapping paper to a favorite striped sweater to a great mix of sprinkles. For my cookies, I was inspired by the colors in my favorite sprinkles.
Here are some fun, fresh and whimsical color combo ideas for your holiday cookies…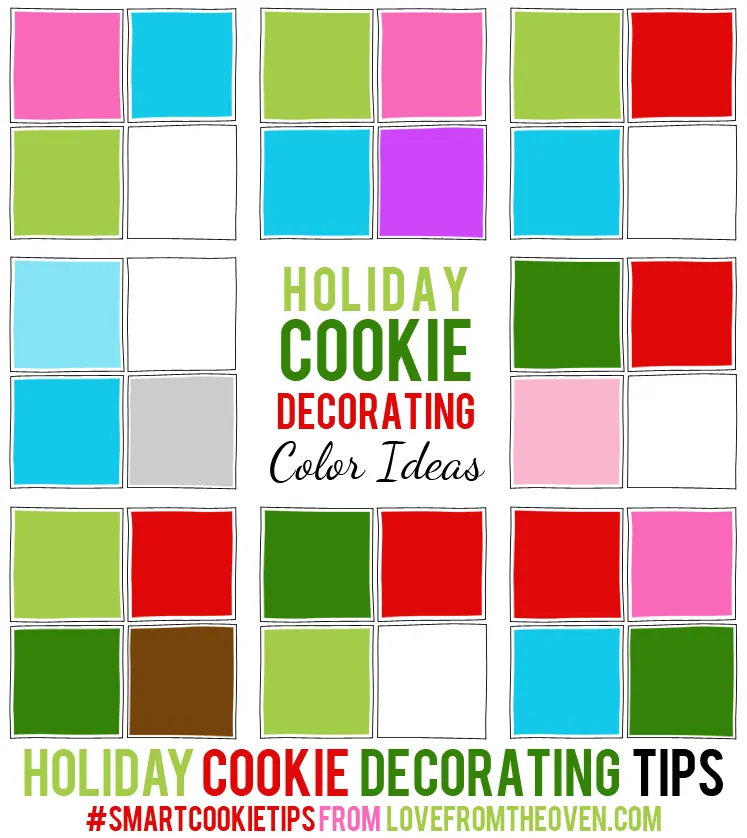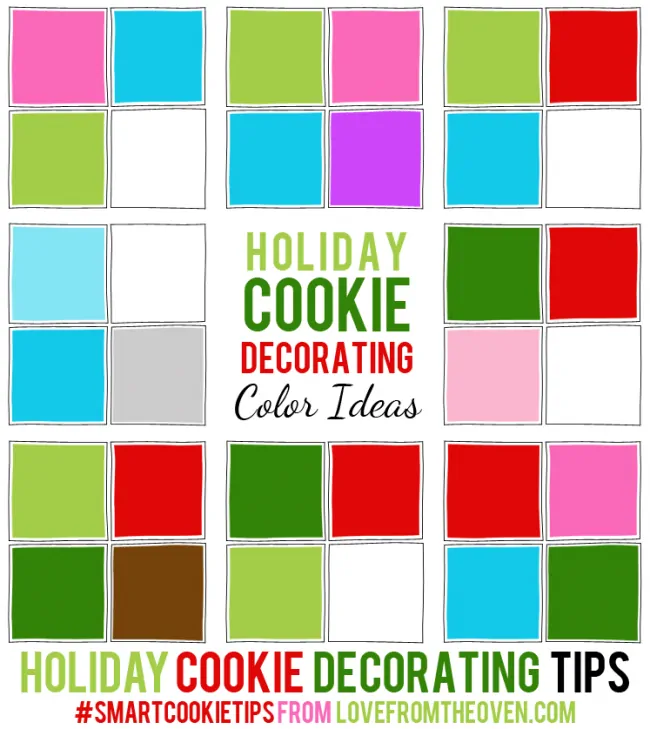 I picked four colors from the mix of five, pink, blue, green and white, and use McCormick's Assorted NEON! Food Color to color my frosting.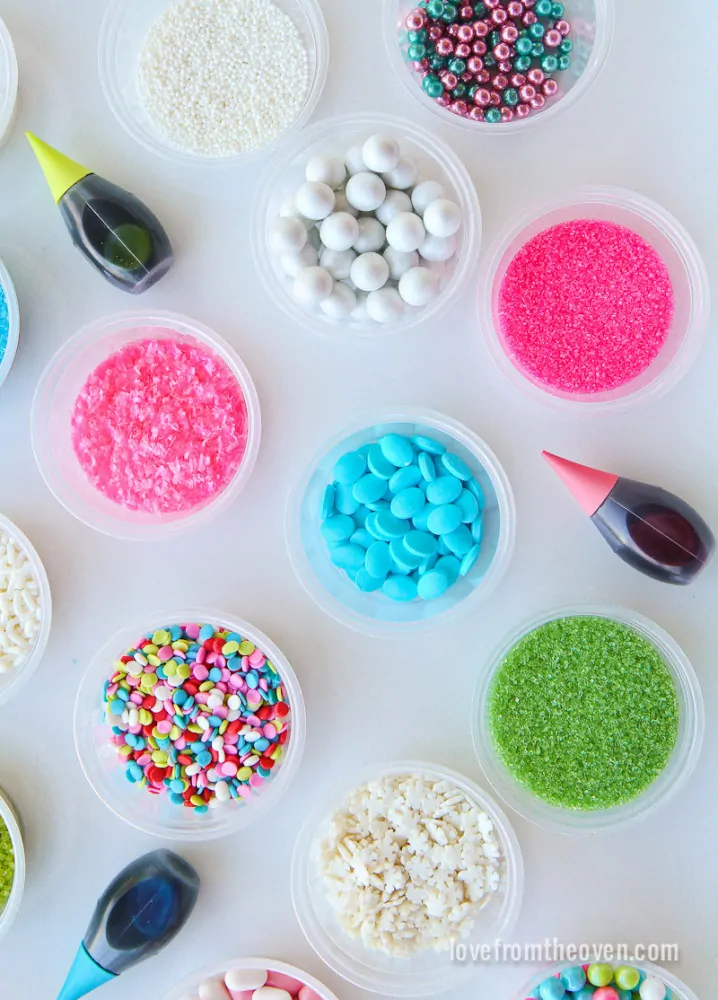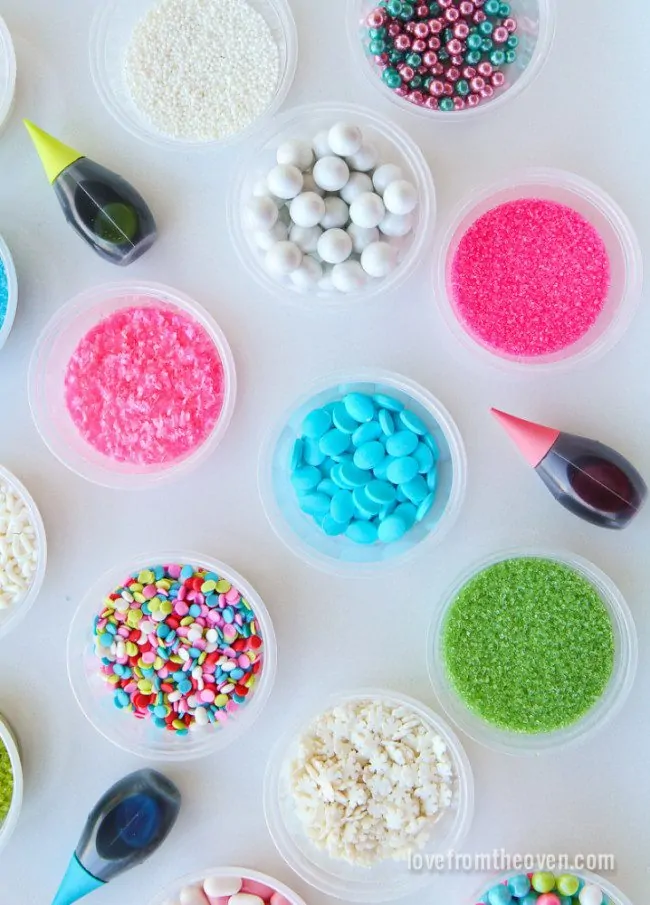 The McCormick NEON! Colors are so fresh and really fun to work with. While I selected pink, blue, green and white, I think pink, blue, green and red would be stunning, as well as using the entire NEON! collection for a beautiful wintery line up of colors. As you can see I matched my decorative sprinkles, sugars and candies to fit the theme, which really helps create a beautiful and thoughtful look to your cookies.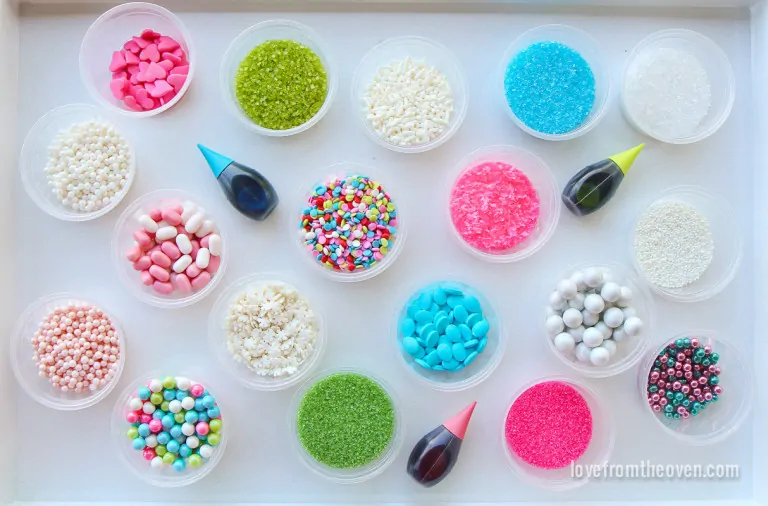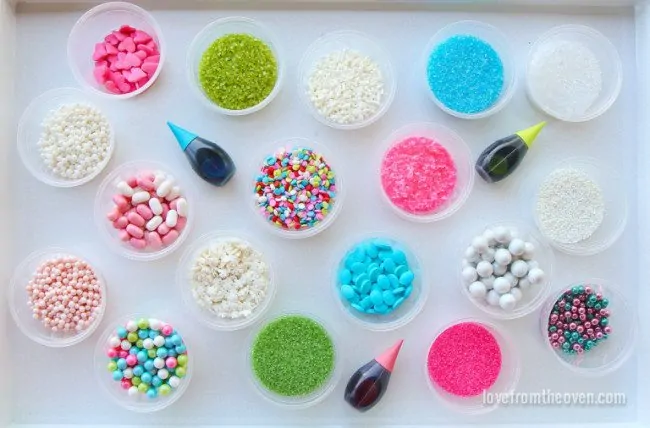 Some of my sprinkles and candies came in single color packs, while for others I sorted through the candies to pull out the colors that fit my theme. As you start assembling your decorating items to match your color theme, it will all start together and you will quickly see how simple it is to create pretty cookies.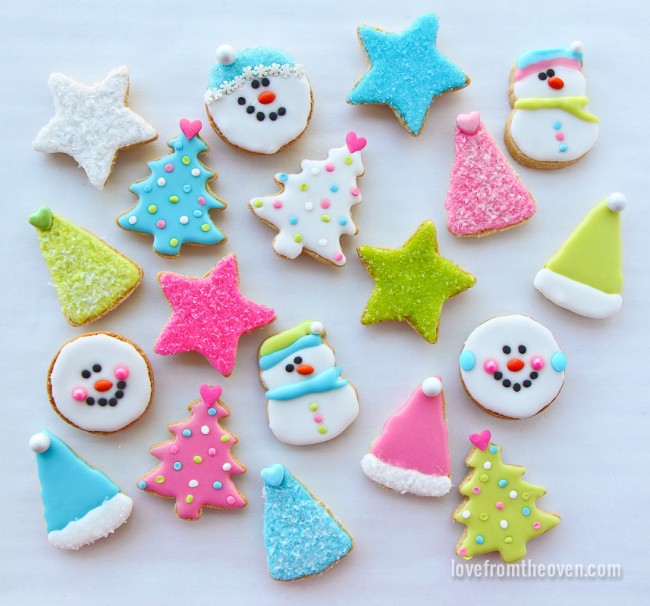 So simple, but really pretty, just by sticking to those four colors. I created a variety of different cookies, including Christmas Trees, Stars, Santa Hats and Snowmen, and by keeping them all to the four selected colors, they coordinate and work together wonderfully.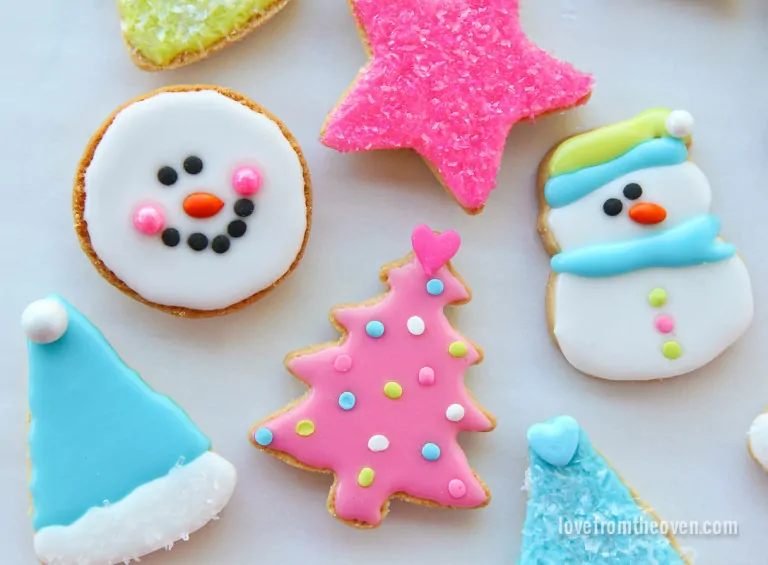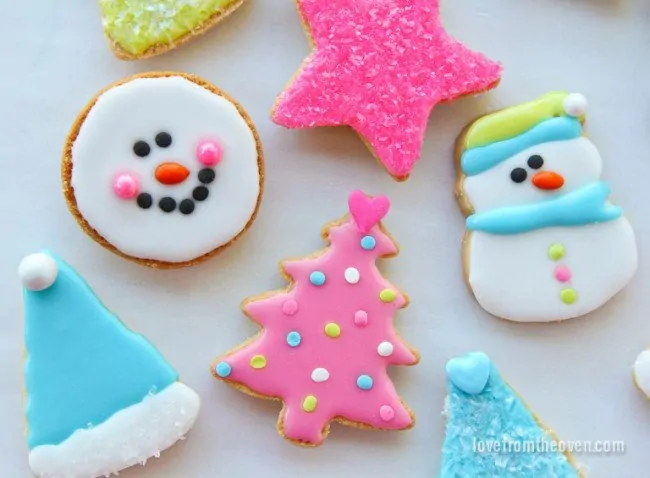 Holiday Cookie Tip: Create a large batch of base frosting/icing, then divide into separate bowls to create multiple colors and flavors. 
I've found that it's the same amount of work to create a small batch of frosting as it is to create a large batch of frosting, so I like to create a large batch of frosting, without color or flavoring, then divide my frosting into separate bowls to color and flavor. This allows for a lot of variety quickly and easily, with less clean up than creating each frosting individually. I'm all for anything that saves time and clean up! And it's not just color that you can add to your frosting, McCormick's Extracts. Peppermint, Vanilla, Orange, Lemon and Raspberry are all great flavorings for your frosting. Don't miss my favorite frosting recipe for decorating cookies at the end of the post.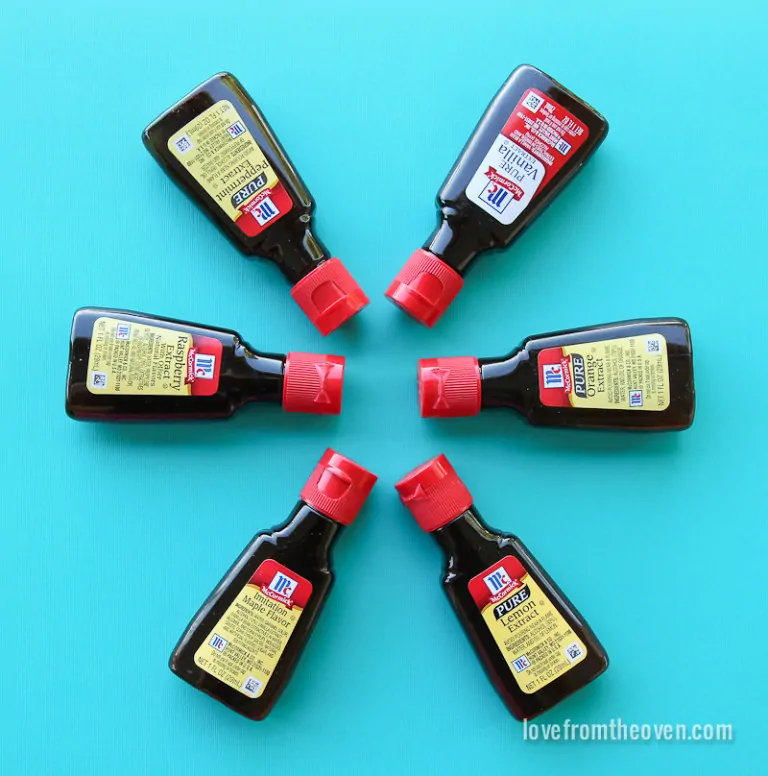 For my white frosting, I typically like to use Peppermint extract, which lets the white color stay a pretty pure white. Raspberry is fun in pink or blue and I love flavoring my green frosting with Lemon extract. A touch of Lemon extract pairs so well with sugar cookies and frosting, it gives the frosting a light and fresh taste.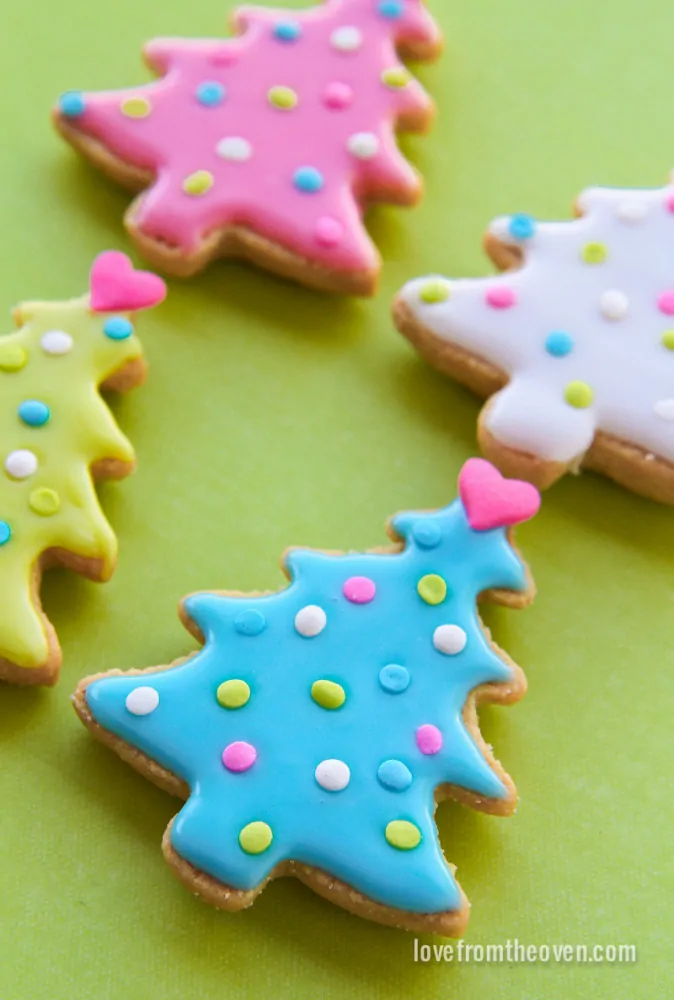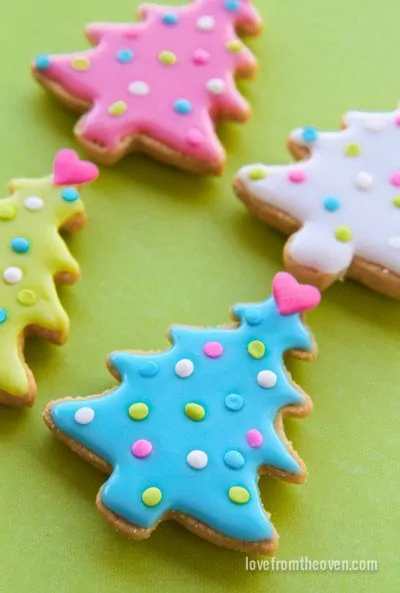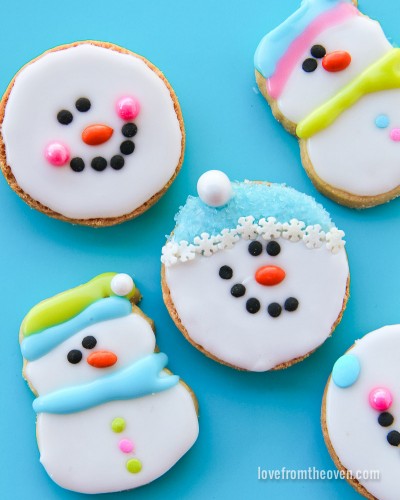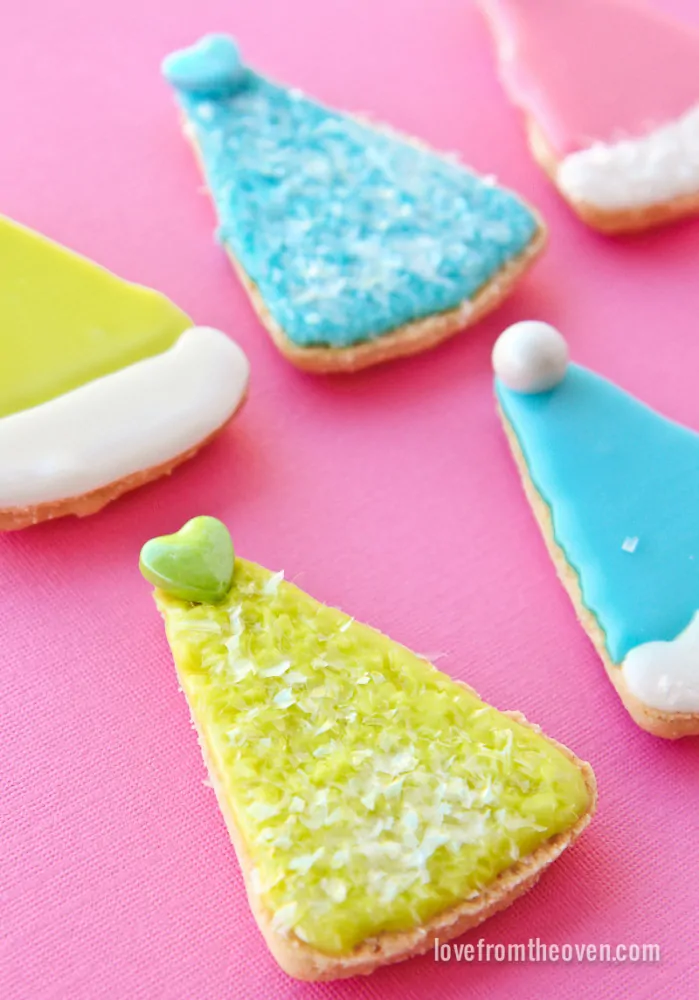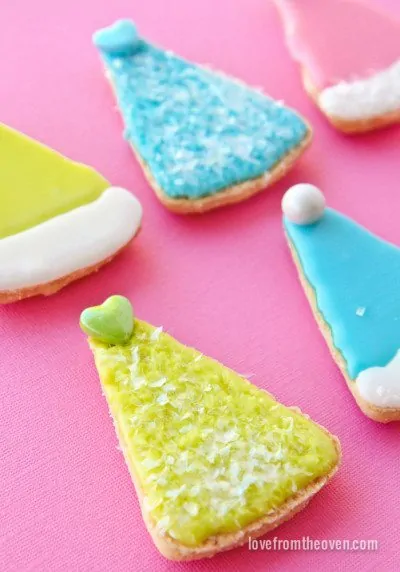 You can even carry the color theme into your packaging and serving of your cookies.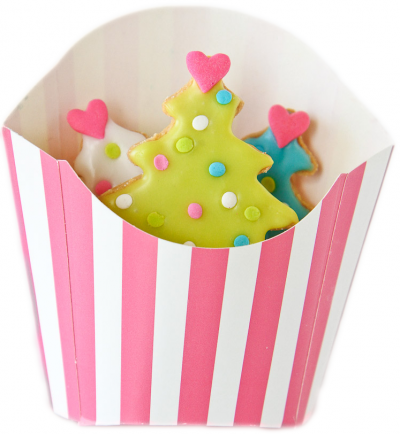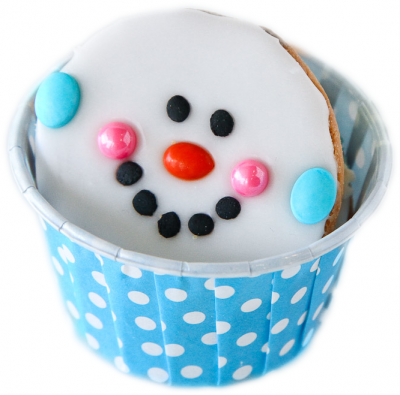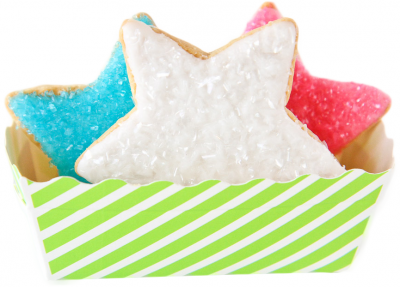 Holiday Cookie Tip: If you are short on time, let the bakery or grocery store help with the baking.
Sometimes it's hard to find time to get it all done, I know that challenge all too well, especially during the holidays! One of my favorite tips is when you are running short on time, you can transform store bought cookies into amazing creations! This is a trick I love so much, I wrote a book on it! Let the grocery store or in store bakery help prepare your plain, unfrosted sugar or shortbread cookies, letting you focus on the decorating. Look at the variety of premade short bread cookies you can pick on up store shelves, ready for you to transform with color and flavor.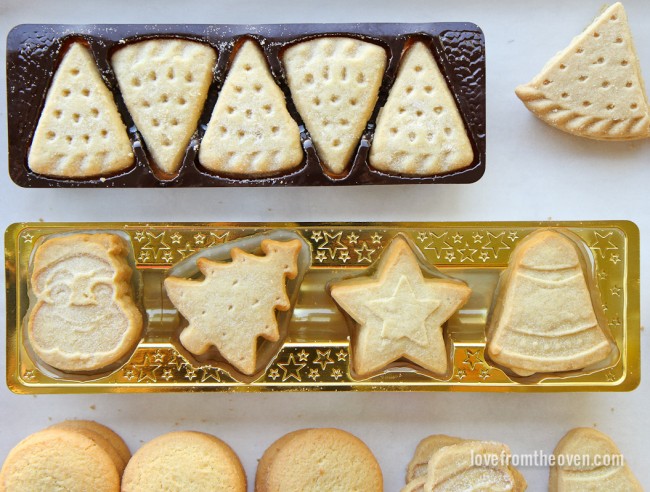 You can have fun and get creative! A simple round cookie can be turned into a snowman, and I transformed the Santa Claus cookies into little snowmen as well.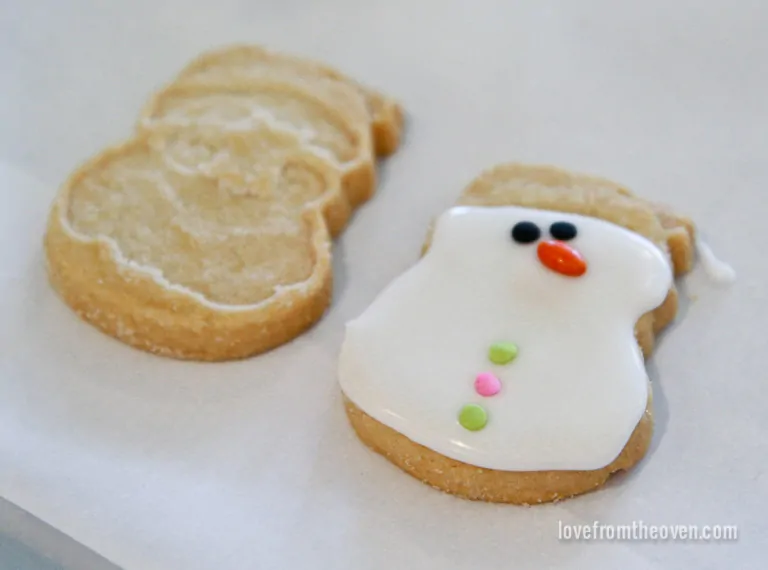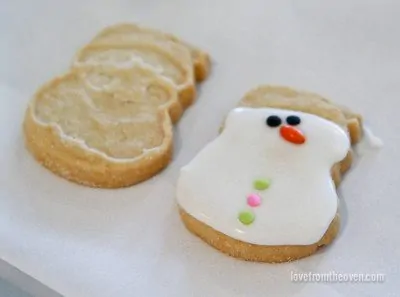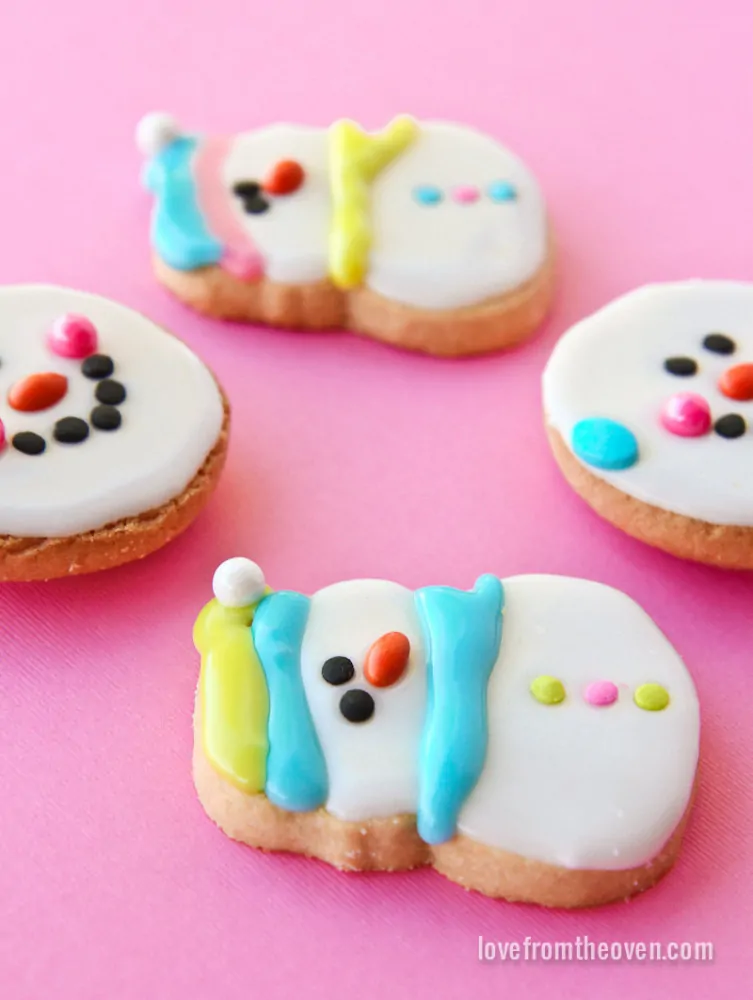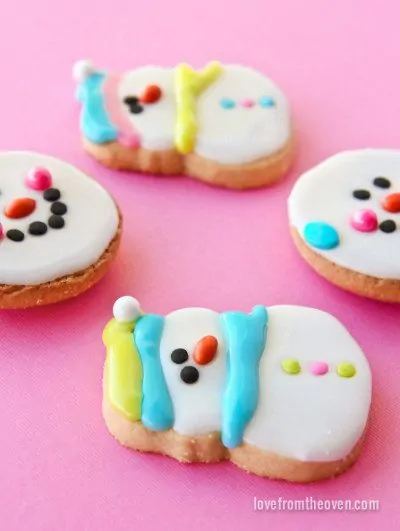 Triangle shaped cookies can be made into Christmas trees or Santa hats.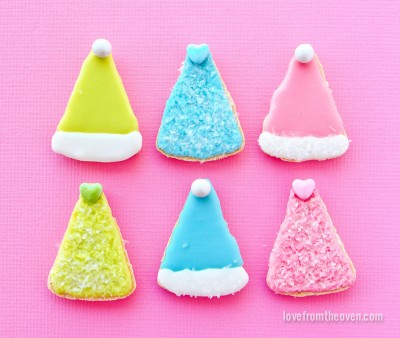 In addition to the cookies you can find on store shelves, many grocery store bakeries can prepare you shaped sugar cookies if you contact them a day or two in advance. From hearts to stars to Christmas trees, you might be surprised at the options available, saving you some time and letting you focus on the fun customization you can do through decorating your cookies. If you find yourself short on time, or just want to focus on the decorating, starting with store bought cookies is a great option, and I promise your friends and family will all love them, especially since you took the time to decorate them.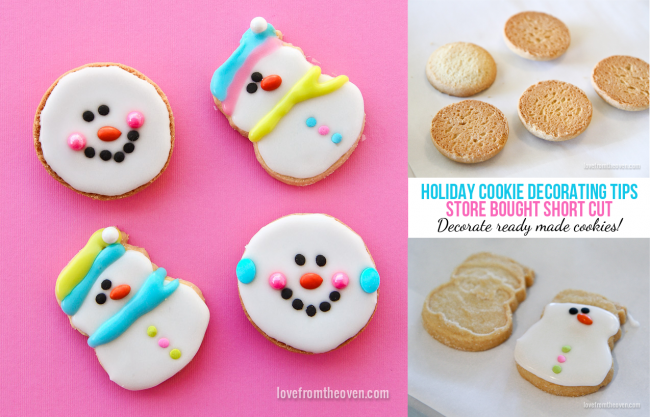 If you want to make your own cookies from scratch, my friend Katrina's sugar cookie recipe is a great choice.
Here's my favorite frosting recipe for decorating cookies. It's not a royal icing, but it is great to decorate with and dries fairly hard so that you can stack your cookies, something that I usually need to do between holiday cookie platters and sending cookies to friends and family.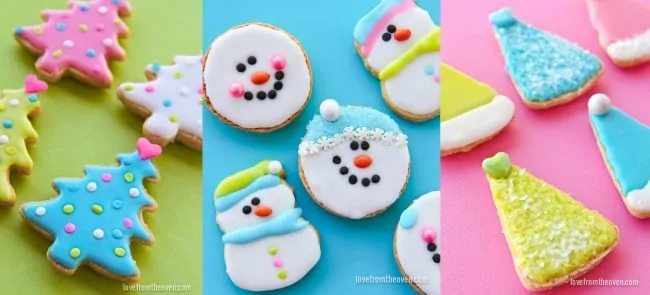 Easy Sugar Cookie Frosting / Icing
This flexible frosting/icing recipe is great for decorating sugar cookies. You can use different flavor extracts or food colorings to create an endless variety of cookie options. Makes enough to decorate approximately 20 cookies.
Ingredients
2

cups

powdered sugar

sifted

4-6

teaspoons

milk

4

teaspoons

light corn syrup

Pinch

of salt

Flavoring of your choice

my favorites are vanilla extract, lemon extract and peppermint extract

Food coloring of your choice

McCormick NEON! Colors were used in this post
Instructions
In a mixer bowl using an electric mixer or stand mixer, combine powdered sugar and 4 teaspoons of milk, starting the mixer very slowly on low. As mixture starts to combine, add in corn syrup. Beat well to combine. If mixture is too thick, add more milk, about 1/2 tsp at a time (a tiny bit can make a difference so go slow!). Beat until frosting is smooth and creamy.

Divide frosting into multiple bowls if desired, and add color and flavor to each bowl. For white frosting, it's best to stick with a clear extract such as peppermint or lemon. For the entire recipe, start with about 1/2 tsp of your extract of choice and flavor to taste. With food coloring, start with one to two drops, and increase until desired shade is reached.

Frosting can be adjusted to meet your desired consistency. If you want a more liquid like "flood" icing, add more milk, a tiny bit at a time. If you want a thicker frosting to spread on, slowly add more sifted powdered sugar, approximately a teaspoon at a time. This frosting is very flexible and forgiving. If frosting thickens as you are working with it, you can always add a few more drops of milk and stir well to combine. Allow cookies 4-6 hours for frosting to dry so that it is firm to the touch.
Notes
Feel free to double this recipe if you are a making a large batch of cookies.
Remember, when making icing, a little milk, powdered sugar, flavor extract or food coloring can go a long way. Always add extras in very small amounts, and increase as needed.
Disclaimer
Nutrition information is estimated as a courtesy. If using for medical purposes, please verify information using your own nutritional calculator. Percent Daily Values are based on a 2000 calorie diet.
I hope these tips will help make your holiday cookie decorating easier! Stay tuned for more tips in the coming weeks, and follow along on Instagram where I am sharing my tips (and some behind the scenes cookie making) at LoveFromTheOven #smartcookietips.
 Disclaimer: As a holiday baking expert for McCormick, I am compensated for my posts. All text and opinions are however mine and mine alone!