I seem to have gotten a late start on my holiday decorating this year. I blame Thanksgiving being so late, or the three year old, or something like that. Well I finally have most of our holiday decorating done and I thought I would share one of the ways I like to decorate, especially in the kitchen. I think a little outside the box when it comes to holiday decorating and put my baking supplies, candies and sprinkles to good use.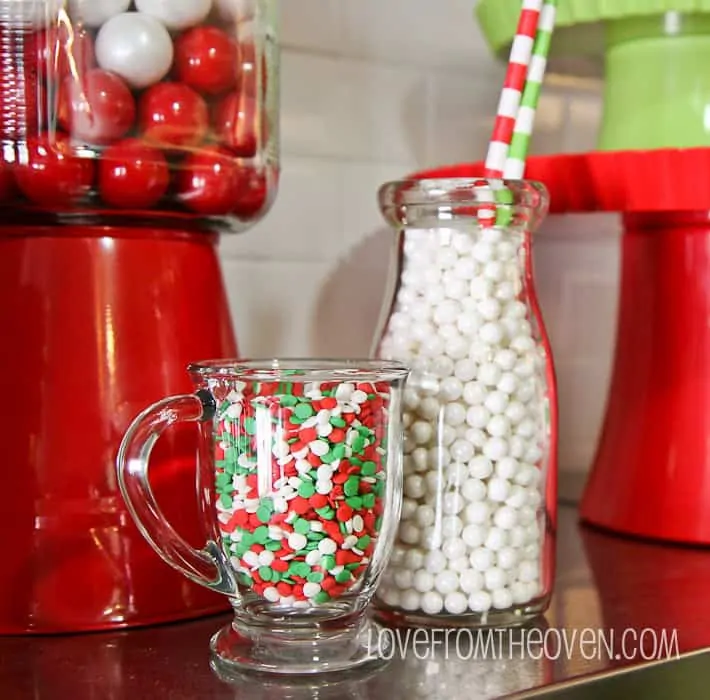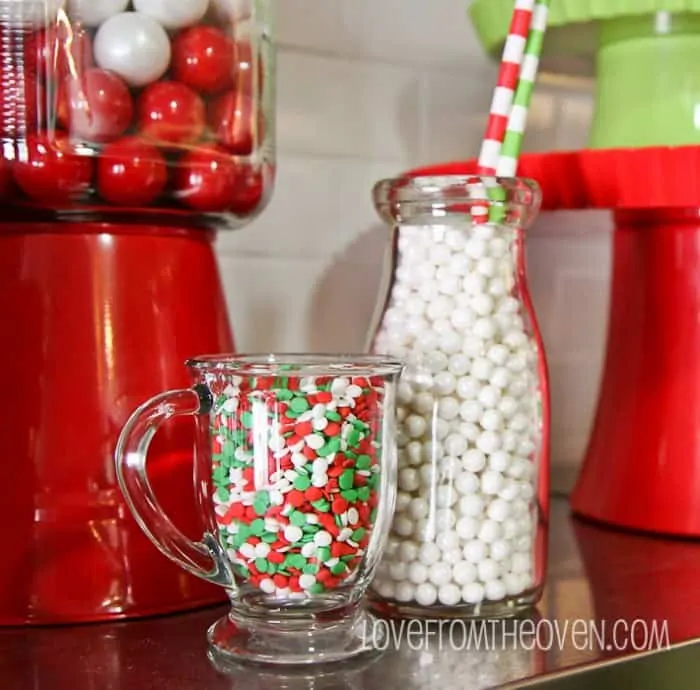 Now, I will be the first to admit that I probably have more sprinkles, candies and baking supplies than most people, because as a baking blogger and recipe developer, I bake all the time. I also do a fair amount of freelance work for candy companies, so it can be a bit like Willy Wonka around here. But I've always loved baking supplies, candies and sprinkles, long before I had this website, and I've always loved displaying my goodies. So while I may have a few more supplies than most, as well as a nice little spot for them, maybe one or two of these fun ideas can work in your home.
Holiday Decorating With Candy,
Baking Supplies and Sprinkles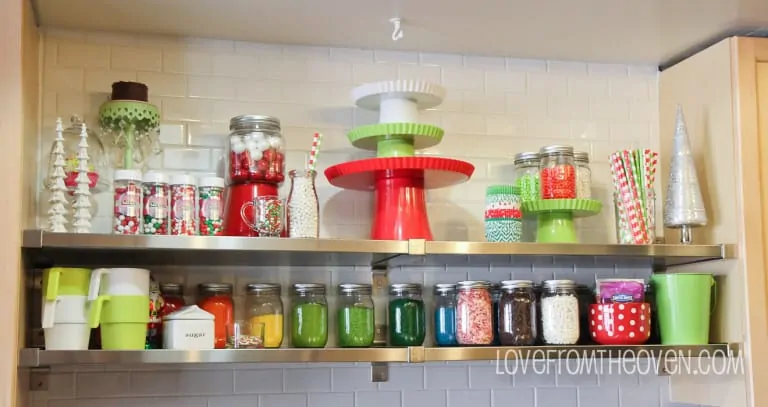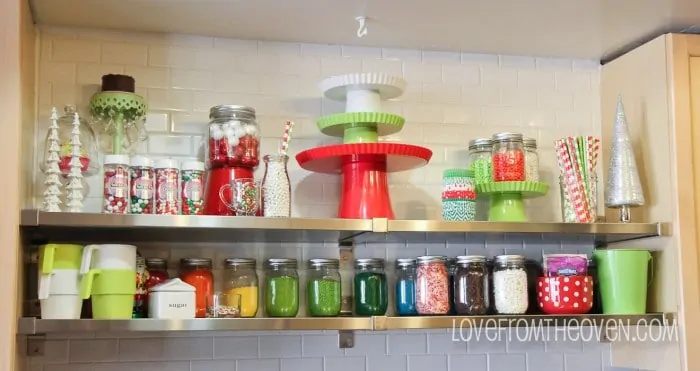 I have two shelves over my sink, where there once was a window (gone due to a home addition). This is really the only space in my kitchen for anything decorative, but it's also very valuable storage real estate, so it has to do double duty. I keep my sprinkles and cake plates on these shelves, and when the holidays come, I change things out a bit and rework the colors, as well as add a few "real" holiday items.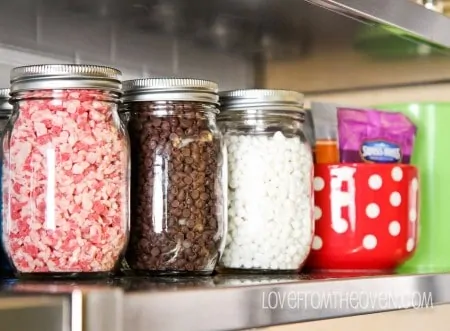 Ever since I set up a hot cocoa bar on Thanksgiving, my oldest daughter has been a bit obsessed with hot cocoa. Instead of dragging everything out of the pantry nightly, I decided to take advantage of how cute the ingredients were, and sit them out. My peppermint chips, mini chocolate chips and Jet Puffed Mallow Bits are all in simple glass mason jars (I get mine at Walmart, less than $10 for a dozen jars), and hot cocoa packets are in a big red and white polka dot mug. Cute and convenient.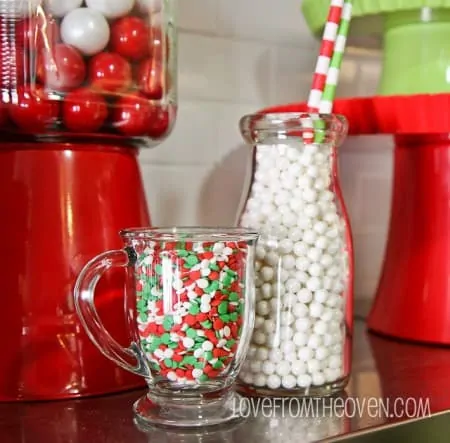 I have all these fun glass milk bottles and was trying to come up with a fun way to display one of them. SweetWorks Celebration White Shimmer Pearls worked perfectly! Add some darling straws and it's like a bubbly little bottle of milk (with a cup of sprinkles on the side!).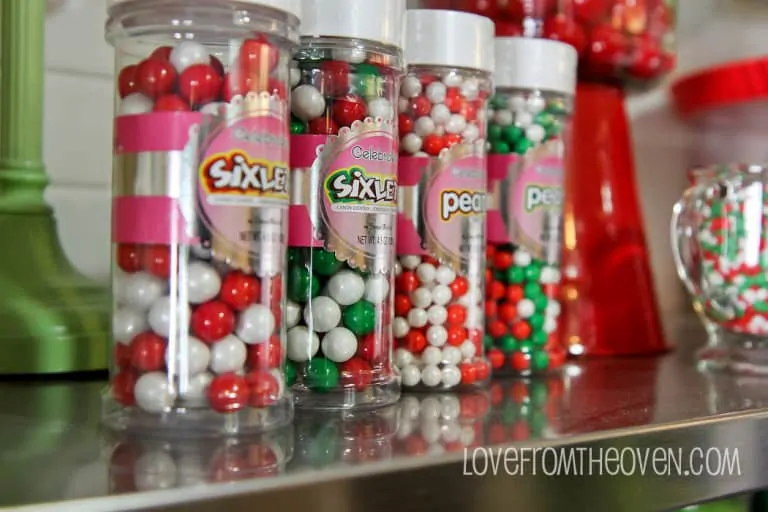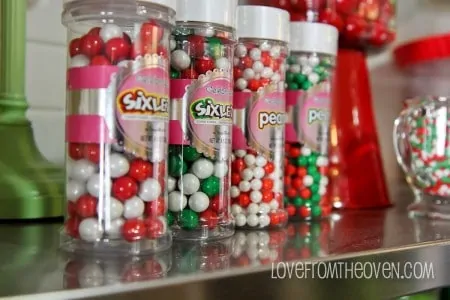 Speaking of Pearls, these containers of Sixlets and Pearls are too cute not to sit out.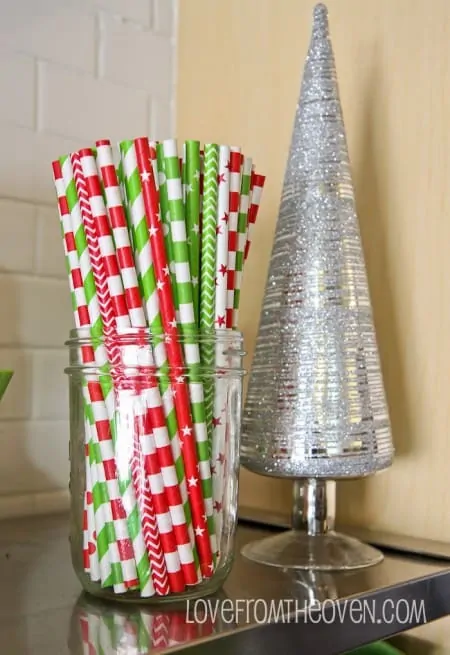 Cute straws, I love storing them in glass jars. Much like sprinkles, they make me happy to see.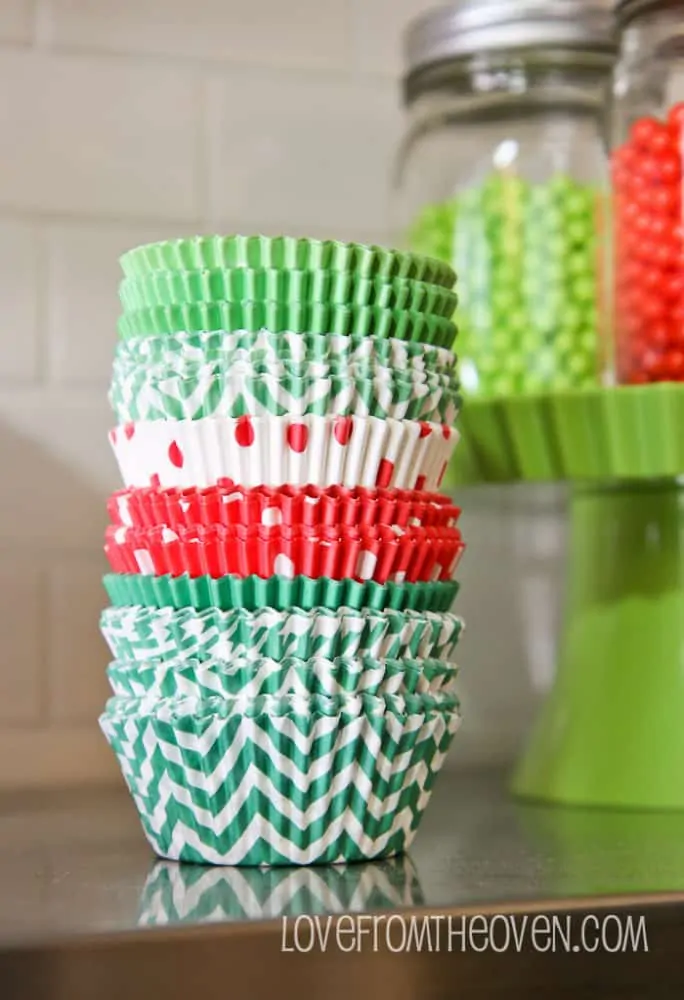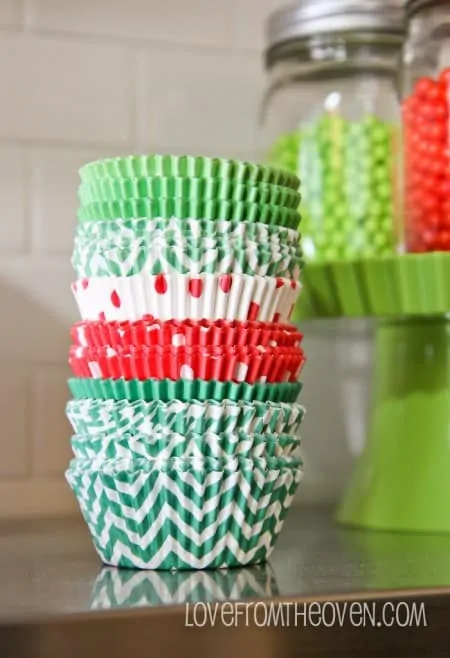 And cute cupcake liners. Mine are all from Sweets And Treats Boutique (so are my straws). Not only are they fun to display, but it helps me remember to use them when I see them sitting out.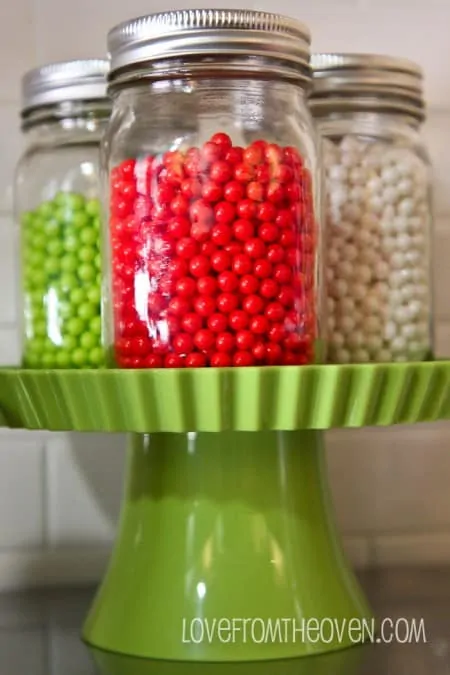 More SweetWorks Pearls, stored in mason jars. Those cake stands can take up quite a bit of room, so might as well make the most of the space.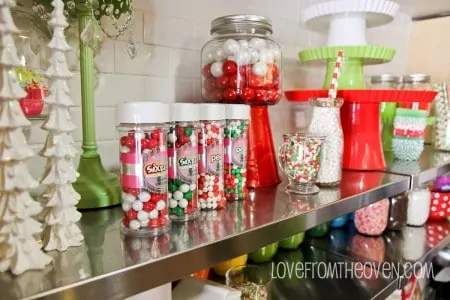 It's not just my kitchen where you'll find pretty candy. I also have candy worked into my holiday displays on our buffet (about as close as this Phoenix girl has to a mantle) and bookshelves.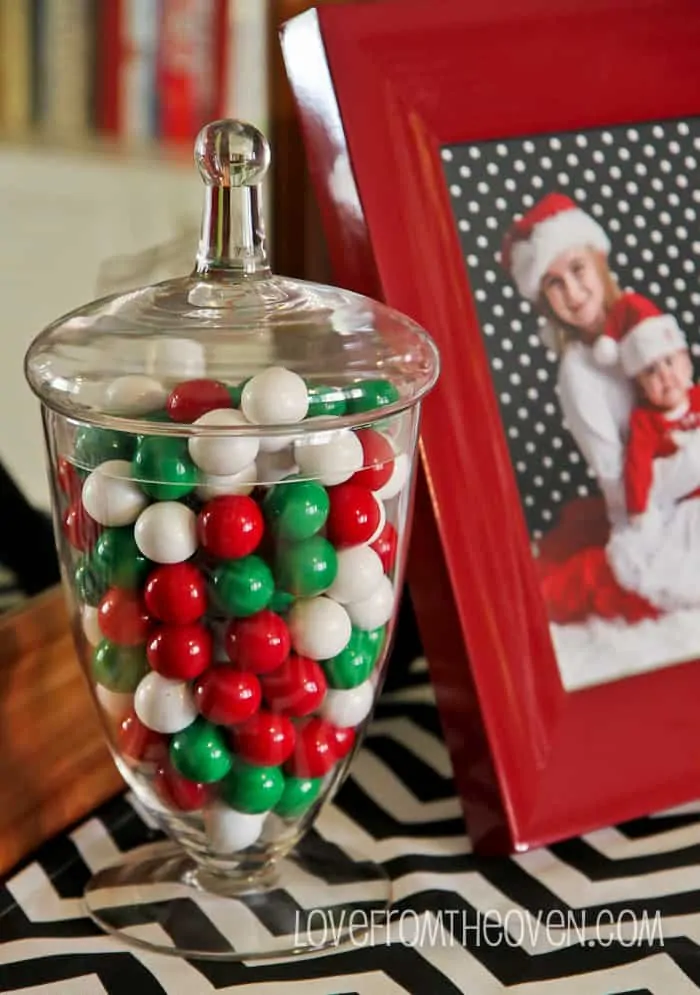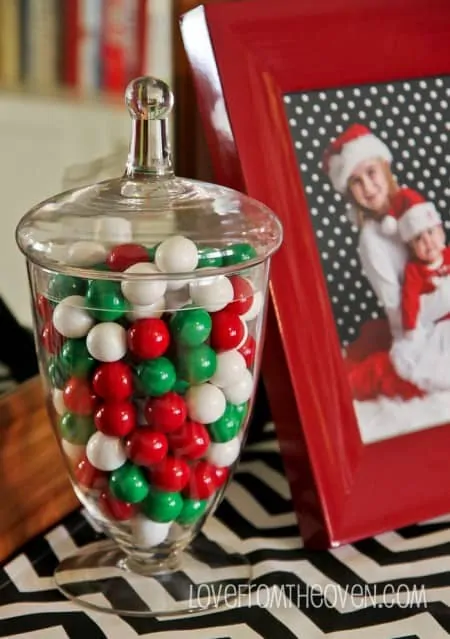 Some festive SweetWorks Gumballs in a glass jar. Red, white and green can carry you through a few holidays. Use them together for Christmas, pull out the red and white for Valentine's Day and the green for St. Patrick's Day. You better believe I reuse any of the candy that doesn't get worked into baked goods or eaten!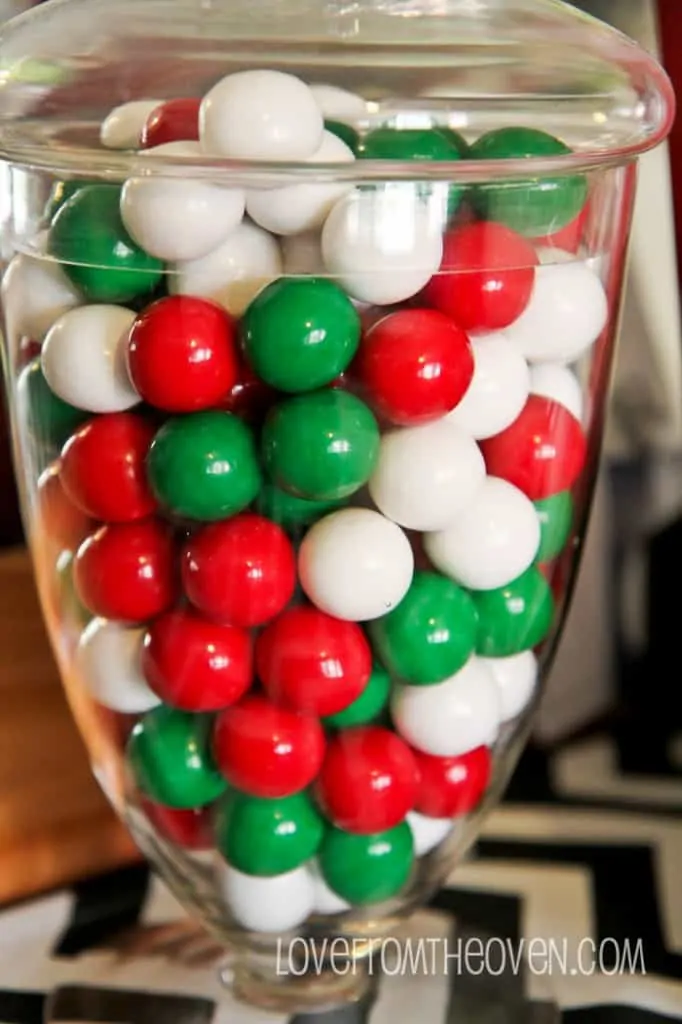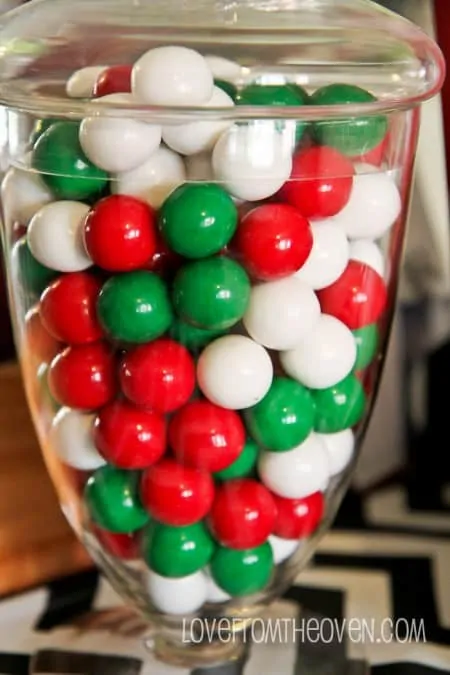 And some SweetWorks Sixlets in another container, next to two framed free printables. I love decorating with free printables. I just swap out the prints in my frames with the holidays. So easy, and once you buy the frame (mine are all from Hobby Lobby, bought on sale for 50% off) it's super cheap!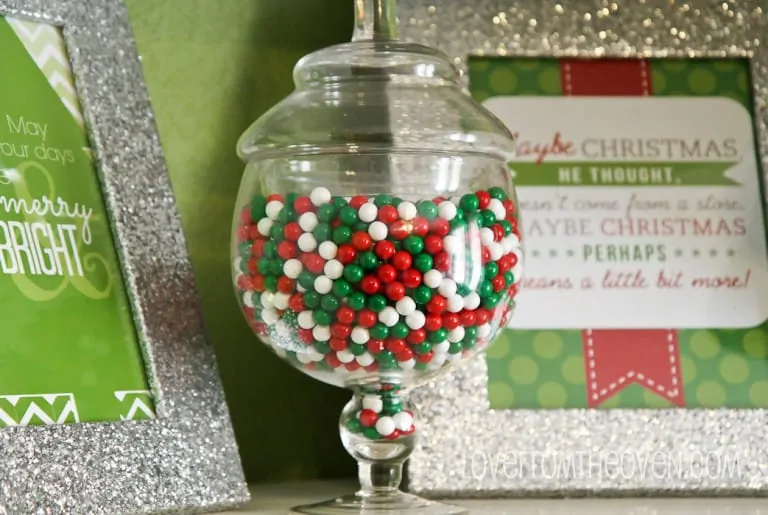 The printable on the right is from The Cookes (my favorite line from The Grinch) and the one on the left can be found here (it's actually blue, I often recolor mine in Photoshop to match with my decor or other printables I'm using). If you like free printable signs as well, you might want to follow my Free Printables board on Pinterest.
Our office / work room / guest room also has quite a bit of candy on display. Some people put DVDs in their entertainment center. I put candy, lots of candy!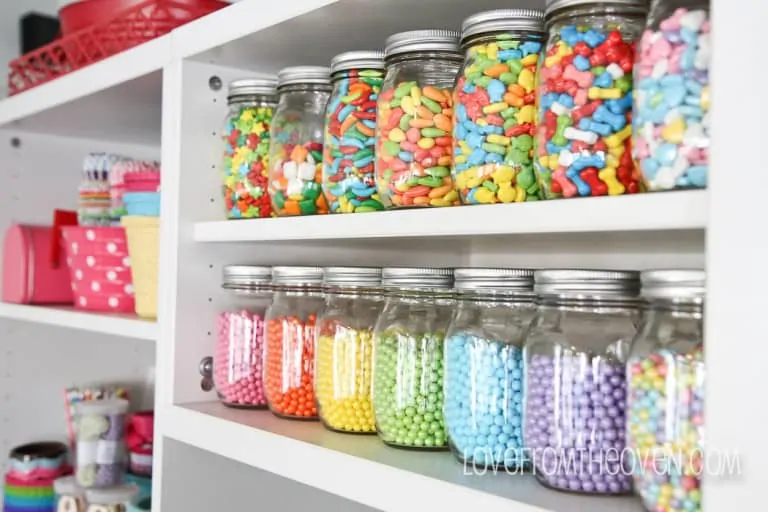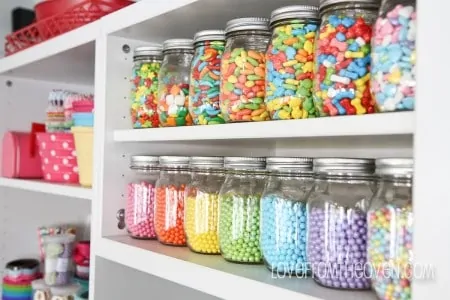 Lots of SweetWorks Pearls and pressed candies in mason jars.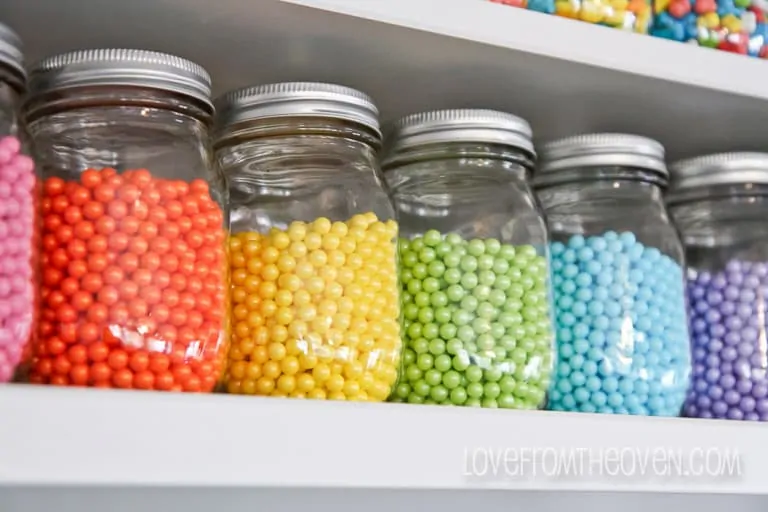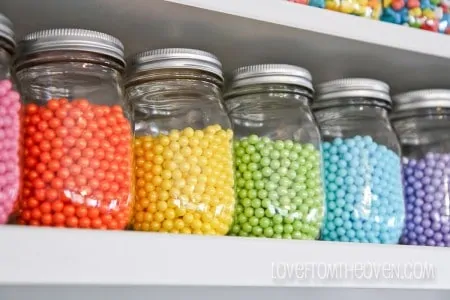 I can't help but smile. I'll take jars of colorful candy over knick knacks any day.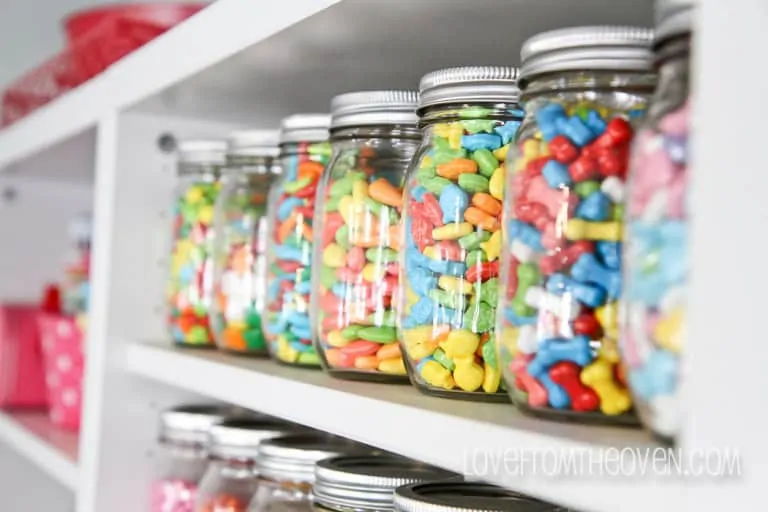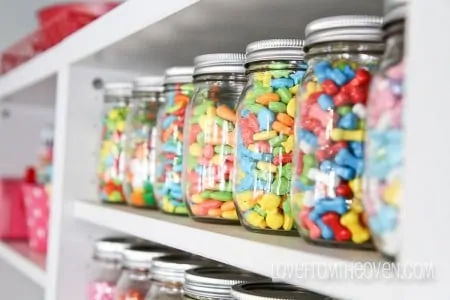 So fun.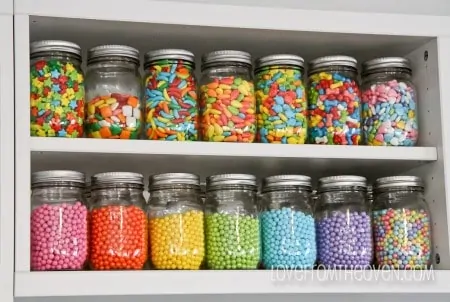 Don't worry, we do have some traditional holiday decor. This is the table where we work on homework with my oldest, and where I do some of my work. Might as well make it festive.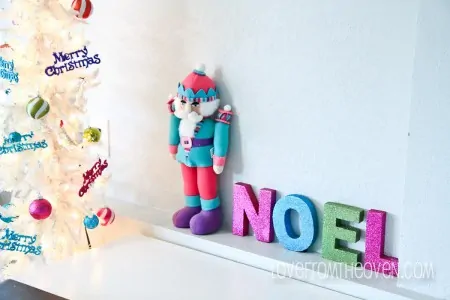 I'm totally addicted to Christmas trees. I think we have a total of five, our main tree filled with sentimental ornaments, a tabletop pink tree for my youngest, a tabletop blue tree for my oldest (having my own little tree in my room growing up was one of my favorite things EVER), my skinny white one in the office and a small skinny regular one in our family room. I get them all when they are on sale dirt cheap. Big Lots is great for tabletop colored trees by the way!
Stay tuned for some sweet giveaways that will help you with some colorful candy filled holiday decorating!!!
Happy Holiday Decorating!
Supplies
Straws and Cupcake Liners – Sweets And Treats Boutique
SweetWorks Sixlets, Pearls, Gumballs and Pressed Candy
Most sprinkles from ABC Baking
Mason jars are from Walmart. I purchase them in 12 packs.
The cake stands on the shelves were from Target last December.
Apothecary Jars found on Zulily.