This Homemade Pesto Recipe is a flavorful, robust, sauce that can be used for a large variety of different dishes. This 10 minute recipe only requires a handful of fresh, easy ingredients and a food processor! Whether you're dipping this into some french bread, or lathering it on top of some pasta, you will absolutely love how easy and flavor packed this pesto is.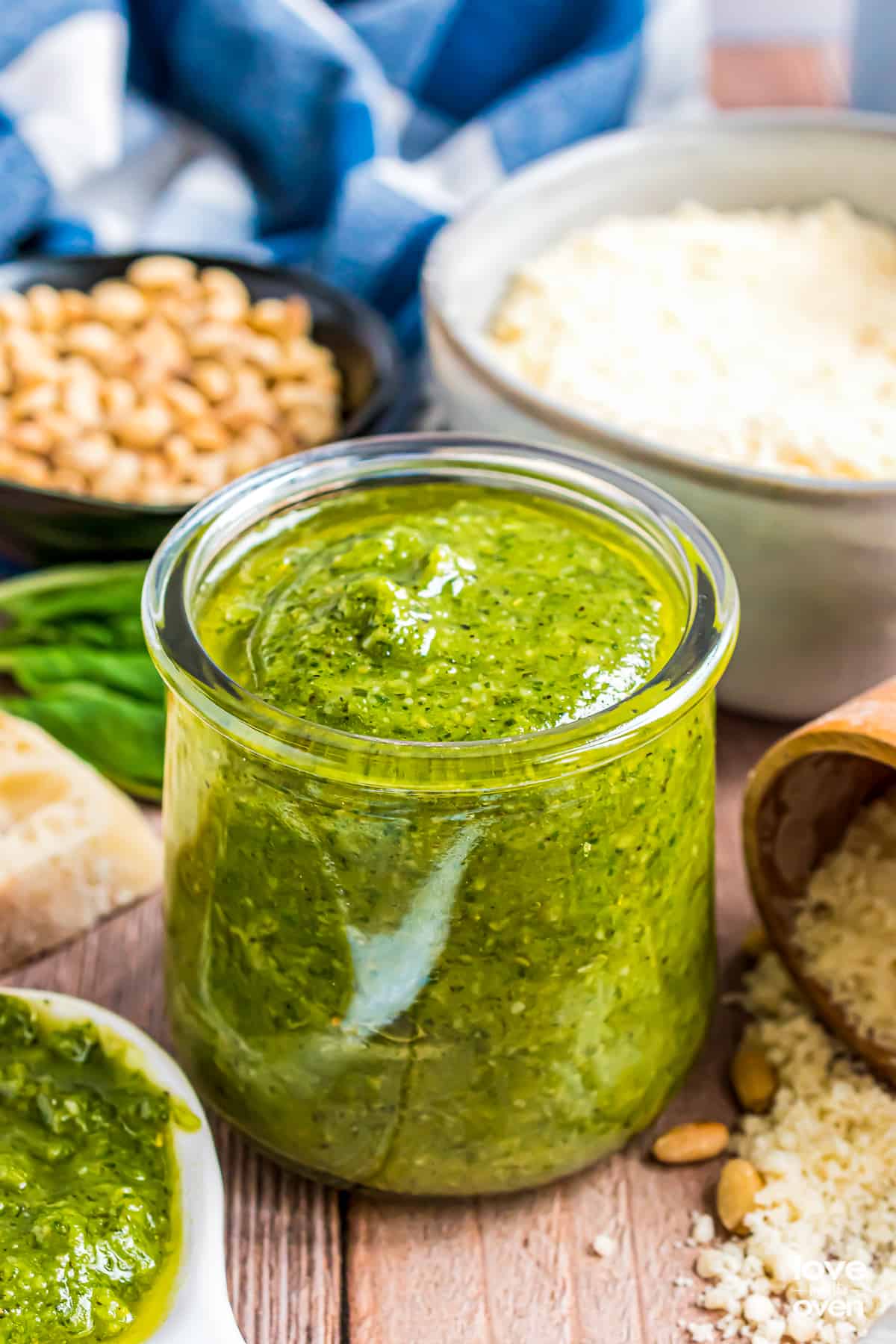 Reasons You'll Love This
Flavors on Flavors – If you've never had homemade pesto, you are missing out on some incredible sharp and full-bodied flavors that will rock your world.
Cheap and Simple – All you need is some easy, inexpensive ingredients and a food processor. Before you know it you'll have some delicious pesto on the table in no time.
Diverse – You'd be shocked at how many different ways you can use pesto. You can use it as a dip for breads, a topping for some Caprese or bruschetta, a pasta sauce for some chicken pesto pasta, a pizza sauce, or as a dressing for a pesto pasta salad! The options are literally endless.
Make Ahead – You can make this ahead of time and it lasts for quite a while in the fridge and stores wonderfully in the freezer for months to come.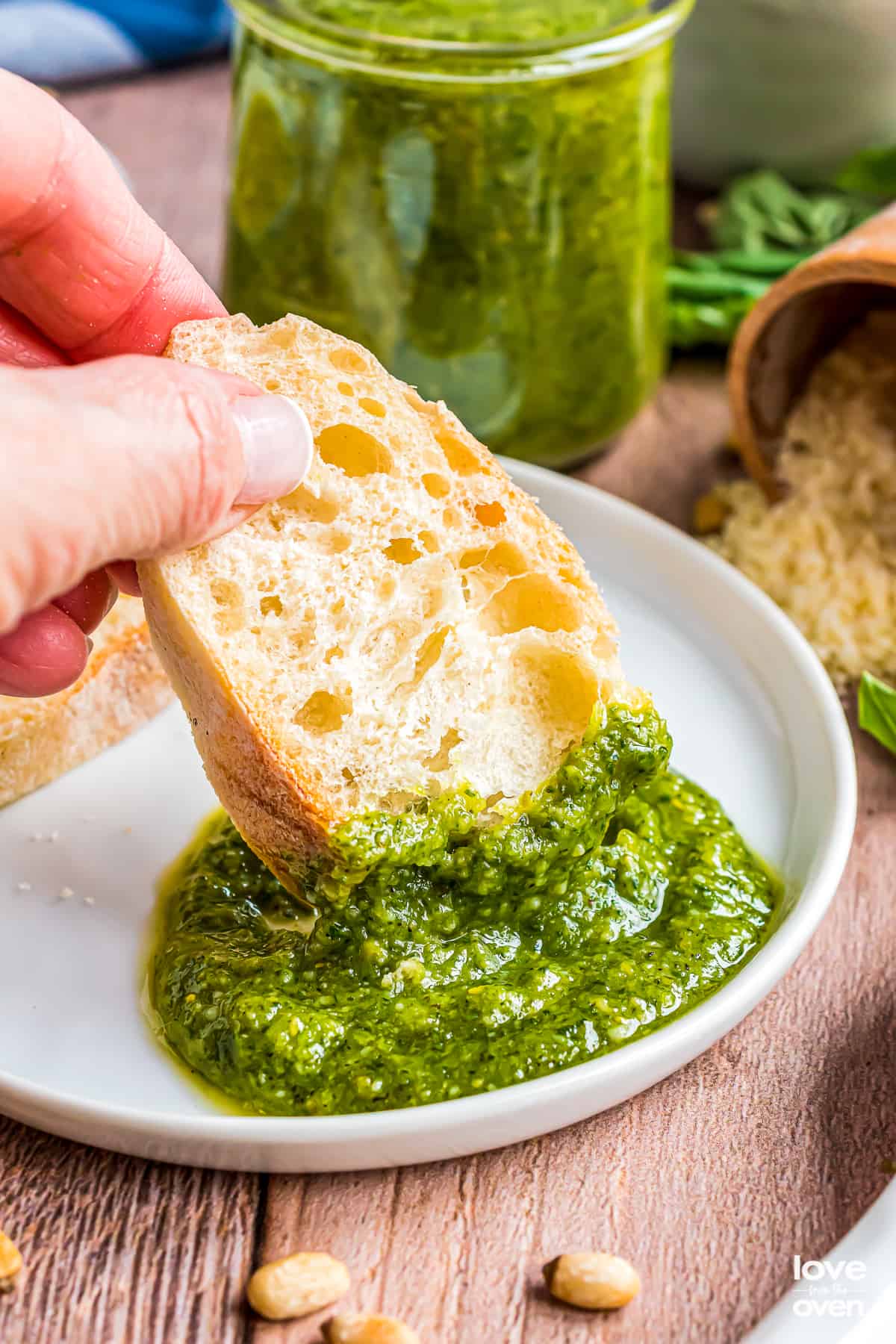 If you're not afraid to shy away from flavor, this is the recipe for you! Be careful with homemade basil pesto though, you may just end up putting it on everything if you're not careful. It's highly addictive!
Let's discuss how to make Pesto Sauce, as well as the ingredients that are needed. Please take note that below you will find discussion, expert tips, and answers to frequently asked questions about this recipe to help you recreate it in your kitchen. If you *just* want the recipe itself, scroll down. The full printable recipe itself, with exact measurements and instructions, is found at the bottom of this page.
Ingredient Info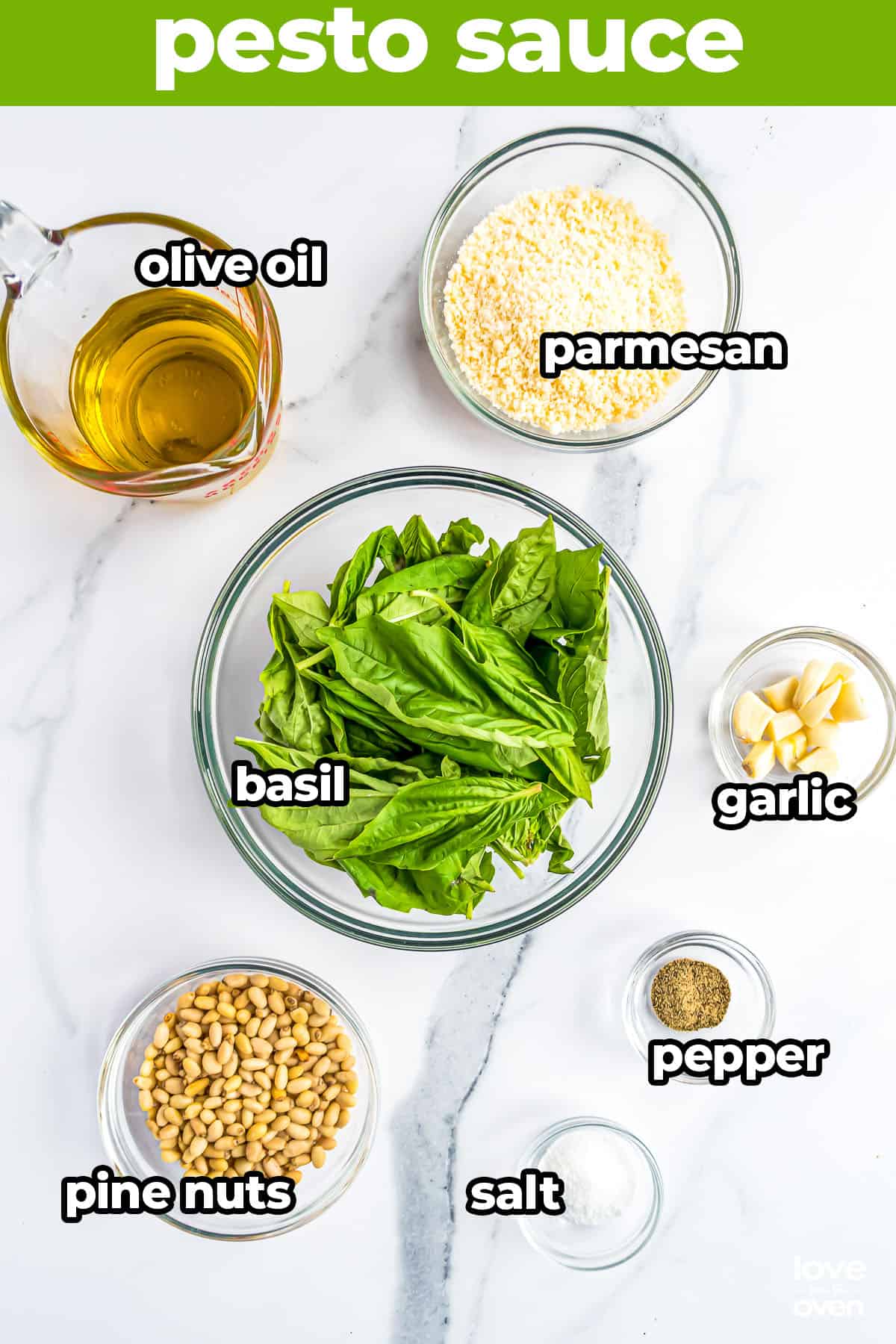 Basil – Fresh basil is ideal for this recipe. Make sure you give the basil a quick rinse before use, then pat it dry. When measuring out the basil, make sure you are packing it in tight so you get the correct amount. If you'd like you can throw some spinach into this recipe, just take out 1 cup of basil and use 1 cup of spinach instead.
Toasted Pine Nuts – You can toast the pine nuts yourself. Just add the amount to a saucepan over medium-low heat and toss them around for 6-7 minutes. Let them cool before adding it to the pesto or else the nuts will be gummy. You also don't have to toast them at all, but the flavor is a lot more intense if you do. If you can't find any pine nuts, you can substitute them for cashews, walnuts or almonds.
Garlic – Fresh garlic is your best option when it comes to making homemade pesto, I don't recommend substituting for garlic powder or any jars of minced garlic. You'll want to cut each clove of garlic into quarters.
Olive Oil – Extra virgin olive oil will be your best friend for this recipe. To avoid the bitterness that comes with some olive oils, make sure to use a fresh bottle of it, and try not to over process the pesto sauce. If you really don't want or have olive oil for this sauce, you can try substituting with grapeseed or canola oil.
Parmesan – Parmesan is a classic pesto ingredient. Freshly grated is preferred, but you can use the pre-packaged stuff if you'd like.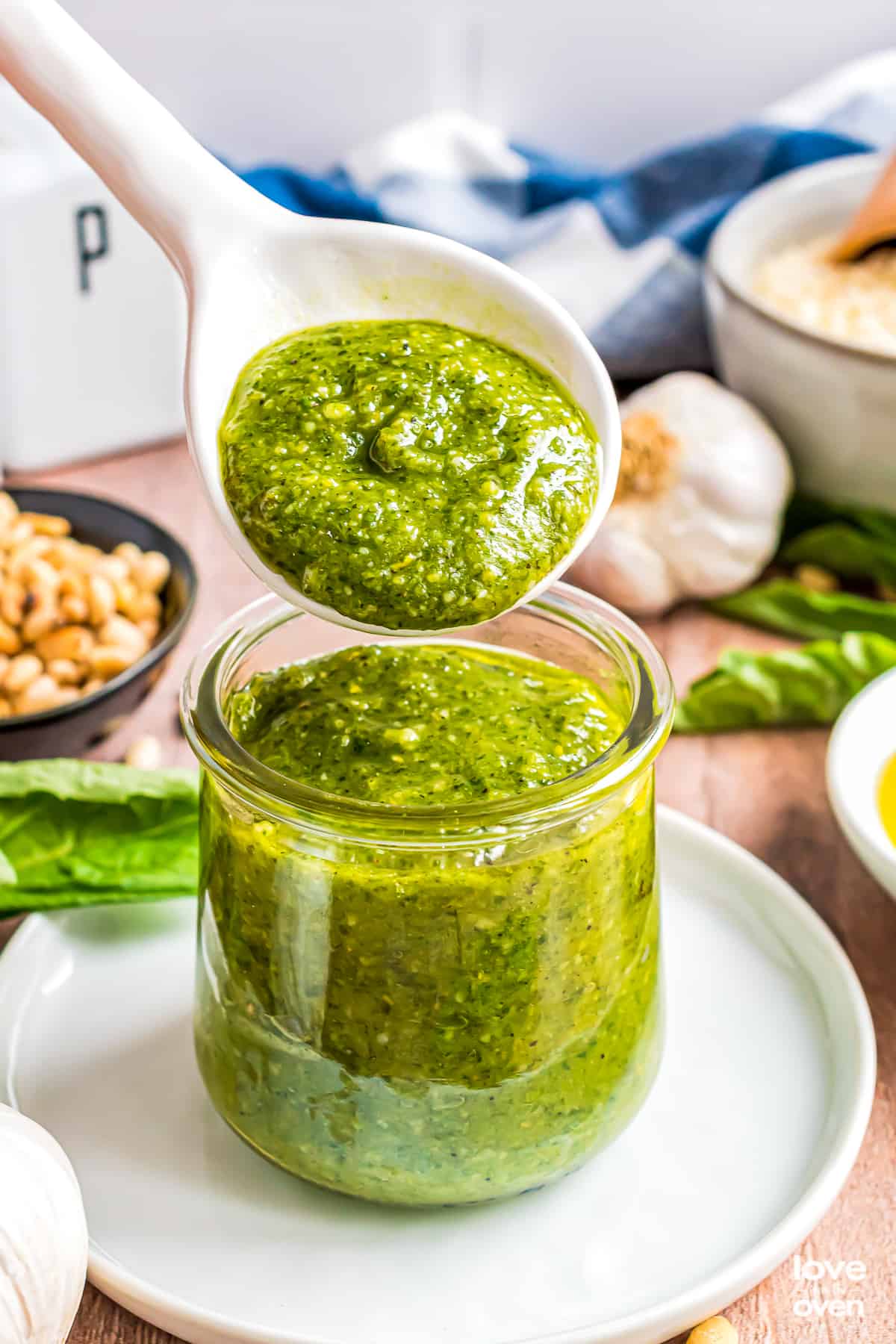 Step By Step Instructions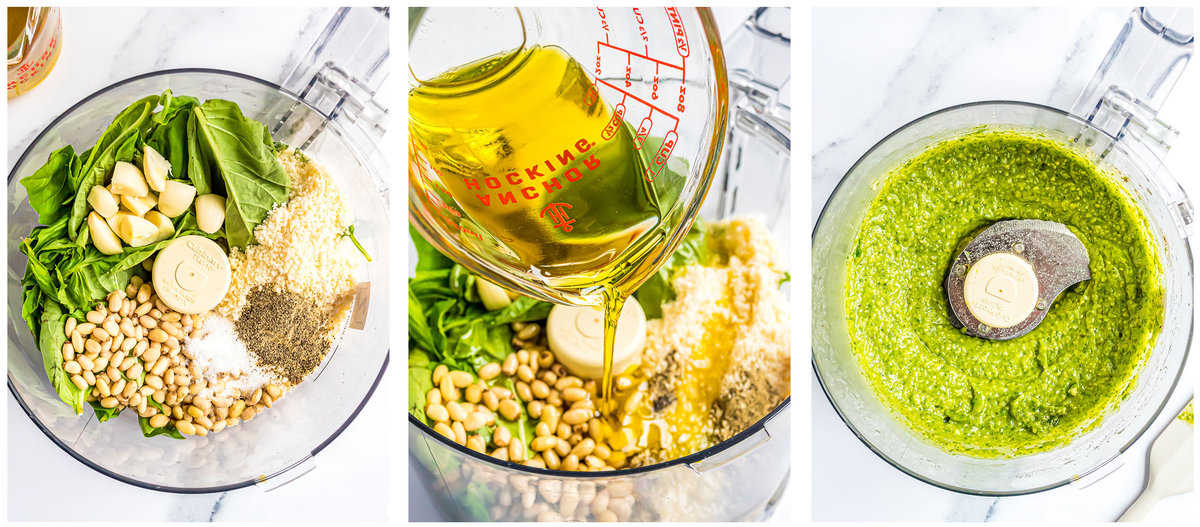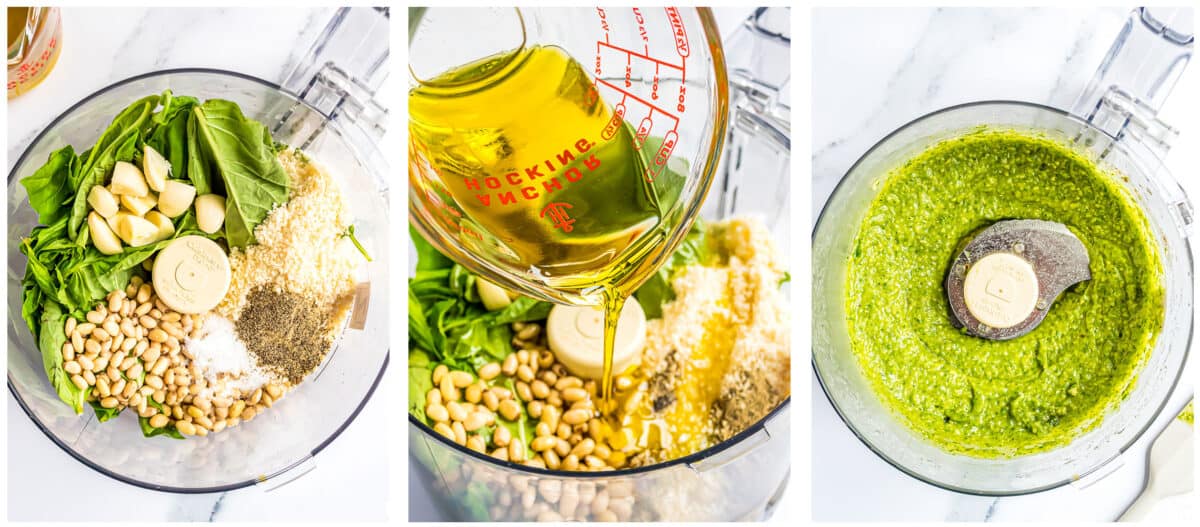 To a food processor, add the basil, quartered cloves of garlic, toasted pine nuts, parmesan cheese, salt and pepper.
Drizzle the olive oil over the ingredients evenly.
Place the lid on the food processor, and pulse until everything is evenly combined. You can continue to add a little bit of olive oil at a time if you want a thinner consistency. Pour the finished pesto into a jar, then serve!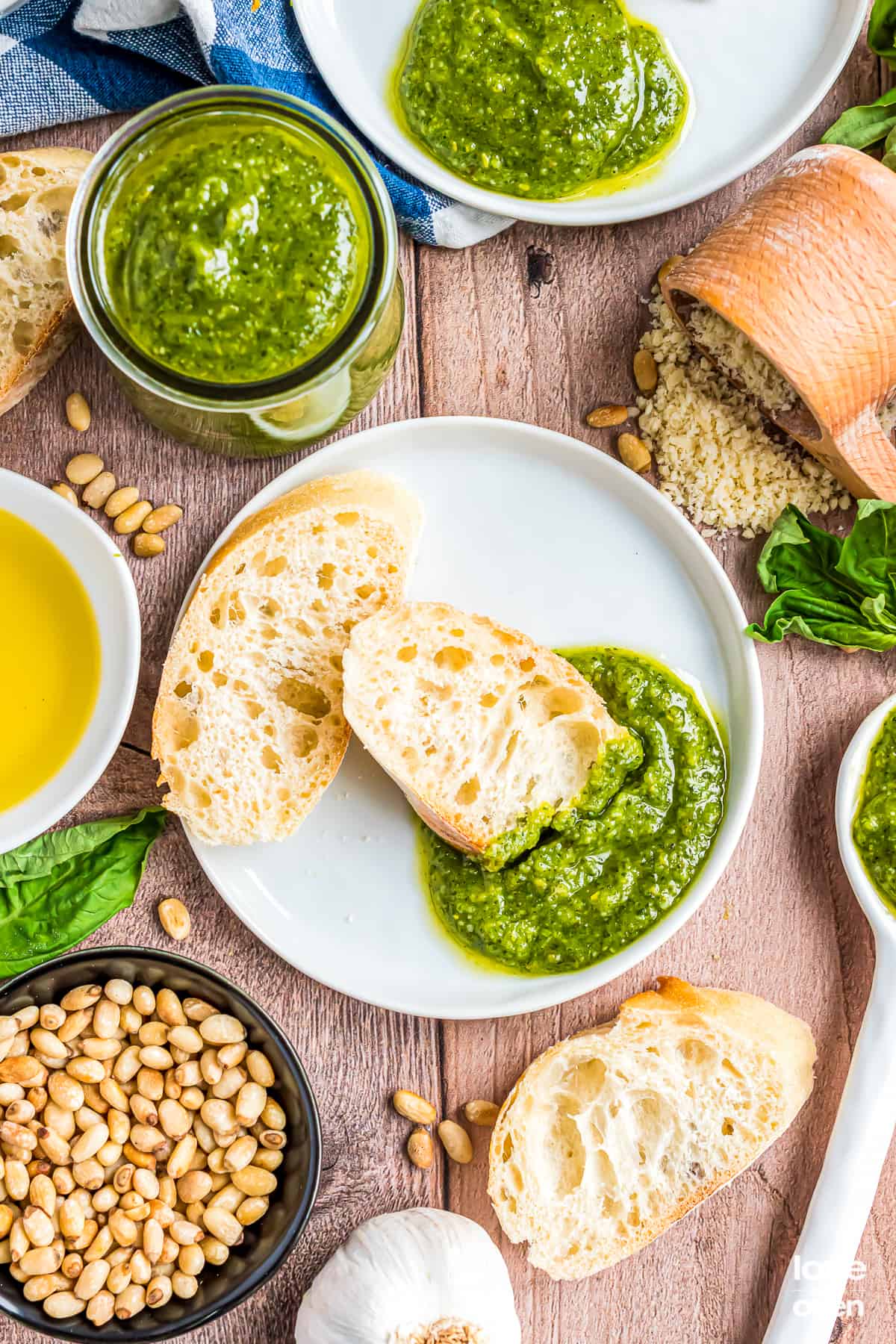 Tips and Advice
Storage – Store the pesto in an airtight jar or container in the fridge for up to a week. You can also freeze the pesto for up to 6 months! You may notice the pesto will turn a darker green after sitting in the fridge for a while, but this is normal and doesn't affect the taste. If you want to prevent this you can store the pesto with a layer of olive oil over the top, or add a tbsp of lemon juice to the food processor before blending. Lastly, if you blanch the basil leaves, then immediately soak them in an ice bath for 30 seconds before patting them dry, the pesto may stay a bit greener.
Equipment – For this recipe you'll just need a food processor or mini chopper. A blender will work as well, just make sure you don't accidentally over blend. If you're really feeling up for an arm workout, a mortar and pestle will also get the job done.
FAQs
Is it worth making your own pesto?
10000%! It's super quick to make, and the taste makes the world of a difference.
Why does my homemade pesto taste bad?
The taste you may be describing happens when an olive oil is old, or the pesto was WAY over blended. Make sure to get fresh olive oil, high quality ingredients, and pulse the pesto sauce until you get the perfect consistency.
Can you use basil stems in pesto?
Yes! There's no need to cut the stems off of the basil leaves before adding it to the food processor.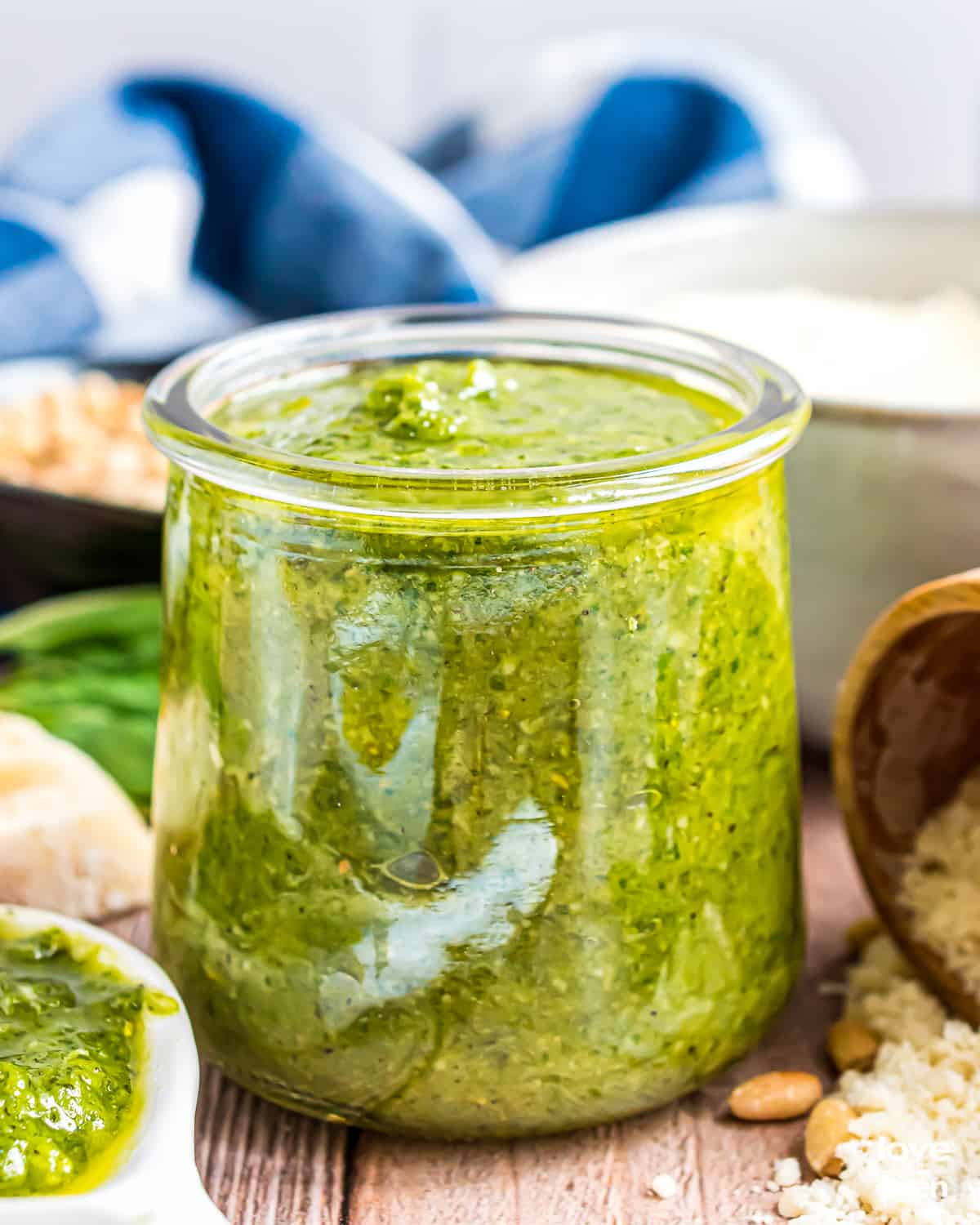 Serves Well With
What in the world do I serve pesto with? Well I'm so glad you asked!
Here are a billion different things you can serve pesto with: It's the ideal dipping sauce for bread, crackers or on bruschetta. It's delicious as a pasta sauce, (this recipe works with 1 lb of pasta) or a pizza sauce – really good with chicken and tomatoes! It's amazing on roasted potatoes or any vegetable, chicken breast or fish. Use it as a marinade, mix it with mayo and spread it on a sandwich, or use it as a salad dressing.
Phew! That was a lot, but you could probably think of many more ways that you can use up every last drop of this pesto sauce.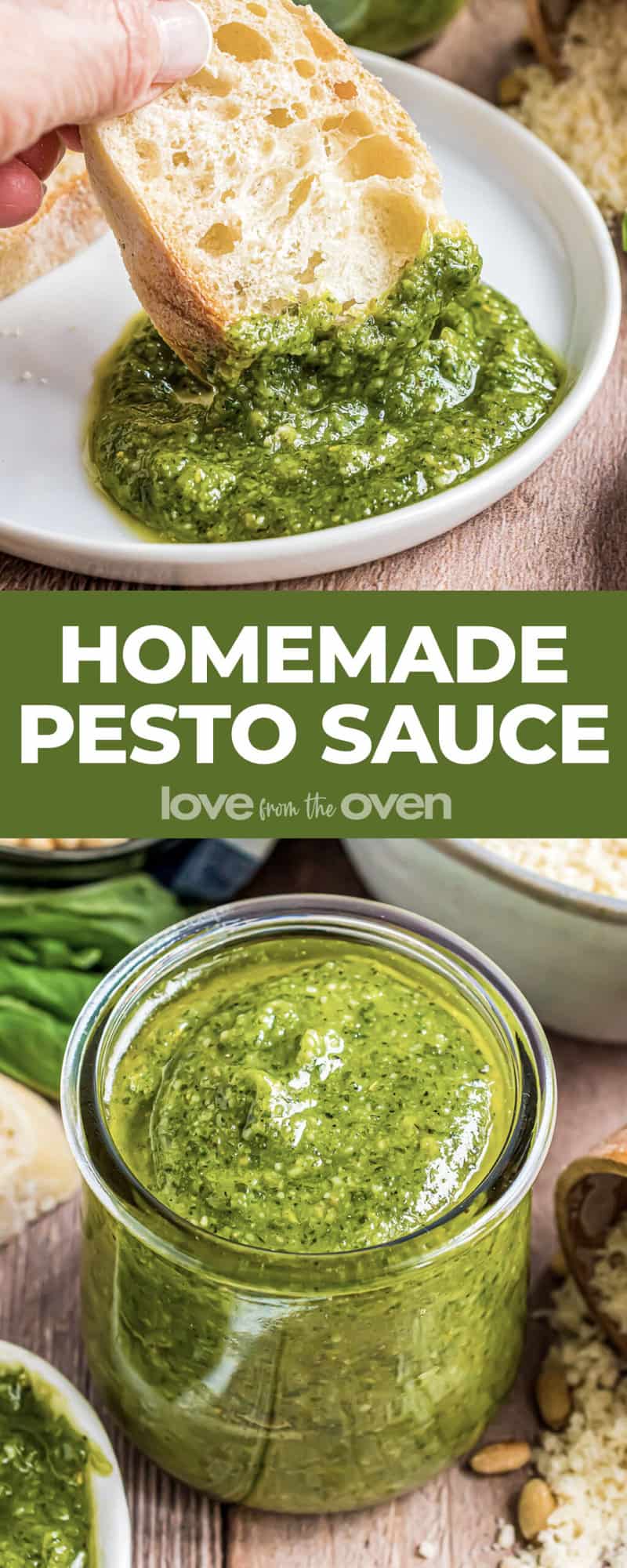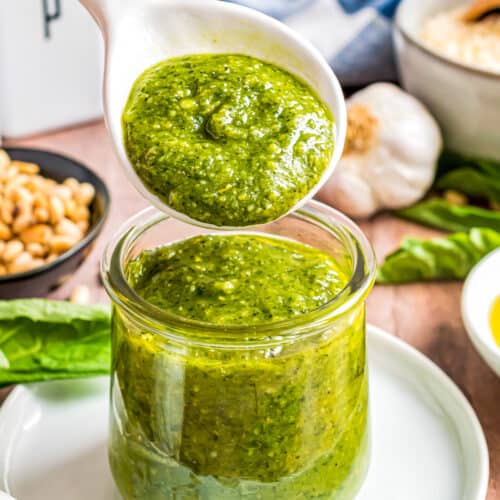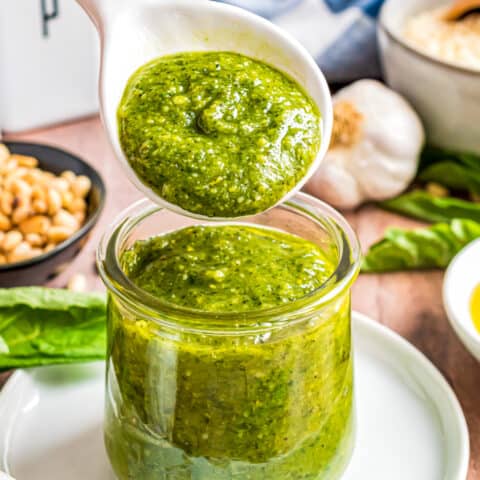 Homemade Pesto Recipe
Whether you're dipping this into some french bread, or lathering it on top of some pasta, you will absolutely love how easy and flavor packed this homemade pesto recipe is.
Ingredients
2

cups

fresh basil leaves

measured packed

2-3

cloves garlic

cut into quarters

1/2

cup

pine nuts, toasted

1/2

cup

grated parmesan cheese

1

teaspoon

kosher salt

1/2

teaspoon

black pepper

1/2

cup

olive oil

high quality olive oil is highly recommended
Instructions
Place all ingredients in a blender or mini food processor. Blend until combined and resembles a paste. The pesto may be thinned with a bit of extra olive oil until desired consistency is reached.
Notes
Store the Pesto sauce in an airtight container in the refrigerator for about a week. It may turn dark green. However, this usually doesn't affect the taste.
Freeze pesto in an airtight container for six months or more. Thaw in the refrigerator.
Nutrition
Calories:
205
kcal
|
Carbohydrates:
2
g
|
Protein:
3
g
|
Fat:
21
g
|
Saturated Fat:
3
g
|
Polyunsaturated Fat:
4
g
|
Monounsaturated Fat:
12
g
|
Cholesterol:
5
mg
|
Sodium:
401
mg
|
Potassium:
84
mg
|
Fiber:
0.5
g
|
Sugar:
0.3
g
|
Vitamin A:
374
IU
|
Vitamin C:
1
mg
|
Calcium:
69
mg
|
Iron:
1
mg
Disclaimer
Nutrition information is estimated as a courtesy. If using for medical purposes, please verify information using your own nutritional calculator. Percent Daily Values are based on a 2000 calorie diet.