Ice Cream Cake is a classic summer dessert. Rich, creamy, cool and delicious, ice cream cakes are always a hit with my family. This fun ice cream cake couldn't be easier to make… or eat!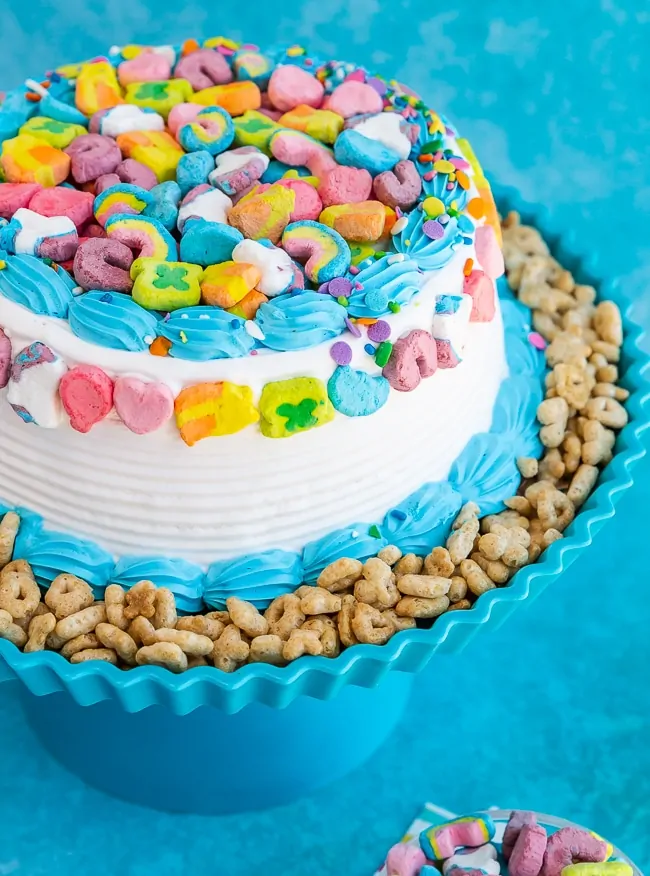 Ice Cream Cake
My kids, like most, absolutely love ice cream cake. Who doesn't love a cake made of ice cream? It's cake, taken to a whole other level. With a number of summer birthdays and celebratory occasions, we love serving ice cream cakes in my family. And this cake combines ice cream cake with one of my other favorite foods – cereal!
We have a summer vacation tradition in our family that is incredibly simple, but always very memorable. It's beyond easy, yet my kids think it's the greatest thing ever. At least once over summer break, I let the kids eat ice cream for breakfast.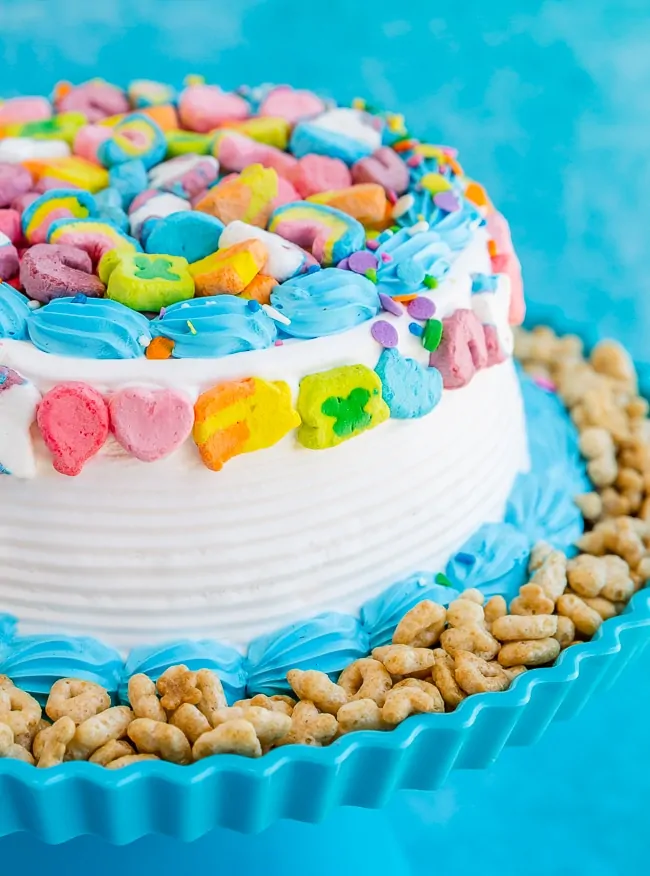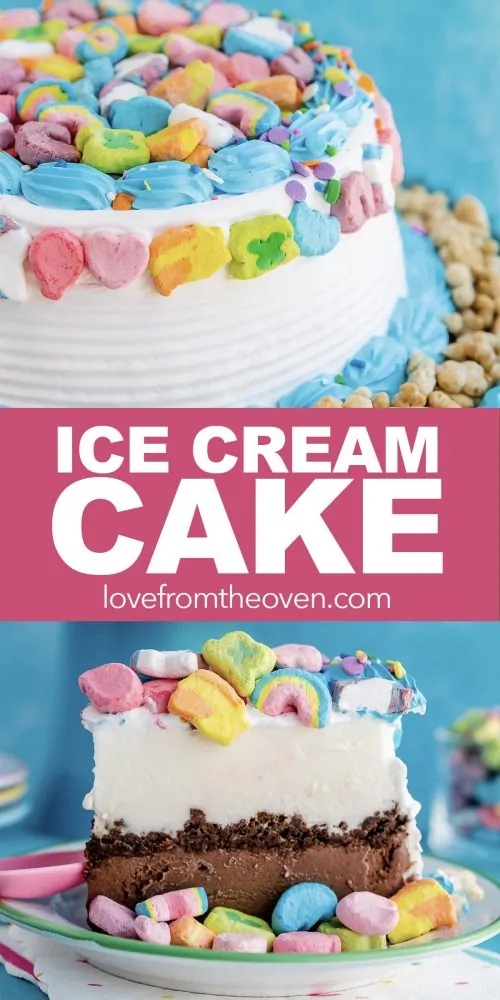 Ice Cream For Breakfast
The tradition started one year when we were on vacation and it was the last day at the house we were renting. Trying to use up groceries, but also running quite low on them, I decided ice cream for breakfast would be a thing. It would feed the kids and use up the ice cream, which was about all we had left.
Let me tell you, letting your kids eat ice cream for breakfast pretty much makes you the greatest mom ever in their eyes. It's the little things like this that kids seem to remember. I hope that one day they will tell their own kids about eating ice cream for breakfast on summer vacation.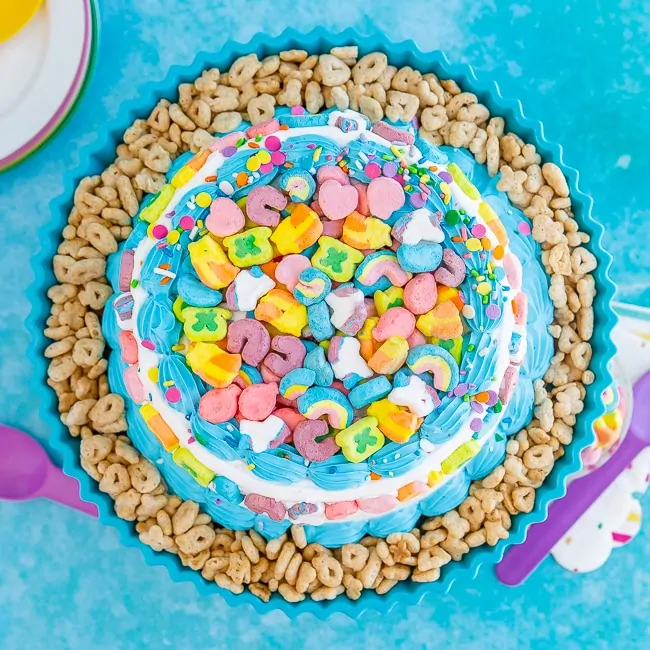 When the folks at I Love Ice Cream Cakes reached out and asked if I would like to share how our family enjoys ice cream cakes, our summer tradition of ice cream for breakfast quickly came to mind. It gave me a great excuse to combine a few of my favorite things into one! Cereal + Ice Cream Cake = Epic Ice Cream Cake For Breakfast! Thanks to I Love Ice Cream Cakes for sponsoring this post.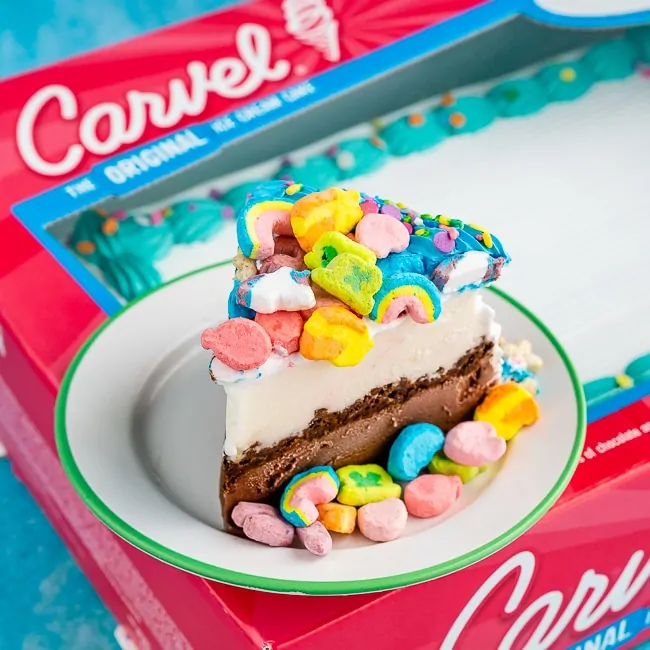 My secret easy ice cream cake recipe is to get a little help from I Love Ice Cream Cakes. Did you know you can pick up ready made ice cream cakes in your grocer's bakery or freezer section? They are the best! I can pick up a delicious ice cream cake any time I visit my local Fry's Food!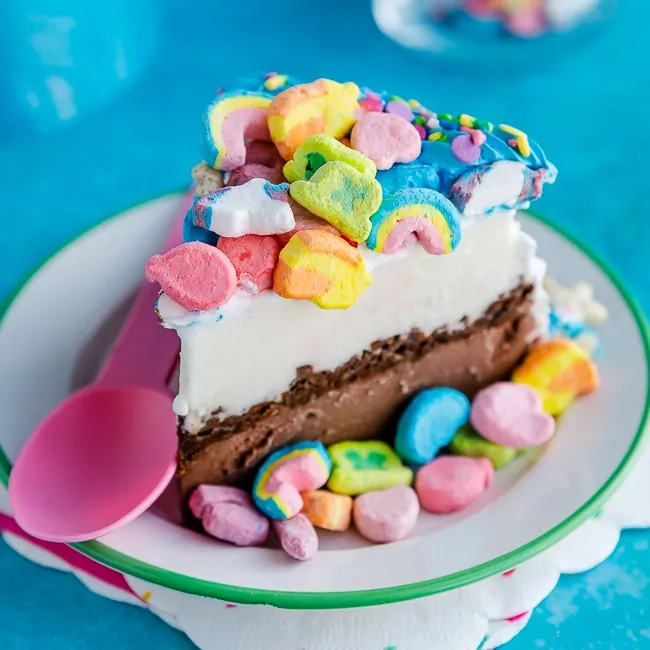 Living in Phoenix, Arizona, where it's about 281 degrees on the average summer day (or at least feels like it) I love the idea of an ice cream cake, but the making part? Unless I crawl into my freezer, that's a bit of a challenge. Thankfully I Love Ice Cream Cakes has ready to go, and delicious to eat ice cream cakes at your local grocery store!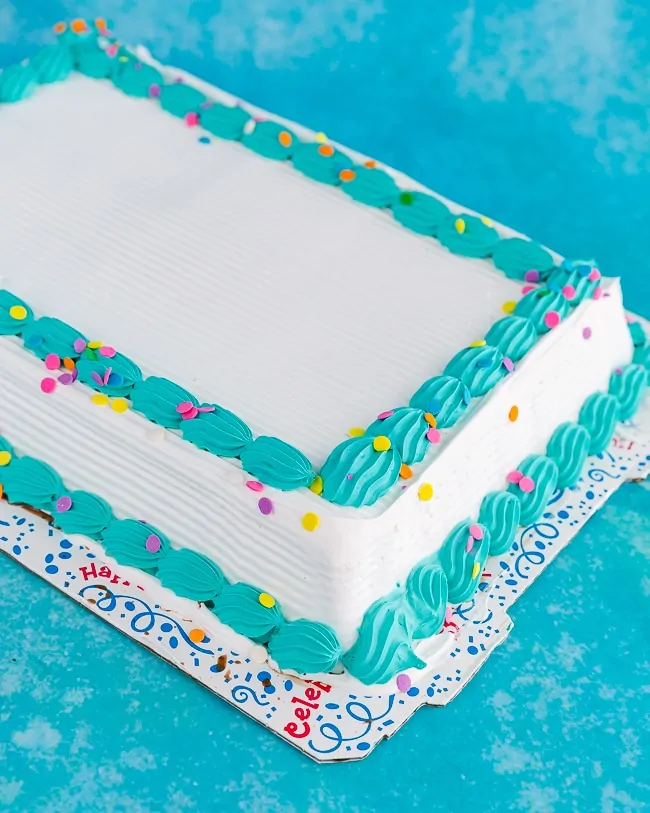 I absolutely love these cakes! You can get them pre-decorated, or you (or someone in the Bakery dept.) can decorate or dress them up yourself. I Love Ice Cream Cakes has a delicious variety of cakes including including Carvel®, OREO®, Reese's Ice Cream Cakes!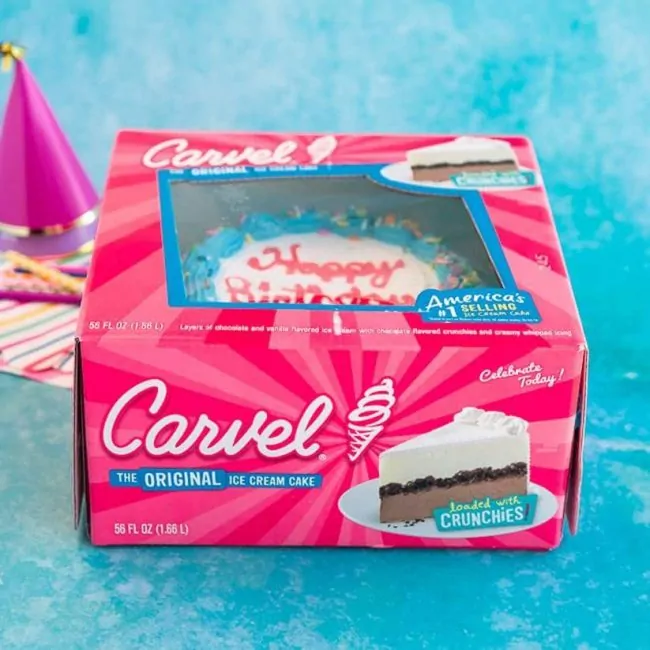 Carvel Ice Cream Cakes
I grabbed two Ice Cream Cakes – the Carvel Ice Cream Cake With Confetti – Family Size and the Carvel Lil' Love Ice Cream Cake Original.
The Family size cake is the ice cream cake made for any and every occasion. Made with layers of vanilla and chocolate ice cream with chocolate crunchies and fresh whipped icing, this confetti-decorated ice cream cake is a celebration in itself. Customize the top to say what you want!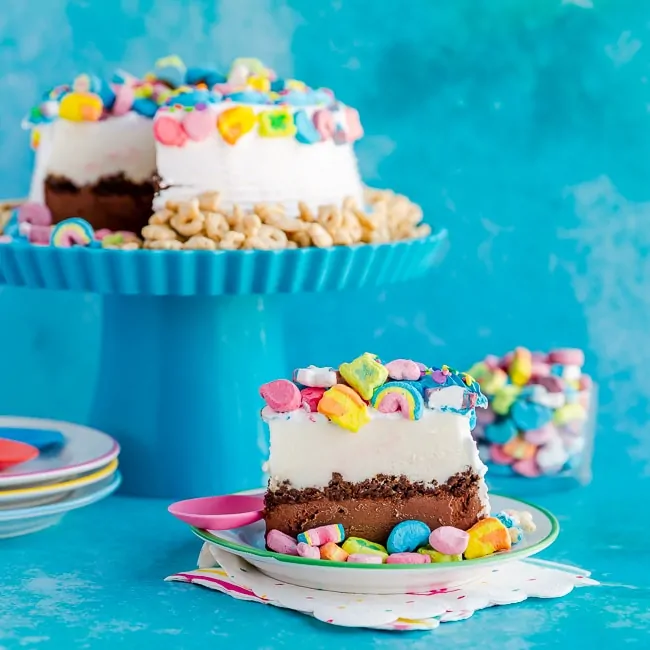 The Lil' Love Ice Cream Cake is a perfect way to celebrate any Lil' milestones. Made with layers of vanilla and chocolate ice cream, chocolate crunchies and fresh whipped frosting, everyone will get a lot of joy outta this "Lil" ice cream cake.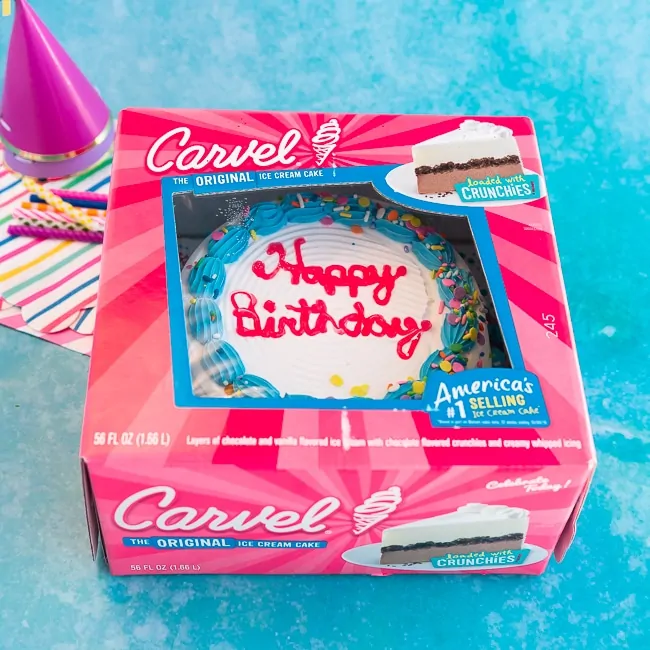 My kids got such a kick out of our cake decorated with cereal! This might be the easiest cake decorating option yet. You can decorate your cake with any cereal your family enjoys. You don't even have to measure, just eyeball it! This is so fun to surprise your kids, but also a really fun activity to do with them!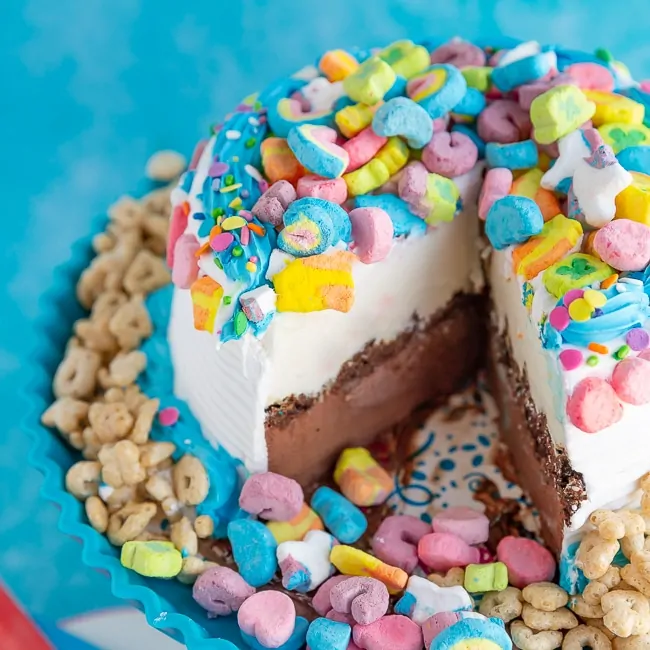 There are lots of other decorating options you can use on your ice cream cake. You can use sprinkles, candy, cookies, more frosting, you can dress up your cake however you like. Though I also know your family will enjoy it, even if just left as is.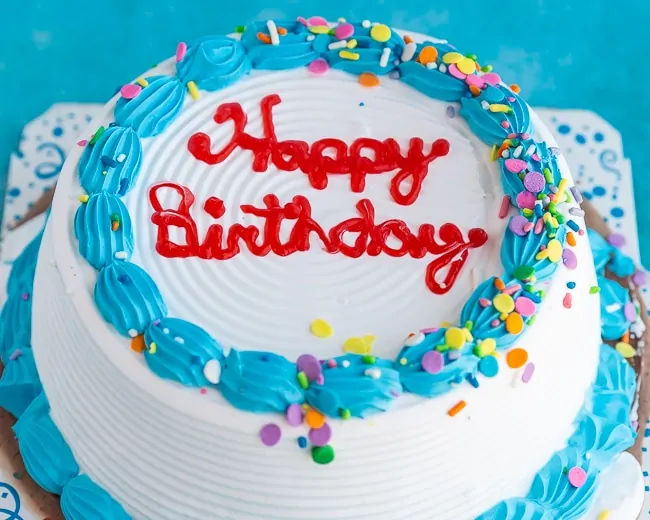 Even if it's not to eat for breakfast, I hope that your family picks up a Carvel Ice Cream Cake soon in your grocery store! Maybe for a celebration or birthday, or maybe just to make those fun memories with your kids. Click here to find Carvel Ice Cream Cakes in your local grocery stores. You can even join the Crunchie Club, where you'll get product news, coupons and other info!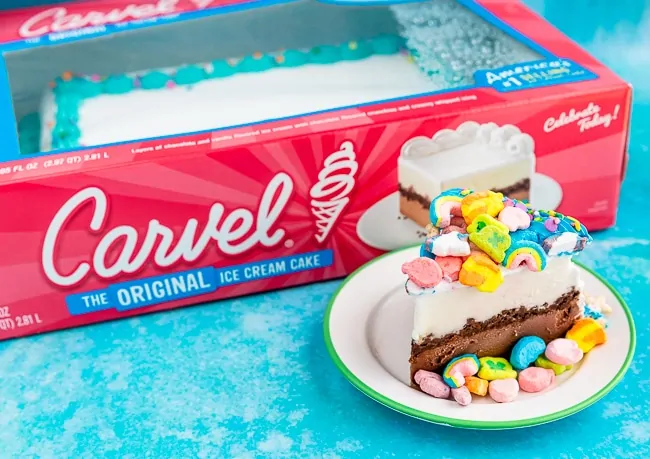 Disclosure: This post was sponsored by I Love Ice Cream Cakes. All opinions however are mine and mine alone.