Let's talk chocolate. Really amazing chocolate. Chocolate you can use to make things like this…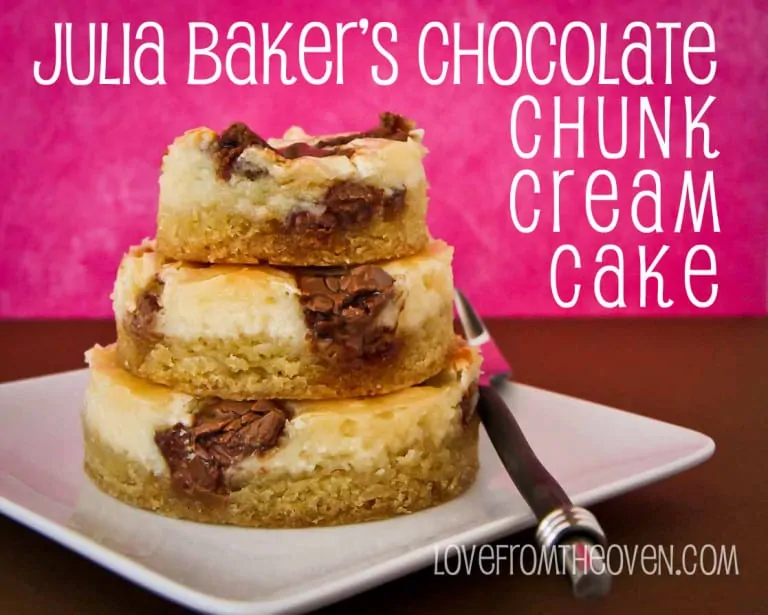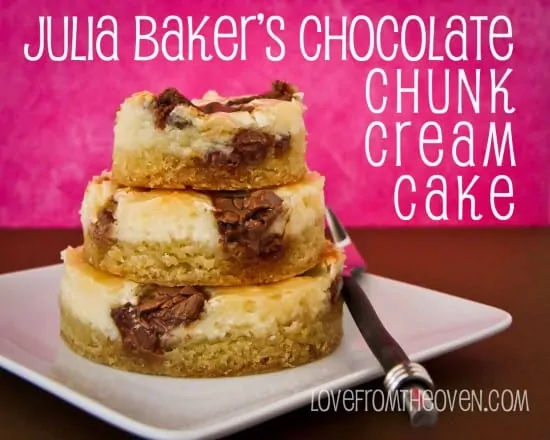 You know the saying "go to your happy place"? Well, I'm happy to announce I've found my happy place. It has been hiding in a box of Julia Baker Confections Chocolates.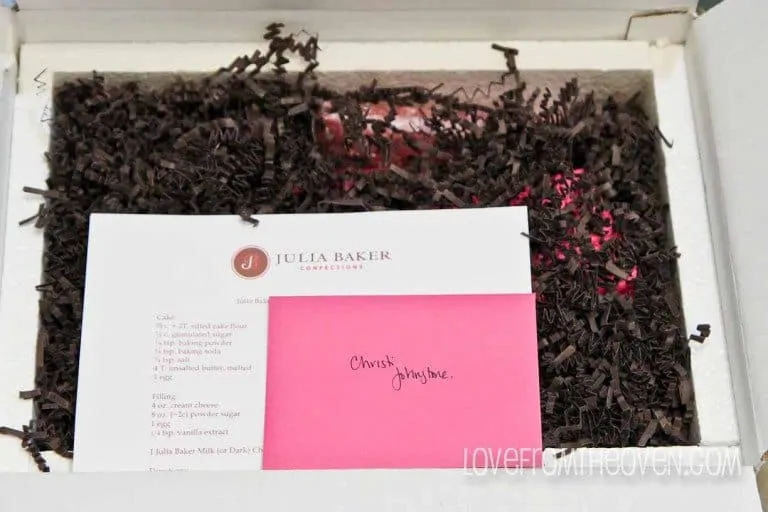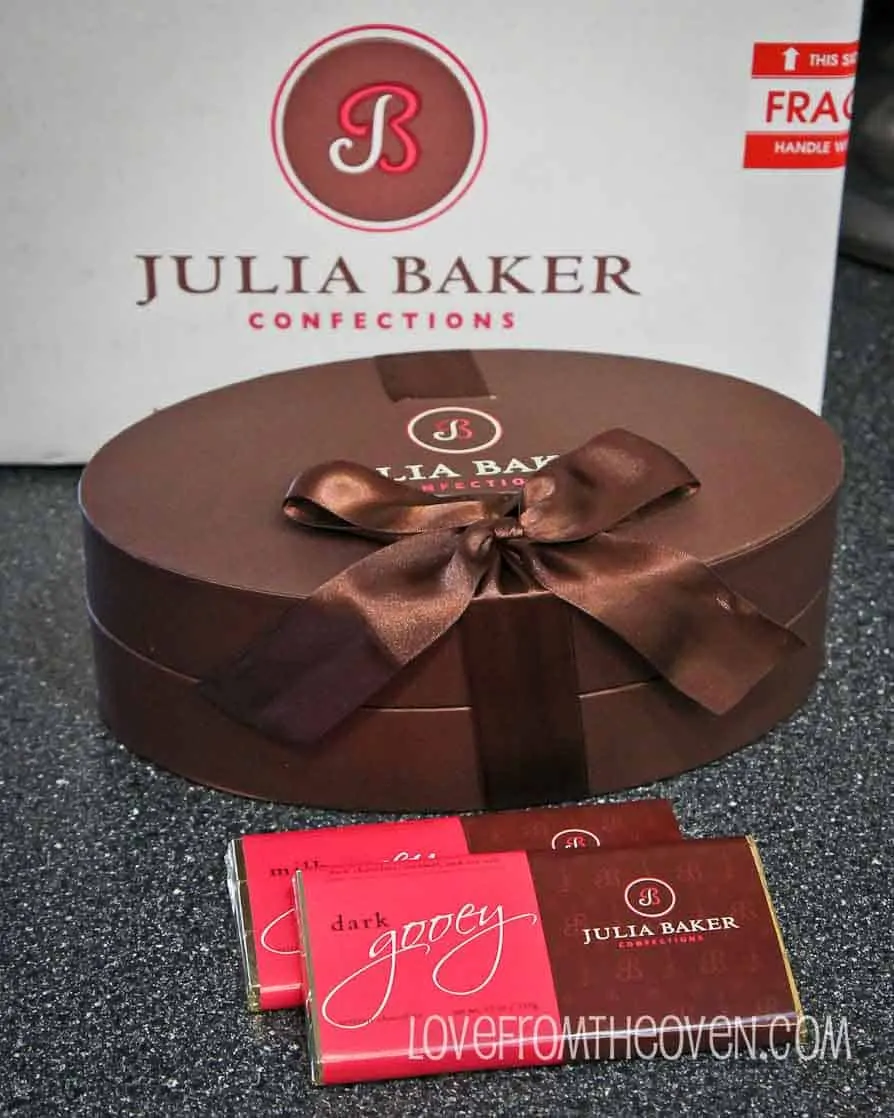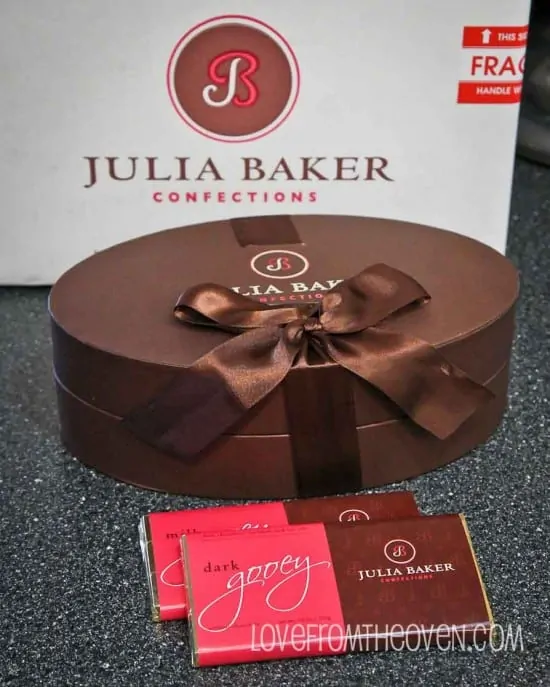 Yeah, right in there.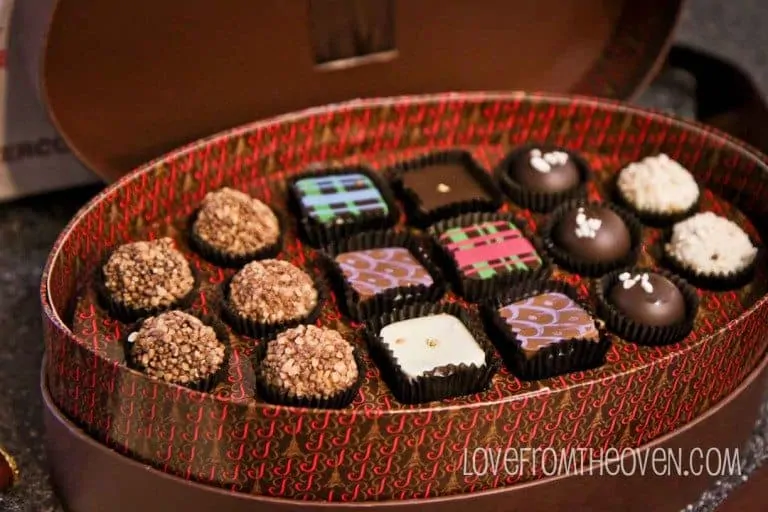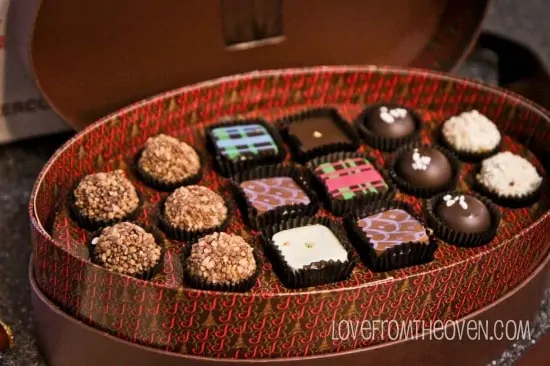 Wait for it…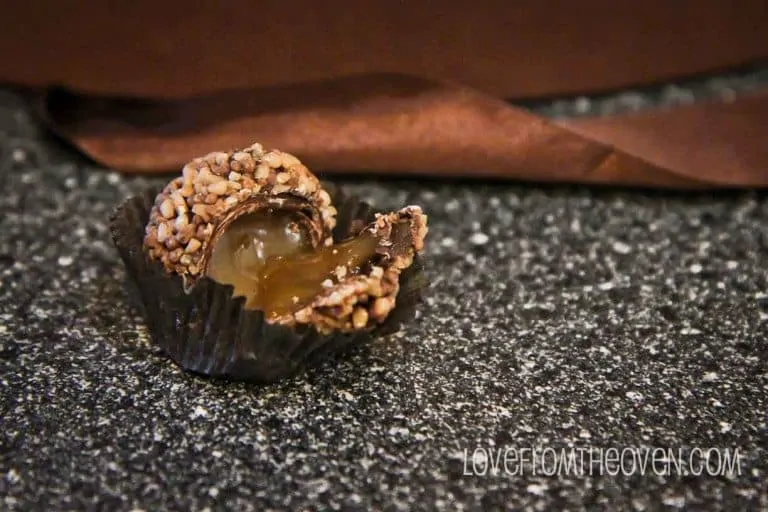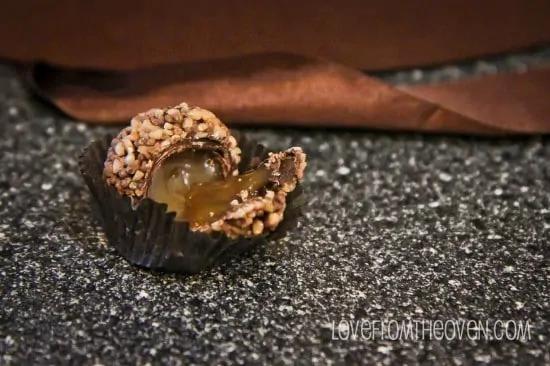 Julia Baker Confections French Caramel Truffle. Quite possibly one of the best things I've ever tasted. If I was asked to be on that show "The Best Thing You Ever Ate" (which I'm sure will happen right after a unicorn shows up with my winning lottery ticket!), the first thing that would probably come to mind is this truffle. Ah-May-Zing. It's like this magical just salty enough caramel that somehow stays the perfect liquidy consistency and covered in crunchy salted toffee. Every single item was so fresh and delicious, but that French Caramel Truffle, that's the stuff dreams are made of. And happy places.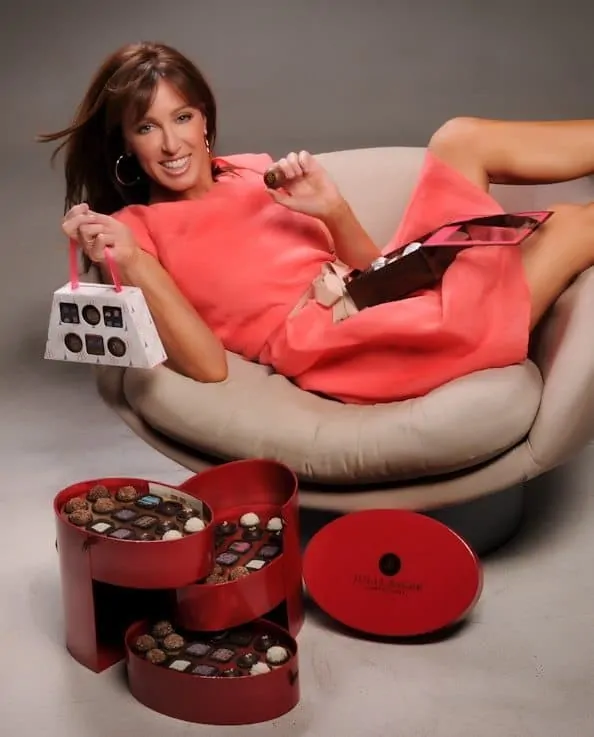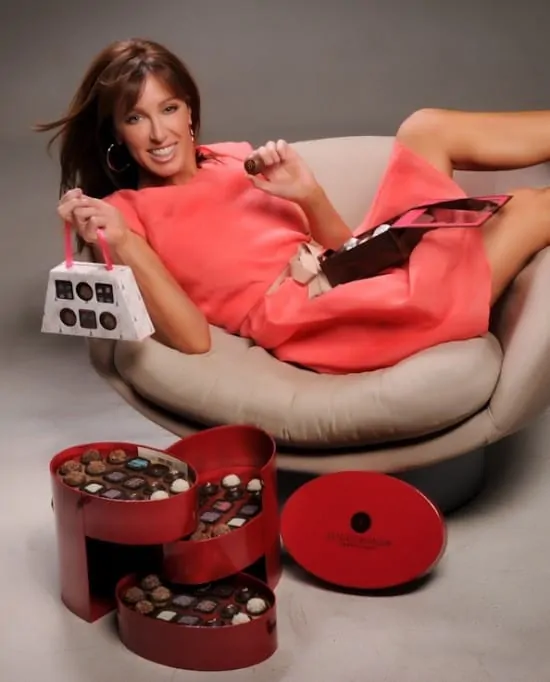 So let's back up and talk a little bit about Julia Baker Confections. The folks at Julia Baker Confections contacted me and asked if I would be interested in trying her artisan chocolates which are created using classic French techniques and the finest natural ingredients. And they happen to be made right in my hometown of Scottsdale, Arizona. I was pretty excited that such an amazing confectioner was based here locally and I was very excited to try her chocolates.
I have to say, they blew me away. I've eaten my share of chocolate, and these have to be the best I have had (sorry See's Candy, I know we've had a life long love affair, and it's not you, it's me, me and my new found love for Julia's French Caramel Truffles and Dark Chocolate Gooey Bars). Julia has an incredible education behind her, graduating first in her class at Le Cordon Blue Paris, she has trained with some of the masters in the industry and is known as the "Chocolatier to the Stars" with a long list of of celeb clients. She's been featured on Oprah and The Chew. Basically she's all kinds of chocolate awesome.
So back to her amazing chocolate. Let me tell you about the Chocolate Gooey Bars that she makes. Luscious dark filled with gooey caramel and finished with a hint of sea salt. Words do not do them justice. And let's not even talk about how quickly the Dark Chocoalte Gooey Bar I received might have been consumed, but let's just say it was embarrassingly fast. All in the name of research people.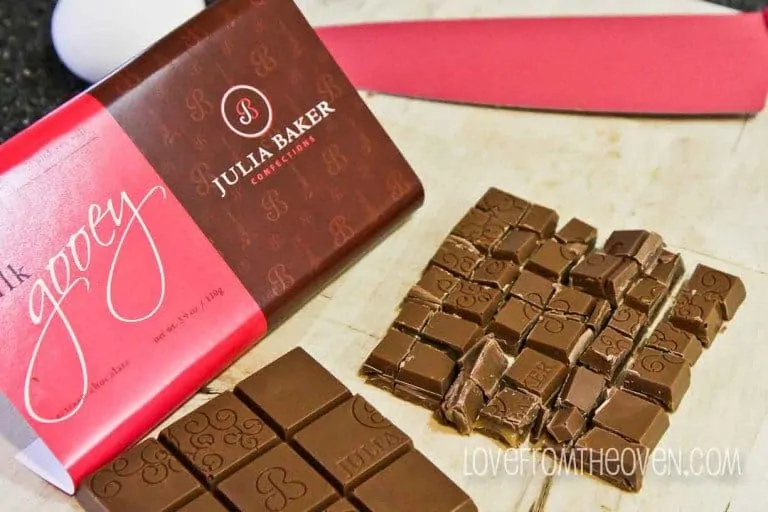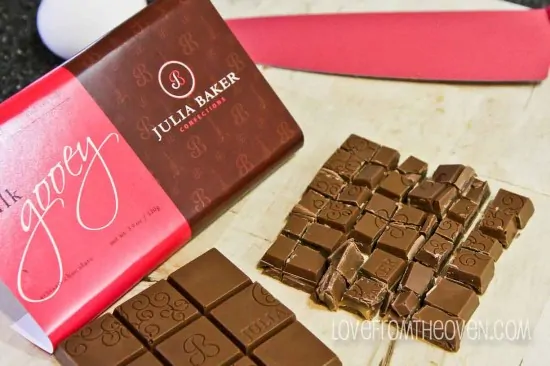 Her chocolates are not only delicious they are beautiful and impeccably packaged. Want to send a gift to impress? This is it. From the moment I opened the box, it was all top notch. It's like each and every piece is a work of chocolate art.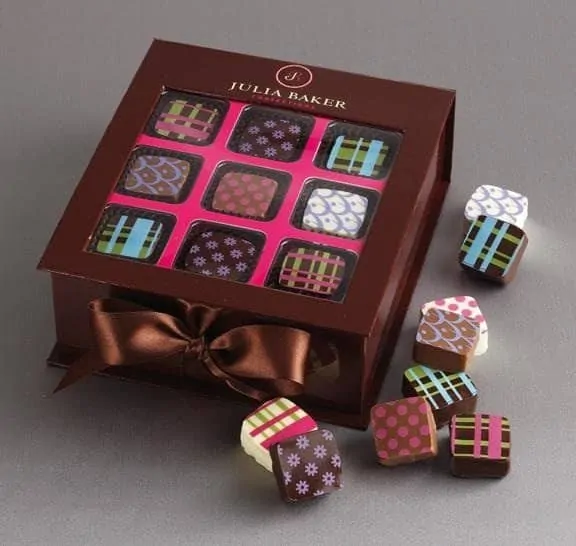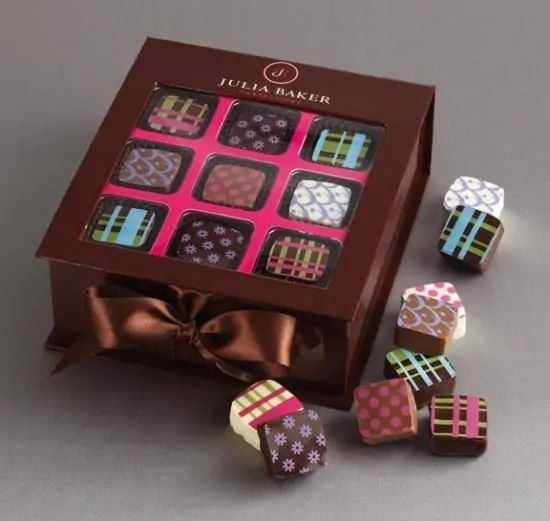 And if all that chocolate wasn't enough, Julia sent along a fabulous recipe for me to try and share with you. Chocolate Chunk Cream Cake anyone? I think YES.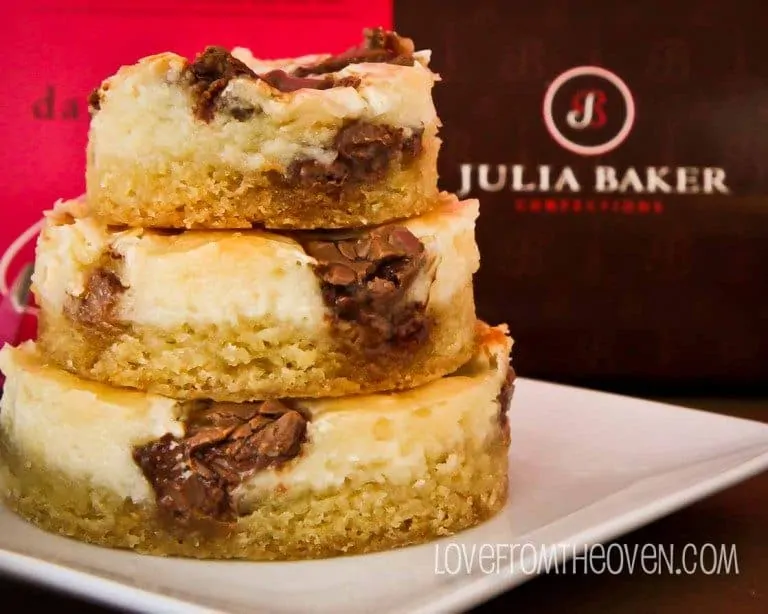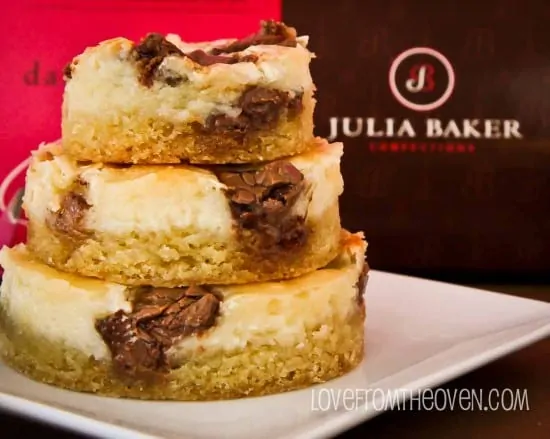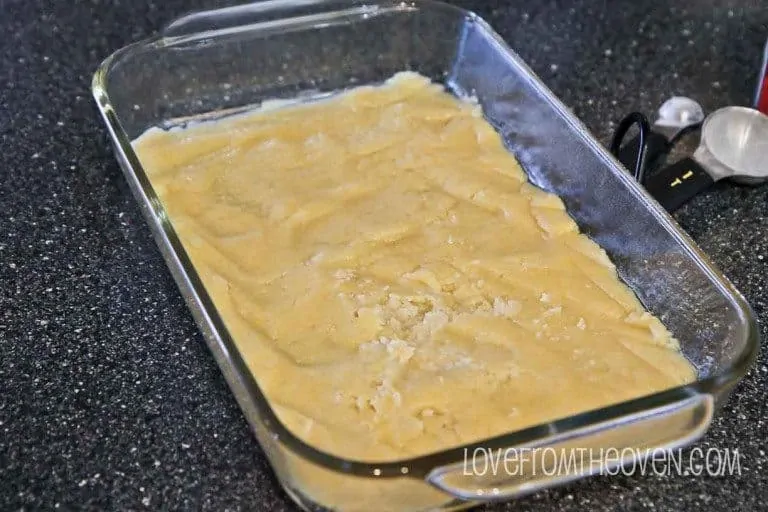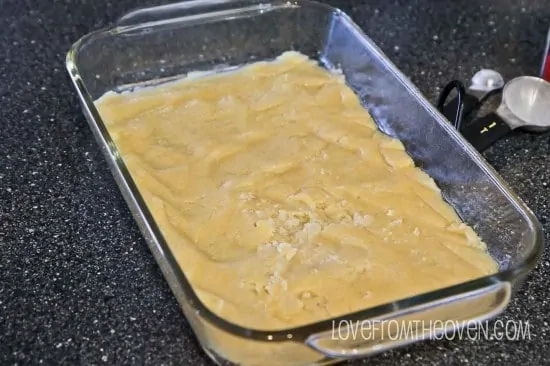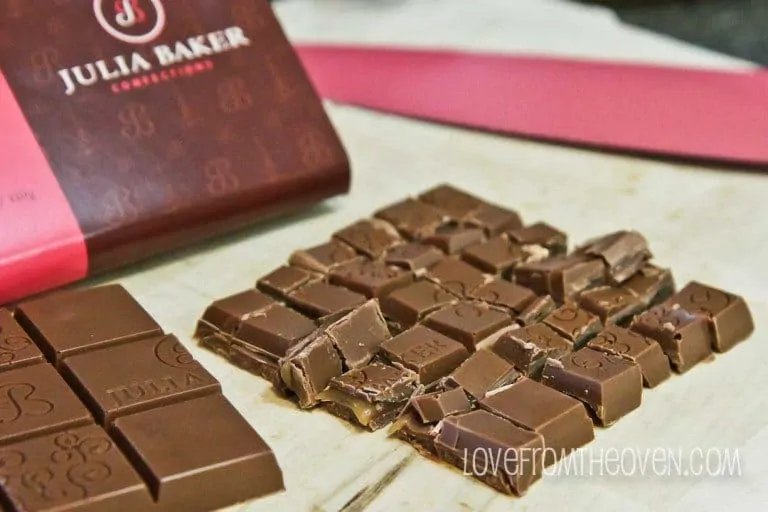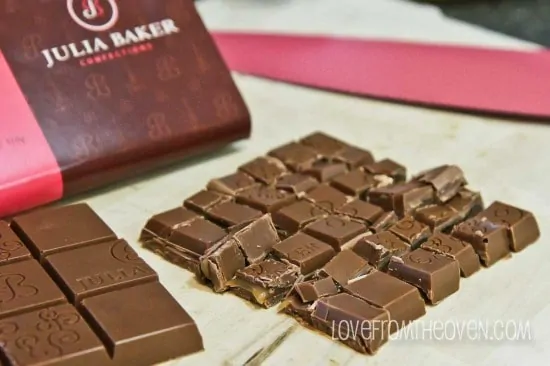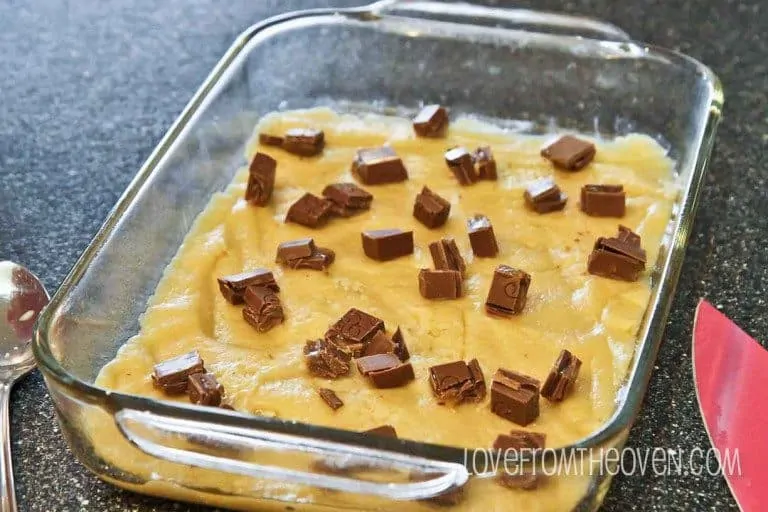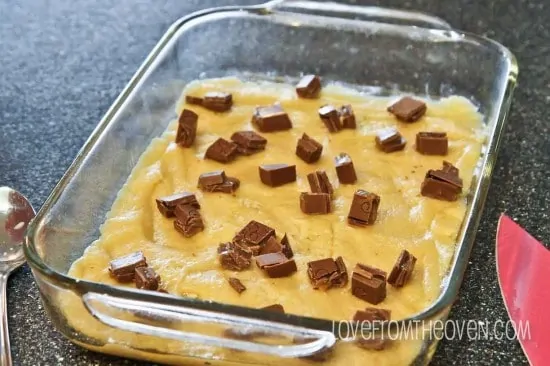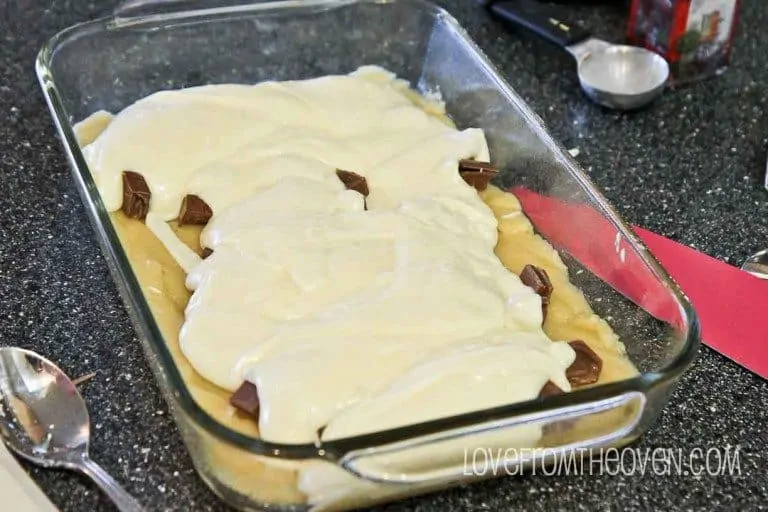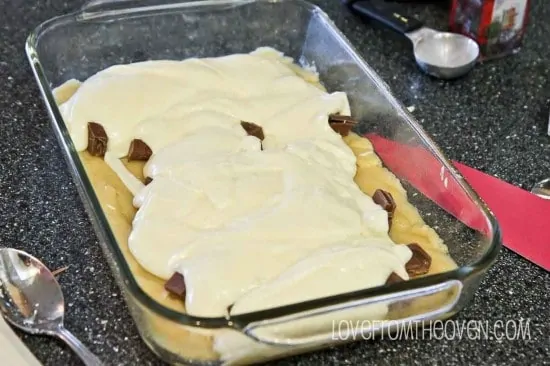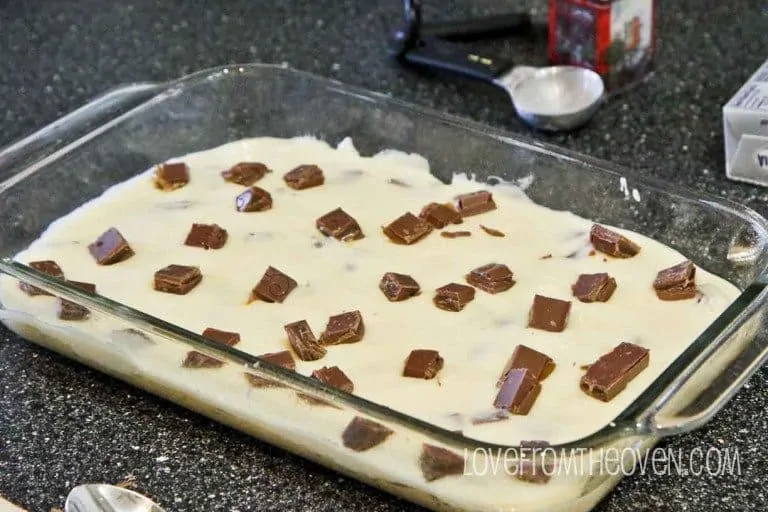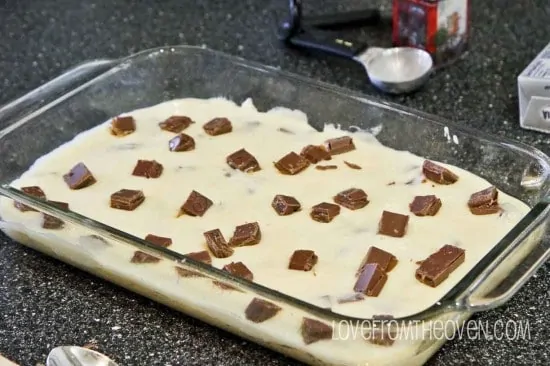 This is super simple to throw together. I had mine made and out of the oven by 8:30am this morning and I am not what one would refer to as a "morning person".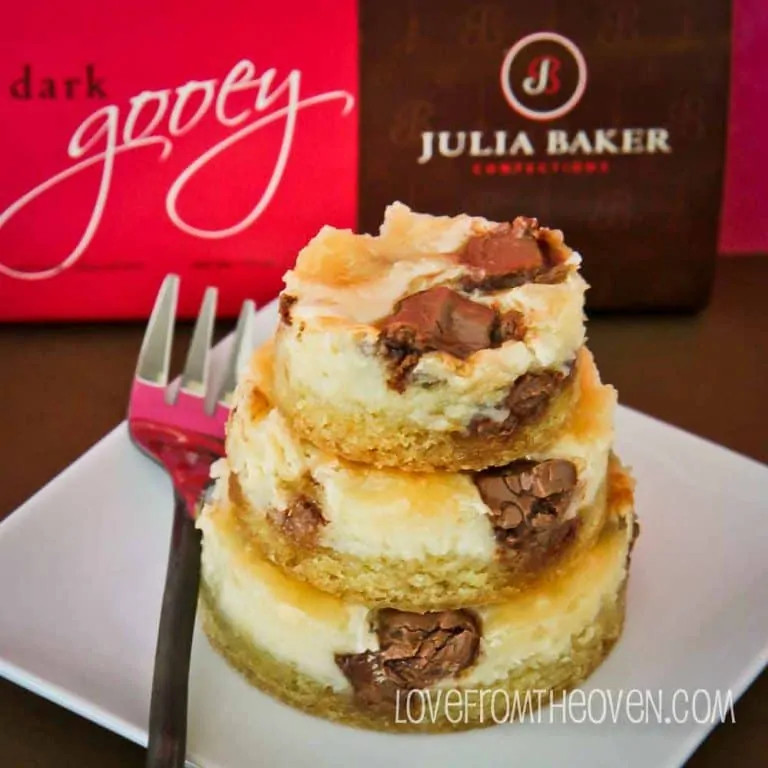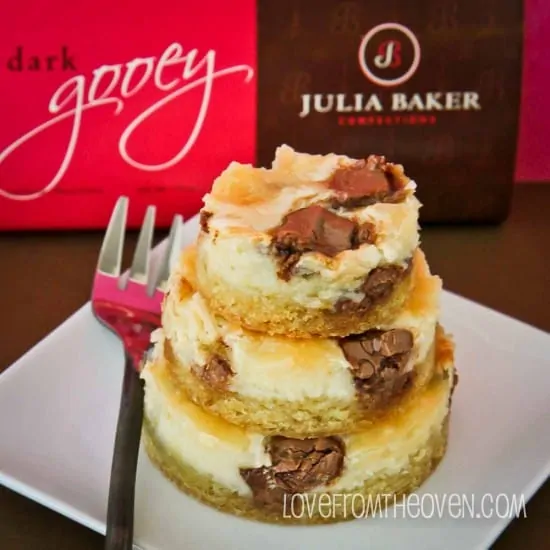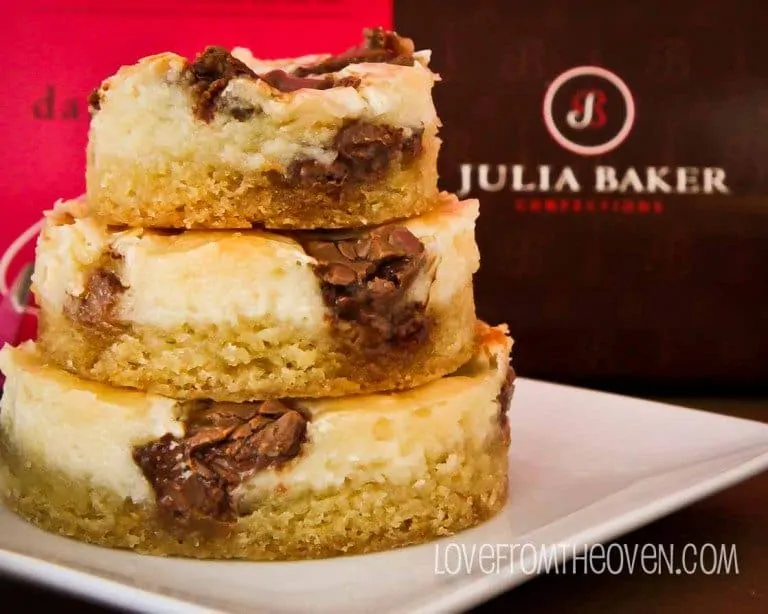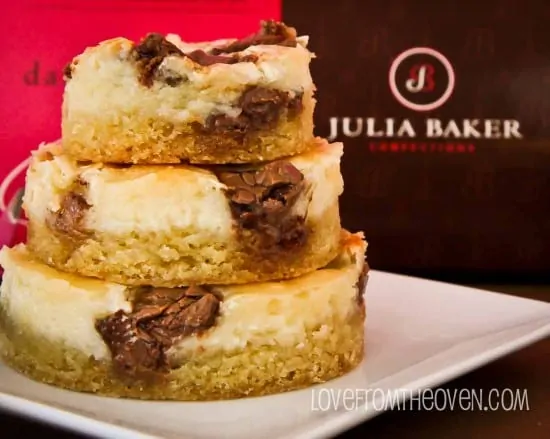 While you could use a different chocolate bar (or chips) in this, I highly, highly, highly (did I mention highly) recommend her Gooey Bars. To heck with Calgon taking me away (it's never taken me anywhere), those Gooey Bars can make all right with the world, at least for a little while. Here's the recipe! Enjoy and make sure to check out Julia Baker Confections and find her on Facebook and Twitter!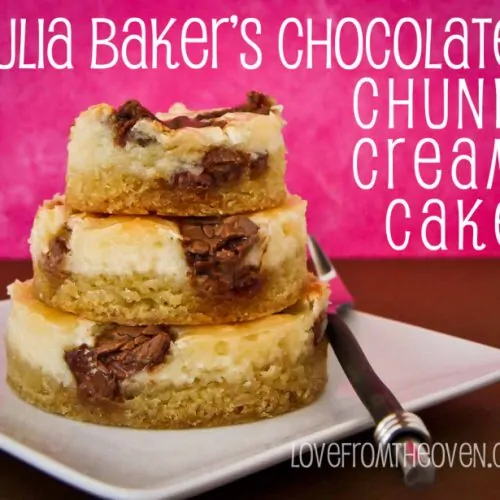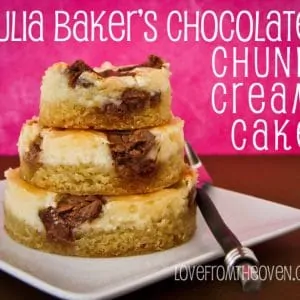 Julia Baker's Chocolate Chunk Cream Cake
Ingredients
Cake
2/3

cup

+ 2 TBSP sifted cake flour

you can use all purpose

1/2

cup

granulated sugar

1/4

tsp

baking powder

1/4

tsp

baking soda

4

TBSP

unsalted butter

melted

1

egg
Filling
4

oz

cream cheese

softened

8

oz

approx 2 cups powdered sugar

1

egg

1/4

tsp

vanilla extract

1

Julia Baker Milk or Dark Chocolate Gooey Bar

coarsely chopped
Instructions
Preheat oven to 350 degrees F.

In a mixing bowl, combine flour, granulated sugar, baking powder, baking soda and salt. Stir to combine.

Add melted butter and combine well.

Add the egg and mix well.

Using a rubber spatula, spread dough into a 11 x 4 rectangular pan (a similar size pan can also be used).

Sprinkle half of the chopped chocolate on top of the dough.

In a small bowl, mix together the softened cream cheese, powdered sugar, eggs and vanilla.

Pour filling over the dough.

Sprinkle remaining chocolate over the filling.

Bake cake for 30 minutes or until golden brown.

Remove from the oven and let cool to room temperature.

Enjoy!!!
Disclaimer
Nutrition information is estimated as a courtesy. If using for medical purposes, please verify information using your own nutritional calculator. Percent Daily Values are based on a 2000 calorie diet.