A few months ago I shared that I was starting a mini makeover on my kitchen. My kitchen isn't in terrible shape, but starting to show it's age a bit. It had torn drywall that needed replacing, a broken pantry door, a broken pocket door, some really beat up door frames, walls crying out for fresh paint, things like that. Spending so much time in my kitchen, I was ready to find some ways to update it without breaking the bank or doing any major construction, neither of which are toddler or budget friendly. There are so many ways to update and modernize your kitchen without remodeling it, and those are the things I was looking for.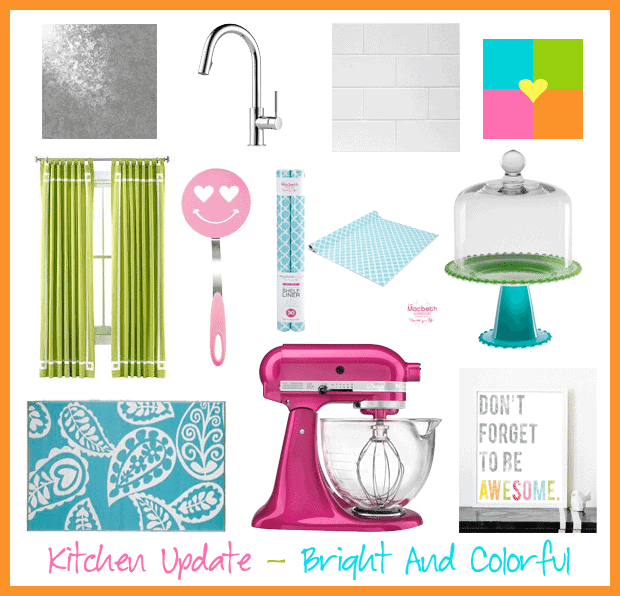 Here is what our kitchen looked like a few months ago. It's not bad, but lots of not so obvious repairs are needed…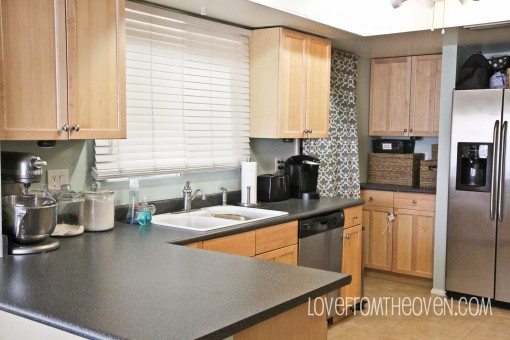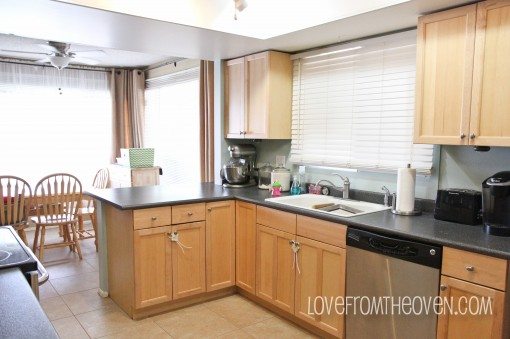 As with most home projects, you start to look at things to change or update and it's like pulling a string, and more and more things start to get involved and the project just keeps growing. The kitchen opens to the dining room and the dining room looks out on a big covered patio that never gets used. Well, that would be part of the string that was pulled. That big, covered, unused patio is now in the process of becoming an addition to our home, which has taken my "let's quickly update the kitchen" and turned it into a much longer process. 🙂
When my husband built the patio years ago, he built it with the intention that one day we would enclose it. With me working from home, the kids getting bigger and the little one needing room for in home therapy activities (nothing like a trampoline in your living room!), it was time to claim that space. Here's what it looks like as of today…
My husband is incredibly handy, from handling all of the tech and back end on the website (he works in technology) to building and repairing anything and everything himself, he does it all. But with two kids who both have busy schedules, a job that often requires extra time on nights and weekends and a certain baking blogger often pleading for Daddy Daycare during any spare moment so that I can work on posts and recipes, finding time to get stuff done is a challenge a frustrating one I'm sure he'd say!). But slowly and surely, we are getting there. These things always take more time, effort and money then you think.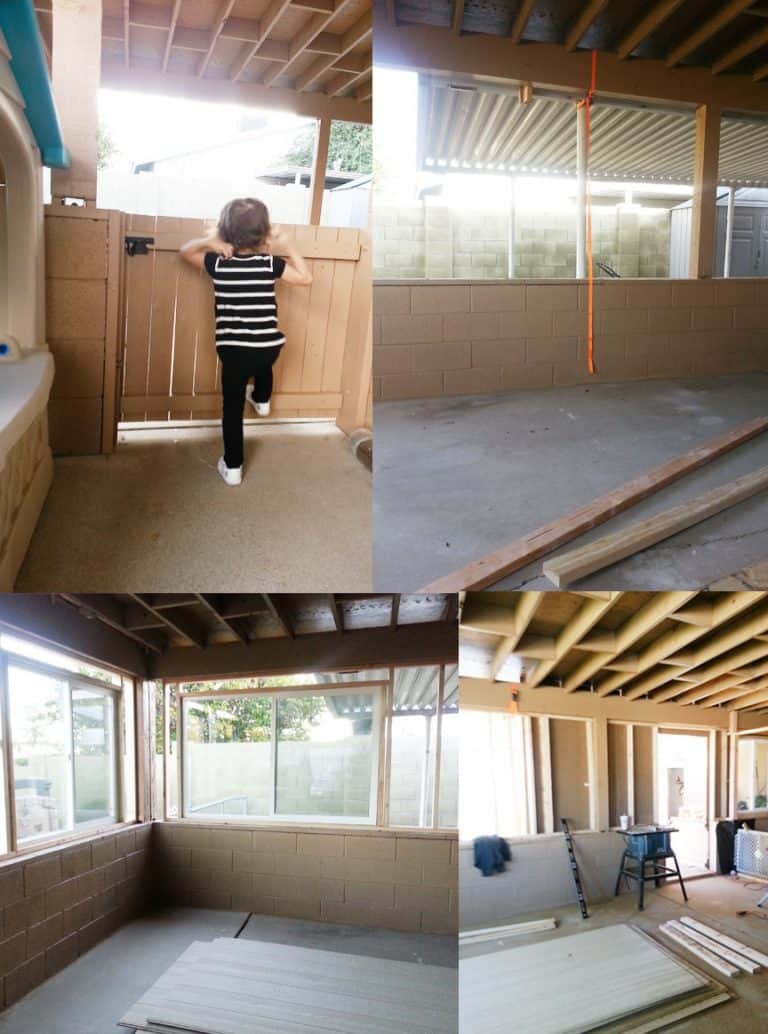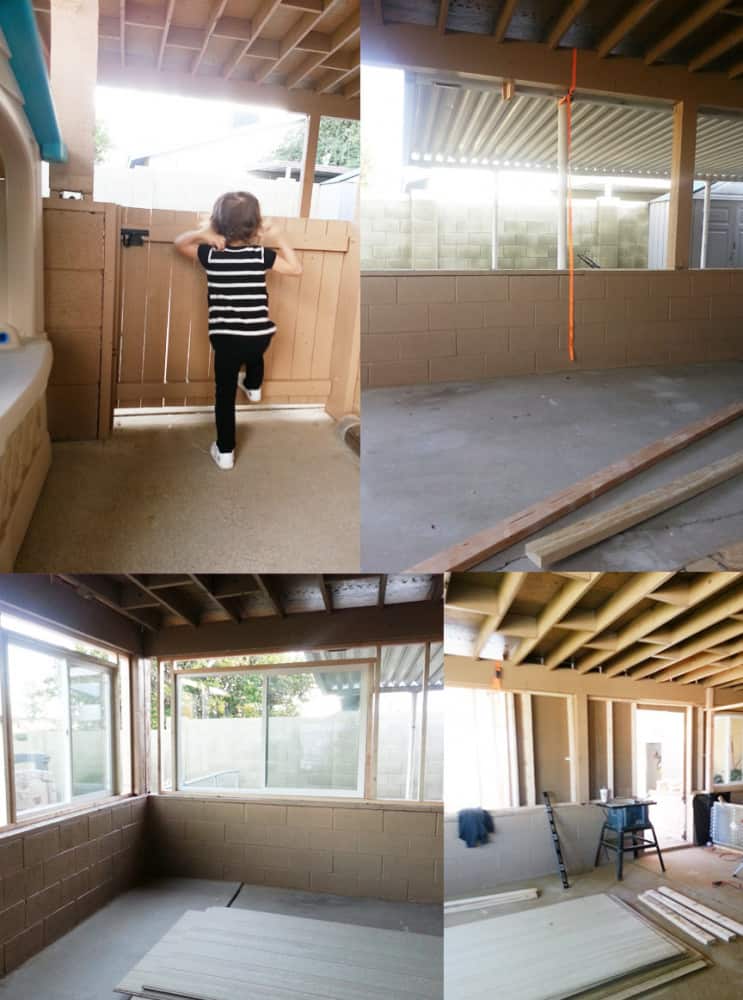 Note the GIANT carport cover shade structure I found on Craigslist that perfectly fit on the side of the yard. A certain shih-tzu I know does not like to go outside in the rain, so his majesty will still have coverage even with the patio taken over. 🙂
While I'm super excited at the thought of having this space as a place for me to work (see all those windows, lots of natural light for photos – yay!) and as a place for our oldest daughter to do homework or hang out with her friends, it has slowed down the kitchen update. A lot. It will all be worth it, but those transition and in progress months are not my favorite, especially with a very curious and active just turned three year old under foot.
We do have some exciting progress to report…
I am in love with our gorgeous new Wilsonart HD Laminate Countertops. Not only are they beautiful, but I had no idea that getting rid of the small backsplash and adding an extra inch lip on the countertops would feel like such a tremendous increase in space. And the integrated sink (yes, you can have an integrated sink with laminate now!) is SO nice. No more gunk collecting around the sink lip. I do not miss that at ALL. We all love the new countertops and I can't wait to share more about them. Laminate today is not the same laminate I grew up with, that's for sure. I should also add that I highly recommend Paradise Kitchen & Bath here in Arizona who did the fabrication and install of our countertops. They were we a pleasure to work with.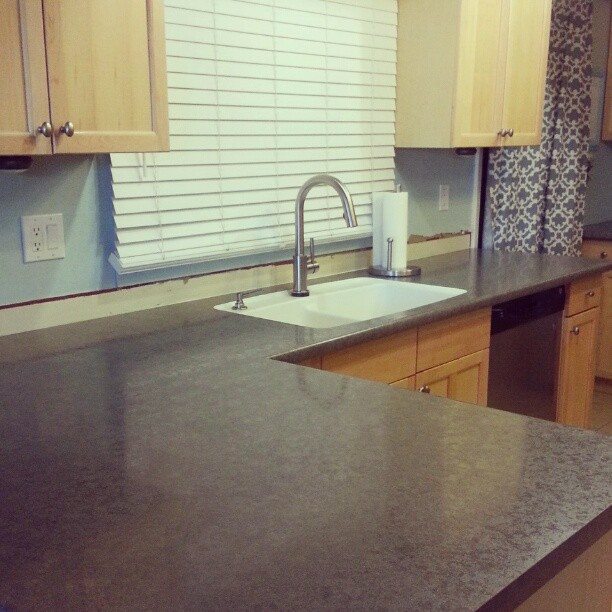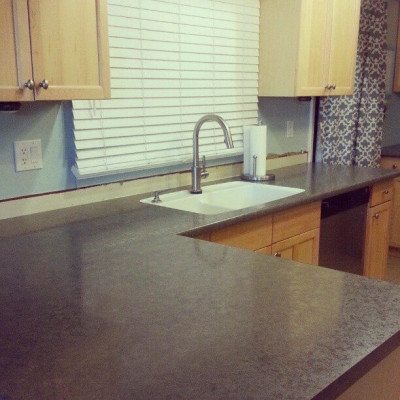 Our Brizo SmartTouch Technology Solna Faucet rocks. While I don't mind getting my hands dirty while baking, I'm a bit of an obsessive hand washer (I'll get my hands dirty, but I want them clean asap) and the hands free technology is incredible. I just tap it with my arm or elbow and voila. Love it.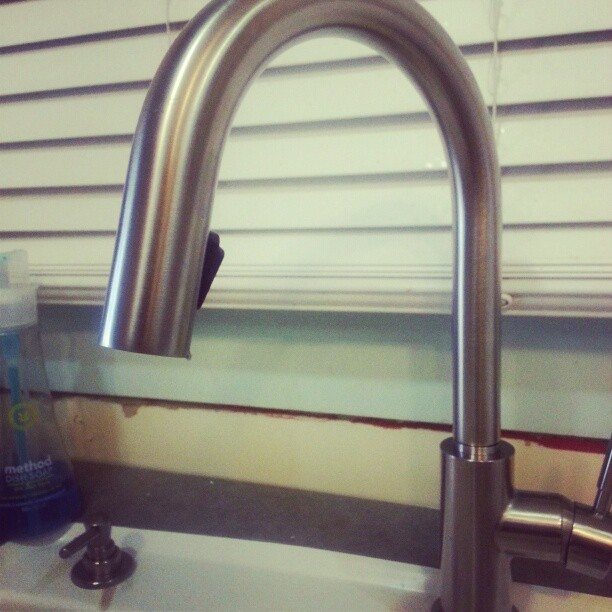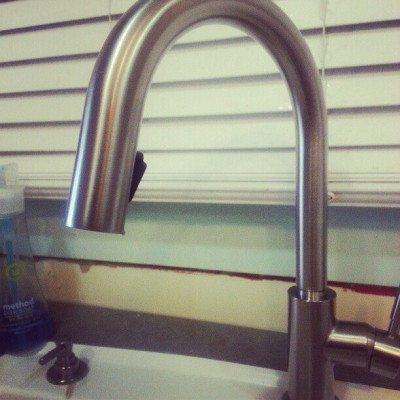 The one downside to closing in our patio is that we are losing a lot of natural light. Our dining room window will become french doors and our kitchen window now looks at what will be a storage closet. Not exactly a prime view (though mama is mighty excited about the idea of STORAGE). So we decided to wall up the window and will eventually put shelves there. I predict some glass jars with sprinkles on those shelves soon.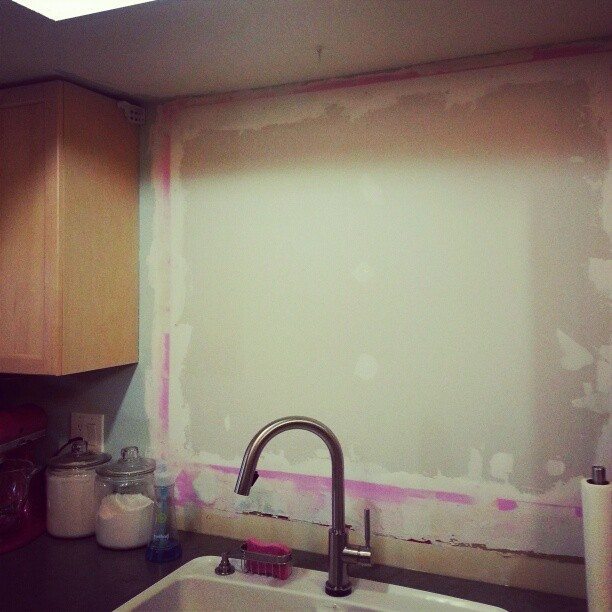 Because we did not have the built in backsplash put in with the countertops, and we drywalled up the window, we decided to tile backsplash. We've not had the best luck with patching and repairing drywall and having it blend in seamlessly with the existing walls, so this gave us a perfect solution – cover that drywall and have a nice and easy to clean backsplash area.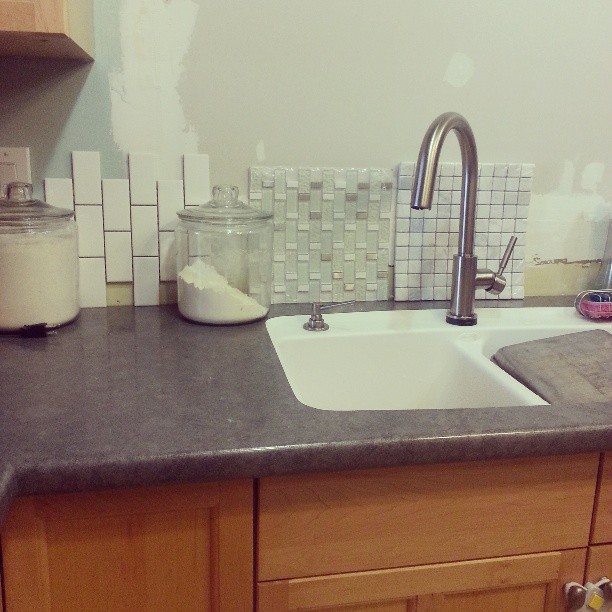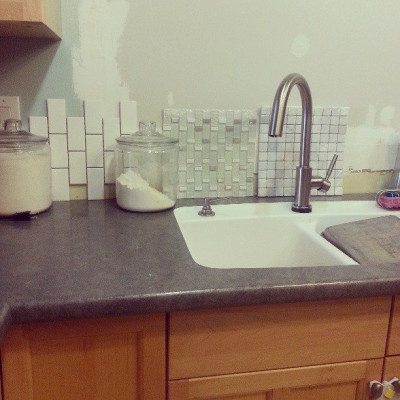 The tile work is something we did have a fabulous local Phoenix handyman do for us. If you are in the Phoenix area and looking for a handyman, Norm with Inside-Out Home Improvement is awesome. He's done a lot of work for friends of ours, and we found him wonderful to work with and his prices are very reasonable. Here's a little sneak peek of the tile…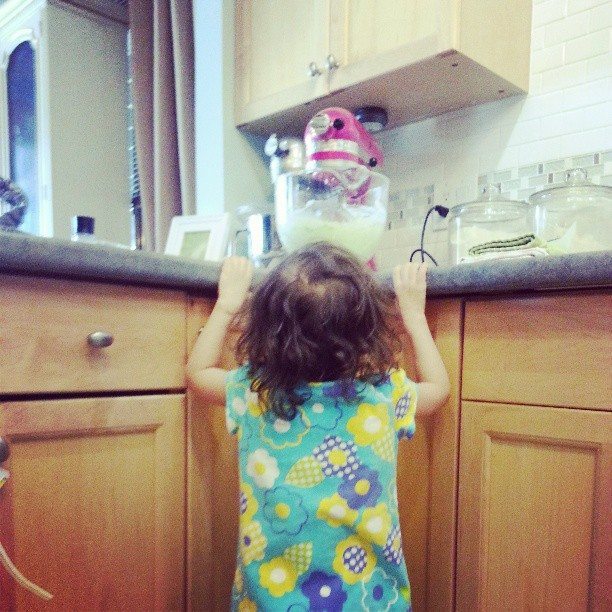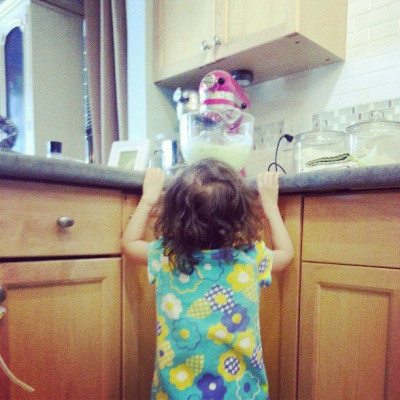 I'm so anxious to get paint up and start accessorizing and adding lots of fun color and whimsy to the kitchen. Because the kitchen is connected to the dining room wall/window that will soon be converted into french doors opening to the new room, I have to wait a little bit longer. The dining room connects to the family room, so changing the paint in one space turns into changing the paint in the entire living area of the house. So once we get the window turned into doors, we can paint.
In the meantime I've been picking up accessories and fun things that will hopefully all come together to create a bright and fun kitchen and dining space. I'm totally in love with Jonathan Adler's Happy Chic style, and am looking to bring that feel to the space. Lots of happy pops of bright color and selecting things that make you happy.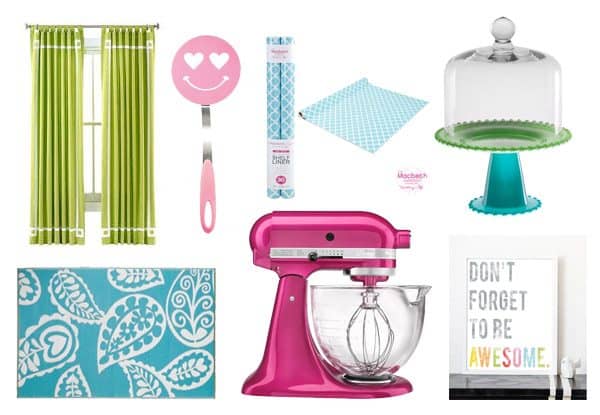 Hopefully within the next two months we will be pulling it all together and I will be able to reveal the end result and give you all of the details. Stay tuned and happy baking!