What is more fun than Legos? How about chocolate Legos. On cupcakes.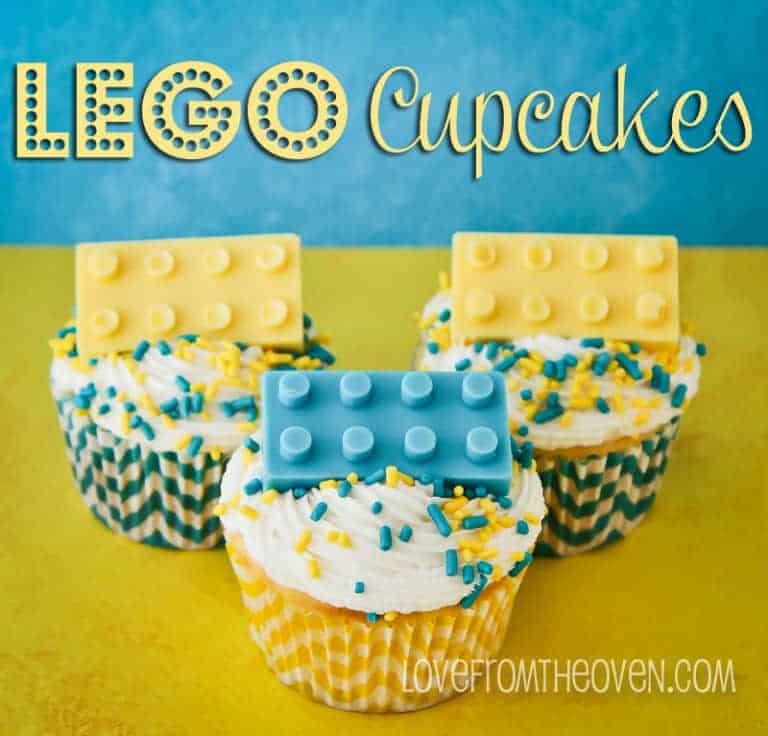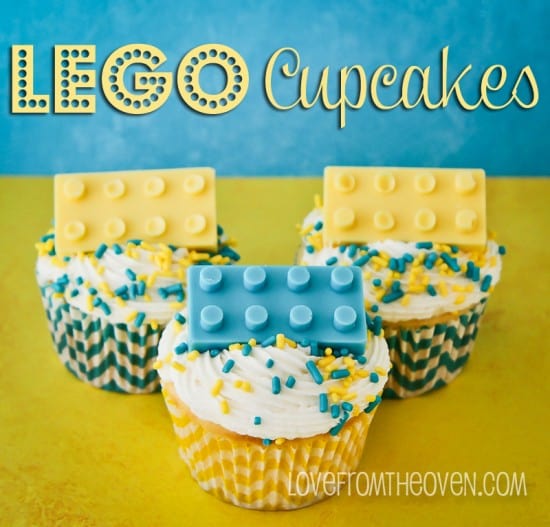 For the past two years my daughter has been a member of her school's FIRST LEGO League Robotics team. It has been a great experience for her that has involved teamwork, math, technology, science and finding solutions to real world challenges. I wanted to share a bit about it, just based on our positive experiences (I'm not associated with it any way other than as a parent). I find most parents I talk to have never heard of FIRST LEGO League, so I'm just trying to help spread the word.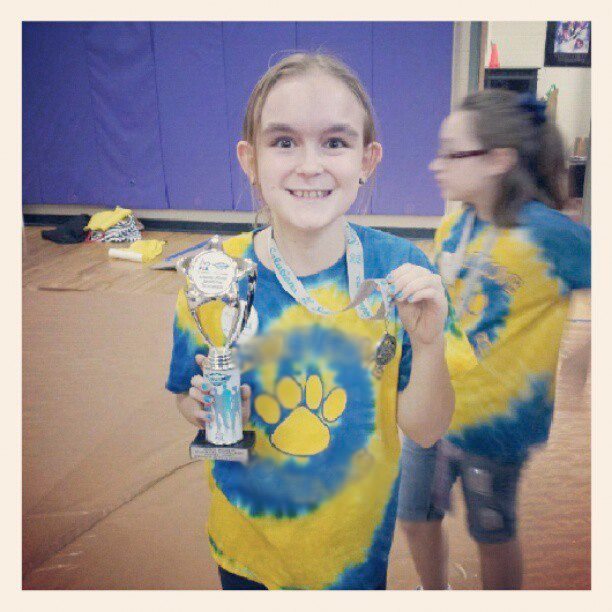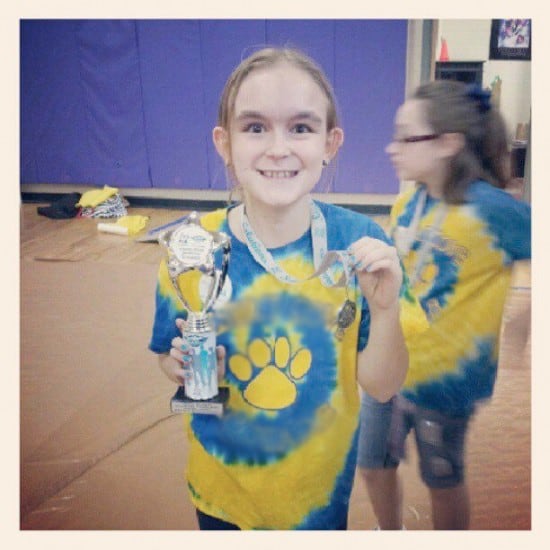 What is FIRST LEGO League? I think their website sums it up better than I could…
"The best way to summarize FIRST LEGO League is to say that it is a robotics program for 9 to 16 year olds (9 to 14 in US/CAN/MEX), which is designed to get children excited about science and technology — and teach them valuable employment and life skills. FLL can be used in a classroom setting but is not solely designed for this purpose. Teams, composed of up to ten children with at least one adult coach, can also be associated with a pre-existing club or organization, homeschooled, or just be a group of friends who wish to do something awesome.

Contrary to popular belief, our coaches DO NOT need any technical experience. In FLL, the children do the work! And the work is programming an autonomous robot (using the LEGO® MINDSTORMS® robot set) to score points on a thematic playing surface, creating an innovative solution to a problem as part of their project, all while being guided by the FLL Core Values. These three elements – the Robot Game, Project, and FLL Core Values – make up what we call our yearly Challenge. Like any other organized "sport", teams also fundraise, create a team identity, and go on field trips. To see some of our teams in action, visit our YouTube Channel, or read about their experiences on our blog".
One of the things I love most about it (aside from girls being involved in math/tech/science!) is their focus on the FLL Core Values…
We are a team.
We do the work to find solutions with guidance from our coaches and mentors.
We know our coaches and mentors don't have all the answers; we learn together.
We honor the spirit of friendly competition.
What we discover is more important than what we win.
We share our experiences with others.
We display Gracious Professionalism® and Coopertition® in everything we do.
We have FUN!
Her team had their regional tournament last weekend. This year's challenge was the "2012 Senior Solutions Challenge". The kids worked together to learn about the issues faced by seniors and came up with ways that they could improve the quality of life for them. They had some grandparents come and visit and share issues that they deal with like loneliness and mobility issues. The kids also did a great deal of research themselves on what programs exist for seniors and what could be changed, improved upon or invented. I love that through the FLL experience, kids realize that they have the power, just like adults, to come up with ideas and solutions to the challenges our world faces.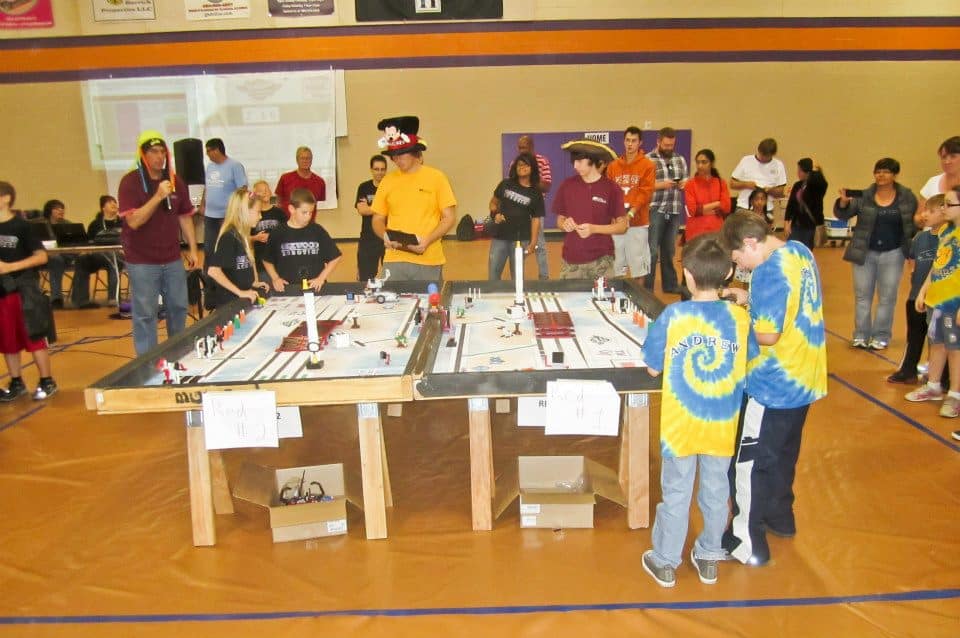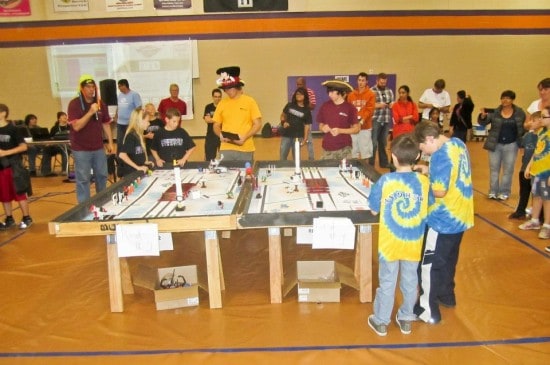 While they weren't in the top three to advance on to the state tournament, they were the youngest of 18 teams that day and won the Judges Award which is given to an exemplary team (whose efforts, performance, or dynamics merit recognition) and their teacher was won the Coach Award, honoring a coach whose wisdom, guidance and devotion are clearly evident. Any award is great, but wow – we were all so happy to see her teacher recognized. I also have to express my gratitude for my friend Sara of Saving For Someday, who was the team mentor.
It has been such a positive experience and I hope she continues on with it for years. I won't lie, this mama would love to see her doing this when she's 17, solving problems, discovering solutions and looking towards collage and a future in math/tech/science (and the over $16 million in college scholarships for FIRST Students). She is fascinated by science and I hope that FLL helps show her the incredible options in the field and how she can play a part and have a positive impact on the world. To learn more, visit their website. They have a Junior FLL for kids ages 6-9, FLL for kids 9-14 and two additional programs for kids ages 14-18. While she was a part of a team at her school, many teams are not affiliated with schools at all, so if it's something your kids might enjoy, I highly recommend looking into it. And it gives you a perfect excuse to make Lego Cupcakes!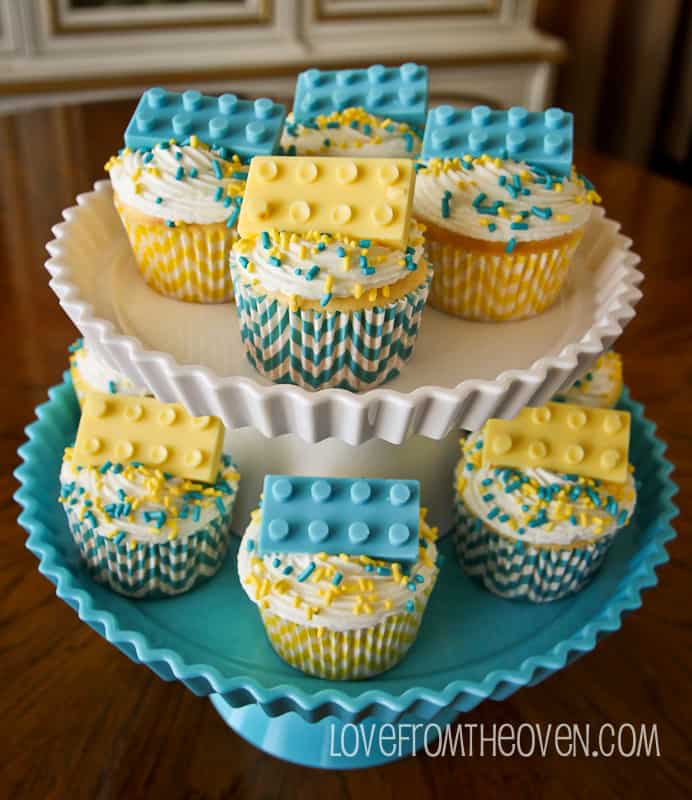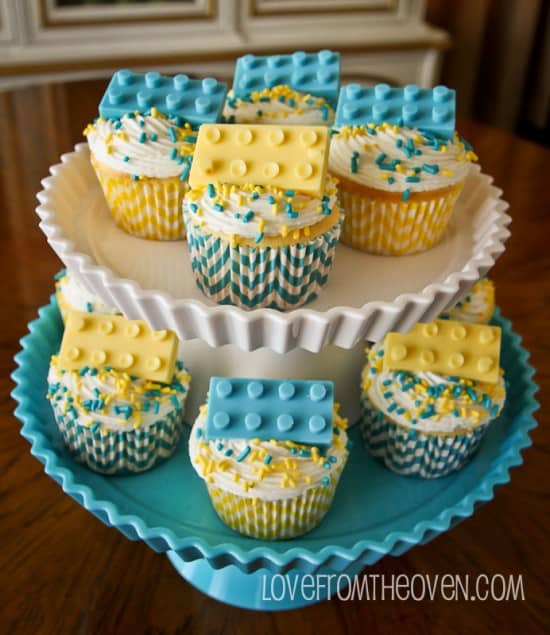 I wanted to send a sweet treat for them to enjoy at the tournament and decided that it needed to be Lego themed. Thanks to a Lego mold, it was super simple. I made chocolate Legos using chocolate coating and the mold, and simple added them to the tops of my cupcakes. I stuck to blue and yellow as those are their school/team colors. Easy and perfect for the occasion.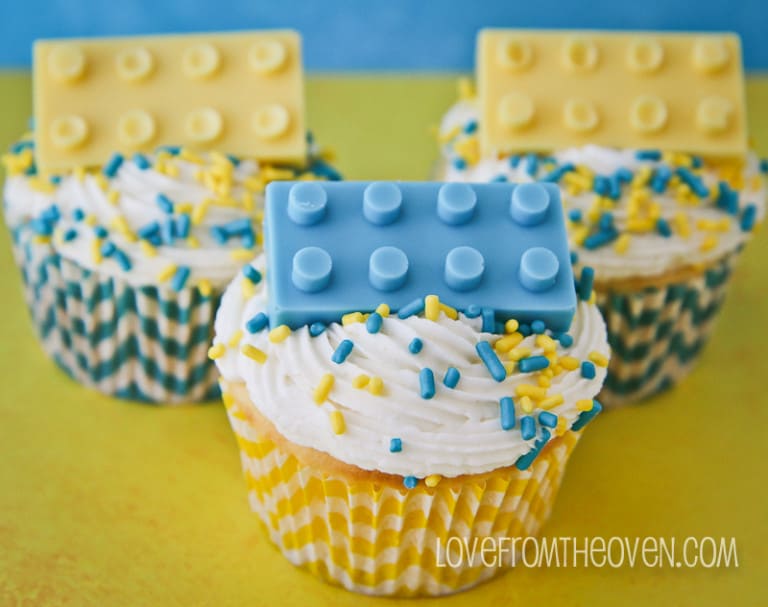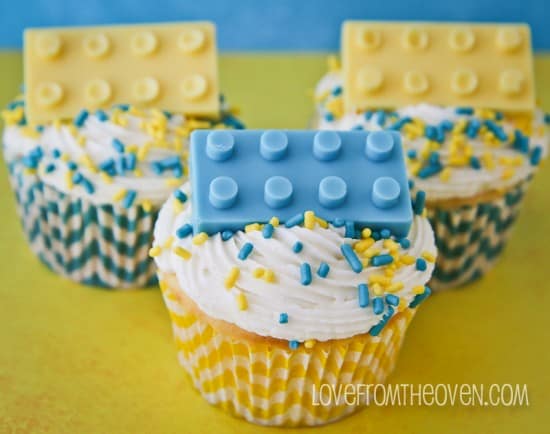 Here is a run down of the items I used…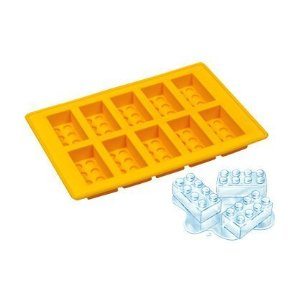 Lego Mold (actually an ice cube mold, but worked perfectly.
Aqua Blue Chevron Greaseproof Cupcake Liners from Sweets & Treats Boutique
Yellow Chevron Cupcake Liners from Sweets & Treats Boutique
Blue & Yellow CK Jimmies Sprinkles
My super sweet cake stands are from Target which I have talked about here.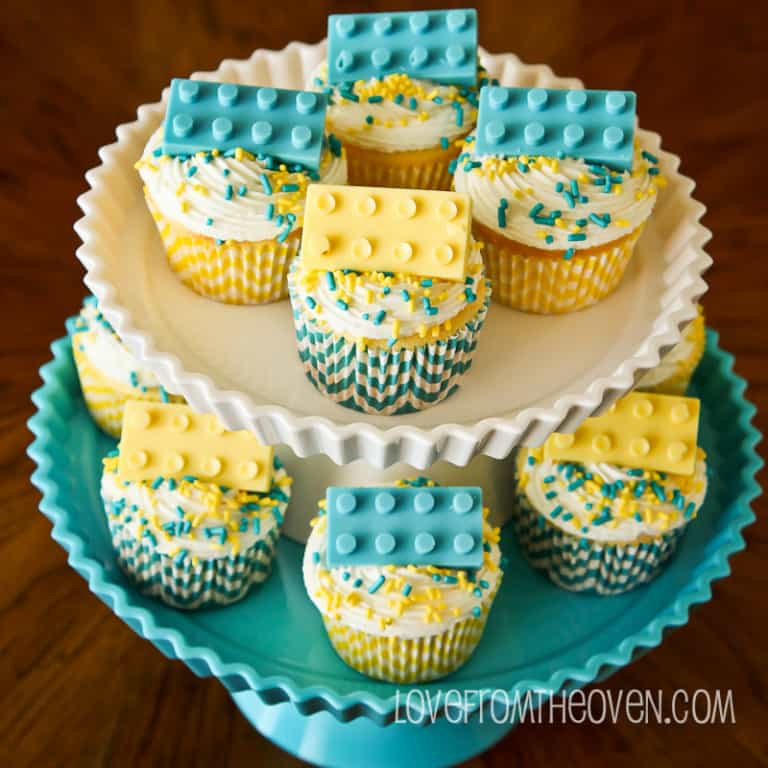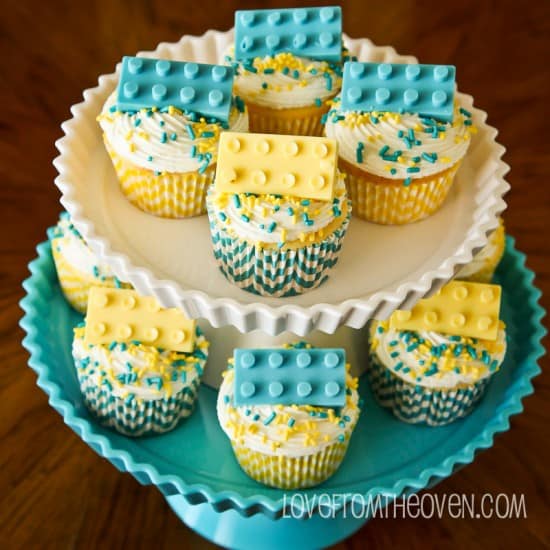 If you know someone who might be interested in FIRST LEGO League, spread the word. It really is an amazing program.