Mac and Cheese Bites are your favorite comfort food in bite sized form. Air fried, creamy balls of mac and cheese are crispy on the outside, and soft and cheesy on the inside. Made with just a few easy ingredients, you won't be able to wait to pop these in your mouth.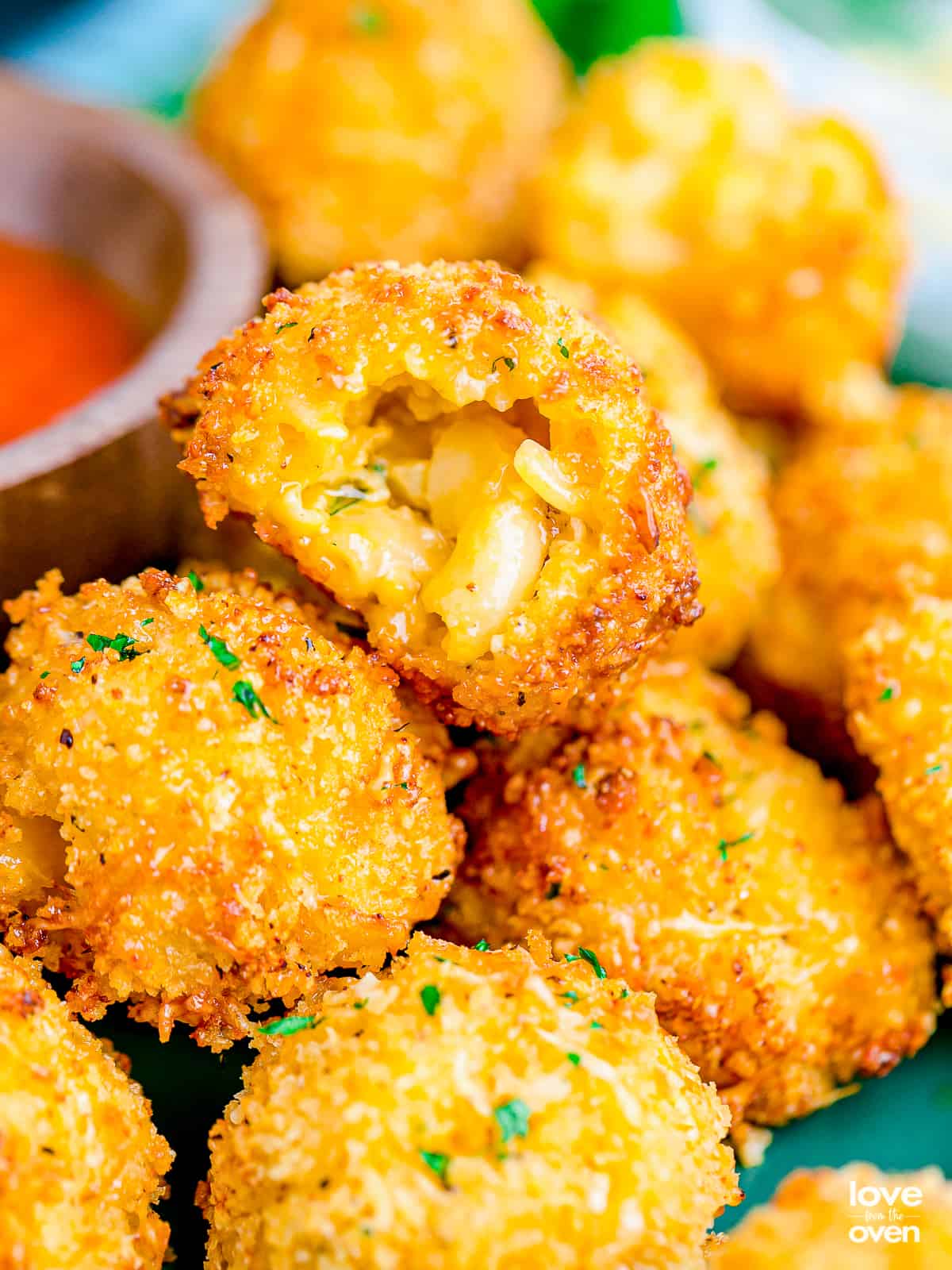 Reasons You'll Love Mac and Cheese Bites
Creamy Goodness – Biting into these heavenly cheese balls should be illegal. That's how good these are. 
Fun Appetizer – Eat this a main meal, or serve it as a show stopping appetizer at your future dinner parties. 
All Things Fried – What's better than regular mac and cheese? That's right, FRIED mac and cheese. 
Kid Approved – These bite sized delights are a perfect for after school snack for the kiddos and keeps them full until dinner. 
Eat Those Leftovers – This recipe is made with leftover mac and cheese, a creative way to clean out your fridge and eat up what you already have.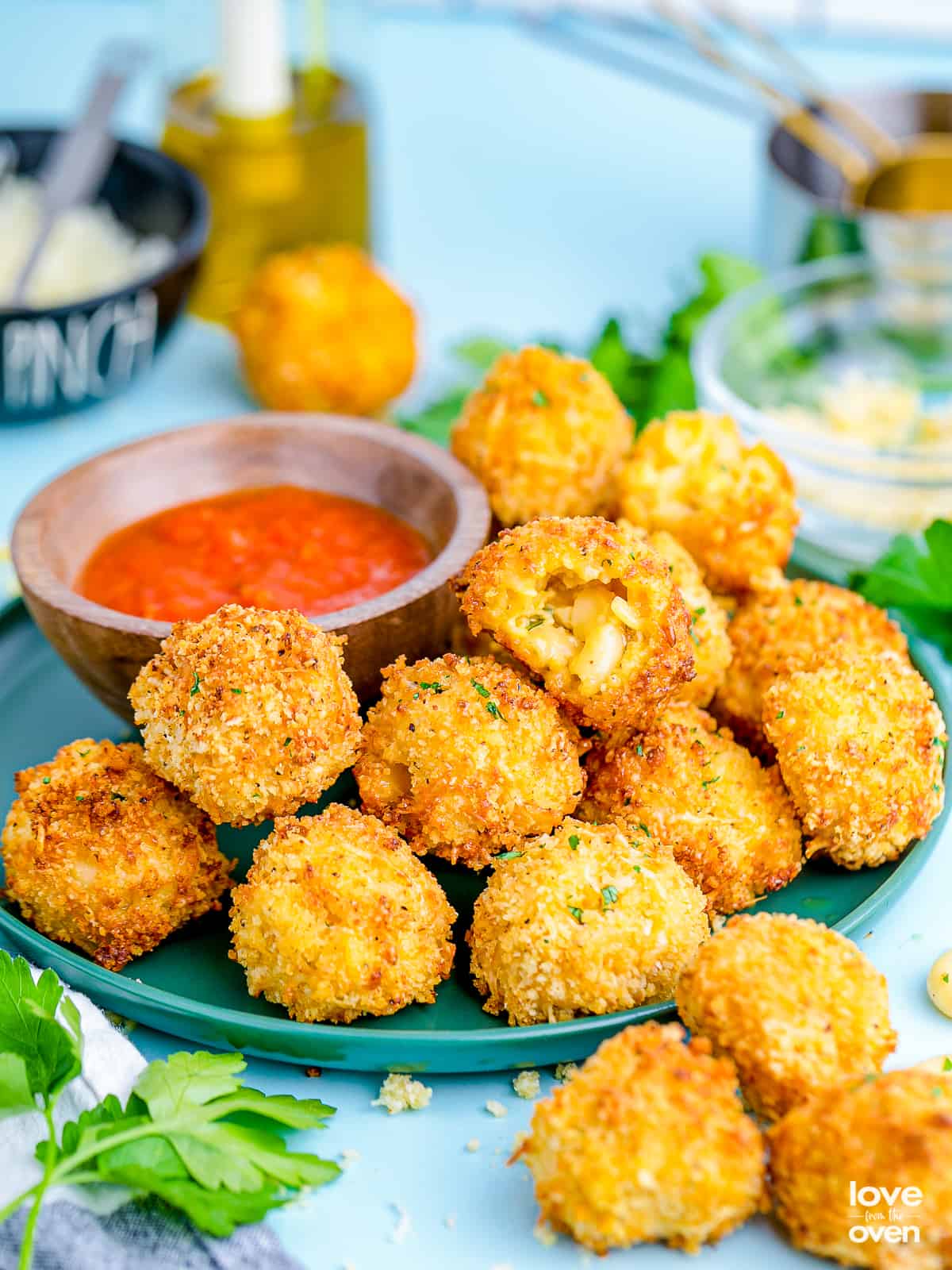 Pasta, cheese, fried goodness, bite sized, easy to make… I mean can this recipe get any better? These are all of the best things about food in one recipe, and thanks to the air fryer, these came together in no time. If you're looking for a way to spice up your regular weekday meals, keep reading!
Ingredients and Substitutions
Recipe Discussion
Let's discuss how to make this recipe, as well as the ingredients that are needed. Please take note that below you will find discussion, expert tips, and answers to frequently asked questions about this recipe to help you recreate it in your kitchen. If you *just* want the recipe itself, scroll down. The full printable recipe itself, with exact measurements and instructions, is found at the bottom of this page.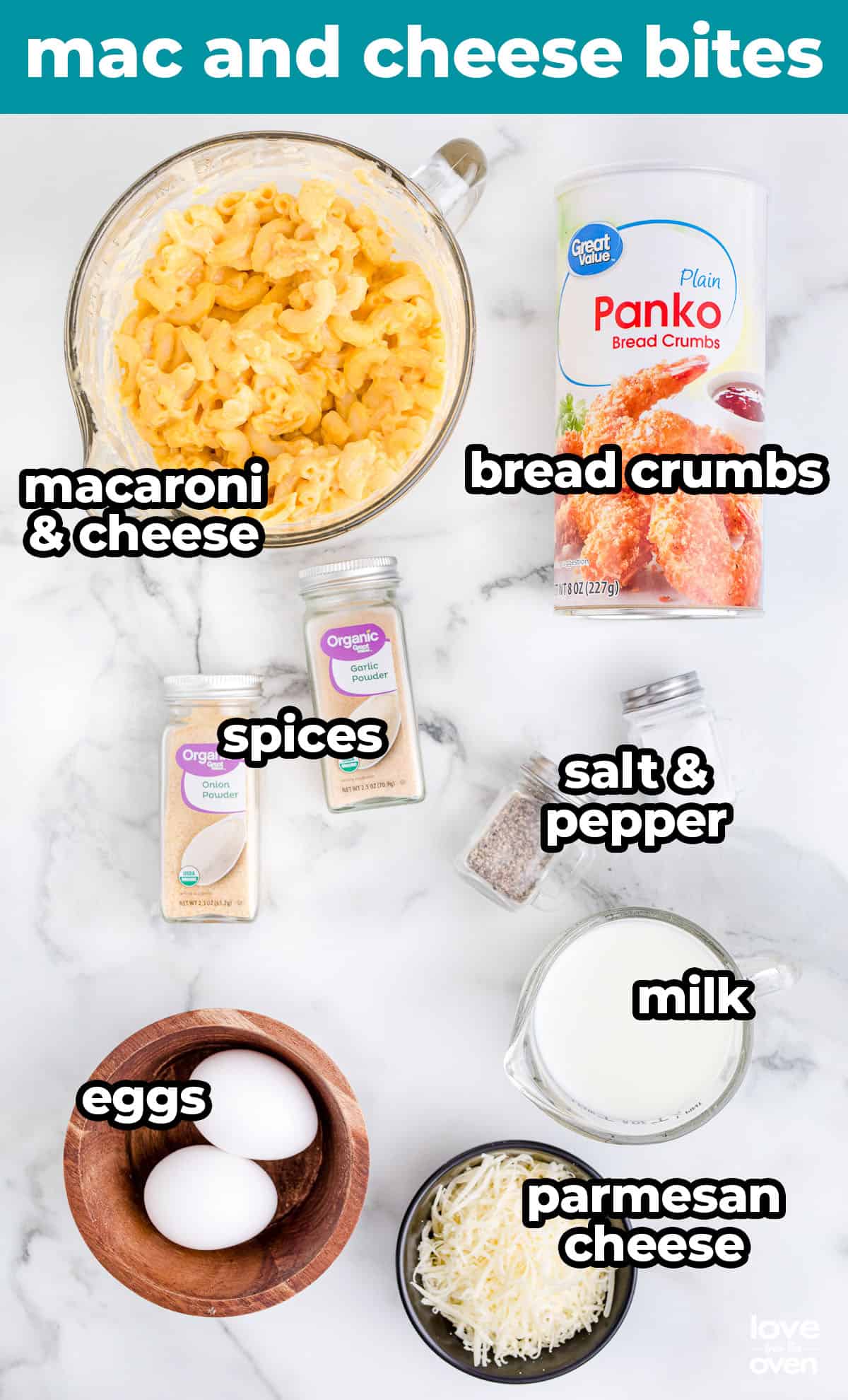 Leftover Mac and Cheese – It is best if you use mac and cheese that has already been cooked, and refrigerated over night. This allows the cheese sauce to harden and makes it easier for you to form the balls. That's why this recipe is perfect for using up those mac and cheese leftovers.
Eggs – The eggs combined with the milk will be the 'glue' that the make the breadcrumbs stick.
Milk – Any kind of milk will work for this recipe, however, I would not recommend using a dairy free option.
Panko Breadcrumbs – If you've never tried panko breadcrumbs, you're in for a real treat. These make any fried food twice as crispy! However, any regular breadcrumbs will work as well.
Parmesan Cheese – Parmesan cheese has less moisture than other cheese which is why it works well in the dry mixture, but you can use any type of shredded cheese you prefer. Another good option is cheddar, swiss, or pepper jack for some spice.
Seasonings – For this recipe you'll want salt, pepper, onion powder and garlic powder.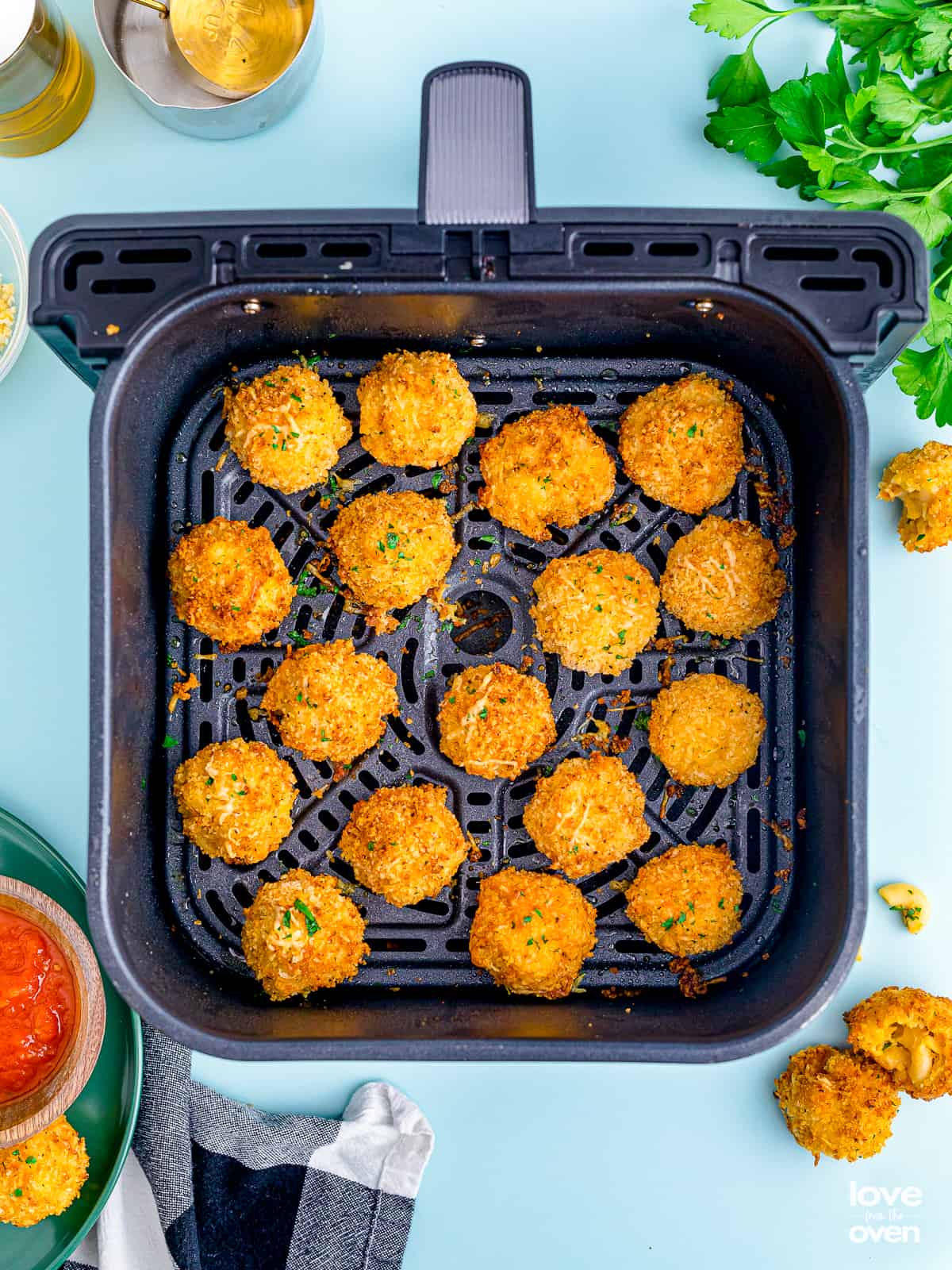 How To Make Mac and Cheese Bites
Start by lining a baking tray with parchment paper. Next, grab your leftover mac and cheese and use a 1/2 inch cookie scoop to scoop out even sized balls of mac and cheese and place them on the tray. When you're done, put the tray of mac and cheese balls in the freezer for 30 minutes.
In a medium sized bowl, whisk together the eggs and milk.
In a separate large bowl, pour in your panko breadcrumbs, parmesan cheese, onion powder, garlic powder, salt and pepper and mix it together until combined.
Once the 30 minutes is up, take the mac and cheese balls out of the freezer and begin the dredging process. First, start by evenly coating the ball in the egg mixture.
Next, place the egg coated mac and cheese bite in the panko breadcrumb mixture and roll it around until it's evenly coated. Repeat steps 4 and 5 until all the mac and cheese balls are coated.
Place the coated mac and cheese bites in the air fryer basket and air fry it at 350° for 10-15 minutes or until the exterior is golden brown. (You may have to cook them in batches) These are best enjoyed straight out of the air fryer when they're nice and hot!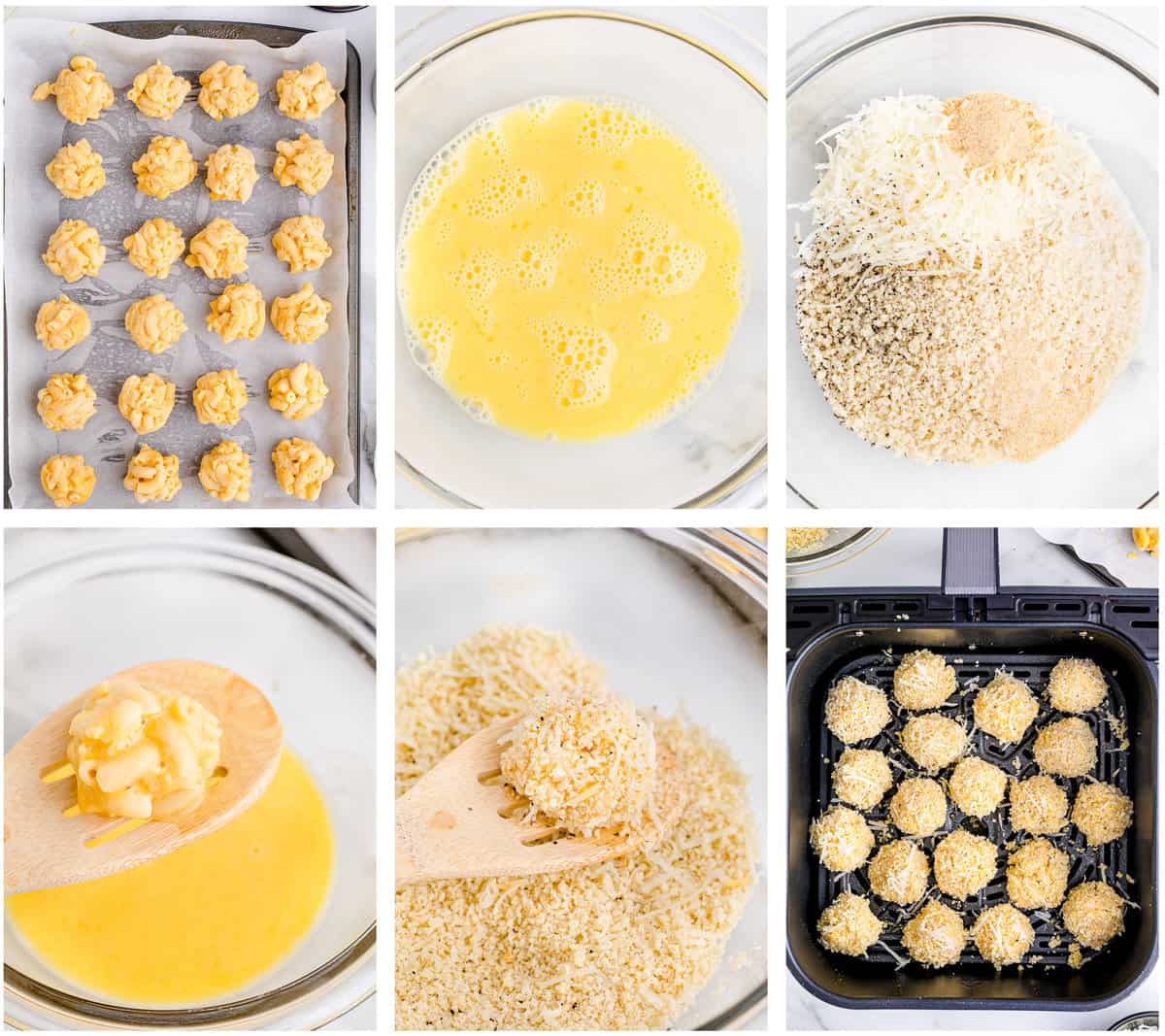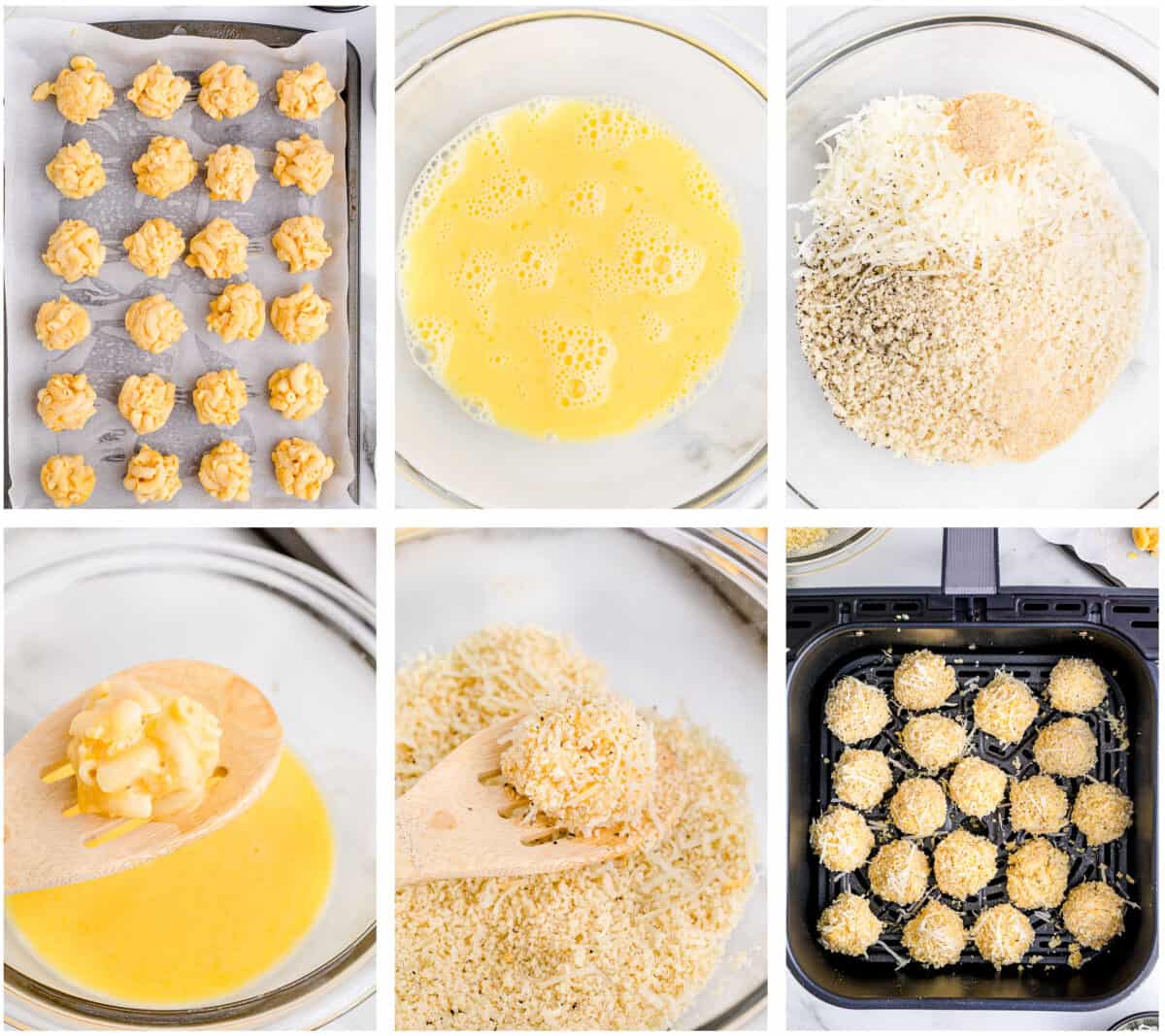 Recipe Tips and Advice
Storage – Store these mac and cheese bites by wrapping them in tin foil and keeping them in the fridge for about 3 days or in the freezer for 3 months.
Materials – For this recipe you'll need an air fryer, mixing bowls, parchment paper, a baking tray, a whisk and a wooden spoon.
To Air Fry or Not to Air Fry – You don't have to have an air fryer to make this recipe! I used an air fryer because the clean-up is much easier and uses less oil. If you want, you can deep fry them in a pot of oil and here's how:
Instead of placing the bites in the air fryer, heat a pot or dutch oven over the stove and pour in 3-4 tablespoons of a neutral oil. Allow the oil to reach 350-360 degrees and check using a food thermometer. Once the oil is hot enough, carefully place a few balls in the oil and let them fry for 3 minutes, or until they're golden brown and float to the top. Do this in a few batches to not overcrowd the pot. Line a plate or tray with paper towels and transfer the mac and cheese bites from the oil to the paper towels. (Also note that the oil might drop a few degrees every time you fry the mac and cheese bites so adjust accordingly.)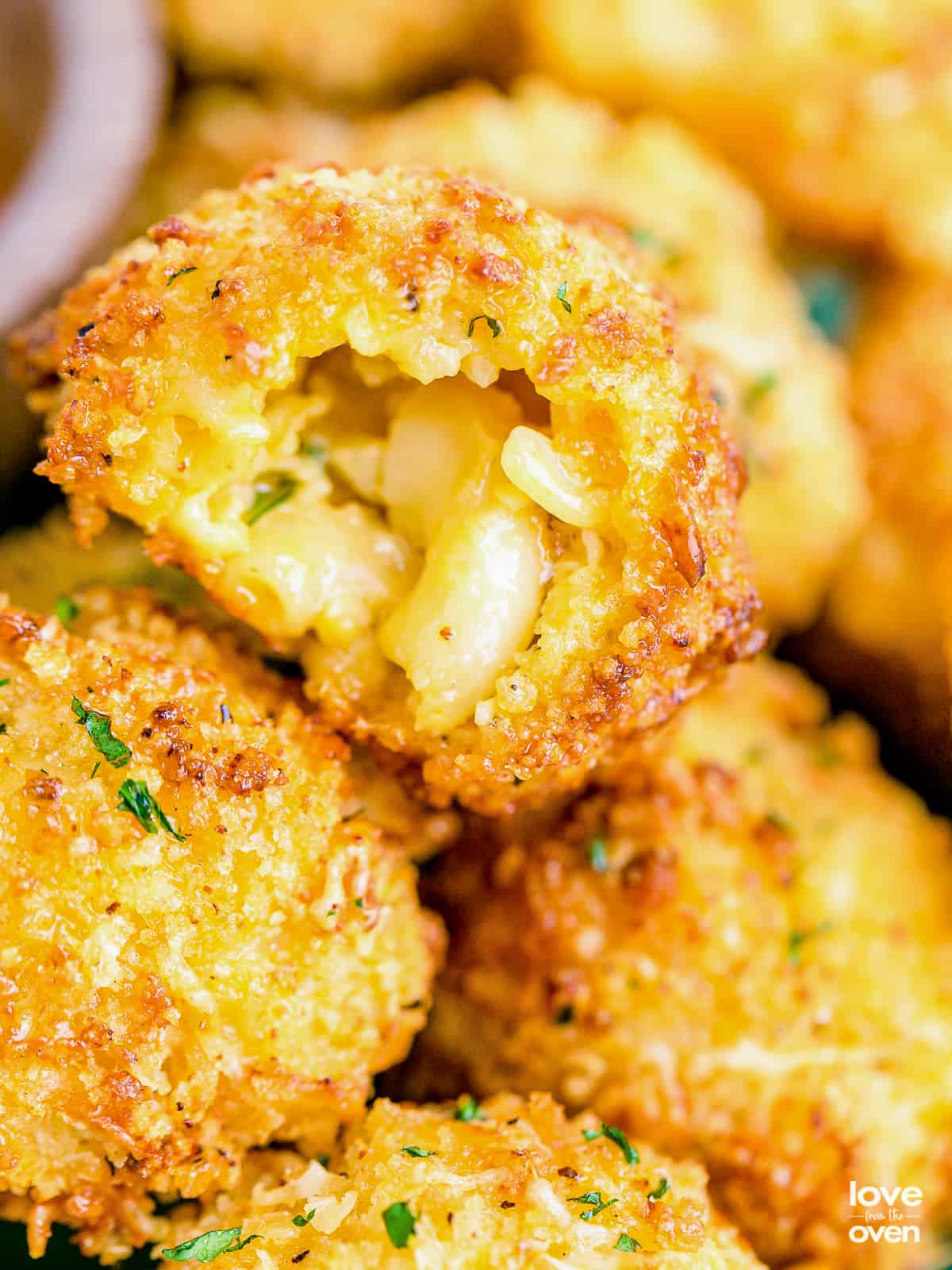 Recipe FAQs
Can I make mac and cheese bites ahead of time?
Yes, however, these taste the best when they are fresh out of the air fryer. I recommend coating them in the egg mixture then the panko mixture and freezing them until you're ready to fry. If you fry them straight from frozen, make sure to add a few extra minutes of cook time.
Why won't my mac and cheese balls stick together?
This could be because you didn't use previously chilled mac and cheese before forming the balls, or you didn't let them freeze 30 minutes before dredging them. If you did both those things, and they still aren't sticking together, then it might be because the mac and cheese recipe you used did not have a cheese sauce that hardened very well when cooled.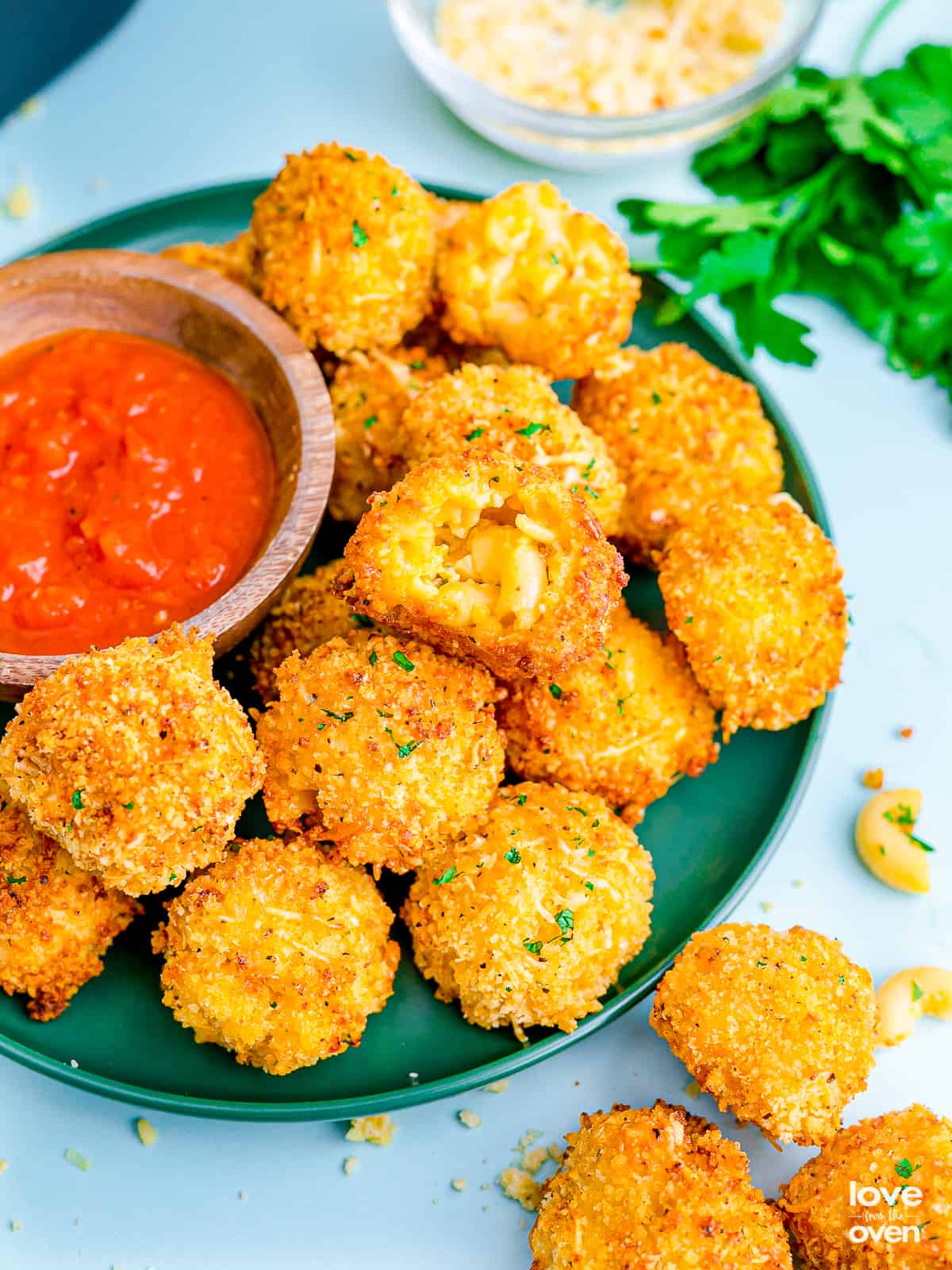 More Recipes To Try
Serve these delightful little bites with your favorite dipping sauce like ranch, ketchup, or marinara sauce.
If you enjoyed this recipe, check out a few more of these fan favorites!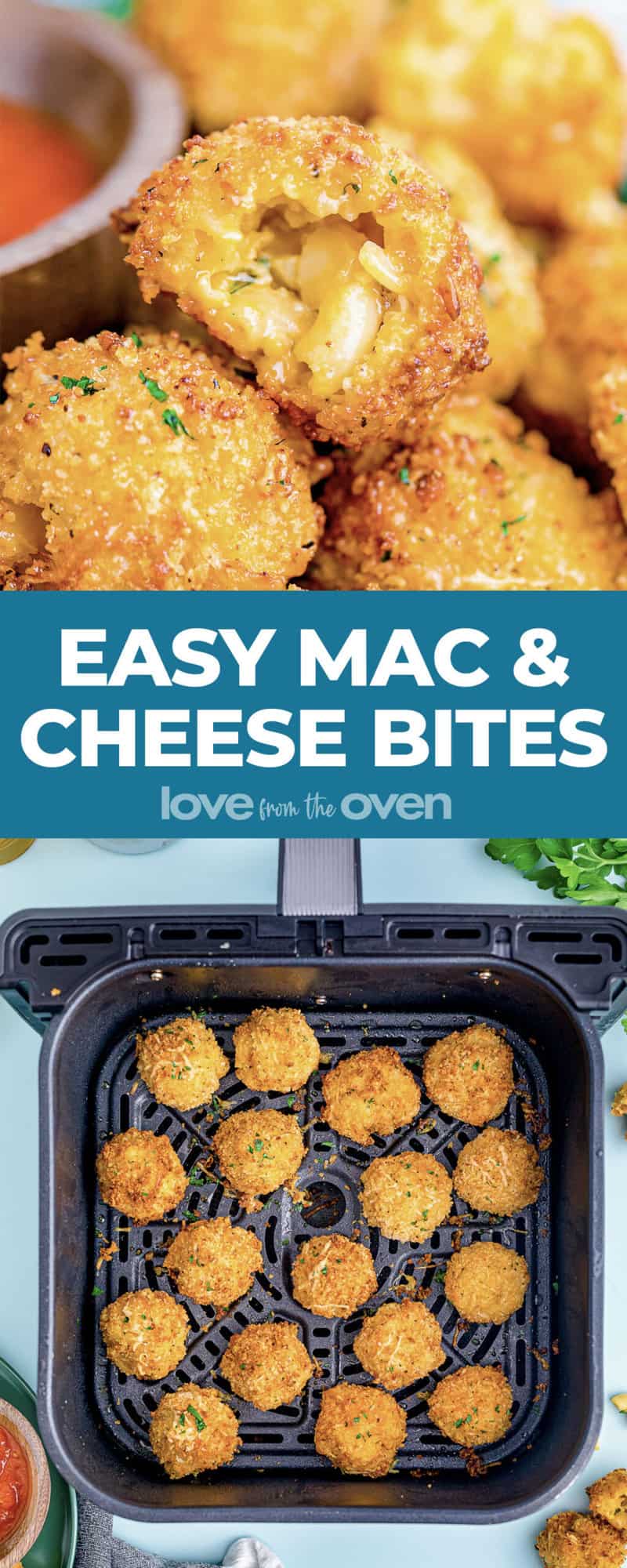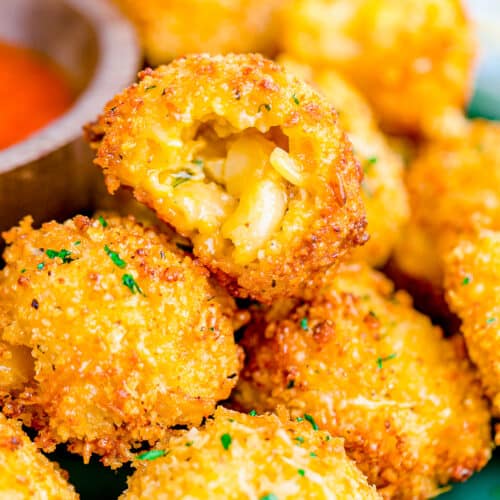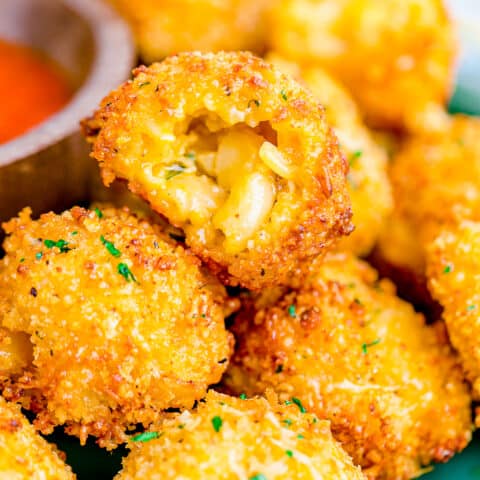 Mac and Cheese Bites
Ingredients
4

cups

macaroni and cheese

refrigerated leftover mac and cheese is perect

2

eggs

2

tablespoons

milk

1

cup

panko bread crumbs

1/2

cup

shredded parmesan cheese

1

teaspoon

salt

1/2

teaspoon

pepper

1/2

teaspoon

garlic powder

1/2

teaspoon

onion powder
Instructions
Using a ½ inch cookie scoop, scoop out individual portions from the 4 cups of chilled mac and cheese. Roll each one into a ball. Place these bites on a tray lined with parchment paper or a silicone mat and set these into the freezer for 30 minutes.

Whisk the 2 eggs and 2 Tablespoons of milk together in a bowl. Set this aside.

In a separate bowl, stir together 1 cup panko, ½ cup shredded parmesan cheese, 1 teaspoon salt, ½ teaspoon pepper, ½ teaspoon onion powder, and ½ teaspoon garlic powder.

Next create a dredging station. Place the panko crumb mixture next to the air fryer. Place the egg mixture next to the crumb mixture.  Once the bites are frozen, place the tray of mac and cheese bites next to the egg mixture.

Take each ball-like mound of macaroni, dip it in the egg mixture, then roll it in the panko mixture, then place it into the air fryer, no crowding. Depending on the size of your air fryer, you may have to do these in batches. In that case the remaining mac and cheese bites could just sit on the parchment paper lined tray until you can cook them.

Bake at 350 for 10-15 minutes or until golden.
Notes
Please read above post for tips, advice, substitutions and alternate cooking options. 
Leftovers should be wrapped well and stored in the fridge for up to 3 days, or in the freezer for up to 3 months.
Nutrition
Calories:
469
kcal
|
Carbohydrates:
61
g
|
Protein:
20
g
|
Fat:
16
g
|
Saturated Fat:
2
g
|
Polyunsaturated Fat:
0.4
g
|
Monounsaturated Fat:
1
g
|
Trans Fat:
0.004
g
|
Cholesterol:
46
mg
|
Sodium:
1369
mg
|
Potassium:
279
mg
|
Fiber:
0.4
g
|
Sugar:
1
g
|
Vitamin A:
115
IU
|
Vitamin C:
0.03
mg
|
Calcium:
271
mg
|
Iron:
3
mg
Disclaimer
Nutrition information is estimated as a courtesy. If using for medical purposes, please verify information using your own nutritional calculator. Percent Daily Values are based on a 2000 calorie diet.