When I think of the holidays, one of the very first things that comes to mind is… the food. The dishes and the recipes that often go unmade all year long, only to be brought out as something extra special for the holiday.
In my family, the recipes are usually quite simple, and I often wonder why I don't make them at other times during the year. One of those recipes is my household is my Peanut Butter Cup Chocolate Chip Cookies. This is quite possibly my husband's favorite cookie of all time, combining two of his favorite things – peanut butter and chocolate, and it's arrival in our home is anxiously awaited each holiday season. It's not quite Christmas at our house without a batch of these cookies.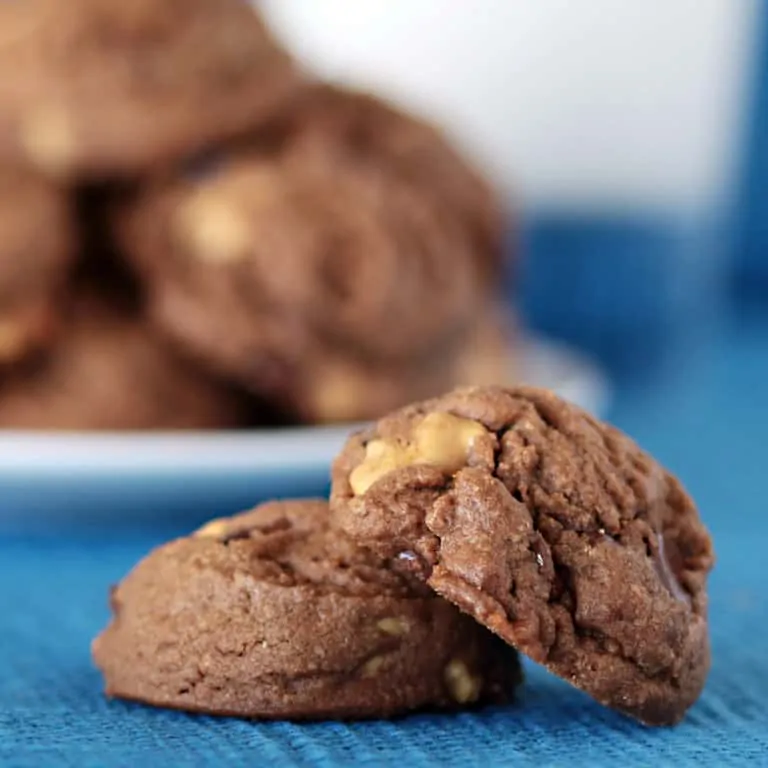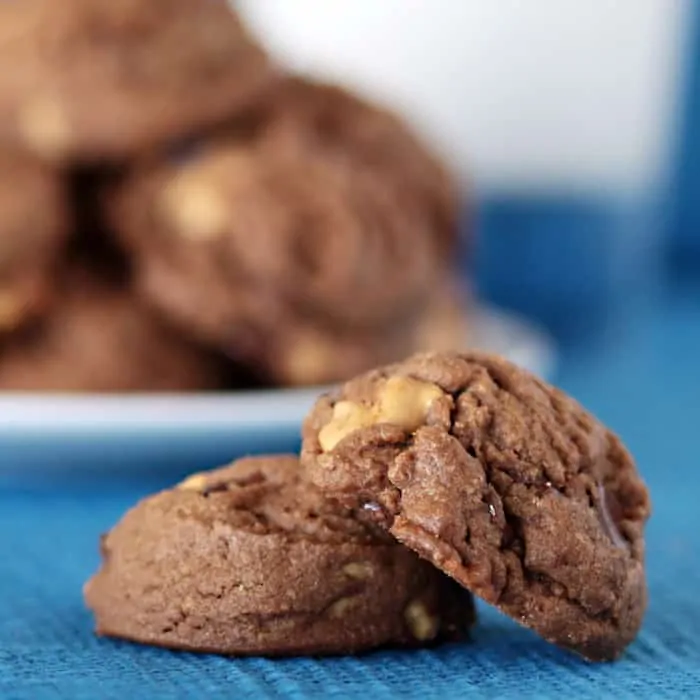 I haven't always been a natural baker, and this cookie shows my progression in the kitchen. The first Christmas I spent with my husband, I excitedly made him peanut butter Buckeye Balls, just like my Grandmother always made. The problem was I read the recipe wrong, and included an entire block of parrafin wax in the chocolate coating, and essentially created peanut butter and chocolate Christmas candles (which he kindly tried to eat!). We always look back and get a good laugh over the chocolate candles, and my husband is thankful that my baking skills have improved! Let me share my recipe with you…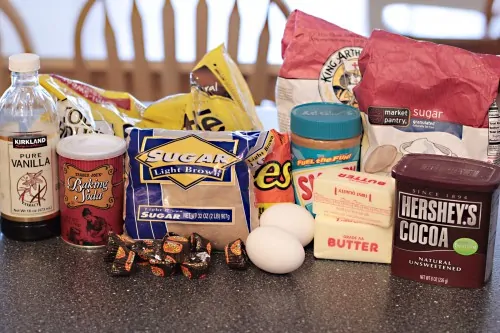 Peanut Butter Cup Chocolate Chocolate Chip Cookies
2 1/3 cups all-purpose flour 3/4 cup smooth peanut butter
1 teaspoon baking soda 2 eggs
1/3 cup baking cocoa 1 cup semisweet chocolate chips
1 cup butter, softened 1 cup peanut butter chips
3/4 cup white sugar 10 regular-sized peanut butter cups, cut in pieces
3/4 cup packed brown sugar
1 teaspoon vanilla extract
Preheat oven to 350*F (175*C).
In medium bowl combine flour, cocoa and baking soda; set aside. In a large bowl, cream butter and sugars together with an electric mixer until fluffy. Add vanilla, peanut butter and eggs; mixing well. Stir in flour mixture until just mixed. Fold in chips and peanut butter cups. Drop by tablespoonful on to ungreased baking sheets. Bake for 8 to 10 minutes. Let cool for 2 minutes on baking sheet before transferring to wire rack to cool completely.
Makes 3 dozen.
It's really a simple and straightforward recipe, but I do have two tips. To measure peanut butter, I usually always spray my measuring cup with cooking spray before putting the peanut butter into the cup, which makes the peanut butter come out easily, and is easier to clean up.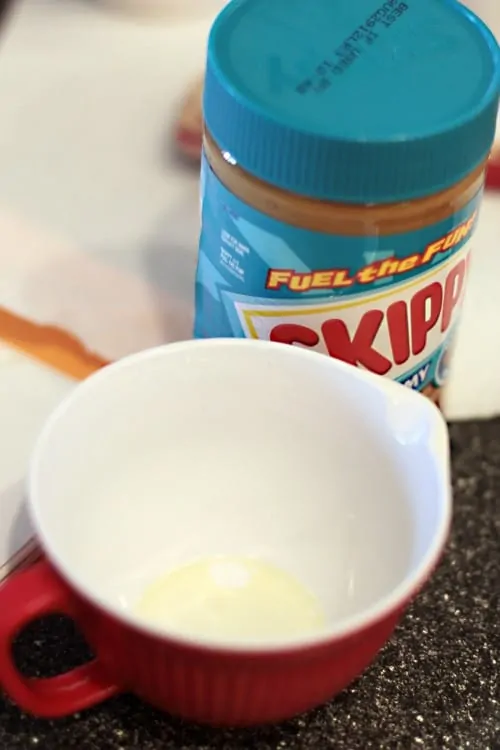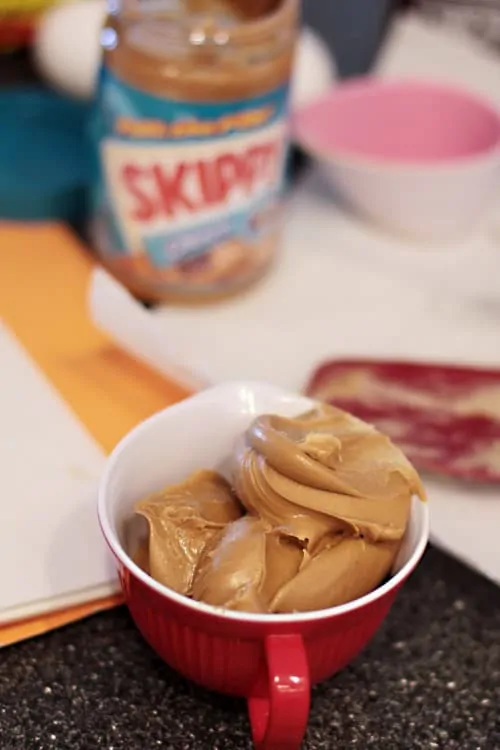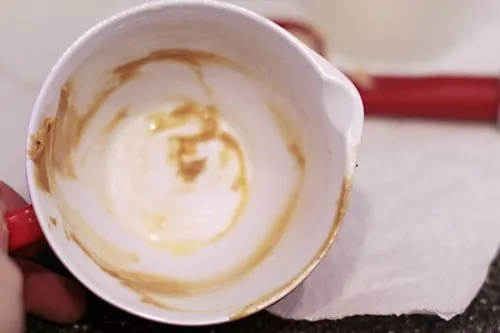 I have also found that it's easiest to chop up the peanut butter cups if you put them in the freezer for a few minutes before using. You can also buy the mini peanut butter cups and add them whole. I love using the dark chocolate peanut butter cups, as it adds yet one more flavor to the mix.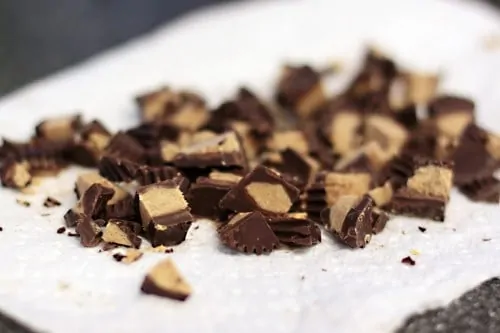 Chocolate chips. Peanut Butter Chips. Peanut Butter Cups. What's not to love?
Ready to go into the oven – I usually bake mine right around nine minutes.
That's all there is to it. They partner quite nicely with a cool glass of milk.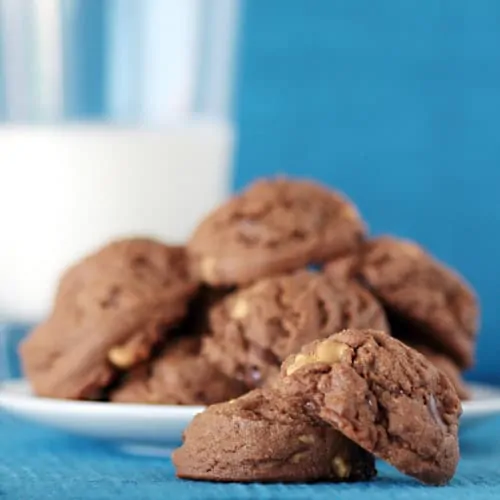 Bake some up for your family this holiday season. They are also a big hit at holiday cookie swaps!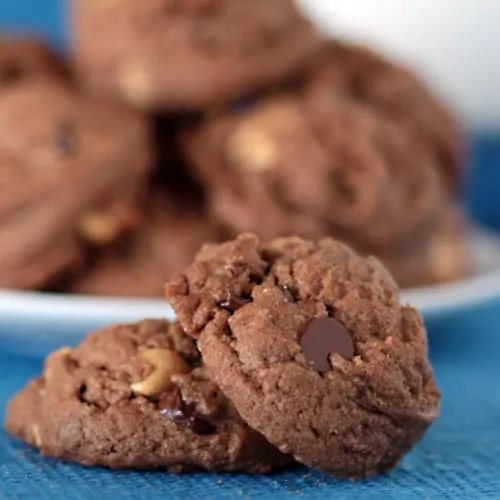 I've shared one of my family's favorite recipes with you, and Macy's would like you to share yours with them. They are inviting fans to submit their favorite holiday recipes at their Facebook page (http://facebook.com/macys) for a chance to win a dinner with a renowned Macy's Culinary Council chef, including Emeril Lagasse, Wolfgang Puck, Cat Cora or Todd English!
If you enter, I have a great giveaway you can enter as well! Macy's has been kind enough to offer a choice of one of three Martha Stewart Professional Cookware items to one of my readers…
A Ceramic Covered Casserole Dish
Hard Anodized Fry Pans (set of 3)
Or A Stainless Steel 15″ Roaster With Roasting Rack
Simply leave a comment here, letting me know that you entered your recipe in Macy's Cook. Share. Celebrate. Recipe Contest. The recipe contest closes on November 30th, and I will draw a winner from my readers who have entered, on December 1st, for one of the three Martha Stewart Professional Cookware items. Good luck!