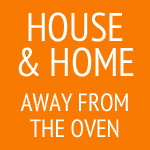 So I have this issue when it comes to projects, crafts, anything really. I want to do it perfect. I want to find just the right pieces and parts, and have it be super duper spectacular. The problem is that in wanting it to be perfect, I spend all my time looking for the right items, figuring out how to make it fabulous and never actually DO it. Sort of project/DIY analysis paralysis. Well that is one of the things I'm wanting to change in 2013, so out with the "perfect project" and in with "good enough!". If good enough actually gets done, than it's far more perfect than the never completed Mona Lisa of craft/DIY/home improvement-land.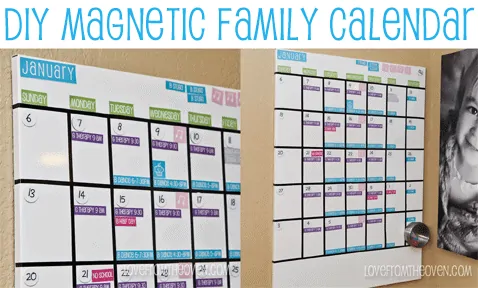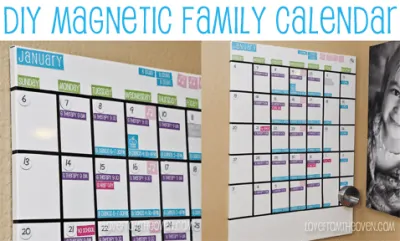 The calendar. No matter how hard I try with my computer, phone, iPad and/or Google calendar, I still need a written calendar. A big one. Right where I will see it multiple times a day. For the past year or so we have had a giant Ikea magnetic whiteboard at the end of our hallway that I write our calendar on each month. It's great in that we all see it, we can all add to it and it's a big, visual reminder of what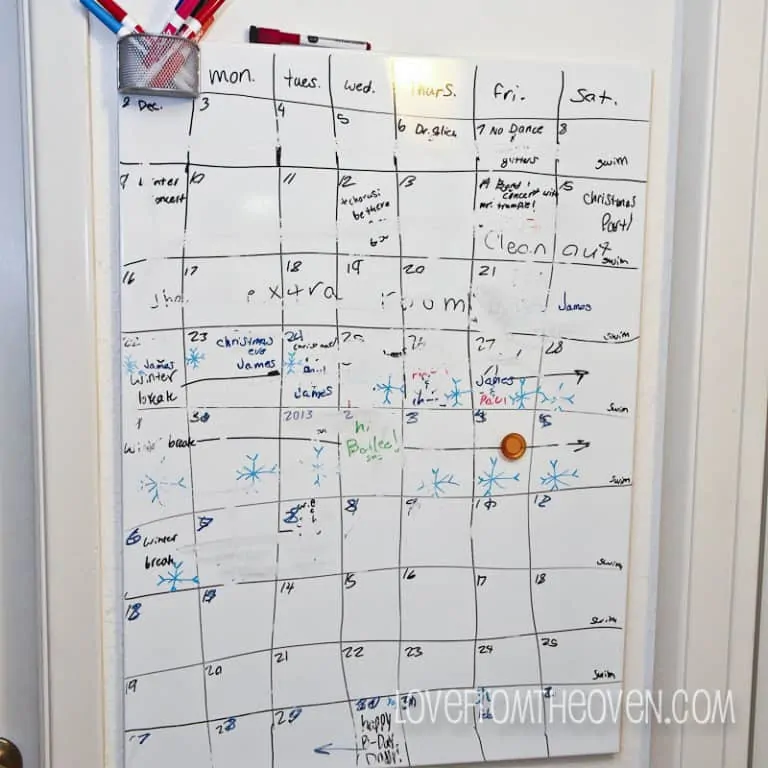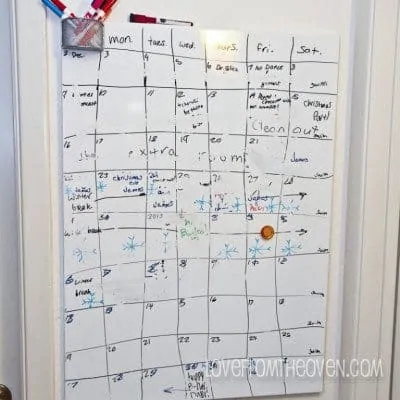 is going on. The downside is that I get a little tired of writing all of our appointments over every month. One kiddo has 20+ therapy appointments per month and the other has 20+ dance nights per month, plus all of the school activities, swim, birthday parties… you get the drift. My hand cramps up long before I get the month written out. And then there is the fact that the calendar gets smeared, stuff accidentally gets erased, and it kinda becomes either a mess or I just give up and my daughter fills in what she thinks is important enough to be calendar worthy. To the right you see just that, and it's a mess.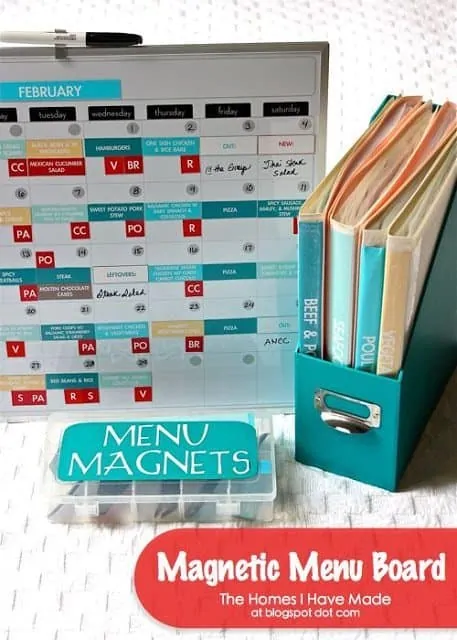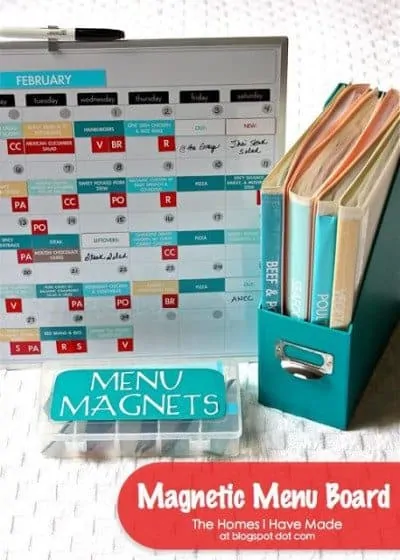 I've seen some awesome magnetic calendar ideas on the web, especially this amazing menu planner one over at The Homes I Have Made. As usual I think of a million ways to make one like it (hers is SO perfect!) and because I can't quite pull it all together, can't seem to find everything in one trip to the store, and with a toddler, one trip is about all a project is going to get. So I make nothing and pin ten more versions of it. With school starting back up on Monday, enough of that thinking. Good enough will be good enough, so let's make a calendar.
I started with making my magnet labels. I personalized them for our family, and color coded the kids with their favorite colors. Since I went through the work of making them for myself, I figured I would share a generic copy for anyone else who might want to make these. I did three different colors, Bright Pastel, Primary and Shades of Gray, and they can all be downloaded for free on the printables page. You could also make these yourself using Word, Photoshop or any other editing program.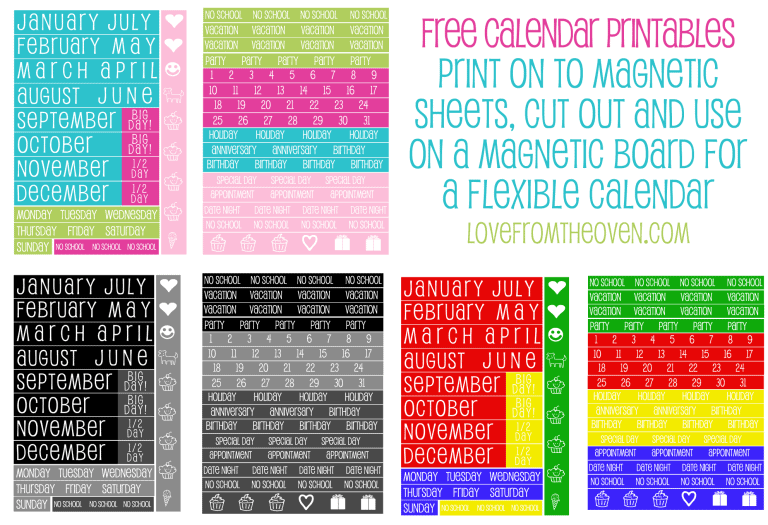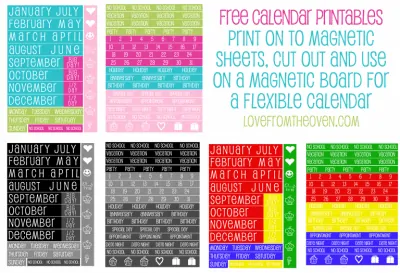 The next step was to track down some magnetic sheets that you can run through the printer. We found them locally (can't recall if it was Office Max or Staples) but they would have been a good 40% cheaper (and free shipping with Amazon Prime) on Amazon. You print your calendar printables on these. While these are magnetic and work perfectly for this, they aren't going to hold anything else up under them – they have enough pull to hold themselves up, but I don't think they'd hold up another sheet of paper – just an FYI on that.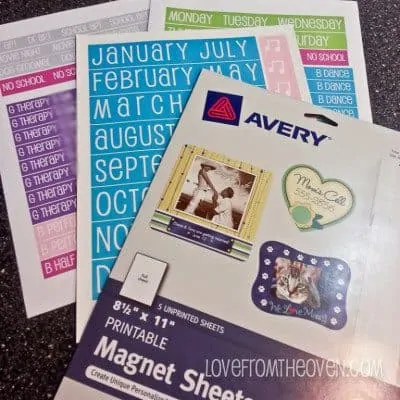 After you print them, you are going to have to cut them. This takes a while, but you do it one time. Compared to re-writing the same things over and over and over and, well, you get the picture.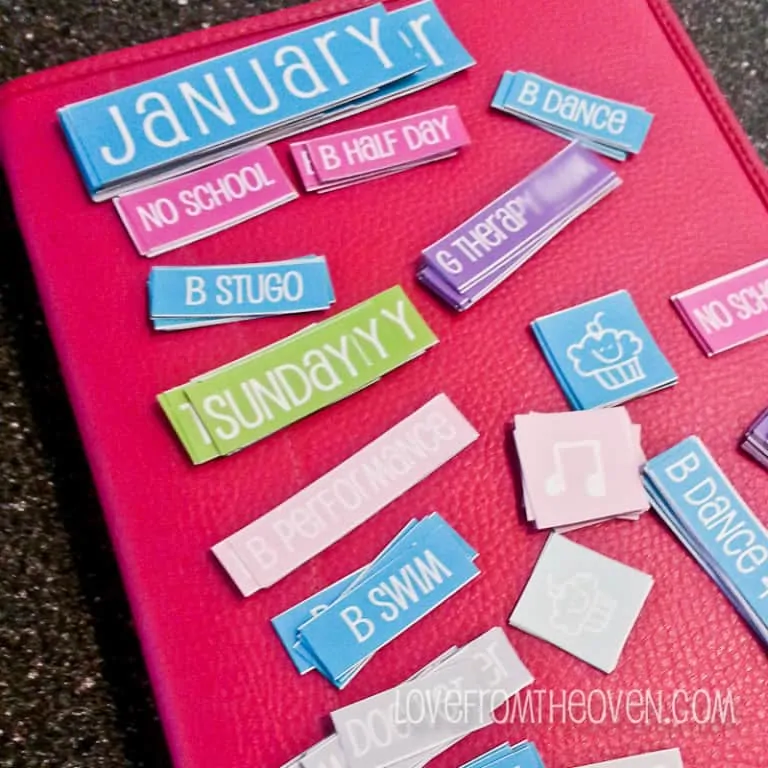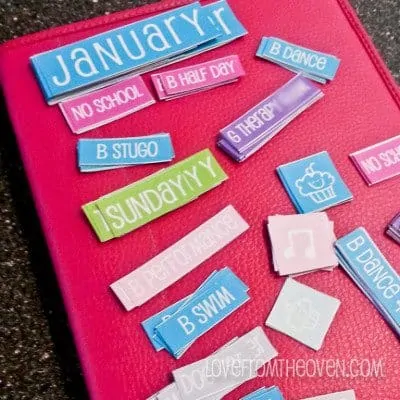 I debated what to do with the numbers for the calendar and decided that I really wanted them as magnets as well. I could have printed them onto the magnet sheets, but I found the perfect size round magnets and decided to go with those instead.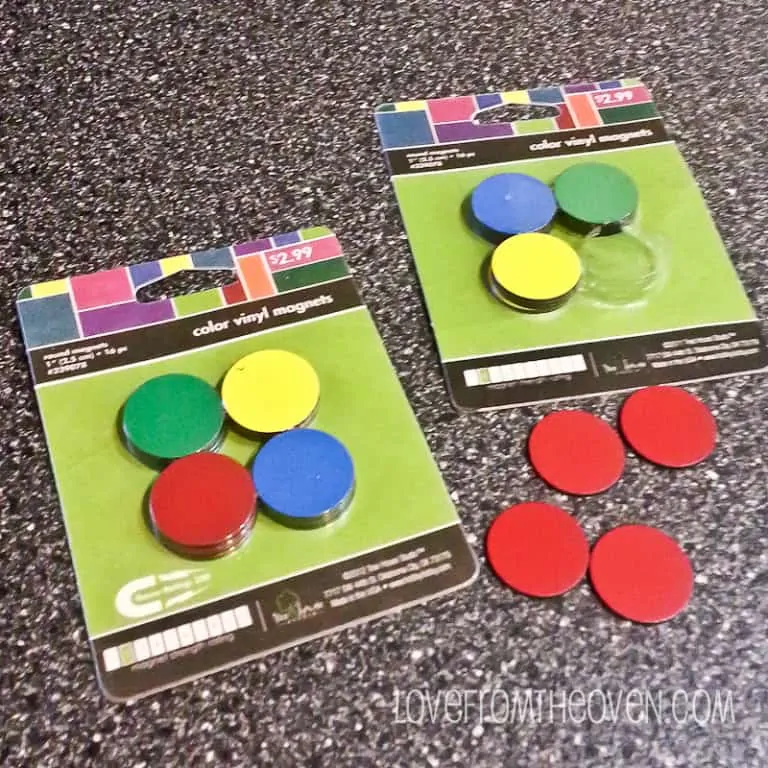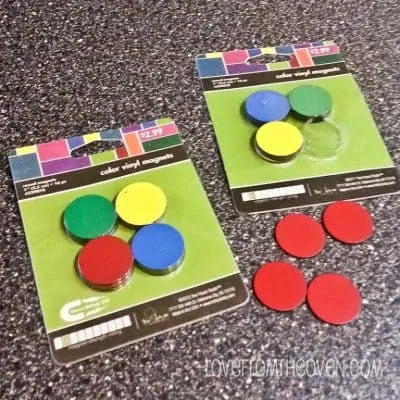 The primary colors didn't go with what I had in mind, so I spray painted them. This is another one of those things that normally I would over analyze and then never do. So I stuck them on some paper towels, went out front, and hit them with some glossy white Krylon spray paint. Done. My husband asked if I primed. If I had them in the garage where it was warmer. If I degreased them or something like that. No, no, no, but I actually DID THEM. Hello, they are done! And they seem just fine to me. Not like I was spray painting the kitchen cabinets here.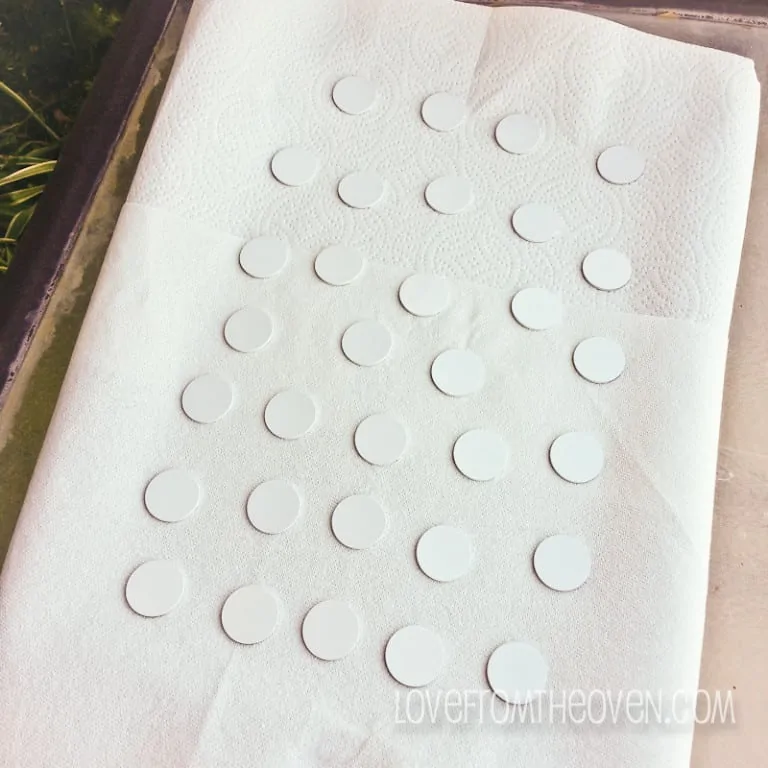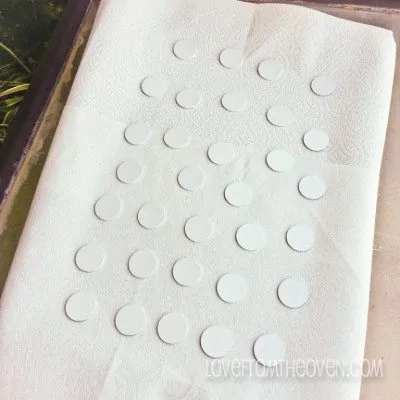 You could just write the dates on them, but I found these stickers at Hobby Lobby, half off, so they were like 75 cents. Works for me.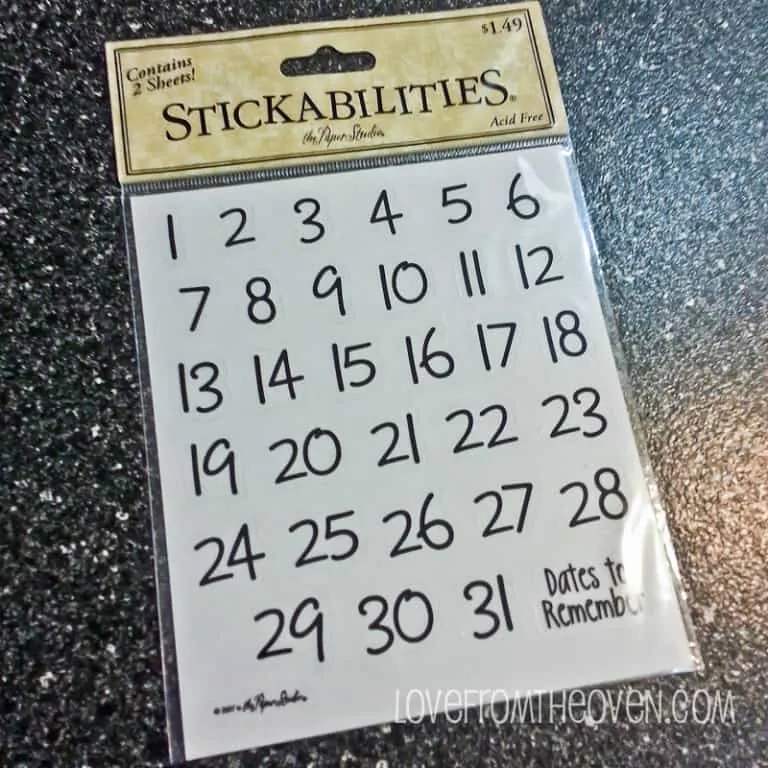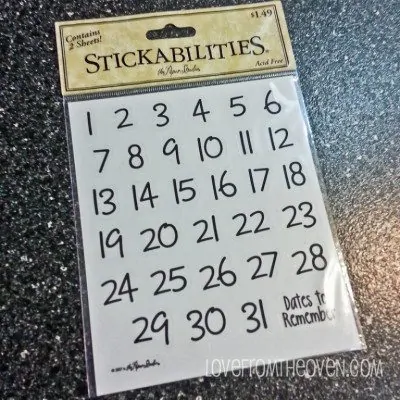 On to the magnets they go.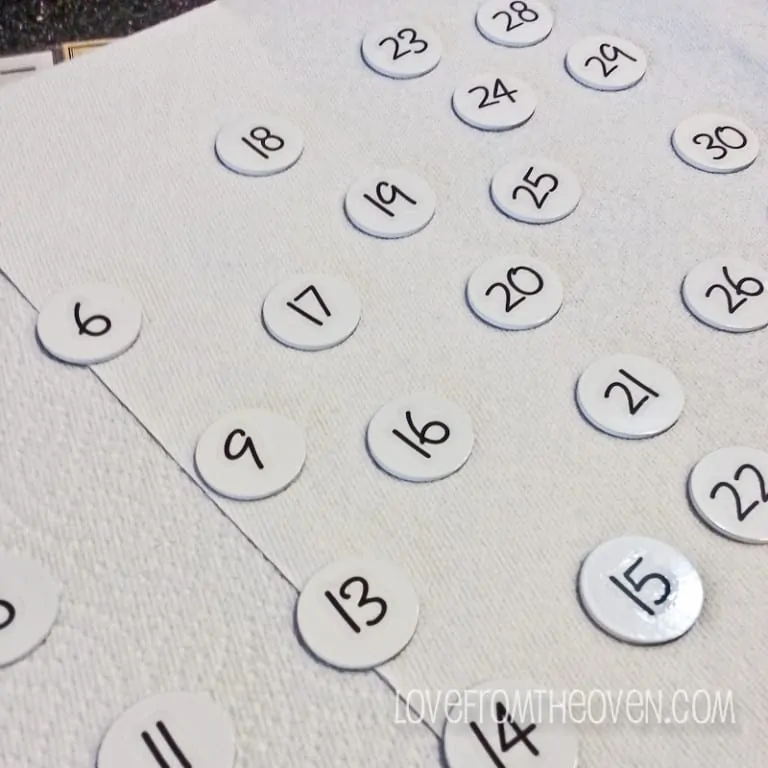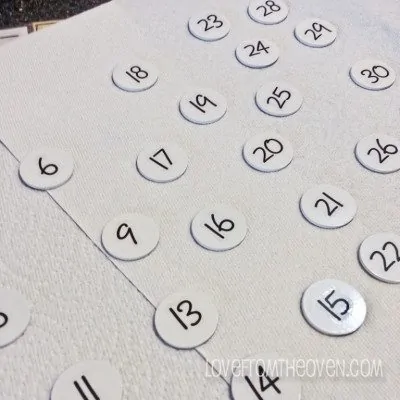 Now every month, instead of rewriting things, I can just move magnets around. Simpler and it looks much better. While it's still not a work of art by any means, it's an improvement. I also moved it out into our family room. While I'd prefer to have some lovely print or family photo hanging where it's at, this makes sense for our reality. I've tried for years to organize the ways that look the best. And they fail for us. I need to work with reality, and then maybe, just maybe, I can actually get my disheveled self to be a bit more organized. So in the family room it is. Functionality reigns supreme.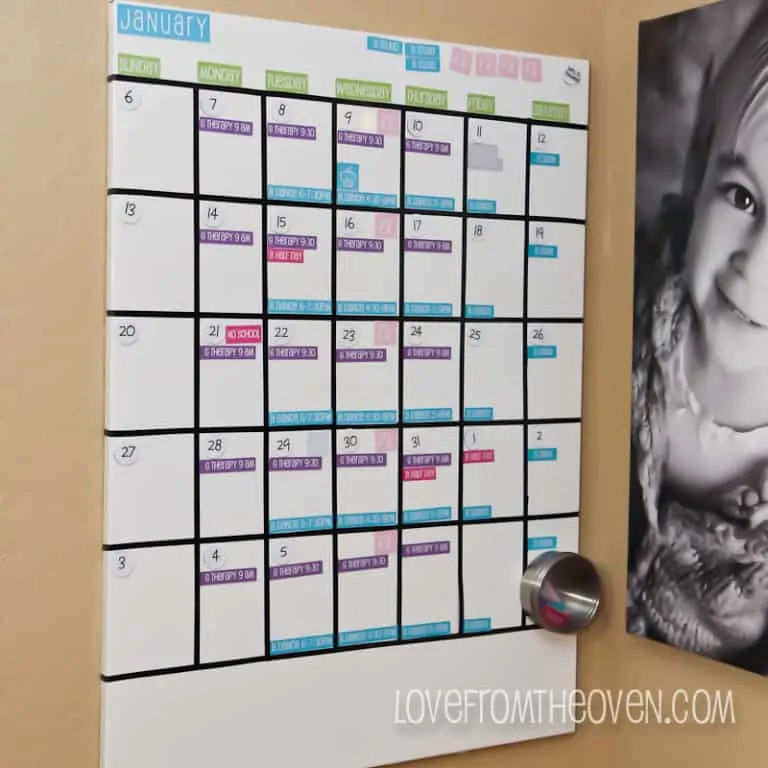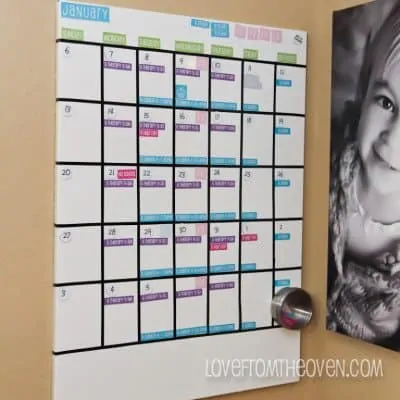 Oh – I almost forgot – the stripes! That is simply a thin black tape. I think I may look for something a bit more decorative or at least a lighter color tape, I'm sure that the perfect washi tape is out there. The 36th Ave has a darling version using tape.
It's by no means perfect, but it's a big improvement over what we had. It's GOOD ENOUGH. Good enough is better than not done at all. 🙂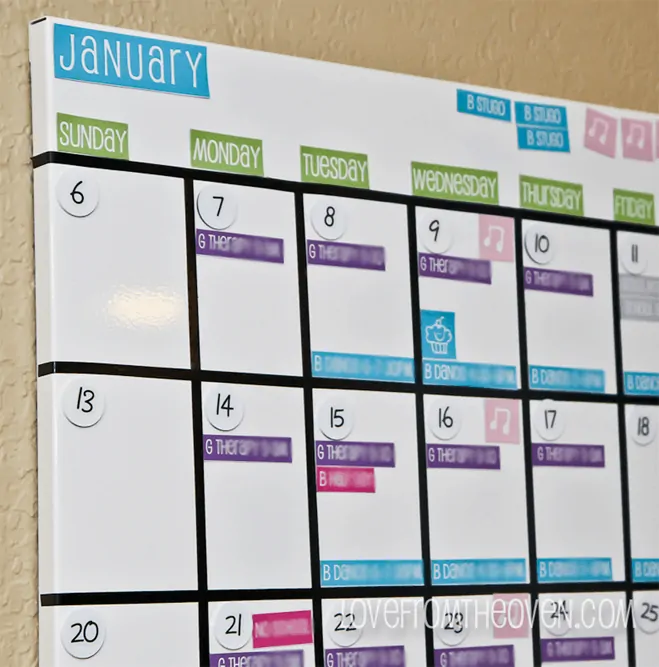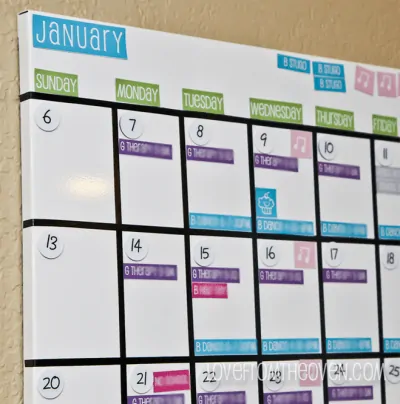 My extra magnets (the other 11 months and all of the other magnets not in use) are in a magnetic container like this one, and my dry erase markers are in a magnetic container like this one. I also have some Post-It Notes that I picked up that are a great fit for the calendar – both in size and color. I'm not sure if I'll use them or write on the whiteboard, but I like having options.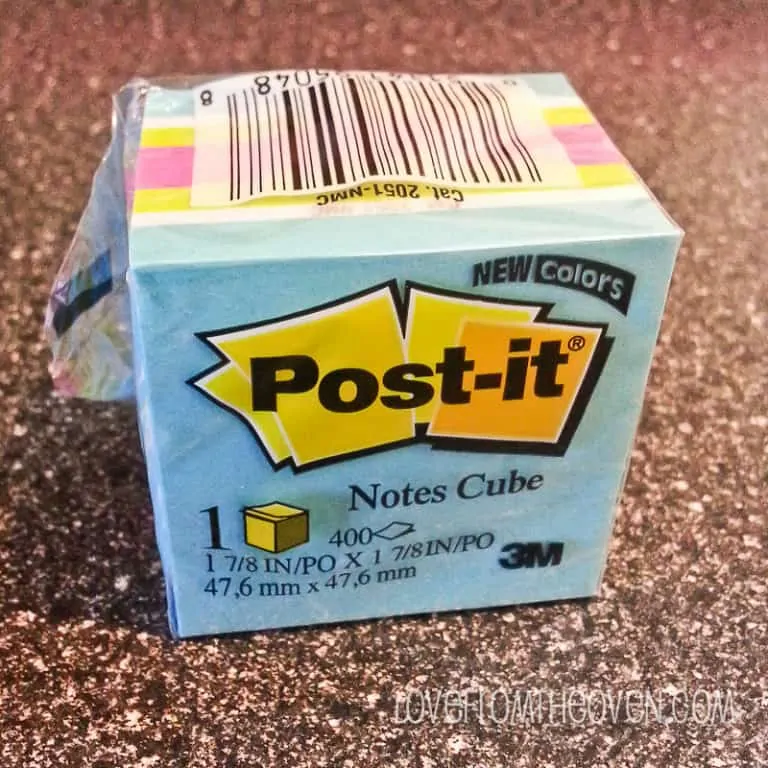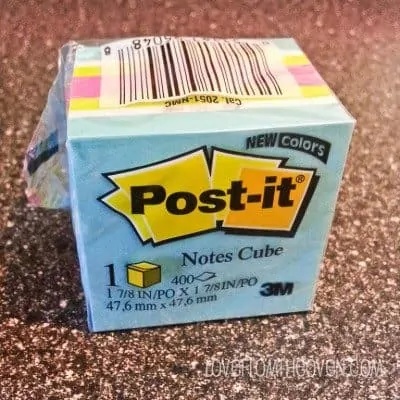 It appears that my exact whiteboard is no longer on the Ikea website (I bought it at least five years ago, probably closer to eight even), but this is about the same size if you want to pick one up. Not everyone wants a giant calendar, but for us it seems to work the best. We have room for our crazy regular schedule and any other appointments, meetings or events that come up as well as holidays and birthdays. Good Enough!
What sort of calendar system do you use???