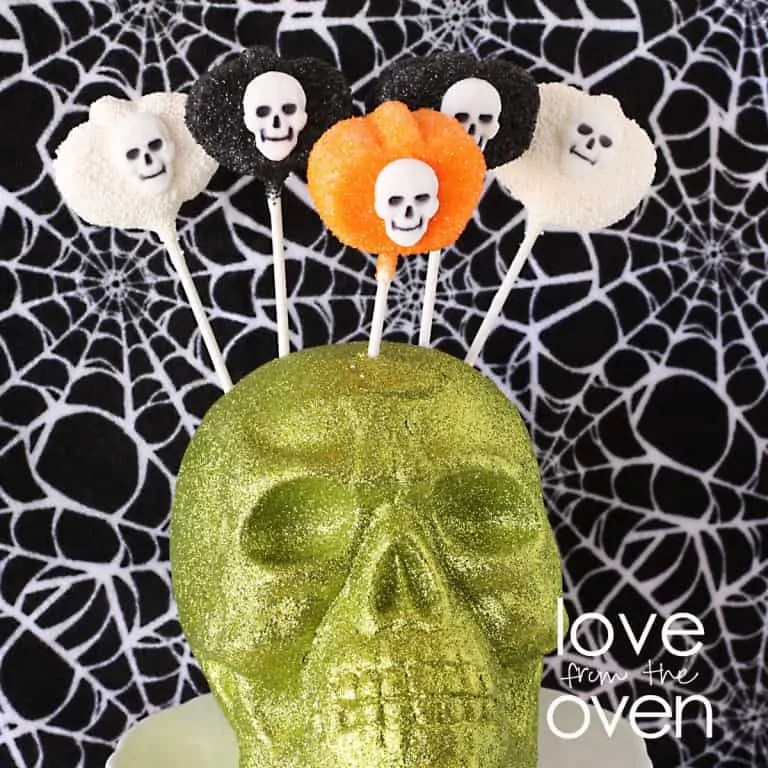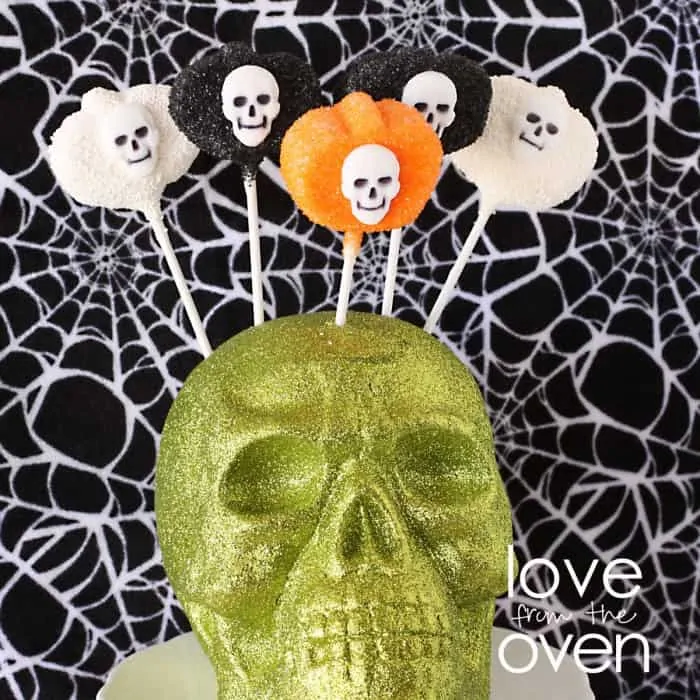 When I came across a giant bag of pumpkin shaped marshmallows at the store, it was clear to me that they needed to be made into chocolate covered marshmallow pops. Another quick, easy no bake treat – while it may technically be Fall, it's still over 100 degrees here in AZ, so no bake treats are the way to go.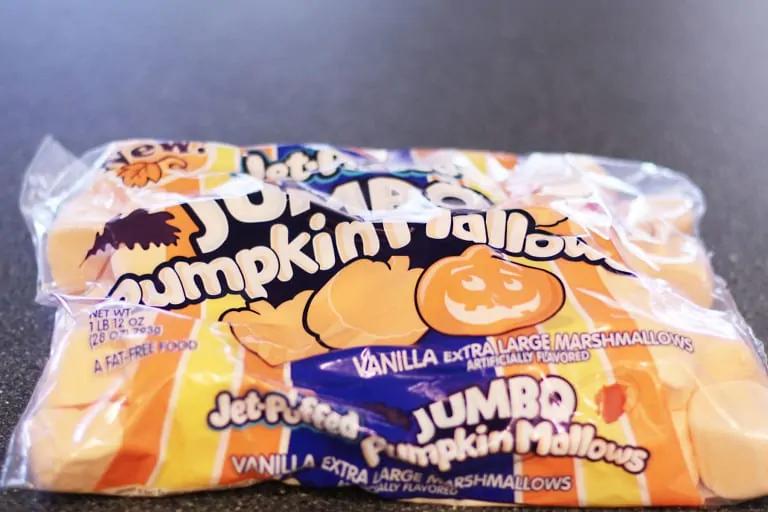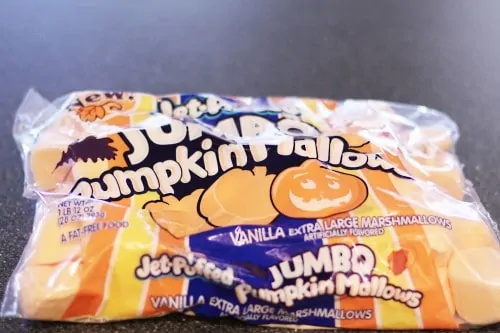 You need marshmallows, lollipop sticks, melting chocolate such as Wilton Melts, sprinkles and cute little sugar decorations. Start with your marshmallow…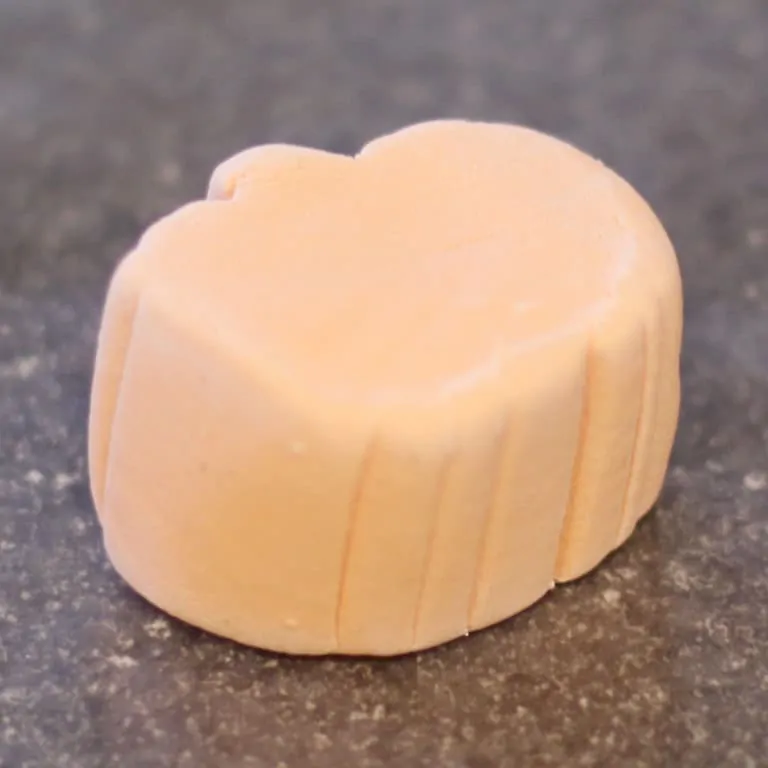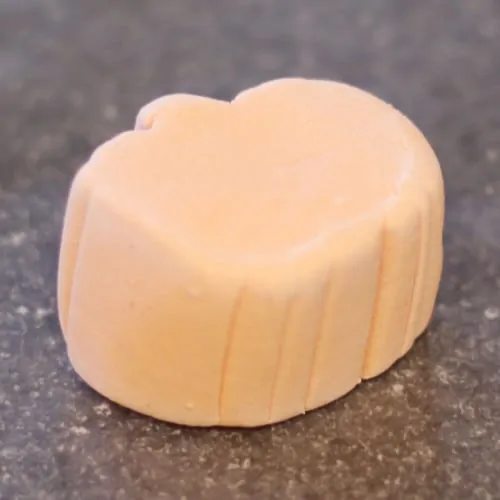 Now dip the lollipop stick into chocolate…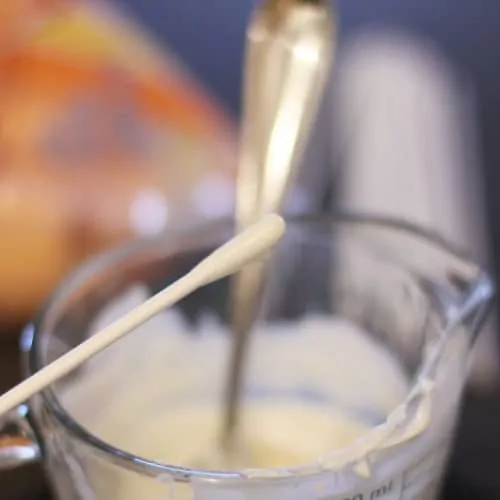 Add the marshmallow to the stick…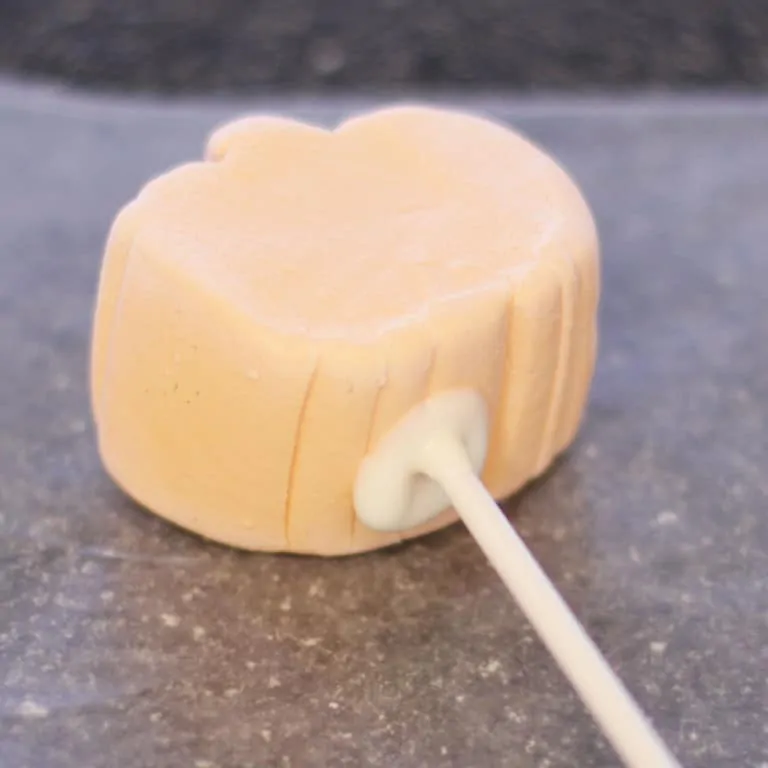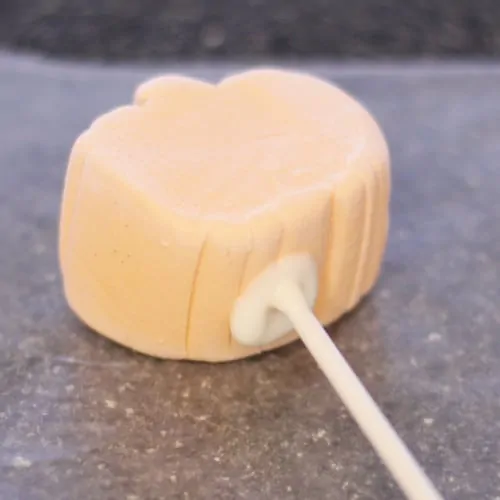 Let the chocolate set up, then dip the entire marshmallow into your chocolate…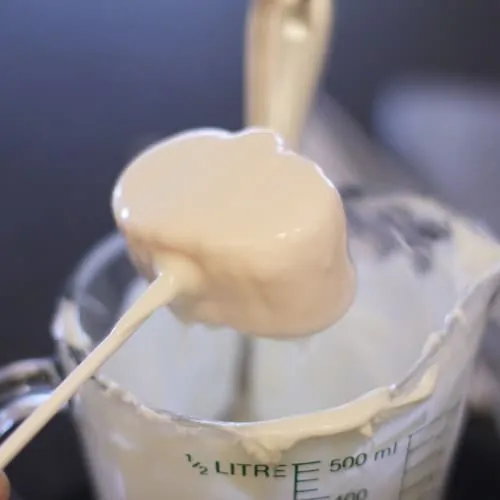 All that's left is to add your sprinkles and let the chocolate set up…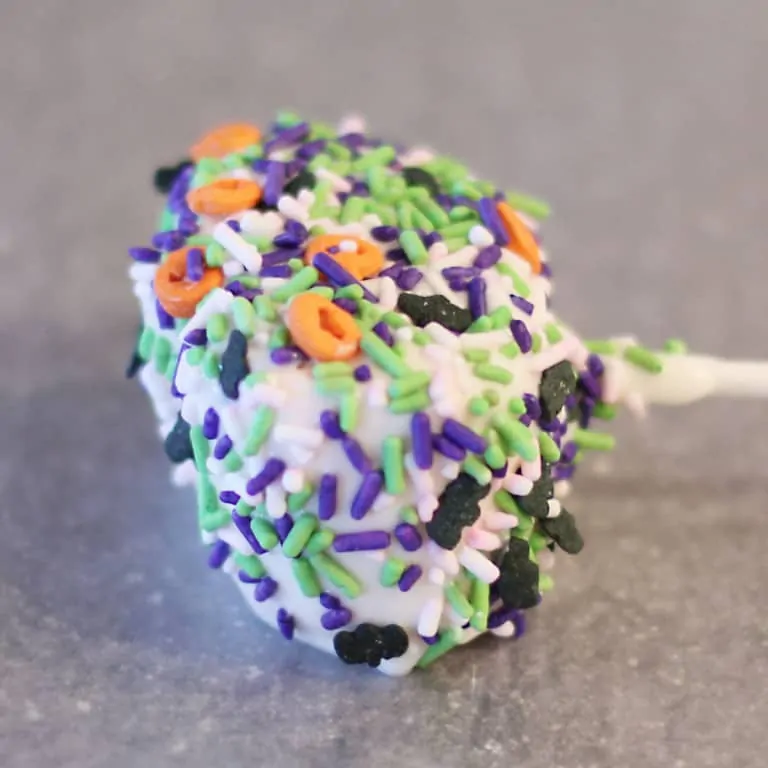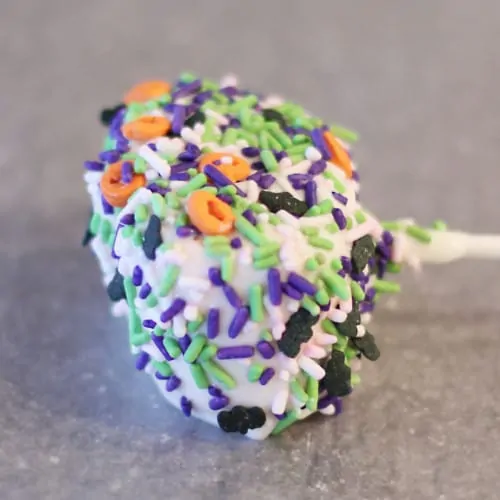 And this was the moment that I looked up into my sprinkle cabinet and realized that I not only had black sugar sprinkles, but I also had sugary skulls.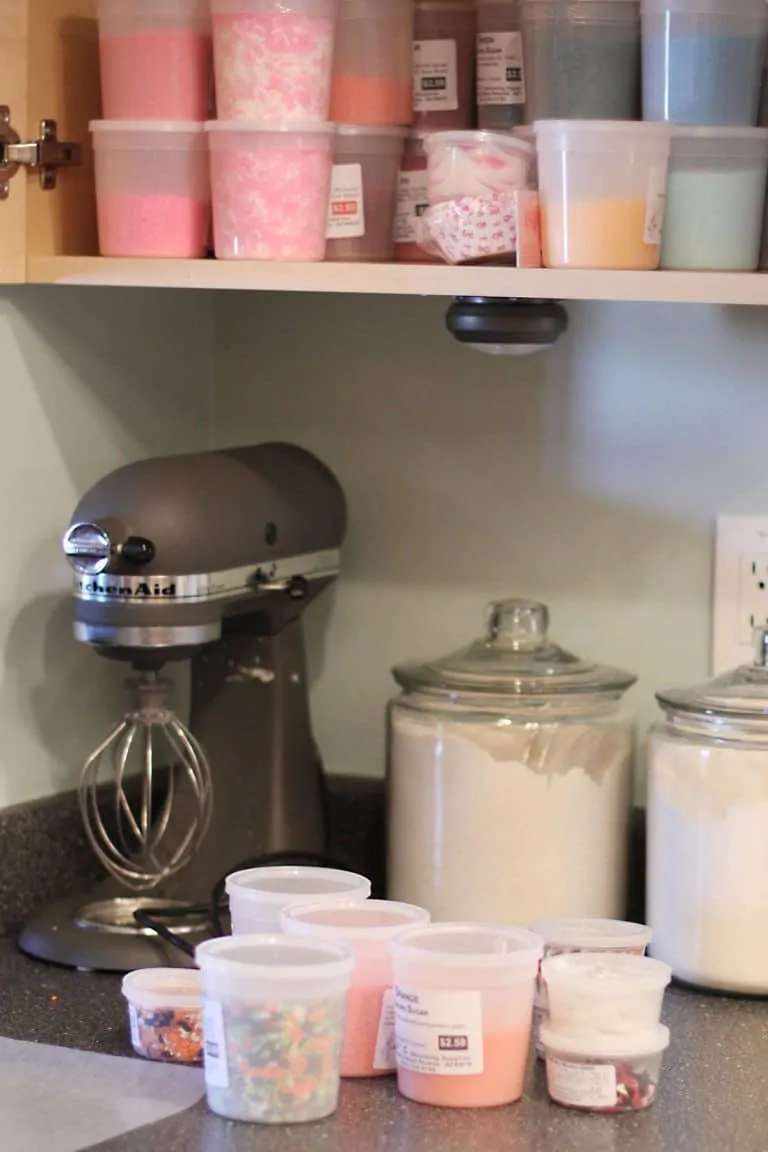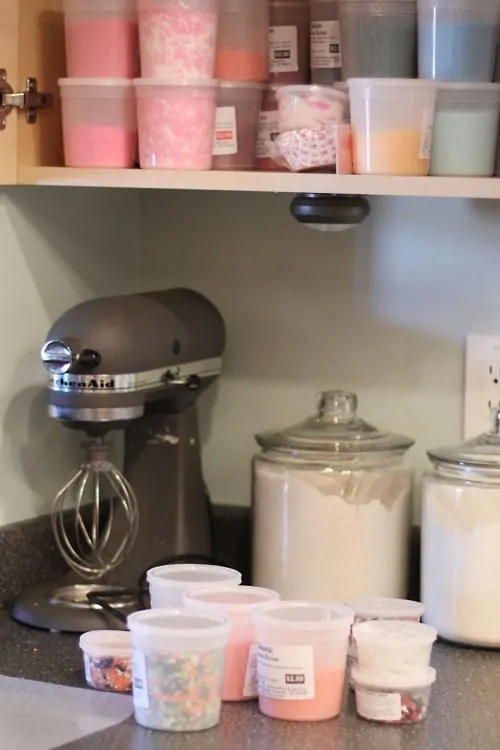 Good bye sweet pumpkin sprinkles, hello creepy skull faces!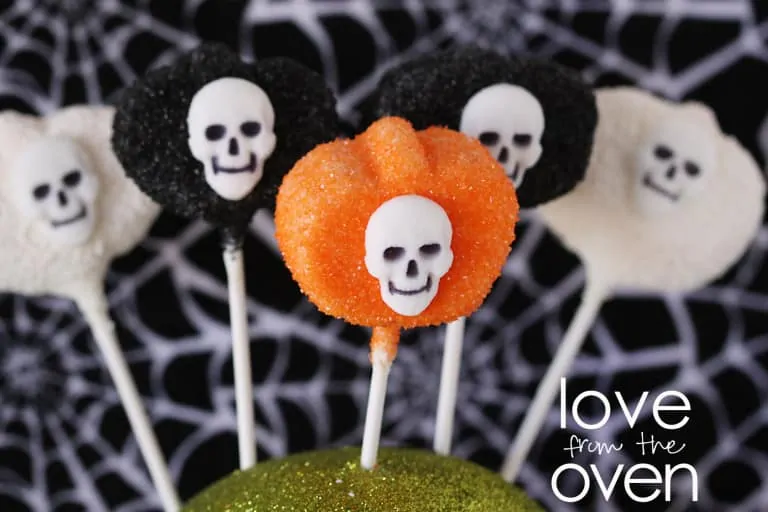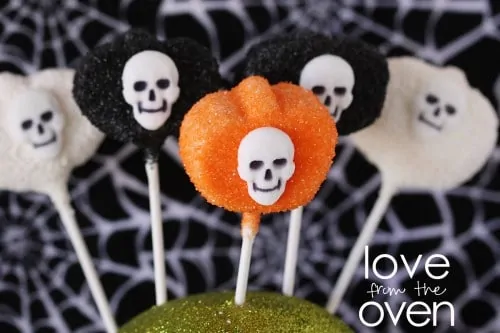 My cute little sugar skulls come from my local baking supply store, ABC Baking. Don't worry, even if you aren't in Arizona, you can still get them online.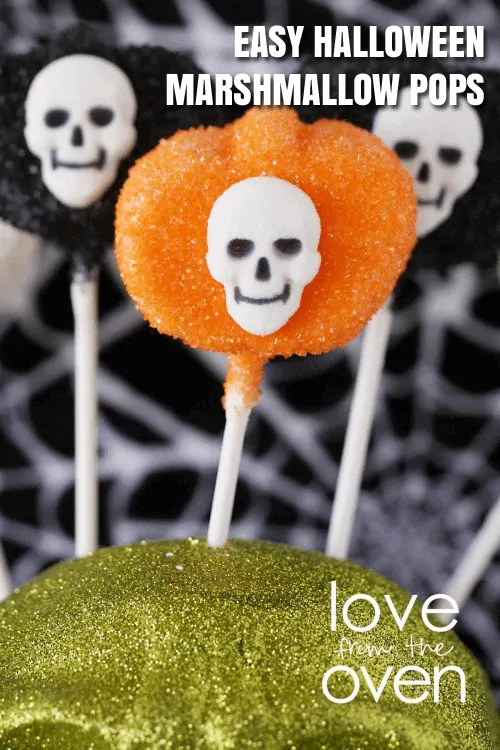 As I was getting ready to display these in a fun little Halloween bucket, it dawned on me that I had just purchased a few cute glittery styrafoam skulls at Target in their dollar section (they were $2.50 to be exact). I kind of REALLY love glittery skulls and am starting to get a collection that might be a little bit abnormal for a married 30 something suburban mother of two sweet little girls, but anyway…
I spent a few minutes giving my sparkly green skull a lobotomy (hey, my undergrad is in psych so I'm totally qualified to perform glittery lobotomys).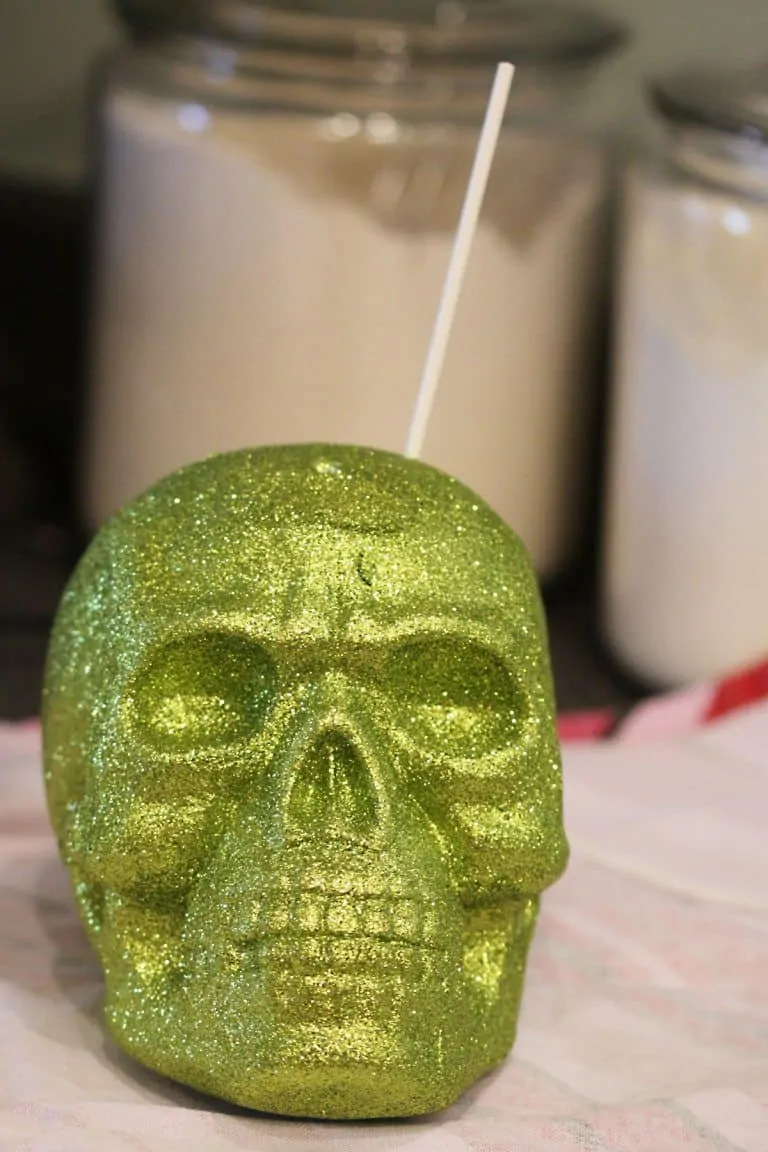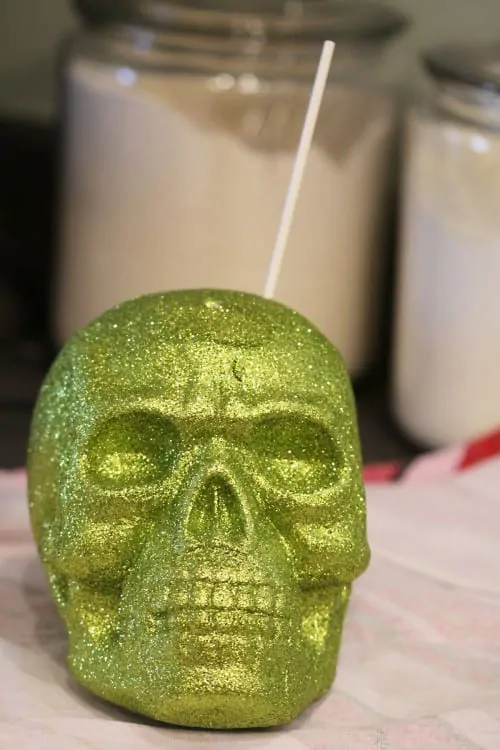 Once complete, I had a very funky display for any kind of Halloween pop. I almost want to have a Halloween party just so I can serve food out of my lobotomized glittery green skull.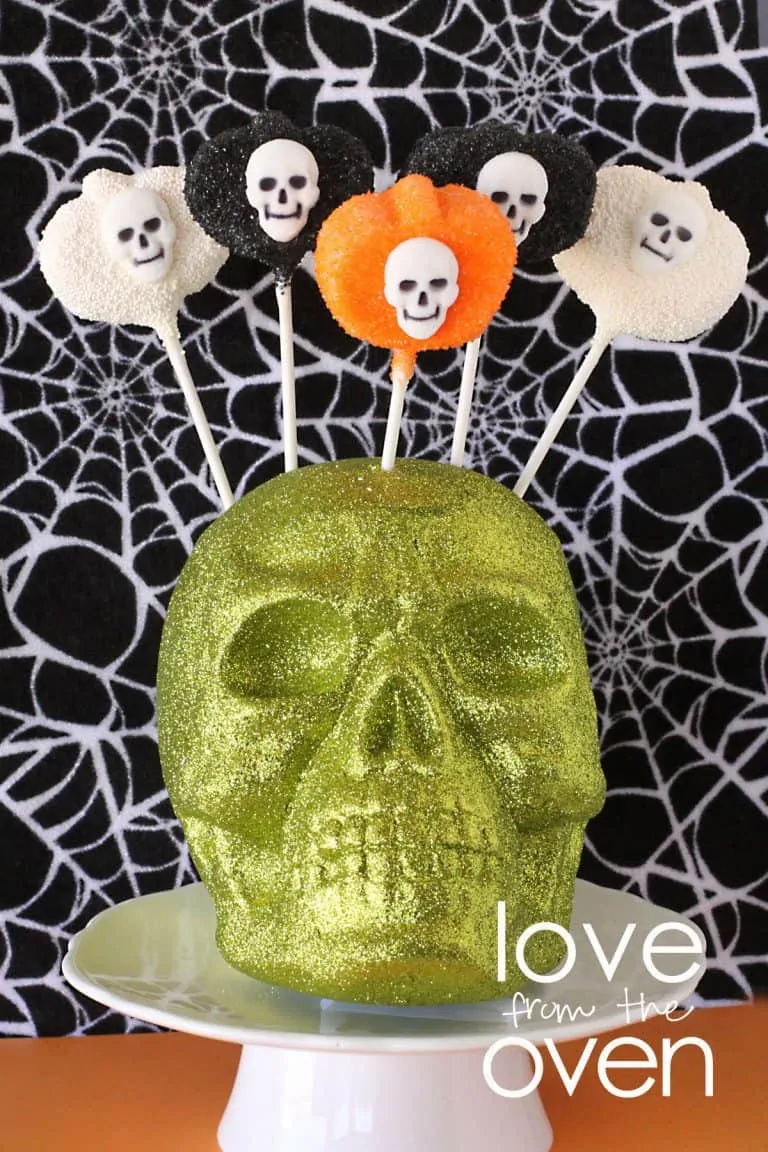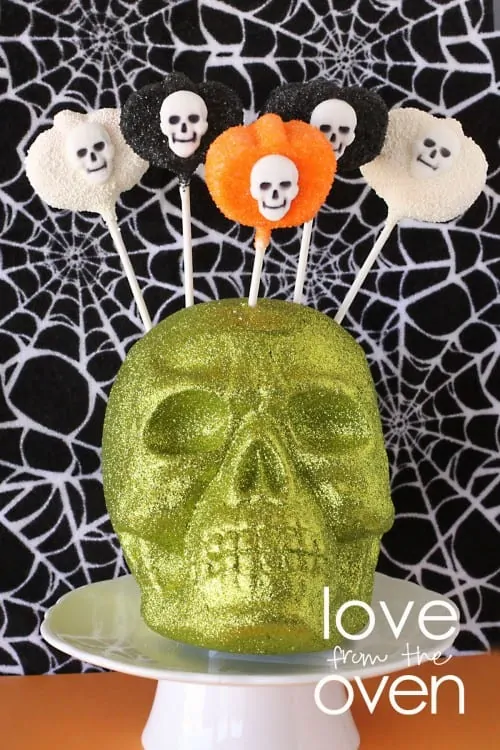 In my opinion that's pretty creepy cool.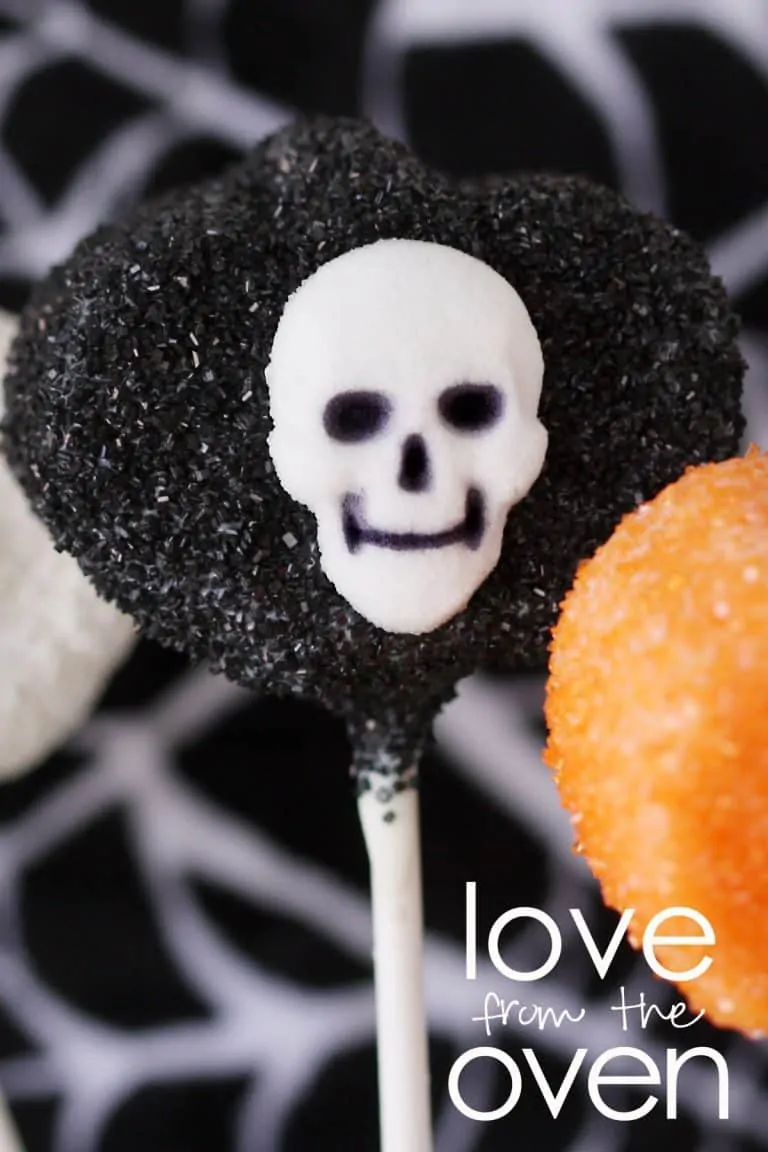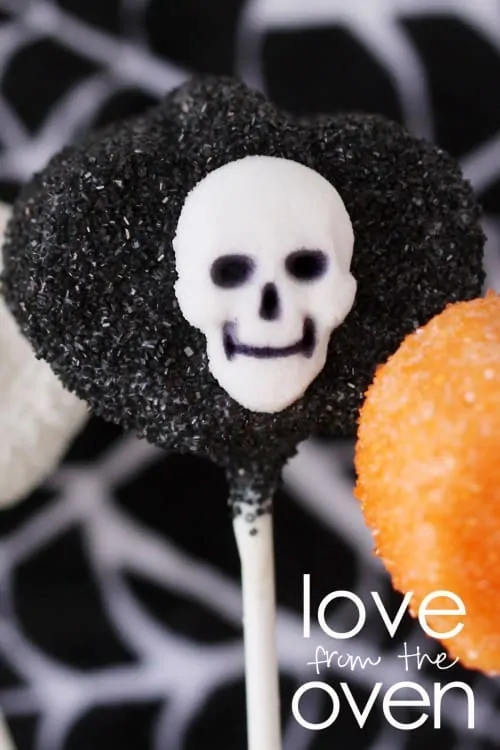 Seriously love these.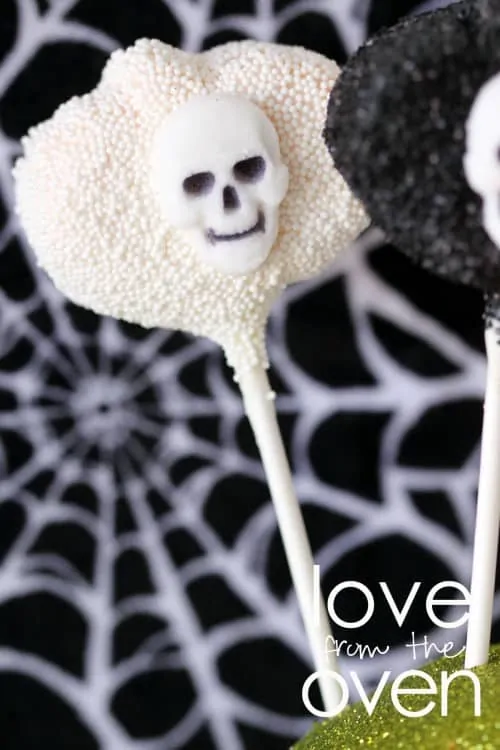 Creepy and sweet Halloween treats. Totally our style around here.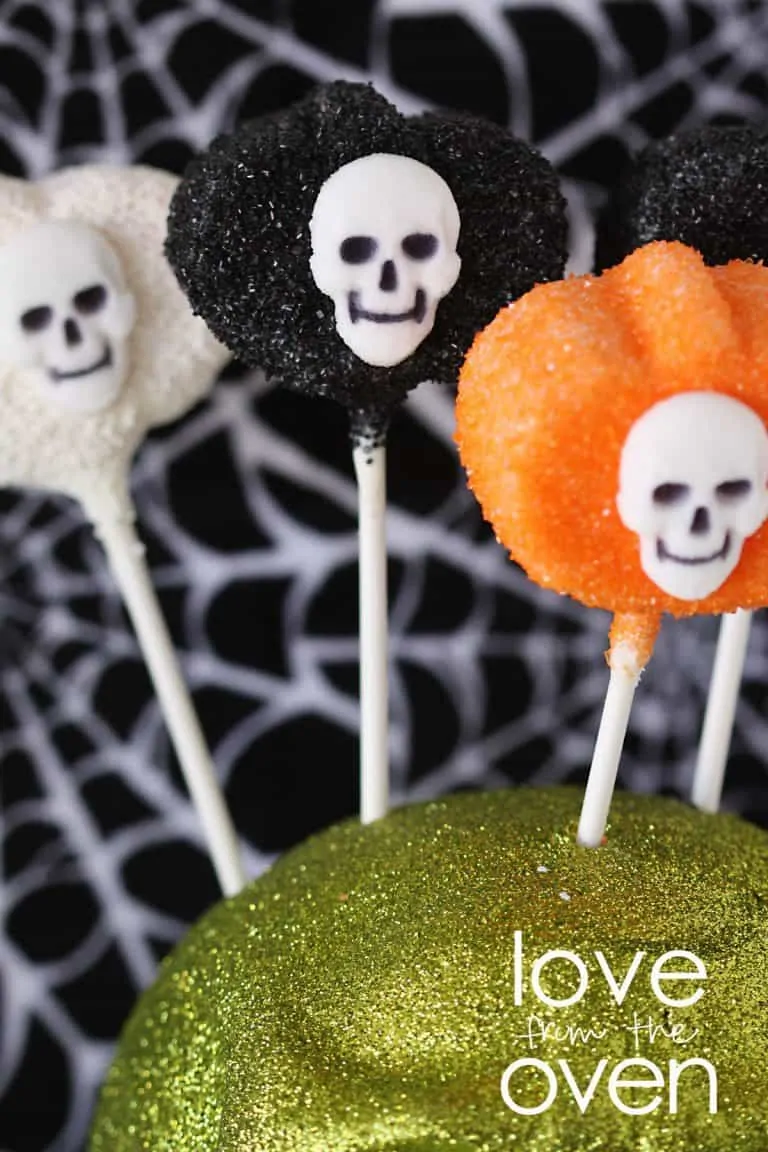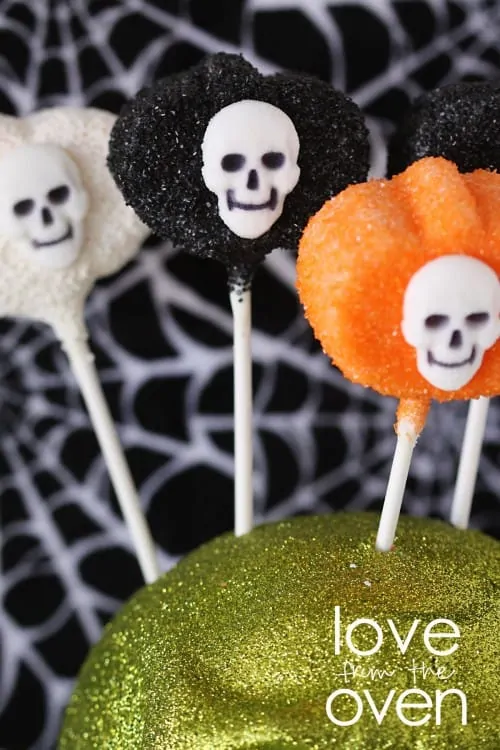 If marshmallows are your thing, check out some more yummy marshmallow recipes and ideas here!