It doesn't matter if it's winter or summer, I'm always on board for ice cream! Melissa from Ice Cream Inspiration has a delicious Mexican Chocolate Ice Cream recipe to share with us today. I scream, you scream, we all scream for ice cream, especially when chocolate is involved! So here's Melissa…
There is nothing better on a cold, frosty morning than a cup of hot chocolate. Or maybe a pot-bellied stove. ("I get a nice, warm, feelin' bein' near ya, Ma'am. It's like bein' 'round a pot-bellied stove on a frosty mornin.'"–Name that movie). Even better than just regular hot chocolate is Mexican hot chocolate. It has a deep, complex flavor that just has to be experienced to be understood.
One of the first ice cream flavors I developed was Mexican Chocolate. I used the Mexican hot chocolate for the milk portion of the ice cream, then added cocoa, vanilla, cinnamon, cream, and cayenne pepper. The result was amazing. It's like deep, rich chocolate with a sneaky little kick of heat at the end. This is my youngest daughter's favorite flavor. She asks for it all the time.
To make this ice cream, you'll need to get some Mexican chocolate, which you can find at any grocery store. The kind I use is called "Abuelita's," and it's made by Nestle. I usually find this in the Mexican foods section of the store rather than the hot chocolate section of the store. (Some stores group the ethnic foods in the same aisle, often putting the Mexican and Asian foods next to each other, so if you find the Chow Mein, you might be closer than you think!) This chocolate comes in large disks that you melt in milk. (One disk in four cups of milk). You only need one-and-a-half cups of the hot chocolate for the ice cream, so lucky you! You get to drink the rest!
One other note: Don't be tempted to add more cinnamon or cayenne pepper to this recipe, even if you love cinnamon and cayenne. I've tried it, and it just doesn't work. These flavors need to be understated, not take center stage. Especially the cayenne. Just trust me.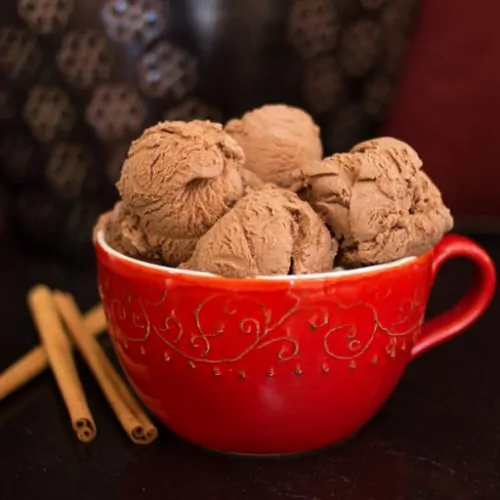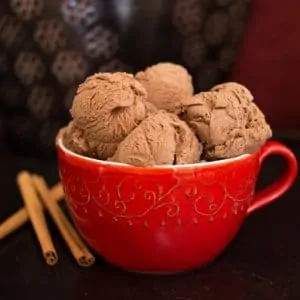 Mexican Chocolate Ice Cream
Ingredients
4

cups

whole milk

divided

1 1/2

cups

heavy whipping cream

1

tablet of Nestle's Abuelita Mexican Chocolate

1/4

cup

cocoa powder

1

tsp.

vanilla

2/3

cup

sugar

1

tsp.

cinnamon

1/8

tsp.

cayenne pepper
Instructions
Start by heating the 4 cups of whole milk and tablet of Mexican chocolate over medium heat in a pan on the stove. Heat and stir until the chocolate is all melted and incorporated into the milk. (It will look spotty on top. That is o.k.)

Pour 1 1/2 cups of the hot chocolate into a mixing bowl and add the sugar. Stir until the sugar is dissolved. Put into the refrigerator for about an hour to chill. Then add the remaining ingredients, and stir well (I use a wire whisk). Then you can either chill the mixture longer (even overnight) or pour it directly into your ice cream maker and follow the manufacturer's directions.

Transfer to an airtight container and put into the freezer.
Disclaimer
Nutrition information is estimated as a courtesy. If using for medical purposes, please verify information using your own nutritional calculator. Percent Daily Values are based on a 2000 calorie diet.
I recommend the Cuisinart 1.5-qt. Frozen Yogurt-Ice Cream & Sorbet Maker.
Want more great ice cream recipes? Make sure to follow Ice Cream Inspiration…
Ice Cream Inspiration on Pinterest
Ice Cream Inspiration on Facebook